These Redwood Forest Wedding Ideas Are Seriously Magical
Having a redwood forest wedding might just be the next big thing. See why this enchanting part of California's coast is the stuff of fairytales.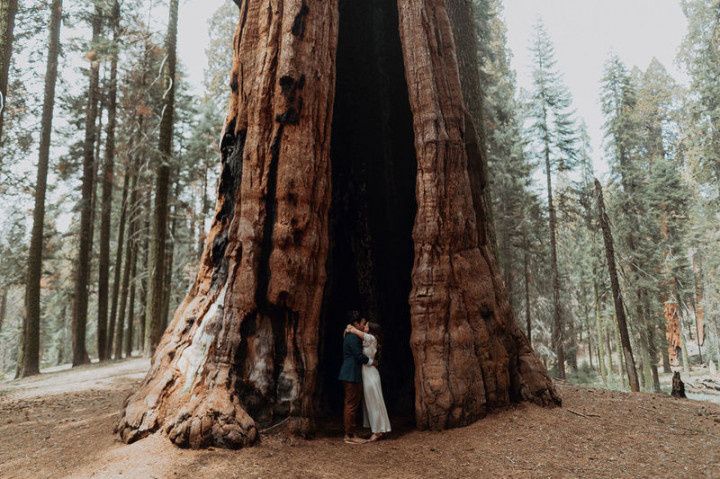 California's redwood trees are natural wonders. These giants, which tower hundreds of feet tall, have fascinated Golden State natives and tourists for centuries — and now engaged couples are taking note, too. A redwood forest wedding is like a dream come true for any nature-loving couple, or for those who simply want to escape from reality for a while and dive into their very own fairytale. The redwoods offer a setting that's serene and utterly private, which might explain why celebs like Anne Hathaway, Hilary Swank, and Ashley Greene chose the redwood forests of northern California as their wedding backdrops. Luckily, you don't have to be famous (or have a Hollywood-sized wedding budget) to enjoy all that the redwoods can offer on your big day. If you're considering a redwood forest wedding, we've got the best venues and ideas right here.
Check out our favorite redwood forest wedding inspiration below.
The Venues: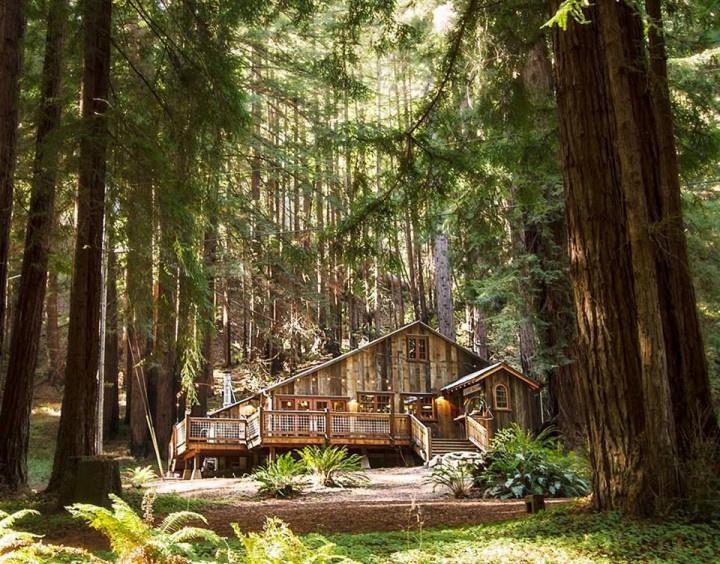 Laughing Canyon
At this redwood forest wedding venue in Davenport, you can choose from three different packages to create the best plan for your wedding budget and needs. Whether you're looking to elope with just your closest friends and family or you want to host an all-out redwoods wedding, Laughing Canyon offers various event spaces and planning services that allow you to be as hands-on or hands-off as you want. The venue's most extensive wedding package gives you use of the property for an entire weekend and includes lodging, food, and more.
Learn more about Laughing Canyon »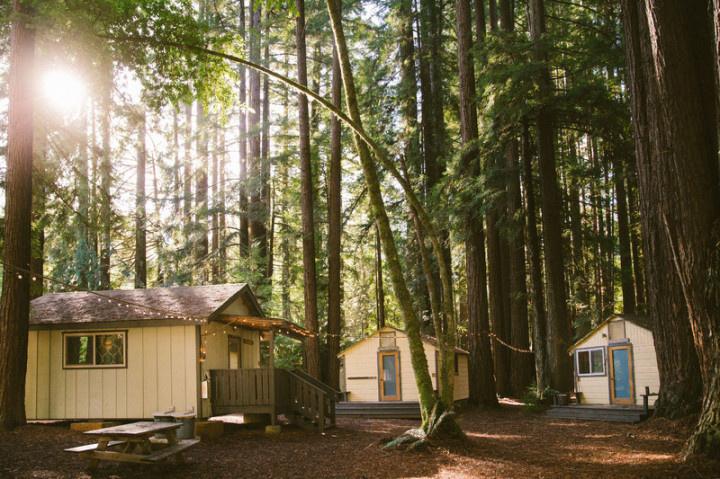 Camp Navarro
If you've ever thought about hosting a glamping getaway or retreat-style wedding, Camp Navarro is the place! Located two and a half hours from San Francisco and 11 miles from the Mendocino Coast, this venue is an ideal location for an event that's easily accessible but secluded. You can rent out this entire 200-acre redwoods wedding venue to have everyone in one location for your wedding weekend. Guests can stay in private cabins, glamping tents, teepees, or even bring their own RVs. Camp Navarro can accommodate up to 300 people overnight, and your wedding package includes catering, wifi, event coordination, venue staff, decorative and rental items, and cleanup.
Learn more about Camp Navarro »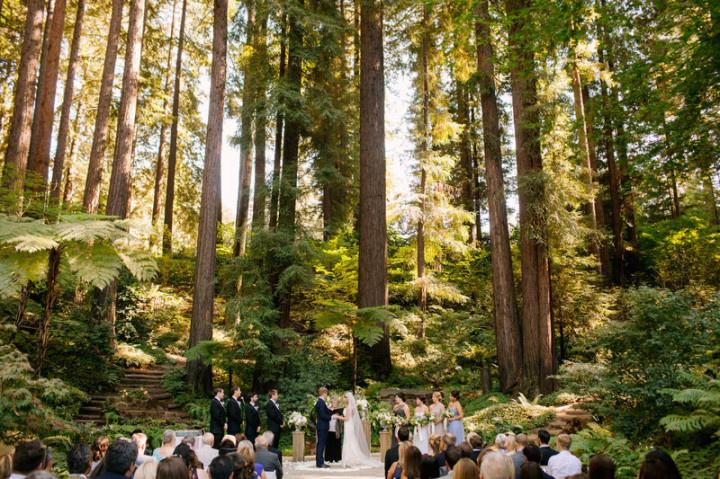 Nestldown
Have your own Twilight-inspired forest wedding (Ashley Greene, a.k.a Alice Cullen, was married here!) at Nestldown in Los Gatos. Dotted with lush gardens, ponds, and waterfalls among its towering trees, Nestldown is one of the most beautiful redwood forest wedding venues in all of California. The private estate has several event spaces, including a breathtaking forest location for your ceremony, spacious poolside lawn, and cozy barn-style banquet hall. When you're ready to make your grand entrance, hop aboard the estate's miniature train and ride to your reception. Nestldown is located about 30 minutes south of San Jose and can host weddings for up to 200 people.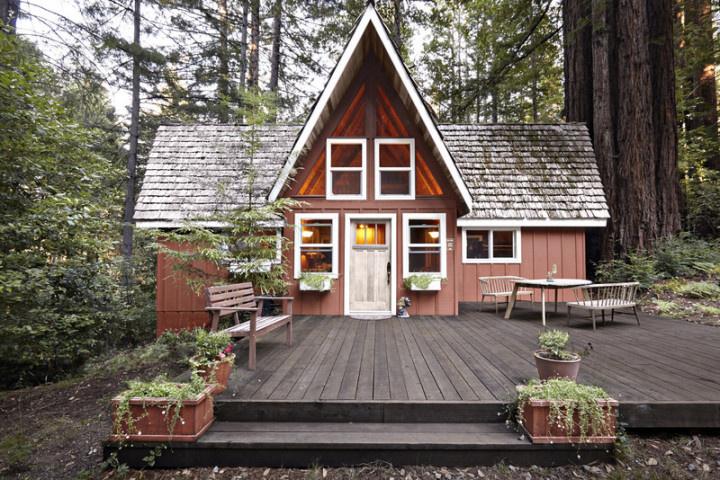 The Sequoia Retreat Center
At The Sequoia Retreat Center in Ben Lomond, dozens of trees encircle a ceremony site at the bottom of a hill to create a natural "amphitheater" space. It's one of the most scenic and peaceful forest wedding venues in northern California. After the ceremony, head to the venue's charming lodge and adjoining garden, which are great for your cocktail hour and reception. The Sequoia Retreat Center has space for 150 guests and with overnight accommodations available.
Learn more about The Sequoia Retreat Center »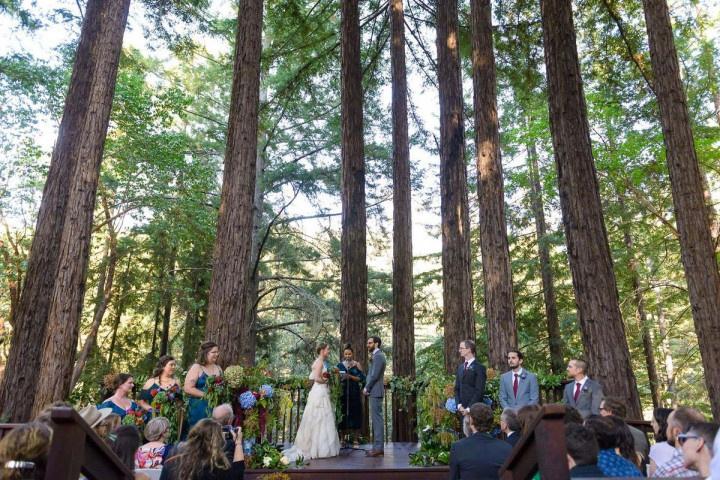 Amphitheatre of the Redwoods at Pema Osel Ling
Catch a glimpse of Monterey Bay and the Santa Cruz Mountains from the top of a hill at this picturesque redwood forest wedding venue. Amphitheatre of the Redwoods is located in Watsonville, one of the Bay Area's least-populated redwood regions — this means even more privacy, undisturbed nature, and tranquility on your big day. Whether you're eloping or hosting a wedding with 300 guests, Amphitheatre of the Redwoods offers packages including event coordination, rental items, setup/cleanup, and a complimentary stay in the venue's cottage on your wedding night. The venue also prides itself on being very eco-friendly, with the in-house chefs using local meats, fresh fish, and organic seasonal produce to create farm-to-table wedding menus.
Learn more about Amphitheatre of the Redwoods at Pema Osel Ling »
The Details: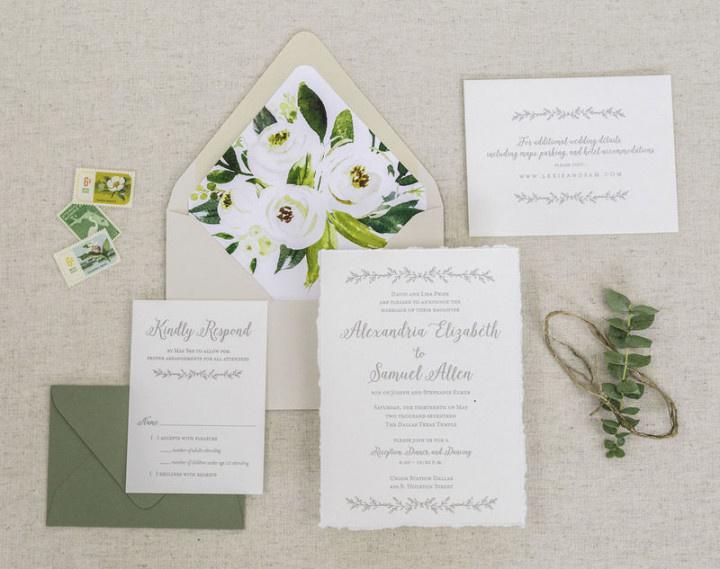 Invitations
Adorn your wedding invitations with nature-inspired details, like leaves, abstract painted flowers, and a woodsy color palette (green, brown, ivory). These decorative elements will set the tone for a redwood forest wedding in the most beautiful way.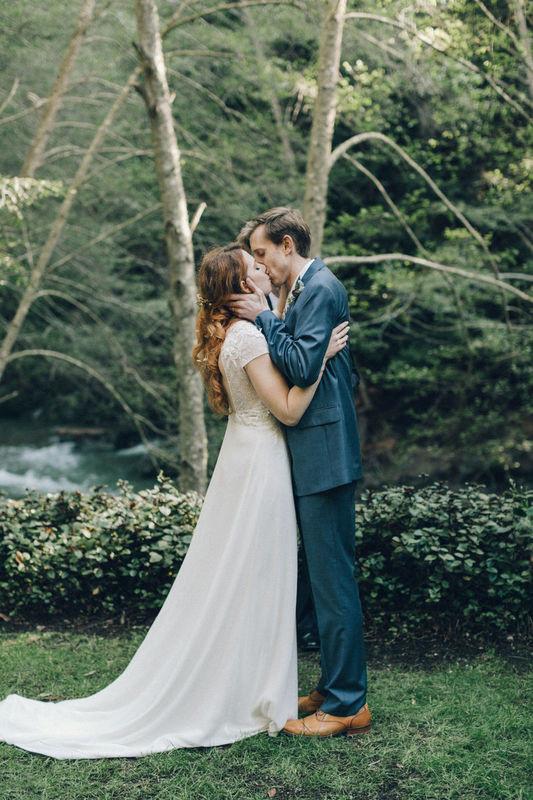 Attire
Since you'll be getting married in a rustic outdoor setting, your wedding attire should be stylish but not too fussy. For brides, we love wedding dresses with movement and slimmer silhouettes — think flowy skirts, lightweight fabrics, and bohemian embellishments such as floral appliqués or lace. Grooms can go traditional with a classic suit, or skip the vest and tie altogether in favor of suspenders and a button-down shirt, which will give your attire a relaxed, outdoorsy look.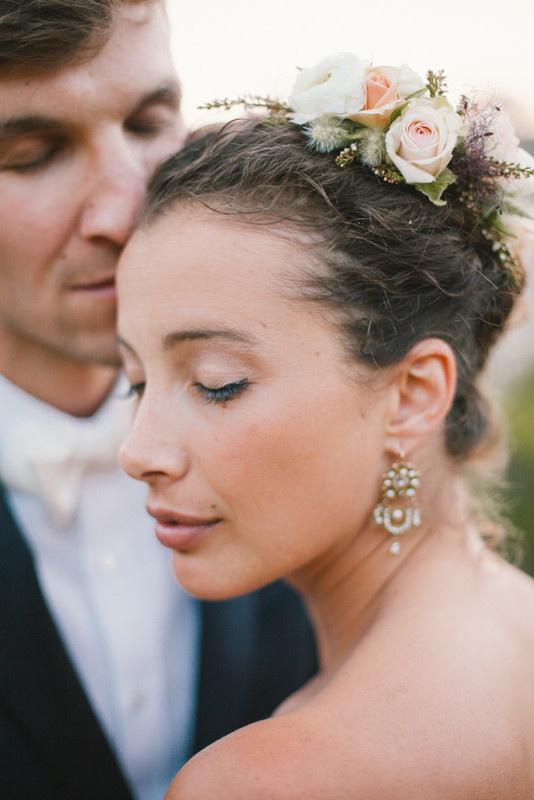 Beauty
When it comes to your wedding hair and makeup, think effortless and natural. A glowing complexion with barely-there makeup is perfect for a redwood forest wedding. Add fresh flowers to your bridal hairstyle for an ethereal, feminine touch!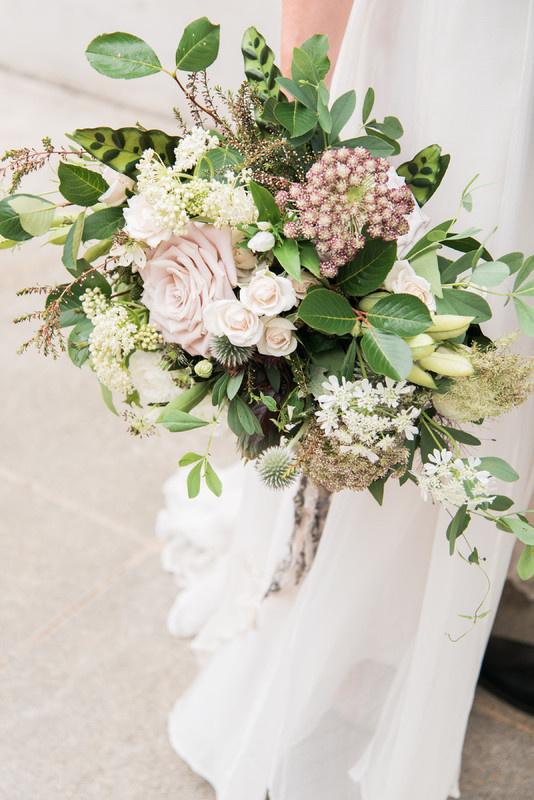 Bouquet
Your wedding bouquet should complement the wild surroundings of your venue. A loosely arranged bouquet with overflowing greenery and wildflowers looks lovely for a wedding in the redwoods. Have your florist use flowers in white, ivory, and soft blush colors for a truly enchanting result.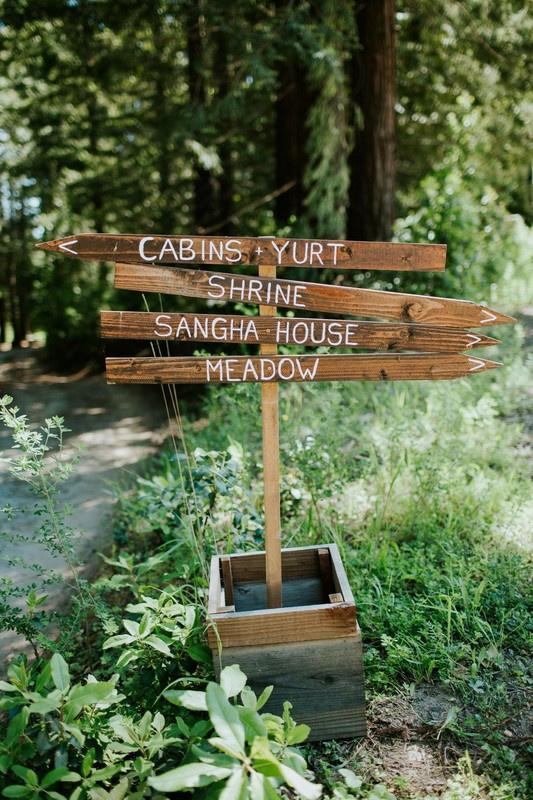 Signage
At a forest venue, the different stages of your wedding will likely be spread throughout multiple parts of the property. Point your guests in the right direction with decorative wedding signage inspired by your wooded surroundings.
Ceremony Decor
The redwoods are so majestic as-is that you won't need much decor, if any at all. But that's not to say that you can't dress up your ceremony space — at least a little bit! We're in love with this candle ceremony backdrop that was created using tree stumps and hurricane vases in varying sizes and heights. Scattered flower petals only add to the romantic ambiance.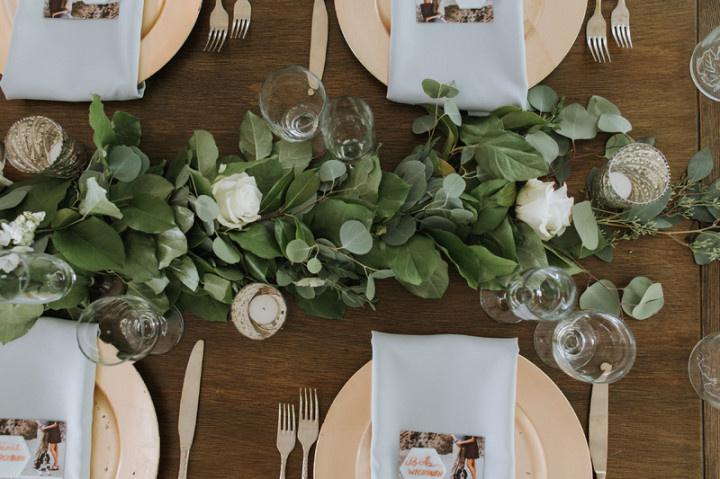 Centerpieces
Emphasize a nature-inspired theme by using fresh greenery runners and individual flowers as reception centerpieces. Greenery looks especially lovely when placed against bare wood tables for an earthy aesthetic.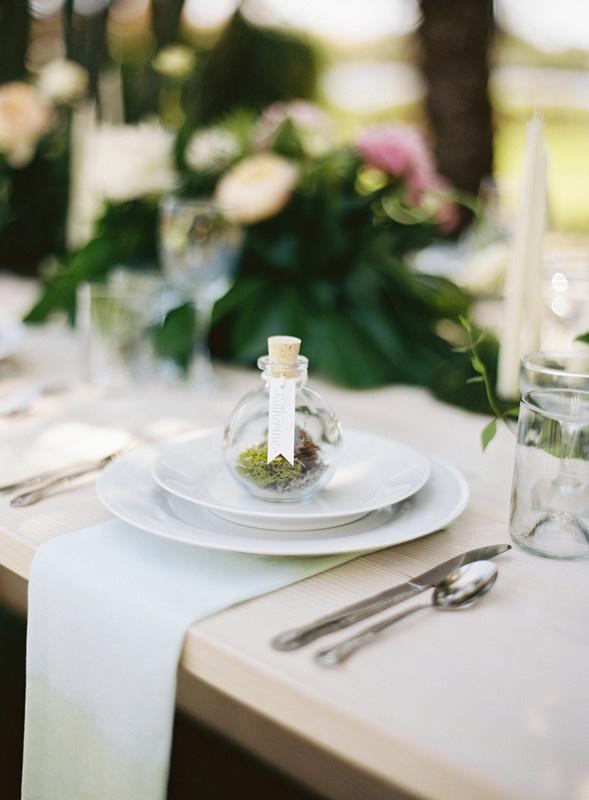 Place Settings
Allowing Mother Nature to handle most of your decor means that you can focus your attention on the smaller details, like your wedding place settings and wedding favors. Cork-top bottles are just one creative place card idea we love for redwood forest weddings. Fill them with peat moss (real or faux), rocks, or even dried herbs for an enchanted fairytale vibe. Plus, they'll double as take-home gifts for your guests.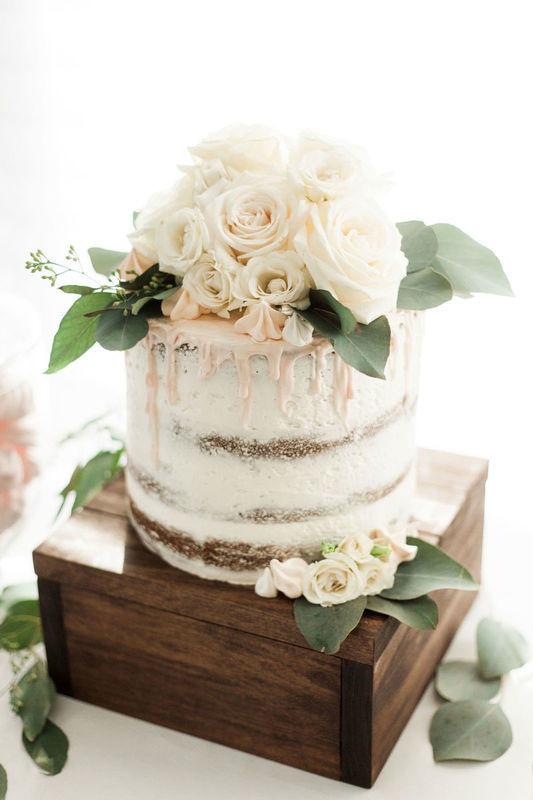 Wedding Cake
No need to go overboard with your dessert! A simple buttercream cake is just right. Decorate it with flowers and greenery to tie in your forest venue. If you're feeling trendy, try nearly-naked frosting and drip icing.