6 Rooftop Wedding Venues Brooklyn Couples Love
Offer your guests inspiring views of Brooklyn and Manhattan with these rooftop wedding venues Brooklyn couples are digging.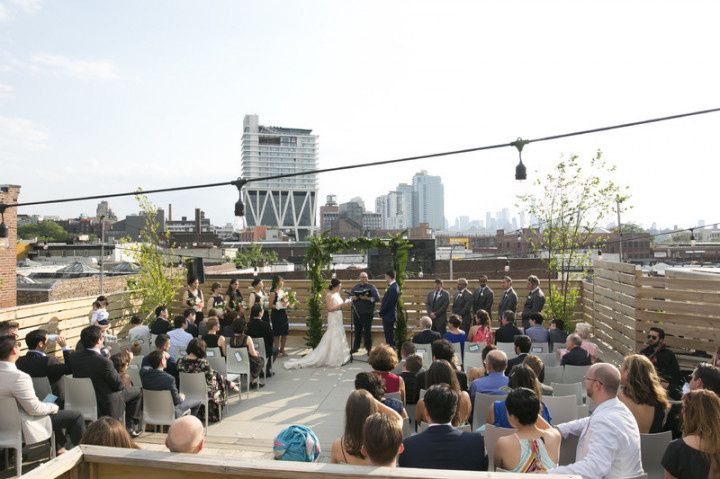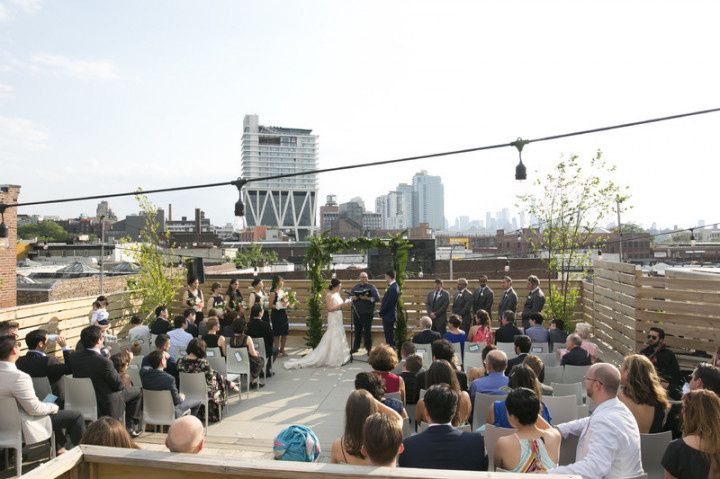 Weddings and rooftops seem to go together like hipsters and craft beer. With so many gorgeous New York City sights to view from on high, it's no wonder these rooftop wedding venues in Brooklyn are popular choices. Couples looking for casual, but scenic ceremony and reception sites will definitely want to consider these Brooklyn wedding venues with rooftop event spaces. Thanks to the gorgeous views, rooftop venues may require less decor because of the inherent visual interest offered. On the flip side, most rooftop wedding venues aren't shaded, tented, or covered, so guests are exposed to the elements and you'll need a good backup option for bad weather. If you're set on finding rooftop wedding venues Brooklyn locals and out-of-towners alike will fall for, you'll love this list of our faves.
Check out six gorgeous rooftop wedding venues Brooklyn couples are booking.
The Box House Hotel
What's better than chic rooftop wedding venues in Brooklyn with stunning skyline backdrops? A retractable roof to partially shield your guests from an unforgiving sun or imminent rain. That's exactly what The Box House Hotel in Greenpoint offers with their all-inclusive wedding venue options. Their standout rooftop event space not only boasts a retractable rooftop awning, but also insulated glass sliding doors, four bathrooms, and completely undisturbed views of lower Manhattan and the East River. This Brooklyn waterfront wedding venue is also a convenient option for couples lots of out-of-town guests, since room blocks are easy with The Box Hotel's 130 guest rooms. Host an average-sized to large wedding here, where you can accommodate between 120 and 293 guests.
Learn more about The Box House Hotel »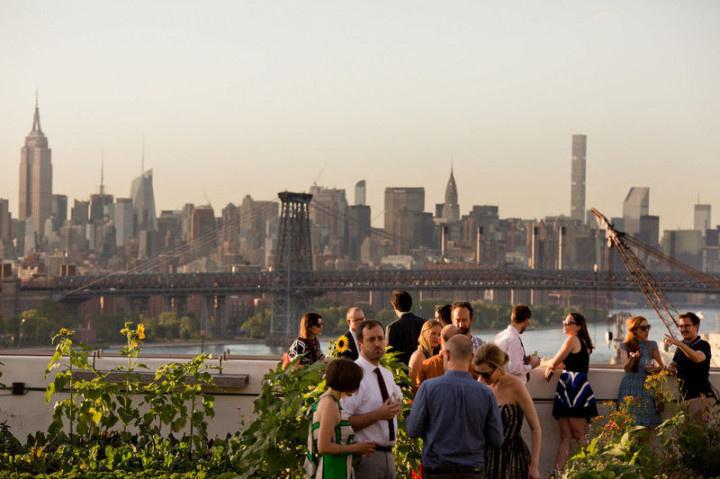 Brooklyn Grange Rooftop Farm
This Brooklyn venue is home to a rooftop farm that feels like a cozy garden made for romantic nuptials. Especially great for intimate weddings of between 40 and 150 guests, Brooklyn Grange Rooftop Farm offers up a 2,000-square-foot paved deck in Navy Yard for couples to personalize. Walk down an aisle lined with sunflowers and say your "I dos" with the Brooklyn Bridge and Manhattan in the distance. Catering here is farm-to-table with seasonal crops like vine-ripened tomatoes, savory peppers, and sweet herbs elevating your wedding menu.
Learn more about Brooklyn Grange Rooftop Farm »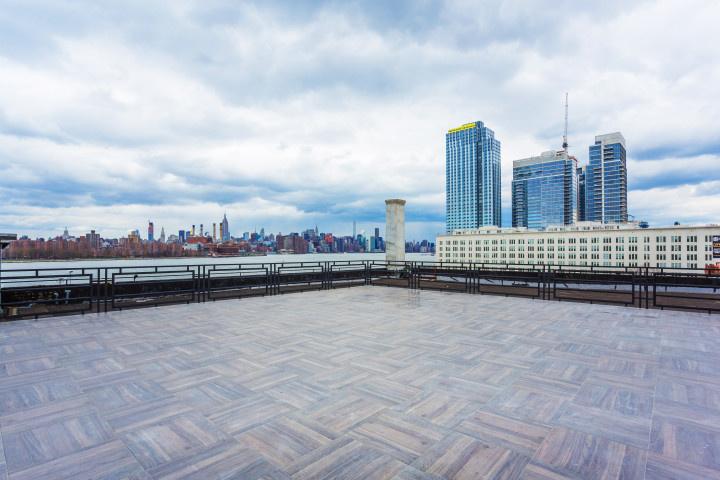 The W Loft
Head to Williamsburg to experience this popular rooftop Brooklyn wedding venue, which offers an expansive view of Manhattan and Queens. The newly-renovated rooftop is shared with a glass-walled indoor space, so guests can easily travel back and forth, or you can move the party indoors when the weather isn't cooperating, but still enjoy a fabulous view. The 1,600-square-foot rooftop deck accommodates about 50 guests while the interior hosts up to 80 seated and 150 standing guests. While the rooftop isn't covered, couples can rent, install, and remove their own tented structures (https://www.weddingwire.com/wedding-ideas/factors-to-consider-before-you-plan-a-tented-wedding) for a bit of outdoor cover. Weddings of just about any theme will find inspiration in The W Loft, the white pillars, modern tiling on the bar, and excess of glass that allows lots of natural light to pour in will certainly appeal to minimalist and modern couples.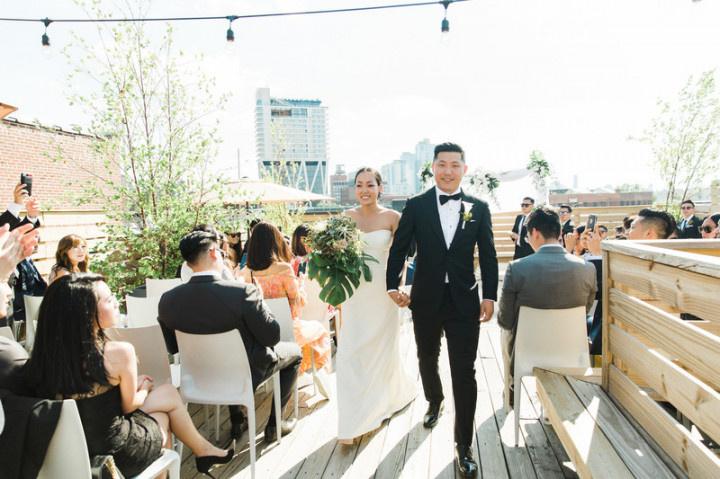 Dobbin St
This former factory is a Williamsburg stunner that's been rehabbed and repurposed exclusively for unique events. It offers major charm thanks to the stylish 3,000-square-foot terrace, which overlooks Manhattan and the river. Most couples choose to wed outdoors on the rooftop deck, which features exposed wood flooring, modern lounge furnishings, and Edison lights to set off the skyline views. The indoor space at Dobbin St isn't too shabby either. This venue features soaring ceilings and sleek, concrete floors in the spacious internal space where many couples head for the reception. For an even more memorable event touch, make use of the adorable, 900-square-foot courtyard. Lined by potted plant decor and accented by a millennial pink couch, it's a perfect spot for guests to duck away from the dancing to rest their feet or for couples to duck away to take it all in for a moment. This versatile event space can host up to 275 wedding guests.
Deity Events
Deity Events' cozy, outdoor rooftop space, equipped with a jacuzzi and access through a stylish spiral staircase, is a local favorite among rooftop wedding venues in Brooklyn. One of four event spaces at this Atlantic Avenue venue, the Brooklyn Rooftop allows up to 50 guests to experience its unobstructed views of Manhattan. Other spaces at Deity Events include a 120-person cellar with a DJ booth and dance floor; an open-concept loft which accommodates up to 200 standing guests and 160 seated in a space with a projector screen; and the lux Deity Lounge, able to seat just 60 but can host up to 200 standing guests in an event space that's already decked out with furniture and linens.
Learn more about Deity Events »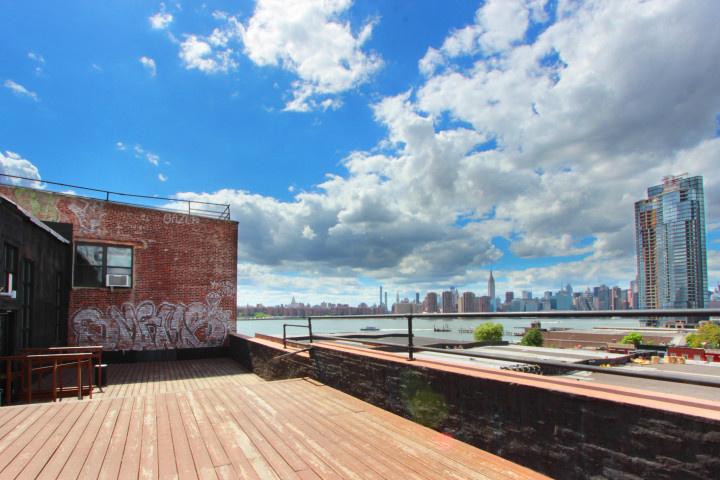 Greenpoint Loft
Booking this pre-war warehouse venue gives you access to its 800-square-foot roof deck, which is the perfect perch for scenic ceremonies or cocktail hours overlooking views of the Manhattan skyline. As one of our favorite rooftop wedding venues in Brooklyn, Greenpoint Loft is a gorgeously repurposed rope factory that retains an industrial feel within its main loft space and mezzanine levels. Exposed brick walls and wooden beam ceilings are coveted industrial features that couples looking for an eclectic warehouse venue will love. Both of those spaces are also available for rent, so you can design a wedding flow and timeline that best showcases the various spaces within Greenpoint Loft. Host up to 185 guests at this wedding venue, which also includes two changing suites and climate control. !
Learn more about Greenpoint Loft »
Disclosure: This post contains affiliate links, some of which may be sponsored by paying vendors.