10 Outdoor Wedding Venues in New York City
If getting married with the NYC skyline behind you sounds like dream, or you're just looking for fresh air in the Big Apple, check out these outdoor NYC venues.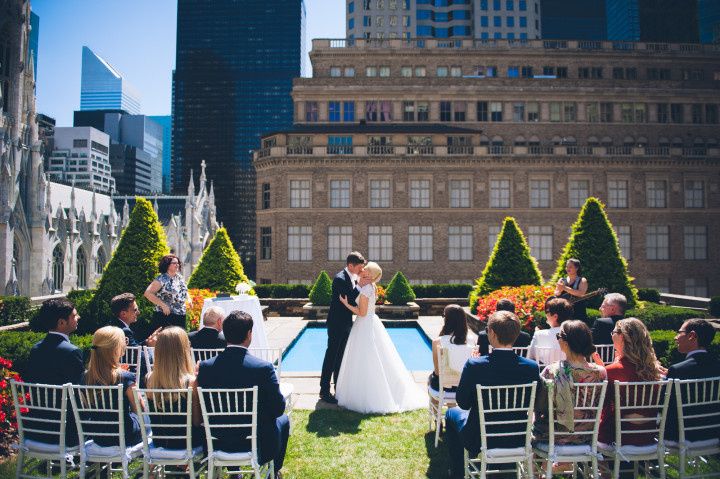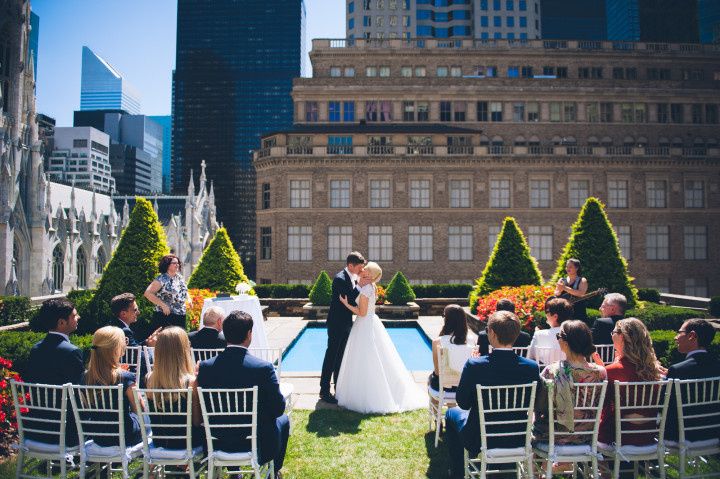 You might think that having an outdoor wedding in New York City is nearly impossible, but actually there are lots of outdoor wedding venues in NYC—if you're willing to look at all five boroughs. From Manhattan to Brooklyn, Queens to the Bronx and Staten Island, you'll find gardens, golf courses, rooftops, and many more open-air venues. Note that most of these venues offer outdoor ceremonies and indoor reception spaces—ideal for the NYC area's ever-volatile weather.
Check out some of our favorite outdoor wedding venues in NYC.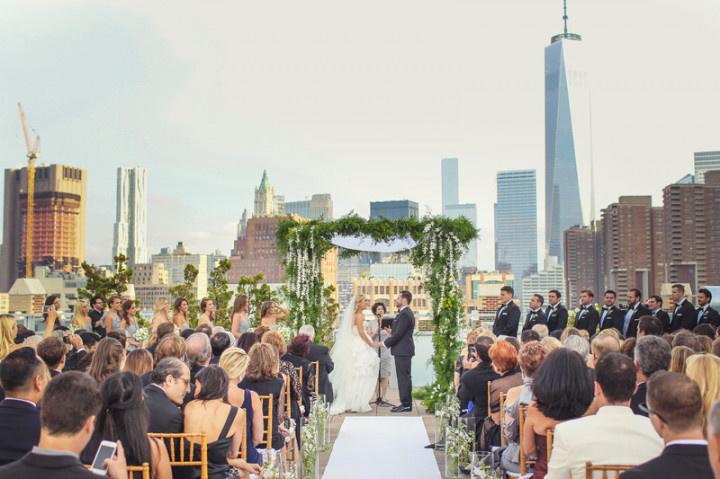 Tribeca Rooftop
If you're looking for an NYC venue that hits all of the wedding trends, Tribeca Rooftop is the spot. This venue features an 18,000 square foot outdoor roof deck that's an ideal setting for ceremonies with the skyline as your backdrop. The indoor penthouse is the ultimate in industrial chic with its 65-foot skylight and modern loft feel. This venue receives excellent reviews from couples, who praise their top-notch service and food.

Learn more about Tribeca Rooftop »
620 Loft and Garden
Looking to host a garden wedding right in the middle of the city? It's totally possible! Located right on Fifth Avenue overlooking St. Patrick's Cathedral and Rockefeller Center, this unique venue features an impeccably-manicured rooftop garden, ideal for an open-air ceremony. Afterwards, receptions can be held inside the intimate Loft Room, which can accommodate 120 guests for a seated dinner.

Learn more about 620 Loft and Garden »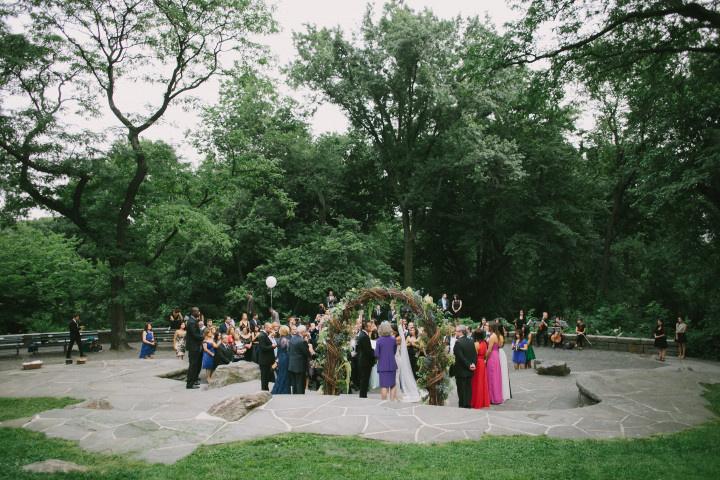 The Central Park Boathouse
You and your spouse will feel like celebrities walking through Central Park in your wedding finery. One of the most popular and desired outdoor wedding venues in NYC, The Central Park Boathouse offers both outdoor and indoor space, allowing you to be flexible in case of inclement weather. The rustic-chic indoor space can comfortably hold up to 230 guests.

Learn more about the Central Park Boathouse »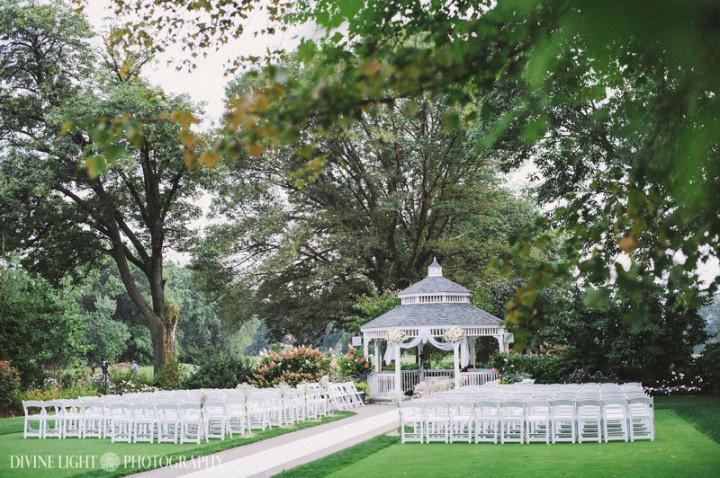 Dyker Beach Golf Course
There are lots of reasons why we love golf course weddings, and this recently renovated event space is a true oasis in the middle of Brooklyn. In fact, you'll find a serene outdoor gazebo for your ceremony, and a gorgeously-appointed Grand Ballroom for the reception. This venue is full of incredible photo ops, particularly with the Verrazano-Narrows Bridge as your backdrop! This venue can host up to 300 guests—ideal for couples who desire a larger outdoor wedding venue in NYC.

Learn more about the Dyker Beach Golf Course »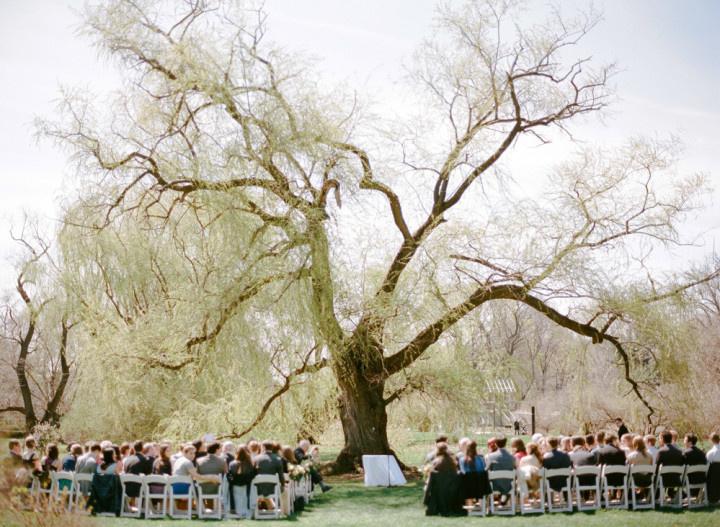 Brooklyn Botanic Garden
The highly-regarded Brooklyn Botanic Garden offers two different event spaces for your wedding—The Palm House and The Atrium. The Palm House offers a garden ceremony space, outdoor terrace cocktail hour setting, and a glass-walled indoor space for receptions. The Atrium is the newer of the two event spaces, and features floor-to-ceiling glass walls for incredible views of the garden's flora. Couples praise the service of the Brooklyn Botanic Garden's in-house caterer, Patina Events.

Learn more about the Brooklyn Botanic Garden »
The William Vale
This brand-new hotel in Williamsburg, Brooklyn (it opened in September 2016) offers a wide variety of outdoor and indoor spaces for weddings (there's even a pool!). Not only does the hotel have an outdoor rooftop event space, they also have their own park! The Vale Ballroom and Salon is a unique ballroom and a great indoor option that can accommodate up to 220 guests. We love this hotel's hip and modern, yet still totally elegant feel.

Learn more about The William Vale »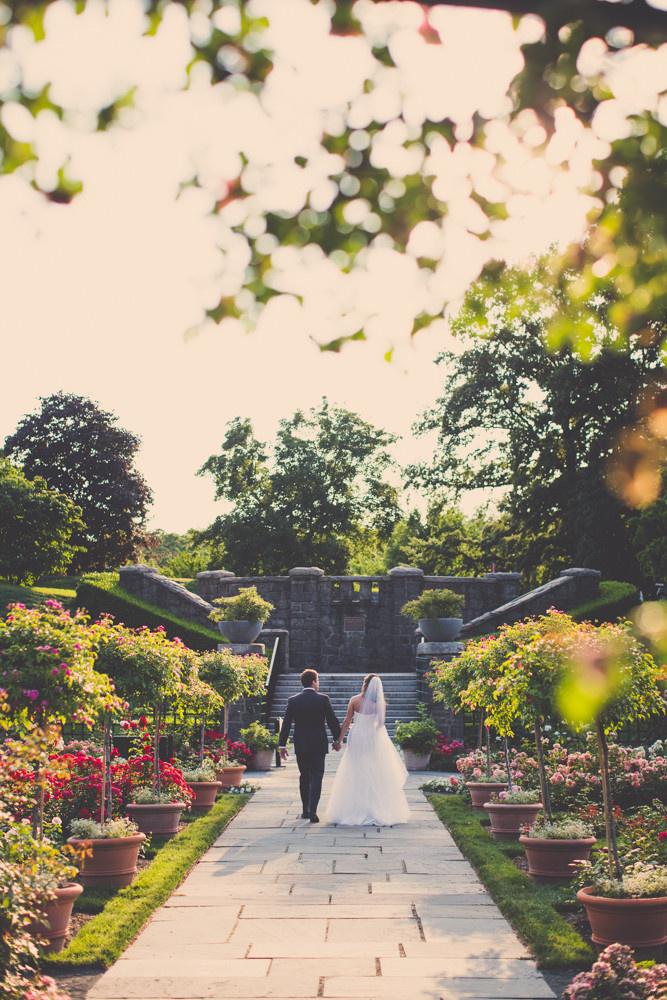 The New York Botanical Garden
Planning an outdoor wedding can be a bit tricky, but the New York Botanical Garden, one of our favorite outdoor wedding venues in NYC, makes it a breeze. Located in the Bronx, this popular venue is perhaps most famous for its stunning formal rose garden, but all of its wedding venues are lovely. From the elegant Garden Terrace Room with its outdoor space and luxurious décor to the popular and rustic Stone Mill to the grand Conservatory that can hold up to 1,000 guests, there are venues for every couple's style.

Learn more about The New York Botanical Garden »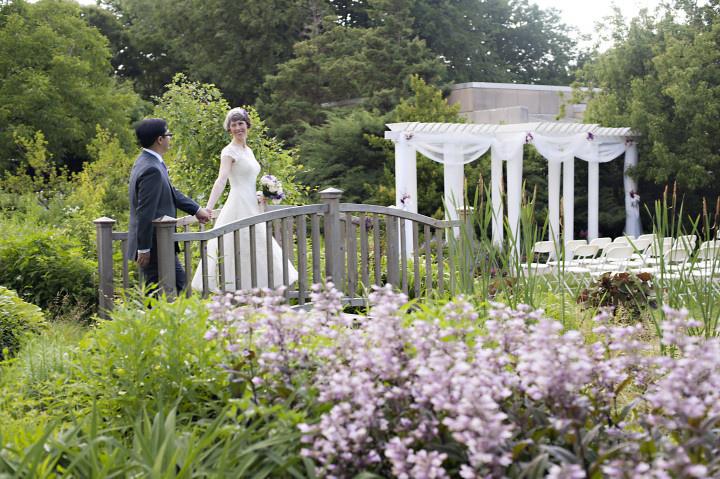 Queens Botanical Garden
The Wedding Garden at the Queens Botanical Garden is one of the most naturally beautiful spaces to wed in all of New York City. You'll find some truly incredible photo ops, including the Rose Garden, Four Seasons Garden, and Fragrance Walk—the possibilities are endless! And for receptions, you have lots of choices, including the Auditorium, Terrace, and Oak Allee. This venue is on the more intimate side, and can host up to 175 guests.

Learn more about Queens Botanical Garden »
Celebrate at Snug Harbor
One of Staten Island's most popular venues, Celebrate at Snug Harbor is set among gorgeous botanical gardens and 26 historic buildings. There are several wedding spaces to choose from, including the White Garden where you can have a tented reception, the Tuscan Garden with its villa-inspired design, and the historic Great Hall, which can host up to 350 guests. This venue specializes in cultural events, including Chinese and Indian weddings.

Learn more about Celebrate at Snug Harbor »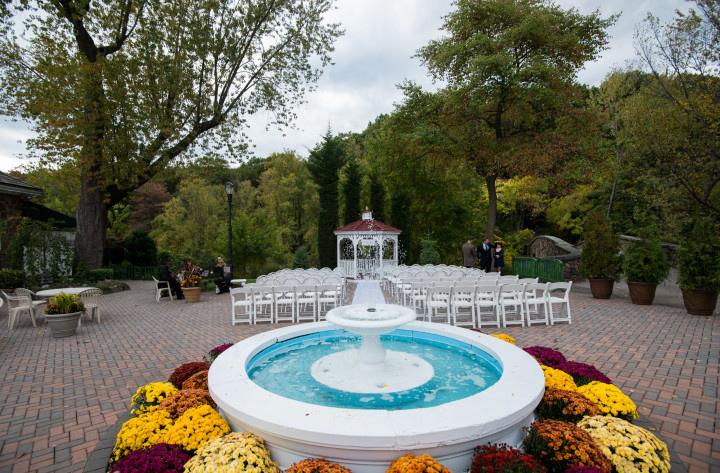 The Stone House at Clove Lake
This restaurant and outdoor wedding venue in NYC is located within Clove Lakes Park, and is surrounded by gorgeous flora and fauna. The cottage setting is oh-so romantic and has a lovely courtyard with a gazebo that's ideal for outdoor ceremonies. You'll also love the variety of photo opportunities around the park. This is also a popular venue for bridal showers and rehearsal dinners.

Learn more about The Stone House at Clove Lake »