The Tampa Wedding Guide to Getting Married in Florida
Get married in one of Florida's most popular Gulf Coast cities with these Tampa wedding tips.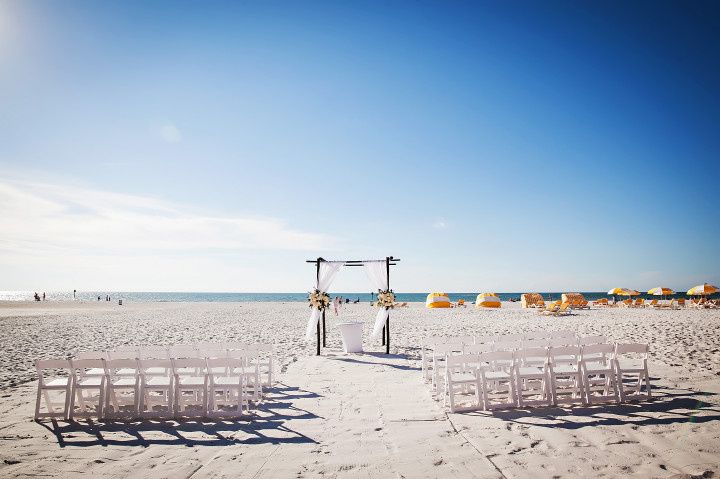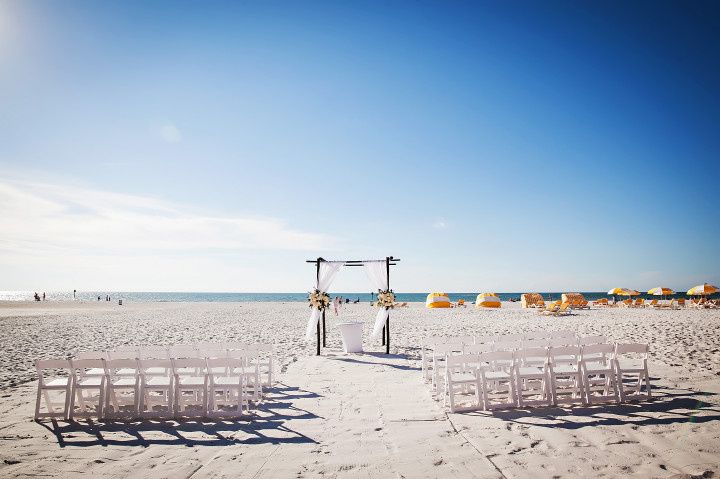 If you're planning a Tampa wedding, you have a lot to celebrate. Like much of Florida, Tampa Bay is a year-round destination, and it's home to some of the state's best nightlife, cultural offerings and beaches, which also happen to make beautiful wedding venues. Whether you're a born-and-bred Floridian or are hosting a destination wedding, getting married in Tampa is a decision you (and your guests) won't regret!
Before you start planning your Tampa wedding, brush up on all the information you need to know.
The Basics
Along with Miami, Daytona Beach, Panama City, and Orlando, Tampa is one of Florida's best destinations for nightlife. While there are plenty of opportunities to let loose and party in this Gulf Coast city, there are also countless family-friendly activities — a great perk if your wedding guests have children. If you're planning a Tampa wedding, November is the most popular time to get hitched in this area.
Couples getting married in Tampa should also consider the city's popular events and festivals, which will likely cause an influx of traffic and crowds. Gasparilla Season, an annual pirate-themed celebration, kicks off each January and runs through March. Gasparilla events include a pirate fest, a parade, marathons, and various arts festivals. Tampa Bay's annual pride parade winds through Ybor City every spring, with the St. Pete Pride Festival also taking place around the same time.
Getting There and Around
Tampa has its own international airport (TPA), which is located about eight miles northwest of the city's downtown area. It serves popular airlines like Southwest, JetBlue, Frontier, Delta, British Airways, American Airlines, and more.
While downtown Tampa has a trolley system, it may not be the most practical way for guests to get around on their own, especially if they'll need to travel outside of the main tourism district. Guests who aren't driving into town for your wedding will likely want to rent a car, or else rely on taxis and ride apps like Uber and Lyft.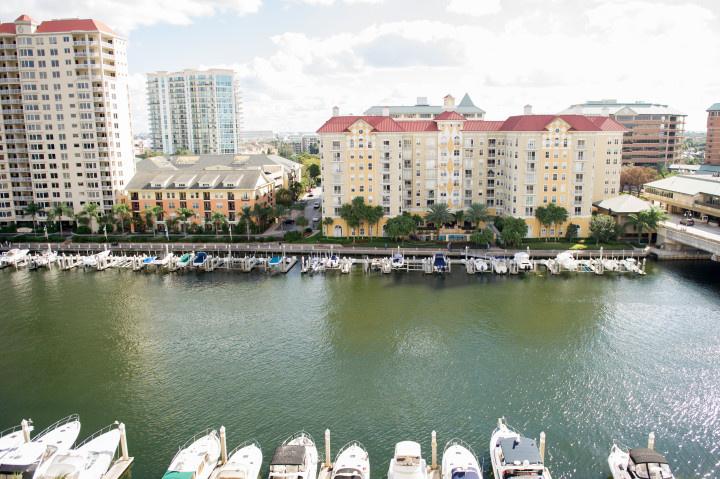 Weather
If you're having a Tampa wedding, expect a humid subtropical climate for most of the year. Florida's wet season extends from May to October, when high temperatures average around 90 degrees during the summer. Afternoon thunderstorms are a near-daily occurrence in the summer, so be sure to prepare for rain on your wedding day if you're getting married in Florida during those months. Tampa's dry season is from November to April, when high temperatures average around 60 degrees and rarely ever fall below freezing.
The Atlantic hurricane season runs from June to November, but it's uncommon for storms to make landfall in Tampa due to its location on the west coast of the state.
Wedding Venues
Beach
Couples dreaming of a beach wedding in the Tampa Bay area are in luck. From private locations along the Gulf Coast to trendy oceanfront hotels, Tampa has plenty of beach wedding venues for every style and budget.
See our top picks for beach wedding venues in Tampa »
Rustic
When you venture beyond the blue water and white beaches, Florida is home to some gorgeous farmland and countryside scenery. Barns and farms are two popular Tampa wedding venue options for couples who love rustic style.
Check out this barn wedding venue in Tampa »
Non-Beach
If beaches and rustic venues aren't your thing, the Tampa area has plenty of other fantastic wedding venues to choose from, including hotels, historic manors, ballrooms, and even the Florida Aquarium.
See the best non-beach wedding venues in Tampa »
Marriage Requirements
If you're planning a Tampa wedding, the marriage license application process in the state of Florida is pretty simple. Valid photo identification is required for both you and your fiancé(e), such as a driver's license, passport or 1-94 card. You'll also need your social security numbers and may be asked to provide your birth certificates. For anyone 18 and older, parental consent is not required for Florida marriage licenses.
Once you apply for a marriage license, there is a three-day waiting period for Florida residents who have not completed a premarital counseling course. No waiting period is required for non-Florida residents. A marriage license in Florida is valid for 60 days after it's issued.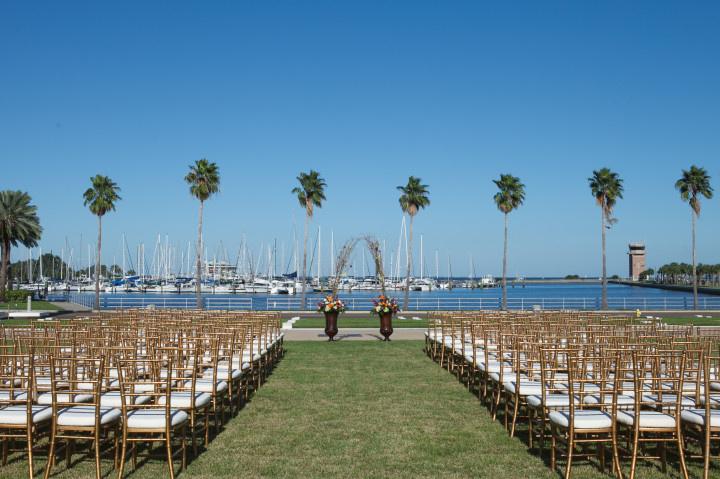 Things to Do in Tampa
Busch Gardens Tampa Bay
This theme park is one of Tampa's most popular attractions. With high-speed roller coasters, kid-friendly rides, and numerous animal exhibits, there's something for everyone at Busch Gardens Tampa Bay. It's located just eight miles northeast of downtown Tampa, making it a quick car ride for your guests who will be in town for a few days. Busch Gardens' sister attraction, Adventure Island, is a nearby water park that's open between early spring and late fall.
Museums
They might not be the first thing that comes to mind when you picture Florida's Gulf Coast, but Tampa is home to a number of museums and cultural sites. The Henry B. Plant Museum, located on the University of Tampa campus, showcases late Victorian life and the beginning stages of Florida's tourism industry through original furnishings and educational exhibits. There is also the Glazer Children's Museum, the Tampa Museum of Art, the Museum of Science & Industry, and the University of South Florida Botanical Gardens.
Sightseeing Cruises
With its waterfront location, it's no surprise that some of Tampa's best tourism activities are by boat. Some of the most popular sightseeing cruise options are the Tampa history cruise, sunset cruises, dolphin watching cruises, and fishing charters.
Explore Ybor City
This historic neighborhood in Tampa was founded in the 1880s and was mainly populated by immigrants from Cuba, Spain and Italy. It's best known for its bustling cigar industry, which thrived for more than 50 years from the late 19th century until after World War II. Today, Ybor City is experiencing a rebirth as a nightlife destination, with dozens of bars, ethnic restaurants, hotels, shopping centers, and street parties.
Beaches
Our list of things to do in Tampa wouldn't be complete without mentioning Florida's gorgeous beaches. Guests can soak up the sun at nearby Clearwater Beach, St. Pete Beach, or secluded barrier islands like Fort DeSoto State Park and Caladesi Island State Park.
Tampa Wedding Inspiration
We've covered all the important details — now it's time for the fun part! Get inspired for your own Tampa wedding with these ideas from real couples: