Every proposal is magical—even if it takes place in your living room! But at one of these very best places to propose in the US, you can step it up and really wow your partner with an unforgettable proposal in an equally unforgettable setting. From beautiful natural wonders to bustling cityscapes, get inspired by these iconic picks, one of which might soon become your favorite place in the world.
Check out the best places to propose in the U.S. and start planning your big moment.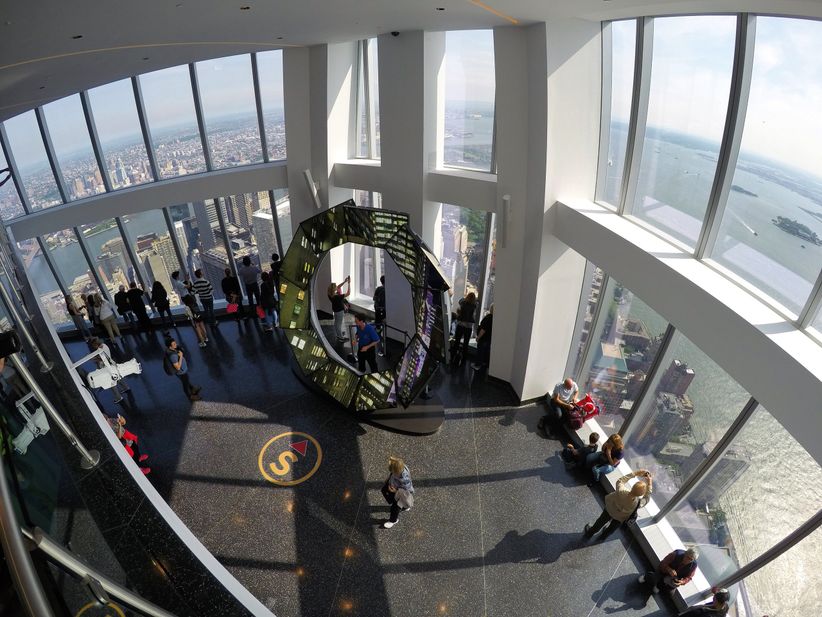 One World Observatory, New York City, New York
While you'd be spoiled for choice for proposal backdrops in New York City—there's a romantic nook that looks plucked from an old Hollywood movie seemingly around every corner, not to mention Central Park, Rockefeller Center, and more—the city's newest showstopper, One World Observatory, just might outshine them all. As the tallest building in the USA, and with a weighty history that makes it particularly significant, the One World Trade Center building is certainly one of the best places to propose in the U.S. Take the high-speed elevators up 102 floors in just 42 seconds (it's a good idea to plan your proposal speech ahead of time!) to One World Observatory, then gawk at the incredible views of America's biggest city—go at night for sparkle that rivals your ring. Once you've popped the question, cheers to forever at the observatory's fine dining restaurant, ONE Dine. (Make a reso at least 30 minutes ahead of time to secure your spot.) Talk about kicking off your marriage on a high note!
Woodstock, Vermont
If you and your partner are constantly in search of sweater weather, the rolling hills and pastoral scenery of this quintessential New England town make it one of the best places to propose in the U.S. Tucked in the Green Mountains and known for its especially lovely fall foliage and winter snowscapes, Woodstock is as close as we'll ever get to Gilmore Girls' fictional Stars Hollow—Google image it if you don't believe me! Book a long weekend, stay at one of the town's cushy bed and breakfasts (the photogenic Woodstock Inn is a favorite among travel bloggers), and plan to pop the question in front of the Sleepy Hollow Farm—it's one of New England's most photographed farms for a reason. Surrounded by lush foliage in the fall or silent snowfall in the winter, you'll feel like it's only you two in the entire world, and you'll never forget that perfect moment in that storybook setting. Once you get your "Yes!," head back to town for a celebratory feast at the understated but trendy Worthy Kitchen, which serves farm-to-table fare in digs so cozy you might want to get married there, too.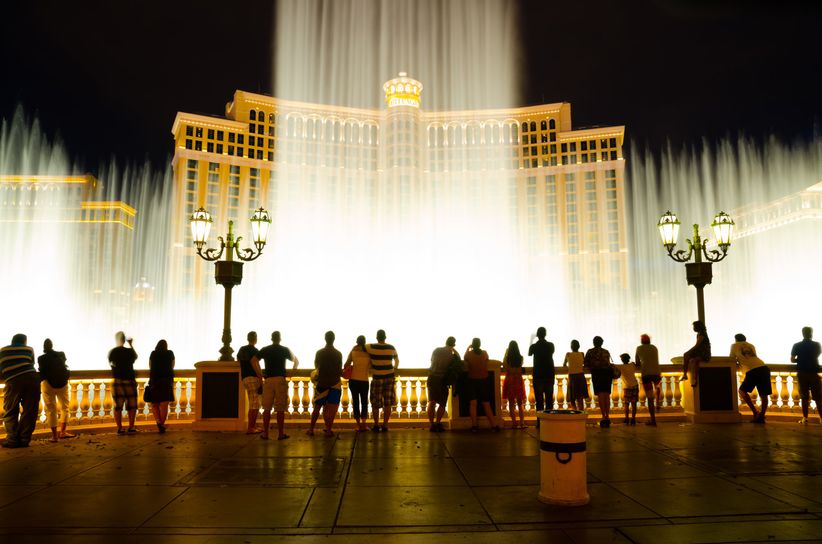 Bellagio Hotel Fountains, Las Vegas, Nevada
Vegas is not for everyone, but if you and your partner love to party, people watch and just plain live it up, is there anywhere else but Vegas for you to propose (or get married, for that matter)? Where else can you get engaged in Italy, have celebratory Champagne in Paris and still make it in time for a decadent dinner back in Italy? But the piece de resistance for proposal backdrops in this grown-up playground has to be the fountains at the Bellagio Hotel, with more than 1000 water jets that shoot up to 460 feet into the air in choreographed patterns set against dramatic music and lighting. Most shows begin every 15 or 30 minutes (check the hotel website) and are free to the public—so if you've always dreamt of a spontaneous proposal that just unfolds with your evening, this is the spot. For a luxe surprise for your new betrothed, book a room at the Bellagio that overlooks the fountain for post-proposal festivities, and celebrate over succulent sushi at the hotel's Japanese spot, Yellowtail. And if you want to just go ahead and get married at one of Vegas's famous chapels, well, nobody's going to stop you.
Breckenridge, Colorado
Nestled against the base of the Rocky Mountains' Tenmile Range, charming Breckenridge offers some of America's most stunning mountain views and a unique Victorian village where you can really unwind—and it's certainly one of the best places to propose in the U.S. If you ski, propose at the cusp of Peak 6, which offers a sweeping view of the Rockies. If you're not exactly a ski couple, that's OK—you can still propose with an amazing backdrop of Breck by driving. Head to either Boreas Road Overlook or Breck Overlook on Ski Hill, park, and hike until your partner is caught up in gazing out at the mountain vista. Then make your move! Whether you propose morning, noon or night in this alpine paradise, you'll definitely want to have one thing on hand: A photographer. Well, and some snow boots. Afterwards, keep the good vibes and good views going for dinner at Traverse, which boasts panoramic windows so you can drink in more mountain vistas while you muse about your upcoming nuptials.
Magic Kingdom at Disney World, Orlando, Florida
Either you're about to marry a Disney-lover or you're not—it's something you just know. And if you are, there's no more magical place to start forever with that person than, well, the Most Magical Place on Earth: Disney World. And while you could just plan an unforgettable trip to Disney and pop the question in front of Cinderella's castle while tons of charmed tourists look on with glee (adorable!), Disney takes it a step further with an entire website dedicated to amping up your proposal in a way that only Disney can do. At rates starting at just around $100 (not bad for forever!), you can add on "Enchanting Extras" like dinner at Cinderella's Royal Table, a horse-drawn carriage ride, in-room rose petals and more. For a prettier penny (think north of seven grand…), you can work one-on-one with an event planner to customize your very own Disney fairytale proposal start to finish. Whether you pop the question between rides, or go all out with an Imagineer, you can rest assured your Disney proposal will definitely be one for the vault.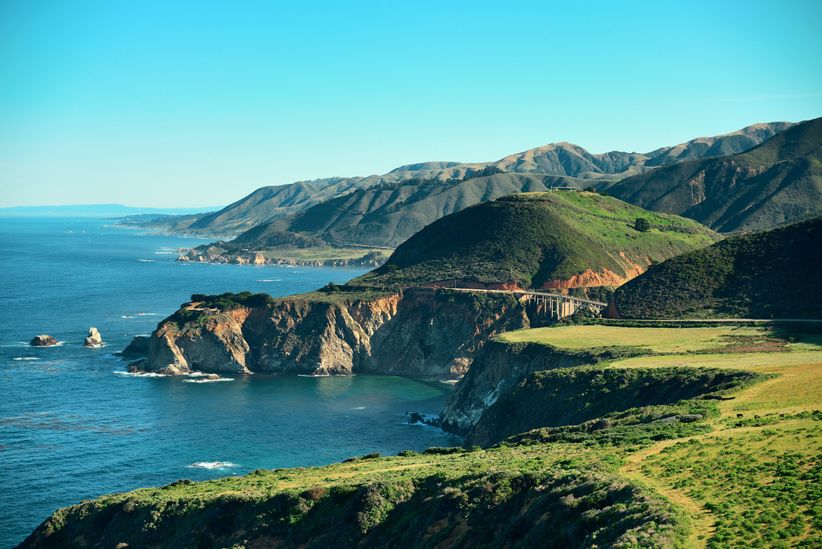 Big Sur, California
Called "one of the world's most unforgettable stretches of coastline," Big Sur is also one of the least inhabited parts of California. Which makes it one of the best places to propose in the U.S. if you and your partner are get-lost-off-the-grid types. Plan an epic camping weekend, stock up the car with snacks and a very special ring, then hit State Route 1, where you'll find an array of jaw-dropping proposal backdrops, from redwood forests, to crashing tides and an infinite horizon, to oceanfront nature preserves. Of course, you can't go wrong by getting down on one knee before McWay Falls, an 80-foot waterfall that dumps directly into the Pacific Ocean (and the only of its kind in the world). Pack a picnic (and a bottle of champs), hike the short trail to the falls, do your thing, then celebrate right on the beach as the tide rolls in. You might not have cell service to Instagram that epic "We're engaged!" selfie, but we have a feeling that's exactly your style.