A Guide to Weddings in Denver & Getting Married in Colorado
Planning your big day in the Mile High City? Here's how to make your wedding in Denver extra-special.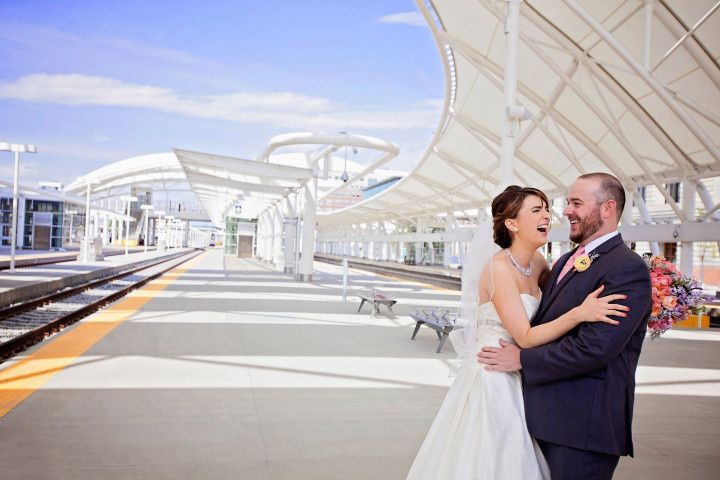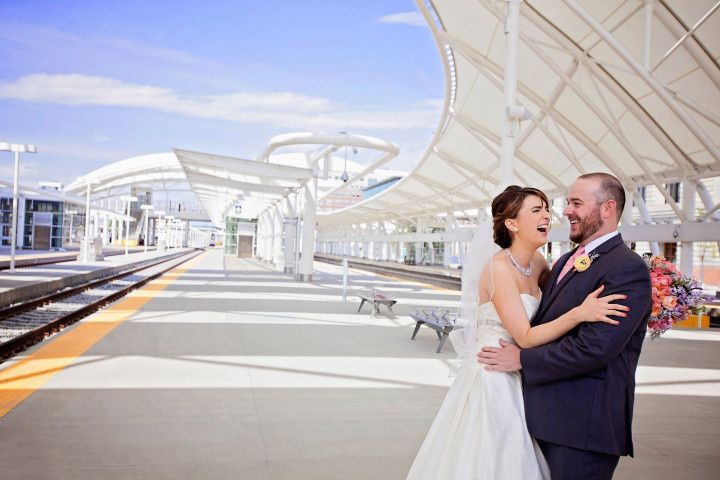 Photo: Ashley Kidder, Wedding Photographer
There's something positively magical about weddings in Denver, otherwise known as Mile High City. From the mountain backdrops to the city's laid-back, Western vibe, there's so much to love about getting married in Denver. The area is not only beloved by locals, but also is becoming one of the hottest destination wedding locales in the country with its wide variety of gorgeous venues and talented vendors.
Weddings in Denver are oh-so unique. Here's how to start planning yours.
The Basics
Not only are weddings in Denver scenic and beautiful, they're also relatively affordable. Turns out that the average wedding in Denver costs $24,300, well below the national average of $28,000. Denver weddings also tend to be smaller, with an average guest count of 100 (the national average guest count is 124). Denver couples seem to love fall weddings, with October being the most popular month to wed.

Denver is a popular tourist destination, and also hosts many events throughout the year. Before setting your wedding date, it's a good idea to make note of the biggest festivals and events in the area which could cause full hotels and traffic snarls. A few of the Denver events to make note of include the Cherry Creek Arts Festival and Colorado Dragon Boat Festival, both in July, Denver Oktoberfest in September, and the Great American Beer Festival in October.
Getting There and Getting Around
If you're getting married in Denver, you should be familiar with the transportation system in the area. Out-of-town guests will likely fly into Denver International Airport, and can take a rail service, known as the A Line, to Denver Union Station, which takes about 37 minutes. Taxis and ride apps like Uber and Lyft are also available.

Denver is quite a walkable city, so depending on where they're staying, your guests may be able to walk to many attractions. Guests may also enjoy traveling by the city's light rail or bus systems, as well as the 16th Street Mall Ride, a free hybrid vehicle that travels to many landmarks. You can also rent bicycles or scooters for a fun way to get around this vibrant city!
Photo: Elevate Photography
Weather
Weddings in Denver can take advantage of some truly spectacular and mild weather, partly because of the city's high altitude. In fact, the city sees over 300 sunny days a year. Winters tend to be on the milder side, with an average daily temperature of 45 degrees. And summers are warm, with an average July temperature of 88 degrees.
Wedding Venues
Couples who are planning weddings in Denver have lots of venues to choose from, whether you're looking for a modern and urban space or a more classic and traditional venue. Here are some of the most popular venue styles in the Denver area.
From manor houses to gardens to farms, many of the Denver area's wedding venues have historical significance. Getting married at one of Denver's historic venues will wow your guests and immerse them in the area's rich past.
Check out historic wedding venues in Denver »
Many couples host weddings in Denver because of the area's gorgeous Rocky Mountain views. There are several locations where you can take advantage of stunning backdrops, including golf courses and rustic event centers.
Check out wedding venues with mountain views in Denver »
If you're getting married in Denver and interested in a more intimate setting, a restaurant may be the right venue for your special day. There are lots of restaurant wedding venues to choose from in the Denver area, from local and organic cafes to cozy steakhouses.
Check out restaurant wedding venues in Denver »
Ballroom wedding venues are among the most elegant and classic spaces to wed—and Denver is home to many gorgeous ballroom venues including hotels, banquet halls, and much more.
Check out ballroom wedding venues in Denver »
Couples looking to take advantage of Denver's cool vibe may want to consider a brewery venue for their big day. These Denver wedding venues offer great beer and a laid-back vibe your guests will love.
Learn more about brewery venues in Denver »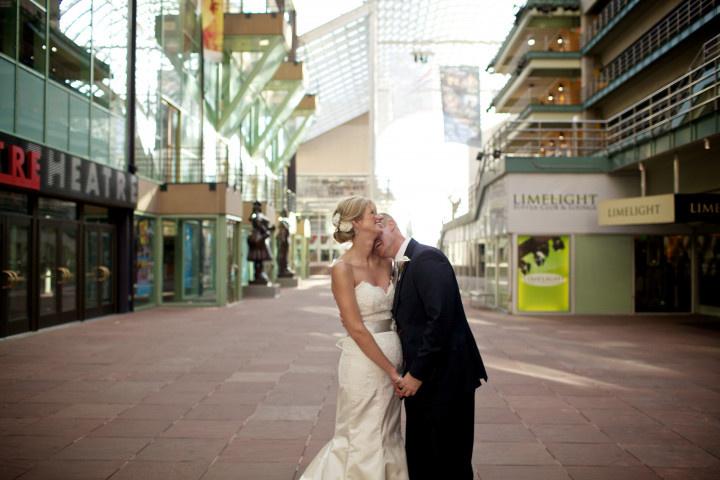 Photo: Jason + Gina Wedding Photographers
Marriage Requirements
One of the most important parts of getting married in Denver is actually obtaining your marriage license. To save time, you can fill out the marriage application form online in advance and bring it to the Office of the Clerk and Recorder in the Webb Municipal Office Building. You'll need to pay a marriage license fee of $30, bring valid forms of identification, and must have your wedding ceremony within 30 days of receiving your marriage certificate. There is no waiting period, and you must be 18 years of age to marry in Colorado (or at 16 or 17 with parental permission).

One unique part of getting married in Colorado—it's one of just a few states that allows couples to solemnize their own marriage, meaning that you and your partner can technically marry yourselves. Otherwise you will need to find a licensed officiant.
Wedding Accommodations
A big part of wedding planning is ensuring that your guests can easily travel to your wedding and have a place to stay. Fortunately, there are lots of hotels in Denver where you can book a room block to help make this process a breeze for your loved one. Our advice? Find hotels that are close (walking distance, if possible!) to your venue. You'll also want to book room blocks at several hotels with different price points.
Things to Do in Denver
Your guests will likely want to explore Denver during their downtime, so be sure to recommend different attractions and activities they might enjoy. Here are a few of our favorites:
Coloradans love the outdoors, and these stunning gardens are a great way to explore nature. With activities for people of all ages, it's a must-see for your out-of-town guests!
One of the largest art museums in the country, the Denver Art Museum is sure to inspire your loved ones.
Red Rocks Park & Amphitheatre
While this is slightly outside of Denver proper, it's worth a visit. You don't have to see a show at this music venue to enjoy the gorgeous scenery—there are some truly impressive hiking and biking trails to enjoy!
Even though this is Denver's oldest neighborhood, it has a totally hip vibe and is full of restaurants, breweries, bars, nightclubs, and more.
Denver Wedding Inspiration
Weddings in Denver are full of unique details and special touches. Get inspired while planning your big day in Denver by perusing some real weddings from Mile High City.

Georgianna and Michael's glamorous hotel wedding »
Caitlin and Zach's colorful spring wedding »
Jill and Rich's modern museum wedding »
Jennifer and Shane's preppy-chic summer wedding »
Disclosure: This post contains affiliate links, some of which may be sponsored by paying vendors.