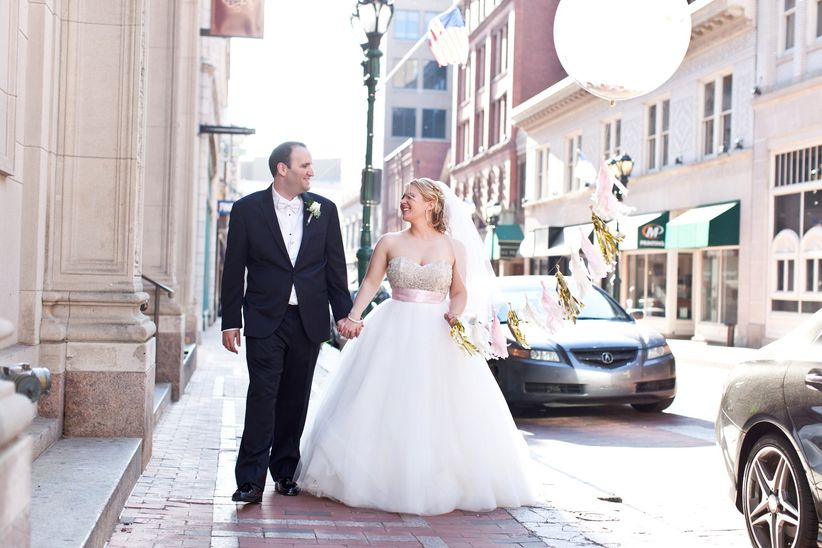 Photo: Airen Miller Photography
Whether you're looking to host a wedding that's classic and traditional or more laid-back and modern, Connecticut is the place! Weddings in CT are among the most scenic and beautiful in the entire country, and couples have been flocking to this state to wed because of its convenience and the variety of venues. In particular, Hartford, CT weddings have a natural beauty and charm that many desire.

If weddings in CT are just your style, read this guide to start planning your big day!
The Basics
It turns out that weddings in CT cost slightly less than the national average, at around $27,200 (the national average is $28,000). Fall weddings, particularly those in September and October, are most popular in this area. With all of the gorgeous foliage and crisp, yet not-too-cold weather in the area, this shouldn't be a surprise. The size of weddings in CT are right around the national average at about 120 guests per event.

While cities like Hartford aren't quite as busy as say, New York City, there are still certain annual events that may tie up traffic and cause hotels to fill up quickly. When planning your Hartford, CT wedding, be aware of the Riverfest 4th of July Celebration, the Greater Hartford Festival of Jazz in July, the Dragon Boat Festival in August, and the Discover Hartford Bicycle and Walking Tour in September.
Getting There and Getting Around
If many of your guests will be traveling from out of town to your Connecticut wedding, they'll likely fly into Bradley International Airport in Hartford, which is the largest airport in the state. For those hosting weddings in New Haven, there is a small airport in that city, but guests may also prefer to fly into one of the larger New York City-area airports, including JFK and LaGuardia. For guests traveling from the Northeast corridor, there are Amtrak trains that travel to the Hartford or New Haven stations, as well as bus service from a variety of carriers.

For a Hartford, CT wedding, your guests will likely have to rent a car or travel via taxi, unless their accommodations are within walking distance to your venue (or you provide transportation). While there is some public transportation in downtown Hartford via bus, it might not be the easiest for your guests to navigate.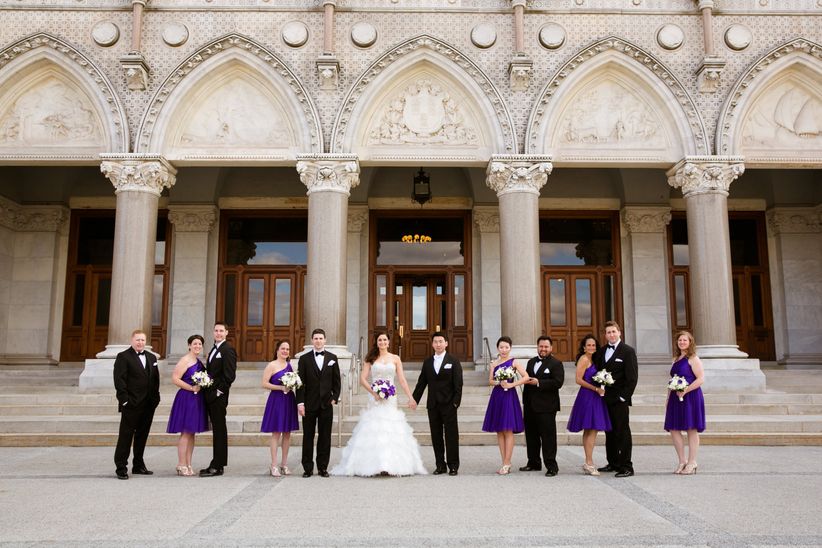 Photo: Candace Jeffrey Photography
Weather
In general, Connecticut has a relatively moderate climate with cold winters and warm, humid summers. In Hartford, the average temperature in January (the coldest month) is 35 degrees, while July (the warmest month) is 84 degrees on average. New Haven trends a bit warmer. The driest month is February, while May is the wettest month in the state.

For those planning on hosting winter weddings in CT, the state has had its share of blizzards in the past few years. While winter weddings and celebrations in the area can be stunning, it's important to be aware of the weather risks and prepare for a Plan B.
Wedding Venues
Hosting a wedding in CT? You're in luck! There is a wide variety of wedding venues to choose from for your special day, from barns to ballrooms and everything in between. Here are a few of the most popular types of wedding venues in CT.
One of the benefits of hosting your wedding at a banquet facility is that they're essentially "one stop shops." They usually offer catering and other services in-house, so your planning process will be easy and stress-free. And fortunately, there are several award-winning banquet hall venues that can host your wedding day—from scenic spaces with water views of the Connecticut River to unique castle event spaces.
Check out banquet hall wedding venues in Connecticut »
Your wedding dreams will come true with one of these amazing outdoor venues. You'll find gardens, vineyards, inns, parks, country clubs, waterfront spaces on the Connecticut shoreline, and much more.
Check out outdoor wedding venues in Connecticut »
Many couples desire a wedding in CT with a rustic feel. Barn venues are ideal for country-themed weddings, and there are several in the area to choose from.
Check out barn wedding venues in Connecticut »
If a classic ballroom isn't your thing, don't fret! Connecticut has its share of unique venues that you'll absolutely love. From Jonathan Edwards Winery in North Stonington to The Palace Theater in Waterbury, these venues are sure to wow your guests.
Check out unique wedding venues in Connecticut »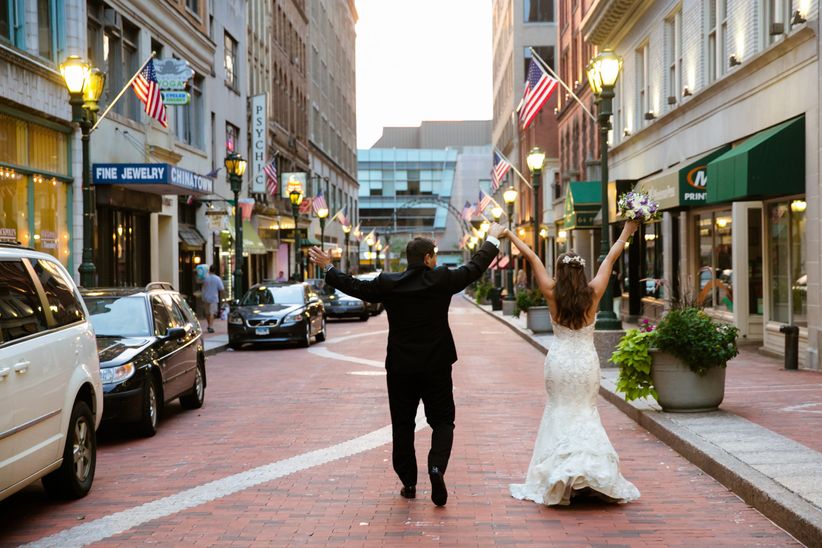 Photo: Candace Jeffrey Photography
Marriage Requirements
One of the most important parts of hosting a wedding in CT is ensuring that you properly apply for and receive your marriage license, following the laws of the state. You must apply for your marriage license in person at the Municipal Clerk's Office in the town where you'll be marrying (if you're hosting a Hartford, CT wedding, you can apply at City Hall). You'll pay $30 and have to provide valid forms of identification. Your license is valid for 65 days, and there's no waiting period.
Wedding Accommodations
If you're hosting many out-of-town guests, it's important to book room blocks at hotels near your wedding venue. If it possible to book hotels within walking distance to your venue, go for it, but given how spread out Connecticut can be, we recognize that's not usually possible. Instead, book room blocks as close to your venue as possible and provide transportation to and from your wedding for your guests' convenience and safety.
Things to Do in Connecticut
It's a nice gesture to share your favorite activities and attractions in CT for your guests to enjoy during their visit. Here are some of our favorite places to check out in Hartford.
The Mark Twain House & Museum
This historic landmark, the actual Hartford home where Twain wrote such works as Adventures of Huckleberry Finn, is a must-see attraction for any literary or history buff.
If you're hosting a Hartford, CT wedding during a warmer month, your guests should take advantage of the beauty of this expansive park.
Connecticut Science Center
Guests of all ages will enjoy this huge museum, full of unique exhibits and much more.
Wadsworth Atheneum Museum of Art
Did you know that the oldest continuously-operating public art museum is located in Hartford? Yup, this art museum features about 50,000 works of art.
Hartford Wedding Inspiration
Weddings in CT have a style all their own. If you're getting married in the Hartford area, here's some inspiration to help you start planning your dream wedding.

Mallory and Erind's glam ballroom wedding in Hartford »
Pamela and Daniel's Art Deco wedding in Hartford »
Jackie and Jon's fall barn wedding in Middletown »
Cristina and Jeff's garden wedding in Thompson »