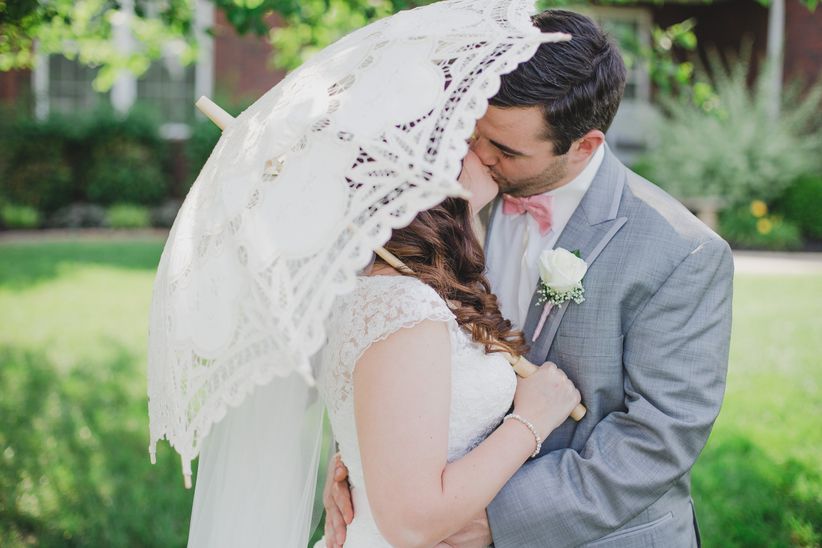 If you're getting married in Kentucky, you're one of the lucky ones. Whether you're hosting a Louisville wedding or an event in Lexington, Frankfort, or elsewhere, the state, you'll be delighted at the variety of Kentucky venue options as well as the range of talented vendors who can make your wedding dreams a reality. And talk about amazing scenery! Kentucky offers some truly beautiful landscapes, from the rolling bluegrass hills to the banks of the Ohio River. And as the most populous city in the state, Louisville is definitely a hotspot for weddings.
Ready to start planning your Louisville wedding? Read on to learn everything you need to know about getting married in Kentucky.
The Basics
Louisville is not only one of the prettiest places to get married in the U.S., it's also one of the more affordable locations to wed. For example, the average cost to rent a Louisville wedding venue is $3,500, far lower than the $6,000 national average. Whether you're looking to get married in the city or in a more rural area, there are lots of venues to choose from.
Wherever you're planning on getting married in Kentucky, you should do a little research before setting your date. You'll want to be aware of any major events that are taking place during your chosen wedding day—these events can snarl traffic, cause hotels to book up more quickly than usual, and make you rethink your chosen date. Of course, the Kentucky Derby (which takes place on the first Saturday in May in Louisville) is perhaps the biggest event in the state, but there are others to look out for. These include the Kentucky State Fair in August, the Festival of the Bluegrass in Lexington in June, and any University of Kentucky sporting events, if you're getting married in Lexington.
Getting There and Getting Around
If you're hosting many out-of-town guests at your Louisville wedding, you'll want to share pertinent travel information with your loved ones. Guests who will be flying to your wedding location may choose between several Kentucky airports, including Louisville International Airport, Blue Grass Airport in Lexington, and Cincinnati/Northern Kentucky International Airport.
Once your guests have arrived, their best bet may be rent a car to get around, unless their accommodations are within walking distance to your venue. While there is a public bus system in Louisville, it doesn't go everywhere and your guests will likely find it more convenient to have a car at their disposal. If you're getting married in Louisville or elsewhere in Kentucky, you may want to consider renting a shuttle to transport your guests to and from your wedding conveniently and safely.
Weather
Kentucky's climate is relatively mild and moderate, with warm summers and fairly cold winters. Spring and fall bring the most temperate weather, so it's no surprise that these seasons are most popular for weddings. Storms are common in the spring and summer, so you should definitely have a Plan B if you're planning an outdoor wedding, just in case Mother Nature threatens to dampen your plans.
Wedding Venues
Finding a Kentucky wedding venue can be daunting—there are just so many options to choose from! Whether you're looking for an urban space in Downtown Louisville or a more rustic event venue, there are plenty of locations to choose from. Here are a few of our favorites:
Outdoor
From country clubs to gardens, there are many outdoor Lexington and Louisville wedding venues that we absolutely love. While many couples want to host their wedding ceremony outside, some of these venues provide options for either indoor or outdoor weddings.
See more outdoor wedding venues in Louisville and Lexington »
Small
If you're getting married in Kentucky and hosting a more intimate wedding, you may worry about finding the right space for your wedding—not too big, not too small. Fortunately, there are several Kentucky wedding venues that are just the right size for a smaller event, whether you prefer a more classic, romantic venue, or something more modern and hip.
See more small wedding venues in Louisville and Lexington »
Barn
When you think about the gorgeous bluegrass countryside in Kentucky, you probably think of rustic barn wedding venues—and turns out there are lots of 'em! We love barn venues because of their country charm, as well as the abundance of outdoor and indoor spaces for relaxed events.
See more small wedding venues in Louisville and Lexington »
Marriage Requirements
Couples who are getting married in Kentucky need to be aware of the marriage laws—including how to actually get a marriage license. In Kentucky, you and your future spouse must apply for your marriage license together at a County Clerk's office. You'll need to bring appropriate photo ID, as well as a $35.50 fee. Kentucky is actually one of the easier states to marry in, as there's no waiting period—meaning you can get married immediately after receiving your license. However, your marriage license is only valid for 30 days.
How to Change Your Name in Kentucky
Before your wedding, you and/or your partner will want to think about if changing your name is right for you. While this is an entirely personal decision, it's important to know the steps one needs to take to go from a maiden to a married name. After your wedding, you'll want to receive certified copies of your marriage license to bring to the various offices as proof of your marriage and name change. First, you'll want to go to your local Social Security Office to get your name changed on your Social Security card. After this is completed, you'll need to apply for a new driver's license within 10 days—then you can head to other offices and service providers to ensure your name is changed on all of your personal and professional documents. If this all seems pretty daunting, sites like HitchSwitch can help make the name change process a breeze.
Wedding Accommodations
Hosting some out-of-town guests? If so, we recommend booking room blocks at hotels that are close to your wedding venue. By booking room blocks, you'll sure that there are available rooms for your guests and they'll likely get a discount, too. It's a good idea to book room blocks at hotels that differ in price points, so all of your loved ones will find accommodations that fit their budget.
Things to Do in Louisville
We love when couples provide their guests with a list of recommendations for activities, dining, and other attractions in their wedding location. Luckily for Louisville couples, there's lots to do and see. Here are a few of our favorite Louisville attractions:
Churchill Downs and Kentucky Derby Museum
Louisville is perhaps most famous for the Kentucky Derby, so a trip to the area is not complete without a tour of Churchill Downs, where the famed horse race takes place.
Waterfront Park
Guests of all ages will love the Louisville Waterfront Park area, which has ample space for a whole host of activities. We recommend talking a stroll across the Big Four Bridge or taking a bike tour of the park.
Bourbon Tour
Kentucky is well known for its bourbon so if your guests like to imbibe, why not plan a tour of one of the area's distilleries? There are many to choose from!
Louisville Wedding Inspiration
Couples getting married in Louisville should look to past weddings in the area for inspiration. Here are a few of our favorites:
Luke and Cassandra's spring garden wedding »
Andrew and Kaitlin's summer farm wedding »
Matthew and Traci's boho farm wedding »
Disclosure: This post contains affiliate links, some of which may be sponsored by paying vendors.