Known as the "Gateway to the West," St. Louis bridges the gap between past and present. The city is steeped in history, but it's also a major midwestern hub — and more importantly, it's a great (and sometimes underrated) place to get married. We've found the best St. Louis wedding venues to help you plan an amazing celebration, whether you're a native Missourian or looking for an unexpected destination to host your nuptials. This guide also tells you everything you need to know about getting married in Missouri, from state marriage laws to weather patterns, popular annual events, and more.
Here's what you need to know about St. Louis wedding venues if you're getting married in Missouri.
The Basics
If you're planning a wedding in Missouri or researching St. Louis wedding venues, you'll want to consider a few things before making any final decisions. With the average cost of wedding venues in St. Louis around $6,600, your venue is likely to be one of your biggest wedding expenses, so be sure to do your research! Consider getting married at an all-inclusive venue that also offers services such as catering, bar packages, and event coordination.
Choosing your wedding date is another detail you'll want to weigh carefully, since prices for St. Louis wedding venues often vary between seasons. You can expect to pay more during popular or "peak" months (May, June, September, October), while getting married during the off-season can help you save money.
Last but not least, pay attention to any local events happening in St. Louis around the same time as your wedding date. If there's a major event, you can expect limited hotel availability, increased traffic, and larger crowds, especially if you're getting married in downtown St. Louis. Some popular annual events include: Soulard Mardi Gras (mid-February/early March), St. Patrick's Day Parade (March), PrideFest St. Louis (June), Big Muddy Blues Festival (September), and The St. Louis International Film Festival (November).
Getting There and Around
Located on the border of Missouri and Illinois along the Mississippi River, St. Louis is easily accessible by plane, car, and train. The St. Louis Lambert International Airport (STL) is just 14 miles northwest of downtown and has direct flights from more than 70 destinations and 13 airlines. Southwest Airlines is one of the airport's main carriers, with more than 120 flights departing every day.
Alternatively, you can use Amtrak or Greyhound to reach the city, with trains and busses running to the Gateway Transportation Center (also known as Gateway Station) daily. If you're traveling by car, St. Louis is about five hours from Chicago, four hours from Kansas City, MO, and four and a half hours from Nashville.
Weather
St. Louis experiences four distinct seasons throughout the year. Temperatures between April and November are relatively warm, which means you'll have more months to choose from if you're hosting an outdoor wedding, although high temperatures in the summertime often reach 90 degrees plus humidity. In the winter, the average daytime temperature is around 40 degrees, with occasional snow (St. Louis receives about 15 inches of snow annually). May and October are two of the best months if you're having an outdoor wedding, with average high temperatures in the 70s.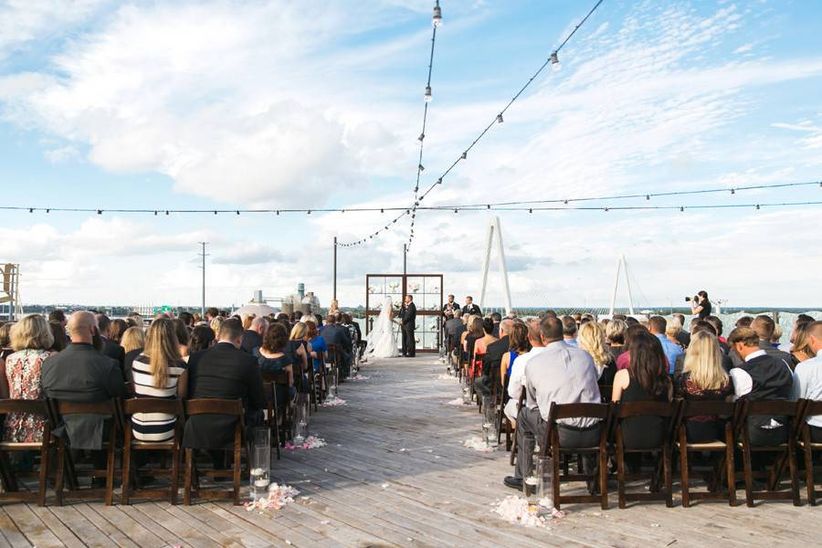 Wedding Venues
In downtown St. Louis, you'll find cool spots like rooftop decks, beer gardens, and hip restaurants with outdoor spaces where you can get married. Beyond city limits, rolling hills, farms, and vineyards set the backdrop for an ultra-romantic celebration with picturesque views. Check out Kuhs Estate & Farm for a riverfront location or The Larimore for old-school Southern charm.
See outdoor wedding venues in St. Louis »
There's no shortage of quirky, one-of-a-kind wedding venues in St. Louis. Whether you choose the historic Thaxton for its vintage flair, the Saint Louis Zoo for its cute and cuddly residents, or the colorful Third Degree Glass Factory, this city is full of unique locations for your big day.
See unique wedding venues in St. Louis »
If you're looking for budget-friendly St. Louis wedding venues, you'll be relieved to hear that there are a lot of options. Choose from affordable rustic venues, such as Boone Monument Village and Dodson Orchards, or something on the more classic side, like the gorgeous Magnolia Hotel St. Louis. You can even get married at some of Missouri's most scenic vineyards without breaking the bank — we love Villa Antonio Winery and Noboleis Vineyards.
See inexpensive wedding venues in St. Louis »
Marriage Requirements
In order to get married in St. Louis, you'll need to apply for a Missouri marriage license first, which can be done at the Recorder of Deeds office in each county. You don't need to be a state resident, but you'll be asked to present a government issued photo ID and your social security card. If you're under the age of 19, you'll also need a birth certificate, and if you're under the age of 17, parental consent is required. Once your license is issued, it's valid anywhere in the state for 30 days.
Things to Do in St. Louis
Whether you're inviting a large number of out-of-town guests to your wedding or you simply want to remind friends and family of all that St. Louis has to offer, it's helpful to provide a list of activities that people can enjoy while they're in town. Here are our top recommendations.
St. Louis wouldn't be what it is today without its beer-making roots. See the home of Budweiser at the Anheuser-Bush St. Louis Brewery, a three-story brew house with an outdoor beer garden (it doubles as a wedding venue!), a rooftop deck, and more than 100 beers on tap. For the beer enthusiasts who are into smaller-scale options, there are dozens of craft breweries throughout town.
From theater performances to art galleries and live music, the arts are alive and well in St. Louis. Blues fans can check out the National Blues Museum, while foodies can enjoy live music with their seafood at the Broadway Oyster Bar. Visit the Fox Theatre for broadway shows and operas, or head to Forest Park during the summer to catch an outdoor concert or musical at The Muny.
No visit to St. Louis is complete without a stop at the Gateway Arch. This iconic landmark, which towers 63 stories into the sky, celebrates America's westward expansion and is the tallest monument in the country. Take a tram ride to the top for unbeatable views of the Mississippi River, downtown St. Louis, and beyond — or if you're wary of heights, stay on the ground where you can explore the arch's museum or step back in time aboard a riverfront cruise.
St. Louis Wedding Inspiration