With its Southern-meets-Western-meets-urban vibe, St. Louis is no doubt a unique place to get hitched. This city offers all kinds of wedding backdrops, but some of the most in-demand spaces are outdoor venues. We've researched dozens of outdoor wedding venues in St. Louis to find the best spots in and around town, and they definitely don't disappoint. Whether your style is classic and refined or laid-back and non-traditional, these St. Louis wedding venues bring a lot to the table if you're planning an outdoor celebration.
Here are nine must-see outdoor wedding venues in St. Louis.
Kuhs Estate & Farm
Set on 150 acres of farmland, this outdoor wedding venue near downtown St. Louis offers a private escape less than an hour from the city. Kuhs Estate & Farm is an entirely outdoor venue located on the Missouri Bluffs, with views of the Missouri River and surrounding countryside. The venue has three main areas for your ceremony: a spot overlooking the river, a hilltop gazebo, and a 200-year-old oak tree, which is one of the most popular choices. A tent serves as the main reception structure and can also be used in the event of inclement weather. Kuhs Estate & Farm offers more than just a dreamy setting for your big day — the venue also provides event and floral design, vintage decor rentals, lawn games, and lighting options.
Learn more about Kuhs Estate & Farm »
The Larimore
You'll find plenty of historic charm at this pre-Civil War property located about 13 miles north of central St. Louis. The six-acre estate, which hosts events for up to 250 guests, has a Victorian mansion (with dressing rooms), a wedding gazebo, landscaped gardens, a chapel, and a restored barn all onsite. Complete your wedding with one of The Larimore's all-inclusive packages, which range from basic ceremony/elopement options to full receptions including catering, wedding coordination, additional photo time at the venue, and basic decor rentals.
Learn more about The Larimore »
Anew
Planning an outdoor wedding in downtown St. Louis? Check out the rooftop at Anew on North Grand Street. We love this stylish loft-inspired space for modern weddings, and the amazing views don't hurt, either. Anew can host seated dinners for up to 90 people, making it an ideal space for smaller weddings. The venue provides food, beverages, personalized lighting, and a facility manager to help everything run smoothly on the big day.
Haue Valley
Haue Valley is one of the most idyllic outdoor wedding venues in St. Louis, and with nearly 250 acres of land, it's also one of the largest. This means extra seclusion and space on your wedding day, not to mention a variety of spots throughout the venue that make excellent photo backdrops. Whether you opt for the hilltop overlook, the cow pasture, or the stone patio, all of the outdoor ceremony spaces at Haue Valley are stunning choices. The venue also has a cozy, updated cedar barn with exposed beams, industrial-style lanterns, and floor-to-ceiling windows that create a warehouse-meets-rustic look.
Learn more about Haue Valley »
Anheuser Busch Biergarten
Get married at a St. Louis landmark by hosting your wedding at the Anheuser Busch Biergarten, the oldest and largest Budweiser brewery in the country. Naturally, this historic wedding venue is a perfect choice if you just really love beer, but it has a lot to offer even for those who aren't planning to imbibe. We love the industrial feel of the outdoor biergarten (pictured here), but there's also an indoor biergarten, a lager room, and the schoolhouse, where you can enjoy an educational beer sampling experience — a.k.a "beer school." Catering and alcohol are provided as part of the venue's customizable wedding packages, which also include table linens, china, and flatware. Make your wedding complete with optional add-ons, such as uplighting, beer-themed centerpieces, and a guest visit from the brewery's famous clydesdale horses.
Learn more about Anheuser Busch Biergarten »
The Piper Palm House
This elegant conservatory in Tower Grove Park provides an intimate setting for both indoor and outdoor weddings. If you're dreaming of an outdoor ceremony, the stone patio overlooks lily ponds and trees for an ultra-serene view as you're exchanging your vows. Inside, skylights and windows fill the room with natural light, while palm trees and other plants create a cool botanical-inspired vibe. With its various wedding packages, The Piper Palm House provides event assistance, tables, chairs, and add-ons like reception tents, security, and a Clydesdale carriage.
Learn more about The Piper Palm House »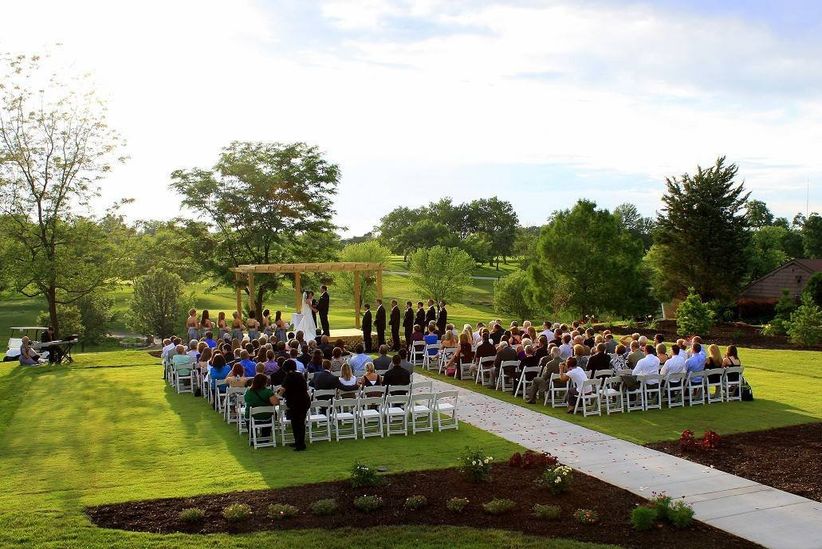 The Highlands Golf and Tennis Center
Can't decide between an indoor wedding venue or an outdoor wedding venue in St. Louis? This country club has both options! Hold your ceremony outdoors on the venue's manicured lawn, which features a paved pathway leading to a gazebo overlooking the pristine golf course. For your reception, the venue's clubhouse is just steps away with an elegant banquet room and covered veranda for an indoor-outdoor effect. Pricing for event packages at The Highlands Golf and Tennis Center begins around $55 per person, making this one of the more affordable St. Louis wedding venues. Catering, wedding coordination, tables, chairs, and tableware are all supplied in-house.
Learn more about The Highlands Golf and Tennis Center »
Olivaa on the Hill
True to The Hill's roots as a historic Italian neighborhood, this outdoor wedding venue in St. Louis is full of charming, European-inspired details, such as cozy wood pergolas, stone water features, beamed ceilings, and terrazzo floors. With a maximum capacity of 100 guests, Oliva on the Hill is ideal for smaller weddings or intimate celebrations, like rehearsal dinners and bridal showers. Catering is provided in-house, with Italian food dominating the menu selections (no surprise there!).
Learn more about Oliva on the Hill »
Four Seasons Hotel St. Louis
Say hello to one of the best rooftop spots in all of St. Louis. With a prime view of the Gateway Arch and the Mississippi River, it's hard to compete with the outdoor space at the Four Seasons Hotel in downtown St. Louis. You'll be paired with one of the Four Seasons' wedding experts who will help you plan your wedding from start to finish, and the venue provides all of the essentials (and more) you'll need. Floral design, catering, wedding cake, transportation are all provided in-house, but you can also take advantage of the resort's spa and beauty treatments to help you prep for the big day.
Learn more about Four Seasons Hotel St. Louis »
Sunflower Hill Farm
If you're looking for rustic wedding venues in St. Louis, consider driving about an hour west of downtown to Augusta, where you'll find Sunflower Hill Farm. The main feature of this 24-acre, family-owned property is the gorgeous barn that converts to an indoor/outdoor space. There's also a spacious lawn, stone patio, bonfire pit, hilltop ceremony area, and a small wine cellar, giving you and your guests plenty of room to spread out throughout the venue.
Learn more about Sunflower Hill Farm »