A Guide to Washington DC Weddings & Getting Married in DC
Everything you need to start planning the ultimate Washington, DC wedding, from A to Z.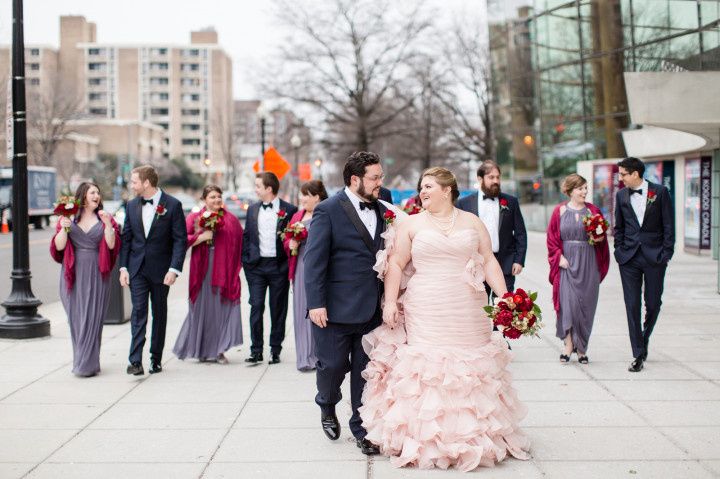 Kudos for deciding to host your wedding in DC! Whether you're a native Washingtonian getting married on familiar soil or coming to the District from another city, Washington, DC weddings are some of the most beautiful around. Getting married in DC offers something for every couple's aesthetic, from nature-loving (hello, National Arboretum and Rock Creek Park) to waterfront to cobbled streets or grand hotels.
Here's your comprehensive guide to Washington, DC weddings and getting married in DC!
The Basics
Like couples in other regions, couples getting married in DC are taking about 13 months to plan their weddings. October is the most popular month to be wed in the District. Most couples have a 13-person vendor team, 115 wedding guests and nine of their closest pals in their wedding party.
Getting There and Getting Around
DC is conveniently located in the Northeast corridor with easy access to points north and south via trains and buses as well as a short distance away from three airports. Wedding guests traveling from the Boston, New York, Philadelphia or Richmond metropolitan areas may elect for an economical Amtrak ride to Washington's Union Station. International guests arriving for Washington, DC weddings have the choice of Baltimore-Washington International Thurgood Marshall Airport, about 32 miles northeast of DC, or Washington Dulles International Airport, about 27 miles west of DC. Ronald Reagan Washington National Airport is also available for domestic flights to DC.

Once guests are within the city limits, getting to your wedding venue, rehearsal dinner location or other points of interest are generally a short ride away. The Washington Metropolitan Area Transit Authority (WMATA) operates both DC area's subway system and bus lines. Ride fares depend on the distance traveled and vary based on time of day (rush hour rides are more expensive), but generally cost less than $5 each way.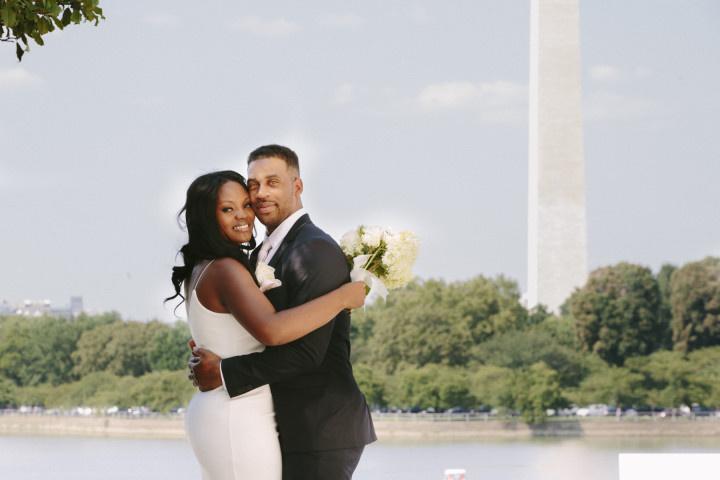 Weather
Temperatures in Washington depend heavily on the seasons, as all four are felt in pretty equal measure in this part of the country. Located within a humid subtropical climate zone, extreme heat or cold are rare, but precipitation is common. (So, outdoor Washington, DC weddings should heed these tips.)

January and February are the coldest months with the average temperatures in the high 30s. March, April and May see normal temperatures in the high 40s, mid 50s and mid 60s, respectively. The summer months (June to September) average in the high 70s, with highs frequently dipping into the 80s. October, November and December see temps in the high 50s, high 40s and high 30s, respectively.
DC Wedding
Picking the perfect wedding venue in DC is, tbh, pretty easy. The city may be on the small side, but it's bursting with exciting venues. Couples looking for a lux historic hotel venue steeped in history have just as many options as bohemian couples wanting to feed their industrial soul.
Unique Wedding Venues: DC can do a gorgeous hotel wedding like no other, but the District also offers up some unexpected options with unforgettable details.
Rooftop Wedding Venues: With the Capitol dome providing a sups patriotic skyline, there's much to see from the rooftop terraces of the city's aerial wedding venues.
Waterfront Wedding Venues: Nestled on the Potomac River with smaller bodies of water running directly through the city means water lovers have many venues to go ga-ga over.
Marriage Laws
A marriage license application in the District is pretty simple. The DC marriage bureau administers license at the city's Moultrie Courthouse at 500 Indiana Avenue NW. Both parties will need a valid driver's license, state ID, military ID, passport or birth certificate. You'll also need to know the social security numbers, addresses, dates of birth, home phone and work phone numbers for both parties to apply for a DC marriage license. If either of you have been previously married, you should bring the date, city, state and country of the previous marriage and the ending status (i.e. divorce or death).

The license fee totals $45, which includes a $35 marriage license application fee and a $10 certificate of marriage fee. Fees can be paid in cash, via credit card or money order. Fees are paid to the Clerk, Superior Court.

Application by proxy is permitted in DC. A third party applying on behalf of the couple must bring all of the required ID and fees for the couple.

There is no waiting period in DC. A blood test is not required.
Wedding Accommodations
Arranging lodging can be tricky for out-of-town guests, so be sure to create a hotel room block at or near your venue. Be sure to publicize your room block on your wedding website as well.

This is also the time to think about potential transportation for your guests and wedding party. If your room block is more than a short Uber ride or Metro train ride away, shared, pre-arranged transportation to and from the wedding might save your guests an extra headache.
Things to Do in DC
Ok, so, you have to kind of indulge in American history to really enjoy DC — this we know. However, encourage your wedding guests to check out some of the other cool local sites of DC once they've had their fill of monuments.
Here are two neighborhoods guests will love:

H Street Corridor: Stretching from Union Station to Kingman Lake, this strip in Northeast DC is too cool for school. Dine at famous restaurants like Toki Underground (1234 H St NE) or the original &Pizza (1118 H St NE) before taking in a show at the Atlas Performing Arts Center (1333 H St NE) or playing a game of Skee-Ball at H Street Country Club (1335 H St NE). Stroll to Union Market (1309 5th St NE) for complete epicurean delight at their various food stalls.

West End: For DC tourists who like the finer things, but have already experienced what Georgetown has to offer, West End is a trendy alternative. A meal at Michelin-rated Blue Duck Tavern (1201 24th St NW) is a must, as is a stop at Rasika West End (1190 New Hampshire Ave NW). Hike off all that good food in Rock Creek Park or head to the Kennedy Center (2700 F St NW) for some culture.
DC Wedding Inspiration
Now that you know all there is to know about Washington, DC weddings, it might help to see how other couples pulled off theirs. Here's a bit of inspo for couples getting married in DC.
Disclosure: This post contains affiliate links, some of which may be sponsored by paying vendors.