The 6 Best Restaurant Wedding Venues in Denver, Colorado
Colorado foodies, these venues are for you — host your entire wedding or reception at one of these Denver restaurants for an affair that'll remembered forever!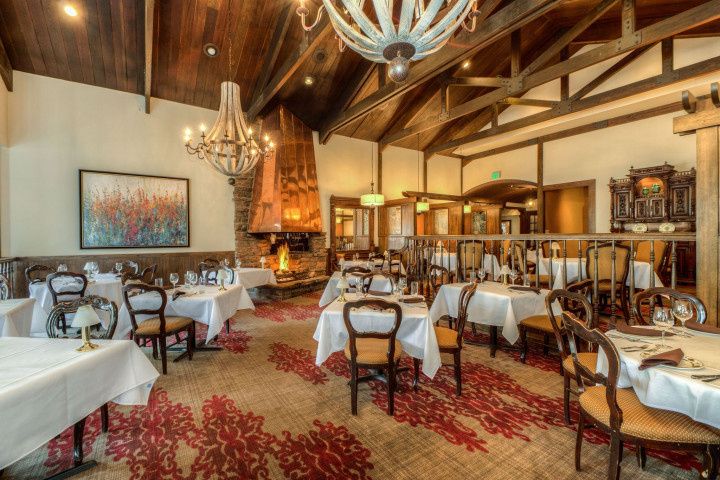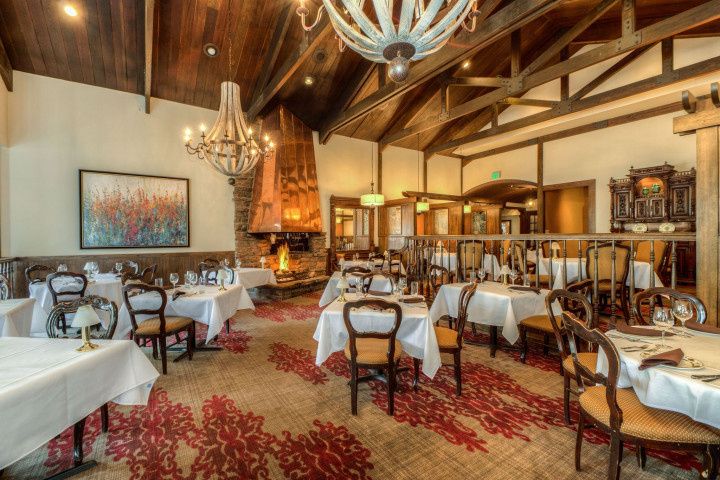 Photo: Briarwood Inn
Searching for the perfect modern venue for your wedding? We've got news for you! Restaurant wedding venues are becoming seriously popular in Denver and around the country. Whether you're looking for a laid-back vibe or high-class dining, there are plenty of restaurants that are sure to wow your guests. If you live around Denver or are hoping to host a destination wedding in the mile-high city, these Denver wedding venues do not disappoint. And while the city may be more well-known for its picturesque landscape, it's quickly expanding into a cultural hub — and that means there are plenty of restaurant wedding venues for you and your future spouse to choose from.

Restaurant wedding venues are absolutely perfect if you and your S.O are total foodies or are just hoping to have a non-traditional wedding experience. Accommodating both large and small affairs, these venues will have killer food and a great atmosphere to celebrate with friends and family. If you don't believe us, check out these reasons you should get hitched at a restaurant. Whether you're hoping to host 30 or 300, we've rounded up some of our favorite restaurant wedding venues in Denver.


Here are some of our favorite Denver restaurant wedding venues to consider for your wedding festivities.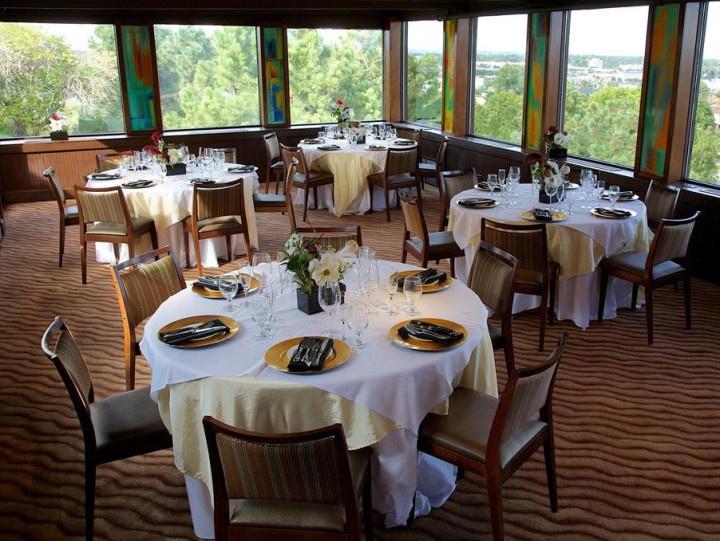 Photo: Simms Steakhouse
Simms Steakhouse

If you're looking for a more traditional reception space with delicious cuisine, Simms Steakhouse can't be ignored. Nestled just 10 miles west of Denver-proper, this restaurant wedding venue has plenty to offer. Both private and semi-private rooms are available and can hold anywhere between 25 and 300 guests. If you and your soon-to-be spouse are hoping to have a grand affair surrounded by friends and family, consider renting the entire restaurant for the reception. If smaller gatherings are more your style, The City View Room offers a panoramic view of Denver's striking skyline and can comfortably seat 60 guests. For all the winos of Denver, the Wine Room boasts a warm atmosphere and a wall of wine! (Sign us up!)

Learn more about Simms Steakhouse >>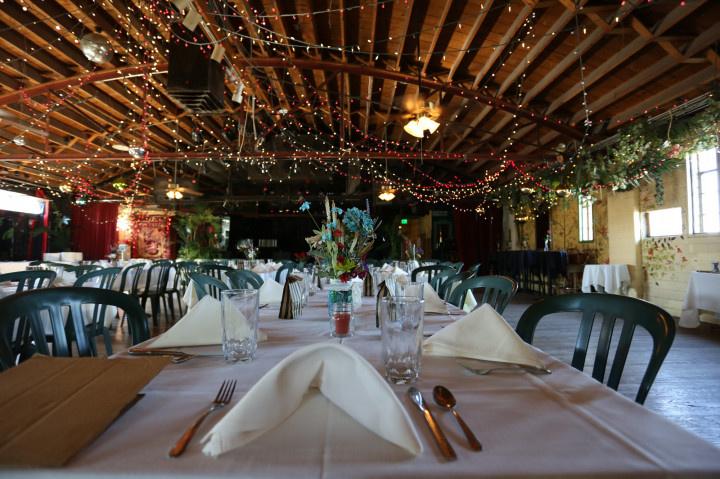 Photo: Brick and Willow Photography
Mercury Cafe

Located in the heart of Denver, Mercury Cafe is a unique restaurant wedding venue, perfect for couples looking for a truly singular wedding experience. It opened its doors on Halloween in 1990 and has been serving the citizens of Denver ever since. This restaurant wedding venue can accommodate between 30 and 250 guests with two available wedding spaces. Serving all local and organic food, the staff at Mercury Cafe will be happy to create a healthy and affordable menu that is sure to make your mouth water. They can even provide wedding cakes! With exposed rafters and an industrial chic vibe that is just to die for, Mercury Cafe is definitely worth checking out.

Learn more about Mercury Cafe >>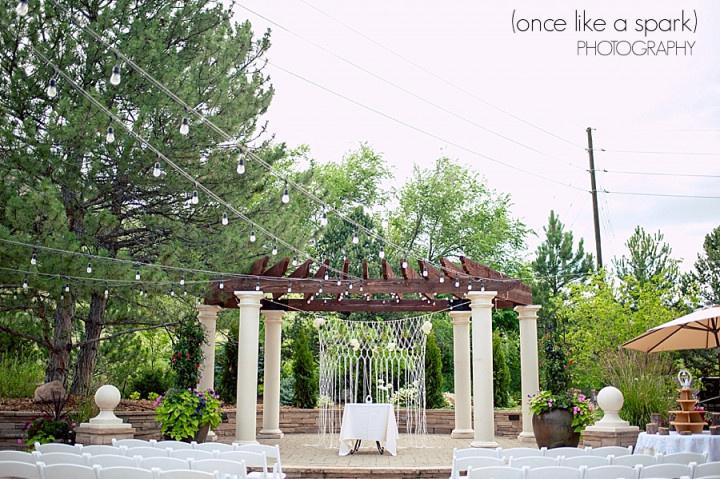 Photo: (once like a spark) photography
The Briarwood Inn

Couple's hoping to find a one-stop shop for their wedding festivities, look no further. The Briarwood Inn is one of Denver's most romantic restaurants! With stunning indoor and outdoor wedding spaces including two dining rooms and a garden terrace (swoon!), you'll immediately fall in love. The garden terrace feels like it's straight out of a fairy tale with a raised stage and pergula, string lights, and plenty of natural greenery. Both dining rooms have a rustic, old-world feel, with exposed rafters, a brick and copper fireplace, and wooden empire chandeliers. This restaurant wedding venue's location in Golden, Colorado — just outside of Denver — is a perfect find combining old and new, all you'll need is something borrowed and something blue. The Briarwood Inn can accommodate up to 200 guests for a stunning Denver wedding.

If you're looking to save a few bucks on your wedding day, The Briarwood Inn can provide areas for ceremonies and receptions, along with almost all your rental needs, AND catering!

Learn more about The Briarwood Inn >>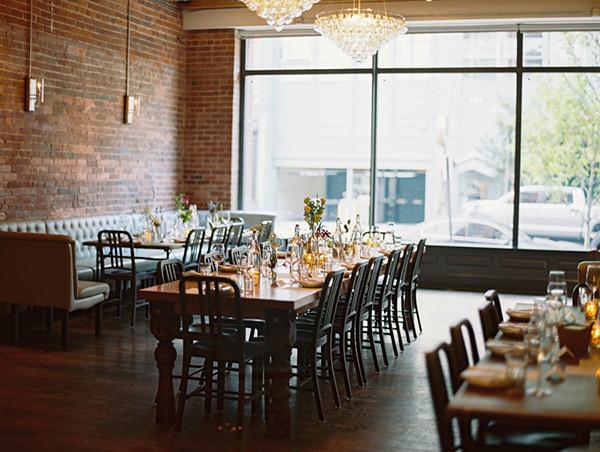 Photo: Sara Hasstedt Photography
The Kitchen

If modern, open, and industrial chic describe your ideal wedding, The Kitchen should totally be on your radar. Co-founded in 2004 with the mission of building community through food, this farm-to-table restaurant wedding venue will leave you speechless. There are several wedding spaces for both small and large events including: The Wine Room, Chef's Room, Bar Area, and Patio. The top-notch staff can accommodate between 28 and 120 seated guests or 18 to 250 for a cocktail-style reception. With a prime location in Lodo, Lower Downtown, any out-of-town wedding guests will have plenty to do while they celebrate your nuptials. Lodo is the oldest and original settlement of the city of Denver. Whether out-of-towners are looking to take a trip into the past — Lodo has the largest concentration of Victorian and early 20th century building in the United States — or just want to spend the weekend partying in dance clubs, wine bars, and breweries, this Denver restaurant wedding venue is not the only thing guests will remember for years to come.

Learn more about The Kitchen >>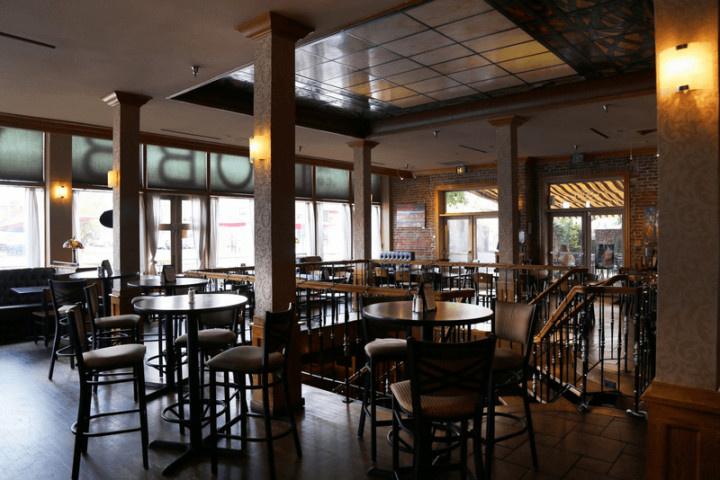 Photo: The Lobby
The Lobby

With a tagline of "playful eats, serious drinks", we're already sold on this historic warehouse venue that checks off 6 out of 8 wedding venue trends. Built in 1890, The Lobby is quite possibly the perfect combination of old west and modern city life. Exposed brick walls and a grand staircase are just a few of the wedding venue's selling points. But it doesn't stop there, choose to have a mid-day or evening wedding and enjoy the dazzling display from the stained glass ceiling. Dress this space up with a large floral wreath or a decorative backdrop for a selfie station/photo booth. The possibilities, for this Denver wedding venue, are nearly endless so let your wedding dreams run free!

If you're looking to host a brunch wedding, The Lobby has you covered, boasting itself as being Denver's favorite destination for brunch. Trade martinis for mimosas as you and your guests enjoy breathtaking views of the Rocky Mountains. It can accommodate up to 90 seated guests or 100 for a cocktail-style reception. Say "I do" in the European-style courtyard before heading inside for stellar food, drinks, and dancing!

Learn more about The Lobby>>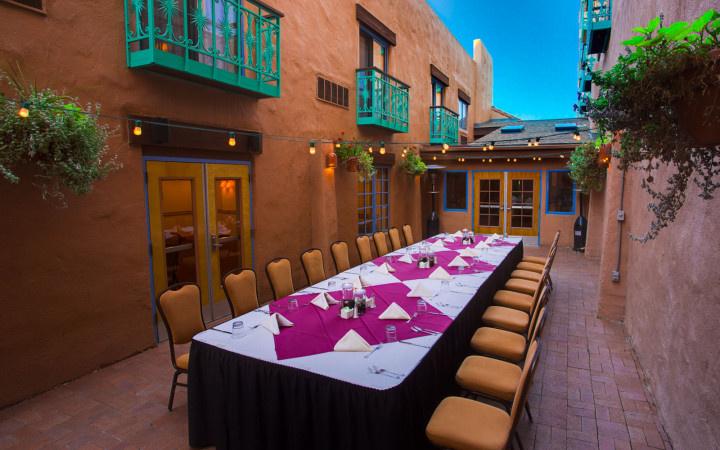 Photo: Table Mountain Inn
Table Mountain Inn

If you're looking to host a destination wedding without breaking the bank, or just want to show your friends and family the beauty of Denver, Table Mountain Inn is the wedding venue is the perfect find. Located on the edge of the Rocky Mountains in Golden, Colorado, this venue was built in the adobe style with beautiful earthen walls and decorated with the rich colors of the early West's Spanish heritage. When deciding where to say "I do", you'll have plenty of selection at Table Mountain Inn. The Kokopelli Courtyard is a private outdoor space with prefect for an intimate ceremony with family and friends. Other rooms include Lakota Lounge (with its stone fireplace!), the Arapaho Room, Kokopelli Room, Del Rio Room, and Kokopelli Lounge. This location can accommodate anywhere from 10 to 200 guests and being a restaurant, hotel, and wedding venue all in one means you won't have to organize and coordinate guests' lodgings. That's one less thing to stress about!

Learn more about Table Mountain Inn >>