A Guide to Weddings in Jacksonville, Florida
Whether you're planning a Florida destination wedding or a hometown celebration, here's our go-to guide you need to plan a killer wedding in Jacksonville, Florida.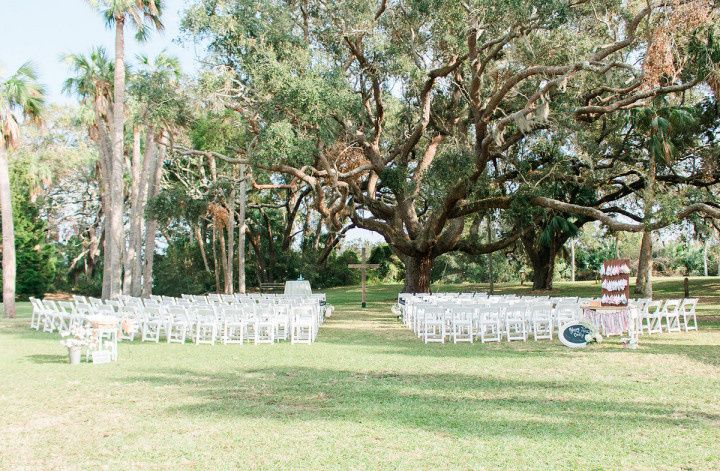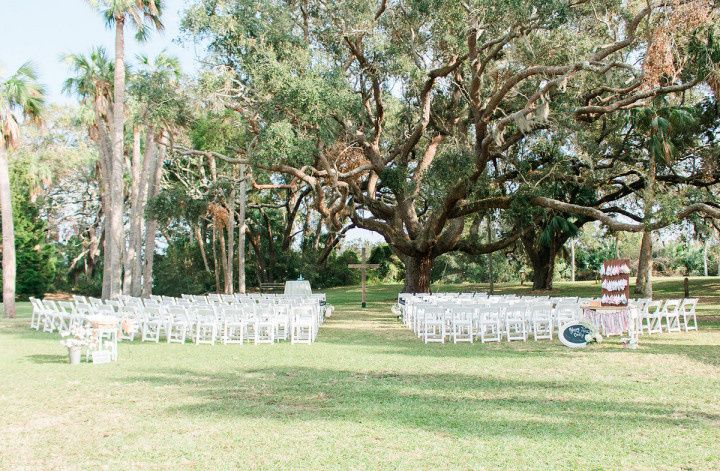 Weddings in Jacksonville, Florida are known for their gorgeous waterfront backdrops, killer downtown settings, and beachy, laid-back style. Jacksonville has been a hotspot for couples to host their special day not just because of its natural beauty, but also because it's typically a warmer city with tons of things to do and see. This means couples getting married in this Florida city will have plenty of Jacksonville wedding venues to choose from.
So, if you're planning on getting married in Florida and aren't exactly sure where to start, we've got your back. From figuring out how to get around in the city to the best times to host your big day, this Jacksonville wedding guide will definitely help kick-start your wedding planning process.
Here's everything you need to know about weddings in Jacksonville, Florida.
The Basics
Jacksonville—or Jax, if you're a local—is located in northeastern Florida right where the St. John's River meets the Atlantic Ocean. It's one of the largest cities in the area and is a popular wedding destination for many couples looking for a waterfront setting. The city is filled with beachy venues to exchange "I dos" (just check out this list of wedding venues in Jacksonville with ocean views) and has a fab selection of other outdoor spots (like these hot outdoor wedding venues in Jacksonville.). It's also one of the more reasonably priced areas in the country to host your big day with the average wedding cost ranging from $20,000 to $25,000.
Getting There and Getting Around
Jacksonville is a convenient city when it comes to travel and transportation, which is why it's also a great choice to host a destination wedding. While still being on the coast, Jacksonville is close to the Georgia line (about an hour or so away) making it an easy drive if you're coming from the east coast. The city also has an international airport where faraway couples and guest can fly into on the big day. The airport is about 13 miles away from downtown and services hundreds of flights a week.
Once you get into the city, Jax has plenty of transportation options for out-of-towners to get around. Opt to explore the town on a trolley, tour downtown via the traffic-free Skyway, or even take a water taxi and see breathtaking views of Jacksonville's skyline. Along with having tons of fun-filled ground transportation options, Jacksonville also has public bus transportation options, cabs, and Ubers to use while you're in town.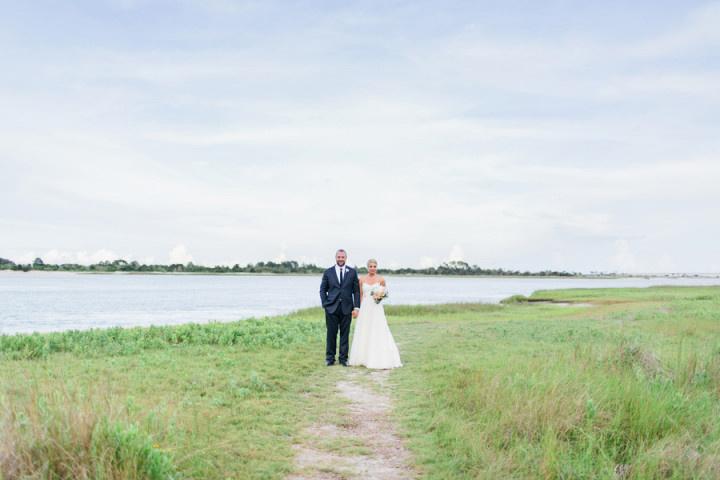 Weather
Like we said before, Jacksonville has an amazing climate for couples hoping to have an outdoor wedding. The city is warm year round with the coolest month being January with a high reaching just to the mid 60s. The rest of the months are pretty warm with springtime and summer being the hottest. These months can average up to the low 90s—so we definitely think you should consider a refreshment station at your reception. If you're hoping to join the bandwagon of the fall wedding trend, Jacksonville's autumns are warm, as well, with temperatures ranging from low 80s to high 60s. As for whether or not you should have a Plan B option when it comes to rain or other weather-related issues, Jacksonville does have a hurricane season, which starts in the late summer and ends in the fall. So, if you're planning to wed in July through September, we suggest looking into Jacksonville wedding venues that have both an indoor and outdoor option—just to be on the safe side.
Wedding Venues
Weddings in Jacksonville, Florida are some of the most unique in the state due to the city's wide variety of venues. From rustic barn wedding venues in Jacksonville Florida, to tons of smaller-scaled places to host intimate weddings or even rehearsal dinners, Jax doesn't disappoint when it comes to places to celebrate. Since Jacksonville is conveniently located on the water, many of its most popular venues overlook some type of body of water, too. However, this doesn't mean you have to have a laid-back or beachy wedding if you're getting married in Jacksonville, Florida. The city also offers its couples a killer downtown setting and tons of museums—so don't fret if you aren't a beachy couple.
Marriage Laws
Weddings in Jacksonville require that their couples obtain a Florida marriage license before the day of the wedding. Every state has different requirements (like having a proper birth certificate, providing social security numbers or in some circumstances even having parental consent), that have to be met in order to get legally married. Therefore we suggest checking out Florida's marriage laws before the big day and check off all the necessary requirements for marrying in Jacksonville.
Wedding Accommodations
It's always important to provide your guests—especially your out-town-guests—with hotel recommendations that are near your wedding venue. Luckily, Jax is a popular city for visiting and has plenty of hotel options. Whether you're hoping to have your guest stay in a luxury downtown hotel or a comfy cottage by the beach, Jacksonville has tons of accommodations for you to choose from. One of the best parts? Many of Jax's hotels offers hotel room blocks, which helps couples get the best rooms for the best prices.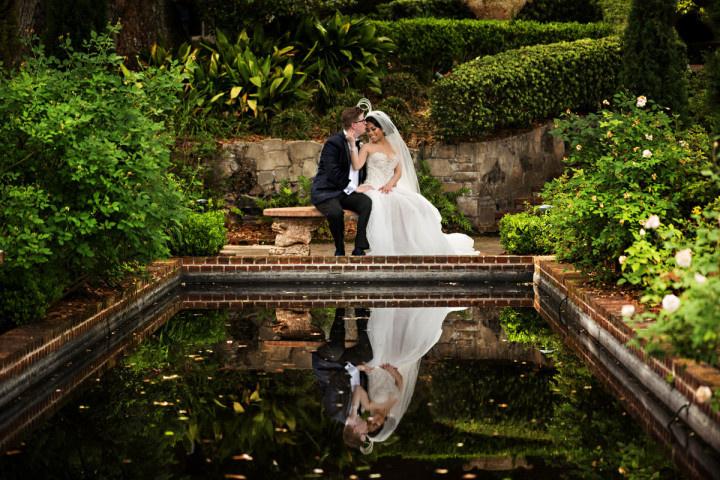 Things to Do In Jacksonville
Looking for something fun for you and your guests to do while in Jacksonville? Here are the top things to see and do while you're in the city.
Beautiful Jacksonville beaches
Jacksonville is home to some of the best beaches on the northeastern side of Florida. The city has over 22 miles of white sand beaches that are perfect for guests to check out while they are in town for the big day. The three best beaches in the area that guests should visit are Jacksonville Beach, Neptune Beach and Atlantic Beach. Jacksonville Beach is great for a day of fishing on its famous fishing pier or spending some time at at the waterpark at Adventure Landing. For guests just trying to sunbathe or hit up some local shops and restaurants, they will definitely love spending some free time at Neptune Beach. As for Atlantic Beach, you can spend the day exploring local wildlife habitats or just relaxing on the beach.
Jacksonville, Florida is a dream come true for golfers. They have over ten different courses to choose from, (like the Deercreek Country Club, Blue Sky Golf Club and even the Jacksonville Beach Golf Club) that are great for all skillets. The city even has golf-related activities such as Top Golf for for those who aren't the best of golfers but prefer the social aspect of the game!
A killer arts and cultural community
Along with having superb beaches and premier golf courses, Jacksonville is also known for being a great arts and culture destination. Art lovers will love spending their time checking out Renaissance masterpieces at the Cummer Museum or modern works of art at MOCA. The city also is filled with local art, as well. Jacksonville even has a historic Florida Theatre and a fab music scene—such as the Jacksonville Jazz Festival. The Jacksonville Jazz Festival brings in a ton of attention, since it includes three stages of live jazz, local food, drinks and more. This special event usually takes place the end of May—so if you're hosting your wedding at the same time, definitely give your guests a heads up by adding it to your wedding website.
Jacksonville Wedding Inspiration
Looking for wedding decor and other inspo for your big day? Check out these weddings in Jacksonville, Florida that are guaranteed to give you some killer ideas for your wedding day.
Vanisha and Michael's springtime wedding in Florida
Cherish and Jacob's charming country club wedding in Florida
Jevie and Mike's regal museum wedding in Florida
Janae and Ryan's estate wedding in Florida
Disclosure: This post contains affiliate links, some of which may be sponsored by paying vendors.