9 Rustic Barn Wedding Venues in Jacksonville, Florida
Find the best backdrop for your country-chic Florida wedding with this roundup of the most popular barn wedding venues in Jacksonville, Florida.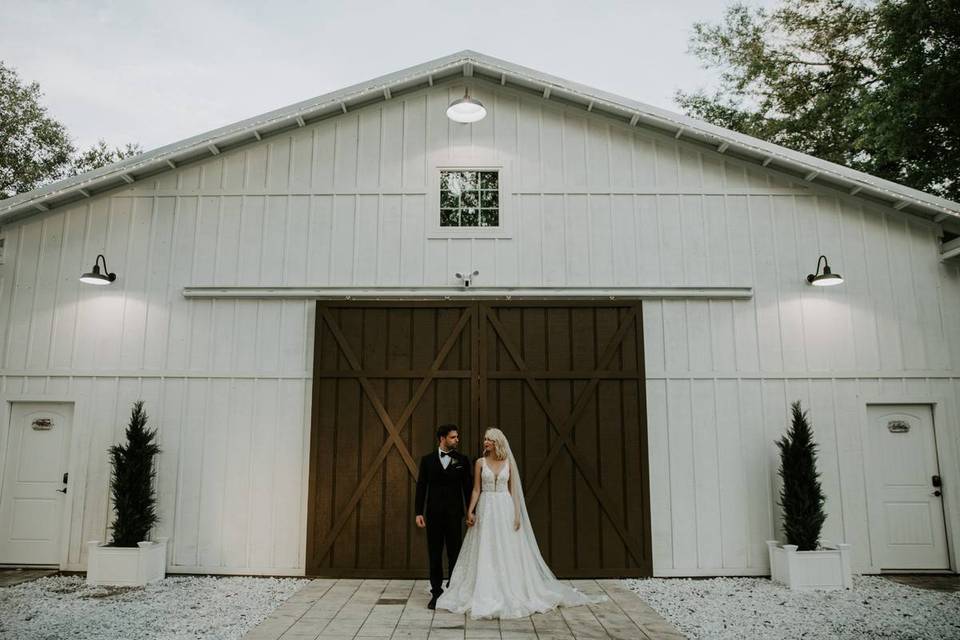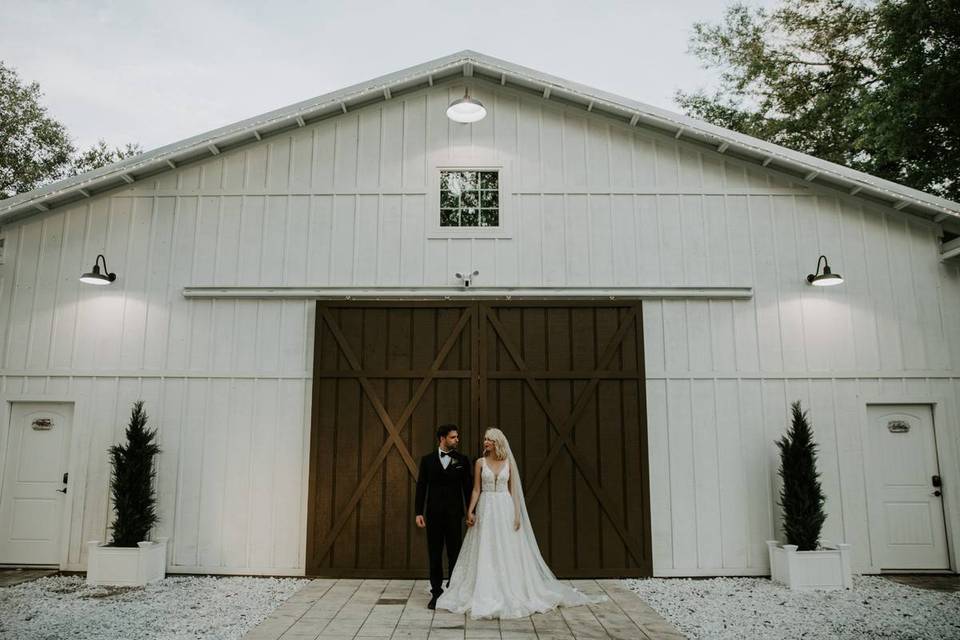 Couples who are on the hunt for a rustic Florida venue should check out these barn wedding venues in Jacksonville, Florida. Jacksonville wedding venues are known for their beachy aesthetic, but that doesn't mean you won't be able to find a setting that also evokes a laid-back country vibe. Country wedding venues in Jacksonville, Florida are actually becoming more popular than the standard beach wedding (thanks to the latest barn venue trend!). So, if you've always dreamed of exchanging vows overlooking acres of land or celebrating your nuptials inside a barn filled with twinkling lights, these barn wedding venues in Florida definitely should be added to your must-see list.
Sunshine State couples will love these charming barn wedding venues in Jacksonville, Florida.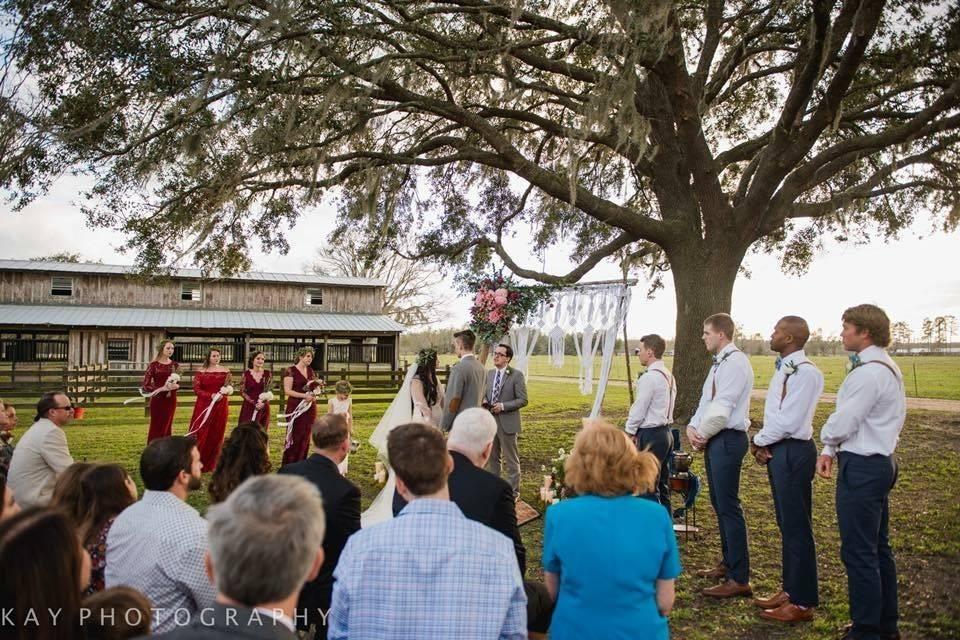 WW Family Ranch
Barn wedding venues in Florida have a brand new addition, thanks to the 2019 opening of WW Family Ranch. This family-owned and operated venue sets on 586 acres of pastures, freshwater ponds, and live oak trees, with space to accommodate up to 500 guests. WW Family Ranch is made up of five event spaces plus an on-site bridal suite and offers both covered and uncovered outdoor wedding options. Whether you choose WW Family Ranch as the backdrop for your bridal shower, engagement party, or entire wedding weekend, it's guaranteed to bring your rustic-chic vision to life.

The Keeler Property
This private country estate serves as both an indoor and outdoor Jacksonville wedding venue and is a downright fab pick for creating a rustic setting for a wedding. The Keeler Property has a covered bridge and lakeside red barn that are basically made for hosting ceremonies and dance parties. Inside the barn you'll be greeted with a wooden interior and high ceilings that can easily be dressed up with decor and other wedding details, (think lush greenery or romantic lighting). The property itself has over 40-acres of green pasture and country charm, and the barn has a maximum capacity of 300 guests—so don't fret if you have a bigger guest list.
Learn more about The Keeler Property here »

Diamond D Ranch Inc.
Built back in the early 1800s, Diamond D Ranch is a versatile barn wedding venue in Florida that is perfect for hosting outdoor wedding receptions and more. Located in the heart of Jacksonville, Diamond D Ranch has been a premier place for weddings because of its country-chic pavilion. The pavilion has similar qualities of a barn, such as charming wooden detailing, but provides an indoor and outdoor experience for vows and celebrating. The ranch also has a beautiful forest that surrounds the pavilion, making the venue not just great for receptions, but for outdoor ceremonies too! With a maximum capacity of 600 guests, Diamond D Ranch Inc. should definitely be added to your Jacksonville venue list.
Learn more about Diamond D Ranch In.c here »

Bonnie Doone Farm
With over 75 acres of lush pastures and an open barn, Bonnie Doone Farm is another rustic wedding venue in Jacksonville that's superb for Floridian couples. Bonnie Doone Farm offers couples a spacious barn that's filled with country-chic charm—like exposed beams and wooden details. It can easily accommodate up to 175 guests for a sit down reception and has several outdoor ceremony locations to choose from. Bonnie Doone Farm also provides its couples with a preferred vendor list, guaranteeing a stress-free environment for not just your wedding day, but the days and months leading up to it, as well!
Learn more about Boonie Doon farm here »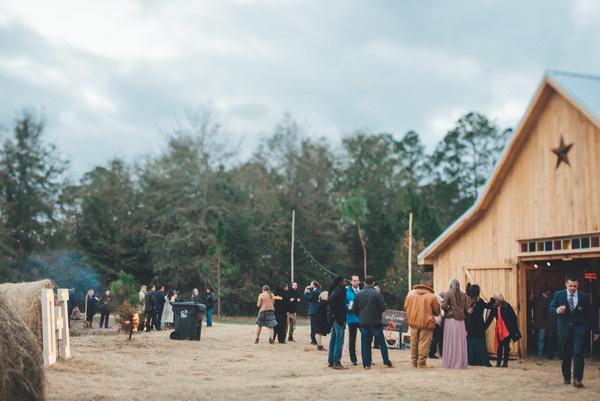 Daughter's Barn at Cedar Ridge
While this wedding venue may not be technically in Florida, it's still an easy drive for Jacksonville couples. Located in Folkston, Georgia and surrounded by azalea bushes, pecan and magnolia trees, the Daughter's Barn at Cedar Ridge is a great barn venue to host any kind of wedding. The barn is a rustic 3,200 square foot building that can easily create a one-of-a-kind setting for "I dos" and celebrating. It can accommodate up to 200 guests and includes the use of the barn's twenty hand-built pinewood farm tables with benches.
Learn more about Daughter's Barn at Cedar Ridge here »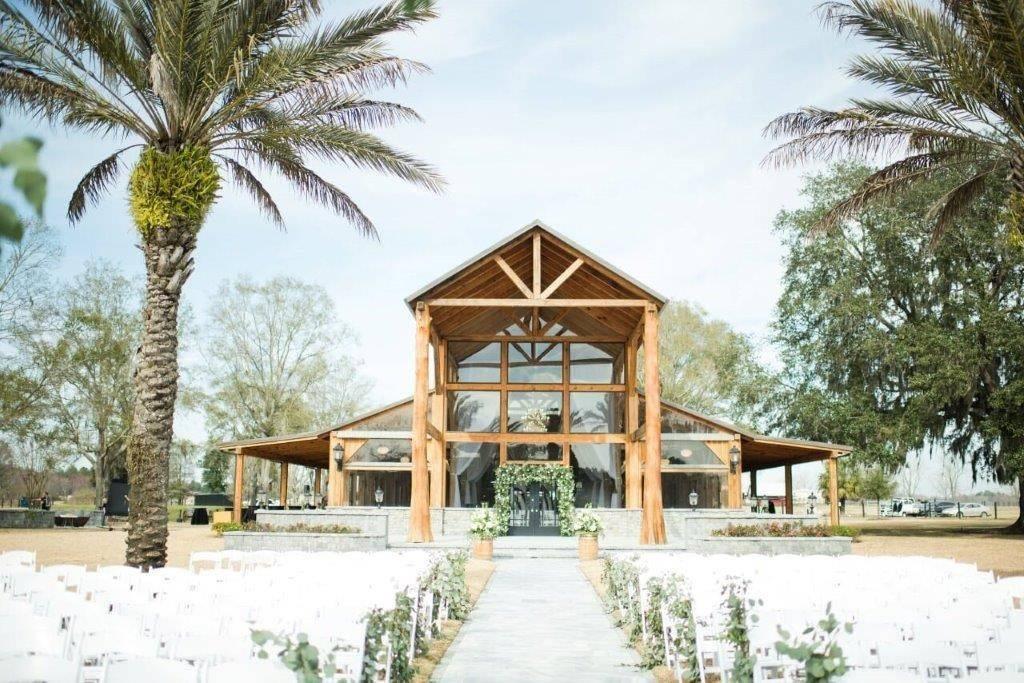 The Barn at Cottonwood Ranch
Get ready to gather up to 300 of your closest loved ones and head to The Barn at Cottonwood Ranch for a rustic-style wedding day that's everything you've dreamed. Less than 30 minutes north of Jacksonville, this ranch feels worlds away from city life with 759 acres of open pastures and is also home free-range cattle and beautiful freshwater ponds. The barn space is equally impressive with cathedral ceilings, exposed woodwork, and oversized windows for plenty of natural light. Plus, you'll love the barn's grand staircase for a killer entrance moment.
Learn more about The Barn at Cottonwood Ranch »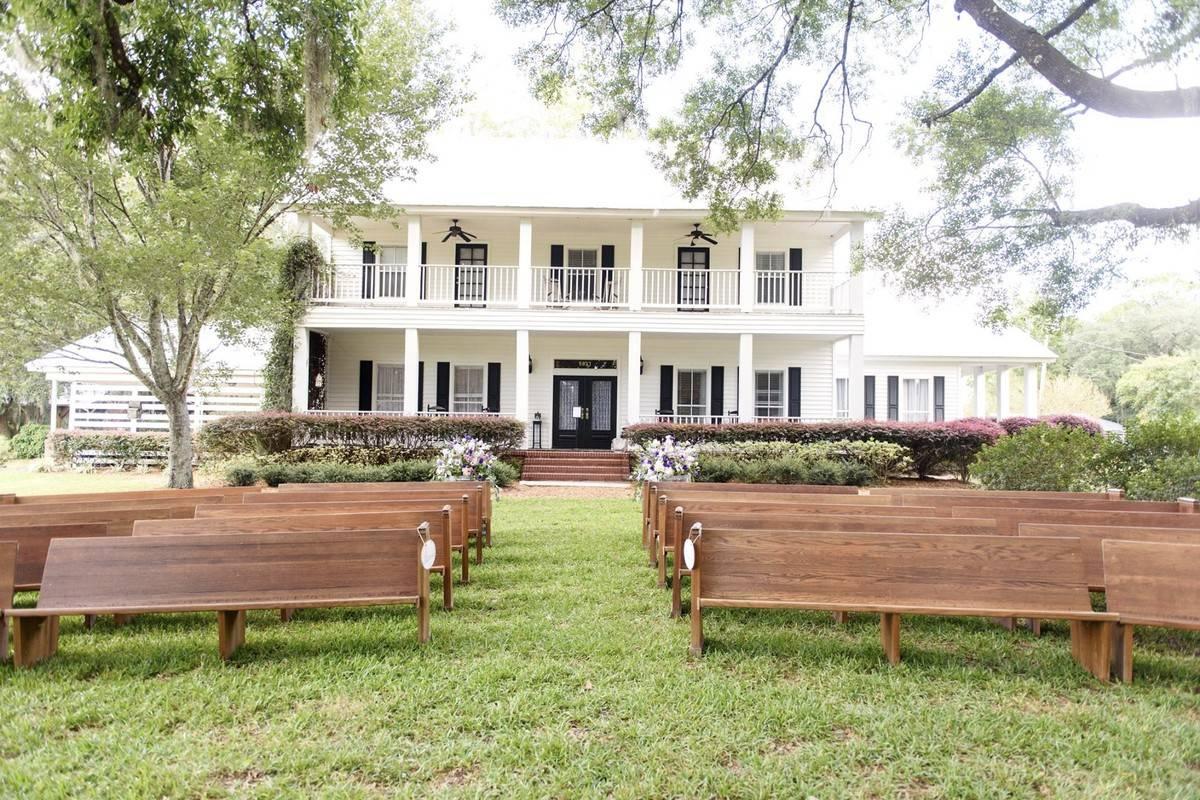 All 4 One Farms
As one of many impressive barn wedding venues in Florida, All 4 One Farms has been hosting events since 2016 and even earned a spot in our 2020 Couple's Choice Awards thanks to its gorgeous setting and top-notch services. Couples love the variety of event facility options, including their open-air barn and main house. Throughout the 112-acre farm, you'll find live oak trees, open pastures, and dedicated getting-ready areas to help your wedding day run with total ease.
Learn more about All 4 One Farms »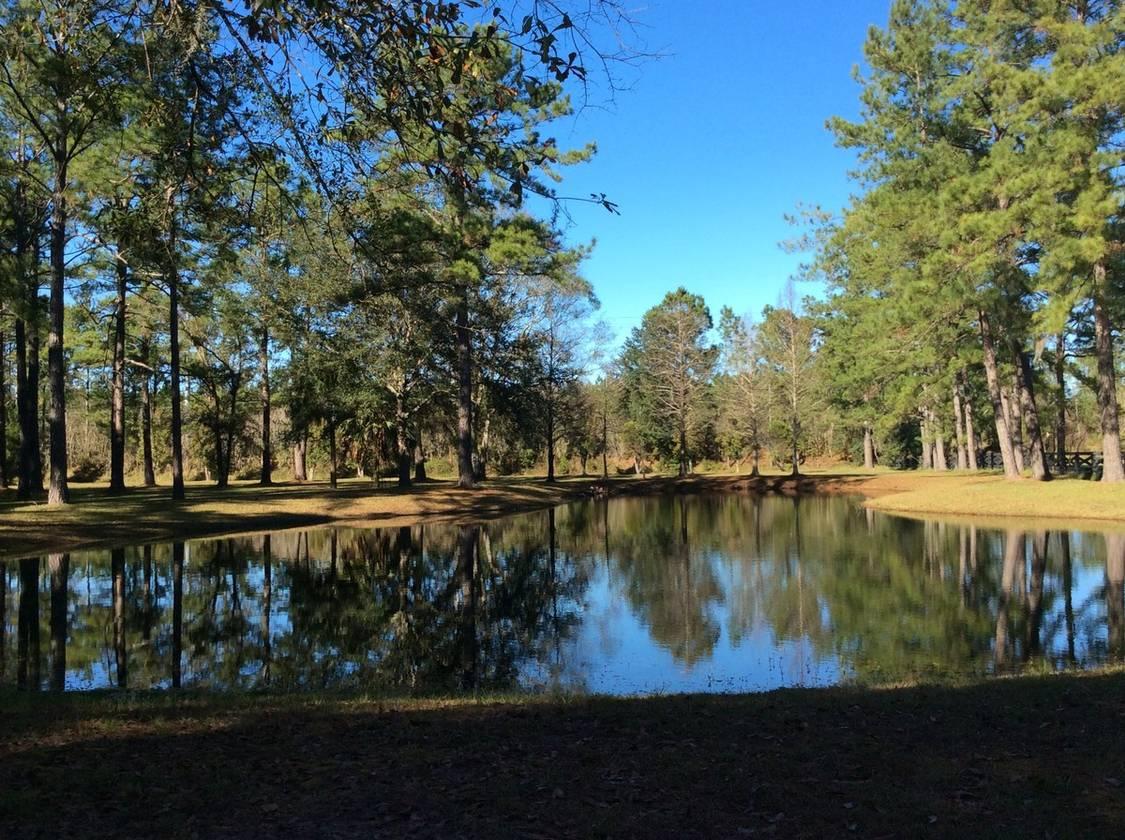 Quiet Country Lane
For more intimate weddings of up to 100 guests, Quiet Country Lane in Jacksonville is an excellent option. This charming 47-acre estate features a 3,000 square-foot barn, an on-site stable, and a lakefront ceremony space for an incredible event. One of the most popular features of Quiet Country Lane is the incredibly convenient location (just 10 minutes from the Jacksonville airport) for local and destination weddings alike. Couples will also love the property's on-site bridal suite and groom's quarters, each fully equipped with everything you need in a getting-ready space.
Learn more about Quiet Country Lane »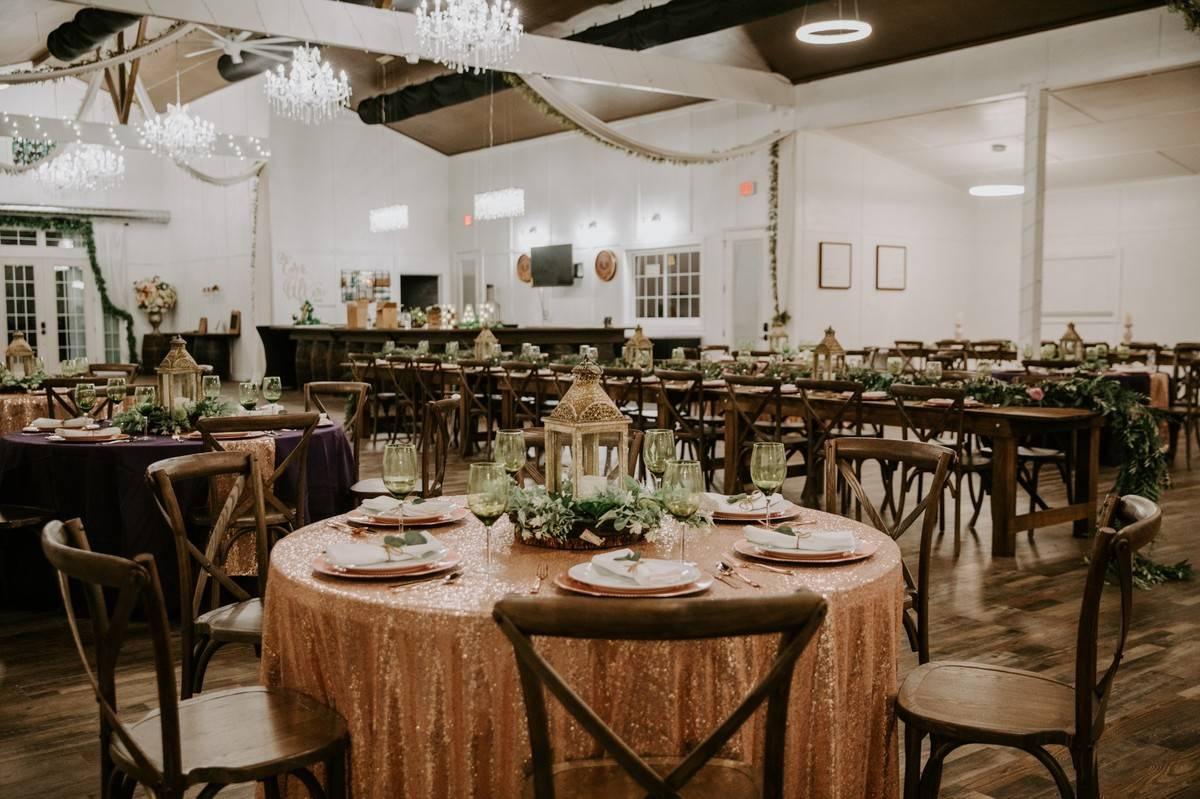 Ever After Farms Vineyard
If you and your guests are up for a short road trip, Ever After Farms in Pomona Park is well worth the drive. Just over an hour outside Jacksonville, this beautiful setting is easily one of the most picturesque barn wedding venues in Florida. The sprawling vineyard is made up of three fruit farms, four barn event spaces, and multiple ceremony sites. Most of the barn spaces can host up to 200 guests and include sparkling chandeliers, bistro lighting, and an incredibly romantic atmosphere for your rustic-chic event.