8 Jacksonville Beach Wedding Venues for a Waterfront Event
From the Spanish-Influenced Casa Marina Hotel to the darling Fig Room, these Jacksonville beach wedding venues are perfect for any occasion.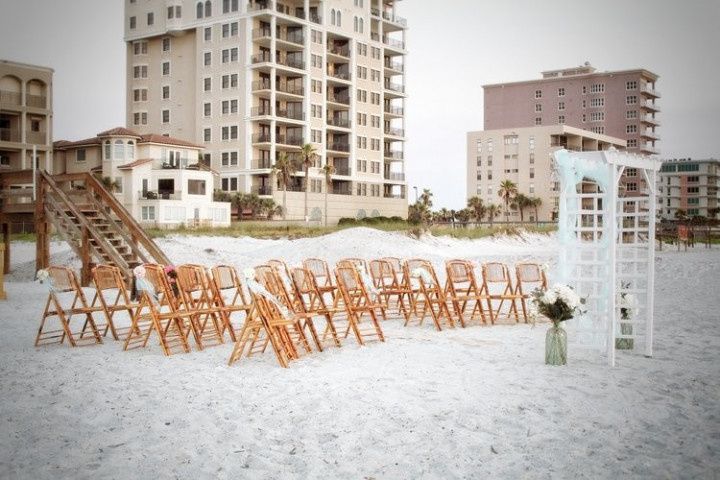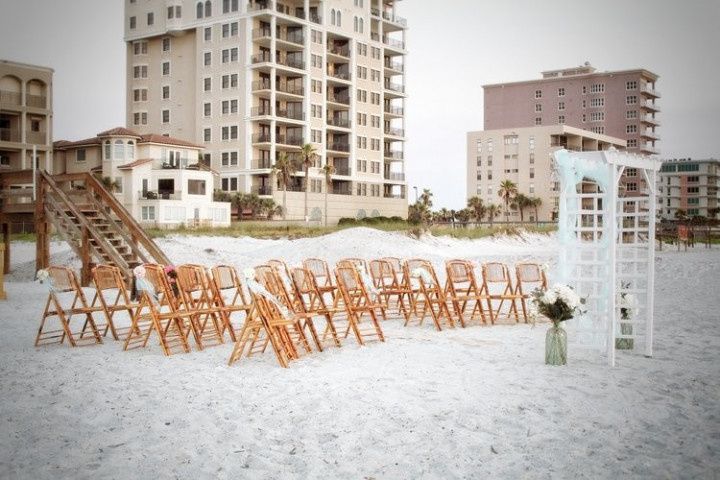 Florida is known for having some of the best waterfront backdrops, so it's not a surprise that Jacksonville beach wedding venues have become so popular. Couples who hope to exchange 'I dos' overlooking the ocean have been choosing Jacksonville because it's a beach destination that has a ton of indoor and outdoor venues on the water. So, if you're on the hunt for the perfect beachy venue, then these wedding venues that are either in Jacksonville, Florida or nearby should be added to your must-see list.
Check out these top Jacksonville beach wedding venues that are made for coastal celebrations.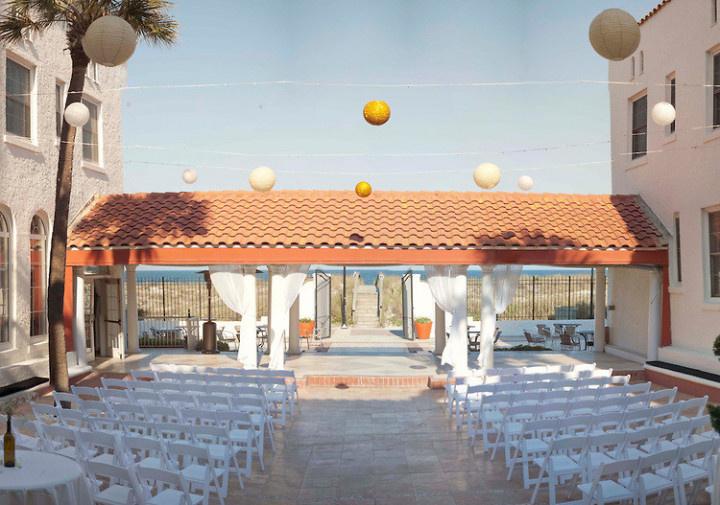 The Casa Marina Hotel
Built back in 1925, this Spanish-Mediterranean hotel and restaurant creates a glamorous setting for banquets, rehearsal dinners and weddings. The hotel—which offers 23 bedrooms and parlor suites—is composed of ritzy tiles, wrought iron gates other gorgeous custom touches that create a luxe setting for vows. The courtyard is situated right along the Atlantic beach and is perfect for hosting outdoor ceremonies or dance parties. If you're hoping to marry on the beach, Casa Marina also has beach access that leads right to a beautiful sandy setting. Along with outdoor spaces, the hotel provides a majestic dining room for couples to utilize for their reception, cocktail hour and more.
Learn more about The Casa Marina Hotel here »

Coastal Occasions at Casa Bella Village
If you're planning a more intimate celebration and are browsing Jacksonville beach wedding venues, then you should add Coastal Occasions at Casa Bella Village to your must-see list. This event space offers a private garden venue for couples to host their special day and is conveniently only a few blocks from the oceanfront. Located on Shetter Avenue, this romantic garden-inspired courtyard is a hidden gem that will take your breath away. Filled with fountains, ivy covered walls and antique windows, this event space is great for hosting a sit down reception or celebration. If you and your S.O. know that you want a Jacksonville beach wedding, don't fret! This wedding venue also offers a beachfront site, so couples can host their ceremony on the beach and then bring guests back to the garden venue for a romantic evening.
Learn more about Coastal Occasions at Casa Bella Village here »

The Fig Room
Another intimate spot to host your Jacksonville beach wedding is The Fig Room. Nestled right on 2nd Street, this beachy bungalow is a fab choice for smaller weddings. With a maximum capacity of 50 guests, The Fig Room creates a charming setting that you and your guests will remember for years to come. As soon as you enter through the enclosed porch you'll feel like you've been transported to a romantic-getaway. The main gathering space is filled with stucco white walls, crystal chandeliers, and vintage upholstered furniture—making it a great space for hosting a family-style reception. Along with its charming space, The Fig Room also includes a team of professionals to help assist you with setup and breakdown of chairs, tables and other amenities upon request.
Learn more about The Fig Room here »

6th Avenue North
Less than a block from the beach, 6th Avenue North is a modern indoor wedding venue for coastal weddings. While the venue isn't technically on the beach, you and your guests can easily walk from your beach ceremony to 6th Avenue North for a fun-filled reception. The event space is the perfect spot on the First Coast and can host all kinds of weddings no matter their size—since the space can accommodate up to 200 guests. Looking for a venue you can easily dress up? With vaulted ceilings and tons of open space 6th Avenue North also doesn't disappoint when it comes to providing couples with endless decor options.
Learn more about 6th Avenue North here »

Hampton Inn Oceanfront
Couples who're browsing Jacksonville wedding venues and want to find an event space that provides scenic ocean views and resort style accommodations should look into the Hampton Inn Oceanfront. The hotel's sandy Ocean Lawn can sit up to 200 people and is the perfect place for a beachy ceremony. It also has two indoor reception spaces—the Sand Dollar Room and The White Sands Room—that couples can utilize for any type of reception. Along with indoor and outdoor spaces, this beach hotel offers several wedding packages, couple suites and an experienced staff to ensure your wedding is an unforgettable occasion.
Learn more about Hampton Inn Oceanfront here »

One Ocean Resort and Spa
The Ocean Resort and Spa is another resort styled wedding venue in Jacksonville that's perfect for hosting a beach wedding. Located on Ocean Boulevard, this hotel features luxury oceanfront accommodations, a world-class spa, a delicious restaurant and, most importantly, a gorgeous beach for weddings. You and your future-spouse can say "I do" right on the hotel's white sand beach and then spend the rest of the night celebrating inside the hotel's stunning Atlantic Ballroom. Whether you're planning a small or larger scale wedding, The Ocean Resort and Spa is a fab choice for your coastal celebration.
Learn more about One Ocean Resort and Spa here »

Channel Side
If you don't have your heart set on exchanging vows on the beach, then perhaps Channel Side is a better venue for your wedding vision. Located about an hour away from Jacksonville, in Palm Coast Florida, this boutique venue is surrounded by 23 miles of saltwater canals and sits on a four-acre estate—making it a dream setting for an outdoor celebration. It also has a newly renovated banquet hall that's great for hosting indoor receptions and seated dinners, since it features floor to ceiling windows, a large dance floor and full bar/cocktail space. Channel Side can host up to 200 guests and is definitely a must-see for Jacksonville couples.
Learn more about Channel Side here »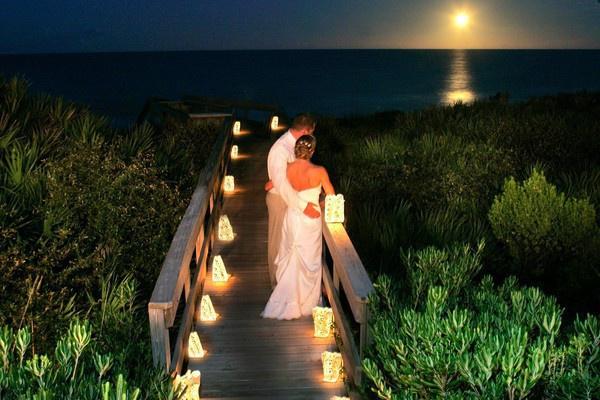 Serenata Beach Club
Another venue located about an hour from Jacksonville, in Ponte Vedra Beach is the Serenata Beach Club. This beach country club is an ideal setting for coastal couples because the venue has unparalleled views of the Atlantic. Whether you're hoping to exchange vows on the beach or prefer to take couple portraits on the country club's private beach access, Serenata Beach Club was made for hosting beach weddings. If you prefer not to get your feet sandy on the big day, but still want a oceanfront backdrop, Serenata also has an outdoor courtyard that can be used for ceremonies and receptions. Along with ocean backdrops, the country club includes the use of their on-site wedding planner, executive chef and experienced professional staff to help ensure everything runs smoothly on the big day.