16 Historic Wedding Venues in Denver, Colorado
Make your mark on Colorado history at one of Denver's many historic wedding venues, from historic homes to gardens and more.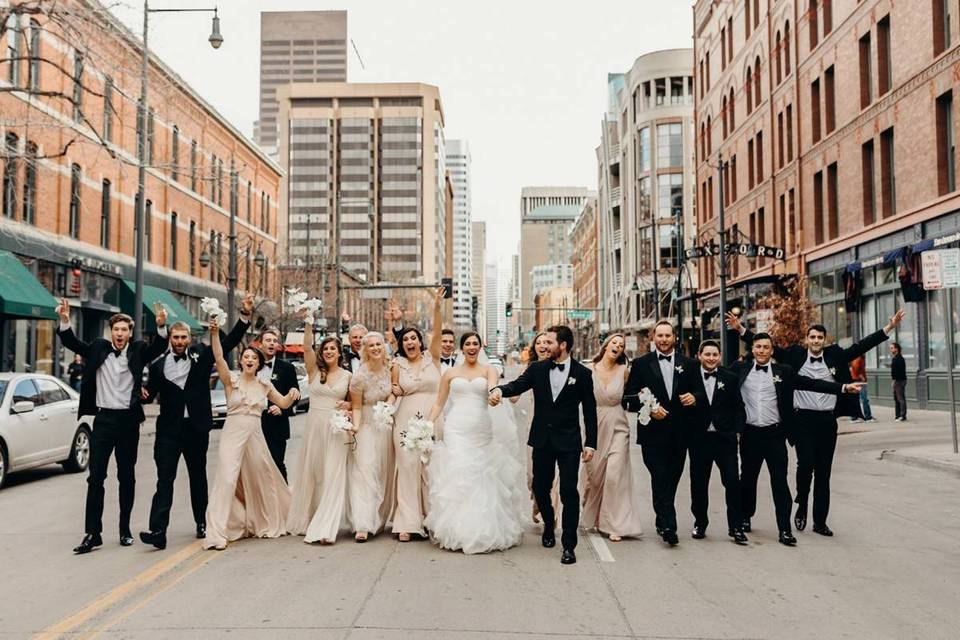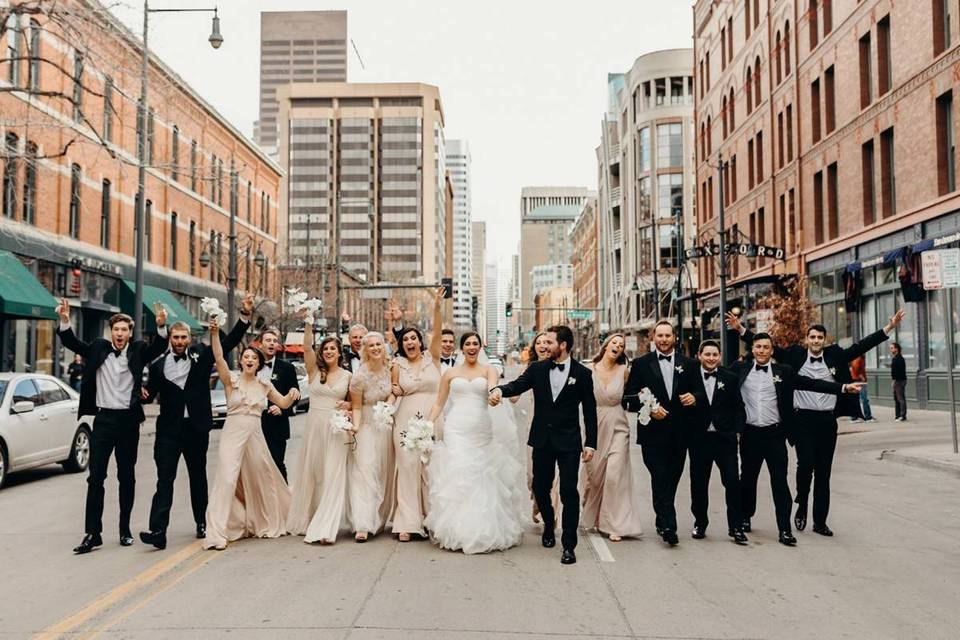 Colorado's rich history is everywhere you look in the Centennial State - including amongst its wedding venues. Inhabited by native people for thousands of years before becoming a popular trading destination for Spanish conquistadors, it was the discovery of gold near Pike's Peak in 1850 that helped transform the state - and Denver in particular - from the Wild West to the bustling metropolis and cultural center it is today. It's a wild, rich, and rocky history that makes Denver the perfect place to celebrate the next chapter in your lives together.
From historic opera houses and Spanish-style mansions to century-old ranches and renovated factories, there are Denver wedding venues with a real sense of history for every couple's style. These 16 venues are sure to inspire!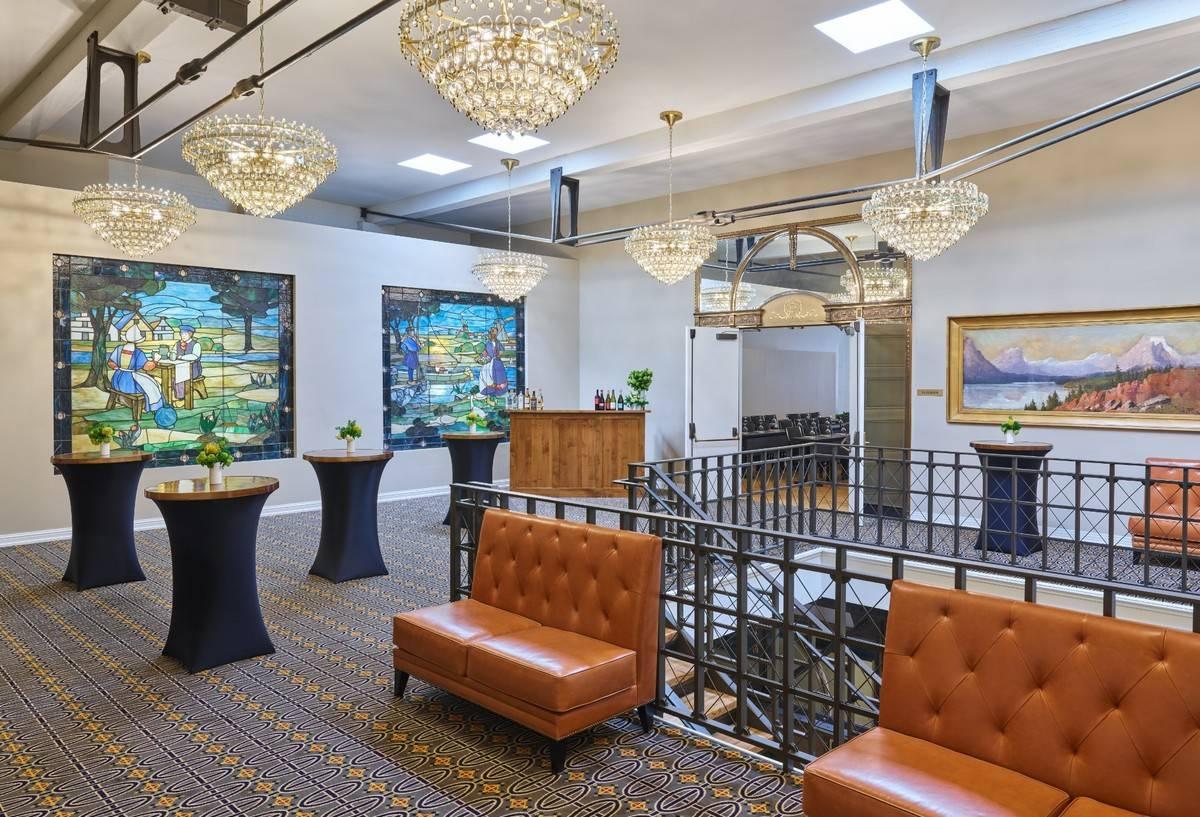 The Oxford Hotel
The first hotel in Denver, the Oxford Hotel opened its doors in 1891. Situated in the heart of LoDo and just steps from Union Station, it pairs time-honored tradition with a modern, trend-driven location. The Oxford combines the elegance of the Gilded Age with the design details of the Art Deco era, all topped with contemporary hospitality.
One of the hotel's hidden gems - and the perfect place to host a welcome cocktail party - is the Cruise Room, a Prohibition-era bar (the longest running in Denver!) with design inspired by the Queen Mary and serving up some of the city's best classic cocktails
Learn more about The Oxford Hotel »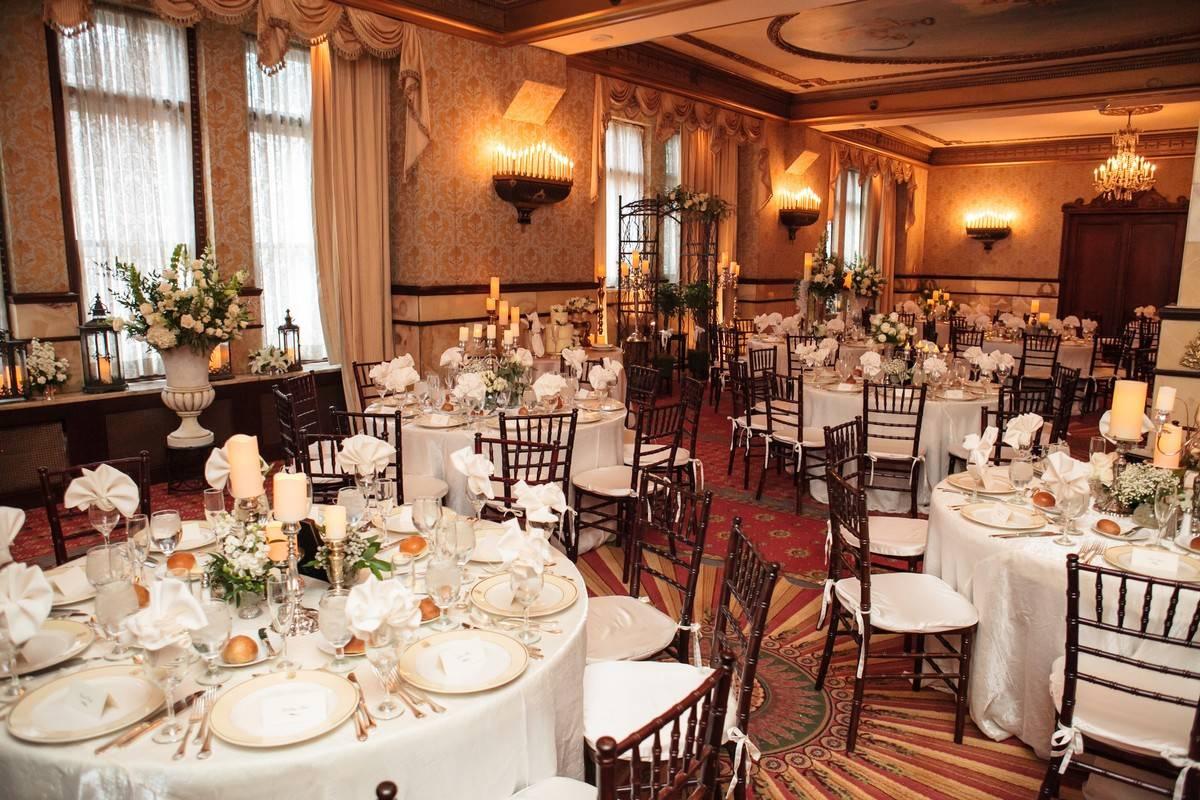 The Brown Palace Hotel & Spa
A downtown Denver landmark since 1892, The Brown Palace Hotel is one of the city's most luxurious historic wedding venues. This opulent building was the second-ever fire-proof building in America, though all your guests will see is the Italian Renaissance styling. With an unmistakable feeling of glamour and a reputation for fine hospitality, your guests will feel instantly at home - and will love the hotel's commitment to sustainability and local charitable causes.
A variety of venues can accommodate anywhere from 50 to 400 guests, whether you're sipping cocktails in the Club (President Eisenhower's campaign headquarters before his election) or dancing beneath the chandeliers in the Grand Ballroom (which has hosted over 3,000 events since its opening). For a truly historic feel, head to the Onyx Room (originally the Grand Salon), where a hand-painted mural features cherubs amongst the clouds.
Learn more about The Brown Palace Hotel & Spa »
Moss Denver
Moss Denver may not look historic, but this renovated wedding venue still features the factory windows and brick walls from when it was constructed in the 1900s.
With space for up to 200 guests, this venue features a series of spaces ready for you to decorate to fit your fancy. From the glowing lights of the Chandelier Room to the overhead installation of the Edison Room, the industrial-chic setting features open, sprawling space. Per its name, moss walls add a touch of softness to Moss Denver's edgier finishes.
Learn more about Moss Denver »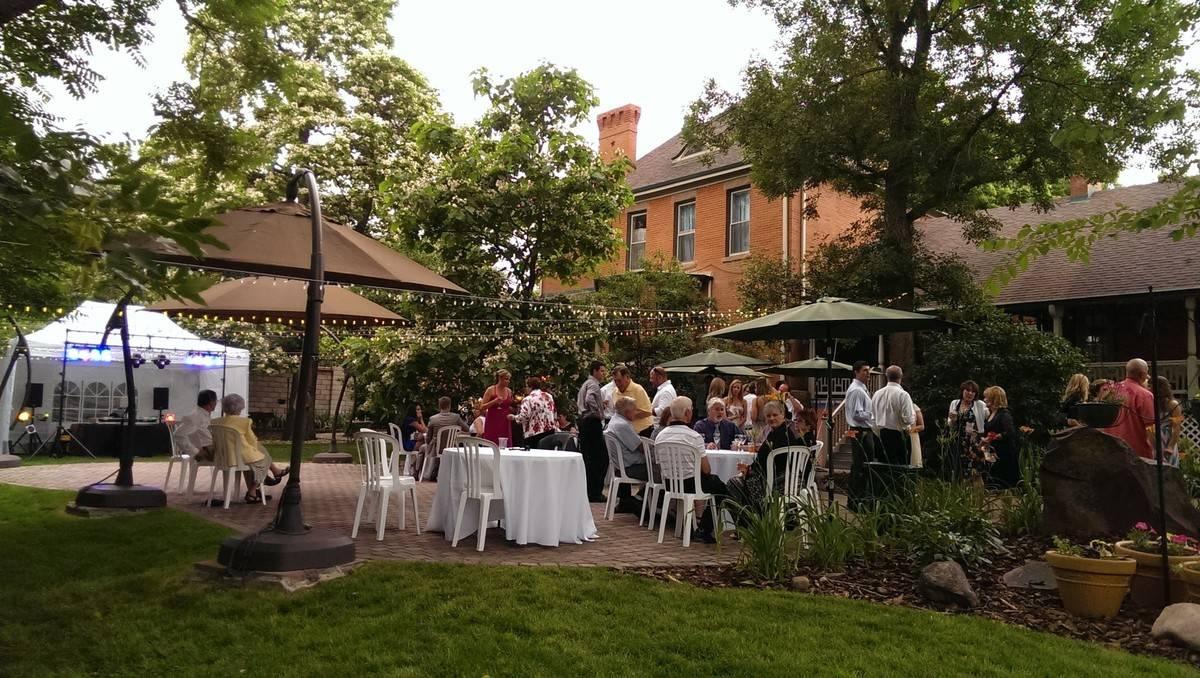 Molly Brown Summer House
Yes, Molly Brown as in "Unsinkable Molly Brown"! Built in the 1890s by Mr. and Mrs. JJ Brown, the Molly Brown Summer House was the Brown family's escape from the bustle of central Denver. The sprawling property was once an incredible working farm, where livestock and orchard trees abounded, and the lush gardens and peaceful feeling remain over a century later.
Molly Brown Summer House features three event spaces both indoors and out, with space for up to 150 guests to wander the grounds, gather in the pavilion, or tour the historic home with a member of the family that has owned the home for over 90 years as guide.
Learn more about Molly Brown Summer House »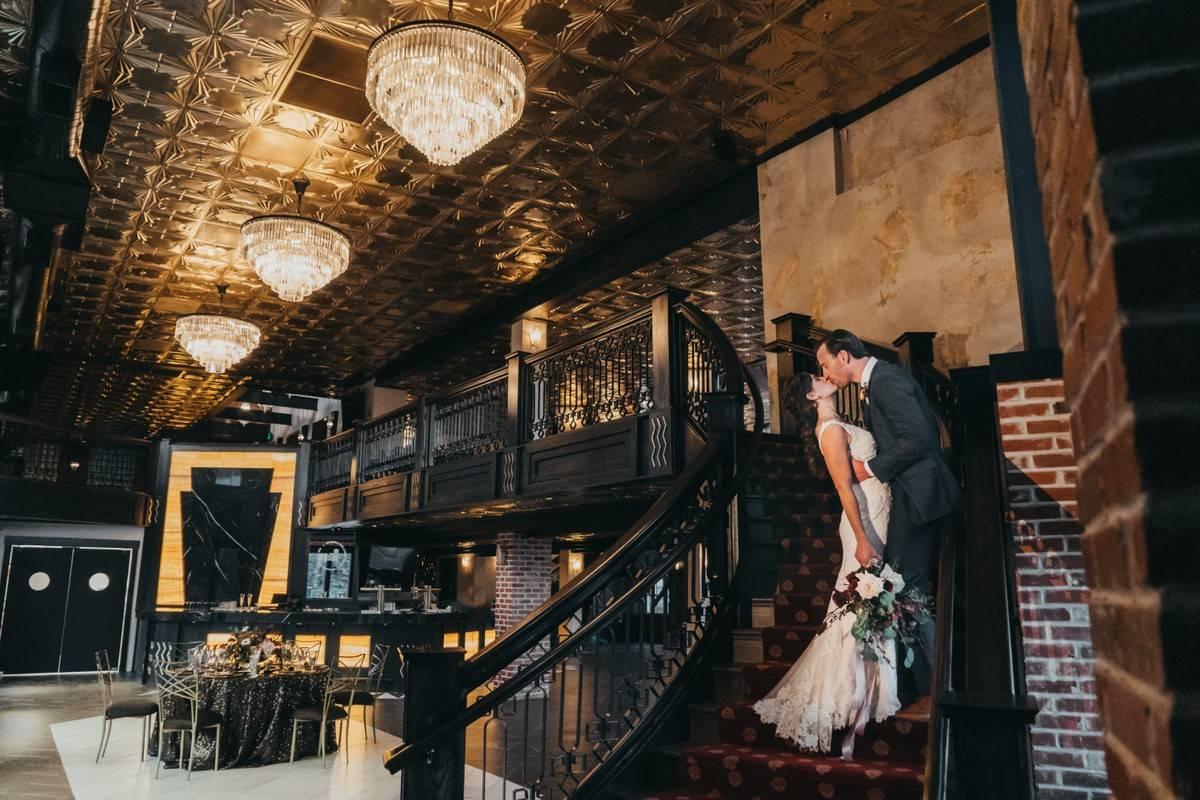 Ironworks
Built in 1903 as the Midwest Steel headquarters, Ironworks is an industrial Denver wedding venue that has been lovingly restored to play host to modern-day celebrations. Because the building was constructed in stages from the turn of the century to the 1950s, the design includes everything from Art Deco details to Depression-era austerity.
With original hardwood floors, exposed brick walls, tin ceilings, and sparkling chandeliers (not to mention a dramatic marble-front bar with taps featuring local brewers), Ironworks has lots of personality to bring to your wedding day. Part of the same complex that houses Mile High Station, the venue can accommodate up to 350 guests. For more venue options (or an even larger space!), take a peek at Mile High Station, as well.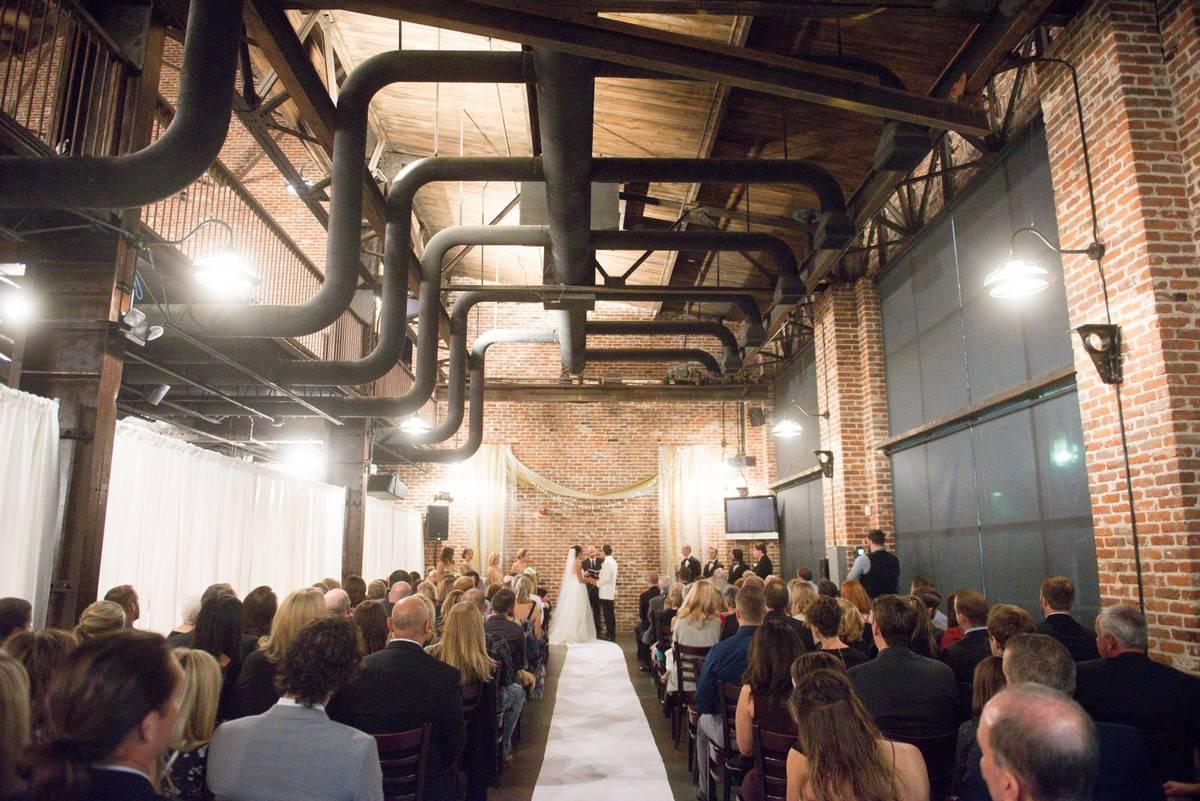 Mile High Station
Mile High Station has played an invaluable role in Denver's history since it was constructed in 1897, from forging metal for major Denver landmarks to building sections of ships for the U.S. Navy in World War II. Today, the carefully restored structure features exposed bricks, steel I-beams, and dramatic custom chandeliers that enhance the industrial feel.
A series of spaces can accommodate anywhere from 100 to 1,200 guests. Couples love the sprawling main floor, accentuated by a mezzanine built around the chandeliers that's ideal for cocktail hour. The patio is a lovely place to enjoy warm Denver nights or host a wedding ceremony. Whether your vision is vintage or modern, rustic or industrial, Mile High Station is filled with Denver charm.
Learn more about Mile High Station »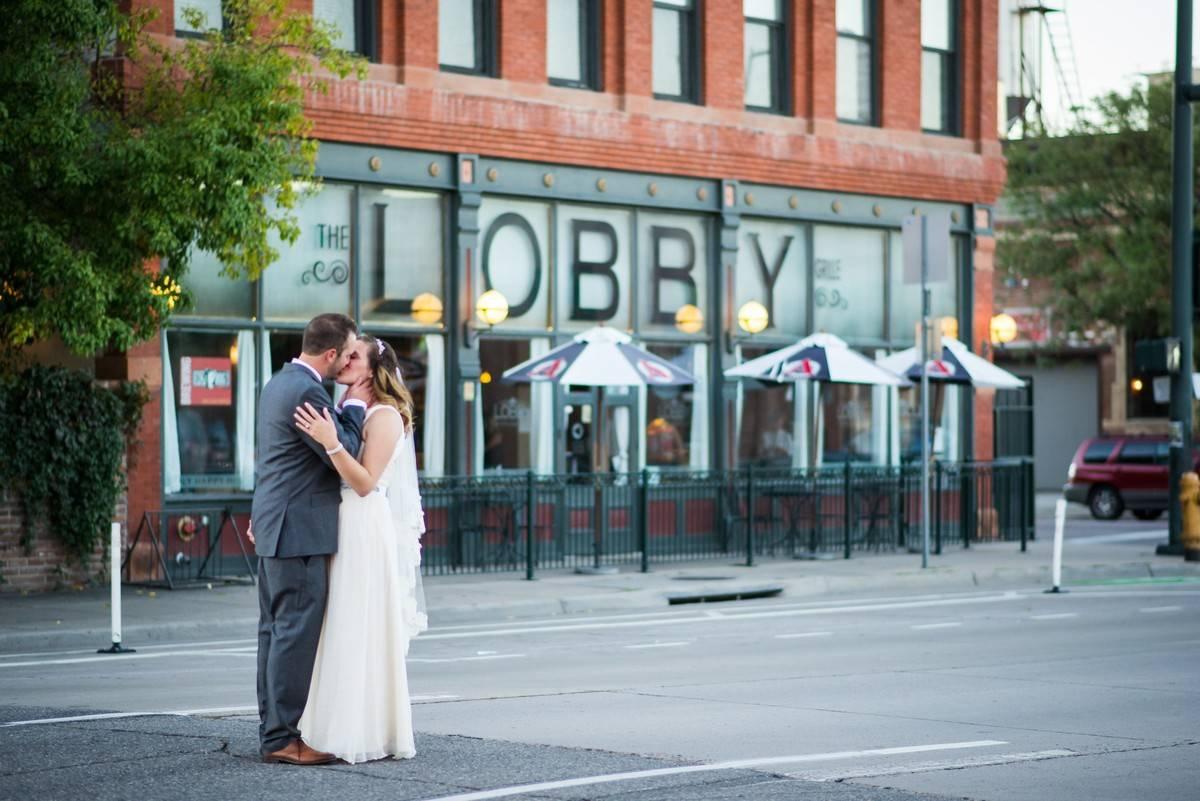 The Lobby
Built in 1891, The Lobby combines European details with the charm of the Old West. The building was originally home to the Paris Hotel, then converted into lofts and offices in the 1930s. Today, the hotel's original lobby is a playful and creative restaurant, as well as an effortless and enticing wedding venue with room for over 100 guests.
A central staircase is set beneath a stained glass ceiling and surrounded by exposed brick, while the main dining room opens up to a courtyard that's perfect for outdoor ceremonies or cocktail hour. And of course you don't have to look too hard for a delicious wedding menu and celebratory cocktail choices!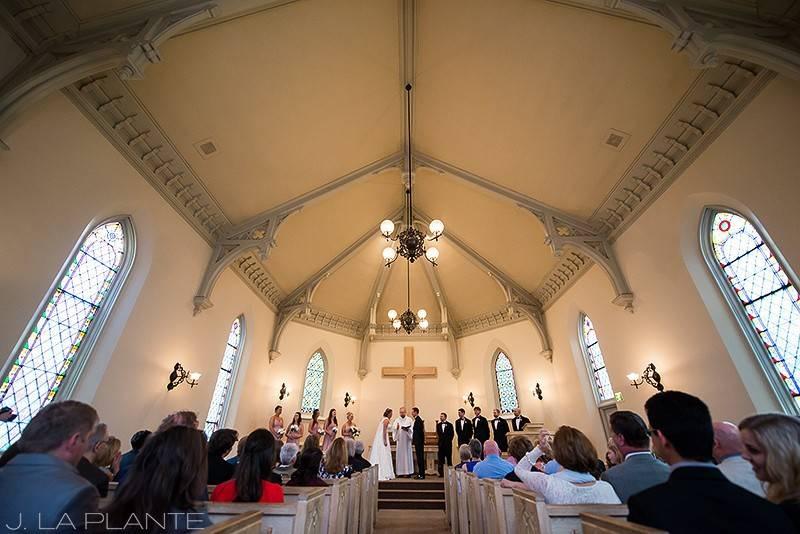 Evans Chapel at The University of Denver
Does it get more historic than a wedding venue that's on the National Register of Historic Places?
Built of sandstone bricks, Evans Chapel was originally constructed in downtown Denver in the 1860s, but was carefully disassembled and reassembled in its current location at the center of the University of Denver campus in 1878. Originally a Methodist church, it is now an interfaith chapel that is home to the five major faiths represented at DU: Hinduism, Judaism, Buddhism, Christianity, and Islam. Beloved by students, alumni, faculty and staff, Evans Chapel features beautiful simplicity that creates the perfect backdrop for weddings of all faiths and beliefs.
Learn more about Evans Chapel »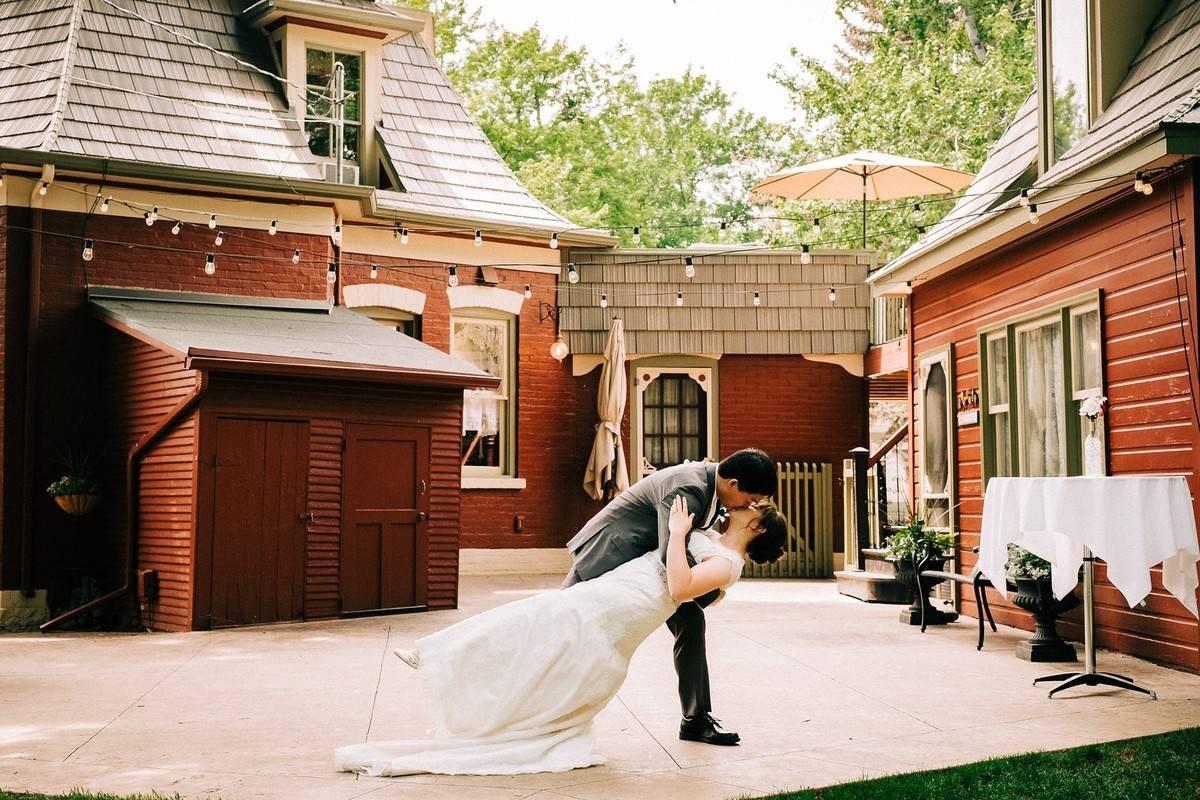 The McCreery House
Located north of Denver in Loveland, Colorado (talk about a town for a wedding!), the McCreery House is a charming landmark Victorian home-turned-wedding venue. Built in the late 19th century, the house was considered one of Loveland's finest - and still holds that reputation to this day.
The brick home features a wraparound porch, beautiful gardens, and period decor - including an 1870s square piano perfect for background music during cocktail hour. Surround yourselves with up to 130 guests outdoors in the summer, or a cozy group of 30 inside the home in the winter months. The McCreery House can also be rented as a private retreat for up to six guests, ideal for an intimate overnight after a long day of wedding festivities.
Learn more about The McCreery House »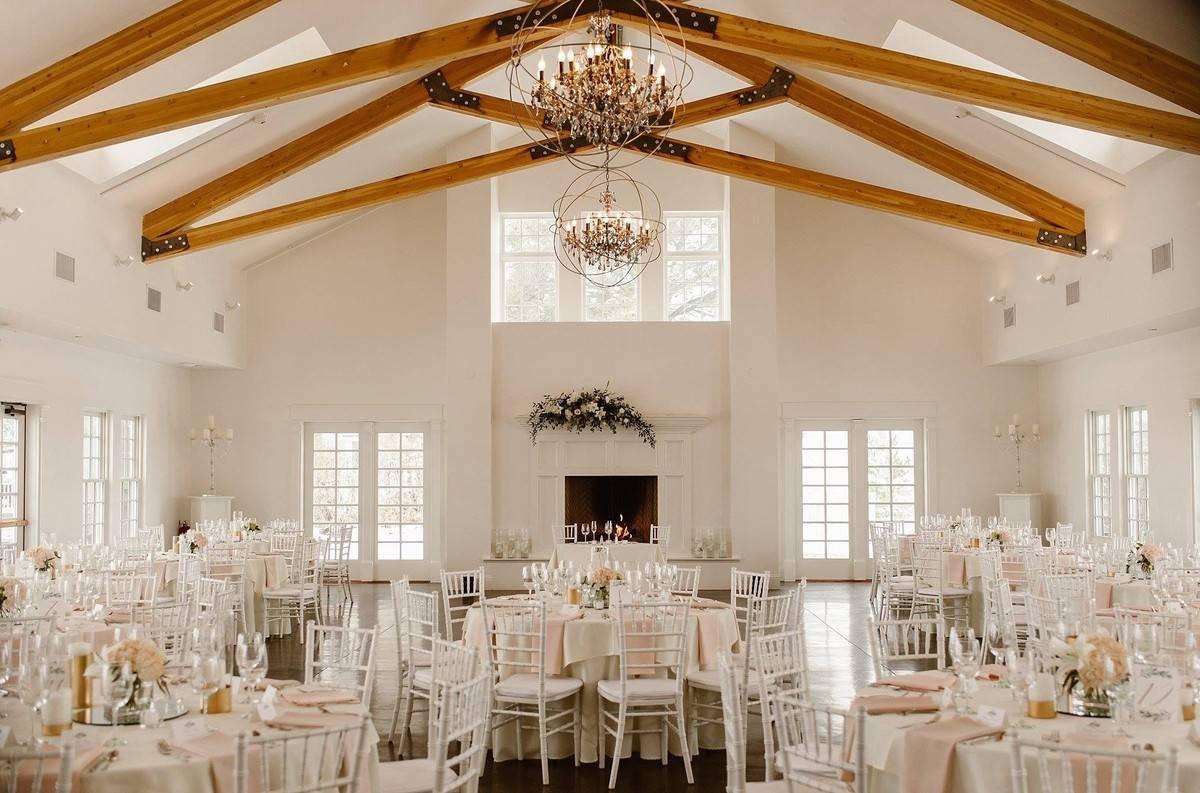 The Manor House
Say "I do" in a sprawling mansion that was once the summer home of one of Denver's most notable newspaper tycoons. John Charles Shaffer had the home built in 1914, hiring the architect from the Brown Palace and the Oxford Hotel to create a spectacular retreat for his family. Over the years, the Manor House played host to President Theodore Roosevelt, as well as a number of actors, musicians, and captains of industry. The flagpole in the yard is topped with a light that can be seen from Denver and, when it was lit, served as an industry for society to join the Shaffers for a celebration.
Today, the Manor House can be yours for a celebration of your own. With space for up to 250 guests on six manicured acres, you have your choice of settings - from the natural backdrop of Dry Creek Canyon to one of the home's cozy indoor fireplaces. Fresh, airy finishes and lots of natural light create the perfect location for an evening of modern romance, set amongst some of Colorado's most notable history.
Learn more about The Manor House »
Grant-Humphreys Mansion
Built in 1902, Grant-Humphreys Mansion was originally home to Colorado's third governor, James Benton Grant. Grant lived in the home until his death in 1911, and in 1917 his wife sold the home to Albert E. Humphreys. Humphreys, a renowned leader in the oil industry, lived in the home with his wife and two sons - and their son Ira opened Denver's first commercial airport in Stapleton in 1919! In 1976, the mansion became part of the Colorado Historical Society, who lovingly maintain the home to this day.
Today, Grant-Humphreys Mansion is a grand wedding venue with room for up to 200 guests across the historic grounds. The lush gardens ooze romance, while the interior rooms feature period details and beautiful furniture to help set the scene. Enjoy cocktails to the tunes of the mansion's antique piano, then invite guests into the historic ballroom for dancing.
Learn more about Grant-Humphreys Mansion »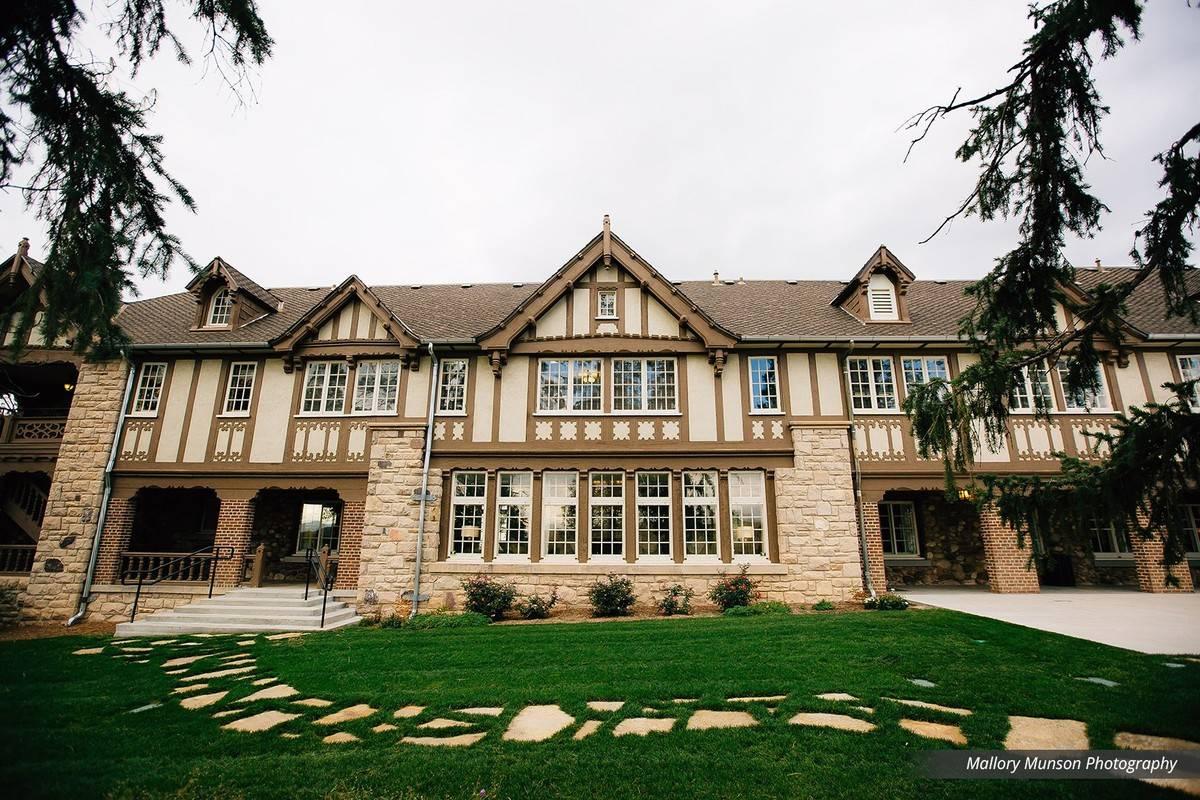 Highlands Ranch Mansion
Highlands Ranch Mansion in Littleton, Colorado has been home to some of the state's most prestigious families. Built in 1891 by Samuel Allen Long, the property was also home to rancher William E. Hughes, oil tycoon Waite Phillips, and Frank Kistler (who remodeled the home in an English Tudor style in 1930).
This estate sits on 250 acres of private ranchland, so whether you choose a ceremony on the patio's dramatic stone steps overlooking Marian's Garden, a night of dancing with 250 guests in the Great Hall, or a more intimate reception in the airy solarium, you'll feel like you're in your own western paradise.
Learn more about Highlands Ranch Mansion »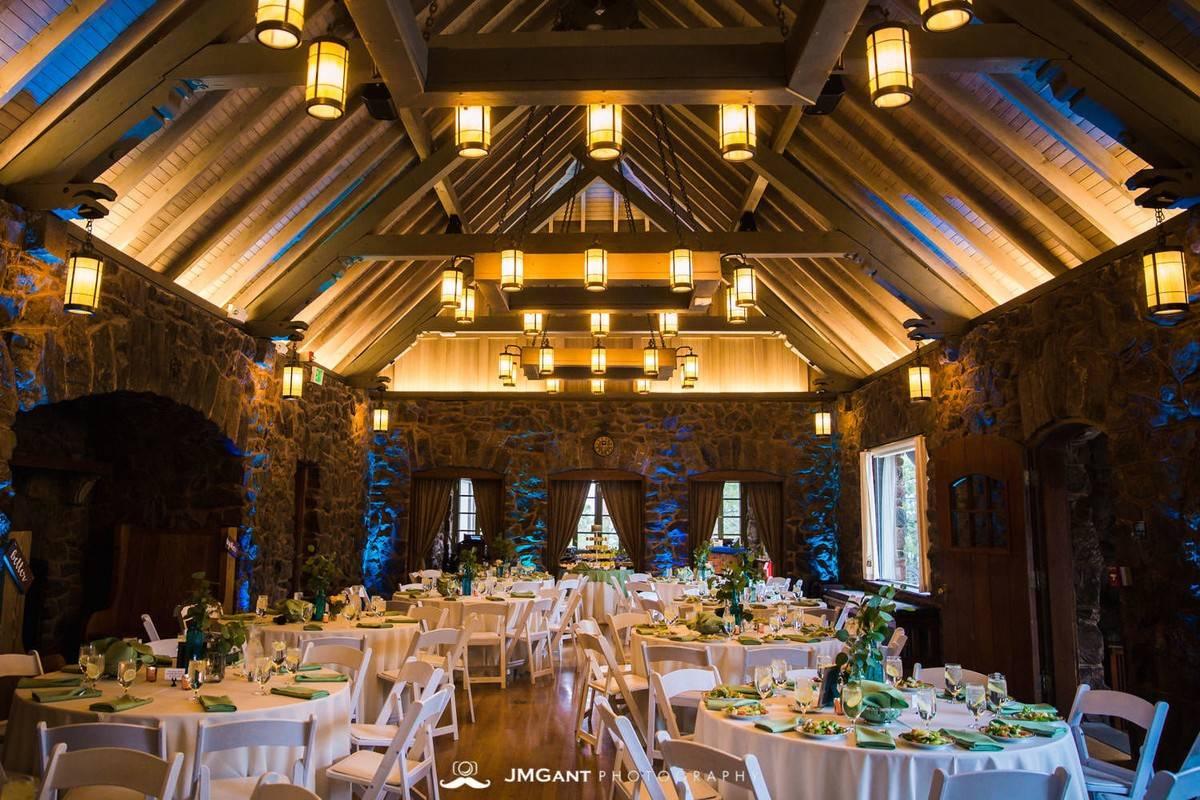 Boettcher Mansion
30 minutes west of Denver, Lookout Mountain rises over Golden, Colorado, and Boettcher Mansion wedding venue makes that dramatic, natural setting available to couples on their wedding day. Built in 1917, this historic home was constructed as a summer home and hunting lodge for the Boettcher family.
The Fireside Room features original stone walls, a dramatic high ceiling, and plenty of room for an indoor ceremony or an evening reception. Down a worn path lies the stone Gazebo, ideal for portraits or an intimate elopement. Whether your vision is western and rustic or refined and elegant, Boettcher Mansion and the surrounding grounds are ready to welcome you and up to 200 guests.
Learn more about Boettcher Mansion »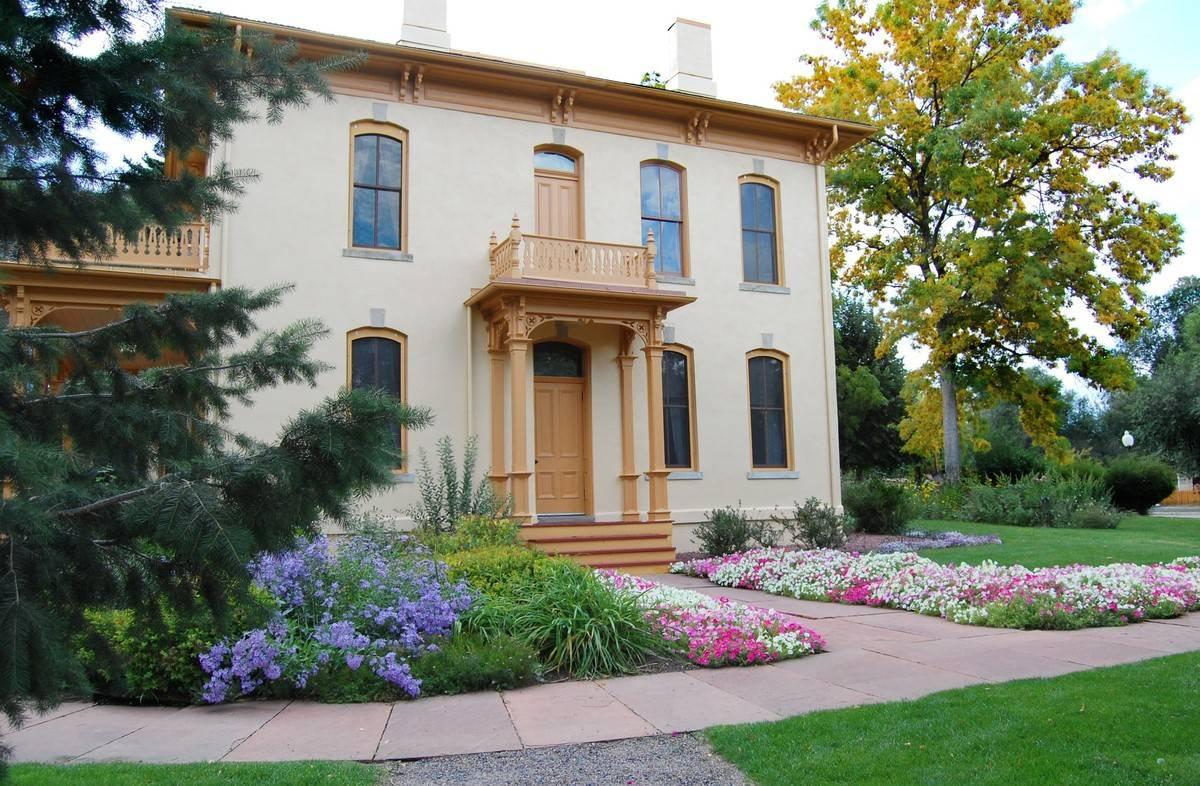 Richards-Hart Estate
Does your wedding mood board feature Victorian vibes? When it comes to Denver wedding venues, you'll love the Richards-Hart Estate in Wheat Ridge. Built in 1877, the mansion is set on three acres and is the perfect place for an intimate wedding with up to 75 guests. The pretty property has an elegant parlor, a formal dining room, and a manicured garden to choose from.
The building is dressed up with rich wood trim, polished floors, and period-replica furnishings to take you and your guests back in time. To make hosting a wedding easy, the estate also includes tables and chairs, two dressing rooms, and a catering kitchen that your caterer will love.
Learn more about Richards-Hart Estate »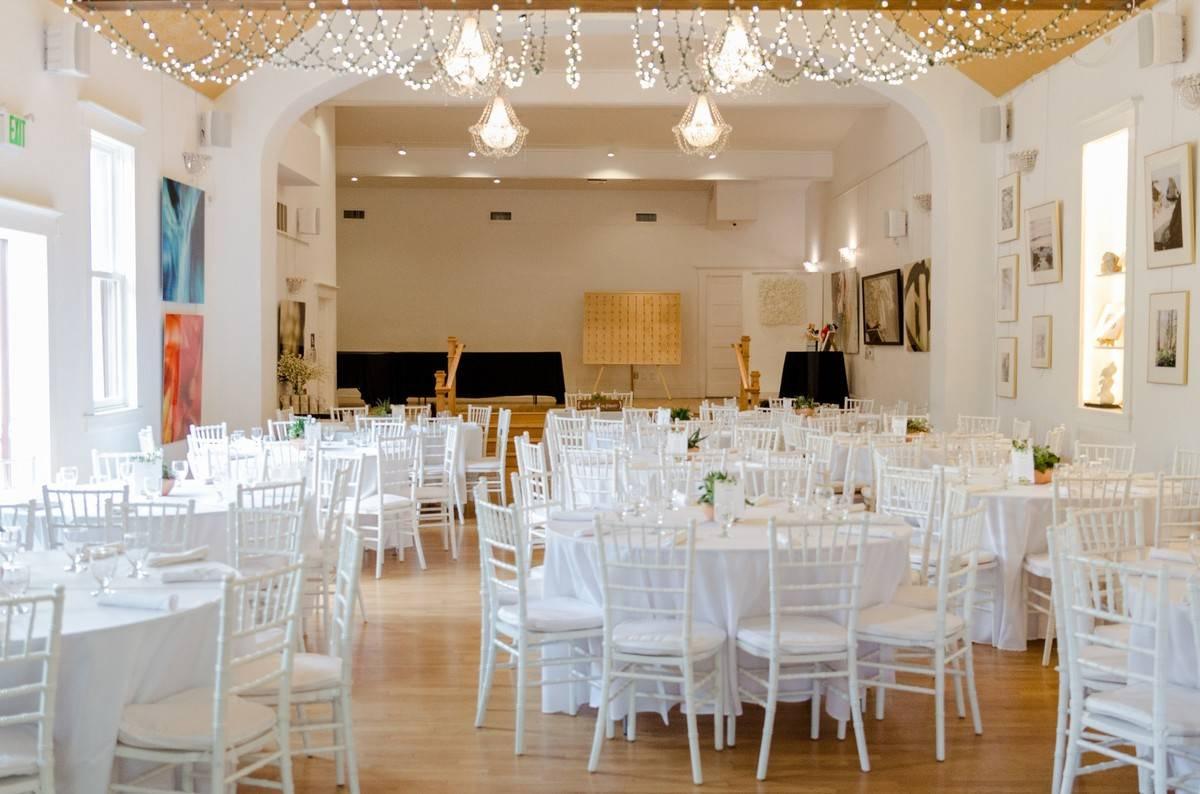 Gallery 1874
Marrying in an historic wedding venue doesn't mean you're limited to turn-of-the-century mansions. If you're looking for a bit of history with a contemporary spin, you'll love Gallery 1874. Constructed in 1874 and restored in 2016, this Olde Town Arvada wedding venue pairs crisp, clean walls with hand-painted gold ceilings and sparkling crystal chandeliers. It is also an active art gallery, with changing exhibits ranging from modern and colorful to timeless and traditional.
The venue has space for up to 220 people, as well as a dedicated stage that would be a lovely spot for an indoor ceremony - when your band isn't up there entertaining your guests, that is!
Learn more about Gallery 1874 »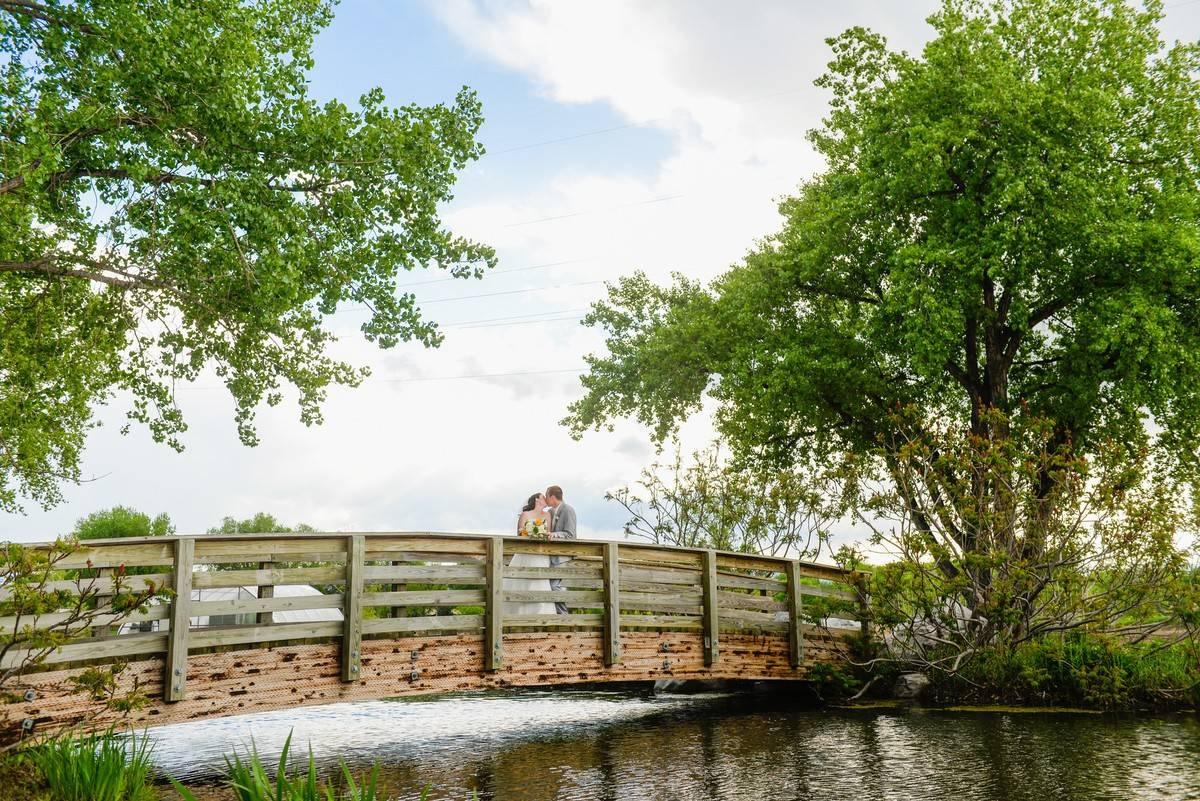 Hudson Gardens
Looking for Denver wedding venues with a more rustic, Wild West feel? Don't miss the Inn at Hudson Gardens. This lovingly restored log cabin was built in the early 1940s and features pinelog walls and hardwood floors that create a cozy and welcoming feel. Antique chandeliers and stone fireplaces create an ambiance of historic elegance that is unmistakably "Colorado" in nature.
The Inn seats up to 250 guests with room for dancing and is available year round. The adjacent Backyard, shaded by evergreen trees and seasonal flower beds, is the perfect place for a warm-weather ceremony. Or head to the Inn in the fall, as the colors begin to change and soften. It's a rustic and inviting setting for a couple looking for a wedding venue with a real sense of place and history.