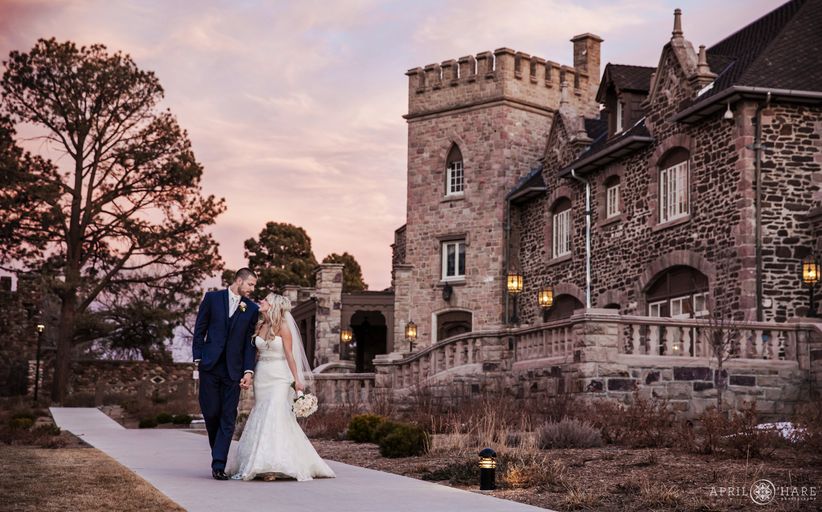 Photo: April O'Hare Photography
Whether you're a lover of history, the great outdoors, classical architecture or just want a wedding backdrop that will make your guests swoon, go no further than these historic wedding venues in Denver, Colorado.

While Colorado is not one of the original colonies, it was founded with that same free spirit in 1861, in the early days of the gold rush. Instead of featuring colonial architecture that can be found throughout the East Coast of the U.S., Denver and its surrounding cities, showcase a blend of Victorian and Spanish designs. Most of these historic wedding venues in Denver were first constructed to be privately owned by the wealthy, but over the years they have either been purchased and renovated into modern venues or are public property. From stunning gardens to fairytale mansions, these iconic wedding venues in and around Denver are sure to make your wedding one for the history books.


These historic wedding venues in Denver make us weak in the knees.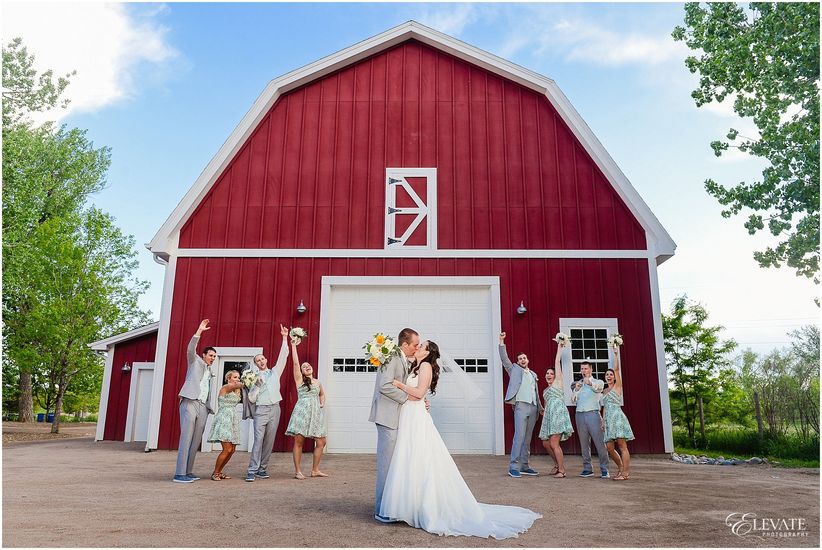 Photo: Elevate Photography
Hudson Gardens

Indoor spaces, outdoor spaces, or anything in between is what makes Hudson Gardens a one-of-a-kind historic wedding venue. What is now the Hudson Gardens & Event Center, started all the way back in 1941 with King and Evelyn Hudson who bought five-acres of land before creating their home and restaurant. After 20 years, the pair retired and began indulging their passion for gardening. Before her death in 1988, Everly established the King C. Hudson and Evelyn Leigh Hudson foundation to make sure their garden was a part of the community for years to come.

Today, Hudson Gardens is not only an exquisite historic wedding venue with multiple ceremony and reception spaces, it is also a place to learn about the beauty of nature. If you and your fiancé(e) decide to get married at this venue in Littleton, Colorado, you'll have several spaces to consider. The Inn at Hudson Gardens is a rustic log cabin-styled building with the capacity to host events 365 days a year. It has a cozy fireplace and private backyard for an intimate wedding getaway. The Inn can be used for both ceremonies and reception and accommodates up to 250 guests.

Next is the Garden Canopy; an open-air space in the Oval Garden. With high domed ceilings and festive lighting, this is the perfect place to celebrate your union with friends and family. This space has a separate ceremony space in the Rose Garden and can accommodate up to 225 guests.

The last indoor/open-air venue is the Welcome Garden Pavilion. Located in the center of the gardens, this wedding space is great for any time of year with customizable walls, high ceilings, and string lights. You can say "I do" at Monet's Place before moving to the Pavilion for your reception that can accommodate 175 guests.

The Rose Garden and Monet's place are the two outdoor spaces/ceremony sites. Monet's Place is located on the edge of a small lake under the shade of stunning cottonwood trees. Aptly named after the artist that inspired it, Claude Monet, the serene location looks like an impressionist painting come to life and can host 175 guests. The Rose Garden is the last wedding space in Hudson Gardens but it is by no means the least. Surrounded by hundreds of roses, fountains, and views of the Rocky Mountains, this space is absolutely breathtaking. With availability from mid-May to mid-October, the Rose Garden can provide seating for up to 225 people.

Learn more about Hudson Gardens »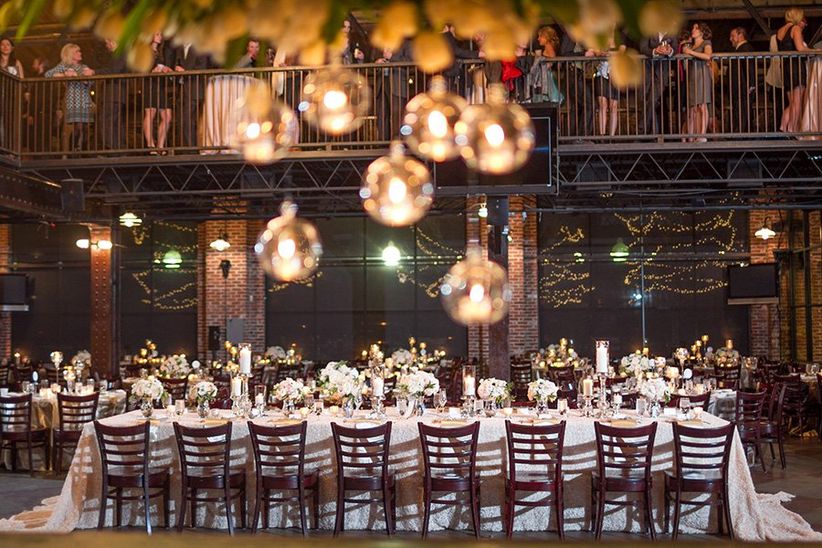 Photo: Mile High Station
Mile High Station

Looking for an open industrial venue with historic vibes and all the wondrous modern amenities? Check out Mile High Station. Located across the street from the new Invesco Field at Mile High, the Mile High Station was constructed in the former Midwest Steel and Ironworks factory. The original building dates all the way back to 1897 and is a huge part of Colorado's history as it was used to build large ship sections for the US Navy in World War II. If that doesn't spark your interest, take an in-person or virtual tour to see gorgeous exposed brick walls, floor-to-ceiling windows, an elevated mezzanine, and exposed rafters. This blank space wedding venue can be decorated in any way you see fit. Everything from vintage to glam will be complemented by the Mile High Station. If you're not sure what wedding theme or aesthetic is the best choice for you, don't worry, we've got you. The enormous building can accommodate events with guest counts from 100 to over 1,000! With room on the main floor for 350 seated guests, 200 seats on the mezzanine, and another 150 on the west patio.

Learn more about Mile High Station »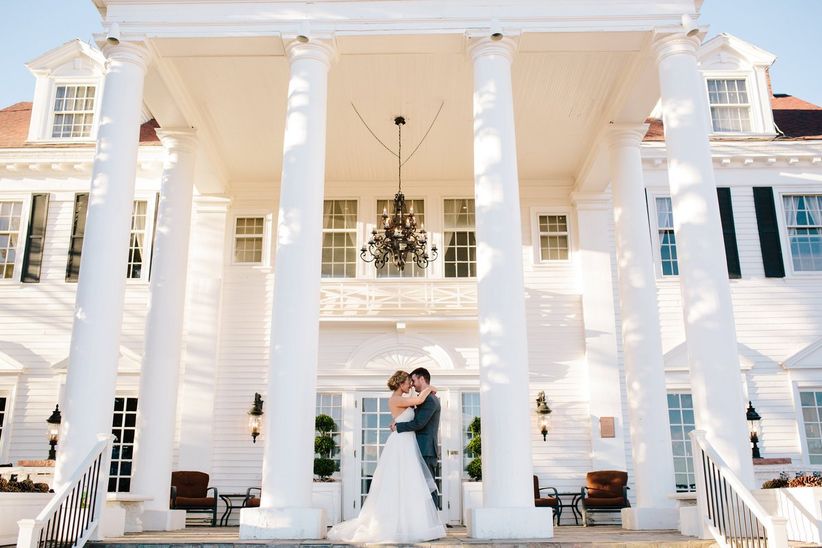 Photo: Kelly Lemon Photography
The Manor House

Located in the foothills of the Rocky Mountain in Littleton, Colorado, The Manor House is truly a sight to behold. John Charles Shaffer purchased nearly 2,700 acres in 1914, to build a summer home closer to his son. After gaining his wealth in railways and newspapers, Shaffer decided to create a summer home near his son in Denver. The mansion is situated on the highest portion of the grounds, which created the perfect 360 degree view for every visitor. The Manor house is a whopping 8,000 square feet with 20 rooms, six baths, and an 80 ft living room with mirrored fireplaces on either end. A smaller cottage is located directly across from The Manor house with three beds, two baths, and full amenities that can comfortably sleep 12. Make your out-of-town guests feel like American royalty by hosting your wedding at this stunning venue. The Manor House, and the 6 acres surrounding it, will become exclusively yours during your wedding festivities. This means you can make your experience at The Manor House truly unique. With seating for up to 200 guests, The Manor House is everything we love about historic wedding venues.

Learn more about The Manor House »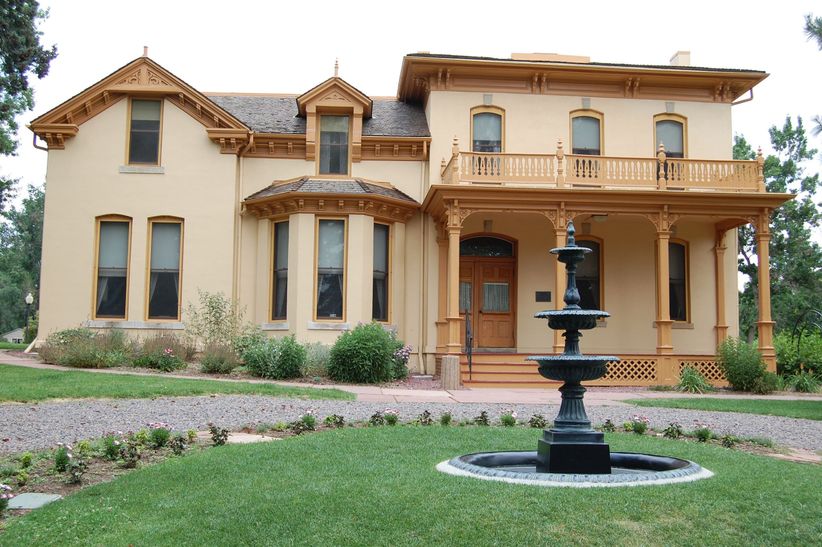 Photo: Richards-Hart Estate
Richards-Hart Estate

Did someone say romantic Victorian estate? Sign us up! The Richards-Hart Estate is located about 7 miles outside of Denver in the town of Wheat Ridge. The original estate was built by James W. Richards in 1869 after he acquired 160 acres. Inspired by both Victorian and Italian architecture, Richards' home became a stop for travellers heading west in search for gold. The estate stayed with the Richards family until 1911 and had 2 other owners between 1911 and 1976 when it was purchased by the city. Once the city owned the property, renovations began to sculpt it into the beautiful creation it is today. An extensive overhaul brought the estate back to its original glory, thus making a truly authentic experience for you and your guests. The small estate can accommodate up to 75 guests in both the indoor and outdoor spaces and 50 guests for indoor-only events.

Learn more about Richards-Hart Estate »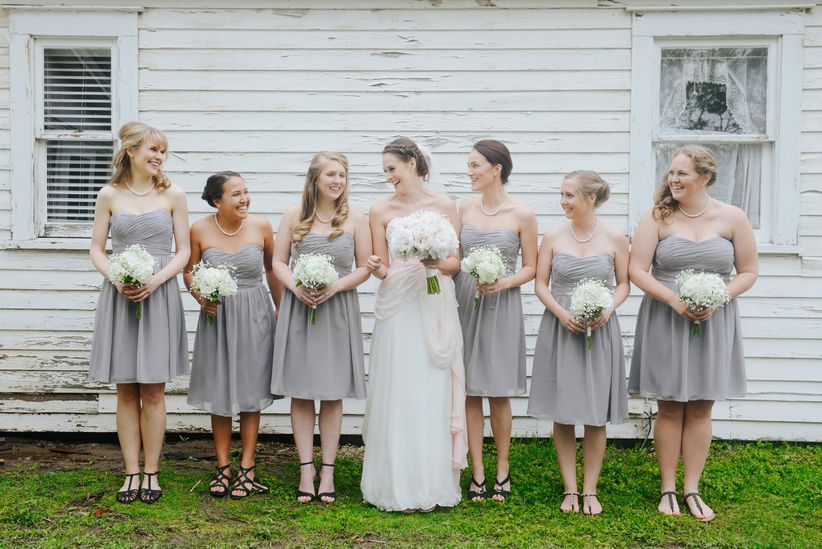 Photo: Elevate Photography
Denver Botanic Gardens at Chatfield Farms

If you can't get enough of Denver's natural beauty and want to say "I do" in a vintage venue with the perfect amount of rustic vibes, take a look at Chatfield Farms. As if you needed another reason to get married in a garden. The main focal point of this expansive garden is the Hildebrand Ranch which was founded in the mid 1870s. Frank and his wife, Elizabeth, began a life for themselves in the harsh landscape of the Mid-West. Walking through the farms, you'll see everything from houses to stables to a schoolhouse, granary, and blacksmith shed.

No matter how you picture your dream wedding, Chatfield Farms has something for everyone with six unique spaces available for gatherings. The Green Farm Barn is a classic red barn with a private outdoor grassy area and attached patio. Indoor seating can host up to 140 guests, standing reception for 200 guests, and outdoor seating for 500+ guests.

Open Air Chapel is an outdoor wedding space located in the rolling meadows of the gardens with Deer Creek Canyon as its astonishing backdrop.It is available to rent from April to November. Seating room is available for over 500 and can be used for both ceremonies and receptions.

Next is Deer Creek Stables, a new construction with a rustic feel. With covered seating for 225 guests and additional outdoor seating for over 1,000 go big with your wedding festivities. For a truly intimate wedding, consider the Polly Steele Center. This charming house with wrap-around screen porch can be used as the bridal suite or for hosting a small wedding. Indoor capacity is 20, covered patio is 30 and outdoor lawn seating is 50.

Another venue that doubles as a bridal suite, the Deer Creek Schoolhouse can accommodate 40 seated guests and 50 standing. Lastly, the Prairie Garden Terrace is surrounded by the Prairie Garden with an enormous cottonwood tree in the middle. This space can be combined with the Schoolhouse as well.

Learn more about Denver Botanic Gardens and Chatfield Farms »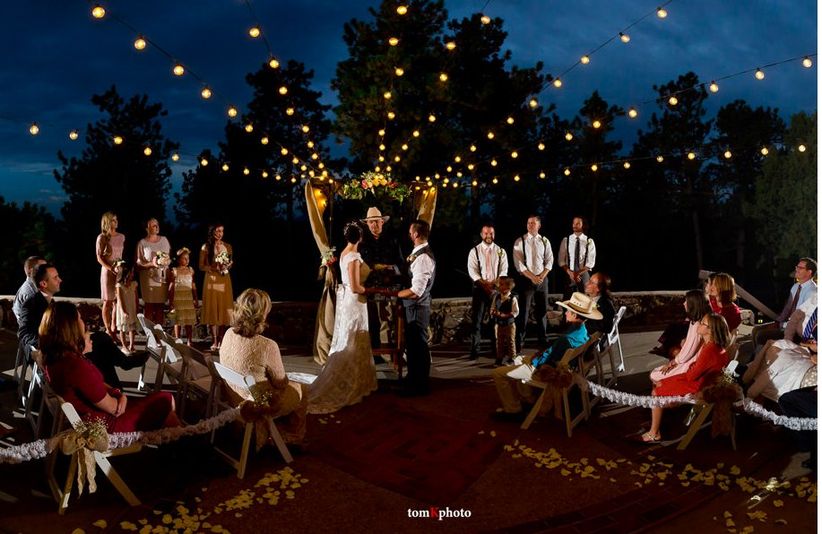 Photo: tomKphoto
Boettcher Mansion

The Boettcher Mansion was commissioned by Charles Boettcher in 1917 as a secluded summer retreat atop Lookout Mountain. Boettcher purchased the land when the previous resort plan fell through. Staying in the Boettcher family until Charles' granddaughters death in 1972, the extensive property now belongs to Jefferson County. The first wedding at Boettcher Mansion took place on April 24, 1975 and in 2005 a renovation project began to preserve the original building. The three available spaces include: The Mansion, the Carriage House, and Gazebo. The Carriage House hosts events for up to 40 guests and the Mansion up to 200. Exposed brick walls and high ceilings make it feel like you've been taken into a fairytale. The surrounding mountains and lush foliage don't hurt either.

Learn more about Boettcher Mansion »
Photo: Joe and Robin Photography
Willow Ridge Manor

Colonial architecture and jaw-dropping views of the Rocky Mountains… what's not to love about Willow Ridge Manor? Located just under 20 miles outside of Denver proper, the original mansion dates back to the late 1800s. An extensive remodel ended in 1915 and Willow Ridge Manor served as a home for Kendalvue Farm. With many rich and famous residents, it wasn't until 1989 that the manor made its final move to the Red Rock Formations and became the event center it is today. Willow Ridge has three spaces available for your wedding activities. For couples looking for an indoor affair, the Grand Ballroom will likely fit your needs. If you're hoping to enjoy the scenic views, both the lower and upper decks of the grand ballroom are available and feature dramatic views of the red rock formations. The maximum capacity is 200 people.

Learn more about Willow Ridge Manor »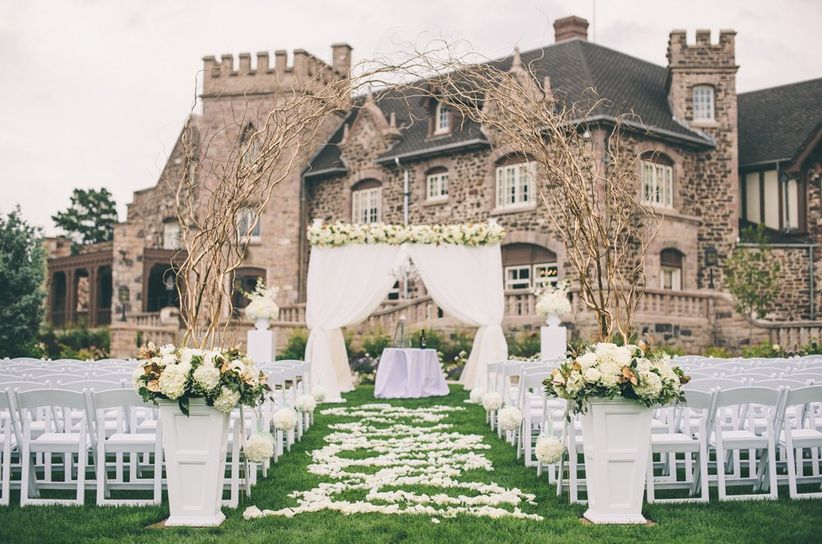 Photo: Amanda Kopp Images
Highlands Ranch Mansion

Is your dream wedding venue a castle but you don't want to travel across the pond to find the perfect one? We've got you covered with Highlands Ranch Mansion cue the applause. The building is over 120 years old and has served as residence to some of Colorado's most illustrious families including: Long, Springer, Hughes, Phillips, Kistler, and Phipps. Samuel Long founded the property all the way back in 1891 and named it Rotherwood. The original structure was a simple farmhouse and as it passed through owners it was expanded upon until it became the estate you'd see today. The Highlands Ranch Metro District became the new owners of the mansion in 2010 and opened the newly renovated in 2012.

Several historic rooms along with outdoor areas and the Great Hall can be utilized for weddings. The Great Hall is the largest and most versatile room. It features hardwood floors, exposed rafters, and accent brick walls. It can accommodate up to 225 guests for seated ceremonies and receptions.

The living room, dining room, and library have been renovated to be as historically accurate as possible with period furniture and herringbone floor. The living room can be used as a greeting area while the library and dining room can be used during cocktail hours.

The solarium is furnished in a 1920s style and is perfect for smaller more intimate events, accommodating 80 guests for a seated reception and 150 for a ceremony. You can exchange vows with views of rolling meadows in the garden and gazebo, which can host up to 350 guests.

The back patio can be used for ceremonies, receptions, and cocktail hours with a capacity of 200 guests. If you'd like the view from your ceremony to be the stunning estate, consider getting hitched on the Front Veranda with up to 225 guests.

The Front Lawn and Front Circle Drive can both be used for ceremonies of up to 350 or 250 guests, respectively, and also face the awe-inspiring facade of the mansion. The sheer size and versatility of the estate are surefire reasons you should consider getting married in a historic home.

Learn more about Highlands Ranch Mansion »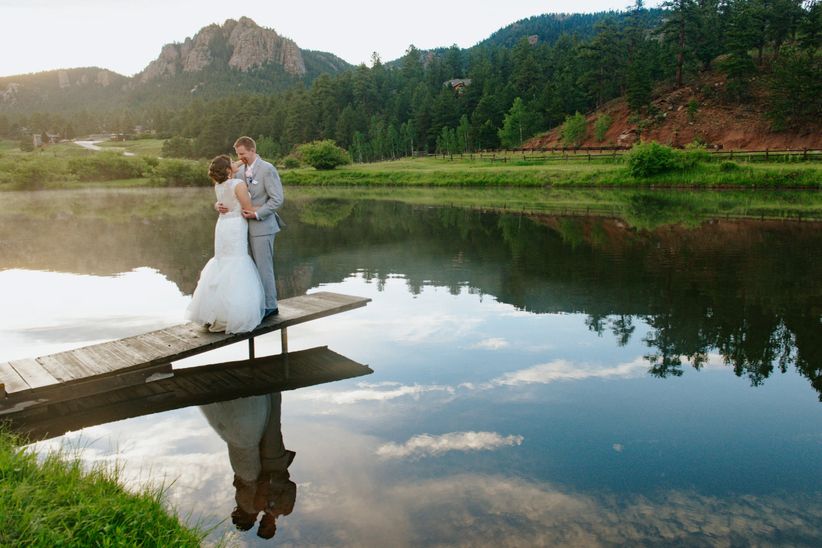 Photo: Elevate Photography
Lower Lake Ranch

This ranch in Pine, Colorado, located about 40 miles outside of Denver proper, was originally founded in 1878 by John Jensen and his wife. That makes it almost 140 years old and the oldest ranch in the state of Colorado! Before his death in 1921, Jensen had acquired over 3,000 acres. What was once the Jensen family home has now become a picturesque wedding venue nestled in the mountains. There are three locales at this Denver wedding venue where you can say "I do". The first is Creekside Lodge. This private retreat has a vintage-rustic vibe with dark finished wood and mountain views. Gatherings here can accommodate up to 100 guests. Next is Willows Pavilion at Upper Lake, a serene setting that dates back to the late 1860s. With available space for lodging between 38 and 60 guests, it's a no-brainer to consider this for a quintessential Colorado wedding. Lastly, Rock Crop is a fully outdoor wedding venue and part of The Ranches Park. Peace and tranquility are just a few words that come to mind when looking at photos of the property.

Learn more about Lower Lake Ranch »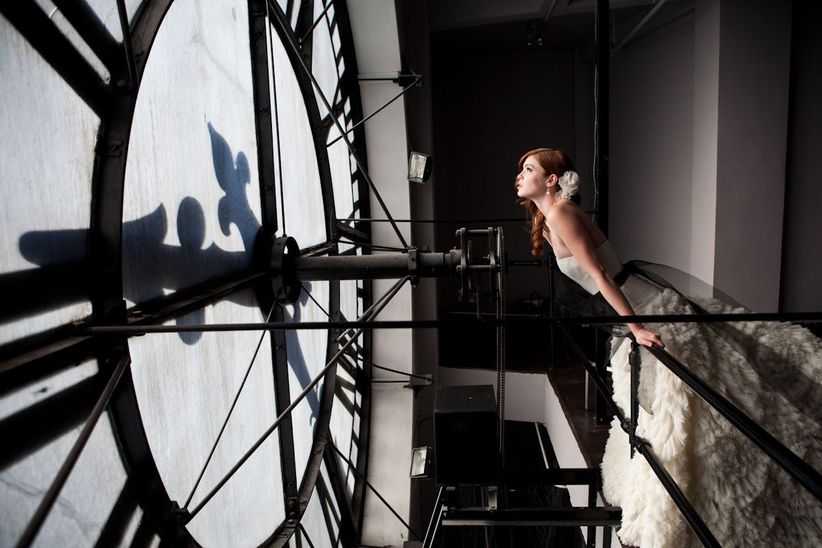 Photo: Clock Tower Events
Clock Tower Events

This downtown Denver wedding venue was built in the clock tower of Daniel and Fisher Department store. Built in 1911, it was the tallest building west of the Mississippi for many years. Designed in the Italian Renaissance style, the building is now considered a Denver landmark, making it a seriously special wedding venues. While you may not be able to see for 200 miles in any direction like back in the early 20th century but that doesn't mean wedding guests won't be wowed on your big day.This historic wedding venue features five unique floors with two balconies. With room for 150 guests, it's not hard to see why people love getting hitched in front of the towering clock face.

Learn more about Clock Tower Events »