136 Reviews
Recommended by 99% of couples
Quality of service

5 out of 5 rating

Average response time

5 out of 5 rating

Professionalism

5 out of 5 rating

Value

4.9 out of 5 rating

Flexibility

4.9 out of 5 rating
70 User photos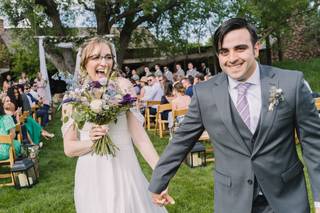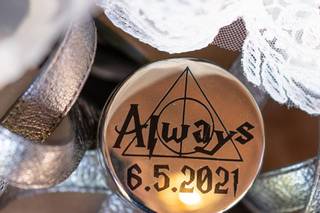 + 66

photos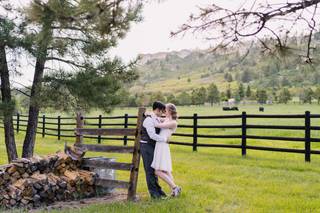 Sarah F.

Married on 09/24/2022

Absolutely Amazing!

Wow, we cannot possibly express how much love and respect we have for this amazing team. We fell in love with Katie from the moment we met her. She is full of life, energy, and fun, it felt like we had always known her. She has a unique quality that makes everyone around her feel comfortable and happy. From the engagement shoot in the snowy mountains, to the wedding day at Crooked Willow, she was able to capture our love, our connection, and our joy in every photo. The day of the wedding, Katie, Bethany, and Emma were more than just our photographers, they were part of our family, They guided us through the day with ease and patience, and understanding of our expectations. We do not have words to describe how magical our wedding photos were, just stunning. My family and friends loved this team as well, they were amazing in every way. Thank you Katie from the bottom of our hearts for capturing this day so perfectly, you truly will be our friend for life.

Dallas W.

Married on 05/14/2022

Best photographers ever

The entire setup that Elevate Photography has is great! Brooke was my absolute favorite person to work with, she was an amazing photographer and made the entire process so much fun. Highly recommend her and her team!

Missy M.

Married on 10/16/2021

Amazing! Truly spectacular.

I'm still in shock my how amazing this company is - particularly Ryan. Wow. They went above and beyond to make our entire experience special. We feel so honored. Love love love.

Elevate Photography's reply:

Thank you Missy! This makes me so happy to hear. You truly had a beautiful wedding and I loved being a part of it! -Ryan

Are you interested?

Send a message

Michelle

Married on 06/05/2021

Captured Our Day Perfectly!! Absolutely Amazing

Katie was absolutely amazing throughout the entire planning process, and we are so thrilled with the pictures she took, both for our engagement shoot and our wedding. My husband and I aren't used to taking professional photos, but Katie made us feel at ease with her casual, happy manner and jokes. We fell in love with Elevate when Katie told us that she focused on capturing all the moments from the wedding – not just the "stand there and smile" moments. Katie seemed to capture all the little moments of our wedding day, and I couldn't have asked for better pictures, or a better photographer. She made sure that it felt like we were just hanging out with each other, or with our bridal party, rather than posing for a camera.

Before the wedding, Katie helped us plan out all the posed photos we wanted to make sure to take, and she was incredibly efficient in taking all our family photos. We loved the Instagram, Facebook, and Blog post sneak peeks after each event. The slideshow of first look photos during the wedding reception was also amazing, and our guests absolutely loved seeing the getting ready shots so soon. She went above and beyond in every way –climbing over rocks for our engagement shoot, making us feel at ease when we were nervous or awkward, and answering all our questions throughout the planning process. I would highly recommend Katie and Elevate Photography!

Marisa T.

Married on 05/28/2021

A Skilled and Amazing Photographer!

We hired Ryan Erikson of Elevate Photography to be our photographer, and we could not have asked for a better person to photograph our big day! We first considered Elevate and Ryan due to their amazing portfolio work. We also knew that we wanted to spend a bit more on photography, since the day only lasts a few hours, but pictures are forever. We don't regret it one bit. Ryan and his team (Katie and Hannah) were incredible! He captured every angle beautifully. What also drew us to Ryan was his experience with the venue and area. We took gorgeous photos in Rocky Mountain National Park before the ceremony, which wasn't something we considered until he showed his prior work near the area. Our family and friends have told us that his photos of our wedding are magazine worthy material (not that we're amazing looking, it's just that Ryan and the Elevate team take fabulous photos!). They're also super fun and personable--like having fun friends join in on your day and capturing your most precious moments of one of the best days ever. I would hire Ryan and Elevate photography over and over again.

Amy L.

Married on 03/10/2021

Phenomenal

Ryan and Katie were absolutely phenomenal! We had worked with Ryan for our engagement shoot in January and fell in love with his gentle guidance and incredible eye. On our wedding day he and Katie worked so well together to capture our special day and made us feel so comfortable in front of the camera (which really isn't our thing)! We have only received a handful of shots but are so in love with what we have received so far! I have no doubt the rest will be just as incredible!

Elevate Photography's reply:

I'm blushing Amy! Thank you so much for sharing your experience of working with Katie and I. Katie really was like a third bridesmaid for you wasn't she? ;) We loved every bit of your wedding and can't wait for you to see the rest of your photos! Hugs! -Ryan

Colleen O.

Married on 10/16/2020

One of the Best Parts of Our Wedding

We are in love with our wedding pictures. Even a few months after the event we still regularly scroll through our gallery and relive the moments Elevate Photography captured so perfectly. It's been such a treat to be able to share them with friends and family members who couldn't be there in person, and can still share a part of the day because there is such richness in the photos.

In addition to being incredibly talented, the Elevate team is a pleasure to interact with. When first searching for a photographer and speaking to Ryan something he said really stuck out to me. He mentioned that we'd be spending as much time that day with the photographer as we would with each other and his aim was to make that an enjoyable experience. Mission accomplished because after meeting Ryan in person at our engagement shoot we couldn't wait to hang out with him again at the wedding. He showed us the coolest spots, scouting off the beaten path gems that gave us the moments we dreamed of when choosing Colorado as our destination.
Upon meeting Janae for the first time on the wedding day, it immediately felt like she was a part of our crew. In addition to her creative vision that helped make the most out of our venue to get fun and unique shots, she was prepared for EVERYTHING. From extra bobby pins when my veil needed a boost to loaning me her super cozy scarf as we made the chilly trek to the perfect spot for wedding party photos it was clutch to have such a wedding pro with us.

At the reception our guests were blown away by the slideshow showcasing moments from earlier in the day. They couldn't believe how quickly such amazing images were turned around. And, everyone commented on how skillfully and efficiently the team got us through the family portraits at the church, making it fun, and not an assembly line of smiles.

Having Elevate Photography as a part of our wedding day made it extra special. We're already dreaming of future days where we hope to have occasions where they can help us capture more memories.

Sierra T.

Married on 11/09/2019

Ryan is amazing! Book Elevate!

Ryan was SO great to work with! Our wedding was in Big Sur, California, and the first time we met him he had already started scouting out how to maximize the venue and surrounding coast. He DELIVERED.
All of our guests commented on how much his passion, fun-loving spirit and professionalism shone through. Each step of the way, he wanted to make sure our wedding day was exactly what we wanted and played such a key role in the day. I'm so grateful to have had his talent with us.
I'll let the photos speak for themselves!

+ 2

photos

Elevate Photography's reply:

Awh this makes me so happy! Thank you Sierra and Justin! You sure made my job easy by being such lovely souls and for having such a gorgeous wedding! I'll forever remember my California adventure for your wedding! -Ryan

Tiana S.

Married on 10/19/2019

Stunning photography!

Ryan and the Elevate team are absolutely amazing! Our engagement and wedding photos are stunning - we could not have found a more spectacular photographer. From the initial meeting, Ryan was very professional and provided us such good advice. He always answered my countless emails very promptly, and had perfect solutions for everything! We are so thrilled we found Ryan and his team!

Ryan, Michael, and Gabrielle were so amazingly fun to be with the day of the wedding - we honestly felt like they were friends and wedding guests. Not to mention - they were all so helpful in finding epic photo spots, carrying my dress and veil, and helping us over rocks!

Thank you so so much for capturing our engagement and our wedding so beautifully! We are so grateful for your artistry!

+ 17

photos

Christine A.

Married on 10/19/2019

Amazing!!!!

Seth (one of the elevate associates) was our photographer and he was simply amazing. The engagement pictures were stunning and he helped us choose a great location for them. We got some framed. The wedding pictures themselves were even more amazing!! Totally thrilled with everything he did. Elevate as a whole was great to work with! I love that they made the packages very customizable to fit any budget. The editing was beautiful. Absolutely recommend!!

Megan

Married on 09/14/2019

Love them!! Please choose them

Have to say hands down our favorite vendor!!!! From the beginning they wanted to be with us and make everything perfect... shout out to Katie and Chris!!! We love them and can't even begin to say how amazing they were. Started before when we got engaged they brought us to the studio to show us pics/ videos gave us wine/ beer snacks and wanted to get to know us. Thought the year they would keep checking on us and making sure everything was okay. When it came to the wedding I was beyond thrilled!! They had assistants they were there on time they made you laugh feel comfortable made you feel like a best friend... Katie and Chris were our favorites if we could take them home in our pockets we would! We just loved them and there work... I can't even begin to touch on their work.. it's so natural and calm and in the moment ... please go with them you won't do wrong!! I also have to say I learned from previous brides they say the photography and videography is the most important and I agree 100% !!

+ 2

photos

Elevate Photography's reply:

Thank you fo much Megan. We will happily go home with you! or how about just out for drinks? You and Bryson are incredible people and we had the best time getting to know you and being able to photograph and video your wedding. It was an amazing day and we were so honored!


Jane

Married on 08/31/2019

Wedding Dreams Come True

We chose Elevate because of their stellar reviews and the unique yet authentic photos on their website. Wow, we are so happy we chose them! Ryan was our photographer and we connected with him right from the beginning at our first meeting. We are so happy we decided to do an engagement session because it enable us to feel comfortable with each other as a couple and getting our photos taken, as well as get comfortable with Ryan, our photographer. For our engagement session, we chose the location, but Ryan had unique specific spots within the location (South Broadway) while letting us choose special spots like our favorite bar or shop. Ryan made sure to keep us within our level of comfort, while also pushing a little to be a little more vulnerable.
Leading up to the big day, Ryan kept in touch about meeting spots and made sure to communicate which photos we wanted (pictures with family, wedding party, etc.). We weren't sure about whether or not we wanted to do "getting ready" photos, but with Ryan's suggestion, we did, and are so happy we did. Ryan found an amazing special spot near lookout mountain (near our wedding venue) and it was beautiful. Our first look was magical but fun. Ryan's other photographer Janae did an excellent job with my husband and his crew, while Ryan took charge of me and mine. They had an additional assistant (forgetting her name), and she was wonderful too. Not only was Ryan so great and flexible with the overall day, but with the various personalities in the wedding party and family. Everyone has an opinion on your big day, and Ryan just rolled with it all, while making sure he got the best shots!
Additionally, as a business, Elevate has it down to a T. They do an excellent job hiring the best photographers who take the shots, as well as the editing/production team.
Overall, we are beyond grateful for everything Elevate has done for us. We will use them for all of our future milestones like family photos. I'd say that besides your venue, your wedding photographer is the most important vendor you can choose, so choose wisely. It felt so good to have someone who we trusted so much by our side in our most intimate moments on the most important day of our lives!

+ 7

photos

Jenna P.

Married on 08/12/2019

Best wedding photography there is

We had the most amazing experience with Ryan and all of the gang at Elevate Photography. Super great planning process leading up to the wedding, and absolutely above and beyond the whole wedding day. We had two photographers plus an assistant, an incredible value for our package, and not only did they take the most incredible photos, they also helped us stay warm and alive throughout our snowy wintry wedding day. The second photographer dried my feet with her own shirt to help me survive outside and get the snowy pictures I had always dreamt of. We also had the day-of slideshow during the reception and it's the most magical thing on the planet. Could not recommend enough!!

Elevate Photography's reply:

Awh, this warms my heart to read Jenna! And yes, I'm so lucky to have such a great team, willing to dry and warm my brides feet (thanks Katie). We're here for you, as always!
Thanks for sharing the love! XOXO Ryan and Katie

Amanda

Married on 04/27/2019

100% would recommend to anyone looking to have an awesome wedding

There are honestly not enough positive words in the English language for how amazing the Elevate team is. From the first meeting to the wedding day, they were informative, responsive, creative, supportive, and altogether invested in our happiness and success on such an important day in our lives. Every ounce of what we did with Elevate was worth it. We got their photobooth, which gave us by far the funniest pictures of the night. We also did the day of slideshow, which was amazing because my husband and I got a glimpse of what the other's day had been like so far, and our families got to feel like they were a part of it too. The pictures were incredible for having been taken and edited only a an hour or two before. Ryan and Gabrielle made taking all of our photos an extremely fun experience for everyone involved, and the creative shots we got are some of our favorite pictures of all time. Could not recommend these guys enough

Larisa

Married on 10/26/2018

Amazing!!!!

Katie and Janae and their team at Elevate really made our day a dream come true. They captured every moment perfectly and were so easy and fun to work with! I would recommend them to anyone and everyone!!

Caitlin

Married on 10/13/2018

Katie Jones was AMAZING

We LOVED the whole team with Elevate!
I had told Katie I wasn't a fan of the "standing in a row holding flowers and plastered smiles" style of photos and she absolutely got our vision and was awesome!
She also didn't just expect us to figure out how to interact candidly at every moment, she asked us and our wedding party really thoughtful questions that resulted in special moments in person and captured on camera. She reminded my husband and I to take slow calming breaths amidst the exciting chaos that would sometimes pop up and she was so perfectly focused on making everyone comfortable, to get those perfect shots and so that we would enjoy taking them.
Our photos are epic and beautiful and timeless. I can't say enough wonderful things!
HIGHLY recommend!!

+ 2

photos

Elevate Photography's reply:

Oh Cailtin,
I feel like I should write a review for your wedding. Honestly, it was such an incredible day. I have told so many people that my favorite thing is not only that you guys are lucky enough to have found each other but that you KNOW how lucky you are and really revel in it. Thank you for the sweet words and for letting me be a small part of your epic love story! -Katie

Aubree

Married on 09/02/2018

Best Wedding Photographer in Colorado!

For us, the most important wedding vendor was always going to be the photographer because, as special as our wedding day was going to be, the photos would allow us to return to that day whenever we wanted for the rest of our lives; so, consequently, we had the highest standards when selecting a photography team to entrust to both the day itself and the pictorial memories we would cherish every day thereafter. Ryan Erickson and Elevate Photography exceeded those standards.

It was clear that they would from the moment we first walked into the Elevate office viewing room, surrounded by beautiful, crisp images and welcomed with warm cookies and beer. These touches were not superfluous, but rather they foreshadowed the extra thought and attention to detail that would be shown by Ryan and his team throughout our engagement and wedding.

Ryan literally went the extra mile by traveling from Denver to Vail to shoot our engagement photos down by Gore Creek and on top of Vail Mountain. It was during this shoot that we first appreciated how much more goes into capturing the perfect shot than the framing and technique of the photographer (which it was already clear Ryan had in spades). As we skipped over rocks in the creek and clambered over crests to get the perfect mountain vista, Ryan's gift for naturally disarming us with a well-timed anecdote or an informative new restaurant recommendation came to the fore, allowing us to feel comfortable while he captured candid moments of laughter and happiness. That skill is matched by his eye for the perfect shot, whether it be a forehead kiss in a sun-dappled, autumn-colored aspen grove he found or a sparkly engagement ring contrasted against a verdant, mossy log he identified. The results were breathtaking.

So when it came time for the wedding day itself, we already knew we had an implicit mutual understanding with our photographer. Ryan and the Elevate team picked up on the aesthetic and vibe we were going for instantly and, true to their name, elevated it over and over again. Shot by Ryan, our first look at The Ramble Hotel was captured as if we were on Mad Men at the sleek bar with soft leathers and twinkling chandeliers, but if Mad Men were bursting with color and light. On Ryan's camera, the relatively shy and mild-mannered groomsmen looked frankly badass in a back alley shoot that evoked the iconic Reservoir Dogs credit scene, while the bridesmaids garden portraits at Blanc stunned. He managed to get each photo we needed with every family and friend permutation before the ceremony, which allowed us to be present for the day thereafter, from the ceremony through the cocktail hour and reception without needing to pose for more photos. And even more important than making us look better than we do, Ryan and his team captured every heartfelt moment and split-second reaction the whole night long.

Elevate Photography's pictures are our most cherished possessions from the best day of our lives, and, for that, we cannot thank them or recommend them enough.


Tegan

Married on 07/21/2018

We had such a blast working with Janae! Not only did she capture the many special moments on our big day, she worked with us on capturing some goofy photos that totally reflect our personality as a couple! I would 100% recommend Elevate to others, as they were professional, polite, fun, and captured such beautiful moments from our engagement to our big day. The pricing seems on point with other top photography companies, but I felt like it was worth every penny and we got other special touches with our package. Our guests LOVED the slide show during the reception which showed the wedding photos we'd captured during the cocktail hour. Typically guests don't get to see the photos or why the bride & groom get pulled away throughout the day and night for these incredible shots. . . this gave them a glimpse of it all! Truly amazing! I'm going to miss working with Janae, but will definitely be a return customer for future photography needs! Thank you, thank you, thank you!!

Joanna D.

Married on 03/31/2018

WOW!! Helped made the day perfect

I couldn't have asked for a better team to help make the day run smoothly. Janae had an infectious energy that helped keep smiles on faces and Ryan was fantastic at capturing precious candid moments. Thanks again for helping make the day run so well

Robyn B.

Married on 03/30/2018

Giddy over Elevate

Photography was at the top of my list for the things I did not want to compromise on for our wedding. It was critically important to me that we got great photos and felt comfortable with our photographers. As I was looking through options, I kept finding myself coming back to Elevate. I loved the images I was seeing and their mission to give back to the community resonated with me. We ended up booking with them and got connected with Katie. Katie was a doll to work with! She was sweet, personable, professional, and flexible. My mom and I made a last minute trip to Colorado to visit vendors, and Katie was more than willing to work around our schedule just so we could meet her in person before the wedding. We ended up with the dream team the day of our wedding- Katie, Janae, and Hannah. They were all so amazing and wonderful to work with! Katie was a serious pro at orchestrating family photos and moved us along more efficiently than any of our bridal party had experienced in any other wedding. The three girls were able to get wonderful photos despite having to fight against 40+ mile an hour winds and hair flying every which way. We are so grateful for all of Katie's help leading up to the wedding- her recommendations and advice on everything from photography to hairstyles and venues to Djs were so valuable. She felt like a true friend after spending just one day with her, that's how comfortable we felt working with her. My only regret is that when we have kids, we won't be able to call Katie up for our infant photo shoot! I'll just have to work on convincing my husband that a trip to Colorado for family photos with Katie at some point are a must!

+ 3

photos

Ivonne

Married on 09/02/2017

If you're here already know Elevate is one of the best photographer companies in Colorado. Katie was my main photographer and then I had a second shooter, Allie and an assistant as well. They were all lovely, working very effectively to keep us on schedule. The wedding day is a rush for the most part, a bit stressful as well because you need double the time to accomplish everything you want, but regardless, they were there with a smile on their face and very patient with me and specially my husband who doesn't love being the center of attention or posed photos haha so you can imagine.
Yes, they're packages are pricey, but my photos came out a dream!! Would totally recommend.

Kami

Married on 07/29/2017

We absolutely loved working with Ryan for our engagement and wedding photos. He did an incredible job and blew our high expectations out of the water. We highly recommend Ryan and Elevate Photography to anyone looking for an amazing photographer to capture the best moments of your wedding day.

Sarah

Married on 05/28/2017

Elevate did an absolutely beautiful job with our engagement and wedding photos. Maybe not the cheapest photographer around, but it was worth every penny. They are the most personable, friendly staff you could ever ask for and put you at ease very quickly. Our main photographer, Ryan, was truly a "ninja" always running around to get the best shots and not afraid to dive to the ground if needed to get the perfect angle. He was extremely communicative and absolutely delightful to work with. Our photos received rave reviews by all. We couldn't ask for more. Thank you, Elevate!!

Brittany

Married on 05/20/2017

Elevate photography is the best! They did our engagement and wedding photos and they turned out beautifully!! They are friendly, reliable, organized, full of great advice, and take gorgeous photos! I highly recommend them to anyone looking for a photographer!

Emily

Married on 05/13/2017

Elevate Photography is amazing! Not only is Ryan easy to work with, but he knows what he's doing. Elevate Photography is reasonably priced and made the whole experience from engagement photos to the wedding to putting together your album stress-free. The results are priceless! Do yourself a favor and hire them immediately!
Are you interested?
Send a message