9 Totally Gorgeous Denver Ballroom Wedding Venues
Dance your wedding night away like Cinderella or Prince Charming in these oh-so stunning ballrooms located right in Denver.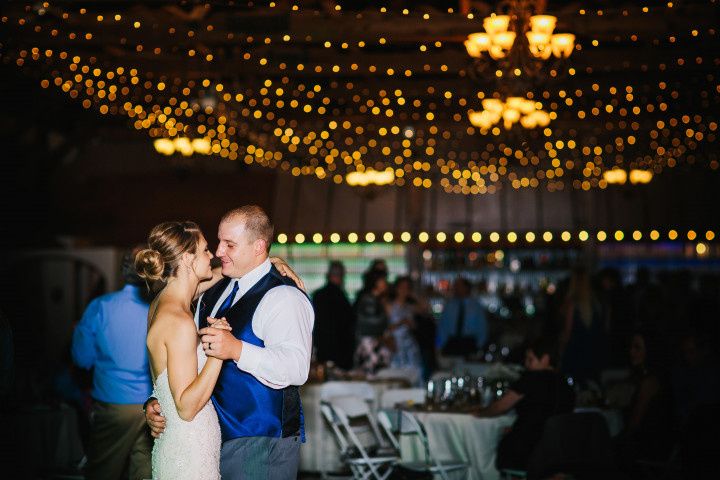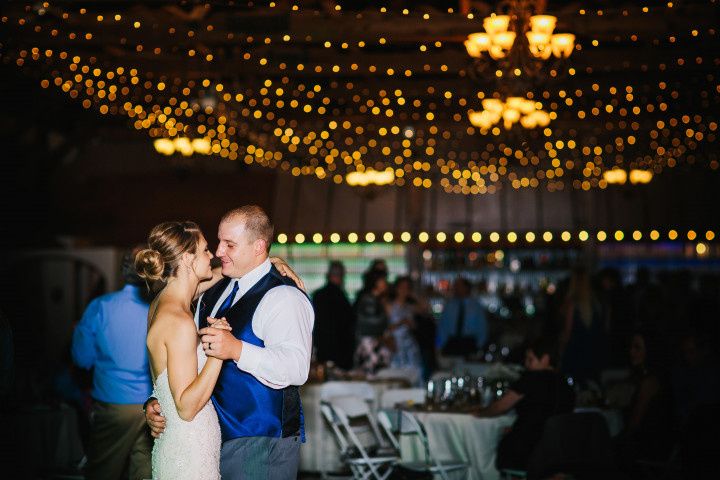 Photo: Mallory Munson Photography
When we often think of ballroom wedding venues, it's hard not to immediately picture a hotel. Many hotels around the country, and in Denver, have large ballrooms that are blank slates for your wedding dreams. These Denver ballrooms are perfect for large parties and provide convenient accommodations for out-of-town guests, but hotels are not the only places to find a wow-worthy ballroom. Specific event and recreation centers provide the perfect locale for some of Denver's beautiful ballroom wedding venues. Whether you're looking for a Denver wedding venue with a more traditional style or want to get in touch with the breathtaking nature Colorado has to offer, there is a ballroom out there that will make your wildest dreams come true.
Here are 10 Denver ballrooms for every couple out there.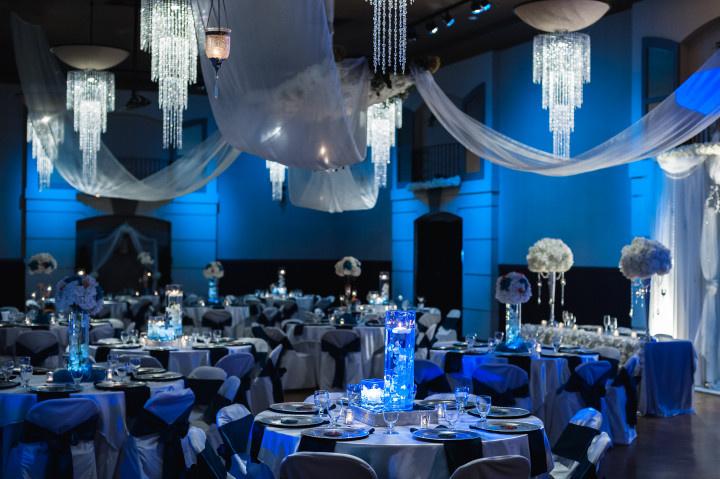 Photo: Bella Sera Event Center
Bella Sera Event Center

What was once a old movie theater in Brighton, Colorado, The Bella Sera Event Center was opened over a decade ago in 2004. Located just 25 miles outside of Denver proper, the event center was started by John Montoya, Jr., a restaurant owner looking to create a one of a kind event venue in the area. With his wife and designer, Elizabeth, they have managed to construct a vintage Italian villa in the heart of the wild west. With a stunning double staircase leading to a marble foyer, vaulted ceilings, a personal balcony for the newlyweds, a reception space that can be decorated exactly how you want it, it's no surprise the Bella Sera is one of the top wedding venues in Colorado. This one stop shop wedding venue can accommodate up to 300 guests and provide a bridal suite, event planning, catering, rentals, and cake!

Learn more about Bella Sera Event Center »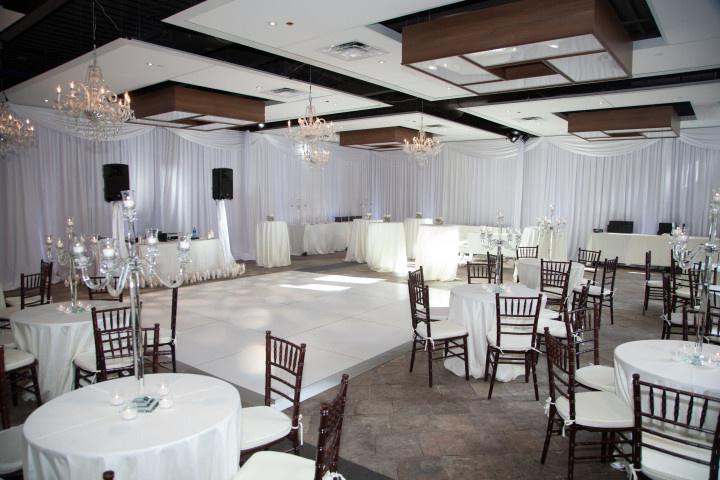 Photo: John S. Miller Photography
The Skyline Ballroom at the Courtyard by Marriott Denver Cherry Creek

If Denver is the ideal spot for your destination wedding or you just want to give all of the out-of-towners a wonderful Colorado experience while keeping everything close by, we suggest you take a look at The Skyline Ballroom at the Courtyard by Marriott Denver Cherry Creek. Located just six miles south of downtown Denver, The Skyline Ballroom is the perfect Denver wedding venue. On the 11th floor of the Marriott, this ballroom features large windows and breathtaking views of the Rocky Mountains as well as the Denver skyline. The 3,500 square foot room can accommodate 150 guests for a seated reception with head table and dance floor or 250 guests for a standing reception. Keeping your ceremony, reception, and hotel accommodations in one place is a great way to save money.The Marriott also boasts have a pool, spa, and state-of-the-art fitness facility, as well as close access for guests to explore what Denver has to offer.

Learn more about The Skyline Ballroom at the Courtyard by Marriott Denver Cherry Creek »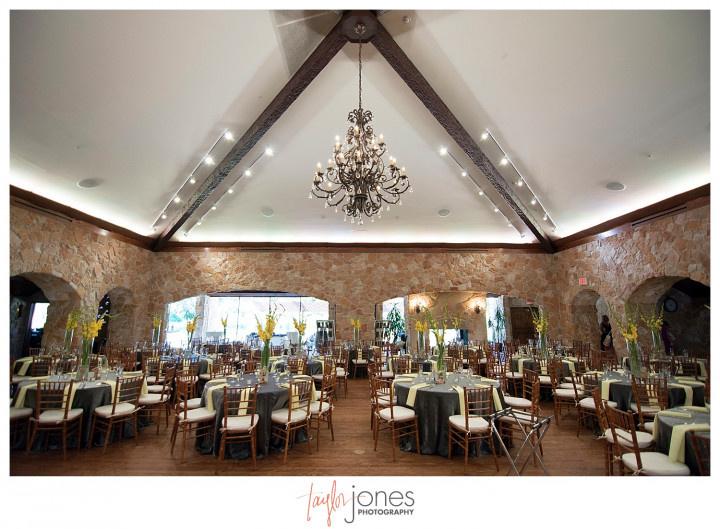 Photo: Taylor Jones Photography
Baldoria on the Water

Another Italian-inspired wedding venue. Baldoria on the Water is located just outside of Denver in Lakewood, Colorado. Designed to look like a winery plucked out of the heart of Northern Italy. Four spaces are available for wedding festivities including an outdoor veranda with both covered and open sections. The Main Ballroom is the first wedding space and featured exposed natural brick walls along with a vaulted ceiling and hardwood floors. The Lower Room and Fireside Lounge & Rear bar feature the same exposed brick and domed arches, which are a staple of classic Roman architecture. The Veranda stretches out behind the venue bringing you closer to the waterfront that makes this venue really special. The entire facility can accommodate up to 350 guests, has dressing rooms for both brides and grooms, provides rentals, with food and drinks included.

Learn more about Baldoria on the Water »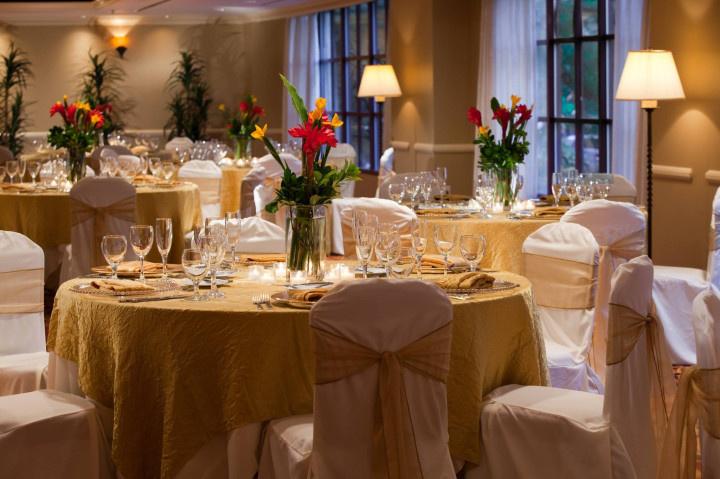 Photo: Warwick Denver
Warwick Denver

For those couples looking for a classic wedding experience, consider the Warwick Denver. Located at the intersection of the Uptown neighborhood and downtown Denver, this venue boasts breathtaking views of the surrounding skyline. The three available wedding spaces include: the Millennium Ballroom, Capitol Ballroom, and Randolph's Restaurant and Bar. Both ballrooms have floor-to-ceiling windows, which offer natural light great for taking photos. The Millennium Ballroom is located on the 15th floor and can accommodate 120 people while the Capital Ballroom can accommodate 200 guests. Randolph's Restaurant and Bar is the perfect place for your rehearsal dinner or farewell brunch. It also features one of the city's largest al fresco patios. Providing almost everything you'll need for your big day, you can even create a hotel block here and alleviate the need for any wedding day transportation!

Learn more about Warwick Denver »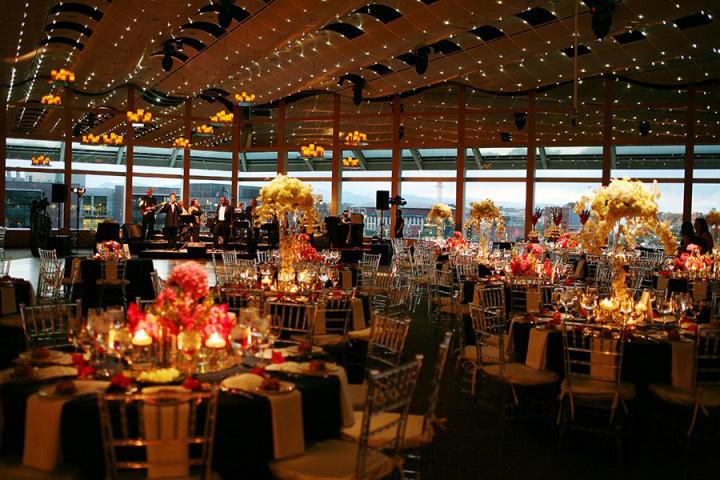 Photo: Seawell Ballroom
Seawell Ballroom

Also know at the Seawell Grand Ballroom, this is one of the spaces available for wedding at Denver Center for the Performing Arts. This venue comes with an extensive list of preferred vendors in every category from florals and formalwear to hotel accommodations and stationery. There are plenty of options for each and we've got you covered with over 3 million vendor reviews from real couples around the world. To say the Seawell Ballroom is huge feels a bit like an understatement, with 10,000 square feet of space for you to use! It sits atop the Helen Bonfils Theatre Complex and features enormous windows with views of Lodo (lower downtown) and the Rocky Mountains! Swoon When night falls, the ceiling transforms into a 'star-filled canopy'. With the ability to host 1000 guests for a standing reception or 800 for a seated reception, Seawell Ballroom can easily boast that your imagination is the limit of what they can create.

Learn more about Seawell Ballroom »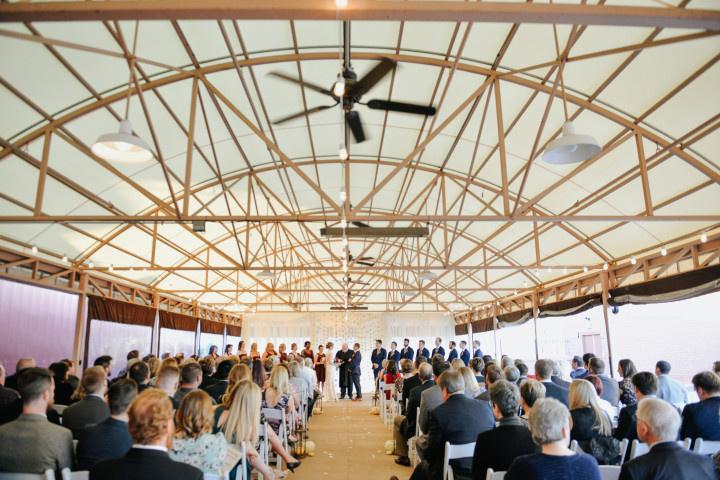 Photo: Elevate Photography
The Denver Athletic Club

Are you looking for a venue that exudes elegance and class without leaving the downtown area? Then the Denver Athletic Club might just be the perfect choice for you. Founded over 130 years ago in 1884, this wedding venue offers both indoor and outdoor spaces for you to say "I do". The newly renovated Grand Ballroom is 5,000 square feet of pure beauty. The giant walls feature classical scones and the high ceiling is adorned with a massive chandelier. The Sundeck rests on the roof of the building, providing both open-air and uncovered space for a stunning spring, summer, or fall wedding in the heart of downtown Denver. The 9,700 square foot space can accommodate up to 400 guests, perfect for all of your wedding festivities or just a swoon-worthy wedding reception.

Learn more about The Denver Athletic Club »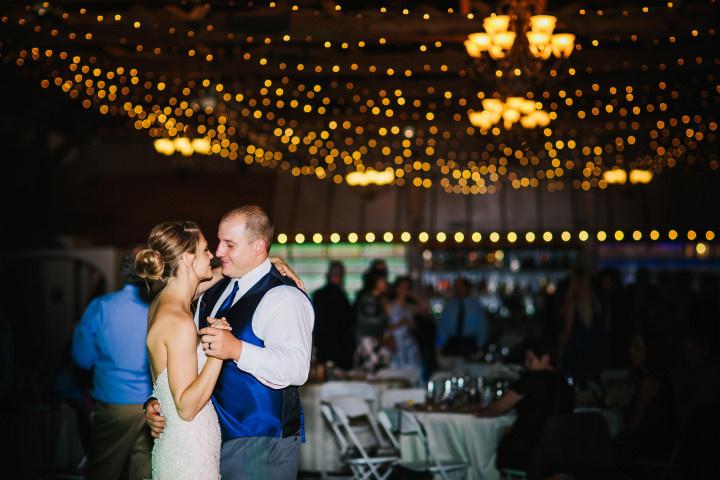 Photo: Taylor Jones Photography
Church Ranch Event Center

If rustic, boho, ethereal, and picturesque are a few words that describe your ideal wedding, Church Ranch Event Center is worth a look. Nestled in the mountains of Westminster, Colorado (about 45 minutes outside of Denver), this venue sits on seven acres of walking gardens and grassy knolls with a few flowing fountains. This locale will provide a stunning backdrop for your wedding portraits. Exchange your vows surrounded by nature before heading into the reception hall to party the night away! The rustic space features vaulted ceilings with exposed rafters that can be decorated with linens or string lights or chandeliers. Not sure how to light up your wedding space, we've got you covered with a few romantic ideas of our own. It can hold up to 450 guests and features its own bar, rentals, dressing suites, and décor.

Learn more about Church Ranch Event Center »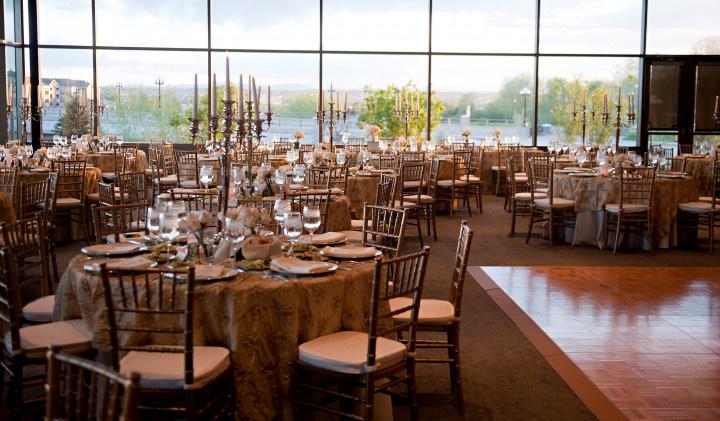 Photo: PACE Center
PACE Center

Another unique wedding venue, located in Parker, Colorado, the Parker Arts Culture & Events Center is a find for any couple hoping to delve into their creative side. Parker is about 25 miles southeast of Denver and the Pace Center will surely blow you away. Whether you're strictly looking for a ballroom-style space or are open to more options, Pace has plenty in store.

There are four available wedding spaces at the PACE Center to choose from. The first is Ruth Memorial Chapel. A wonderfully spiritual space, the chapel was completed in 1912 and is recognized as the first permanent church structure in Parker. The Event Room is a nearly 3,000 square foot ballroom with available seating for up to 270 people, depending on the table arrangements. With round banquet tables, the space can host 200 guests.
This room connects to the last two, the West Patio and Art Gallery. The West Patio, perched on the historic Sulphur Gulch, also has the capacity to hold up to 200 guests and can be utilized for either a ceremony or buffet-style meal.

Lastly, the Art Gallery can be used for a smaller cocktail reception, holding 50 seated guests, or as an extension of the Event Room for the buffet or bar. With floor-to-ceiling windows and works from local and professional artists, the Art Gallery will definitely keep your guests entertained.

Learn more about PACE Center »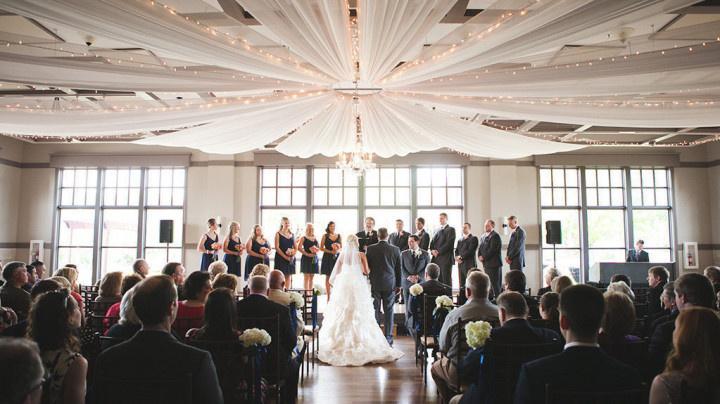 Photo: Noah's Event Venue - Westminser
Noah's Event Venue - Westminster
For some couples it's all in the details and that's what Noah's Event Venue in Westminster, Colorado is all about. Described as a classically beautiful, high-end event venue, the staff at Noah's aims to please. When working with Noah's Event Venue, you'll be able to choose everything from the ceiling decor to chandeliers, table runner, center pieces, and ceremony backdrops. With a wedding package, rentals, set up, take down, audiovisual equipment, lighting and linens. This wedding venue has an open vendor policy that means you can use any vendors that you'd like for things not included: catering, dessert, flatware, etc. With availability every day of the week and a capacity of up to 300 guests, you can host a wedding that truly fits your every need.

Learn more about Noah's Event Venue - Westminster »