Photo: Walking Eagle Photography
Once the ring has been bought and the date has been set, it's easy to get lost in the wedding planning stress on your relationship, and forget to actually date the love of your life. Sooner or later, you just might find yourself stressing over the seating chart and table linens, completely losing sight of why you're planning this special day in the first place.

Rather than waiting for the honeymoon to reconnect, make it a top priority to continue dating your fiancé all the way from "I will" to "I do." Not only will it remind you of why you first fell in love but will make the wedding planning experience a season of life to treasure.

Whether it looks like a cozy night in making homemade pasta, signing up for couple's dance class, or a spontaneous weekend getaway, there are some many ways to get creative for date night budgets both big and small.
Check out a few date ideas to help combat the wedding planning stress on your relationship.
Plan the ultimate date night in.
Skip the big night out and bring the restaurant experience to your own kitchen. Get creative and try your hand at a new recipe or keep it simple with pizza and your favorite toppings. Don't forget to set the table, pour the wine, and shamelessly flirt with your soon-to-be.
Learn something new together.
There's nothing like learning a new skill to break a date night rut. Sign up for a swing dance class, a wine tasting class, a pottery class...you get the idea. Trying something new together will help you create memories, not to mention pick up a great skill, you'll always remember.
Book a spontaneous getaway.
While you may be looking for more budget-friendly date ideas while wedding planning, consider surprising your significant other with a low-key weekend escape to a nearby destination. Whether it's a night spent camping or cozied up in a romantic B&B, taking some time to get away from it all might be just what you both need.
Set "no wedding talk hours.
As the big day gets closer, it can feel like wedding planning stress on your relationship dominates the majority of your conversations. Instead of constantly discussing your to-dos, think about designating certain nights or weekends that are free of any nuptial-related talk. This will set the tone for a stress-free date night, leaving you to truly enjoy your time together.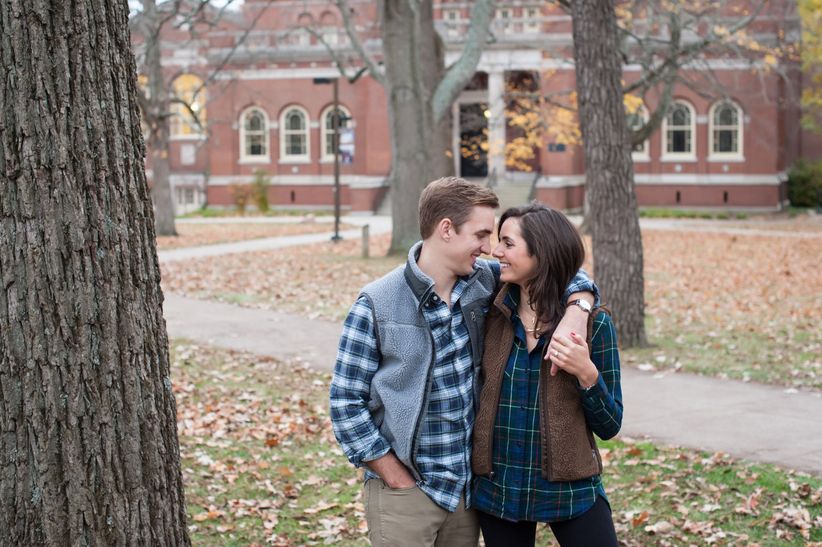 Photo: Ben Elsass Photography
Keep the surprises coming.
You've said "yes!" to forever but don't stop the sweet surprises from coming. Embrace your romantic side with small yet meaningful gift or leave their favorite candy in their car with a handwritten note. No gesture is too small when it comes to surprising the one you adore.
Organize at an-home dance party.
There's no better place to practice your first dance than your own kitchen floor! Clear your schedules for a night and dedicate some time to all things dance and music. You'll love deciding some must-have songs for your wedding playlist, including music for your reception entrance, first dance, cake cutting and more.
Explore your own city.
If you're looking for a new adventure, simply look to your own backyard. Plan a daylong date to explore new neighborhoods, shops, and restaurants in your city with a rule to only go places you haven't previously been. If you're feeling stuck for ideas try visiting a museum, take a brewery tour, attend a music festival, or pack a picnic to enjoy at a new park. Playing tourist in your own city and getting quality time with your favorite person is always a win-win.
Discover a new common interest.
Although it may seem like the wedding planning stress on your relationship has recently taken over your lives, finding something you both enjoy can be a huge stress relief. It could be binge-watching a new TV show, cheering for a sports team you both love, training for an upcoming race, and more. No matter how long you've been together there's always something new to learn about each other.
Embrace a little PDA.
You might already be engaged but that doesn't mean the romance has to fizzle. Make a point to hold hands, steal a kiss, and say I love you early and often. Whether you're out grocery shopping or cozied up at a coffee shop, a little PDA is such a fun way to keep the spark alive.