5 Monthly Dates You Should Be Planning with Your Future Spouse
Feeling some wedding planning stress on your relationship? These monthly date ideas will help you and your partner reconnect.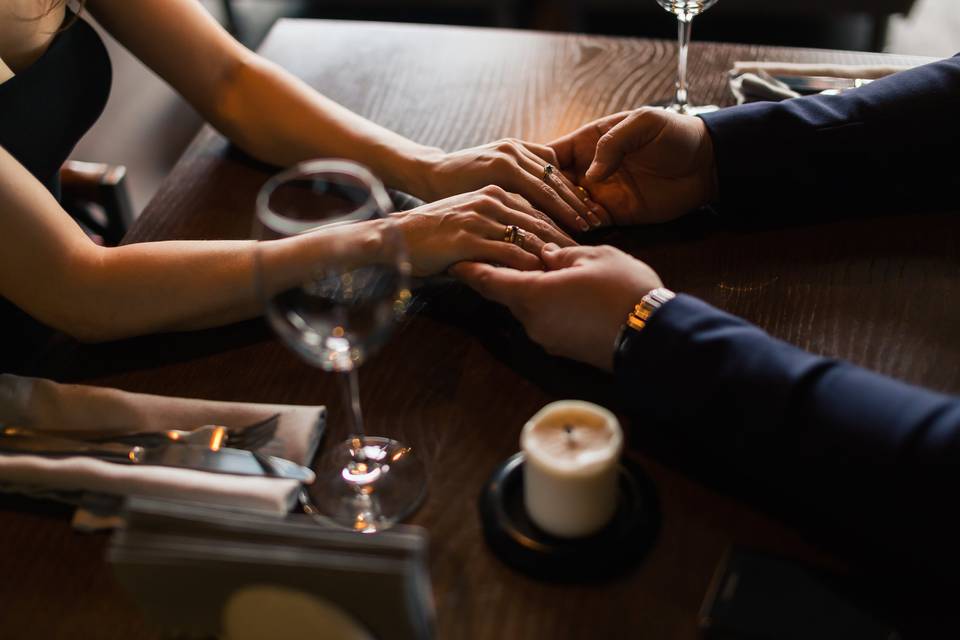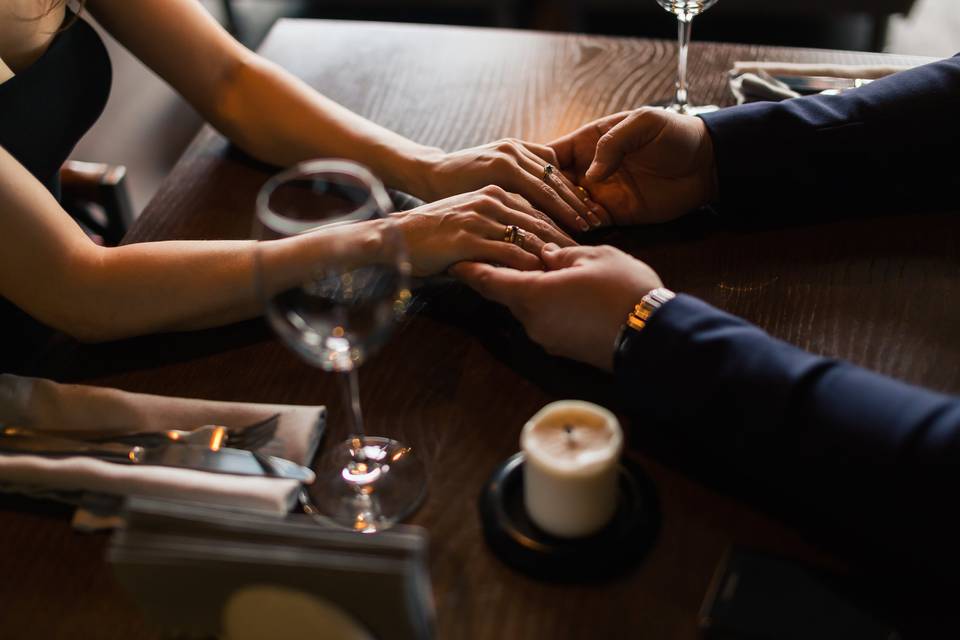 While a joyous, special moment for couples, a wedding is a lot of work. In addition to the nitty-gritty details of choosing vendors and making a budget, it is also an emotional experience, requiring compromise and reality-setting. Planning their big day together is the first of many events in a lifetime together that require teamwork and a dedication to active, healthy communication. To ensure your relationship remains the priority over the wedding, it's essential to find a balance between when you talk about the grand affair — and when you don't.
Marriage experts agree that planning monthly date ideas with your spouse-to-be will ensure your connection remains strong. After all, stress is to be expected during the wedding planning stage, but it's a slippery slope to allow it to take over your entire world. Here, a guide to blocking your calendar for these crucial recurring date nights:
The one where you specifically talk about wedding stuff
There are a million questions, ideas, concerns, hurdles, and decisions to make near-daily during wedding planning. For many couples, the act of putting together their celebration feels like a second full-time gig. And though emails and calls from vendors may disrupt your workflow, try not to bring up the topic every chance you get. Instead, as much as possible, put together a list of action items you need to discuss and follow up on, and make a date to discuss them. As your wedding inches closer, you may need to meet more than a monthly date to discuss the big day, but the goal is to reserve the time together so you're both focused on the task at hand.
A clever tactic is to choose three to four topics of planning to be addressed and set a time limit, according to Maria Romano, the founder of True Love Knots. This will prevent you from feeling overwhelmed. "A date night that focuses on your wedding planning will also keep your relationship in balance. One or both of you may become consumed with just focusing on your wedding day. This is not healthy for your relationship," she continues. "Planning several date nights throughout this process that leads up to your special day will eliminate the tension and stress that can come with the planning. Try to keep an open mind when making decisions and be flexible. The thing happens, vendors may cancel, and you may have to find alternatives. Life happens."
The one where the wedding is off-limits
And on the other end of extremes is the date night where the wedding is entirely, totally, off-limits — no exceptions. Because significant life events tend to take over your thoughts, it's easy to spend countless hours discussing your wedding. If you allow this to happen, it may rob you of your romance and your connection together. Instead, schedule a monthly date night where you talk about other aspects of your life, including hobbies, interests, the news, your jobs, your pets, and so on. This kind of date should purposely escape from the wedding planning stresses and be more light-hearted, fun, and focused on bonding, explains psychologist Dr. Yvonne Thomas, Ph.D. "By deliberately having a breather away from planning their wedding and the stresses related to that, the couple can recharge and be even more unified," she says.
The one about the budget
Finances aren't exactly a fun — or comfortable — topic for most people. And when you consider the average wedding in the United States cost around $30K, it's likely one of the biggest expenses you'll share as a couple. That's why the event coordinator at Las Vegas Paiute Golf Resort, Desiree Wolfe, suggests meeting once to twice a month to review expenses and ensure their budget is staying on track. "Little purchases can add up quickly if the couple isn't keeping an eye on where the money is going. This is also a good time to connect to discuss any change of needs or desires for their big day," she continues. "Did someone get a bonus they want to apply to the budget? Did someone decide they didn't need the big cake or extra lights?"
The one where you exercise
Since the wedding planning period may create more stress and anxiety for the couple, it could be beneficial to relieve tension. Of course, there are some — ahem — obvious ways to do this in your bedroom, but you can also consider a monthly or weekly fitness date. As matchmaker Susan Trombetti recommends, walking around a local park together will make you feel better and provide the sweet opportunity to unwind as a couple. Or, if you're more athletically inclined, you could book an outdoor boot camp, go for a long run, or even take dance classes that get your heart rate up. And remember, no matter what you decide to do, keep your phone off, so you're focused on one another, Trombetti says.
The one where you talk — and dream — of the future
Sure, the most pressing item on your bucket list is your wedding. But, there are also plenty of dreams you have for the future you're building together. Maybe it's buying a home and fixing it up. Or becoming parents. Perhaps it's a three-month trek around Europe, Asia or South America. Though a wedding can feel like the only thing you're looking forward to since it requires so much work and decision-making, ultimately, it's a small fraction of what you will experience in your lifetime. Trombetti says to set aside time monthly to discuss these shared goals, preferably over a romantic dinner. "It's not about the wedding," she continues. "It's about both of you as a couple."