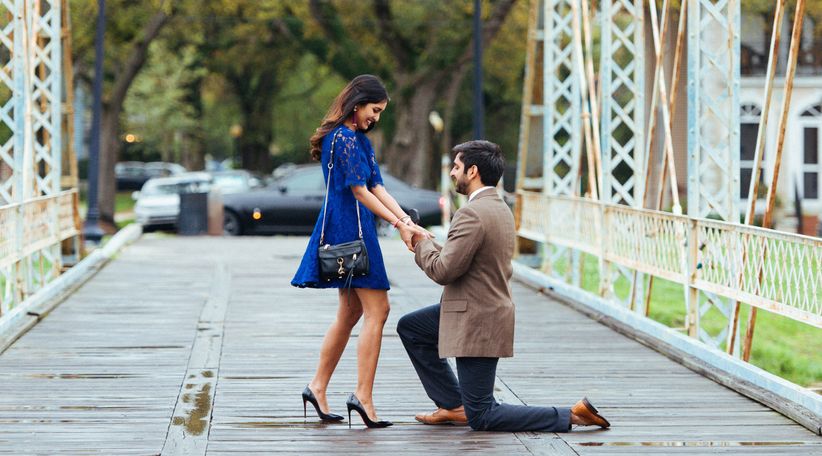 Photo: Christie Froom Photography
If you're planning a proposal, you're probably pretty focused on one major purchase (yes, that would be the ring). Once that's taken care of, it's time to start planning the details of the popping the question—the where, when, and how. You have lots of options here—from proposing in a favorite park, while on vacation, in a sports stadium, or pretty much anywhere.


But there's one detail that's become a proposal essential—hiring a professional photographer (or videographer!) to capture the moment.
Why is hiring a photographer such a must? A marriage proposal is a huge deal and a milestone you'll want to remember forever. Hiring a professional photographer will ensure that your proposal is captured with high-quality images—not blurry photos from a passerby's cell phone. Photographers are pros at capturing the right angles and figuring out the best lighting. You can even visit your proposal spot with your photographer before the proposal to make sure you position yourself correctly during the big moment to ensure fabulous photos.
Then there's the social media factor. From
Instagram
to Facebook, Snapchat and more, announcing your proposal on social media is pretty much a must these days. Sure, you and your future spouse could pose for a selfie shortly after your proposal, but in all the emotion of the moment, you might forget. You also don't need to waste time that could be spent celebrating ensuring that the lighting is right or that your faces are both in the shot. Let a professional handle that for you—and don't forget to tag
#justsaidyes
when you post your amazing proposal photo. Beyond social media, your proposal photos will be keepsakes that you can share with family and friends for years to come.
If you're concerned that having a photographer present will spoil the surprise, don't be. You can work with a photographer to ensure that he or she is as discreet as possible—hiding in the bushes, blending in with passersby, etc. Again, it's important to work with your photographer in advance to make sure that everyone is on the same page about timing and location, but pros are usually great at making last-minute adjustments to capture the perfect shot. And having a photographer present actually adds a layer of surprise to the proposal—imagine how shocked and thrilled your significant other will be when he or she realizes that this big moment was captured on film!
Yes, hiring a professional photographer for your proposal is an added expense and can add an added layer of pre-planning to the big moment. You'll need to be more selective about choosing a proposal location (your living room probably isn't the most conducive to a professional photographer), but in the end, it is entirely worth it.