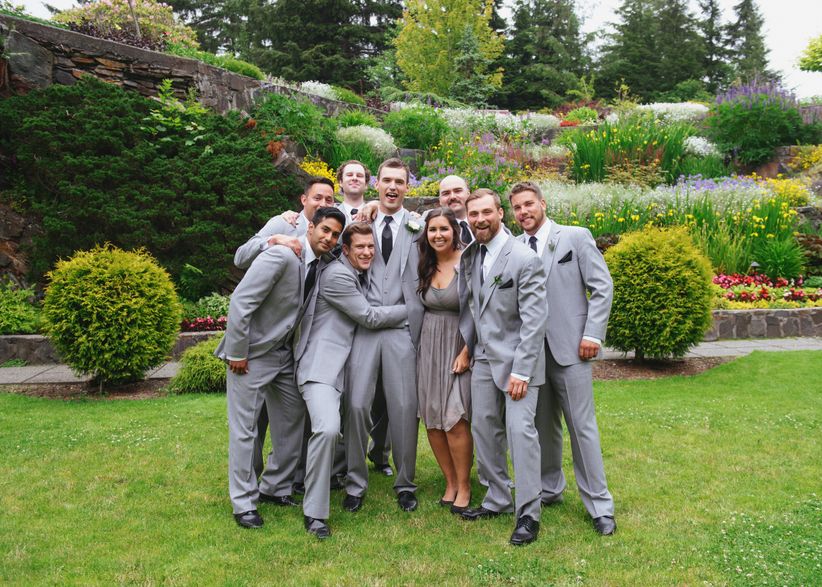 Photo: Stefania Bowler Photography
Just because you're a lady doesn't mean you're confined to standing beside the bride on her big day. If you've got a close guy friend or brother who's getting hitched and you're asked to stand by his side instead, say yes!


Get to know the other groomsmen
This is going to be your gang on the big day so you might as well get to know them! They're some of the most important people in the groom's life so make an effort. Start an email thread or a text group and start brainstorming bachelor party ideas! Or you could even plan to get together before then and have a few beers. Don't hold back and express your thoughts and ideas.

Participate in activities
This includes the bachelor party! You're an official member of the wedding party and you're not going to be left off the invite list just because of your gender. Whether you're going all out in Vegas or taking it easy and hitting a local sporting event, the groom is going to want you there! If you feel uncomfortable being outnumbered, talk to the groom about it (politely). If you two are close friends he's sure to give you some great advice about how to handle the weekend.

Don't act like a bridesmaid
It's important to remember that you aren't a bridesmaid! Yes, this means you won't be attending the bridal shower or bachelorette party, and there's no reason to be offended. The groom asked you to stand by his side for a reason and it's your responsibility to do so! Feel free to take your bridesmaid skills and apply them to being a groomslady. Go all out for decorations during the bachelor party, or get everyone coordinating outfits for a night out at the bar. The guys will probably be pumped someone took initiative!

Match your attire
You might be the only one rocking a dress but somehow coordinate so you look like part of the group. Ask the groom if he has any ideas in mind about how you should dress. Find out what the guys will be wearing and outfit yourself in a similar shade. Make sure that you don't buy the same dress as the bridesmaids, otherwise you'll look out of place when you stand beside the groom on his wedding day. This is your chance to be unique! As the appointed groomslady you'll have the added benefit of getting creative with your wardrobe (and not having to drop major $$ on a bridesmaid dress).

Spend time with the groom before the ceremony
On the wedding day you'll hang with the groom before the ceremony but there is the question of getting ready. If you aren't planning to do your hair and makeup yourself, there are a few options. If you feel comfortable and the bride allows, you can join the bridesmaids for their primping party. Or, if you'd prefer, go to the salon with some members of the groom's family and have your own getting ready time together. After you're ready to go, head back to the groomsmen and participate in whatever pre-wedding event they have planned (and help him calm his day-of jitters).

Stand on the groom's side
Standing next to him on his wedding day is your most important role as a groomslady! During the recessional you can opt to walk out solo, pair up with a groomsman, or walk side by side with another bridesmaid if the numbers match up. Pose for pictures with the groomsmen after! There's no need to feel weird about the gender imbalance in this situation—being the only gal can definitely make for some creative photos.

Have fun
Don't worry too much about being in the minority, being a groomslady is a really unique and fun experience. There aren't any hard and fast rules when it comes to wedding parties so do what feels most comfortable and appropriate for you when it comes to each situation. All that matters is that you're there for the groom during the planning process and on his wedding day. He's bound to appreciate all you do.