Bridal jackets are just one of the latest wedding fashion trends taking over social feeds everywhere. This stylish accessory is a fun opportunity to switch up your look throughout your wedding day, and the trend is surprisingly easy to pull off (*immediately adds to cart*). You can find bridal jackets in all styles, colors, and price ranges, making them a perfect accessory for practically anyone. Go for edgy vibes with a custom leather jacket, or rock a denim jacket instead if laid-back style is more your speed. See all of the options for yourself with our hand-picked list of the best bridal jackets you can buy right now—and get ready for a lot of "Where'd you get that?" questions!
Check out these fabulous bridal jackets for every wedding style, budget, and occasion.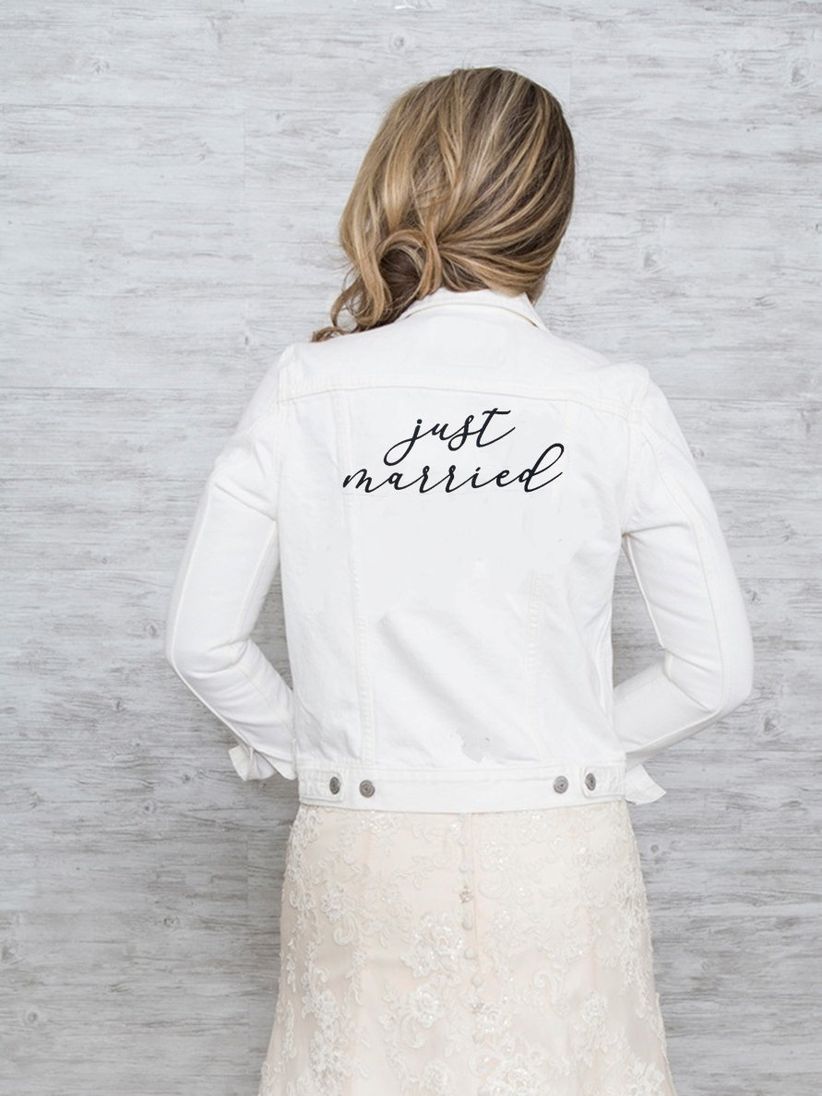 For the classic-with-a-twist bride, a white denim jacket with "just married" on the back is a spot-on choice. A budget-friendly decal is easy to apply yourself—grab another one for your partner and make a matching set.
PrimAndPrairie "just married" iron-on decal, from $20, Etsy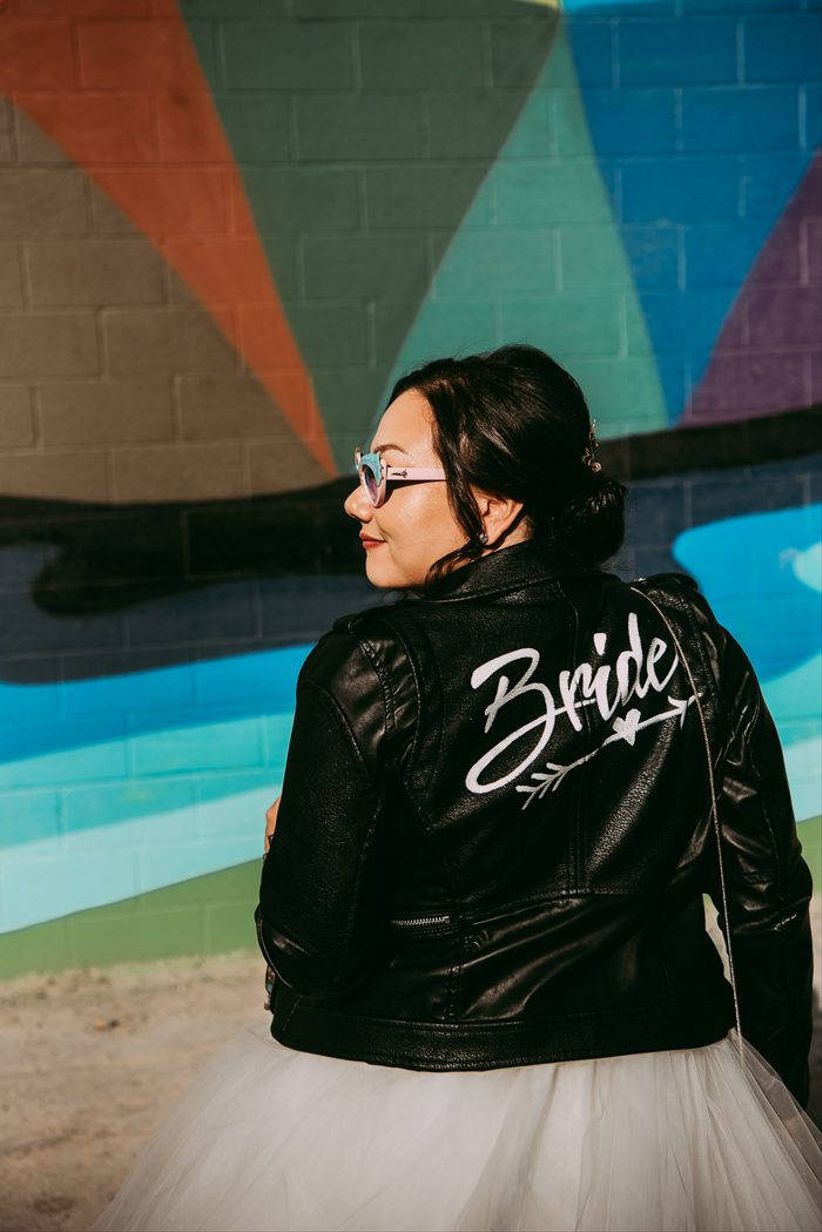 Get an Instagram-worthy look by jazzing up a black leather jacket with custom hand lettering. This "bride" jacket is seriously chic (sunglasses optional).
PaletteandInk custom hand lettering, from $62, Etsy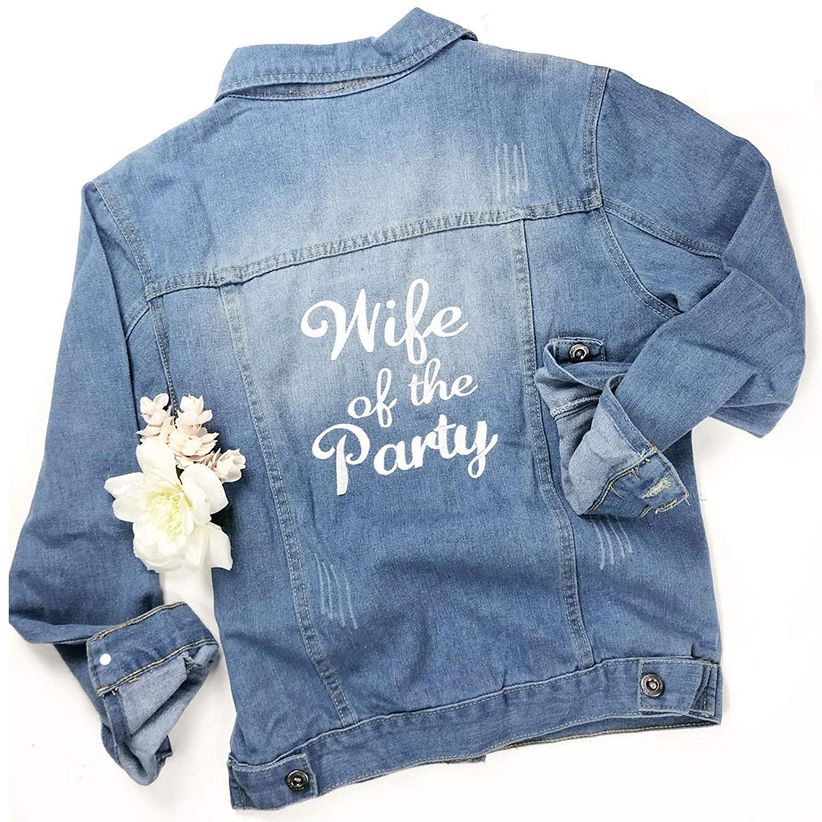 Celebrate your brand-new role as wife by rocking an embroidered denim jacket that reads "wife of the party."
The Paisley Box bridal party jean jacket, $52, Amazon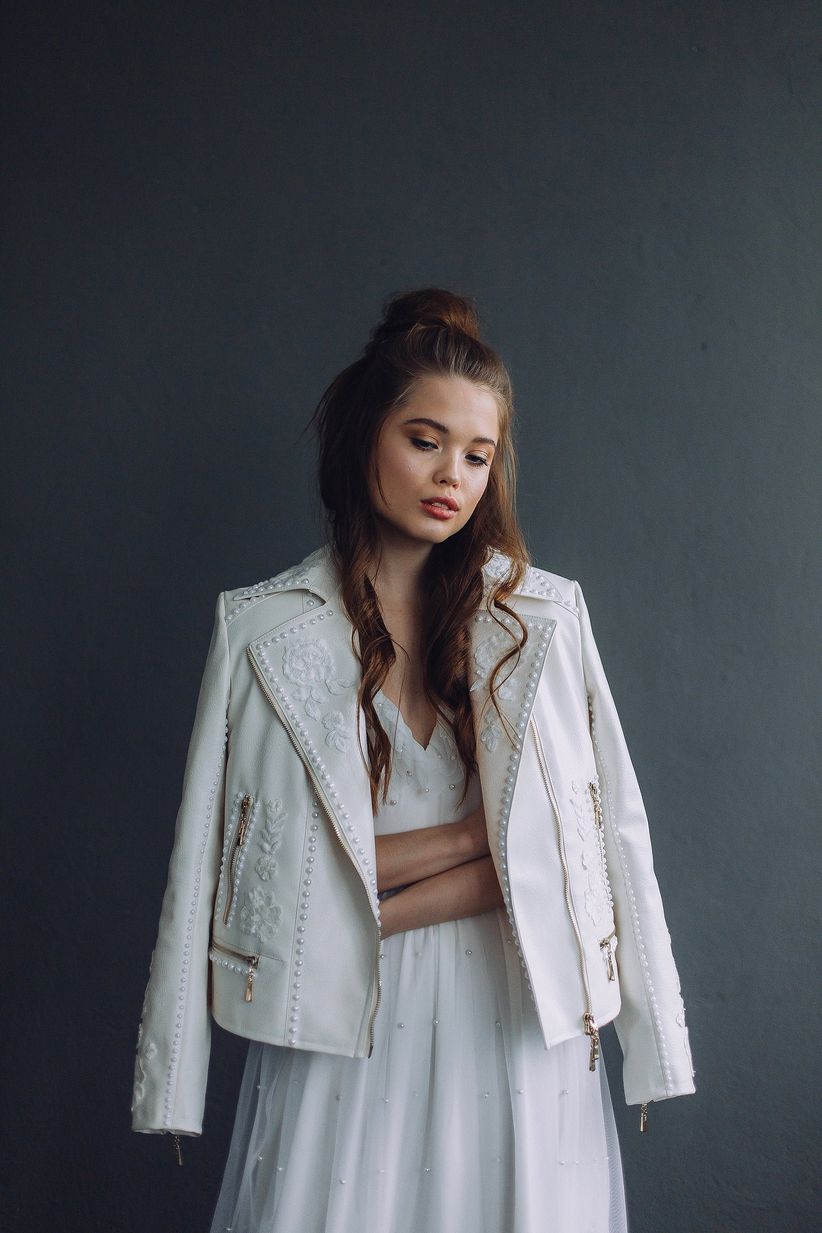 For a couture look, wear a bridal jacket adorned with intricate embellishments, like lace appliqués, pearl studs, and gold hardware. The best part? You can definitely re-wear this statement piece long after the wedding day is over.
BabyDollShopRu bridal jacket K0002, $199, Etsy
We're getting old-school vibes from this black bomber jacket. Customize yours by picking one of 12 different fonts.
SSDesignCo. bride bomber jacket, $50, Etsy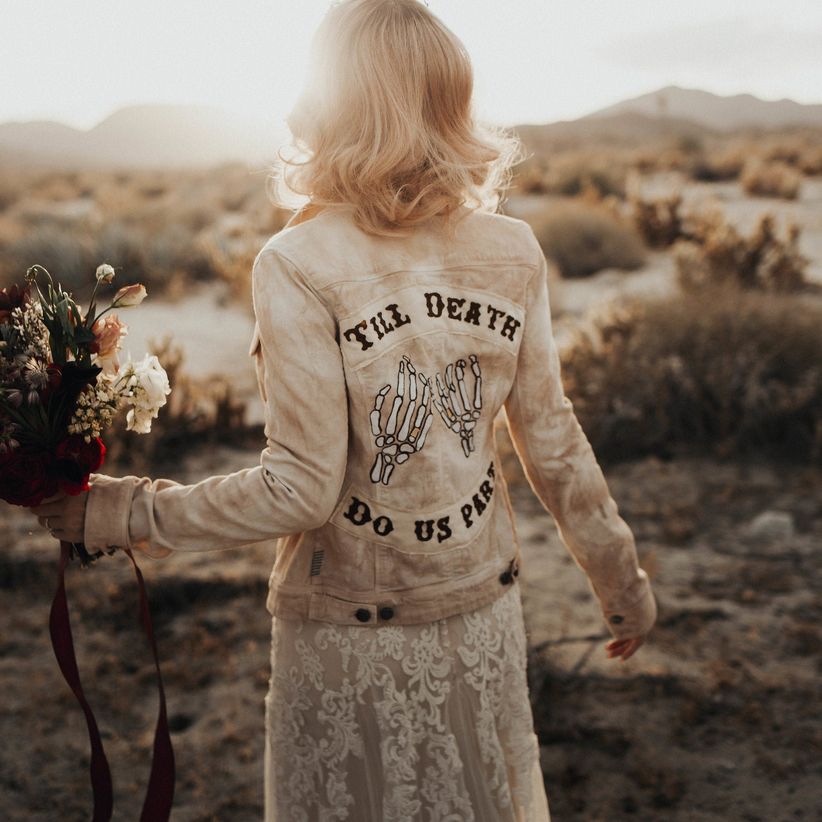 A skeleton-inspired jacket is our pick for any bride who marches to the beat of her own drum. Choose from a one-of-a-kind acid wash (seen here), a light denim wash, dark denim wash, or black denim wash.
GypstitchEmbroidery "til death do us part" embroidered denim jacket, from $283, Etsy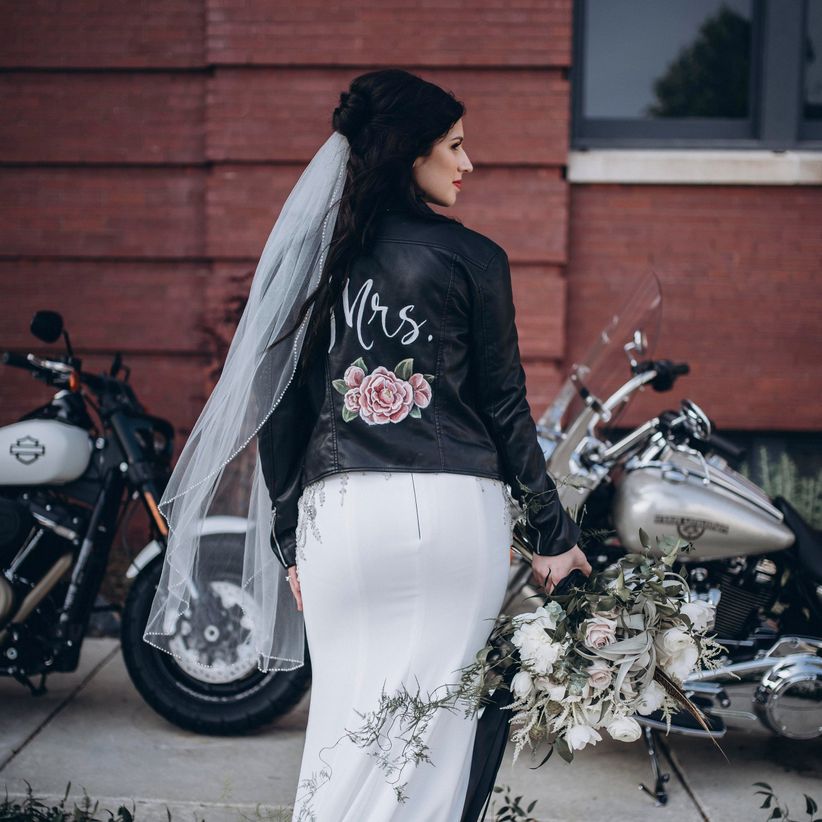 Channel your inner romantic by wearing a leather jacket personalized with a pretty rose motif.
KimberlyGeorgeArt custom hand painted jacket, from $50, Etsy
Embroidered pink flowers add a sweet touch to this denim wedding jacket.
David's Bridal embroidered bride denim jacket, $30, David's Bridal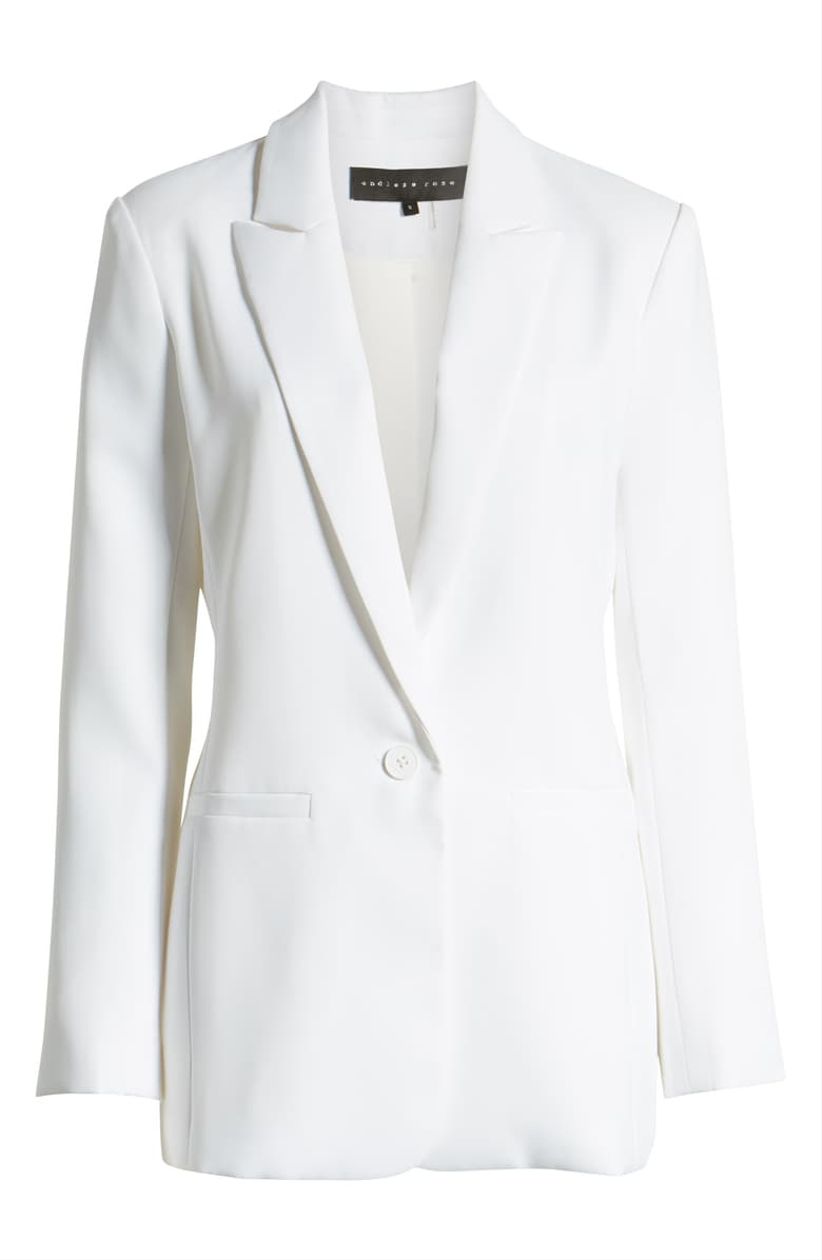 Wearing a wedding dress with a sheath or column silhouette? Add this tailored white blazer for a sleek, minimalistic look.
Endless Rose tailored single button blazer, $105, Nordstrom
Your bridesmaids can get in on the bridal jacket fun, too! Surprise your 'maids with their own jackets as gifts and get ready for your group pictures to look amazing.
PrimAndPrairie bridal party iron-on decal, from $21, Etsy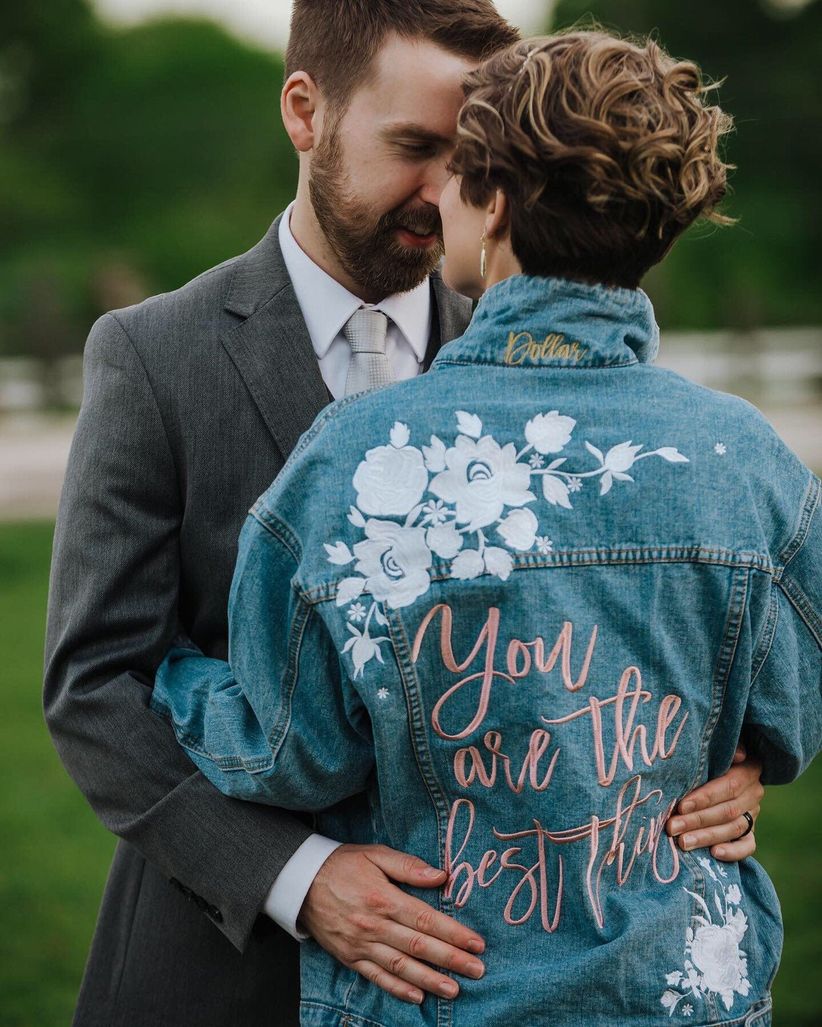 Customize this boyfriend-style denim jacket with your name, your wedding date, or a cute love quote. The embroidered flowers add a gorgeous level of detail.
DearlyThreaded custom embroidered denim bridal jacket, $168, Etsy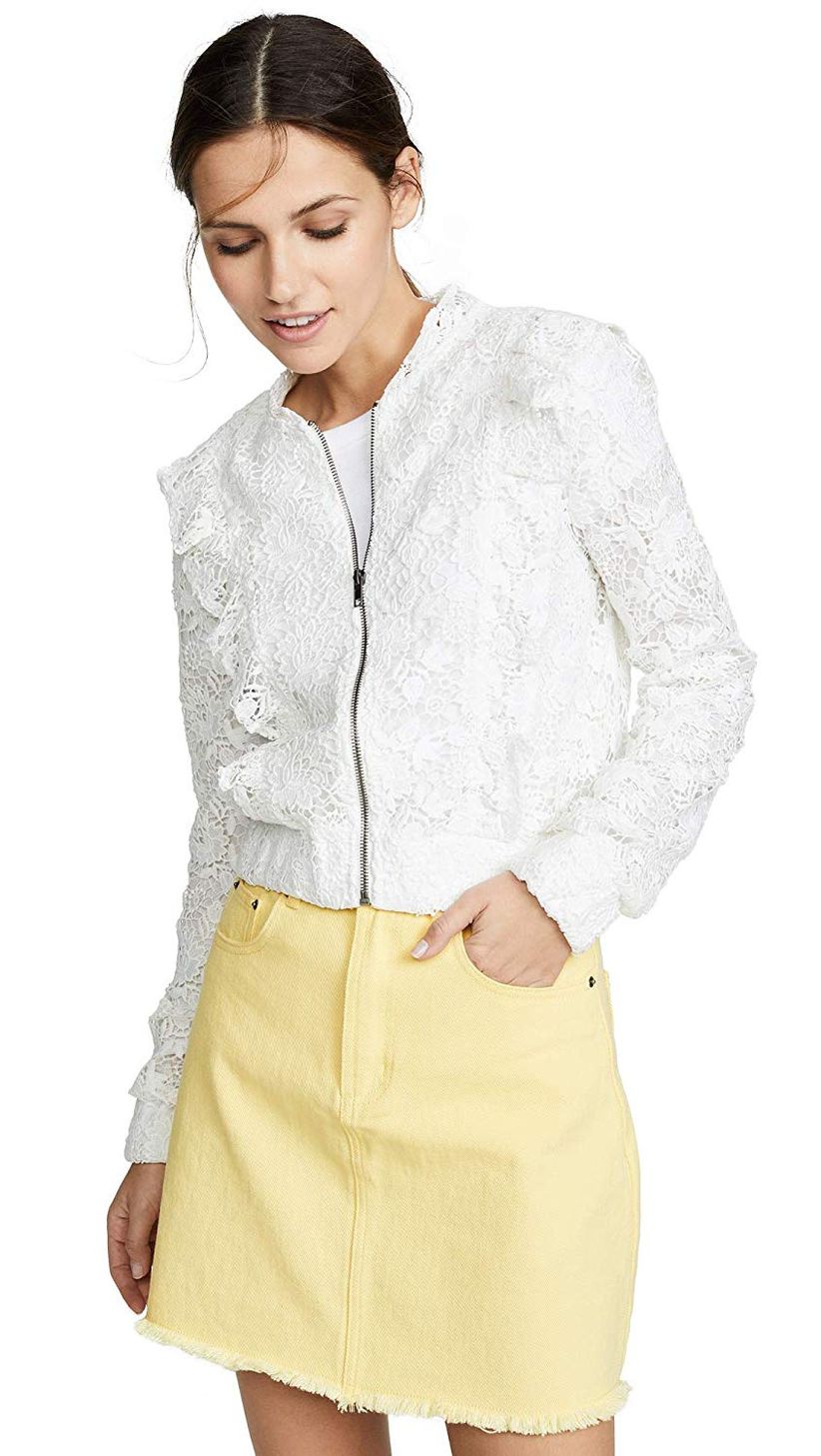 This lace bomber jacket is perfect for a vintage-meets-modern look—we can envision it at a springtime garden wedding.
BB Dakota women's lace closed bomber jacket, $78, Amazon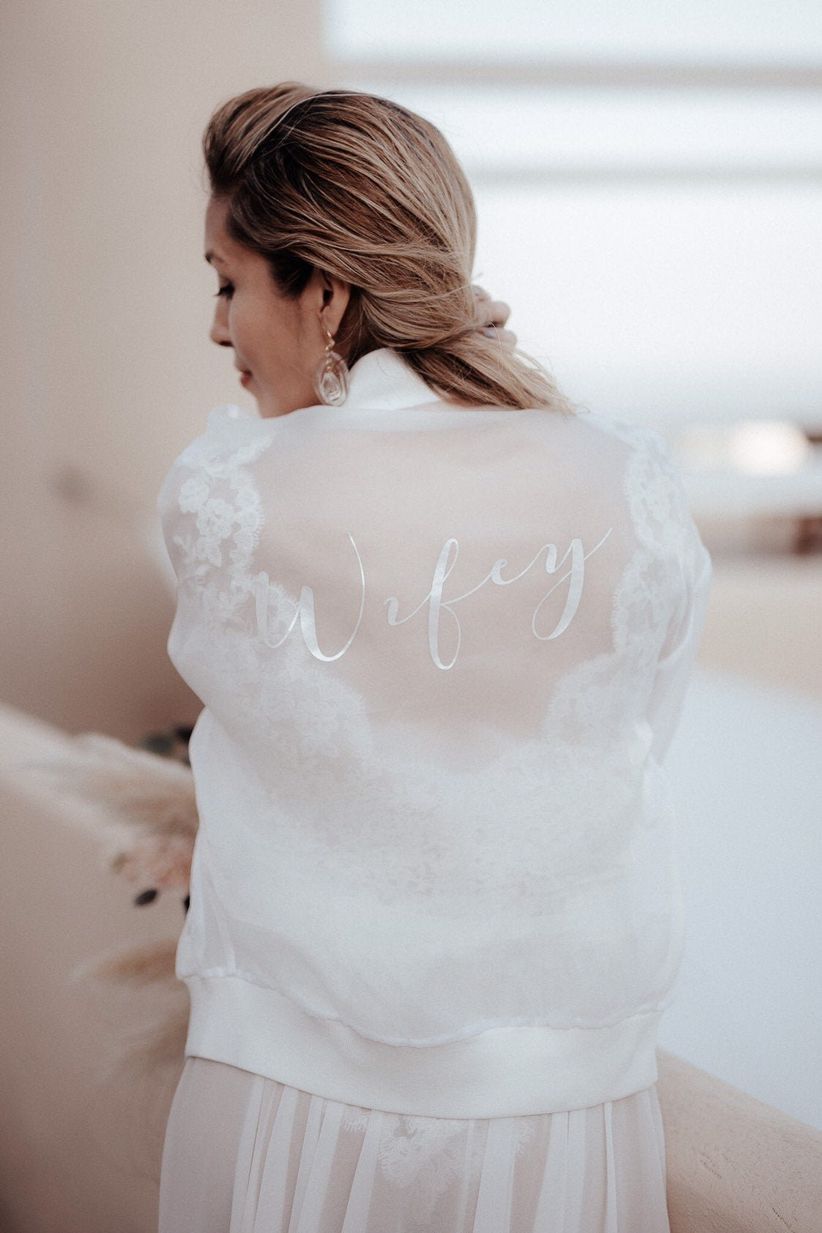 Wear a sheer organza wedding jacket for a dreamy, luxurious effect.
StilzuckerStore bridal organza bomber jacket, $172, Etsy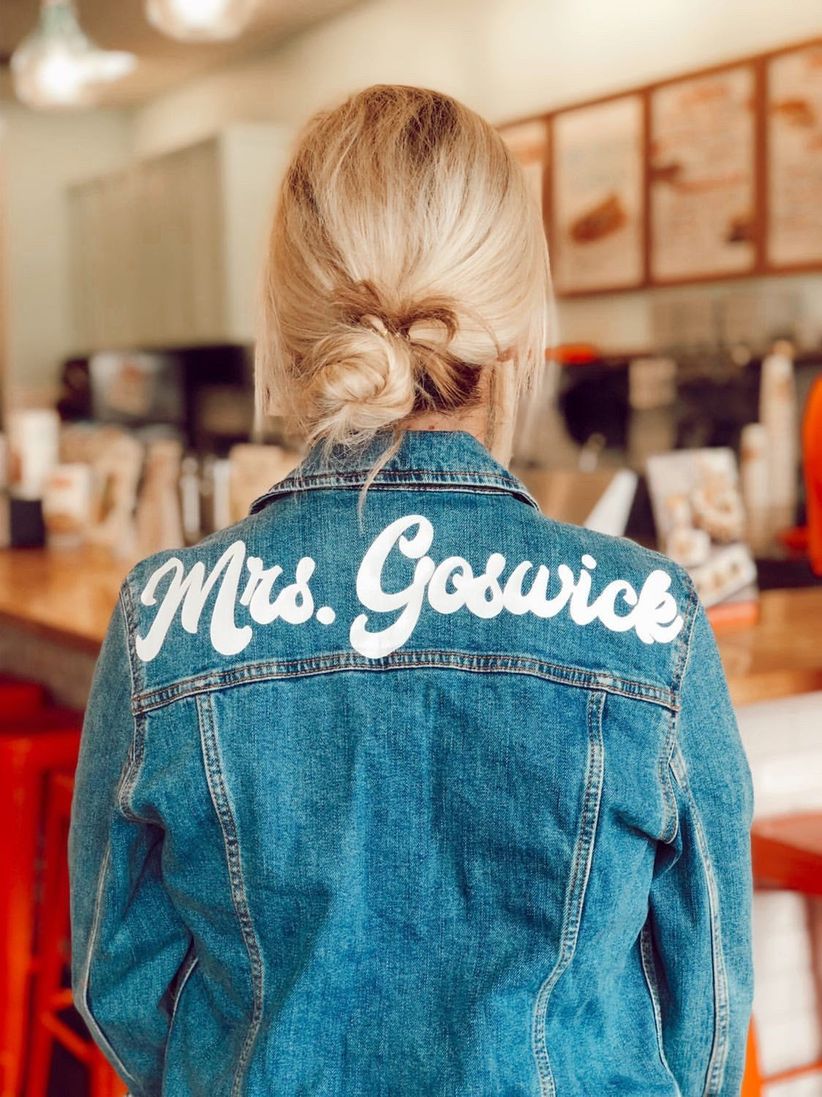 Retro cursive lettering dresses up this timeless denim jacket—choose from 17 different text colors!
SprinkledWithPink custom jean jacket, $70, Etsy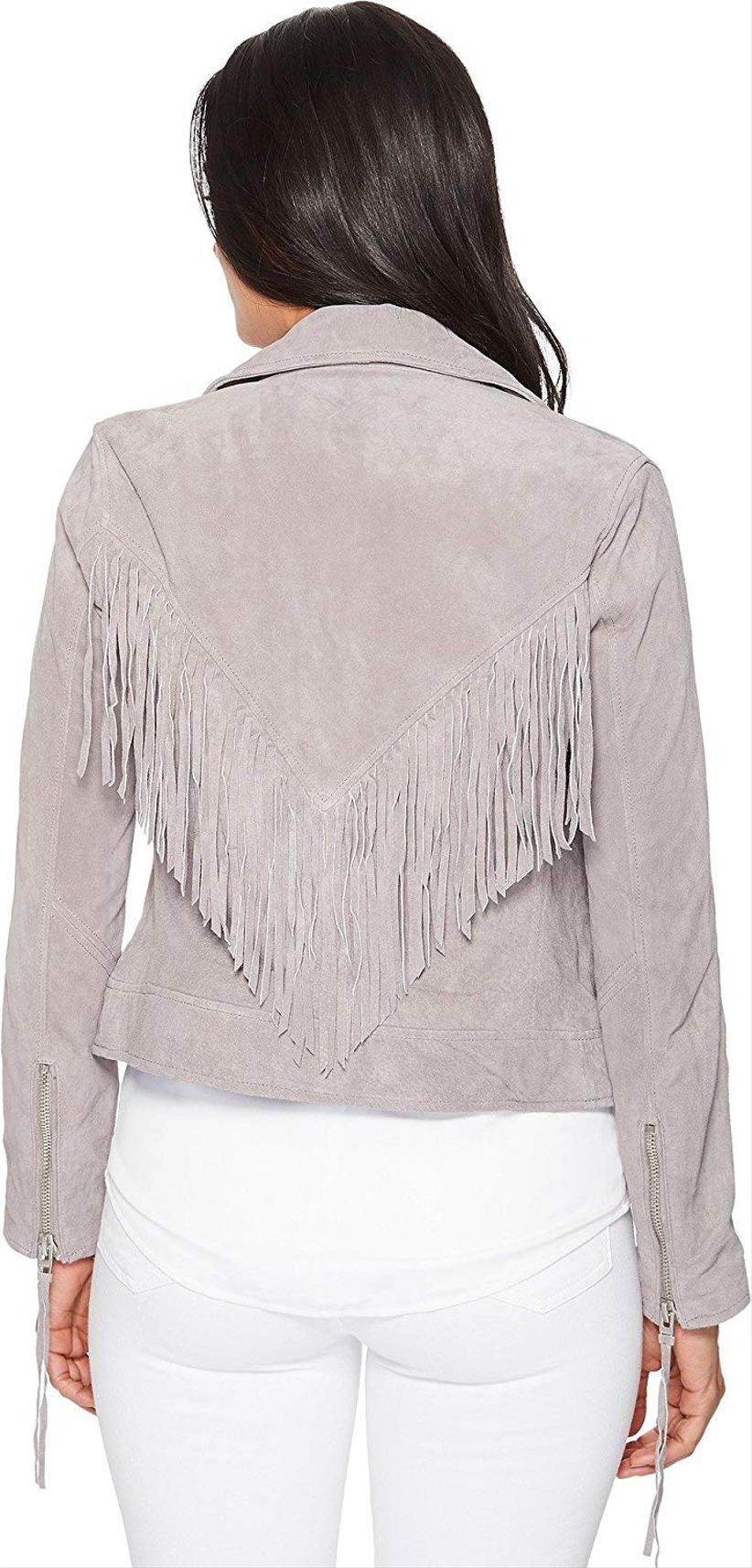 If you're getting hitched outdoors or having a bohemian-themed wedding, a suede fringe jacket is a no-brainer. We love the unique smoky gray color on this one. Pair it with a bridal hat for even more fashion points.
BlankNYC suede moto jacket with fringe, from $80, Amazon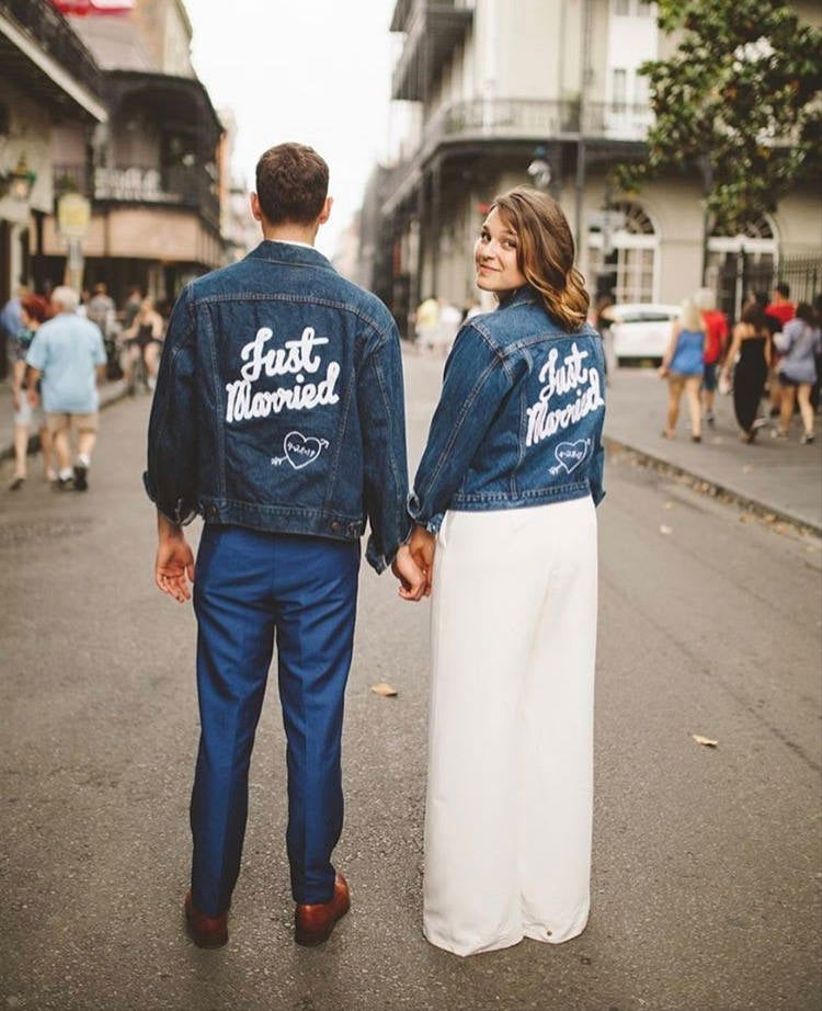 Matching wedding jackets are cute at your reception, but they're even cuter to wear during your honeymoon! This "just married" patch allows you to quickly customize jackets you already own.
TheDailyDisco "just married" patch, $30, Etsy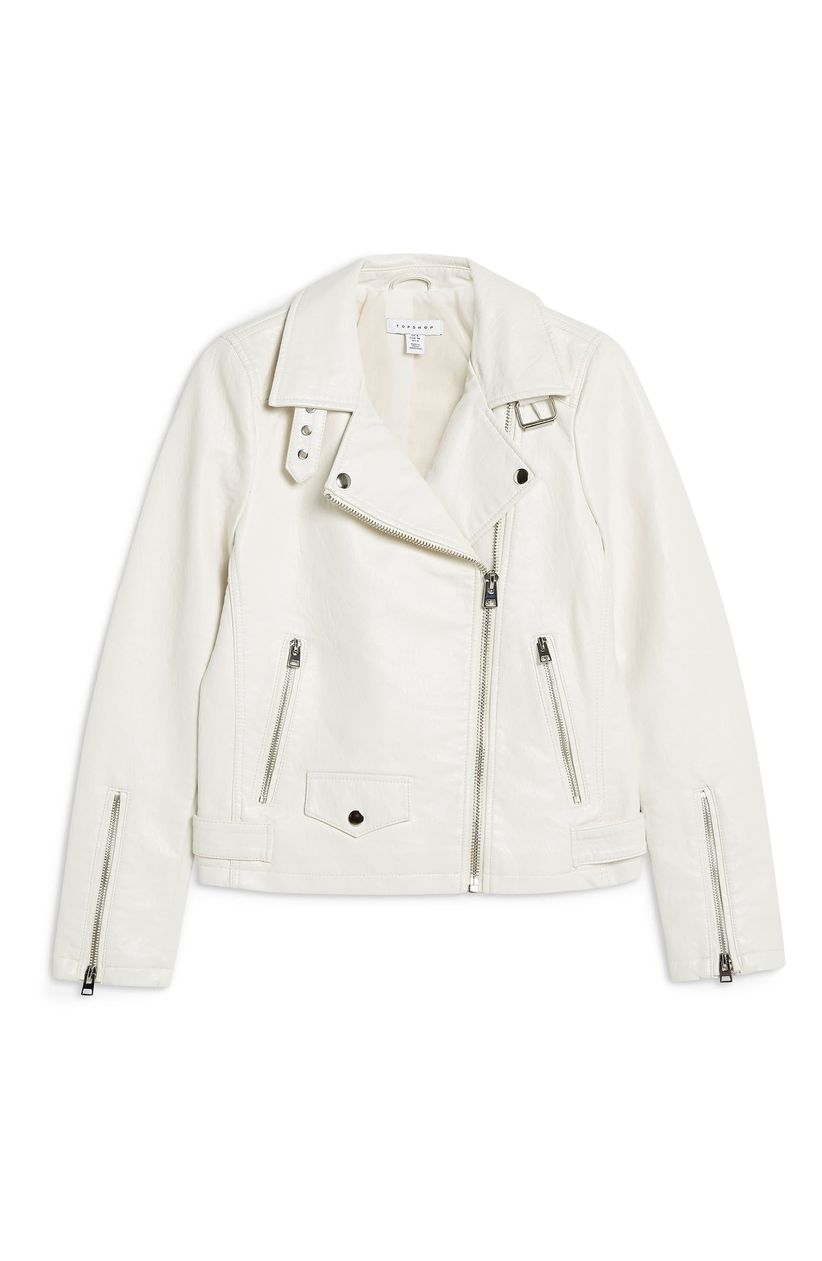 A white leather jacket gives your wedding day look a hint of rock 'n roll but still manages to feel totally bridal.
Topshop lucky faux leather biker jacket, $95, Nordstrom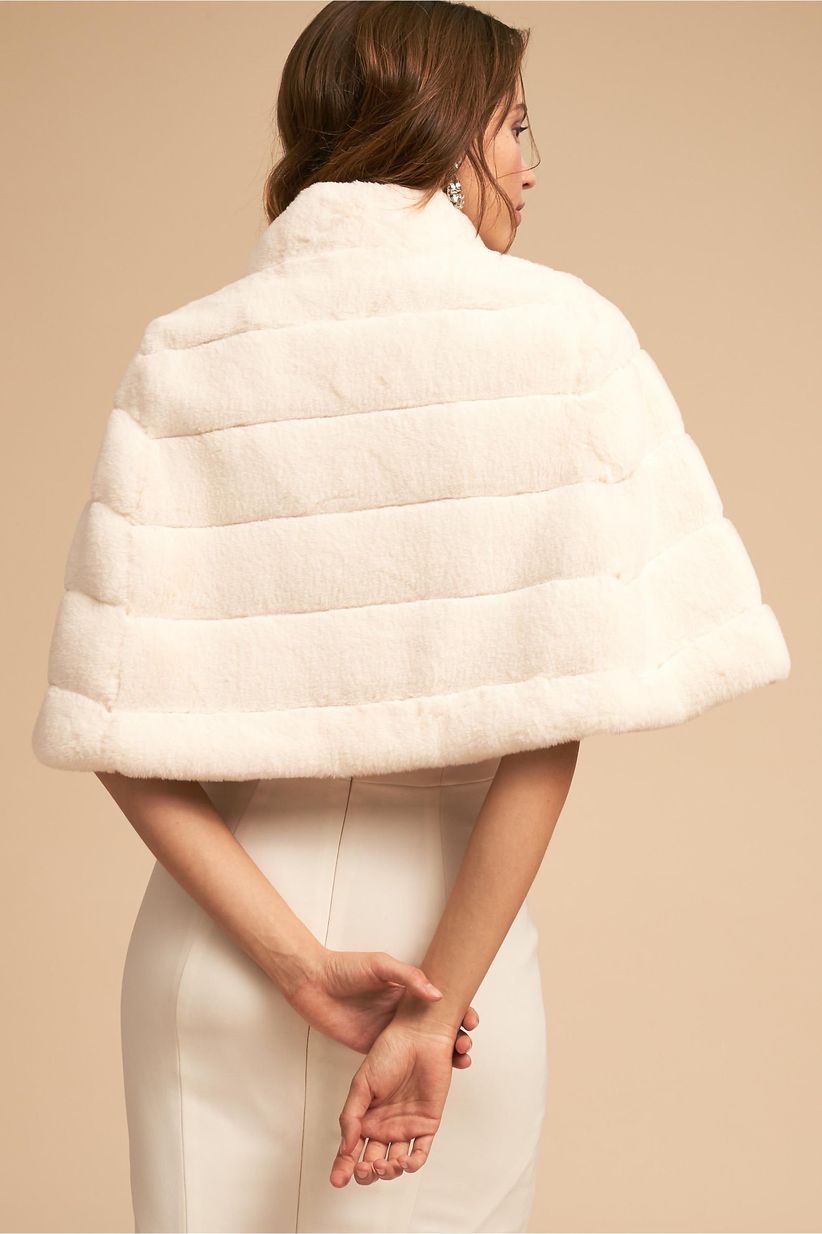 Stay warm at a winter wedding (and look fabulous while doing it) by wearing a faux fur bridal jacket with a cropped silhouette.
Betsey Johnson armitage jacket, $98, BHLDN
Disclosure: This post contains affiliate links, some of which may be sponsored by paying vendors.