24 Custom Wedding Gifts for the Couple Who's One of a Kind
If you're looking for a truly incredible present for an engaged couple you love, these personalized wedding gift ideas will be treasured forever.
We have included third party products to help you navigate and enjoy life's biggest moments. Purchases made through links on this page may earn us a commission.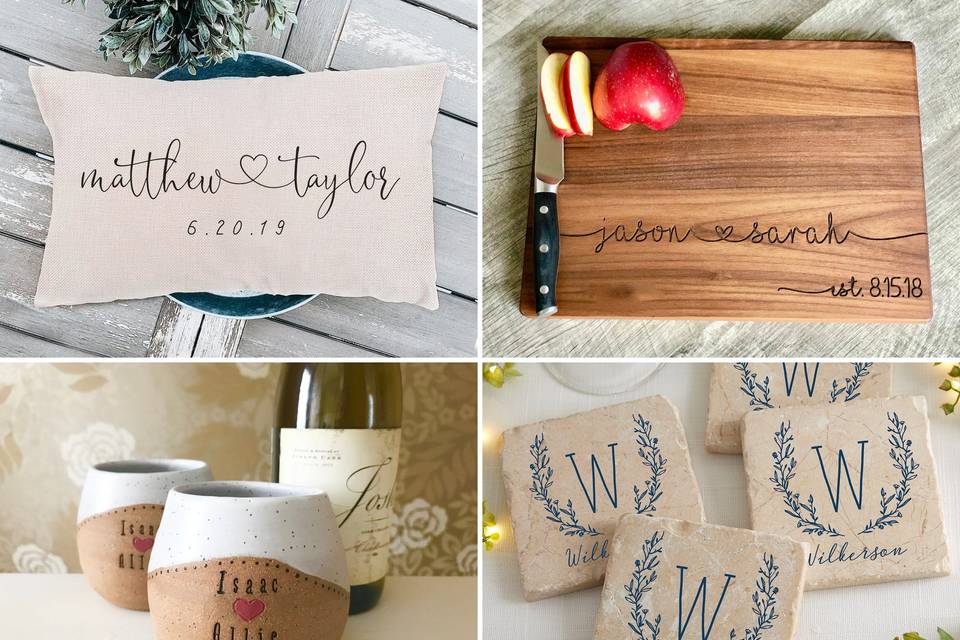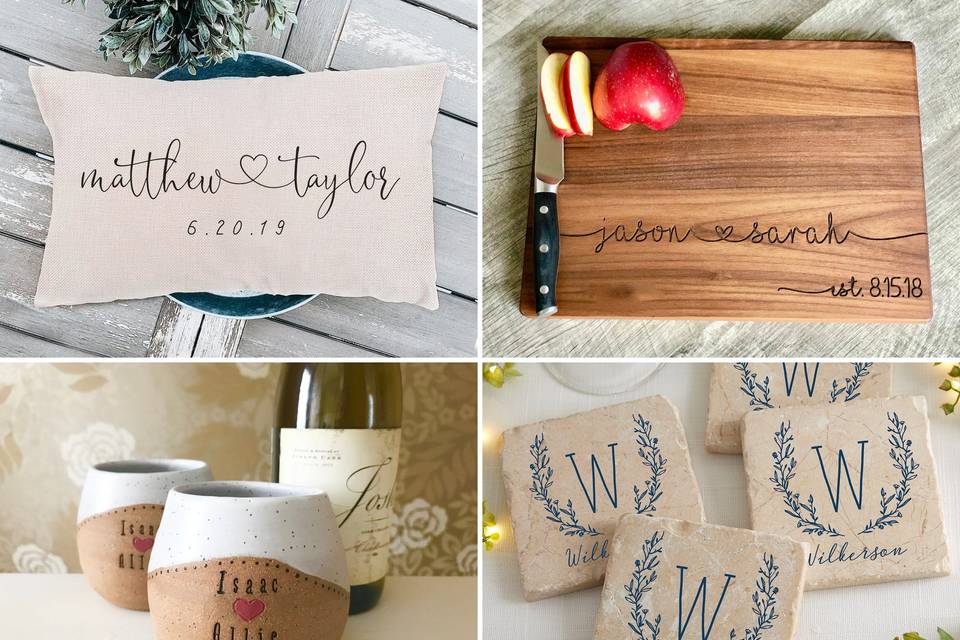 When it comes to wedding gifts, it's generally good etiquette to choose something from the couple's registry. That said, if you're a close friend or family member, there's some wiggle room. If you're familiar with the couple's style, feel free to browse custom wedding gifts that'll act as a beautiful keepsake of their nuptials. Since you know the soonlyweds so well, you'll be able to pick out something truly special.
If you're not best friends with the newlyweds-to-be, don't worry. There are a few other exceptions to the registry rule. If their registry has already been bought out (or there just isn't anything on there that fits your gift budget), you might have to look elsewhere for inspiration. To make that job as easy as possible, we've gathered some of the best personalized wedding gifts for couples right here.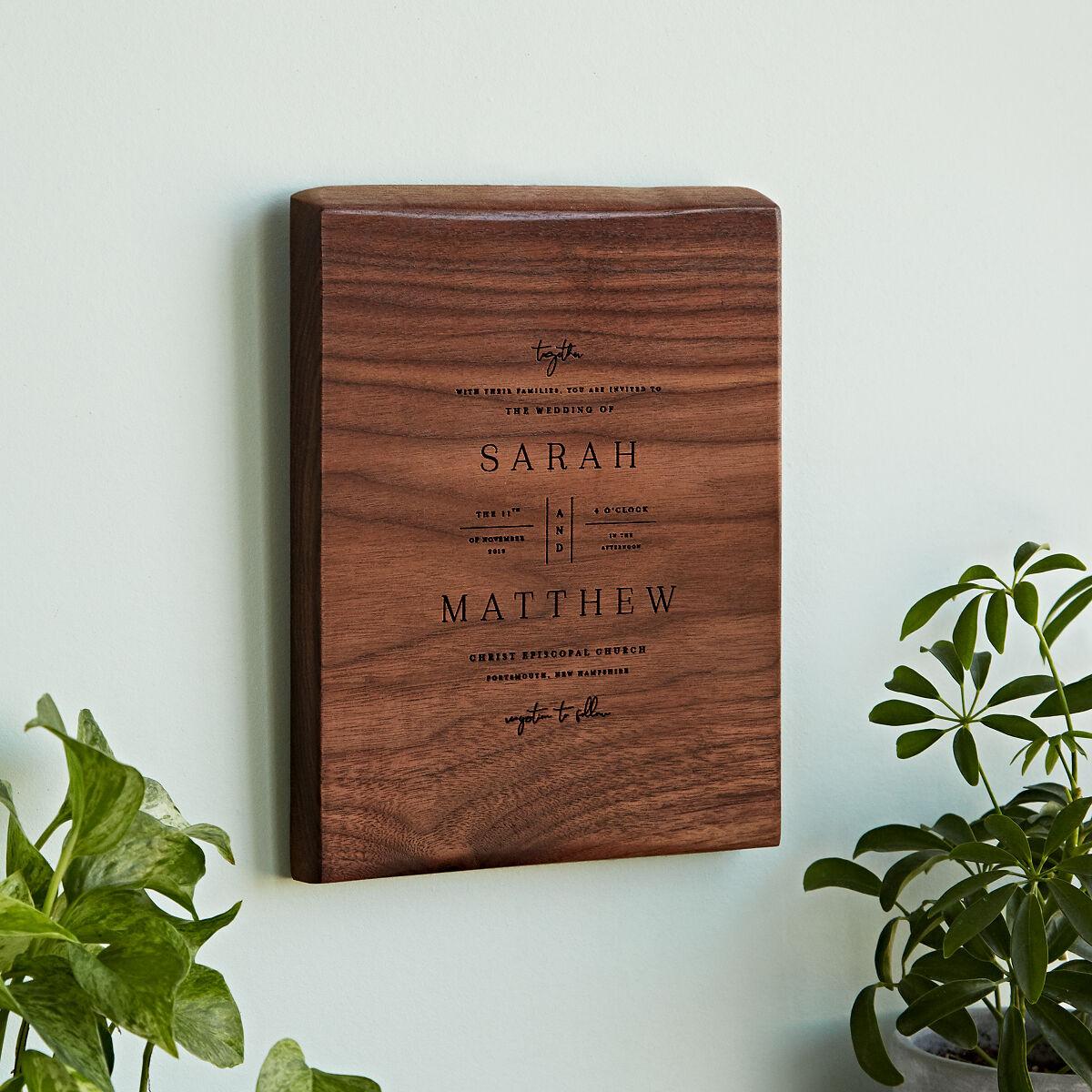 1. Wooden Wedding Keepsake
Lots of couples choose to hang onto one of their invites after the wedding day, but let's face it, paper is fragile. Have their prized stationery recreated on a fancy wooden slab they can proudly display at home (without worrying about spills or tearing). This personalized wedding invitation keepsake is a gift any newlywed pair would love.
Melyssa, Michele, and Christine Kirn personalized wedding invitation keepsake, $130, Uncommon Goods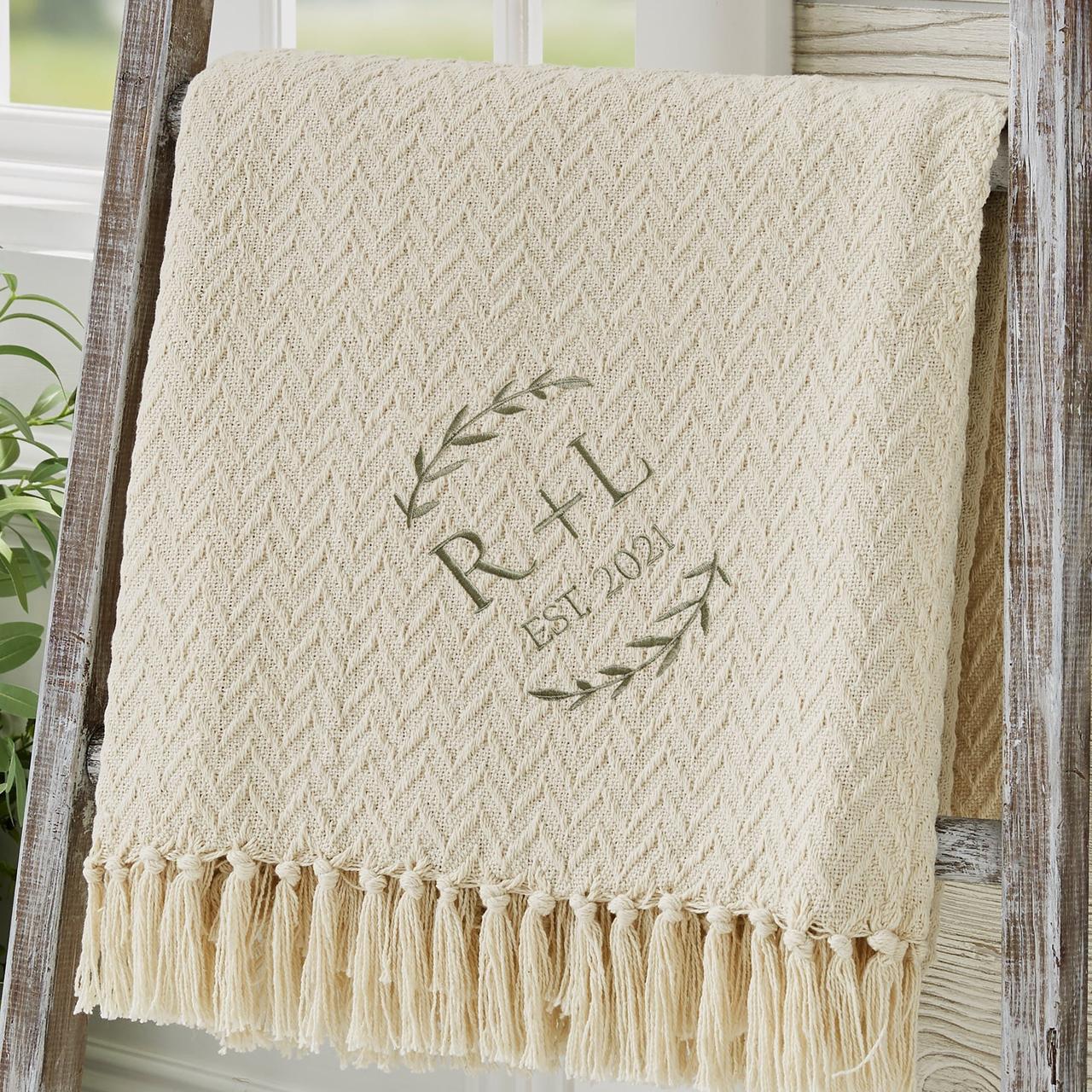 2. Embroidered Cotton Throw
If the happy couple is heading off to a hot honeymoon destination, chances are they'll need to reacclimate when they get back. Enter: this cozy cotton afghan. Elegantly embroidered with their initials and the year of their nuptials, it'll add a chic, personal touch to date nights at home.
Personalization Mall Their Initials wedding embroidered afghan, $60, Personalization Mall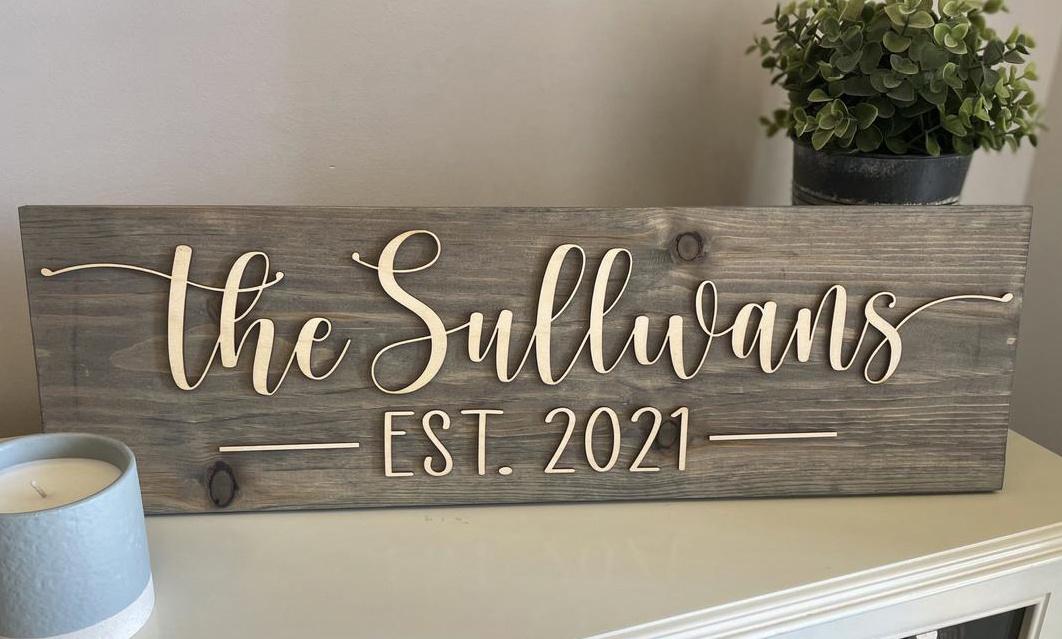 3. Rustic Name Sign
What couple wouldn't want to come home to this welcoming farmhouse-style sign after their wedding or honeymoon? The excitement of seeing their new shared last name on this beautiful signage will be huge. (Psst, personalized wooden wedding gifts like this are totally on-theme for the fifth anniversary, so there's always an opportunity to get one for the lovebirds later.)
Crafts and Splinters personalized last name sign, from $48, Etsy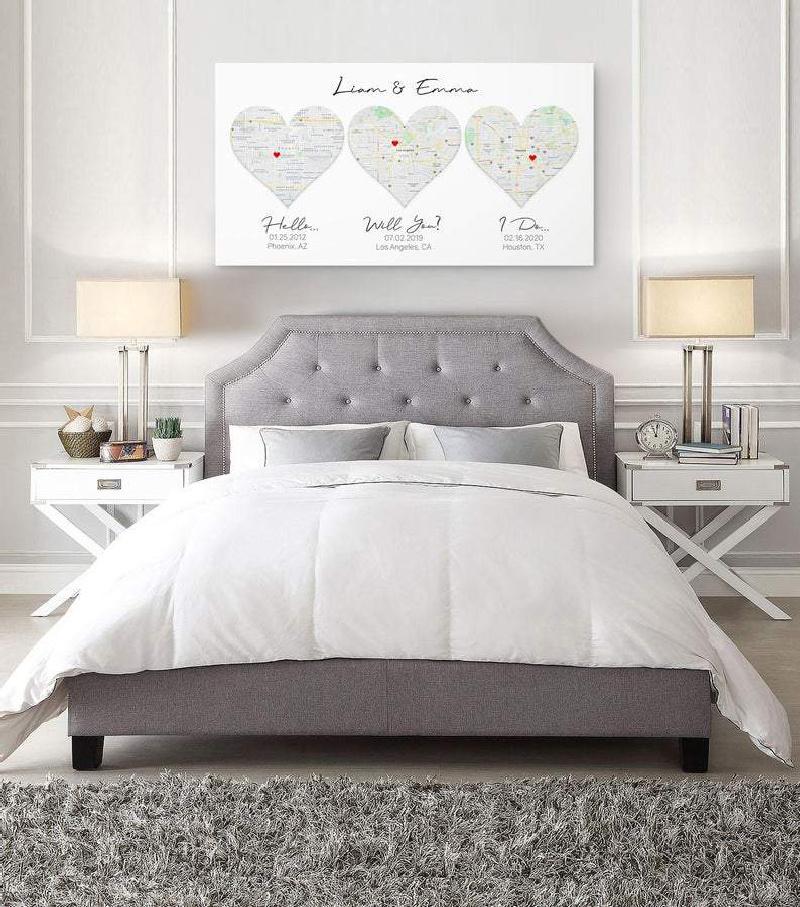 4. Sentimental Wall Art
If you really know the couple's style, home decor can be a great wedding present, but it's even more special when it's personalized with details of the couple's love story. This unique canvas art documents when the duo first met and got engaged, as well as where they'll be saying "I do."
Canvas Vows Hello, Will You, I Do personalized canvas, from $95, Canvas Vows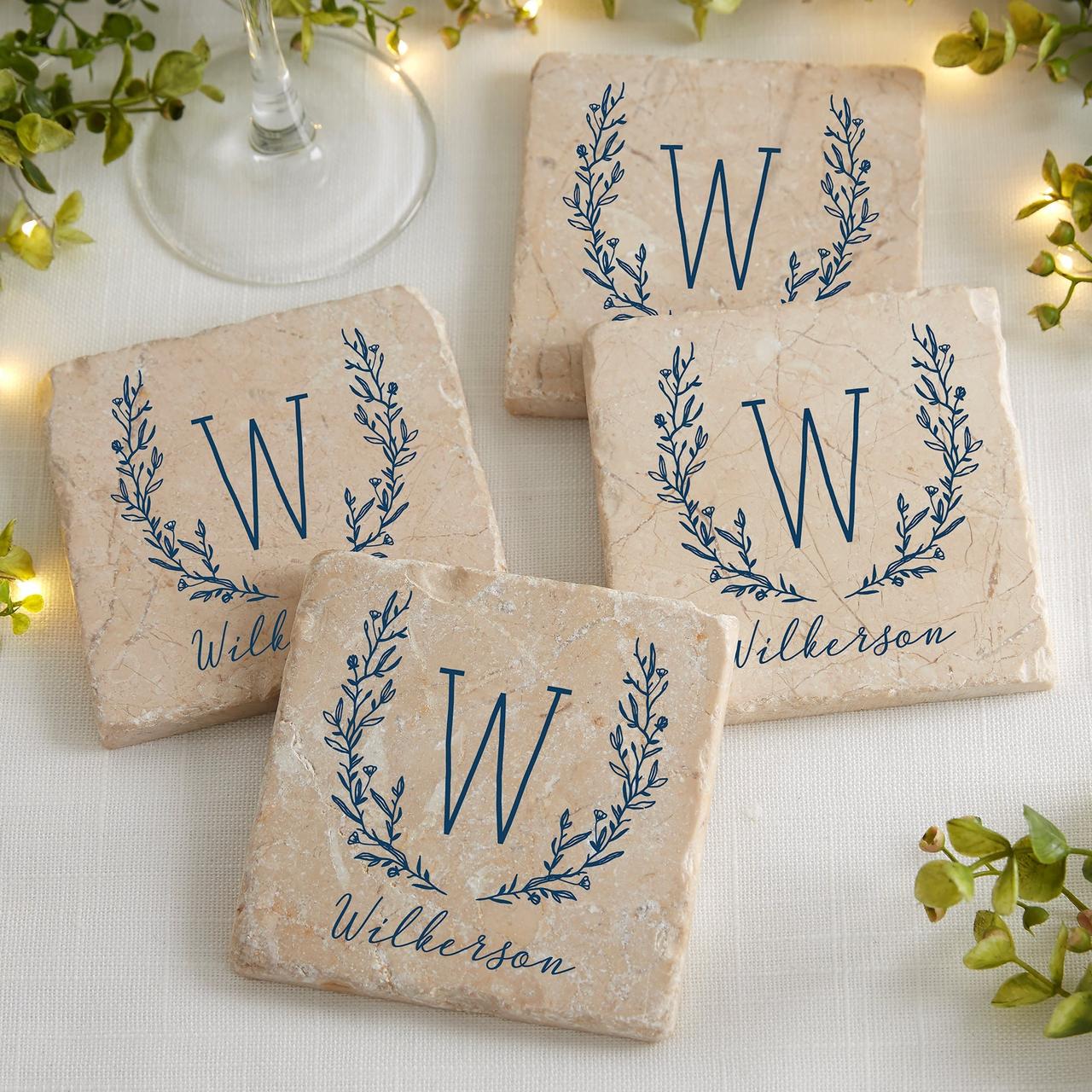 5. Unique Monogram Coasters
Custom wedding gifts can be practical too. These rustic stone coasters are personalized with their family name and initial printed in one of eight pretty hues. Make it all the more meaningful by choosing one of their wedding colors.
Personalization Mall farmhouse floral personalized tumbled stone coaster set, $27 for a set of 4, Personalization Mall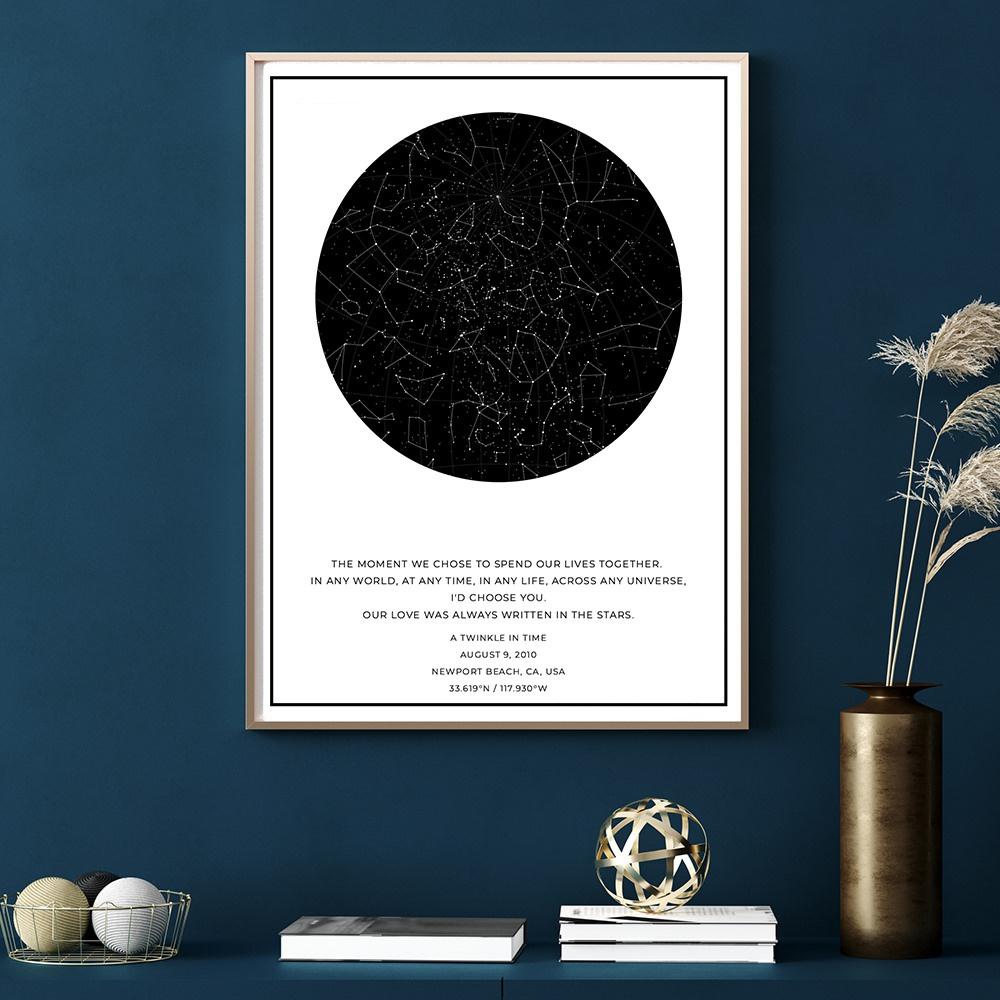 6. Star Map Print
Twinkle In Time's custom maps are an excellent wedding gift for the couple whose love was written in the stars. Just insert the date and location of their ceremony to receive a snapshot of the night sky from that fateful day. You can also include a sweet personal message to the lovebirds wishing them well.
Twinkle In Time custom star map, from $60, Twinkle In Time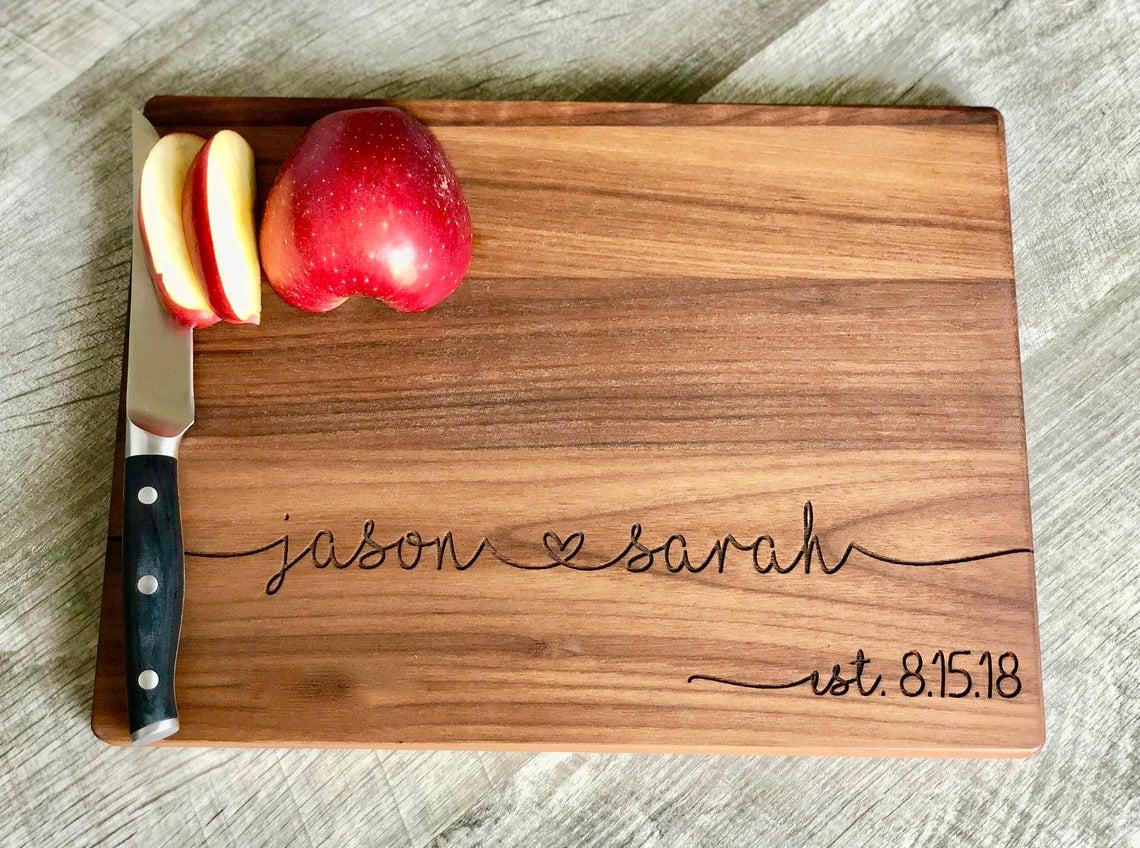 7. Wood Cutting Board
This personalized cutting board is a great wedding gift for any couple, but it's especially thoughtful if they love to cook together. Engraved with their names and the date of their nuptials in pretty calligraphy, it'll truly take their cheese boards to the next level.
J&J Engravery personalized cutting board wedding gift, from $28, Etsy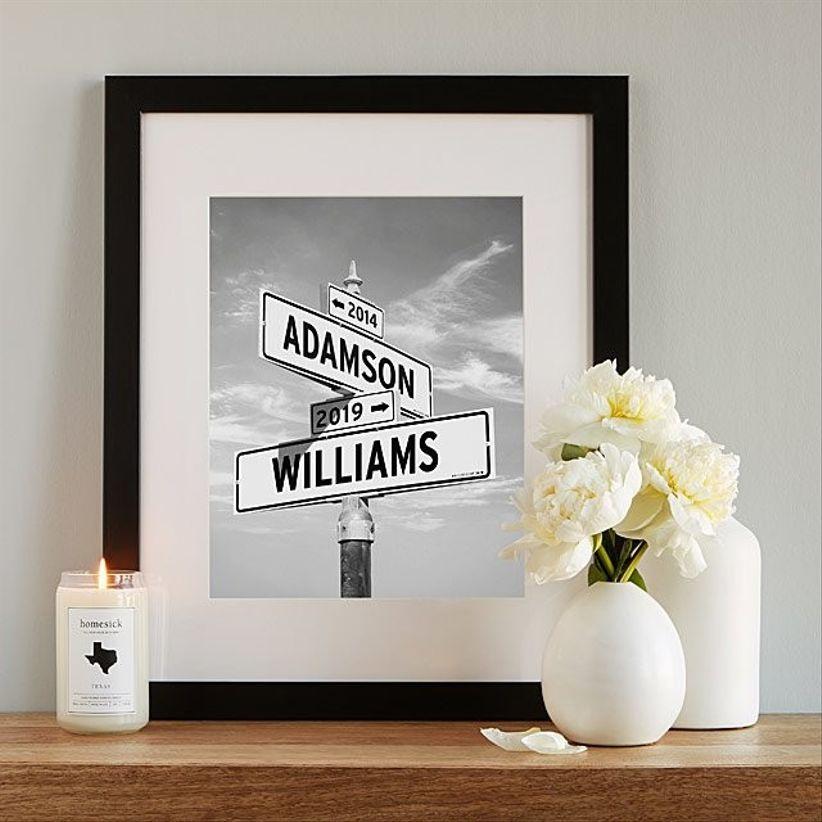 8. Meaningful Photo Print
When your friend met their other half, suddenly, their path changed. Part of the beauty of deciding to wed is making a commitment to go along the beautiful journey of life with someone else. This sentimental photo print illustrates that one-of-a-kind trek.
Patricia Carlin Intersection of Love photo print, from $75, Uncommon Goods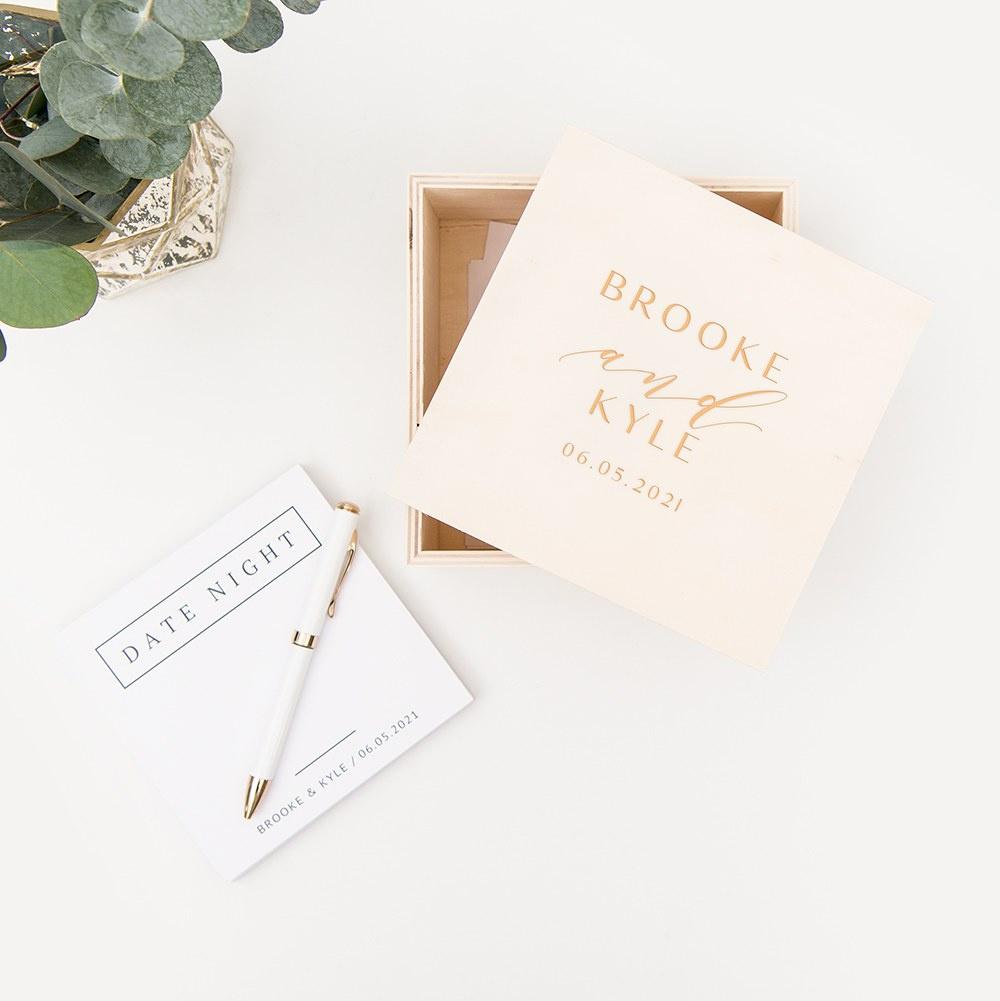 9. Etched Keepsake Box
There are so many directions you can go in with custom wedding gifts. Have this wooden keepsake box engraved with the couple's names and the date so they'll have somewhere to store photos, their wedding stationery, and other mementos from the special occasion.
WeddingWire Shop personalized wooden keepsake gift box, $20, WeddingWire Shop
10. Engravable Champagne Flutes
Help the soonlyweds raise a toast to their new union with a pair of engraved wedding champagne glasses. This contemporary set can be put to use on future milestones (or just any time they feel like popping some bubbly).
Waterford Elegance champagne classic flute, $75 for a set of 2, Waterford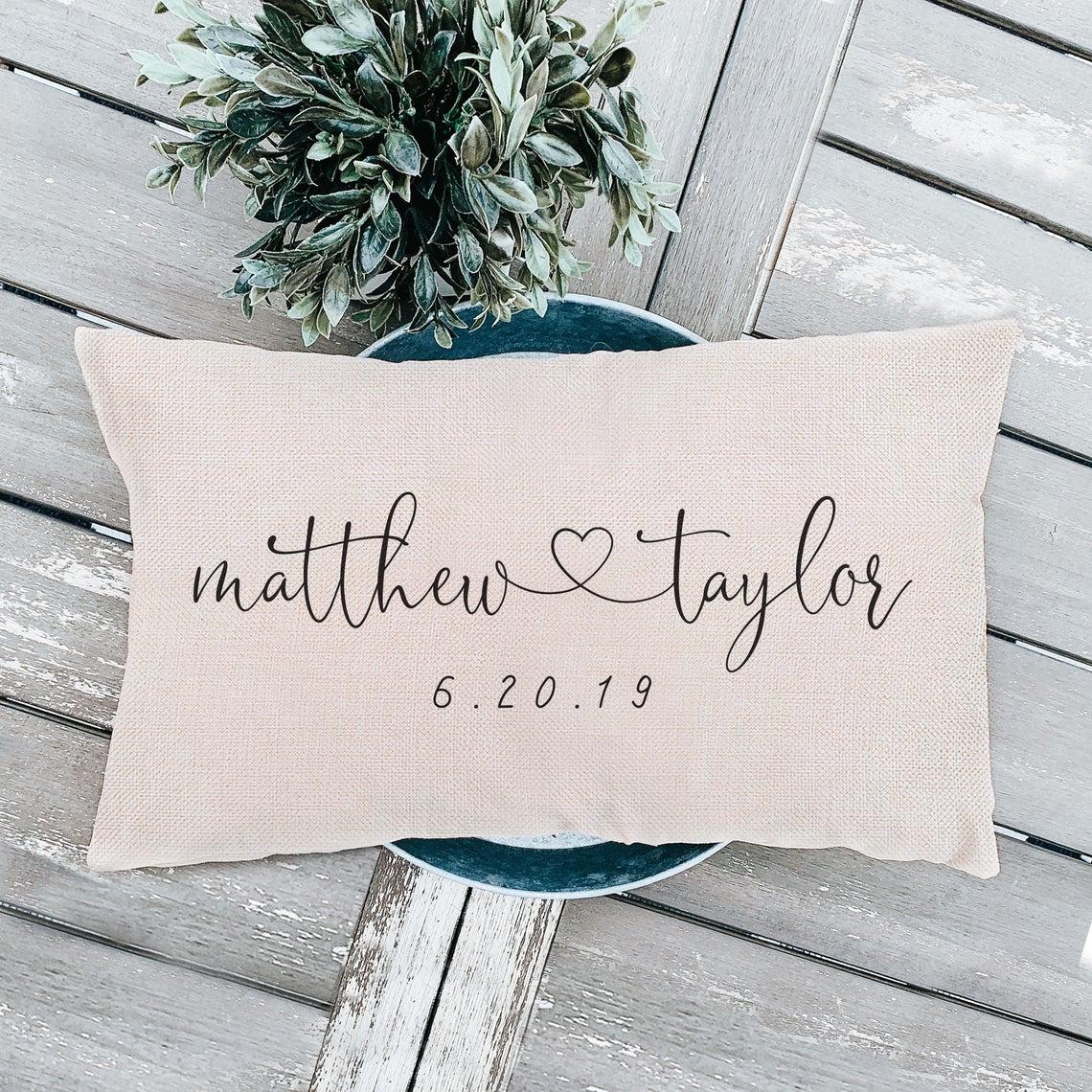 11. Decorative Throw Pillow
Again, if you know what the couple likes, then home decor can be a lovely gift idea. This handmade pillow perfectly captures a simple-but-chic farmhouse aesthetic and comes customized with the couple's names in pretty cursive writing.
Linden Fields Home pillow personalized wedding gift for couples, $29 for a cover and pillow, Etsy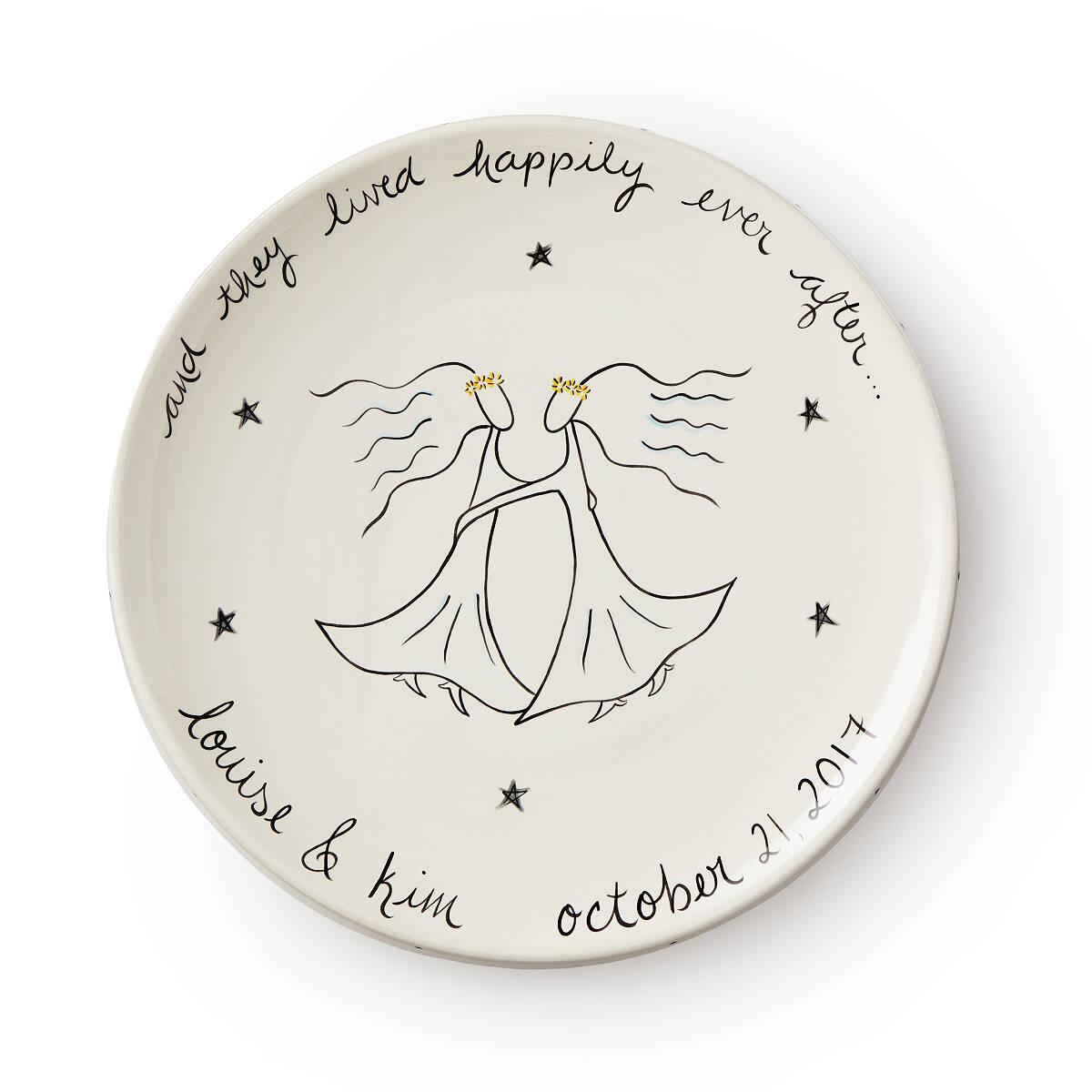 12. Illustrated Keepsake Plate
What better way to show the couple how much faith you have in their relationship than this sweet commemorative platter? The ceramic serveware reads "happily ever after" above their names, the date, and an illustration of them in wedding attire. Talk about a cute personalized wedding day gift!
Suzanne Pollack Happily Ever After platter, $84, Uncommon Goods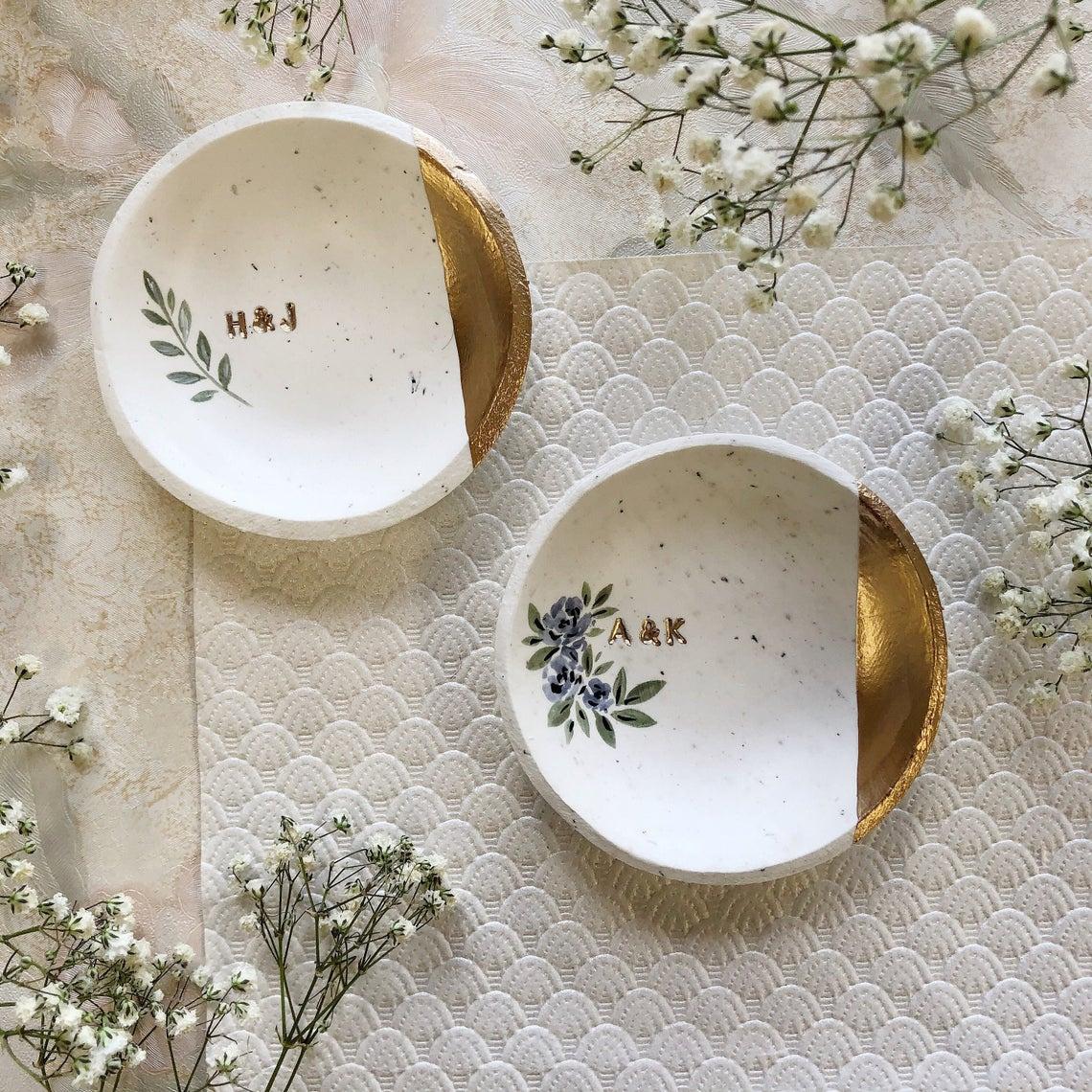 13. Dainty Ring Dish
After spending most of their life not wearing a ring every single day, married couples adjust to having a band around their finger…forever. Certain professions require the removal of this precious jewelry (doctor, mechanic, and so on)—so a spot for safekeeping is helpful. That's what makes this pretty floral tray a creative personalized wedding gift for the newlyweds.
The Painted Press speckled minimalist ring dish, from $17, Etsy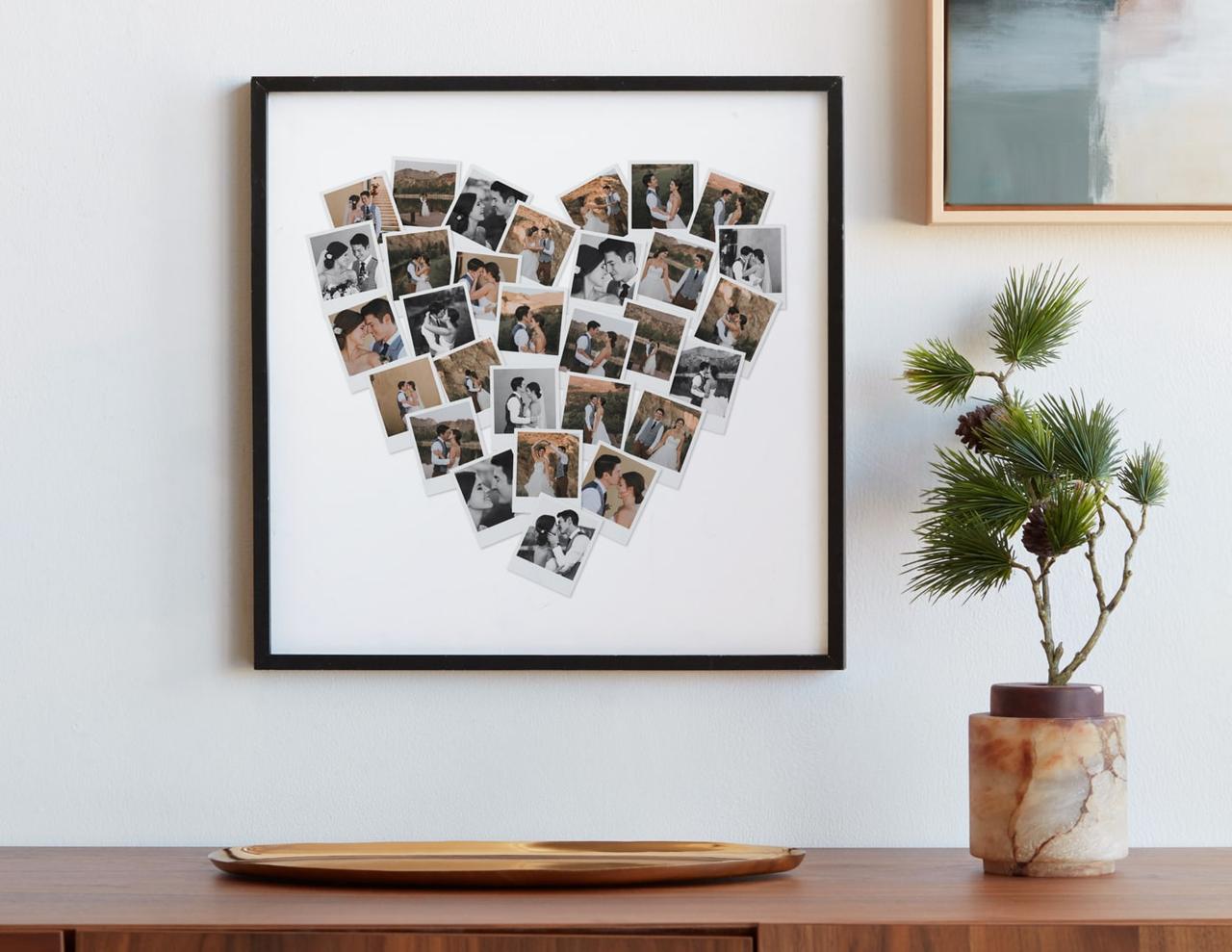 14. Heart-Shaped Photo Art
For your engaged BFF who's obsessed with Instagram, why not put together a collage of their favorite photos? This heart-shaped design is the perfect way to showcase the couple's love for each other.
Minted Heart Snapshot Mix photo art, from $29, Minted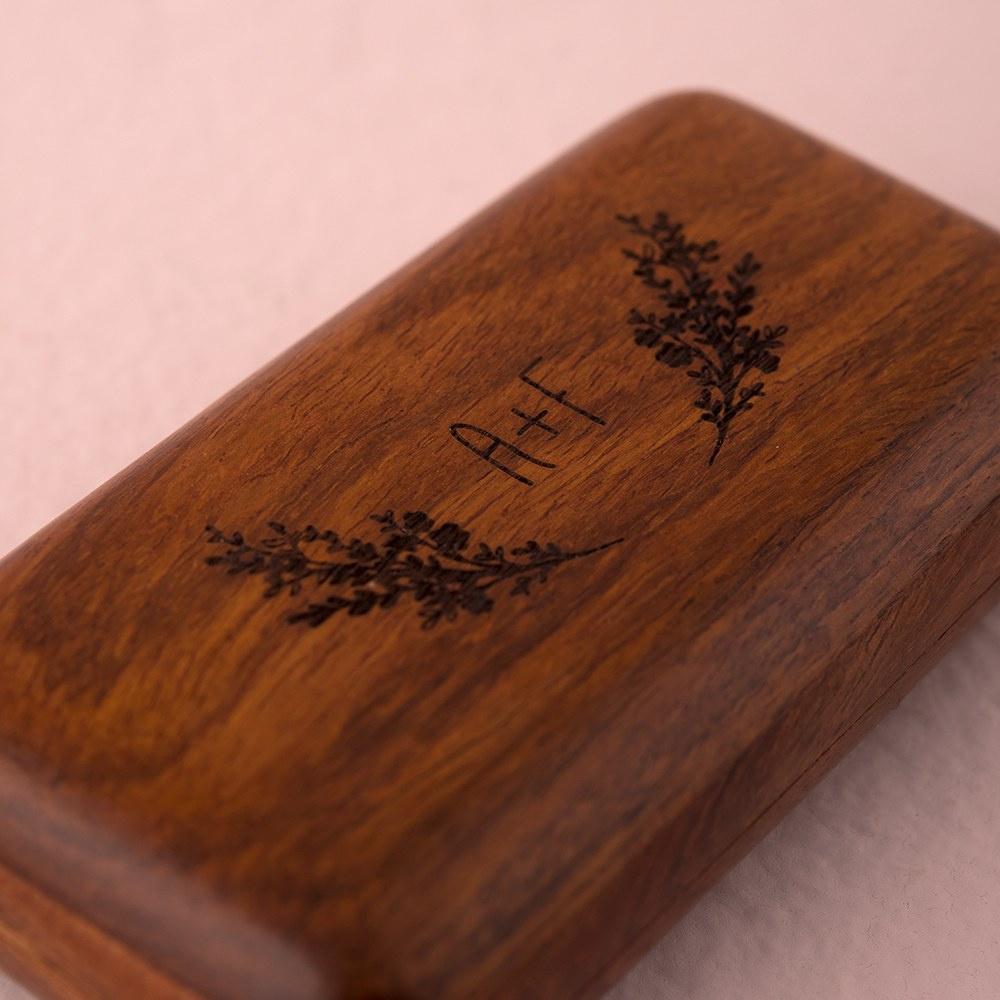 15. Vintage-Style Ring Box
Looking for unique personalized wedding gift ideas? If a ring dish isn't quite the couple's style, maybe they'll prefer this vintage-inspired gift box instead. The lid is adorned with the couple's initials, while a hidden message inside reads: "forever and always."
WeddingWire Shop small personalized wooden ring jewelry box, $27, WeddingWire Shop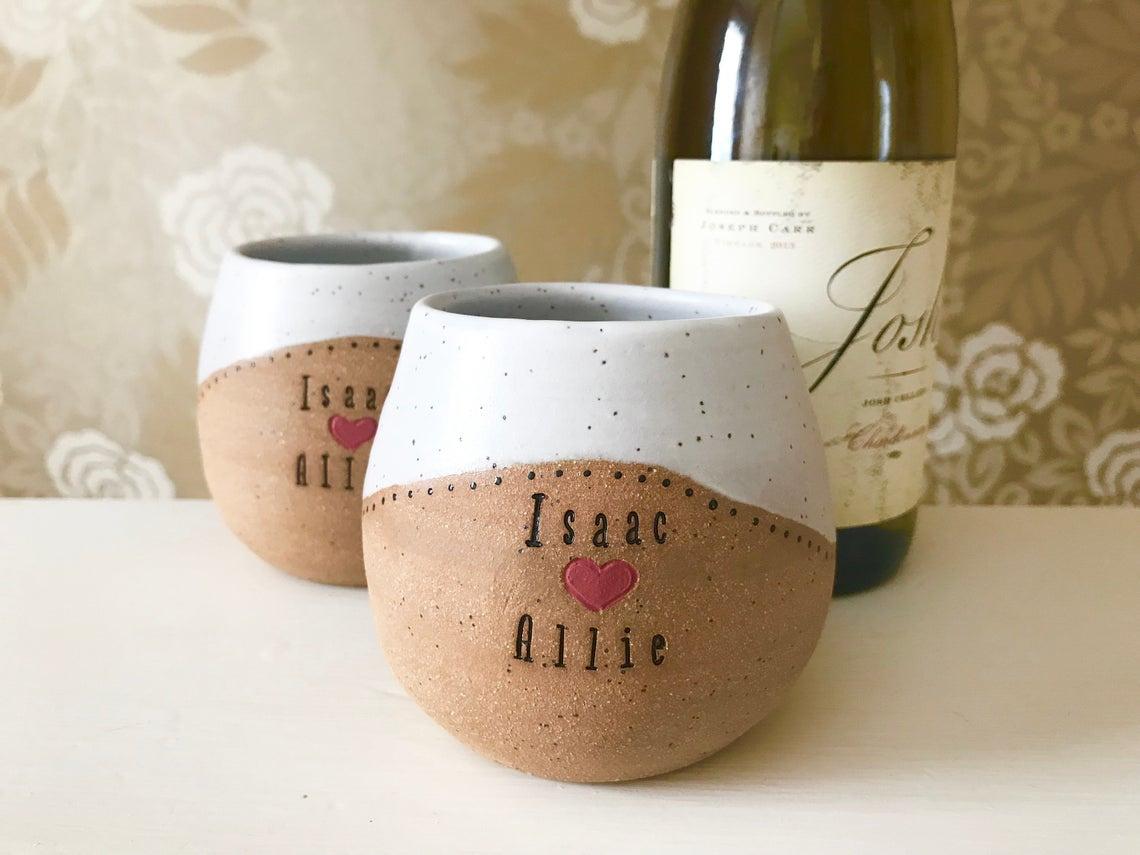 16. Handmade Wine Tumblers
These personalized ceramic wine glasses will make for excellent wedding gifts for the couple who values uniqueness over classic style. It's no surprise that these handmade tumblers are an Etsy best seller. Each one is beautifully personalized with the lovebirds' names and a romantic red heart. Plus, they're stemless, which is super on-trend right now. Hand them over with a bottle of wine for the couple to enjoy right away or save for a future wedding anniversary.
Laura Lynn Pottery personalized wine glasses, $42 each, Etsy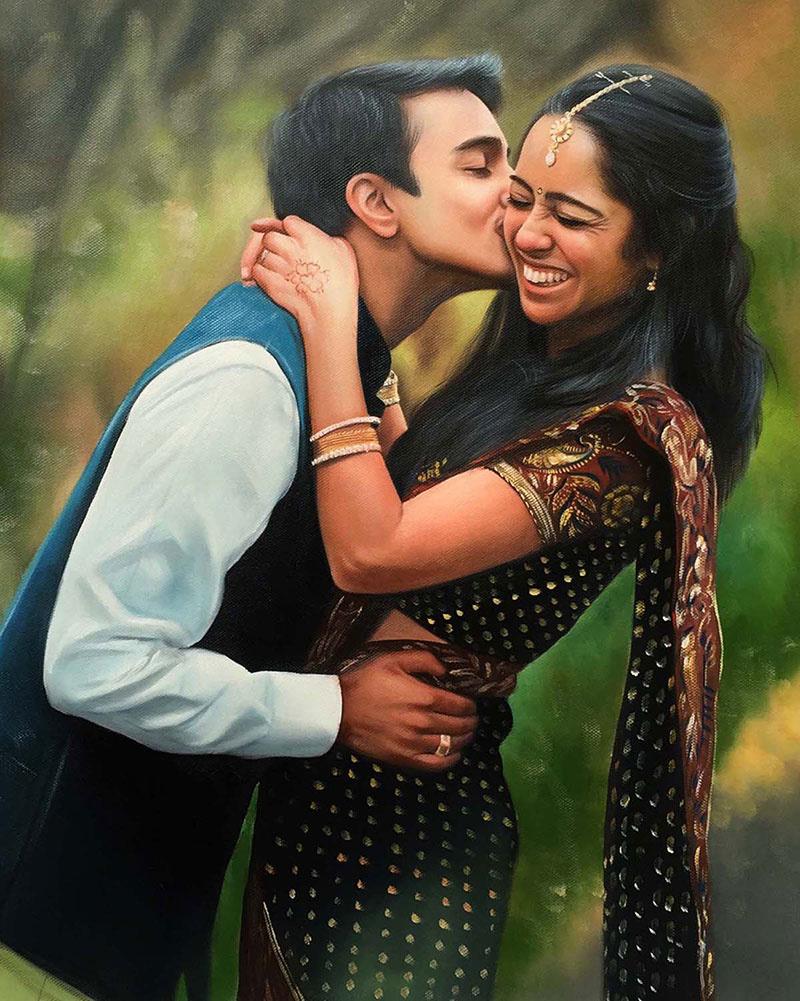 17. Painted Couple's Portrait
This amazing idea 100% justifies moving away from the couple's wedding registry on your hunt for the perfect present. Use this cool online service to select a medium (think: oil, charcoal, or watercolor) and an artist. Then, upload a nice photo of the soonlyweds to be recreated and framed. You could also wait until after the wedding to get a painting of the couple on their special day—just let them know their gift is on the way!
Paint Your Life 12" x 16" oil couple's portrait, $319, Paint Your Life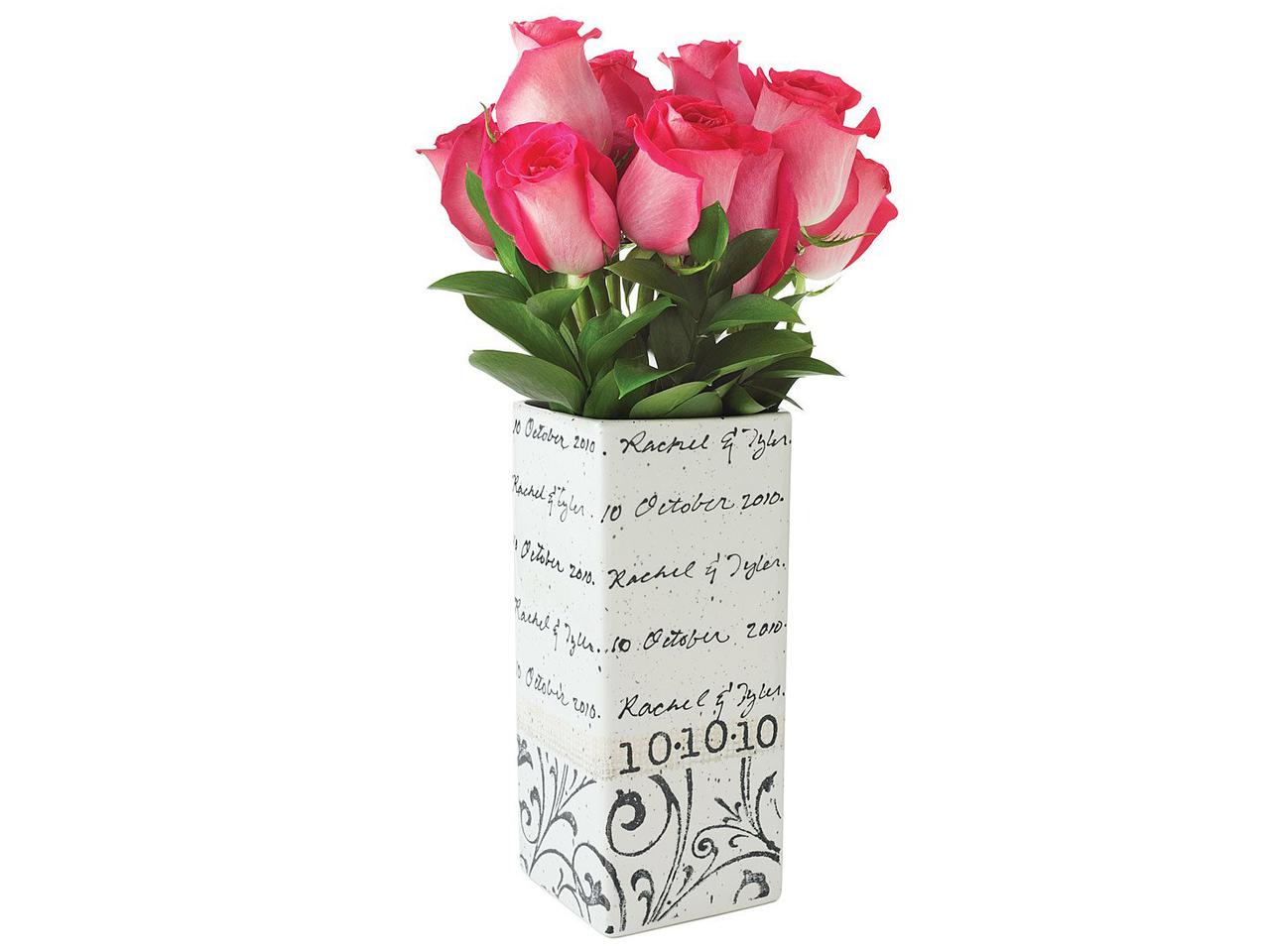 18. Unusual Wedding Vase
Preserved wedding bouquets are an unusual and popular way to remember the occasion. If you know the couple plans on having some of their blooms professionally dried, this one-of-a-kind vase will be an excellent place to keep them. The newlyweds' names and wedding date are handwritten in elegant cursive around the vase, making it one of the most unique custom wedding gifts on our list.
Sheree Burlington personalized cursive wedding vase, $150, Uncommon Goods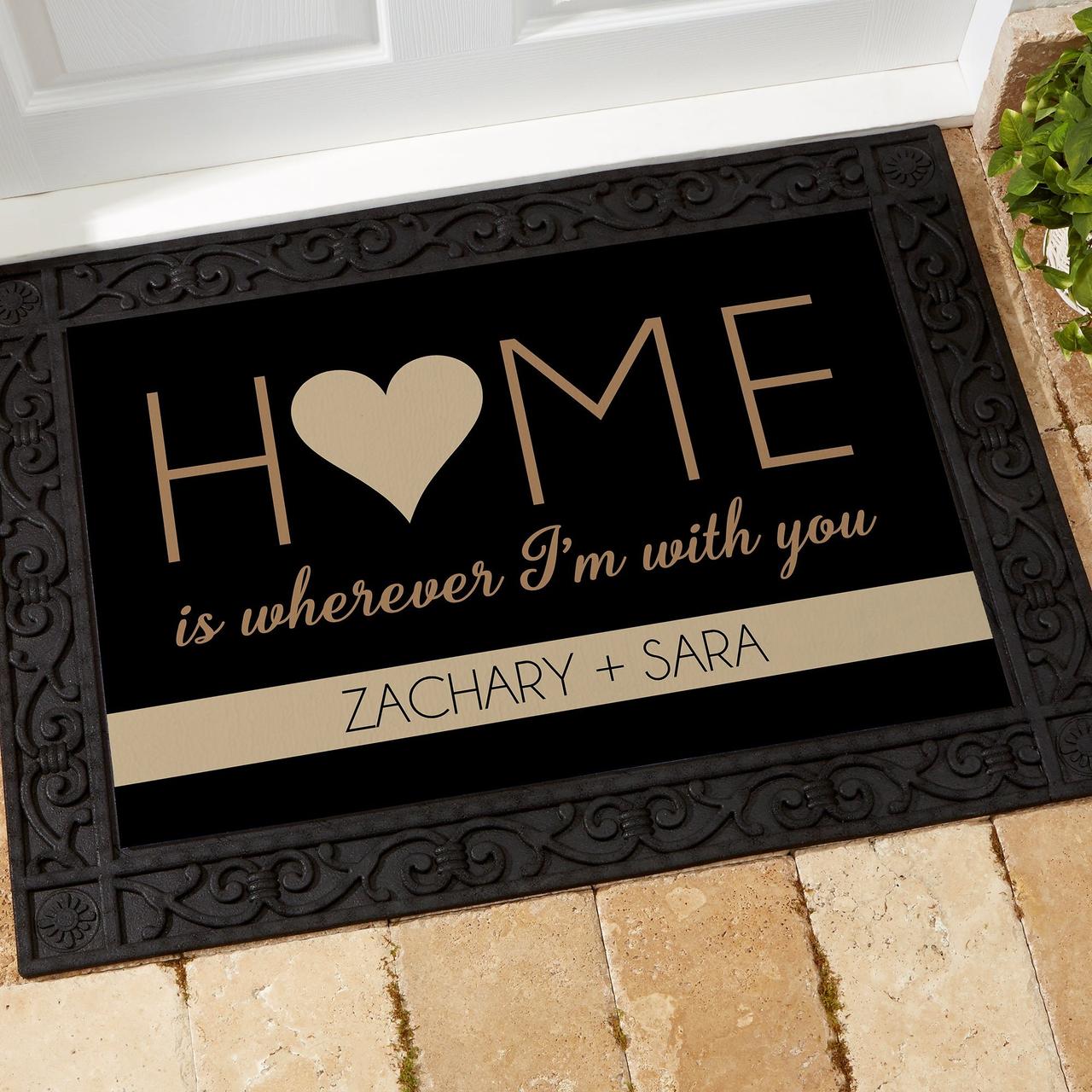 19. Sophisticated Welcome Mat
For the couple who's been building their life together for a number of years, it's likely they already have a lot of the gizmos and gadgets you'd find on a typical registry. That said, we bet they don't have a personalized doormat featuring their names and the sweet phrase: "Home is wherever I'm with you." It's an extra-thoughtful present for the pair constantly welcoming visitors into their abode.
Personalization Mall HOME With You personalized doormat, from $30, Personalization Mall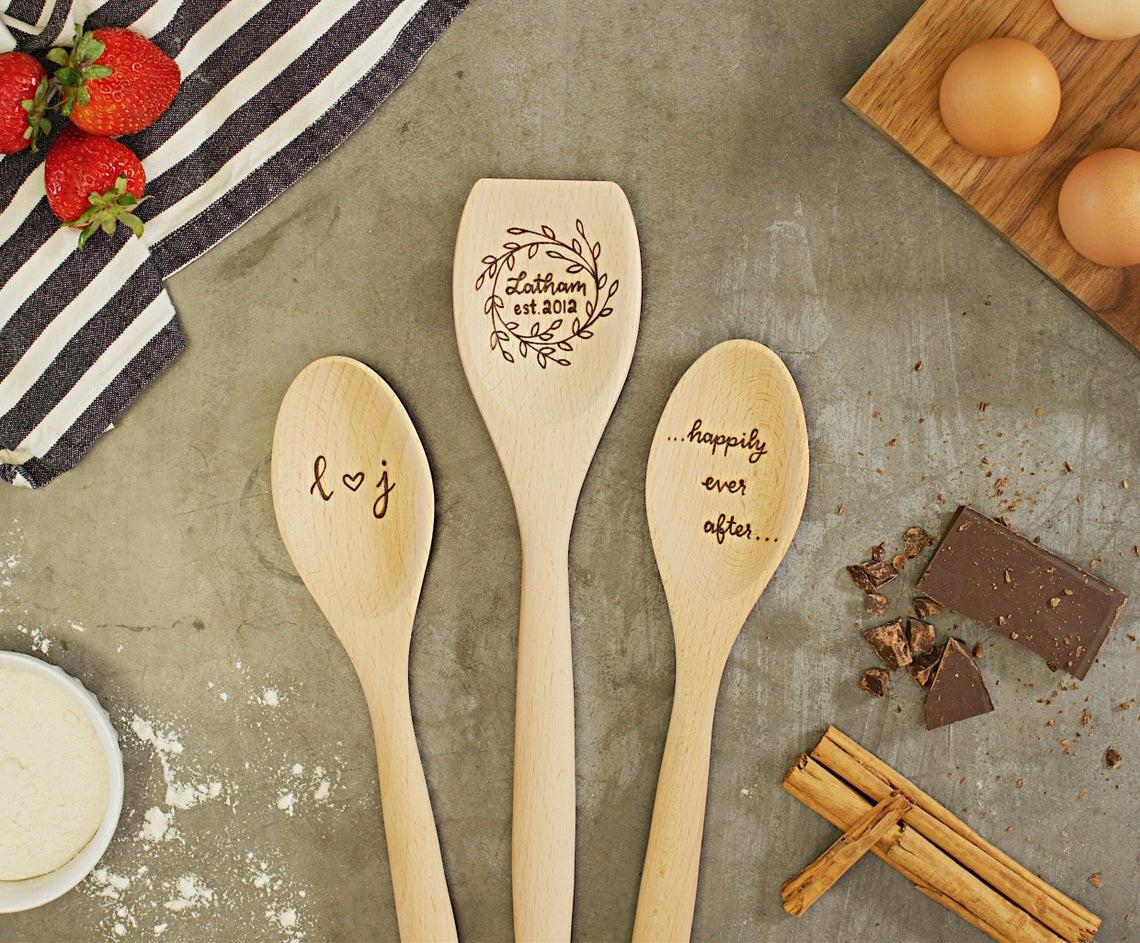 20. Romantic Wooden Spoons
These practical wedding gifts come personalized with their family name, their initials, and the fairytale phrase, "happily ever after." Who knew a gift set of wooden spoons could be so darn romantic?
Hearth & Table Co. wooden spoons personalized wedding gift, $39 for a set of 3, Etsy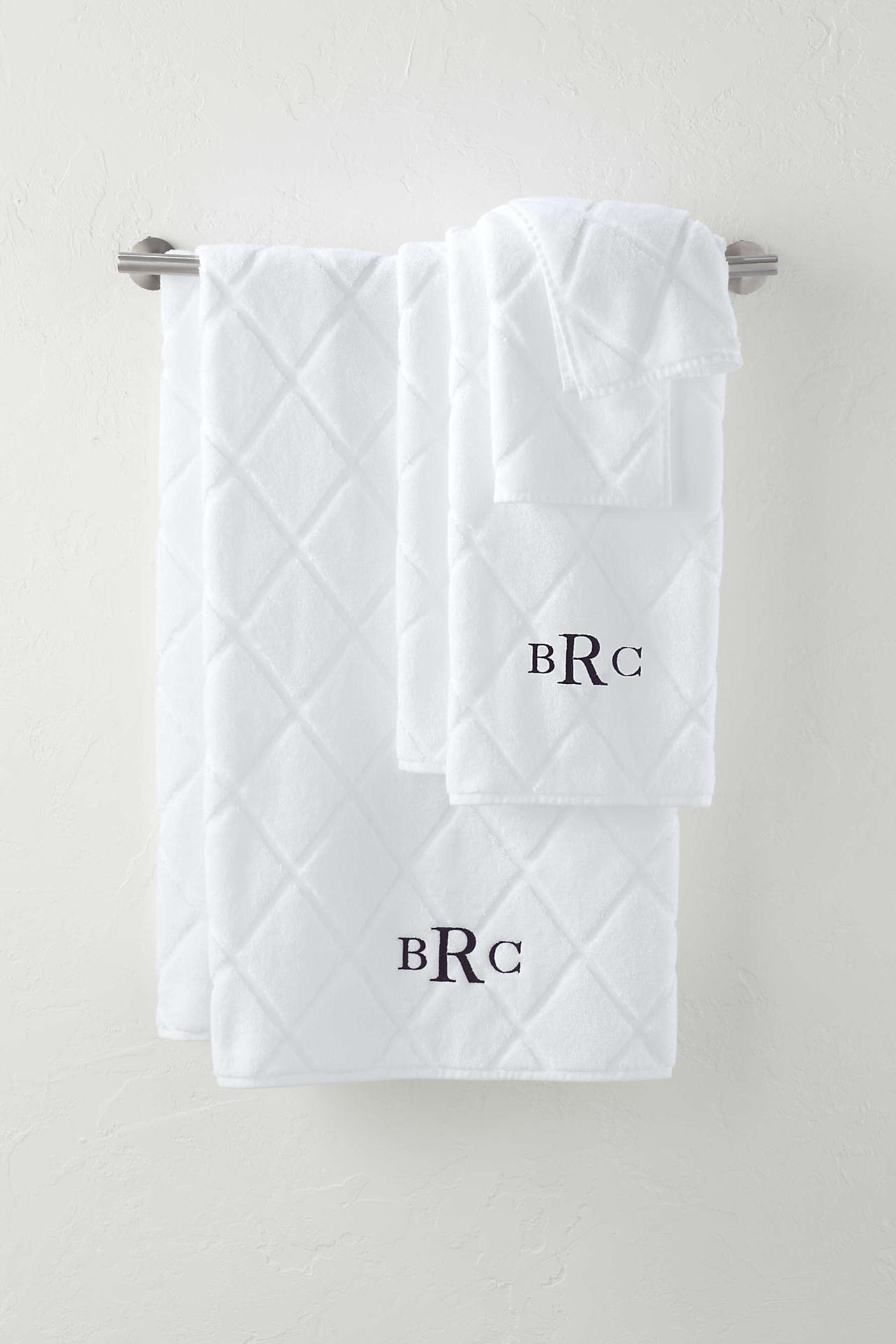 21. Monogrammed Towel Set
New towels are always a welcome present, especially when they're made out of super-soft Supima cotton. Personalized with the couple's monogram, these towels will make for an extra-special wedding gift. The set includes two bath towels, two hand towels, and two washcloths—perfect for the newlyweds.
Land's End Supima cotton sculpted towel 6 piece set, from $130, Land's End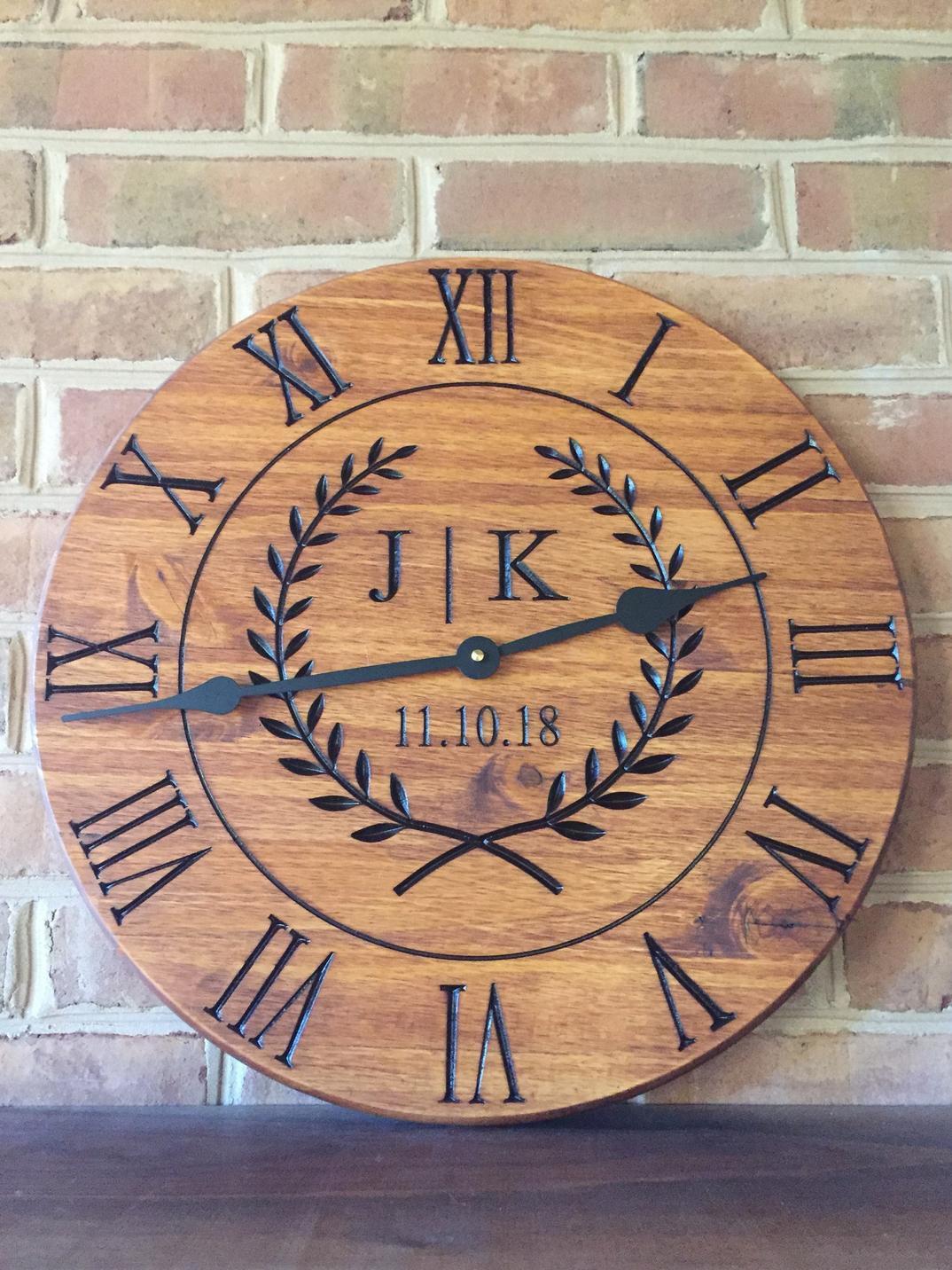 22. Commemorative Wall Clock
Show the couple you know their love is going to stand the test of time by gifting them a personalized wall clock as a wedding gift. Carved with each of their initials and their wedding date, this handmade wooden clock will bring a chic, personal touch to their home.
Smith Crafted Woodworks custom wall clock personalized wedding gift, from $110, Etsy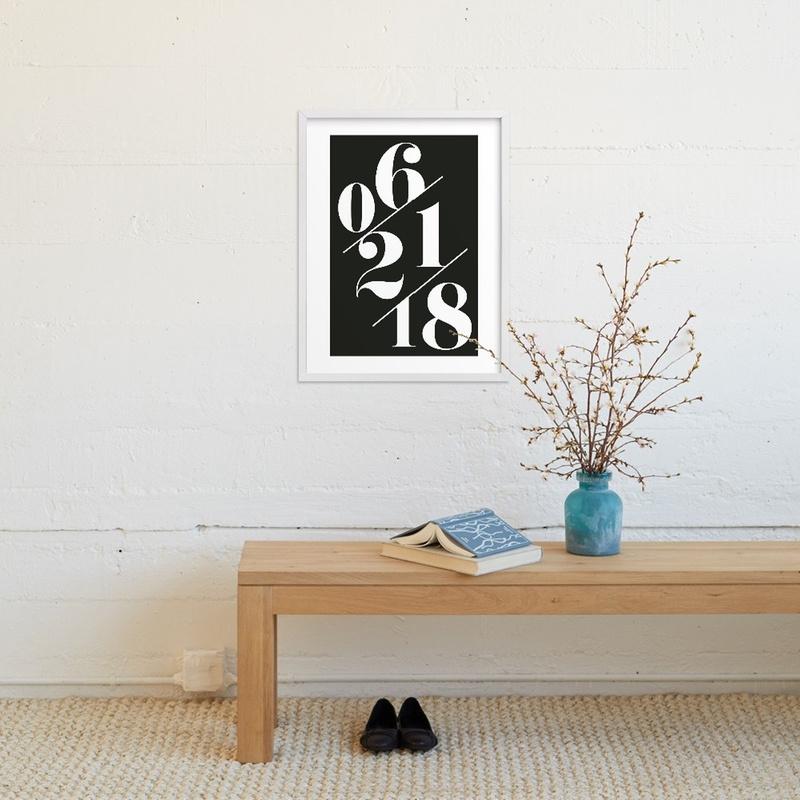 23. Contemporary Art Print
We love the idea of personalized wall art for a wedding gift, and if you're on the hunt for wedding-date gift ideas, this one takes the cake. It's a contemporary print of the month, day, and year of their nuptials in a choice of stylish block colors. They'll want to put this unique art on display ASAP, so we suggest adding a frame before you checkout.
Baumbirdy serif date memento custom art print, from $24, Minted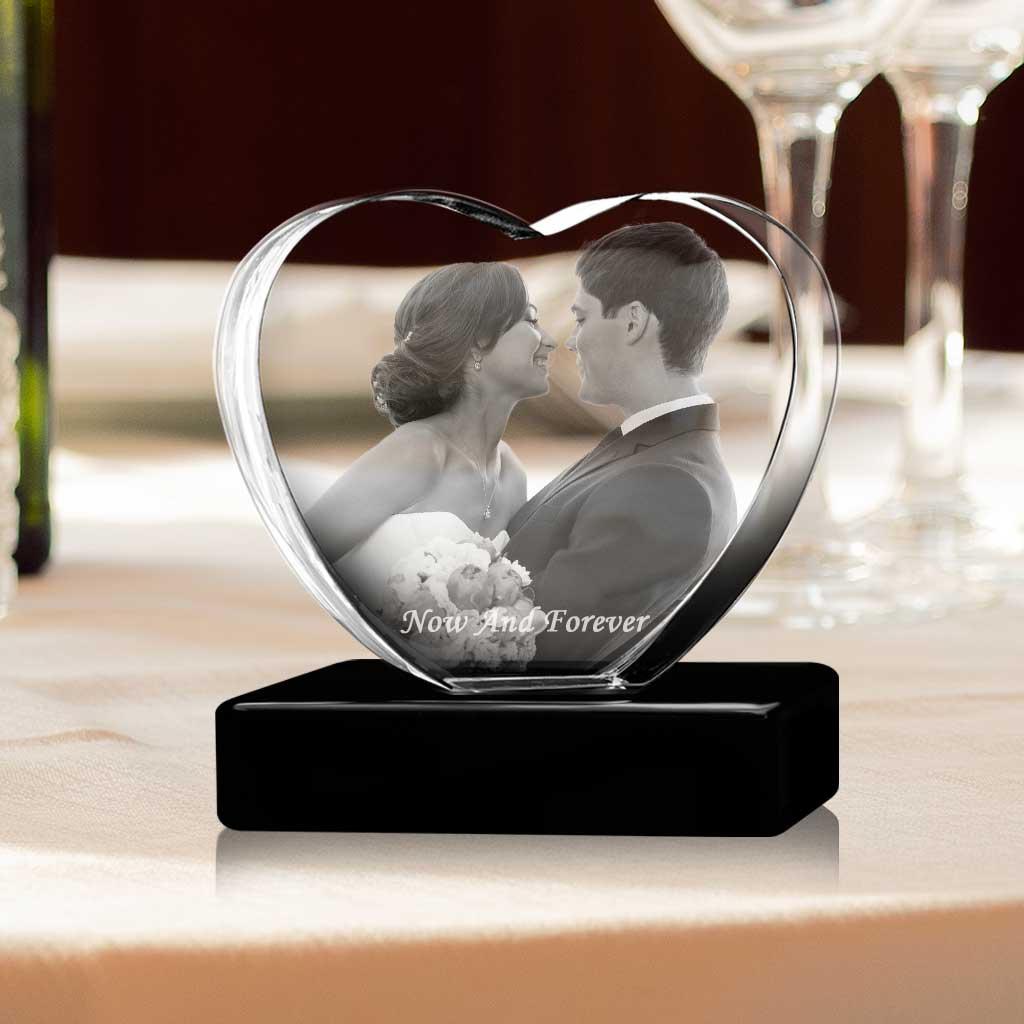 24. Crystal Photo Ornament
You'll have to wait until after the big day to hand over this special gift, but trust us—it's worth the wait. The couple might just tear up when they see one of their wedding photos brought to life on a heart-shaped crystal ornament. Up the ante by pairing it with a black-light or rotating LED base.
The 3D Gift wedding heart, from $199 for 1-2 faces, The 3D Gift