Once you've been to your fair share of weddings, you know there are two types of events. While you may attend weddings for coworkers or a friend-of-the-family, the best celebrations are with a happy couple you know — and love — well. This calls for a step above the traditional registry gift. Instead, you want to consider personalized wedding gif ideas that pay tribute to the unique style of the newlywed duo. From those who fell in love thanks to a shared love of food to a pair who found romance via travel, there's the right type of special purchase.
Here, our pick for the best — and sweetest! — personalized wedding gift ideas you can give.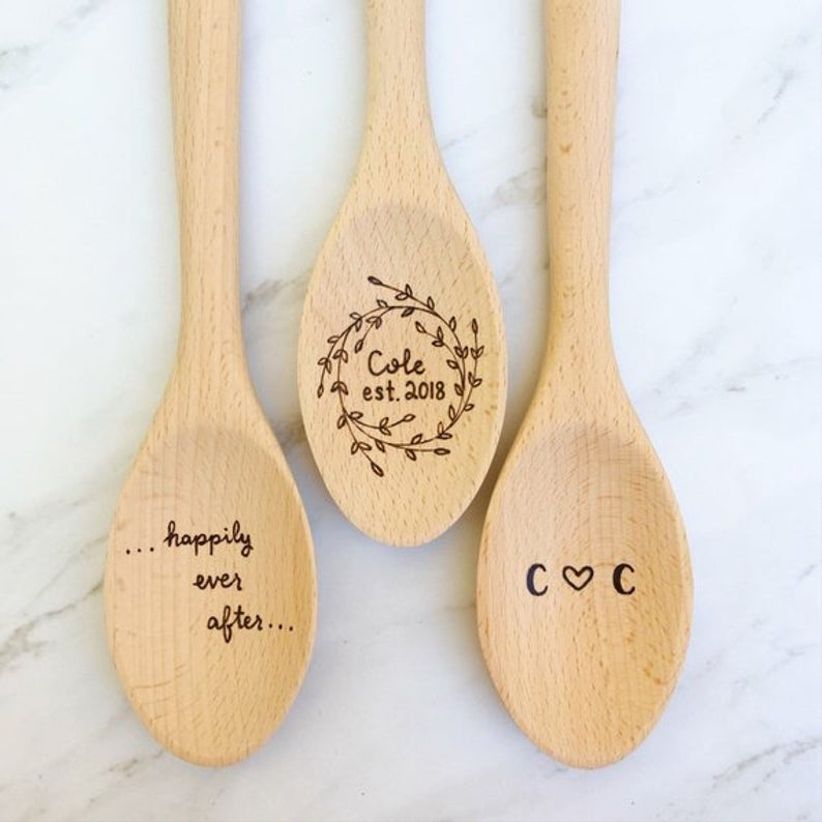 Wooden Spoons
When you join your lives together, you also accumulate more and more things. If your pals pretty much have all of the kitchen necessities they need but you still want to surprise them with a personalized touch, consider these wooden beauties. After all, they spend plenty of time spooning — why not celebrate it?
BlessingFalls personalized wooden spoons, $30, Etsy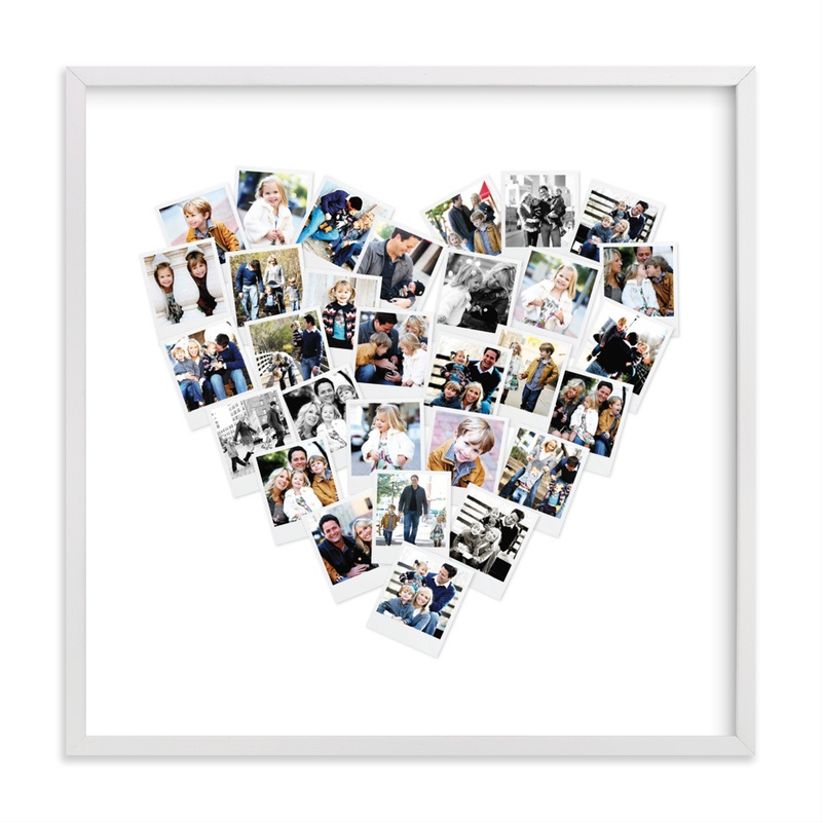 Photo Art
After waiting for what felt like forever, your best friend finally found her spouse. It might not seem like a big deal to many, but she was over the moon detailing their love story for her many followers to see. After all, a 'we're engaged' Instagram post gets plenty more likes than a carefully-plated pasta dish. Surprise your BFF with this personalized wedding gift idea—a heart-shaped collection of their Insta posts together.
Minted Heart Snapshot Mix photo art, $101, Minted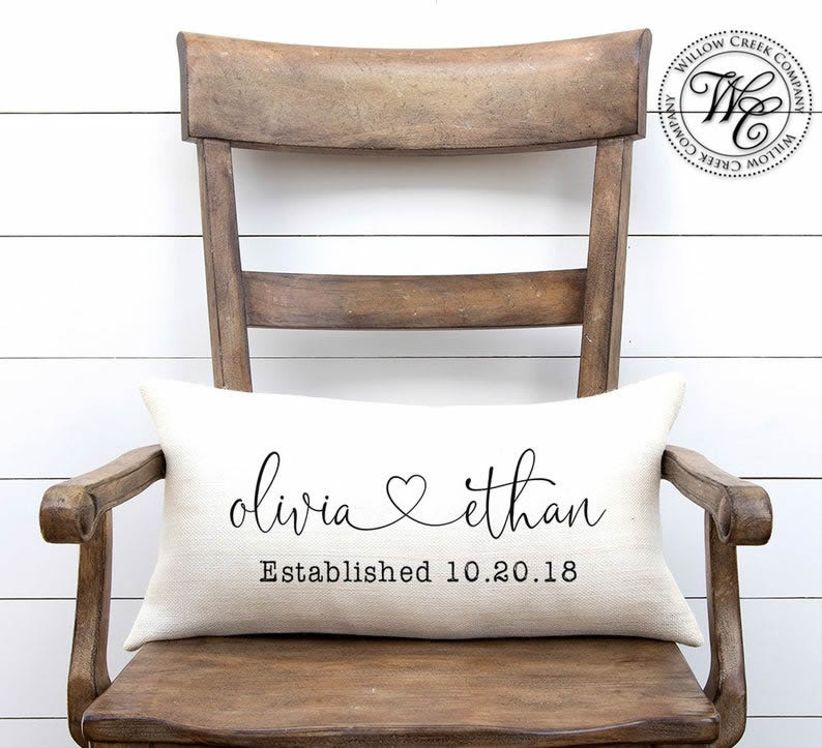 Pillow
First came Tinder, then came the first date. A year later, a sparkly ring — and now, a shared last name. For the couple who is zipping through all of life stages, you know exactly what's next: a home! Anticipate the next chapter in their happy relationship with this modern, yet rustic, personalized wedding gift idea.
WillowCreekCompany wedding personalized pillow, $28, Etsy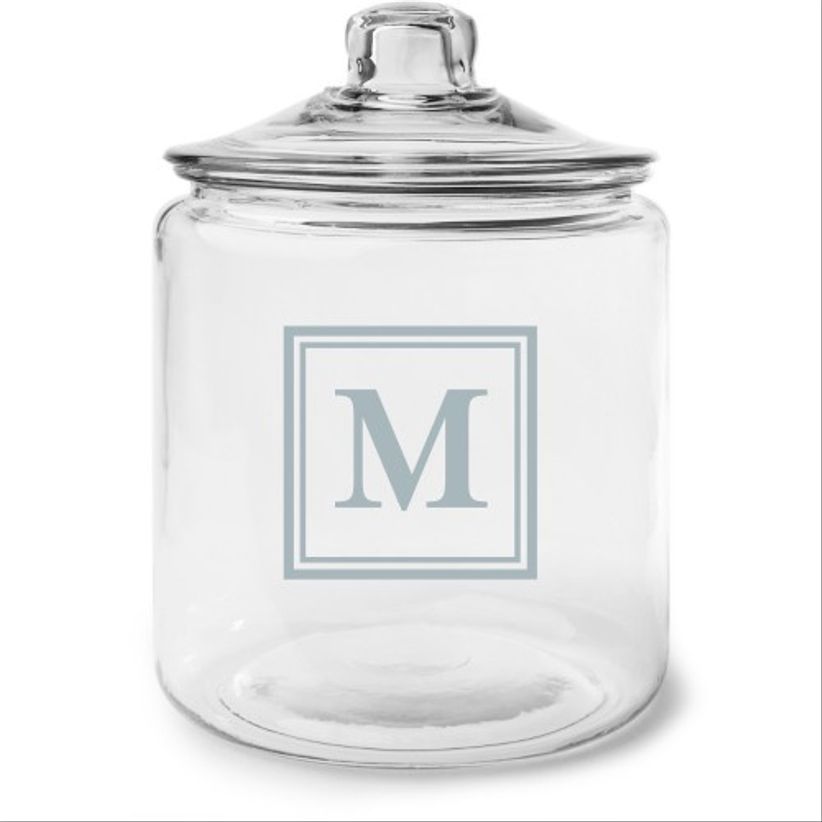 Monogrammed Jar
What's in a name? Or rather: what's in a letter? A lot when a couple decides they'll not only share their lives together, but their home and a name. This simple glass jar is elegant and pretty, while carrying thoughtful meaning, too.
Shutterfly Keyline monogram glass jar, $25, Shutterfly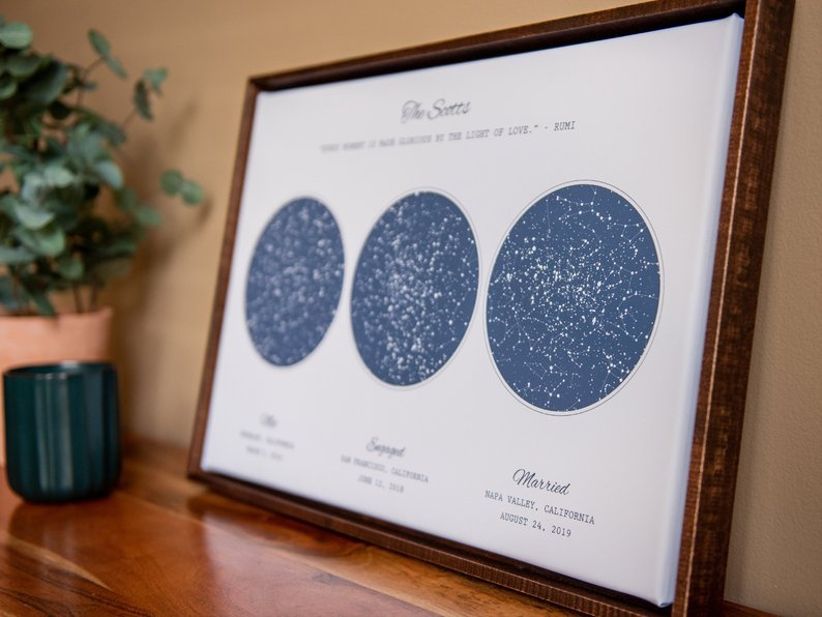 Star Map Print
If you ask most couples how they met, they'll tell you the plot line — but then finish the tale giving credit to fate. Much like every relationship goes through seasons and change, the universe follows the same rhythm, making certain dates and moments more captivating than others. Celebrate what the sky looked like the day they met, the day he got down on one knee and the day they said 'I do' with this meaningful, gorgeous print.
OurLoveWasBorn Married Map Print of 3 Skies, $34, Etsy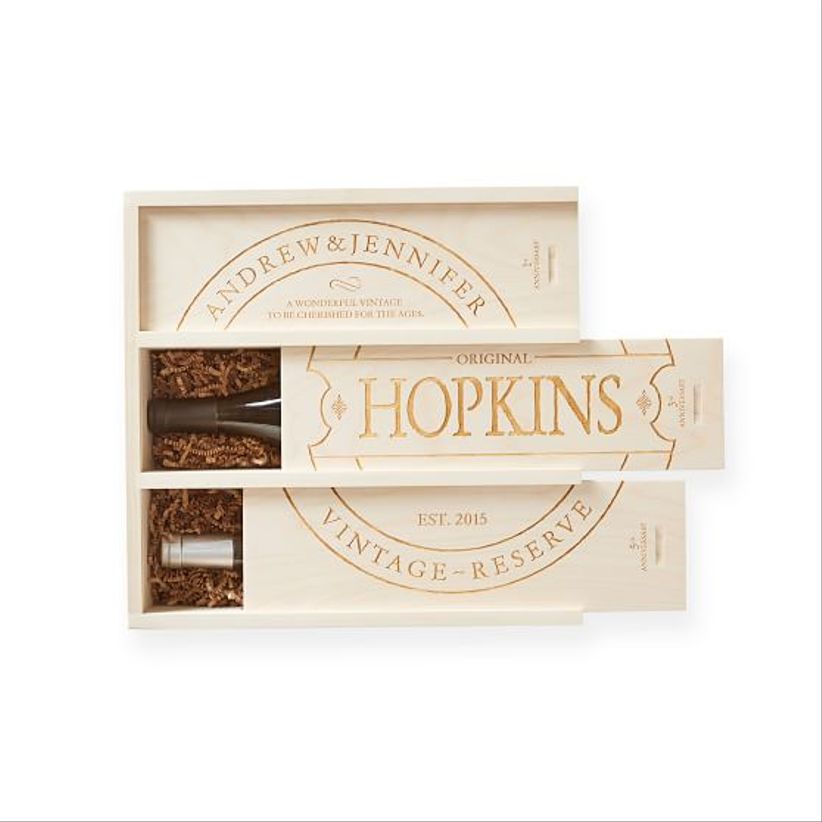 Anniversary Wine Box
They've been together for so many years, they both lost count. They've already had their first baby — and they'd like more. They own a home and have all of their items intertwined. The wedding was an afterthought but still meaningful to this couple who goes together so easily, it's crazy. Celebrate the fact they only become closer with age by gifting this personalized wine box, complete with a bottle of vino they should open in a few years.
Mark & Graham family vintage anniversary wine box, $199, Mark & Graham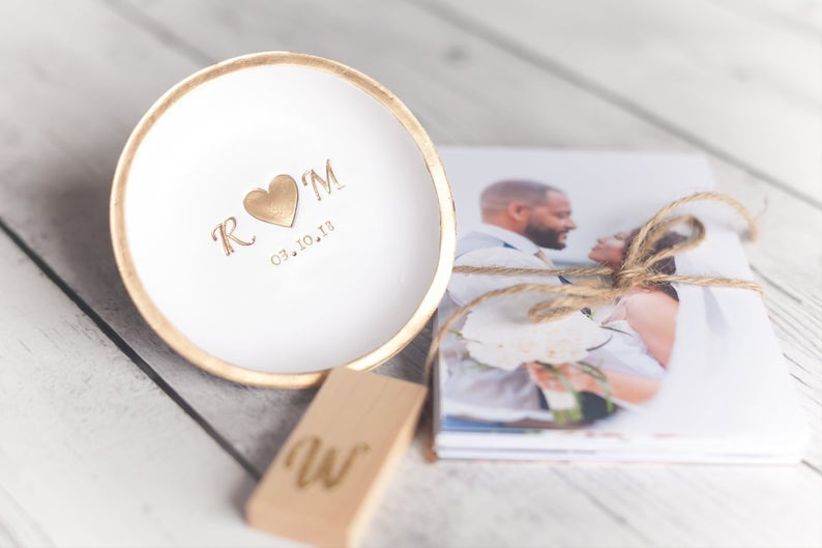 Ring Dish
After spending most of your life not wearing a ring every single day, married couples adjust to having a band around their finger… forever. Certain professions require the removal of this precious jewelry (doctor, mechanic, and so on) — so a spot for safekeeping is helpful. We love this delicate and personalized tray as a personalized wedding gift idea for the newlyweds.
StemarEarthen wedding ring holder, $16, Etsy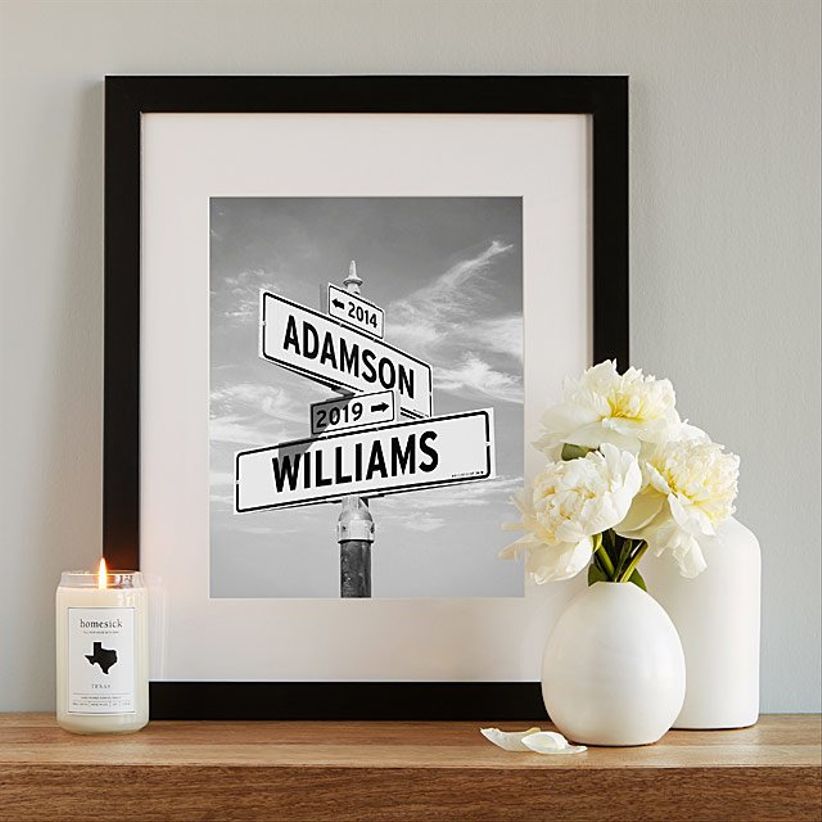 Intersection Photo
When your friend met the love of their life, suddenly, their path changed. They may have thought they were heading right — and now, they're veering left. Part of the beauty of deciding to wed is making a commitment to go along the beautiful journey of life with someone else. Gift this personalized black-and-white print that illustrates this one-of-a-kind trek.
Uncommon Goods Intersection of Love photo, $75, Uncommon Goods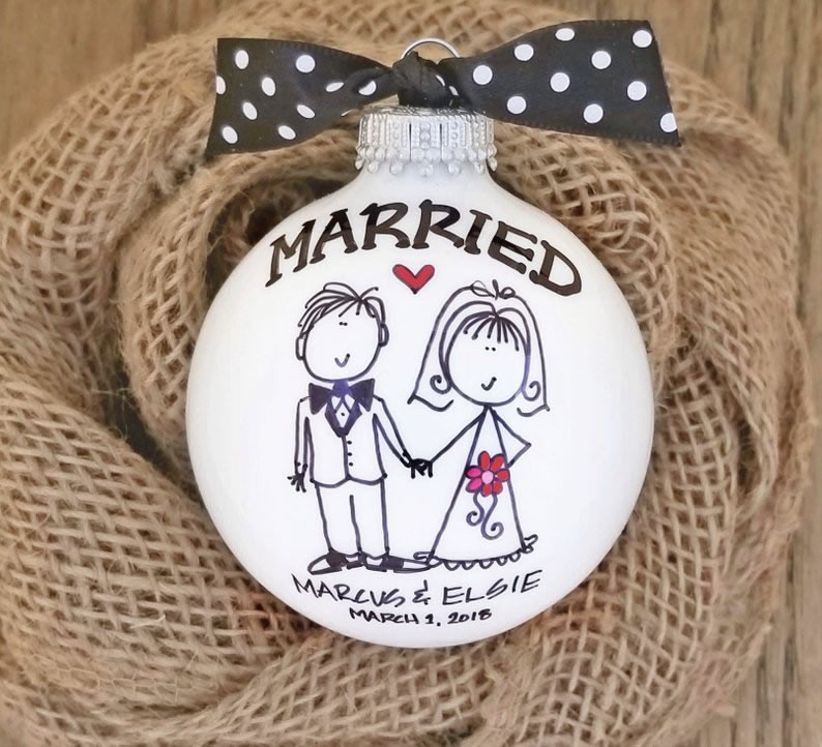 Holiday Ornaments
Once you're wed, there are many 'firsts' to have: when you sign a document with your new name, when you get into your first fight as a married couple, etc. These small moments are priceless, but holidays suddenly hold a new meaning, too. You're not just bringing a date to a family gathering, you're creating your own tribe together. That's why these sweet holiday ornaments will make your newlywed pals grin with glee.
HappyYouHappyMe wedding ornament keepsake, $45, Etsy
Framed Art Print
They spoke, they cried, they smooched — and boom! They're married! As the couple takes their first waltz together down the aisle, all of their friends pull out their nifty smartphones and capture their big 'ol smiles. If you don't mind 'last-minute' shopping, consider printing the image you take of them and having it sent directly to their house post-wedding. They'll return from their honeymoon and be floored by the thoughtfulness.
Shutterfly Simple Outline Border art print, $35, Shutterfly
Passport Holders
They've been all over the world — more than once — and always have great stories to tell upon their return. They aren't afraid of any adventure the planet proposes, even if saying 'I do' is the biggest one yet. Celebrate your pair of friends who travel more than anyone you know with these super-cute and sentimental passport holders. Time for takeoff!
WithLuvFromJulie Lifetime of Adventures passport holder for 2, $35, Etsy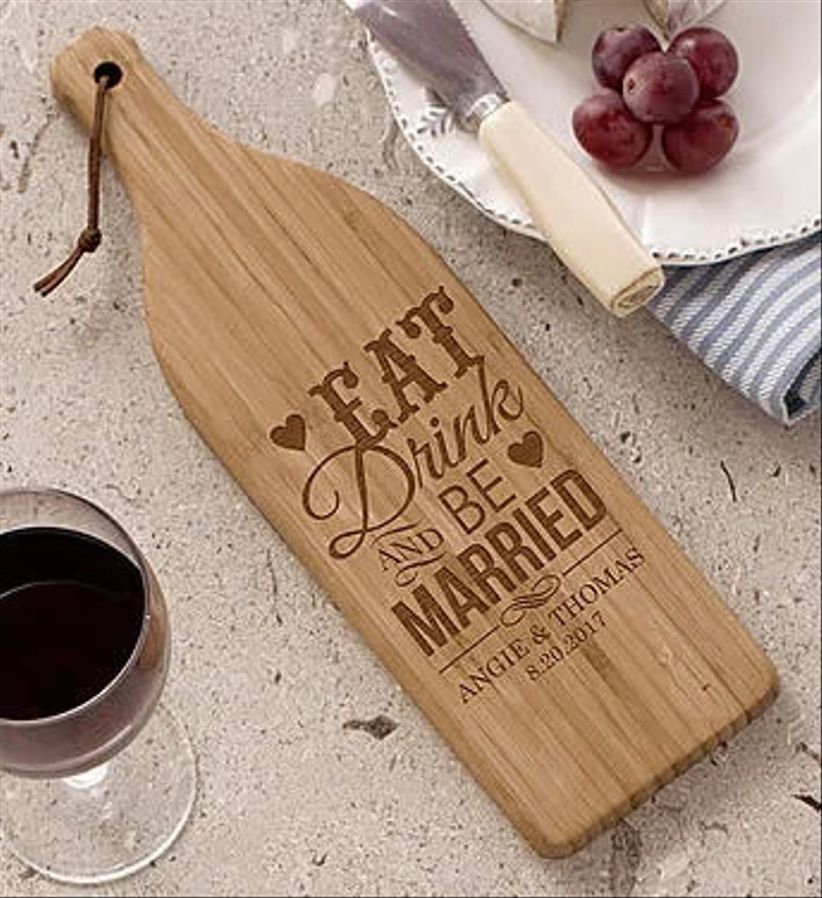 Cutting Board
When you think of the two lovebirds, you always consider their amazing parties. They welcome everyone, have far too much food and booze, and won't let the evening end without a few belly laughs. You know they have a lifetime of soirees ahead, and this personalized wedding gift idea will come in mighty handy.
1800Flowers engraved wine bottle cutting board, $30, 1800 Flowers
Wall Sign
Once they've returned from Mexico, Spain, Bora Bora, Hawaii or wherever their newlywed wanderlust takes them, it's time to return to reality. For many couples, it can be a tough transition, since so much time is put into planning and preparation. If you can swing it, have this oversized sign waiting for their arrival — reminding them that surely, the best is yet to come.
BraggingBags personalized wall sign, $36, Etsy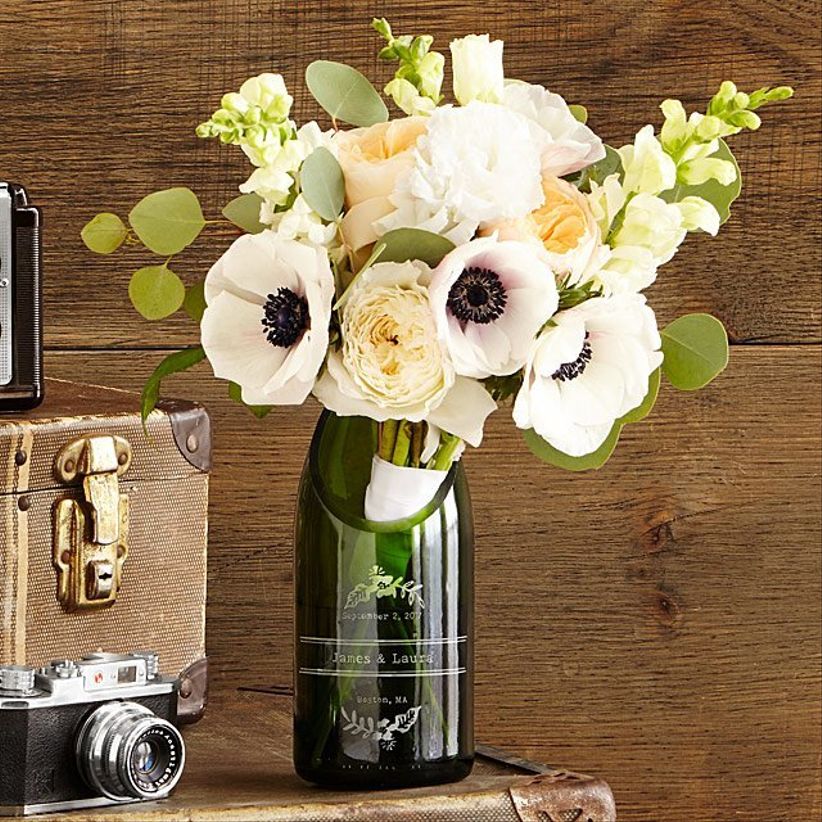 Wedding Vase
Once your bestie has dried out her wedding bouquet, she needs a way to preserve and display this special set of blooms. This personalized champagne vase is a clever and classy idea. Or, if she'd rather set it on the kitchen table as a hint to her new spouse that yes, she still wants to receive flowers regularly, that works, too.
Uncommon Goods personalized champagne wedding vase, $75, Uncommon Goods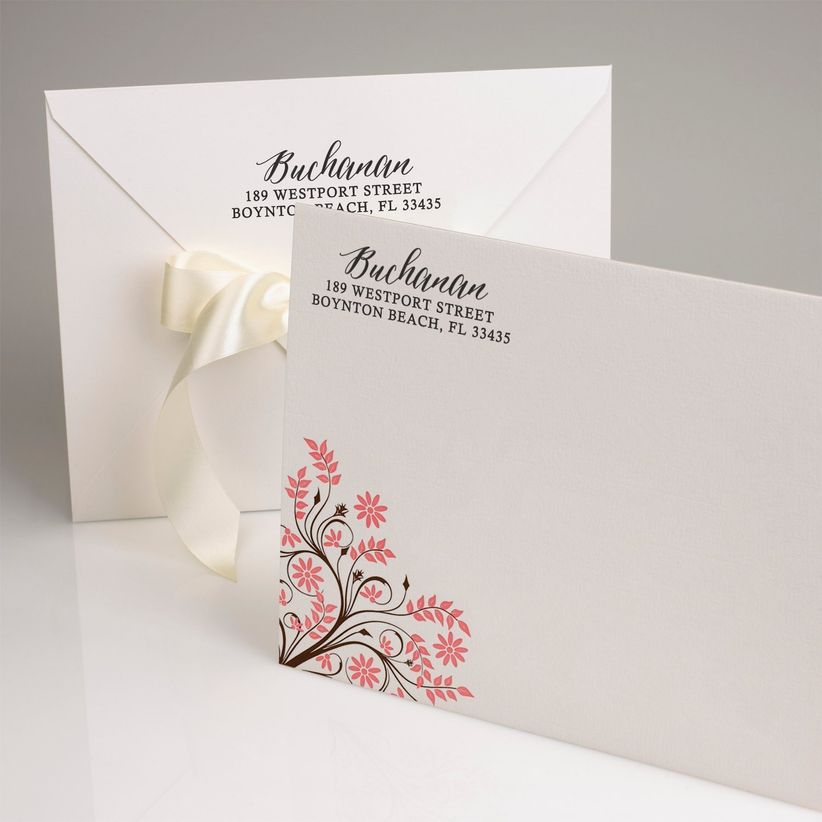 Custom Address Stamp
While wedding planning was definitely the most stressful part of the big day process — once the couple has settled in, it's time to whip out the pen and paper to write those pesky thank-you notes. You can make at least some parts of the scribbling and mailing easier with this address custom stamp for the back of envelopes. Might we suggest gifting a bottle of wine to go along with it?
MaxMark custom return address stamp, $20, Amazon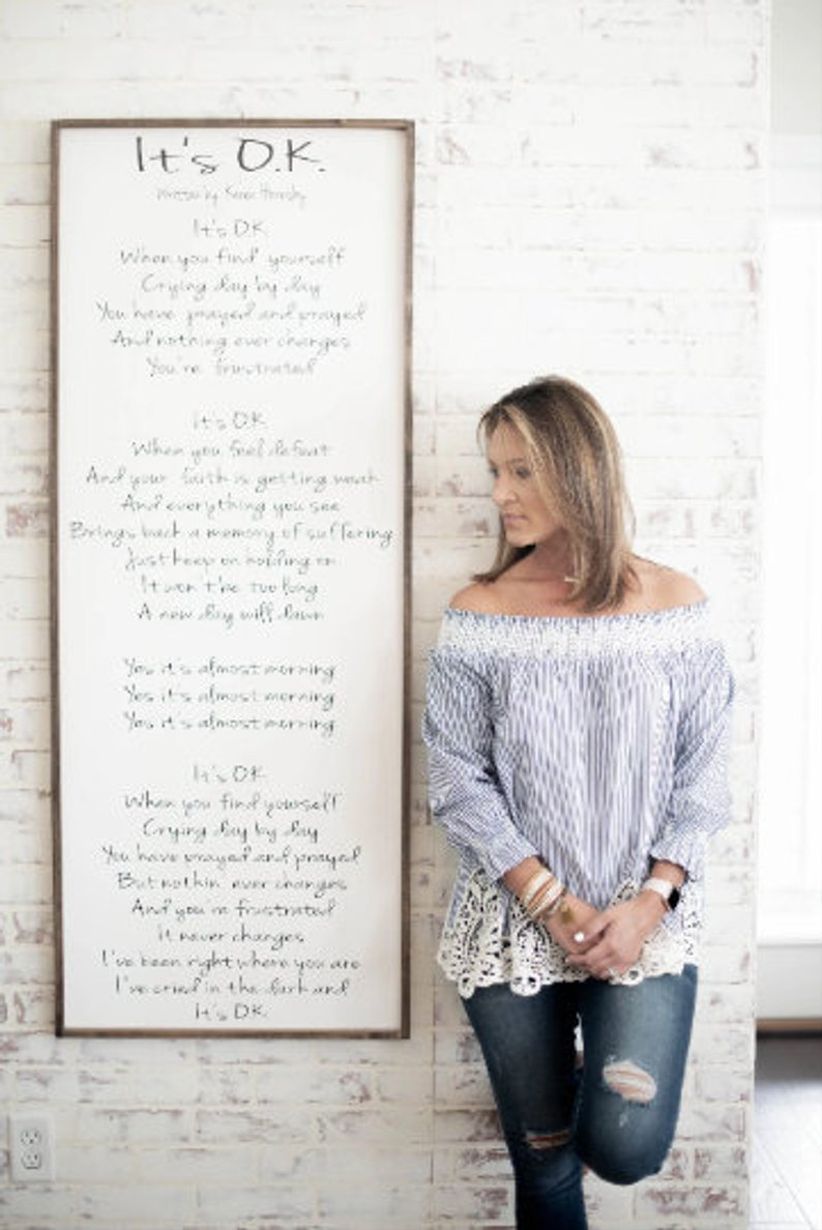 Song Lyrics Art
Every couple has that song. The one that reminds them of their partner, of the love they share and the life they hope to build together. You can really 'wow' your best friend and their new mate with this custom work of art that details these sentimental lyrics, one of our favorite personalized wedding gift ideas.
MadiKayDesigns first dance song wall art, $96, Etsy
Serving Set
Sure, they may not be able to use these stainless steel server set on their wedding day, but you know when they can? Their first anniversary when they dig into the cake they kept. On their child's first birthday. And on their second child's, too. When they host their extended family for Thanksgiving. One little gift that will make its rounds for years to come.
PLS Market personalized wedding server set, $23, Amazon
World Map Poster
They haven't been everywhere — yet — but they're making their way across a big 'ol bucket list of the big 'ol world. This personalized wedding map lets you add their name and wedding date, and then gives them the opportunity to put a pin where they want to head, where they've been and where they've loved. Happy trails!
PaperRamma push pin world map poster, $81, Etsy
Disclosure: This post contains affiliate links, some of which may be sponsored by paying vendors.