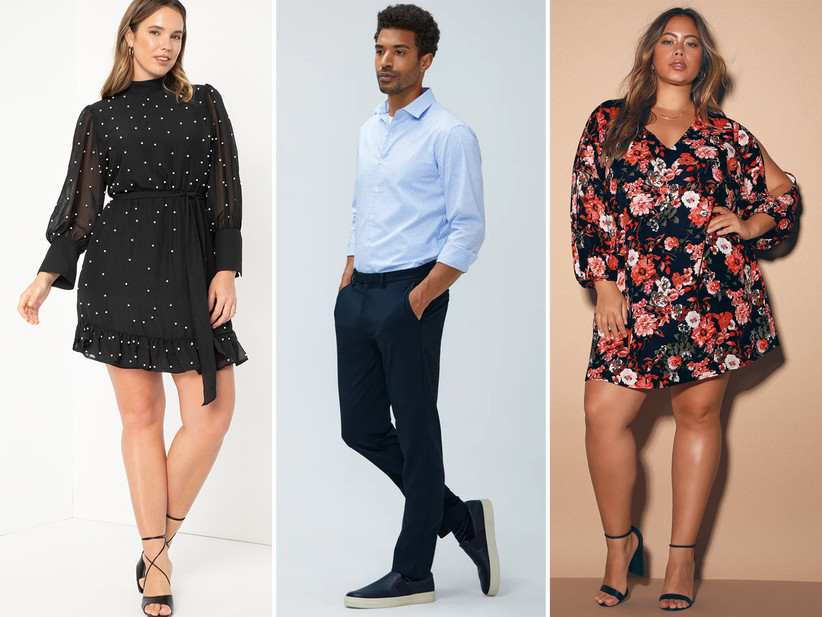 If you were lucky enough to nab an invite to a rehearsal dinner, you might be wondering about wardrobe choices. There are a few things to consider when choosing what to wear to a rehearsal dinner. First things first, respect the dress code. While it's important to look the part, you certainly don't want to upstage the soonlyweds. Remember, this is their time to shine. If you're not sure what the dress code means or the couple hasn't announced one, don't worry. We've got all the best tips below to help determine just how formal the event is. Then, once you've got to grips with the guidelines, we've gathered the most stylish rehearsal dinner outfits for guests you can shop right away.
How to Dress for a Rehearsal Dinner as a Guest
The first thing you should look for before deciding what to wear to a rehearsal dinner is a specific dress code. If you're not sure where to find it (or the couple hasn't provided one), we've got some tips to help you out.
Check your invitation. The couple may have included a theme or dress code for your convenience. If not, you might still be able to do some sleuthing based on how formal the wording is.
Think about the type of celebration and the timing. An 8pm sit-down dinner is a lot more formal than an afternoon brunch.
Consider the type of venue. If the event is taking place in a fancy country club you might want to break out your best evening-wear. If it's in the couple's backyard or at their parents' house, you can probably tone it down.
When in doubt, ask around. Feel free to contact the venue to find out if they have a dress code. As a last resort, you could also reach out to someone in the wedding party or a member of the couple's family (just try not to ask the soonlyweds—they've got enough on their plate).
What to Wear to a Wedding Rehearsal: Dos and Don'ts
Before you go splashing out on a nice new outfit, check out our answers to some of the most frequently asked questions about rehearsal dinner dress code etiquette.
Can guests wear white to a rehearsal dinner? While the couple may not mind, it's better to play it safe. White is usually only worn by the bride for all pre- and post-wedding festivities. On top of that, there are a few other wedding colors to avoid, like pale pinks and soft neutrals, as these could be mistaken for white.
What about the wedding colors? As a general rule, the wedding colors should be reserved for the wedding party on the big day. Try to avoid accidentally donning the couple's carefully chosen palette.
Should you wear a jacket? That depends on the type of celebration. Keep in mind that your rehearsal dinner outfit should be less formal than what you wear to the wedding. If the big day is black tie, you will probably be expected to wear a semi-formal suit the night before. But, if the rehearsal is very casual (think: backyard barbecue), ditch the jacket and opt for something a little more relaxed.
What about a tie? Again, this depends on the formality of the occasion (and the venue). If the dress code is formal or semi-formal, a tie is expected. The good news is you can easily put on or remove one after you arrive if you're unsure.
The Best Rehearsal Dinner Guest Attire for Women
The night before the wedding is usually dedicated to the couple's closest friends and family, so earning a seat at the table means they really appreciate you, no matter what you're wearing. That said, it's nice to get dressed up every once in a while. Check out the best rehearsal dinner dresses, jumpsuits, and more for guests right here.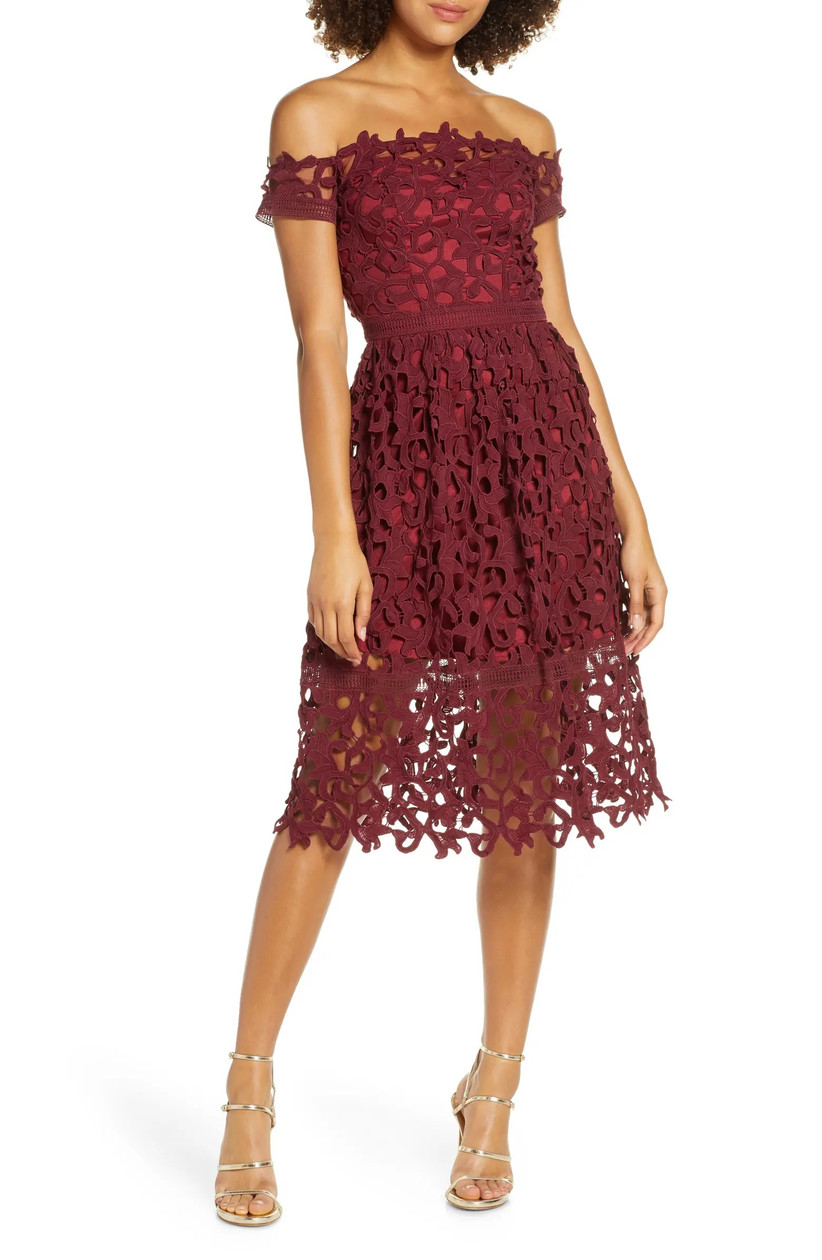 Salute the season.
If the wedding is black tie, the rehearsal may be a formal affair too. This cocktail dress is a good pick for fancier celebrations. Plus, the rich burgundy color makes it a trendy winter rehearsal dinner dress for a guest.
Chi Chi London off the shoulder lace cocktail dress in Burgundy, $130, Nordstrom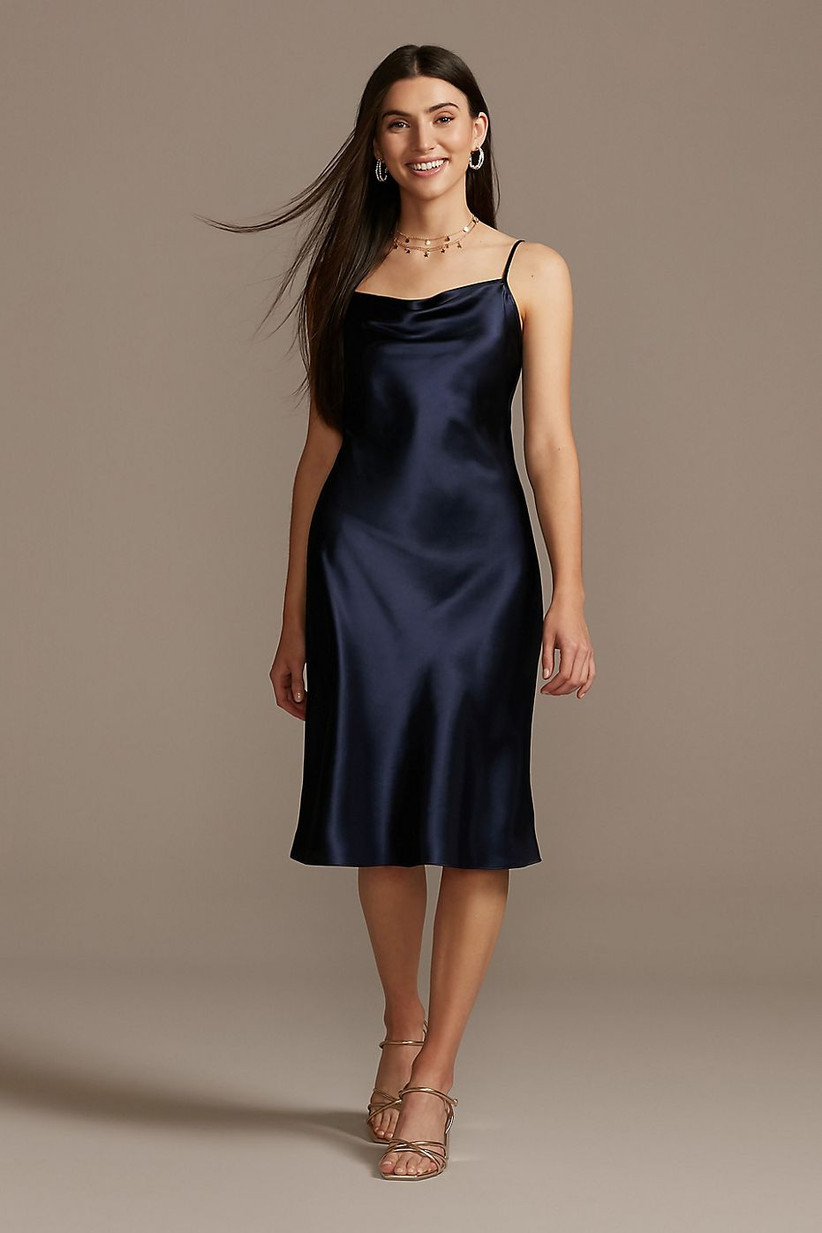 Play it safe.
Pair this minimalist midi with a pair of sandals or flats if you're not sure just how elaborate the event is. It's an outfit that elegantly walks the line between formal and semi-formal.
David's Bridal midi satin slip dress with spaghetti straps, $80, David's Bridal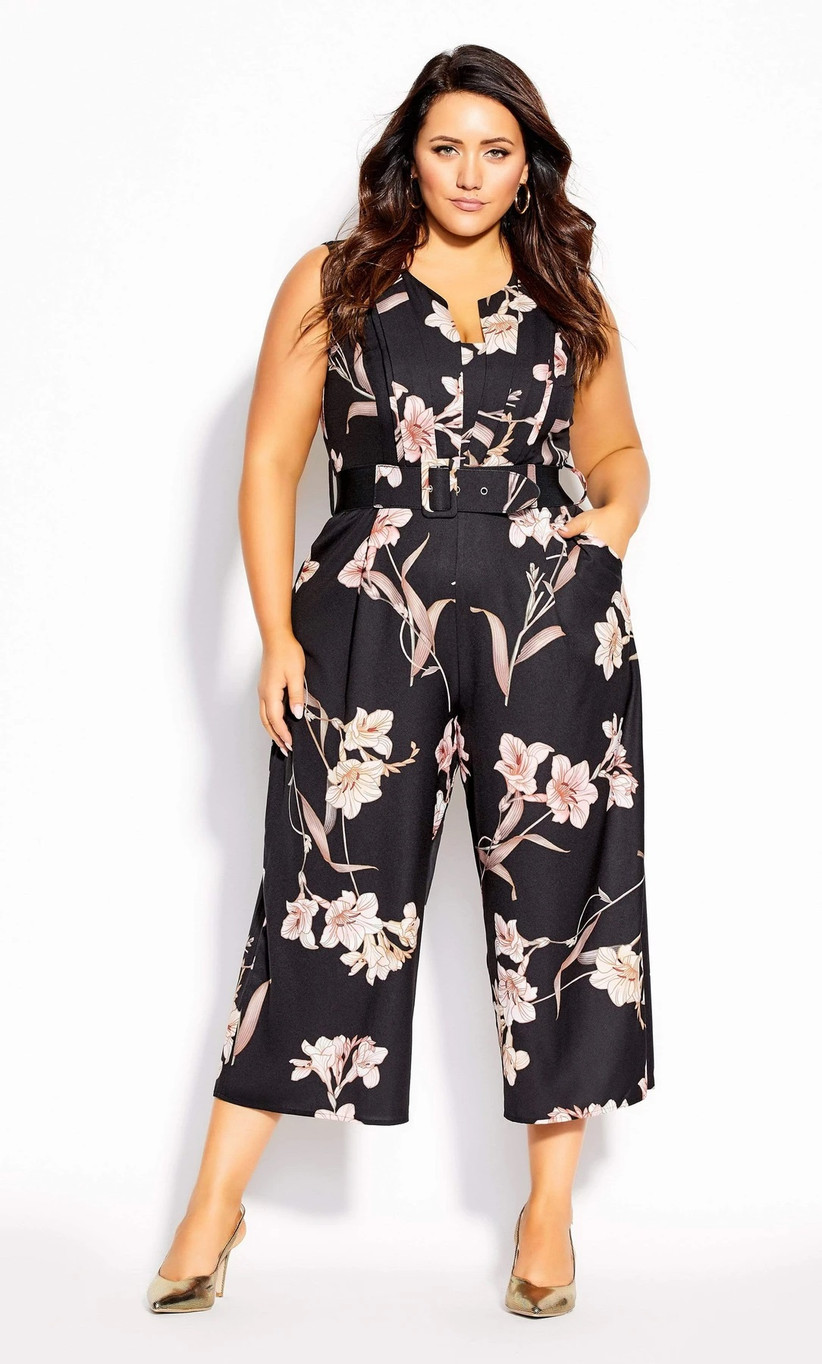 Keep it casual.
A dress isn't the only option for rehearsal dinner guests. This floral wide-leg jumpsuit makes a statement without demanding too much attention. But take note: An official casual dress code is still a lot dressier than your Sunday evening sweats.
City Chic floating jumpsuit, $109, CoEdition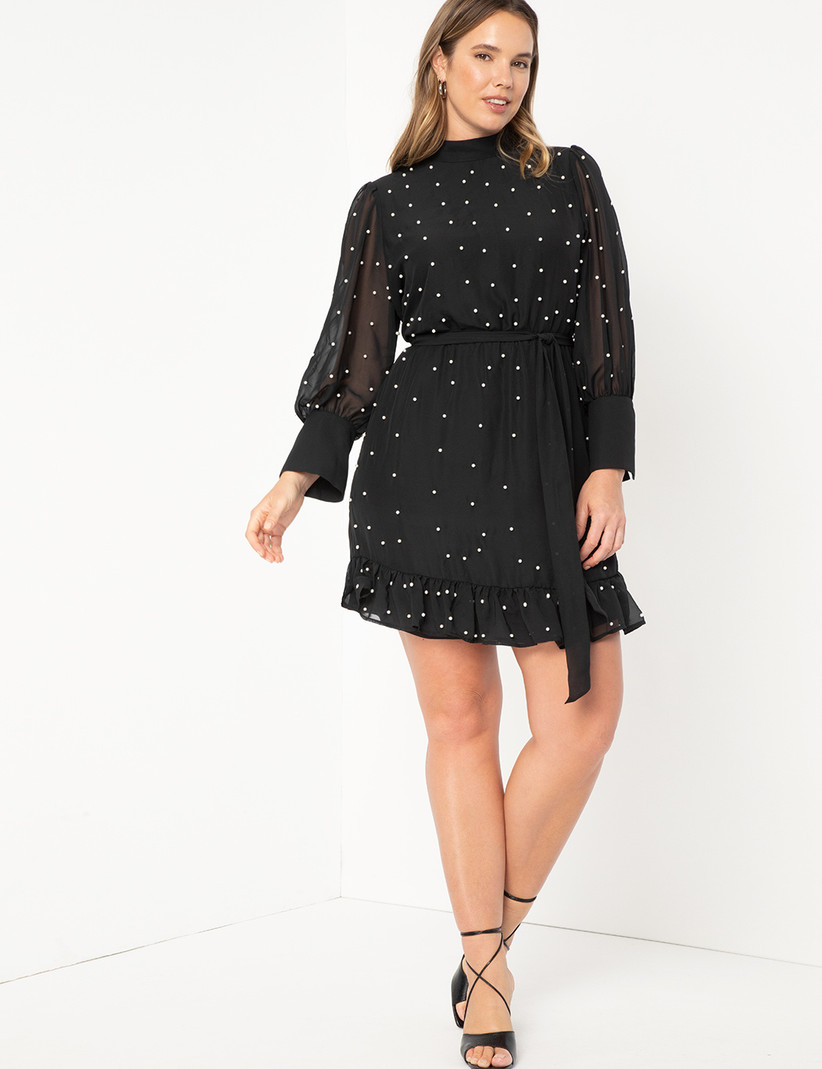 Dress it up (or down).
An LBD is another versatile rehearsal dinner dress for guests that'll easily work for both casual and semi-formal events. Add heels and a statement pair of earrings for a late dinner, or stick to flats and minimalist accessories for day-time events.
ELOQUII pearl embellished chiffon dress, $150, ELOQUII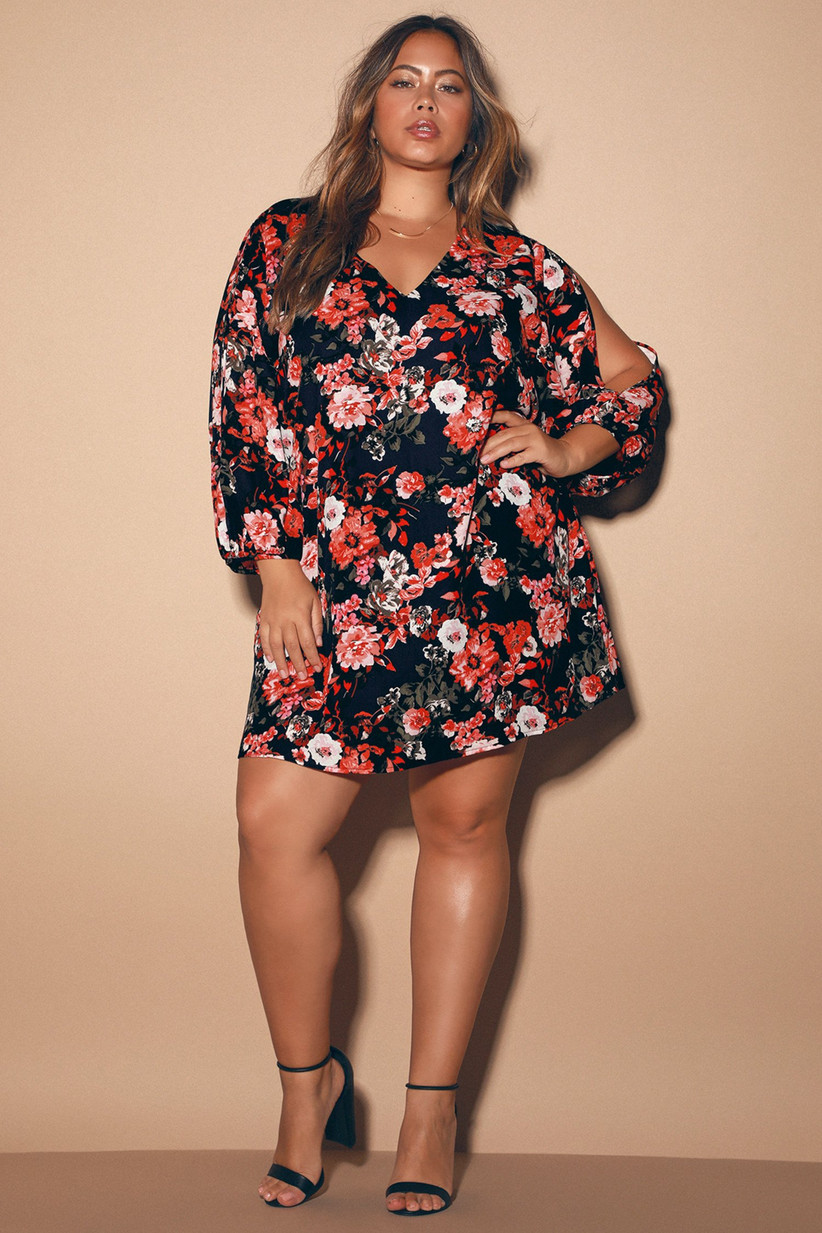 Pick something patterned.
While a guest wearing white to a rehearsal dinner is risky business, bright floral patterns are totally safe. We especially love the contemporary cutout sleeves and flattering silhouette of this romantic shift dress.
Lulus Shifting Dears navy blue floral print dress, $46, Lulus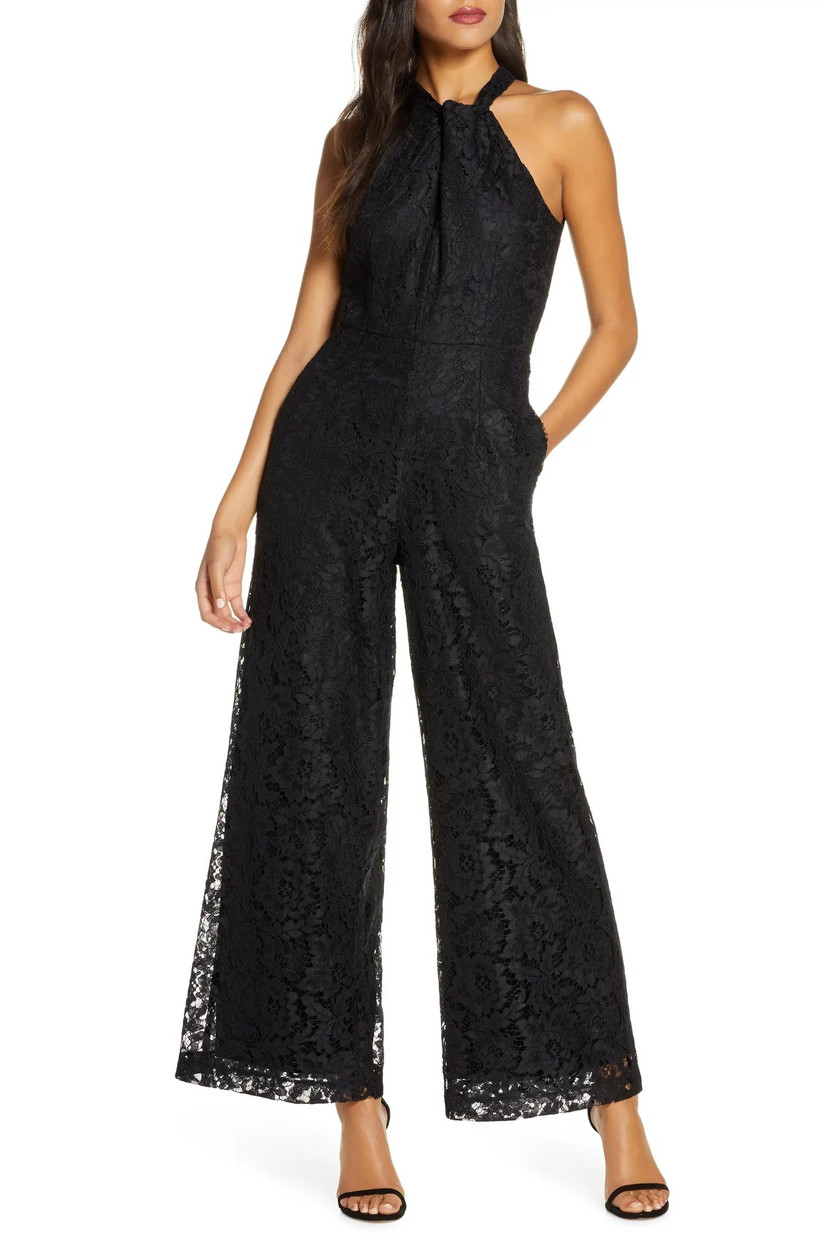 Shake it up.
Jumpsuits are having a moment, and this lacy black one certainly fits the bill for a special occasion. It may not be traditional cocktail attire, but this rehearsal dinner outfit might just make you the best-dressed guest.
Julia Jordan wide leg lace halter jumpsuit in Black, $148, Nordstrom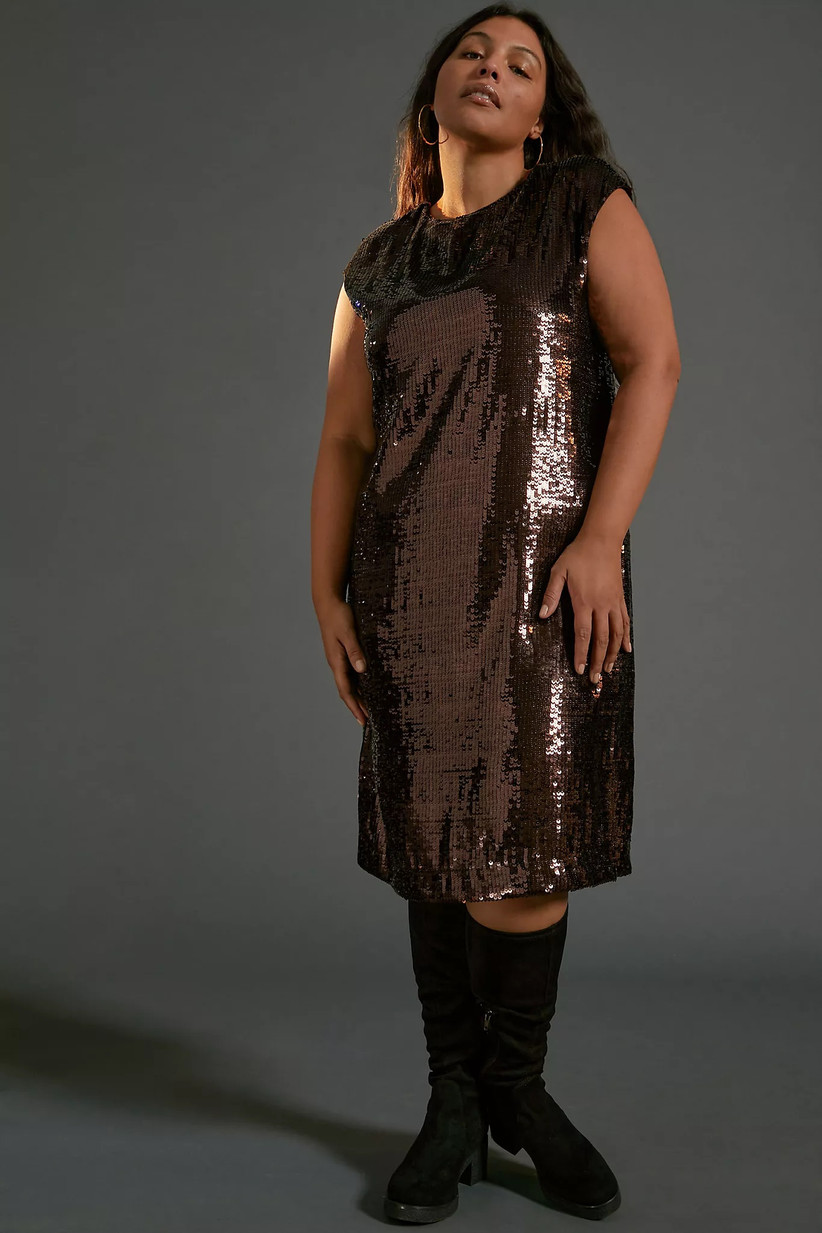 Let it sparkle.
A guest's wedding rehearsal dress certainly shouldn't outshine the soonlyweds. That said, this sequin-covered number comes in a dark enough shade not to snatch the spotlight. The reddish-brown hue makes it a fitting fall rehearsal dinner outfit for a guest.
Anthropologie Kara sequined mini dress in Wine, $168, Anthropologie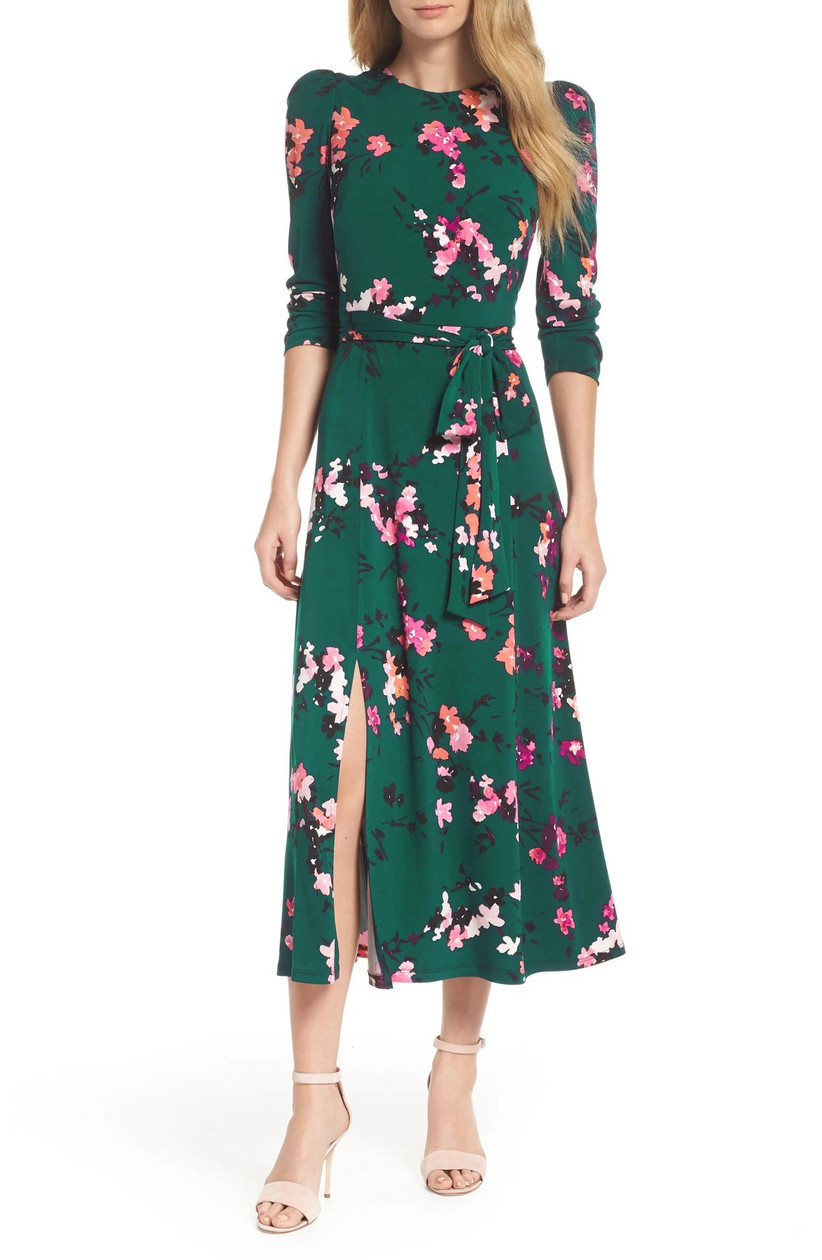 Go bright and botanical.
Bright colors and floral patterns are a match made in heaven. This gorgeous green midi will look just as stunning dressed up with heels for a cocktail party as it will matched with a comfy pair of sandals in the couple's backyard.
Eliza J floral print midi dress in Green, $138, Nordstrom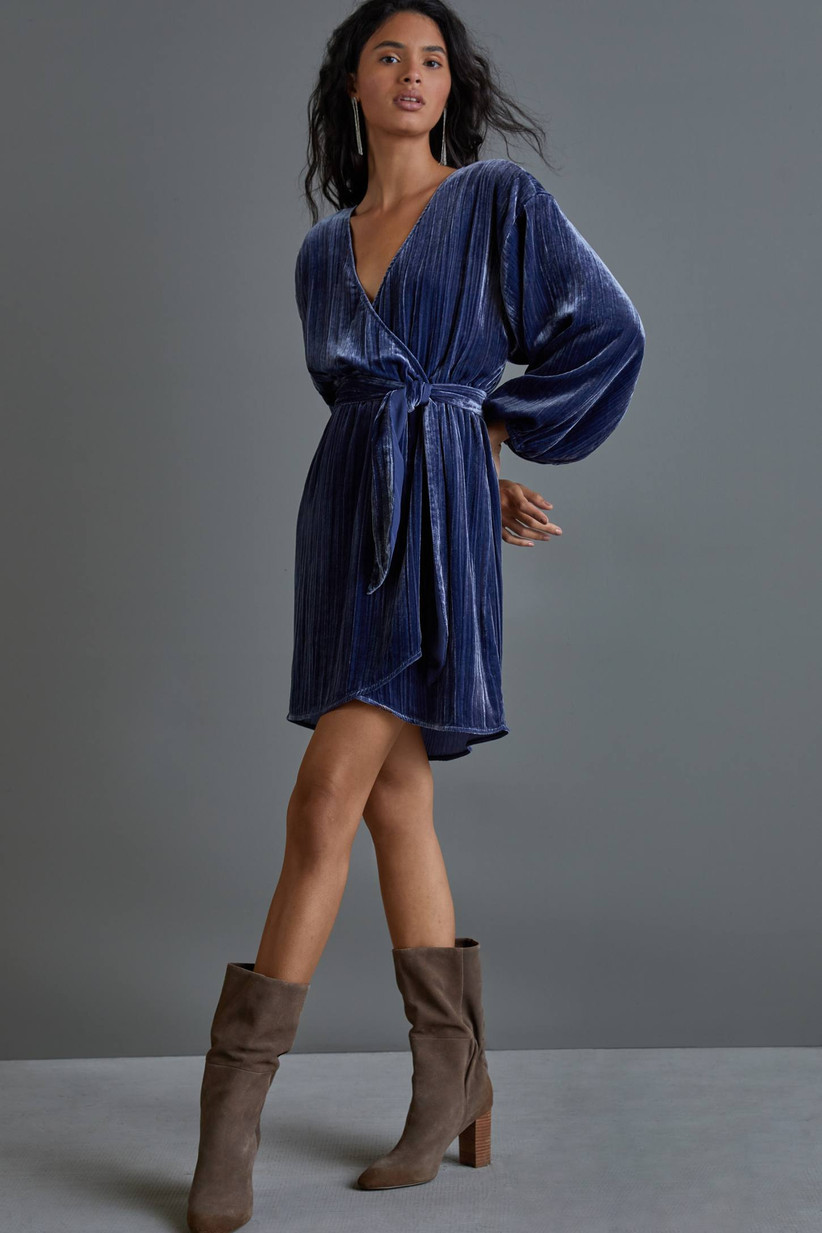 Embrace the theme.
The velvety texture adds a little extra luxury to this wedding rehearsal dinner dress for a guest. Wear it with your best pair of boots for a chic country style.
Anthropologie Sofia velvet wrap mini dress in Dark Blue, $168, Anthropologie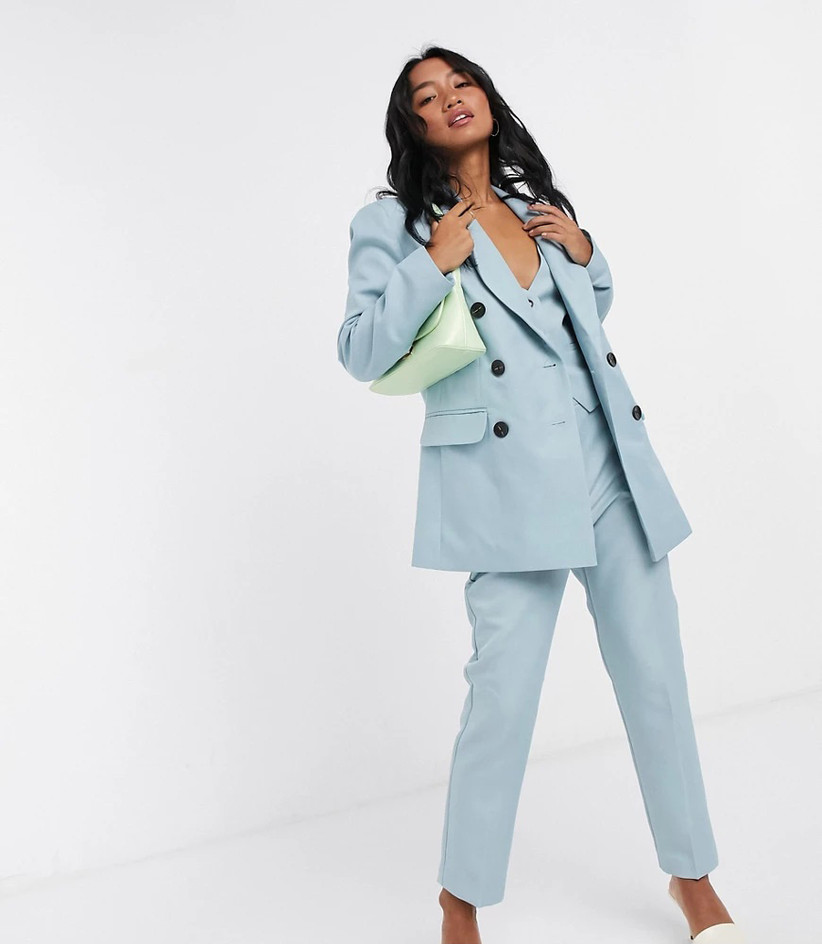 Suit up.
Bright pastels are popular when it comes to spring and summer rehearsal dinner outfits for guests (just make sure it definitely won't look white). If dresses and jumpsuits aren't your thing, try this suave three-piece suit in a soft shade of blue. Add or remove the vest depending on the dress code.
ASOS Design petite 3 piece dad suit in Chalky Blue, ASOS
The Best Rehearsal Dinner Guest Attire for Men
Like we said before, the couple appreciates you for you. If you don't have an extensive suit collection, don't sweat it. Nowadays, wedding rehearsal outfits for men are usually a little on the casual side anyway. That said, we've still got a couple of awesome suit suggestions below, as well as lots of other cool ideas for what to wear to a rehearsal dinner.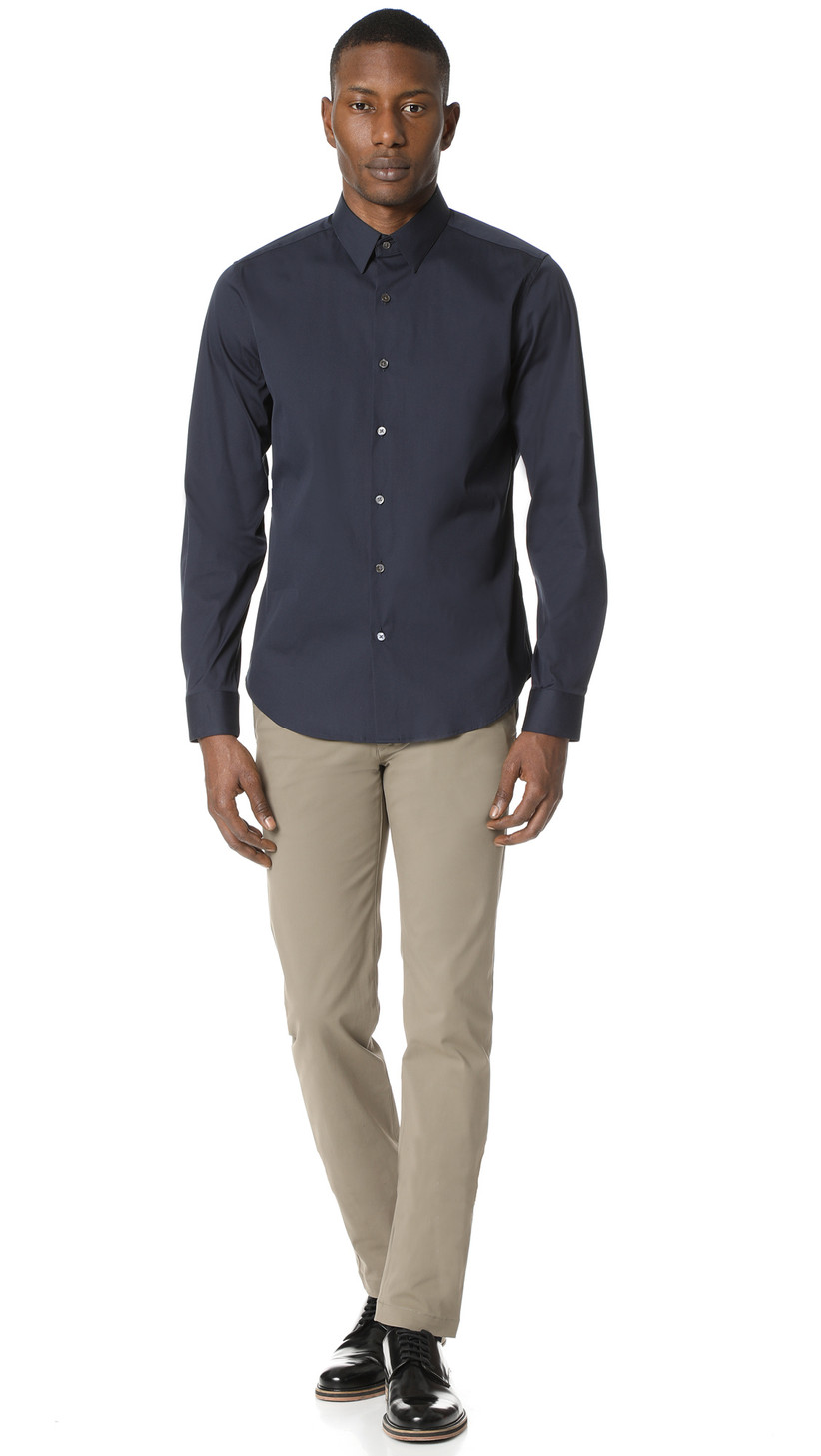 Lose the jacket.
A long-sleeve button-down and neutral slacks make for a casual yet put-together look. Unless the invitation (or the venue) requests formal or semi-formal attire, you're good to go sans jacket.
Theory Sylvain long sleeve button down shirt in Eclipse, $195, East Dane; Theory Zaine neoteric trousers in Bark, $195, East Dane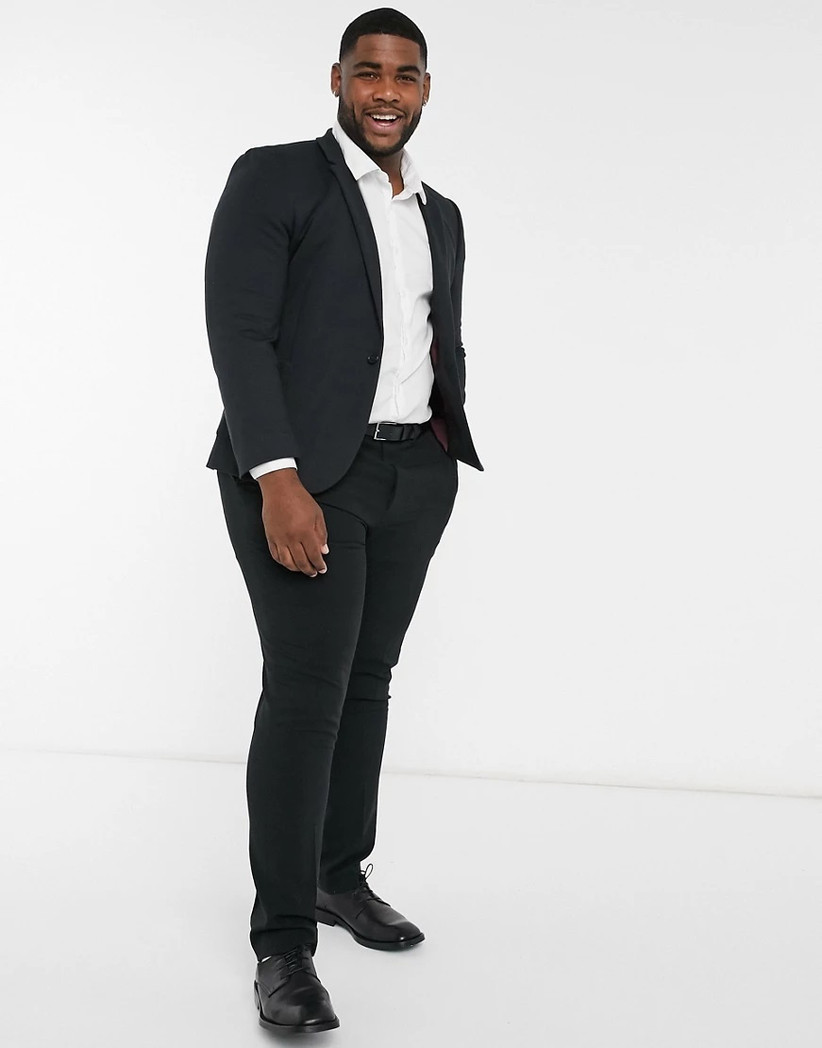 Adapt to the dress code.
Pair this blazer and dress pants combo with a simple white shirt and your favorite tie. If you feel overdressed, you can easily lose the tie and jacket once you've eyed up what other guests are wearing.
ASOS Design plus super skinny jersey blazer in Black, $64, ASOS; ASOS Design plus slim suit pants in Black, $40, ASOS
Get it made to measure.
If the invitation calls for cocktail attire, you may have to pull out your second-best suit (save the tux for the wedding day!). If you're willing to splurge a little, we love this suave pinstripe ensemble. It comes in a timeless charcoal color and is customized to your exact measurements. You can easily wear this one again for future events.
Indochino Hemsworth stripe charcoal suit, $429, Indochino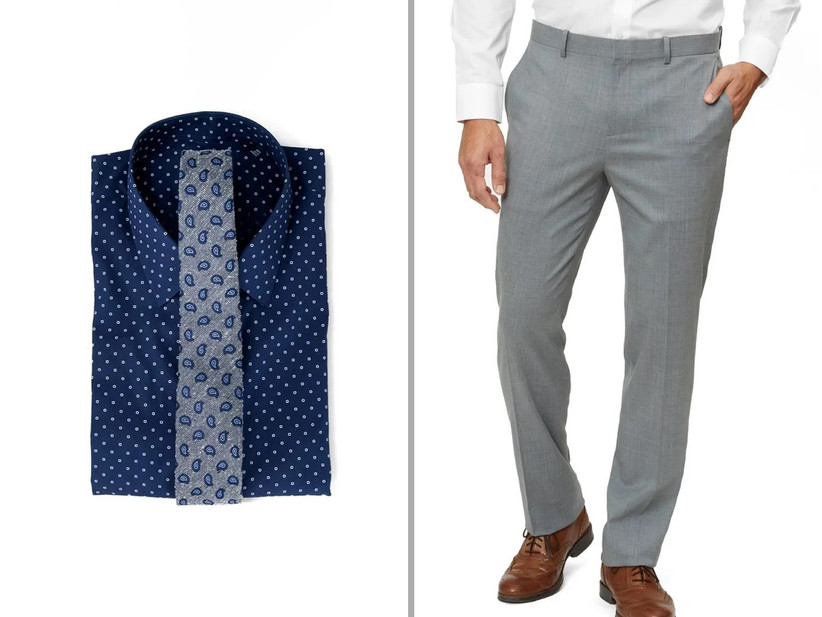 Choose classic combos.
Still wondering what you should wear to a rehearsal dinner? For most celebrations, a nice button-down shirt and dress pants are enough. We suggest sticking to colors that definitely work together, like navy and gray.
The Tie Bar printed dot non-iron dress shirt in Navy, $55, The Tie Bar; The Tie Bar solid wool dress pants in Light Gray, $75, The Tie Bar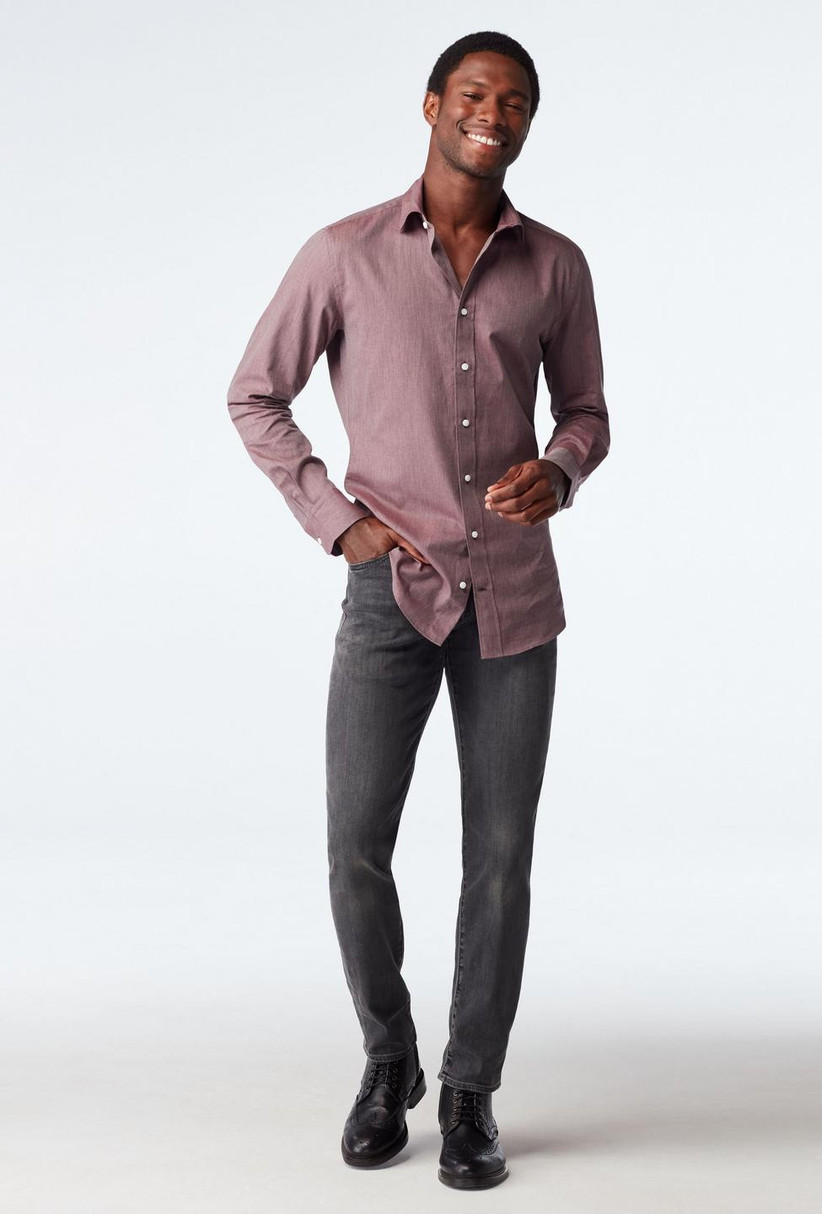 Don your best denim.
If the couple's wedding is more casual than a traditional soiree (think: beach or barnyard), the rehearsal dinner will likely be a laid-back event. But don't reach for an old tee just yet! You're still required to dress up a little. Match this comfy button-down shirt with your best dark-wash jeans and a smart pair of shoes.
Indochino Dilham melange burgundy casual shirt, $79, Indochino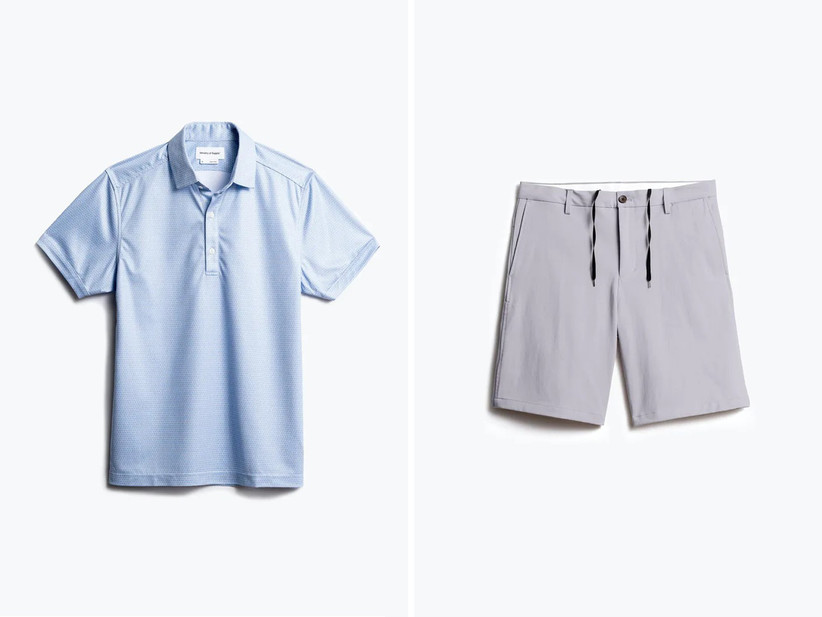 Play it cool.
This casual rehearsal dinner outfit for guests is perfect for the summer. Whether it's a relaxed barbecue or a beachside brunch, you'll feel right at home in a breathable polo and flattering chino shorts.
Ministry of Supply Apollo men's polo, $85, Ministry of Supply; Ministry of Supply Momentum men's chino short, $105, Ministry of Supply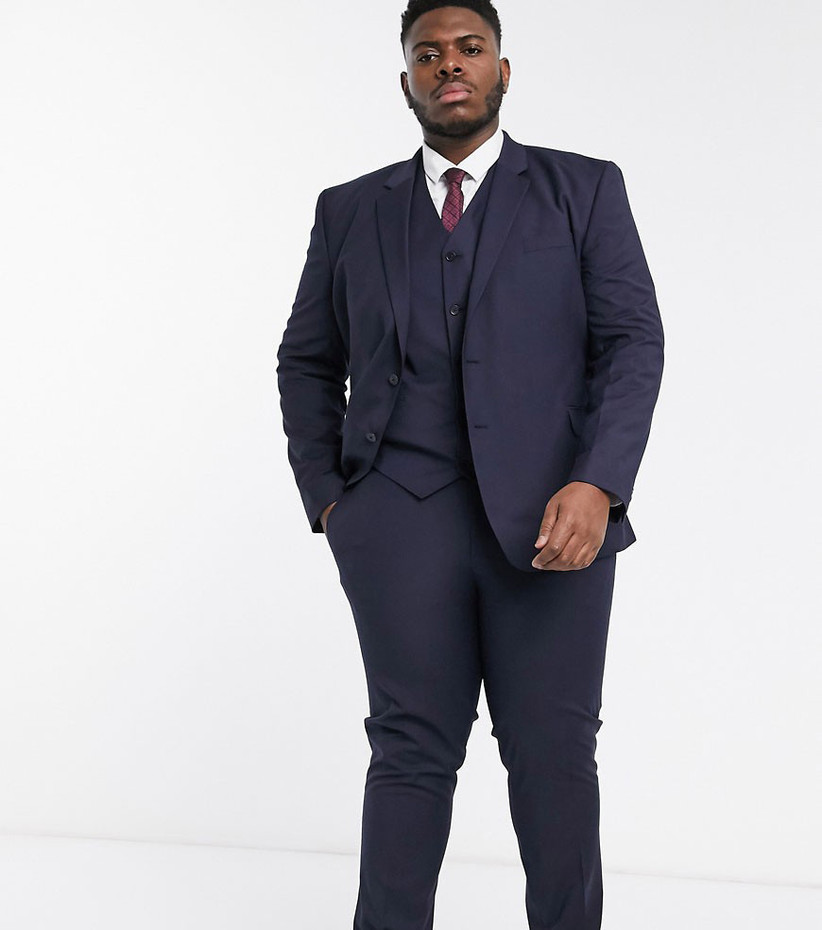 Get suited and booted.
Here's another sophisticated option if a formal rehearsal dinner dress code has been provided for guests. The three-piece suit features a modern slim fit, and let's face it, navy looks good on everyone.
ASOS Design plus navy slim suit, $167, ASOS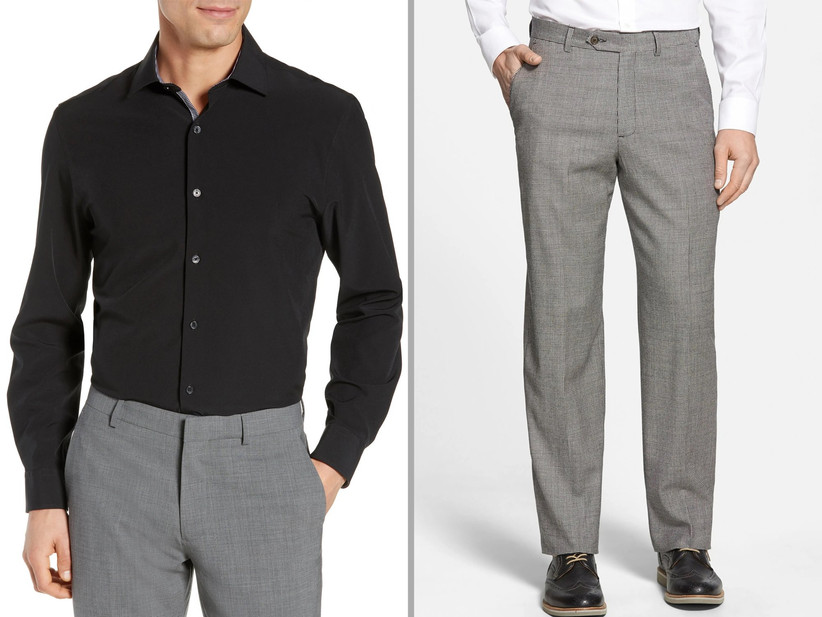 Go back to black.
When in doubt, go with dark colors like black, charcoal, and gray. You'll look undeniably dapper in a sleek black dress shirt and some classic gray slacks.
W.R.K. trim fit solid performance stretch dress shirt in Black, $98, Nordstrom; Berle flat front houndstooth wool trousers in Charcoal, $150, Nordstrom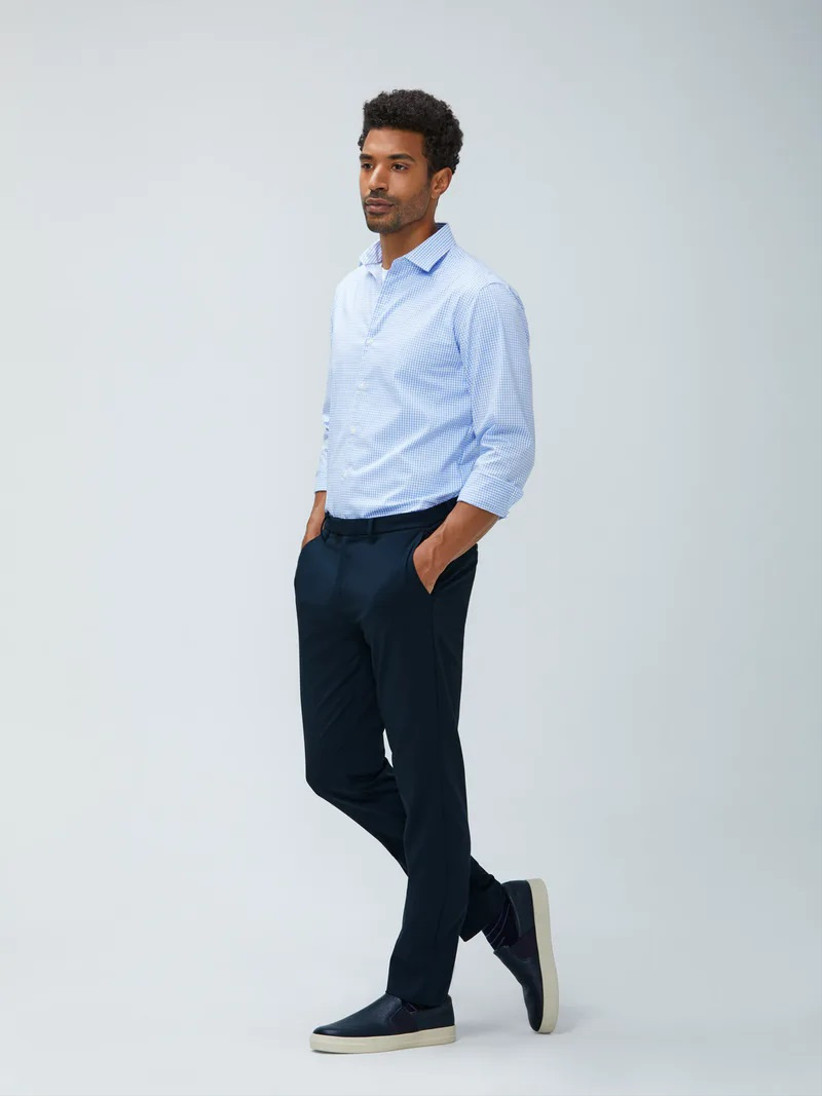 Prioritize comfort.
Wearing a button-down shirt doesn't have to be uncomfortable. This one is made from soft, moisture-wicking materials so you can look and feel good all day long. Four-way stretch fabric makes the pants just as snug. It's a casual outfit you'll never want to take off.
Ministry of Supply Aero men's shirt, $125, Ministry of Supply; Ministry of Supply Velocity men's pant, $185, Ministry of Supply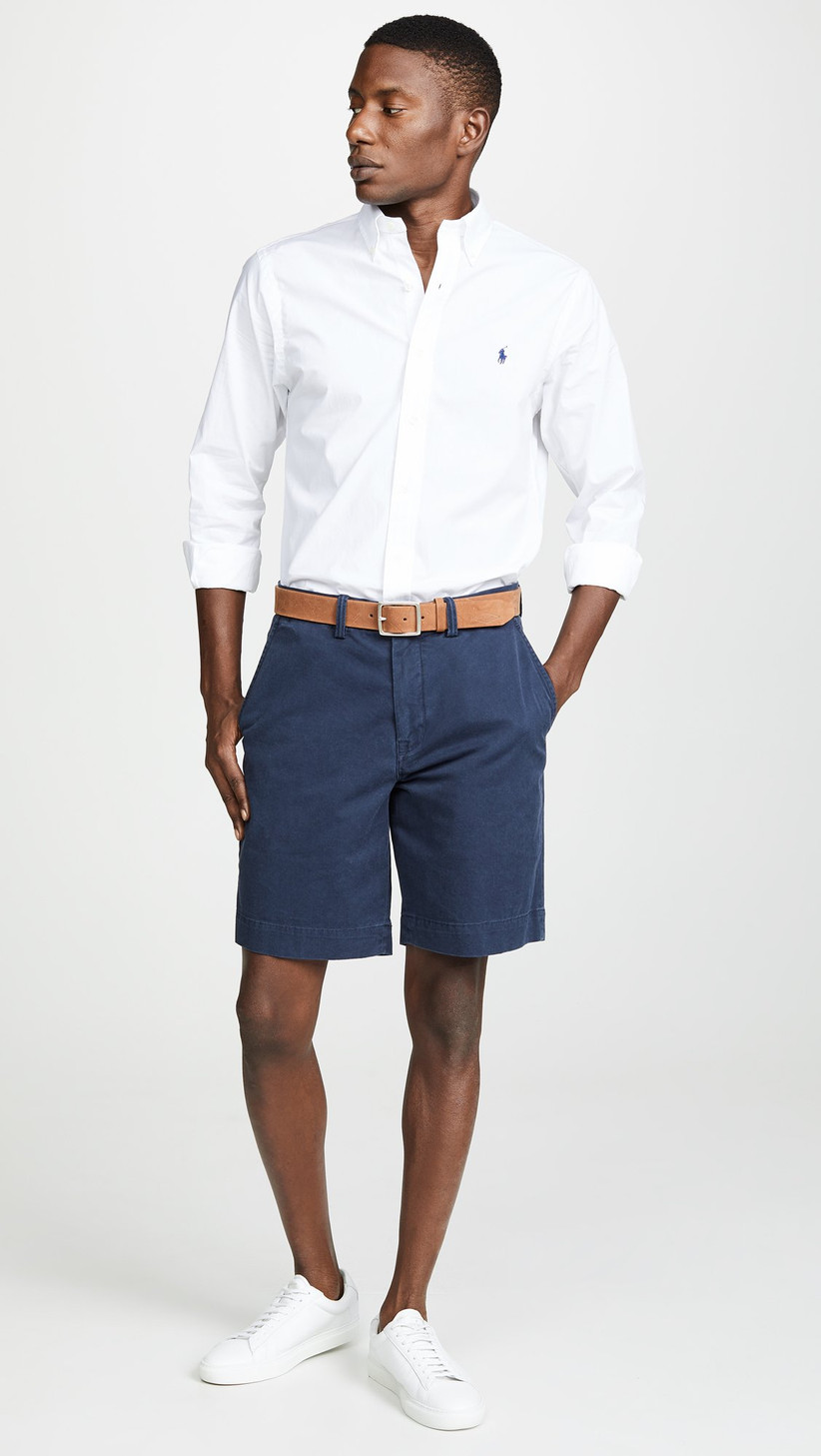 Ditch the dress pants.
Shorts aren't off limits, especially if it's a laid-back event with no formal invite or fancy venue. You might want to opt for something a little more upscale than your everyday khakis, though. Try a pair of lightweight chino shorts and a standard button-down shirt.
Polo Ralph Lauren slim stretch poplin shirt, $99, East Dane; Polo Ralph Lauren stretch chino shorts, $80, East Dane
Disclosure: This post contains affiliate links, some of which may be sponsored by paying vendors.