What to Wear to a Rehearsal Dinner as a Guest of the Happy Couple
Stuck on what to wear to an upcoming wedding rehearsal? Read this guide for guests.
We have included third party products to help you navigate and enjoy life's biggest moments. Purchases made through links on this page may earn us a commission.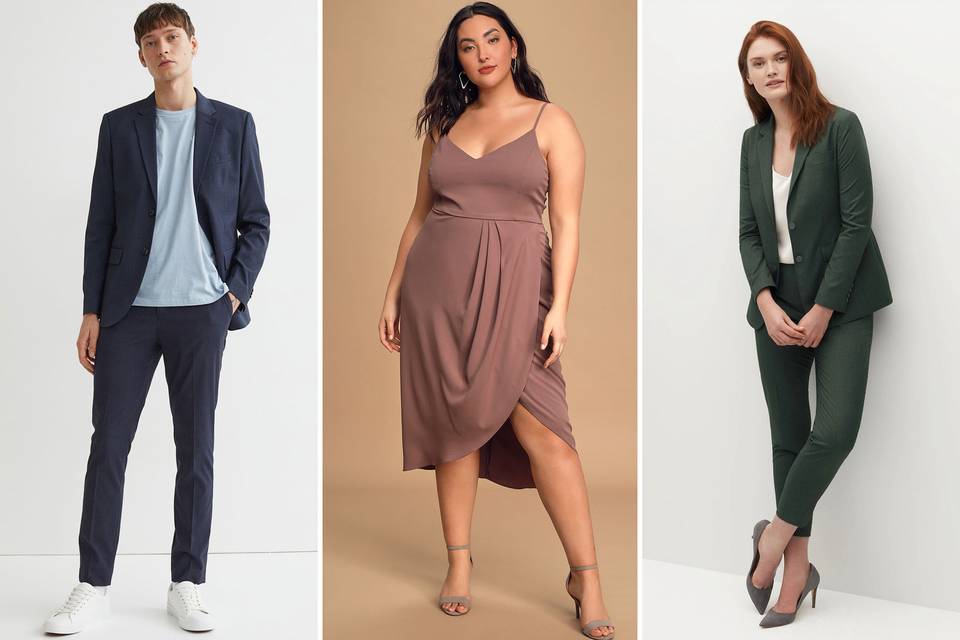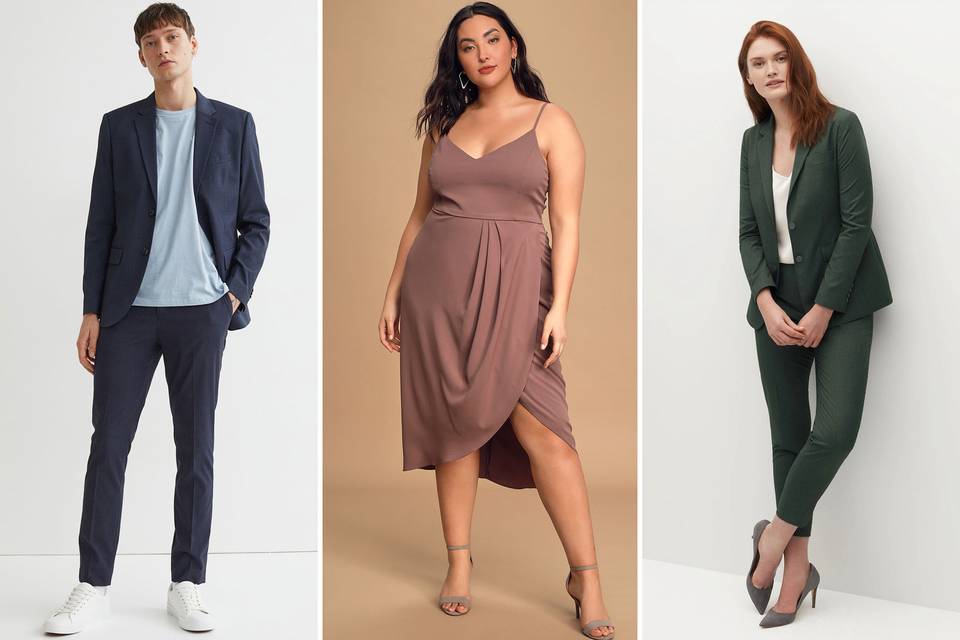 If you were lucky enough to nab an invite to a wedding rehearsal, you might be wondering about wardrobe choices. There are a few things to consider when choosing what to wear to a rehearsal dinner. First things first, respect the dress code. "A dress rehearsal is an important event during a wedding and it can be formal, semi-formal, or even casual," says Drew Green, president and CEO of the popular menswear retailer Indochino. If you're not sure what the dress code means or the couple hasn't announced one, don't worry. We've got all the best tips below to help determine just how formal the event is. Then, once you've got to grips with the guidelines, we've gathered the most stylish rehearsal dinner outfits for guests you can shop right away.
How to Dress for a Rehearsal Dinner as a Guest
The first thing you should look for before deciding what to wear to a rehearsal dinner is a specific dress code. If you're not sure where to find it (or the couple hasn't provided one), we've got some tips to help you out.
Check your invitation. The couple may have included a theme or dress code for your convenience. If not, you might still be able to do some sleuthing based on how formal the wording is.
Think about the type of celebration and the timing. An 8 p.m. sit-down dinner is a lot more formal than an afternoon brunch.
Consider the type of venue. If the event is taking place in a fancy country club, you should break out your best evening wear. If it's in the couple's backyard or at their parents' house, you can probably tone it down.
When in doubt, ask around. Feel free to contact the venue to find out if they have a dress code. As a last resort, you could also reach out to someone in the wedding party or a member of the couple's family (just try not to ask the soonlyweds—they've got enough on their plate).
What to Wear to a Wedding Rehearsal: Dos and Don'ts
Before you go splashing out on a nice new outfit, check out our answers to some of the most frequently asked questions about rehearsal dinner dress code etiquette.
Can guests wear white to a rehearsal dinner? While the couple may not mind, it's better to play it safe. White is usually only worn by the to-be-weds for all pre- and post-wedding festivities. On top of that, there are a few other wedding colors to avoid, like pale pinks and soft neutrals, as these could be mistaken for white.
What about the wedding colors? As a general rule, the wedding colors should be reserved for the wedding party on the big day. Try to avoid accidentally donning the couple's carefully chosen palette.
Should you wear a jacket? That depends on the type of celebration. Keep in mind that your rehearsal dinner outfit should be less formal than what you wear to the wedding. If the big day is black tie, you will probably be expected to wear a semi-formal suit the night before. But, if the rehearsal is very casual (think: backyard barbecue), ditch the jacket and opt for something a little more relaxed.
What about a tie? Again, this depends on the formality of the occasion (and the venue). If the dress code is formal or semi-formal, a tie is expected. The good news is you can easily put on or remove one after you arrive if you're unsure.
The Best Rehearsal Dinner Attire for Guests
The night before the wedding is usually dedicated to the couple's closest friends and family, so earning a seat at the table means they really appreciate you, no matter what you're wearing. That said, it's nice to get dressed up every once in a while. Check out the best rehearsal dinner dresses, suits, and more for guests right here.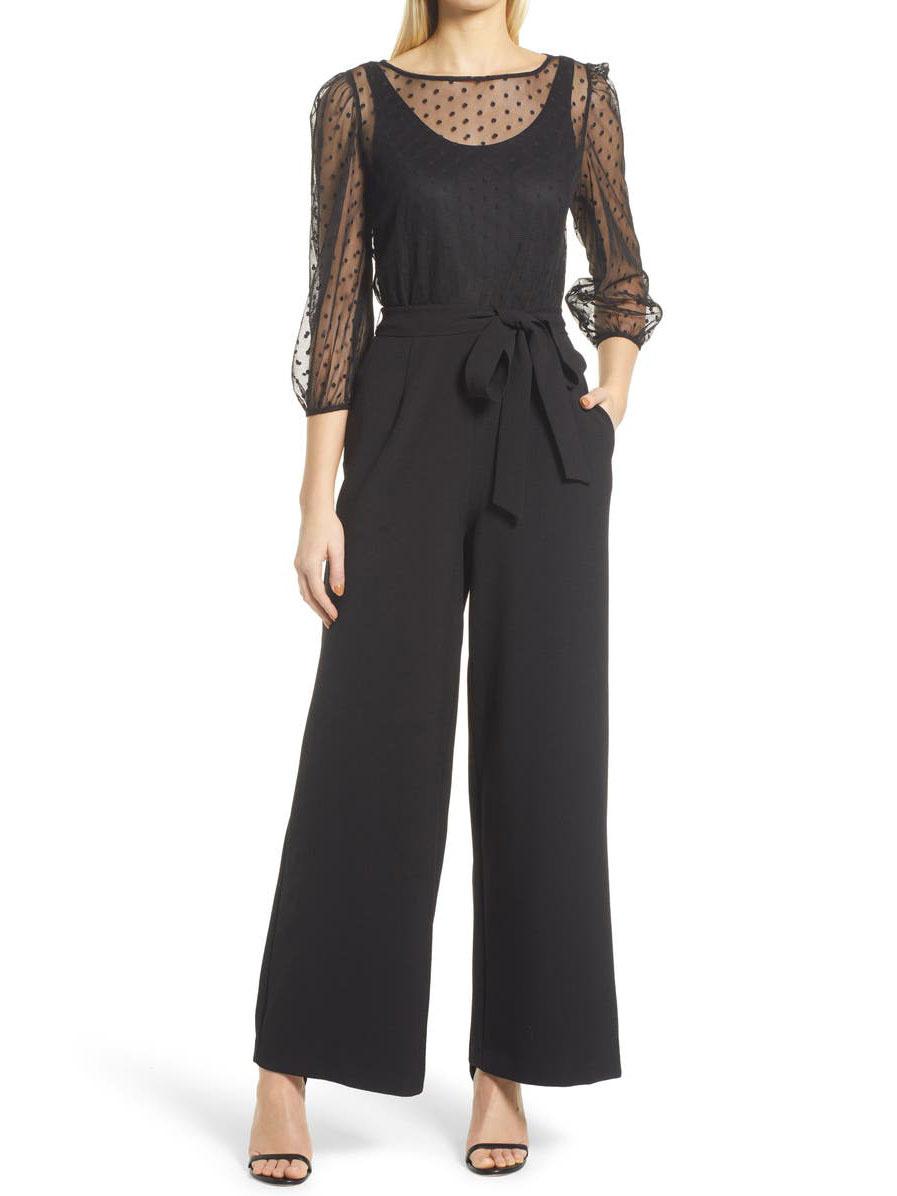 Tie-waist jumpsuit
Jumpsuits are having a moment, and this classy black jumpsuit certainly fits the bill for a special occasion. It may not be traditional cocktail attire, but this rehearsal dinner outfit might just make you the best-dressed guest. The sheer polka-dot sleeves and neckline add a unique but subtle detail. To complete the ensemble, choose a pair of black or nude heels and a matching clutch.
Julia Jordan sheer clip dot jumpsuit, $129, Nordstrom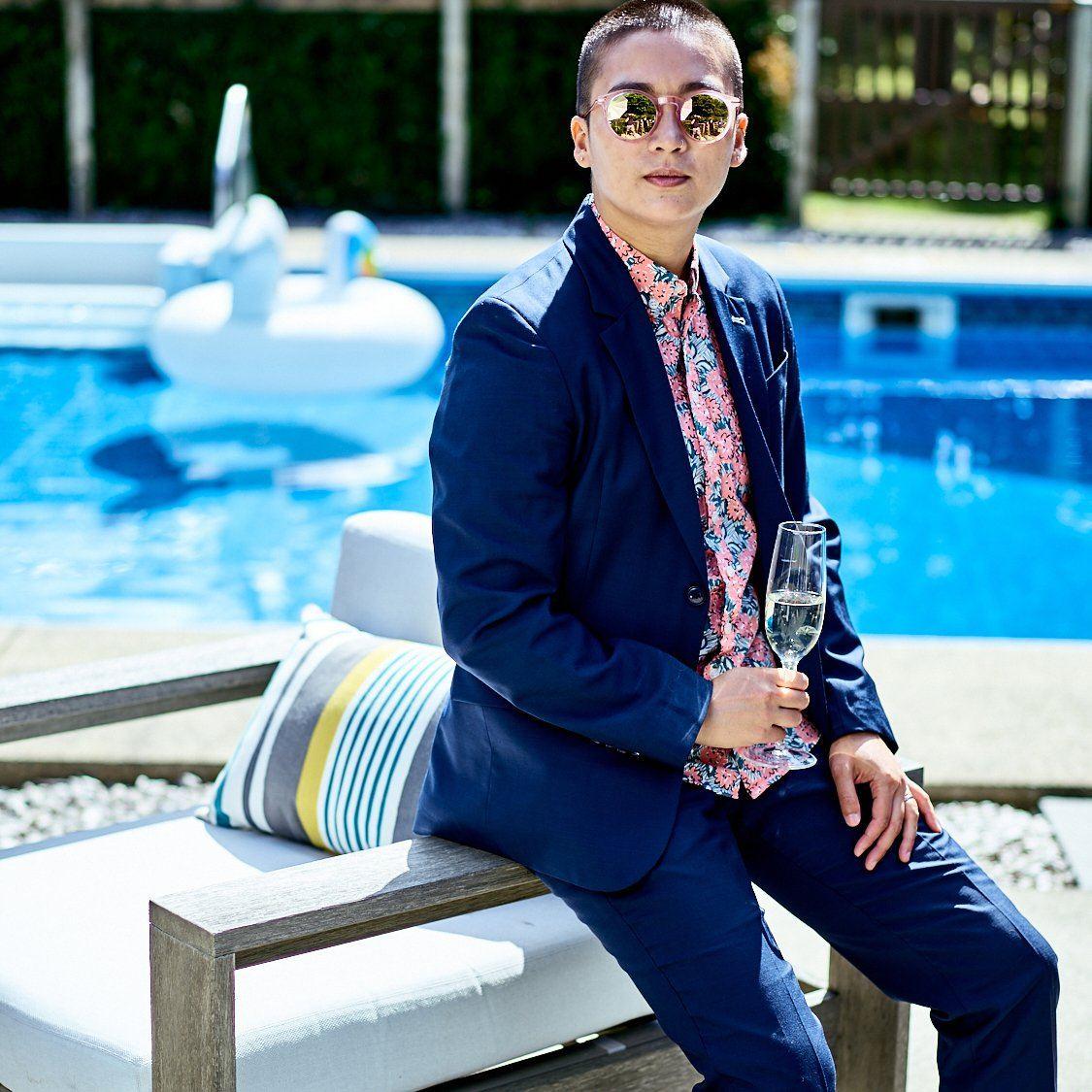 Structured blazer and pants
Kirrin Finch specializes in gender-neutral formalwear that can easily become a regular rotation in your wardrobe. Wear this blazer and pant duo with a funky patterned shirt for a more relaxed rehearsal dinner, or pair it with a crisp dress shirt and tie for a formal wedding rehearsal. Afterward, you can mix and match the blazer and pants with other items in your closet for everyday wear.
Kirrin Finch The Georgie navy suit blazer, $380, Kirrin Finch; Kirrin Finch The Georgie navy dress pants, $195, Kirrin Finch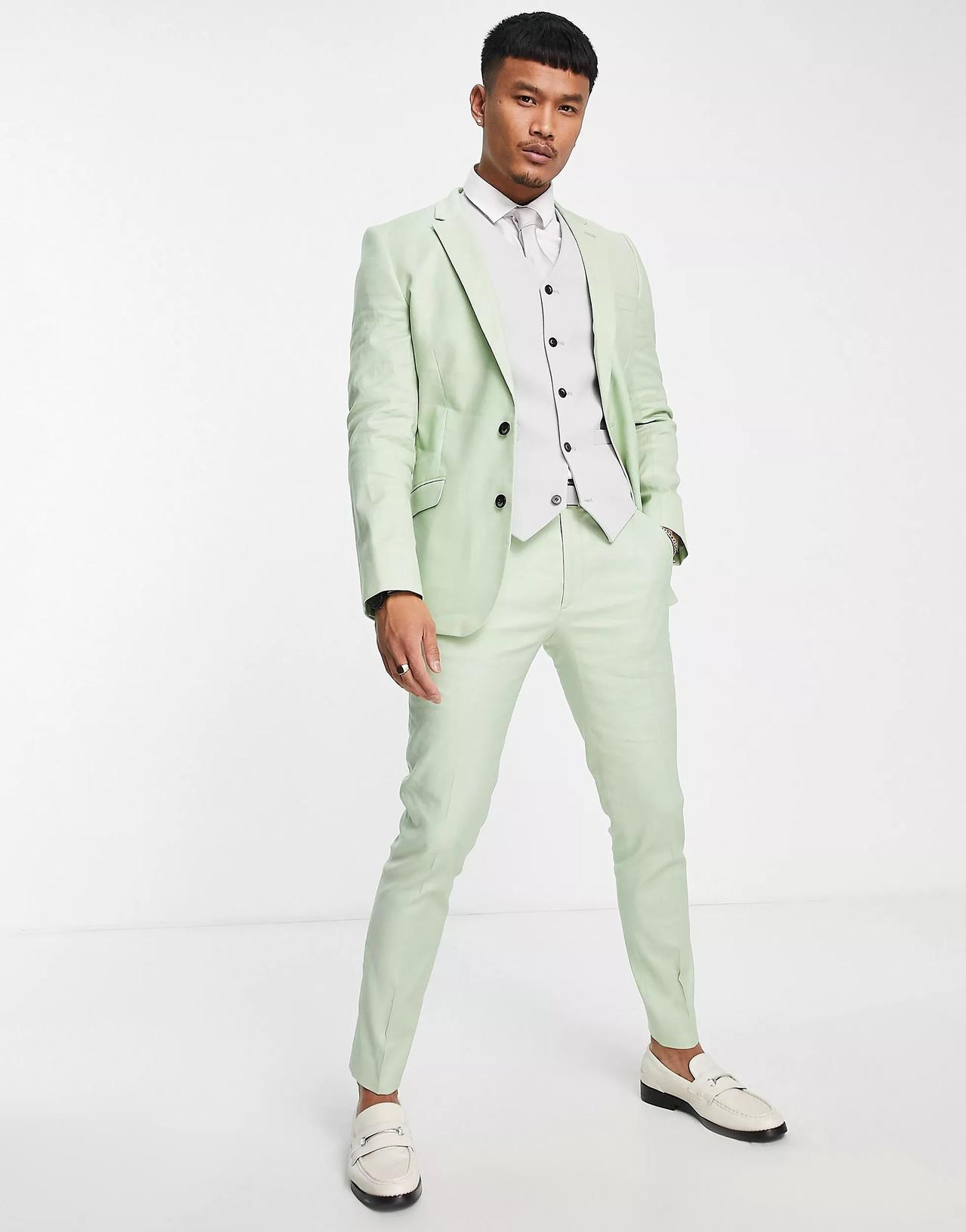 Colorful three-piece suit
Believe it or not, ASOS is a great place to shop for men's rehearsal dinner attire. This snazzy pale green suit can be purchased as separates or as a co-ord depending on the style you're going for. Opt for the jacket, pants, and vest if it's a formal rehearsal dinner. For casual celebrations, remove the vest and swap out a dress shirt for a plain white tee.
ASOS DESIGN summer wedding suit in green with ice gray vest, $236, ASOS
Lace cocktail dress
If the wedding is black tie, then assume that the rehearsal dinner requires semi-formal or cocktail attire at minimum. This lace cocktail dress is a good pick for fancier celebrations. Plus, the versatile navy color makes it a trendy rehearsal dinner outfit for a guest year-round.
Chi Chi London crochet skater dress, $190, Nordstrom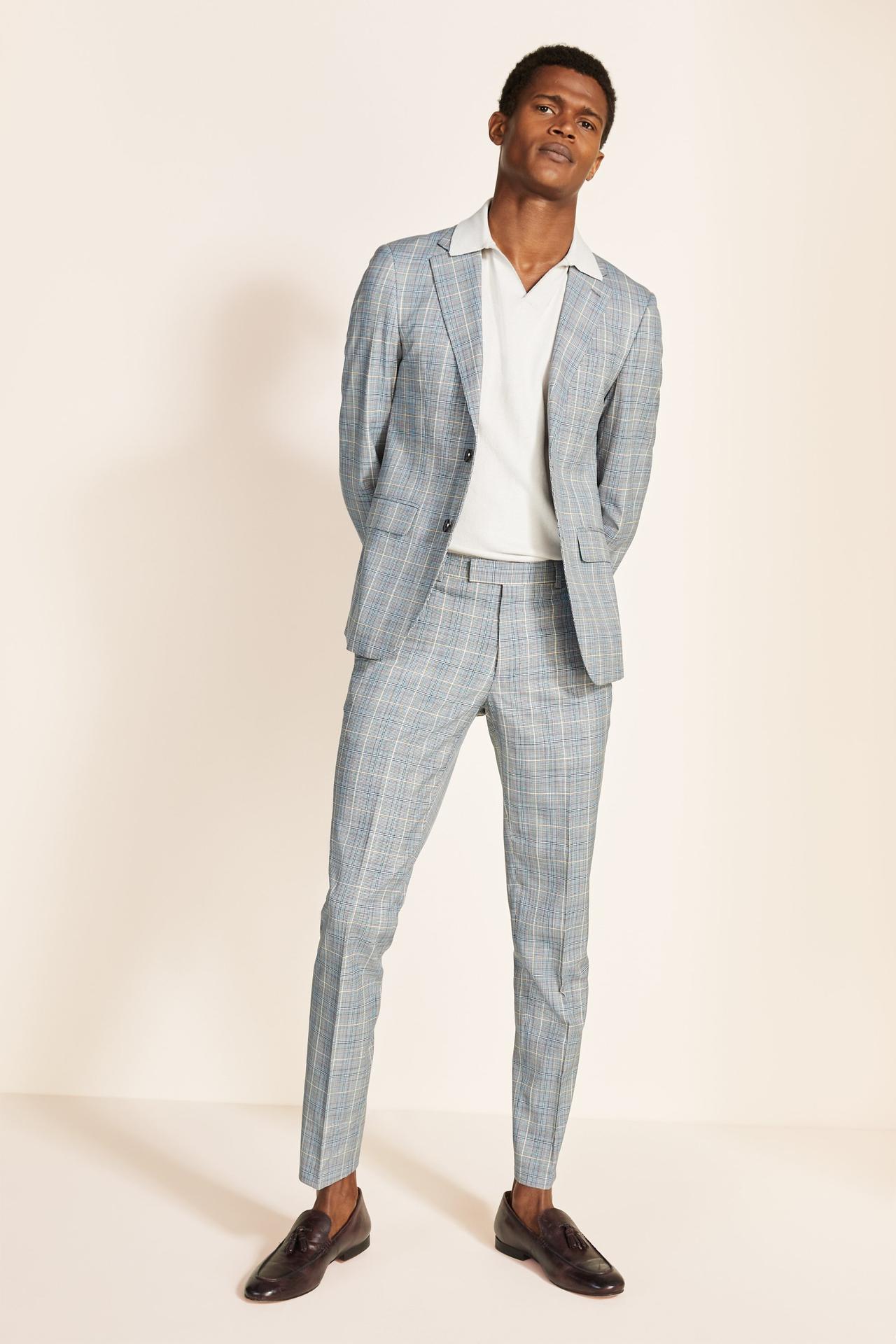 Plaid two-piece suit
A two-piece suit is more versatile than you might think. Depending on the shoes and shirt you pair it with, it can pass for both casual and semi-formal attire. The light hue of this plaid ensemble makes it a great rehearsal dinner outfit for spring and summer.
Moss Bros slim fit aqua windowpane suit, $358, Moss Bros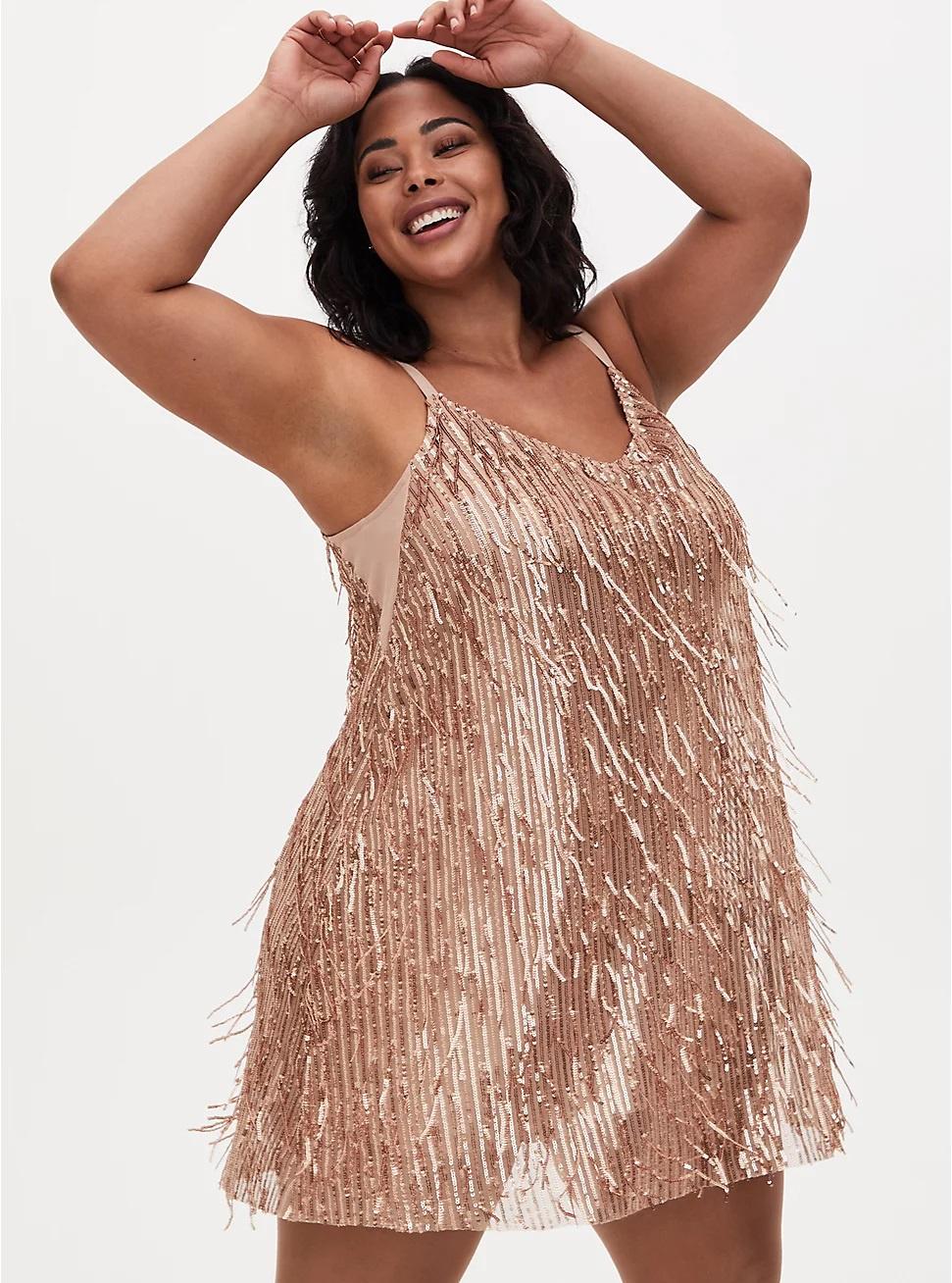 Sequin fringe dress
When deciphering the rehearsal dinner dress code, take a cue from the wedding's overall vibe. If the couple's big day is set to be glamorous or Gatsby-inspired, this sequin fringe number is a stylish wedding rehearsal dinner outfit for a guest.
Torrid gold shimmer fringe mini dress, $130, Torrid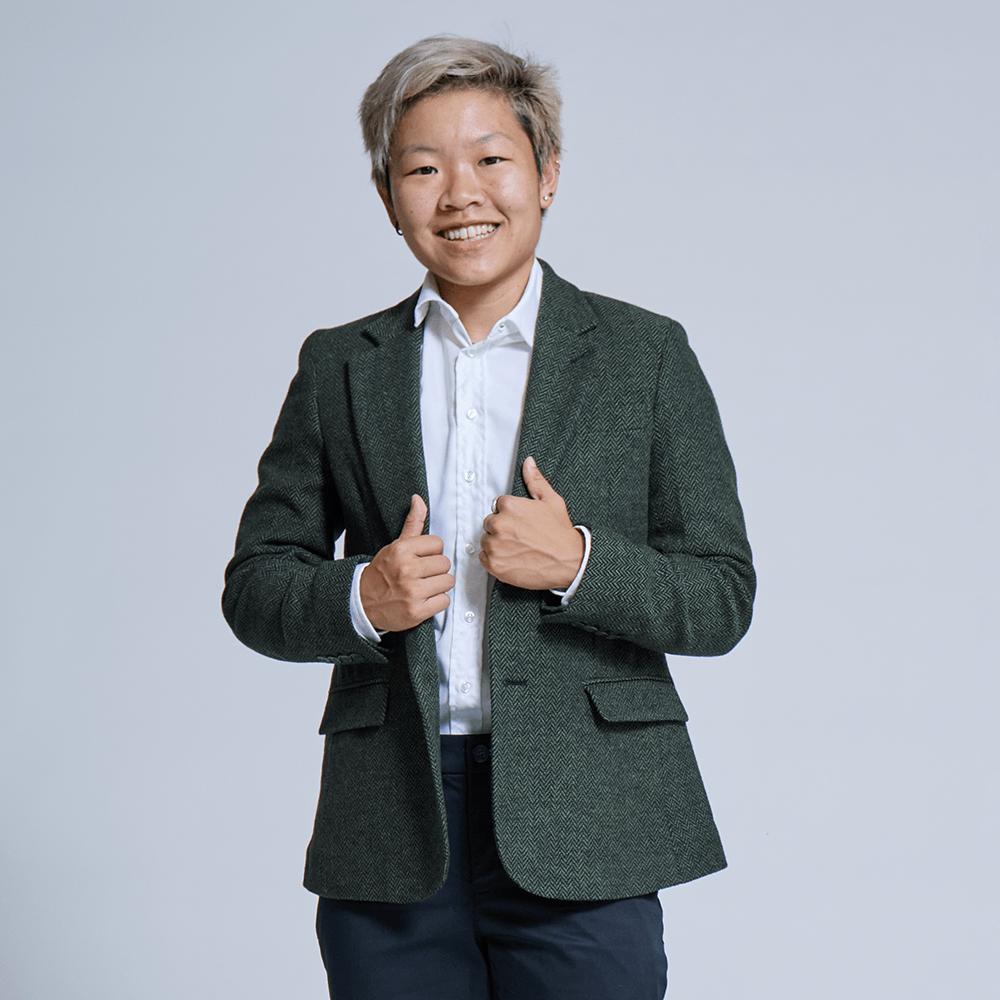 Tweed blazer
There's no need to splash out on an entirely new outfit for the rehearsal dinner, especially if you've already purchased an expensive new 'fit for the actual wedding. Sometimes, all you need to put together a trendy ensemble is one new piece. This tweed blazer is a fun item of clothing that'll instantly elevate a pair of slacks or chinos. It'll really look the part during the winter or in a rustic setting.
Kirrin Finch olive tweed blazer, $250, Kirrin Finch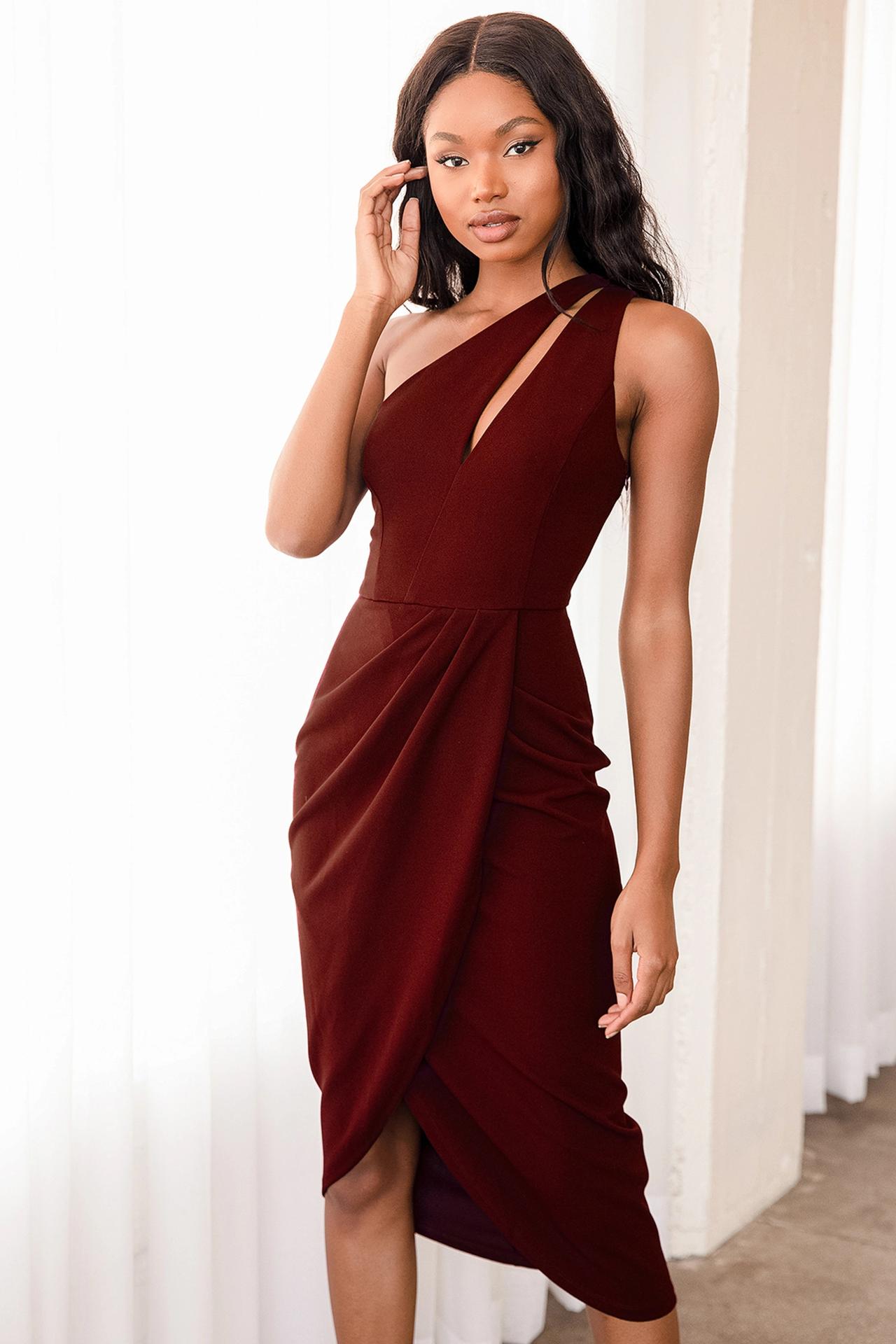 Asymmetrical midi dress
Figuring out what to wear to a rehearsal dinner as a guest is similar to picking out a wedding outfit: Follow the dress code and don't upstage the happy couple. This fashionable midi dress has playful details (that asymmetrical keyhole neckline!) but still feels elegant and reserved. The burgundy hue makes it a fitting fall rehearsal dinner outfit for a guest.
Lulus So Flirty burgundy one-shoulder cutout asymmetrical dress, $69, Lulus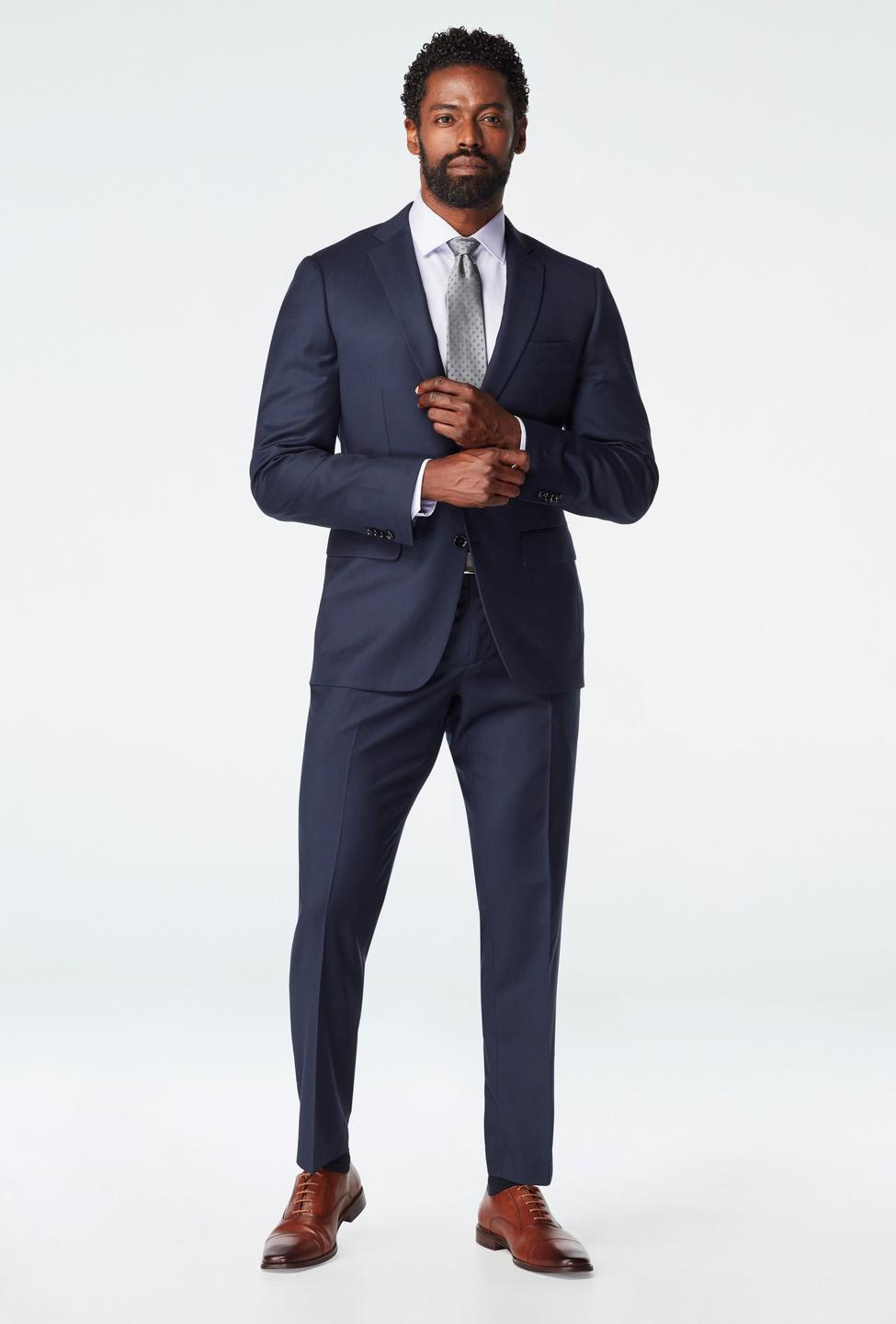 Formal navy suit
"A black tie wedding calls for a more formal approach at the rehearsal dinner," says Dean Handspiker, vice president of retail at Indochino. Handspiker recommends a solid suit, like this dapper navy option, paired with a crisp white shirt and a tie.
Indochino Highbridge nailhead navy suit, $499, Indochino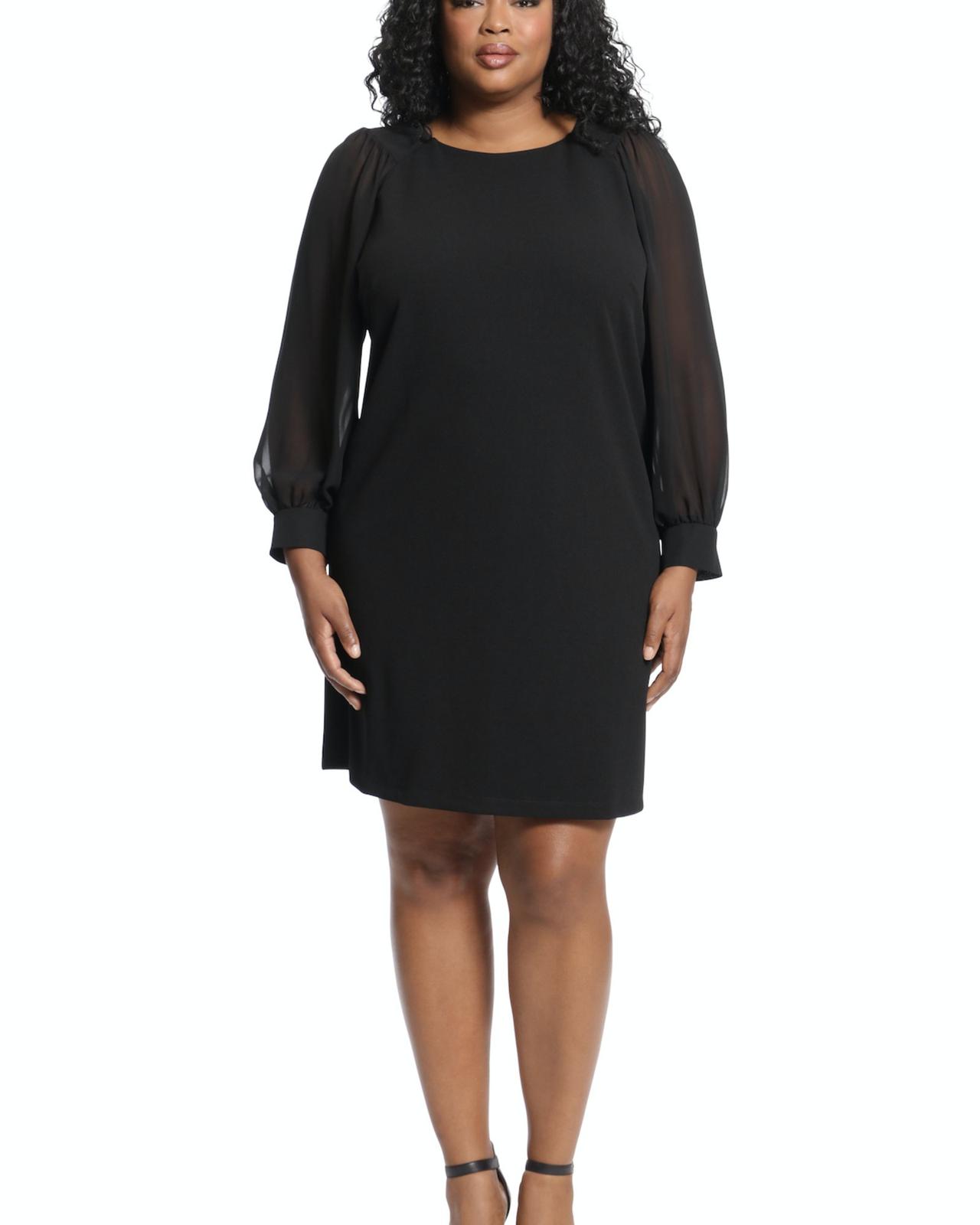 Long-sleeve shift dress
We've already answered the age-old question of wearing white, but what about its polar opposite? Good news: You can totally wear black to a rehearsal dinner. Opting for a shorter length doesn't necessarily equate to a casual look. This understated shift dress could easily pass for cocktail attire with the right shoes (think: strappy stilettos) and jewelry. Don't be afraid to go bold with a statement necklace or earrings.
Adored Alexis sheer-sleeve shift dress, $69, Dia & Co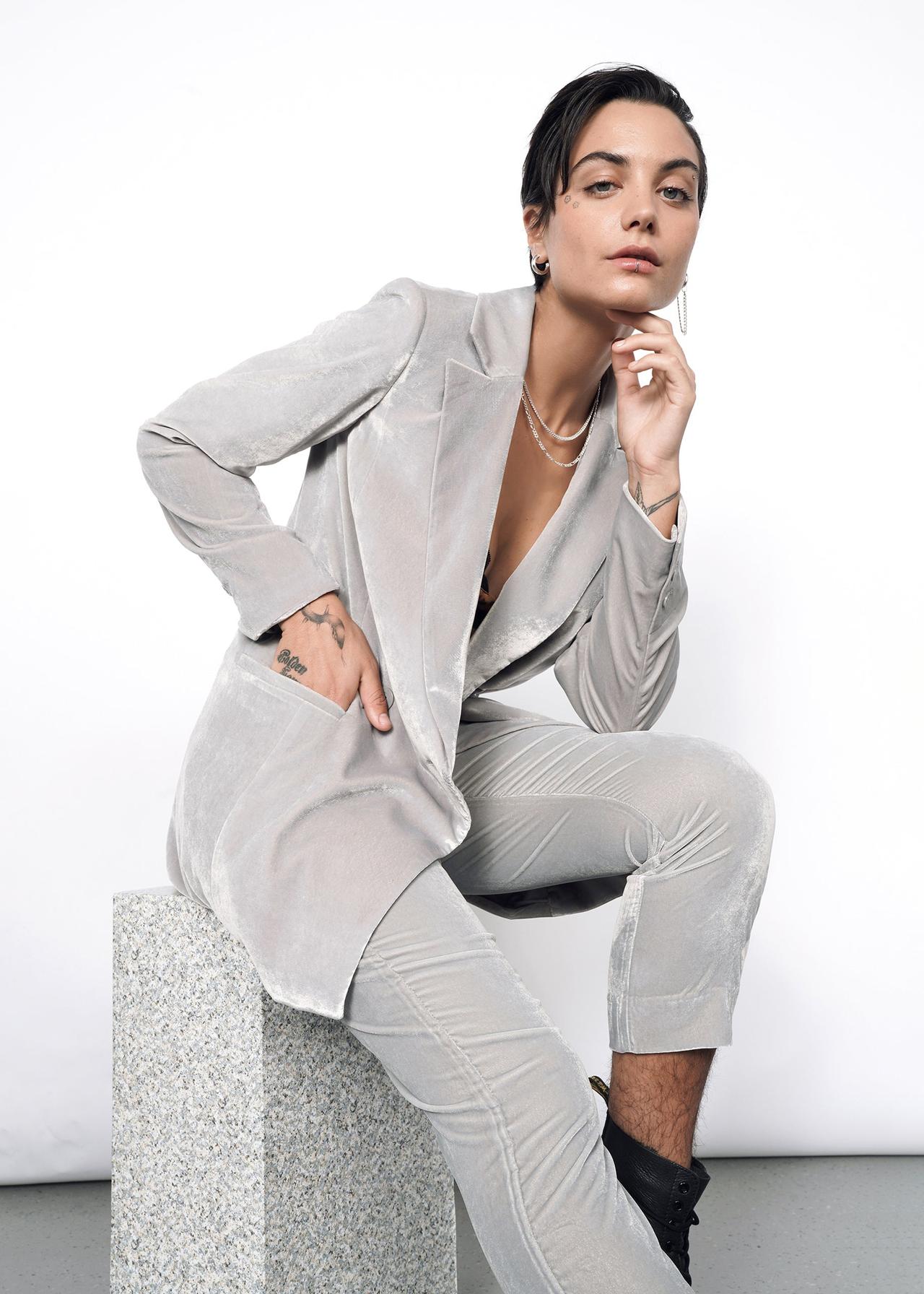 Velvet blazer and pants
Attending a winter rehearsal dinner? From the velvet material to the shiny silver hue, this co-ord set perfectly encapsulates the season. If allover silver feels a little flashy for your usual style, consider the black or merlot hues instead. Or, mix and match the silver blazer with plain black pants, a dress, or a jumpsuit.
Wildfang The Empower velvet double-breasted blazer, $188, Wildfang; Wildfang The Empower velvet slim crop pant, $118, Wildfang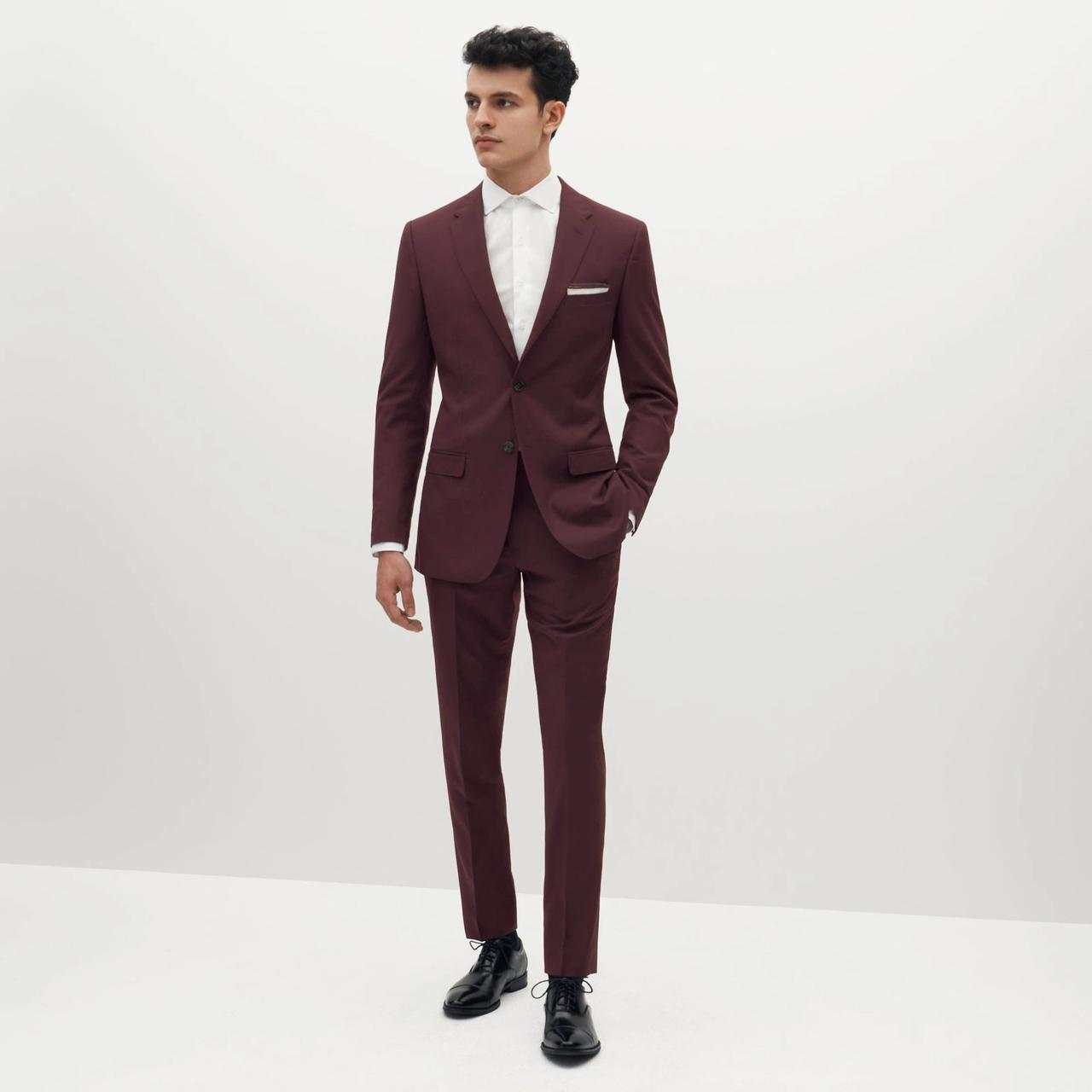 Burgundy two-piece suit
A light gray or blue suit looks the part for spring and summer, but what about fall and winter? Enter: this burgundy two-piece from SuitShop. Polished black dress shoes and a plain white shirt are all you need to pull this look together.
SuitShop burgundy suit, $224, SuitShop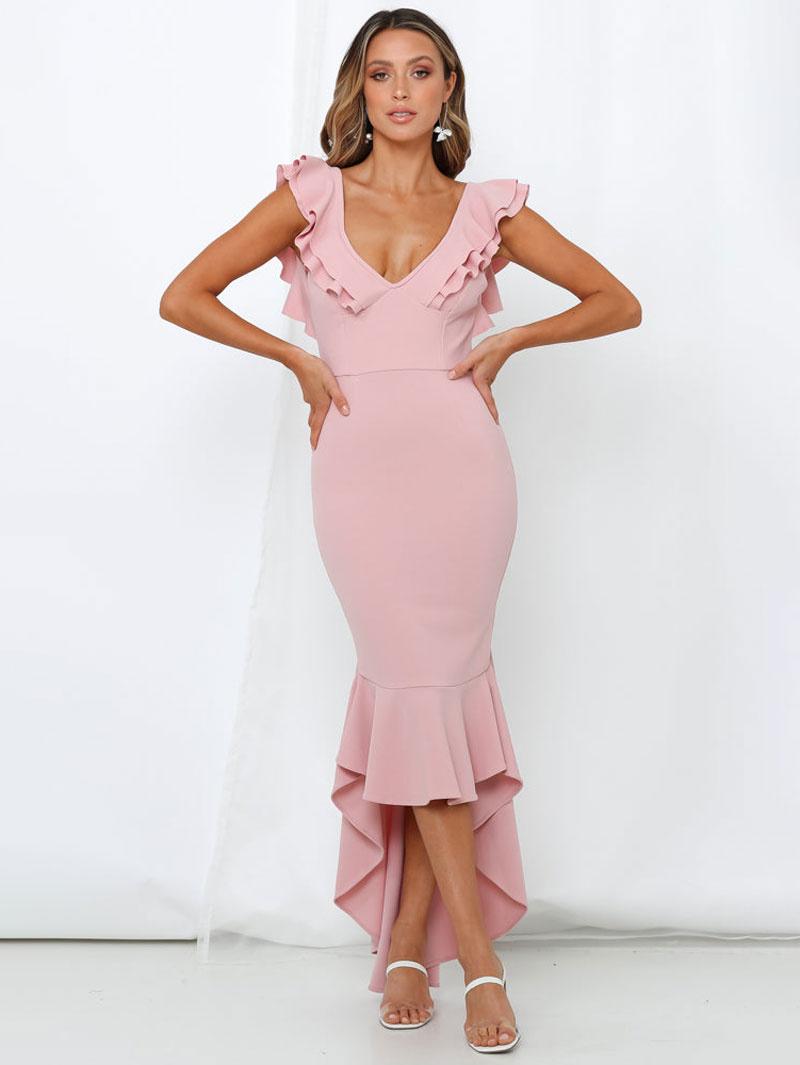 Ruffled high-low dress
Bright pastels are popular when it comes to spring and summer rehearsal dinner outfits for guests (as long as it definitely won't be mistaken for white in pictures or in person). The ruffled hem and neckline detail on this sophisticated maxi dress brings an eye-catching element to an otherwise streamlined look. Embrace the season with nature-inspired jewelry, such as floral earrings.
Hello Molly The Hills maxi dress in Blush, $89, Hello Molly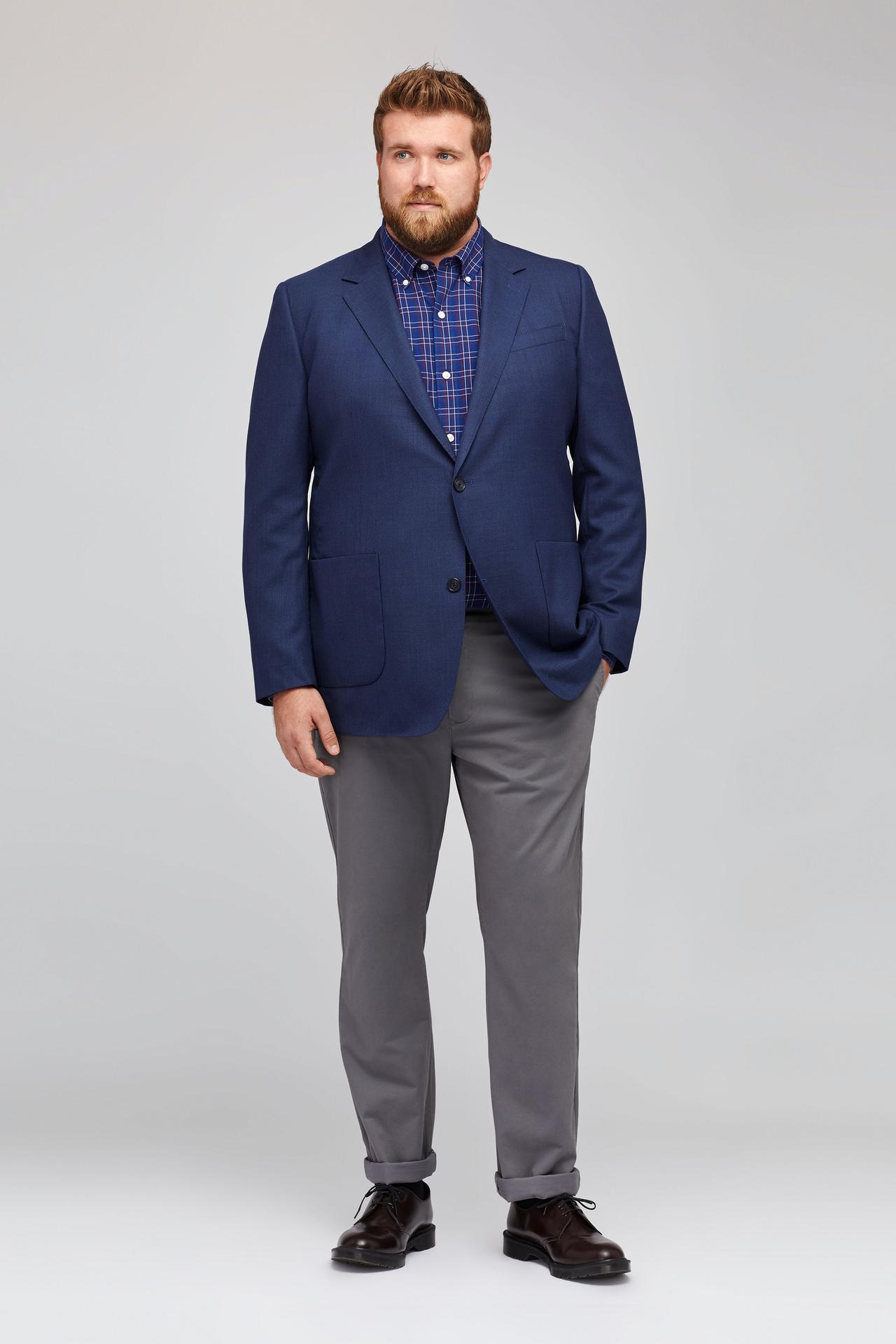 Versatile blazer
Like we said earlier, a good blazer goes a long way. Create the perfect men's rehearsal dinner outfit no matter the dress code with this dapper navy wool blazer. It can add structure to a more casual outfit or act as a sleek finishing touch to a formal suit.
Bonobos extended size unconstructed Italian wool blazer, $400, Bonobos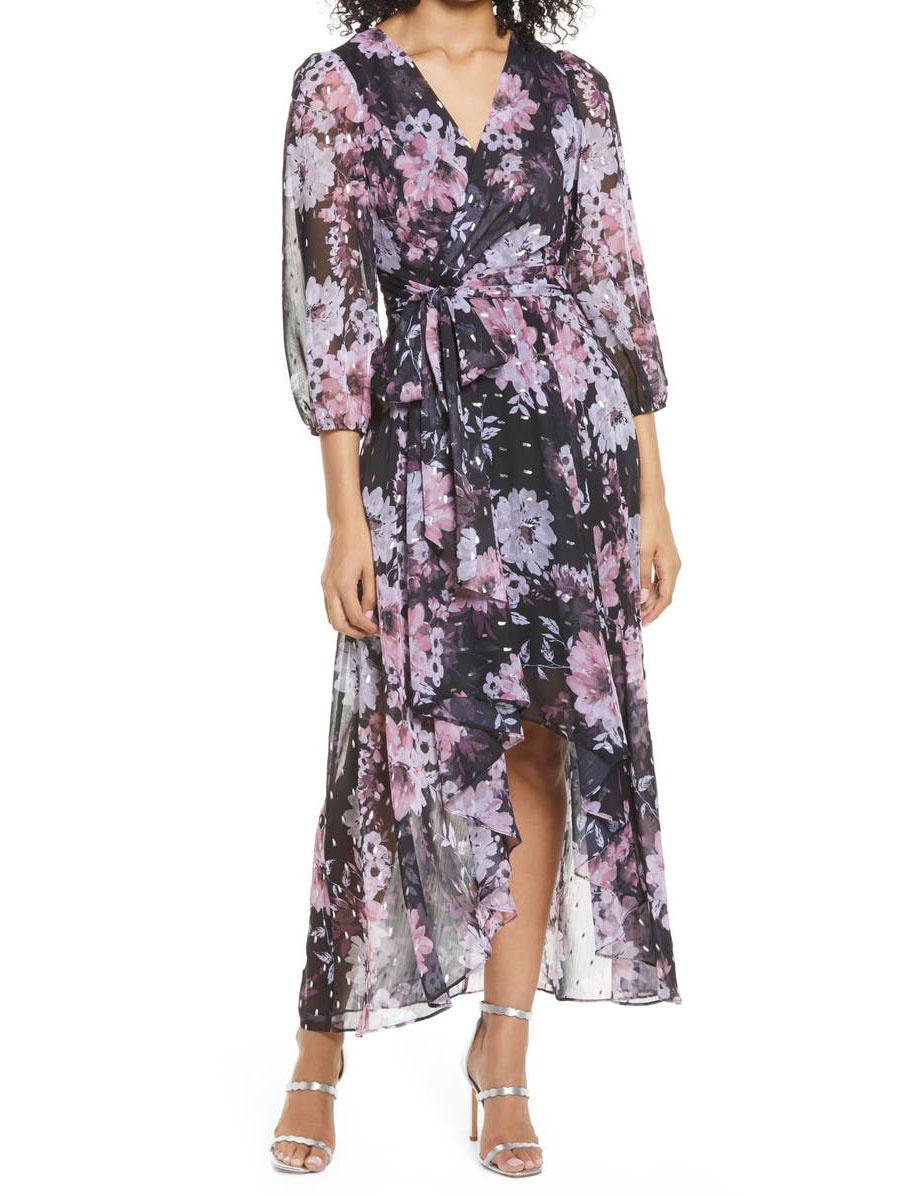 Floral wrap dress
Romantic shades of purple and floral patterns are a match made in heaven. This gorgeous midi will look just as stunning dressed up with heels for a cocktail party as it will when matched with a comfy pair of sandals in the couple's backyard. That said, the airy material and playful hemline feel most apt for a garden setting.
Eliza J floral metallic fleck high-low dress, $188, Nordstrom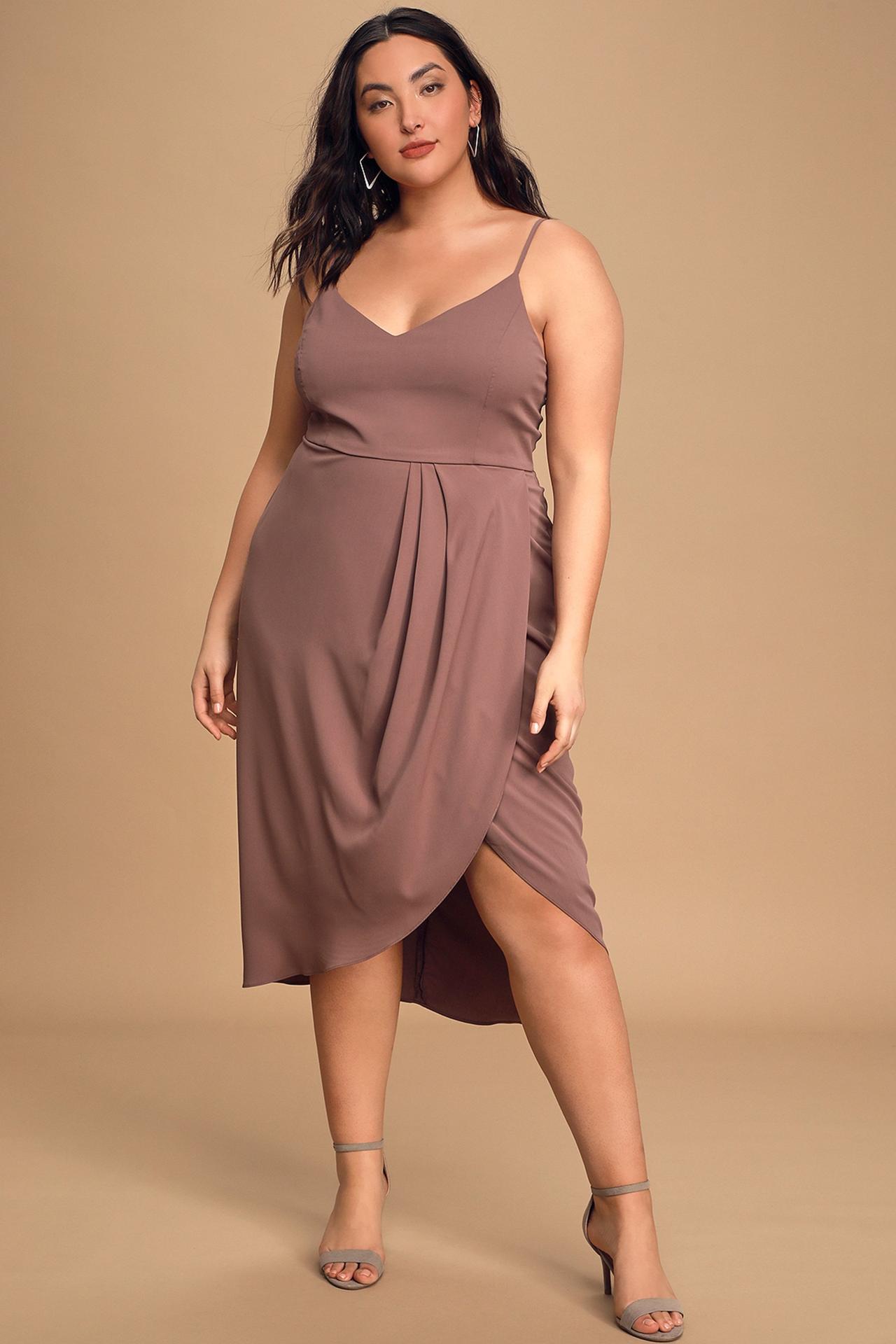 Mauve midi dress
If you're really not sure how to dress for the rehearsal dinner, play it safe by choosing an outfit that walks the line between formal and semi-formal. Pair this minimalist midi with a pair of heeled sandals or flats and you're good to go.
Lulus Reinette mauve purple midi dress, $69, Lulus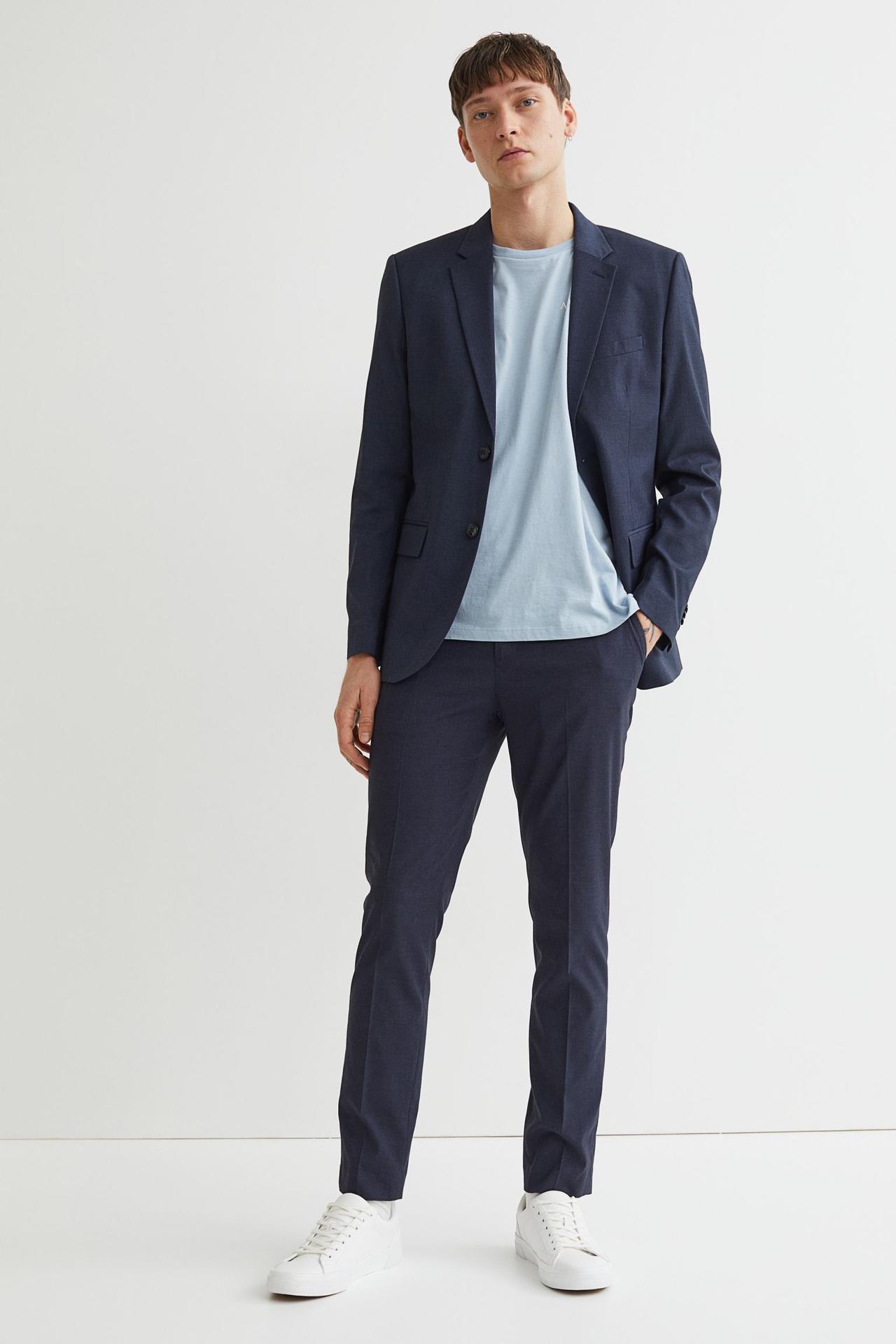 Casual blazer and pants
How's this for a casual rehearsal dinner outfit for a guest? Slim-fit pants feel more put together than loose or baggy dress trousers. Similarly, a slim-fit blazer adds a subtly sharp touch to any T-shirt-and-pants combo. An athletic-inspired dress shoe will be a really on-trend finishing touch.
H&M skinny fit blazer, $60, H&M; H&M skinny fit suit pants, $35, H&M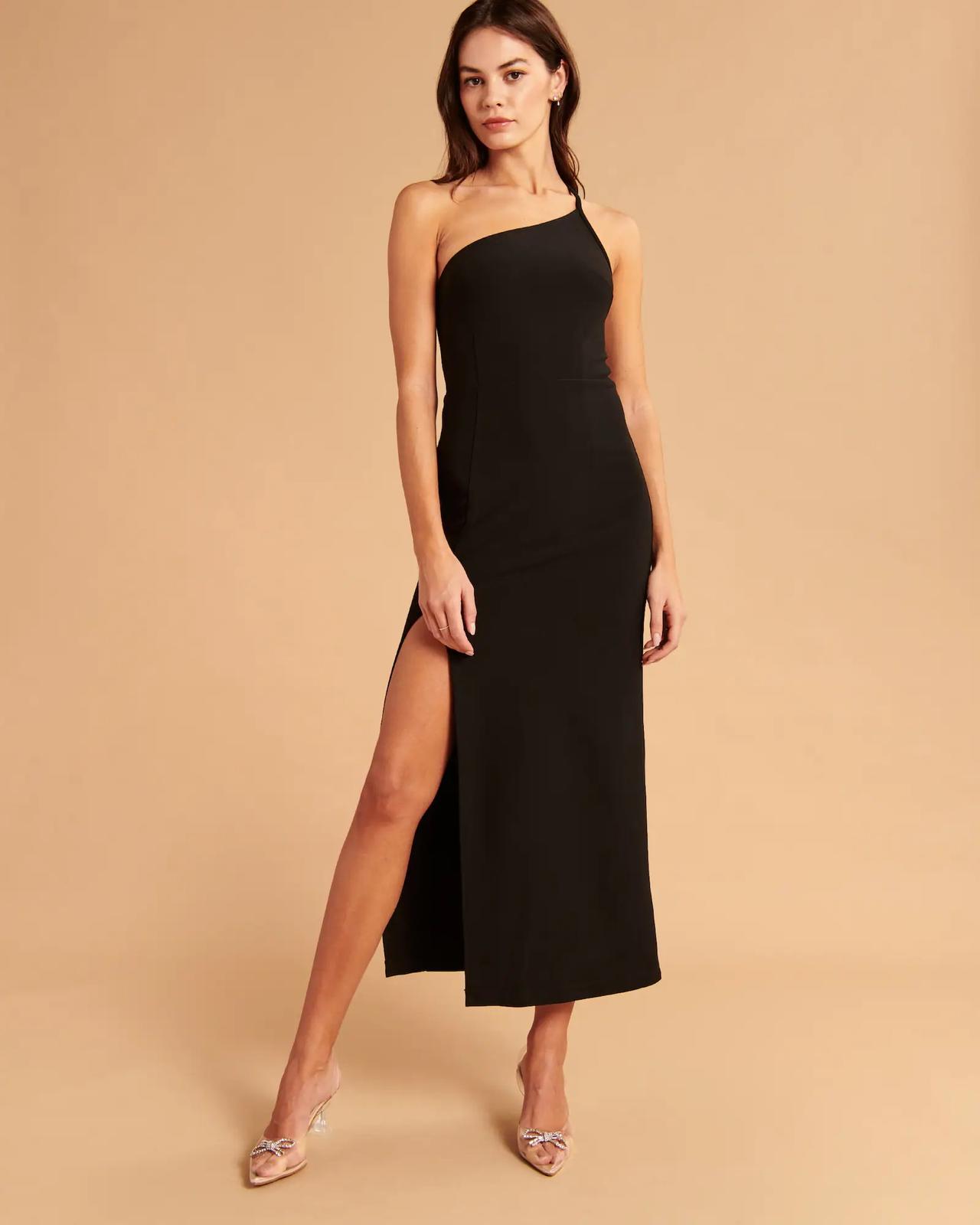 Minimalist maxi dress
This streamlined black slip is another versatile pre-wedding dinner outfit that'll easily work for both casual and semi-formal events. Add heels and a statement pair of earrings for a late dinner, or stick to flats and minimalist accessories for daytime events. The best part? You can easily wear it again for dinner dates, girls' nights, and future wedding-related events.
Abercrombie & Fitch asymmetrical one-shoulder maxi dress, $150, Abercrombie & Fitch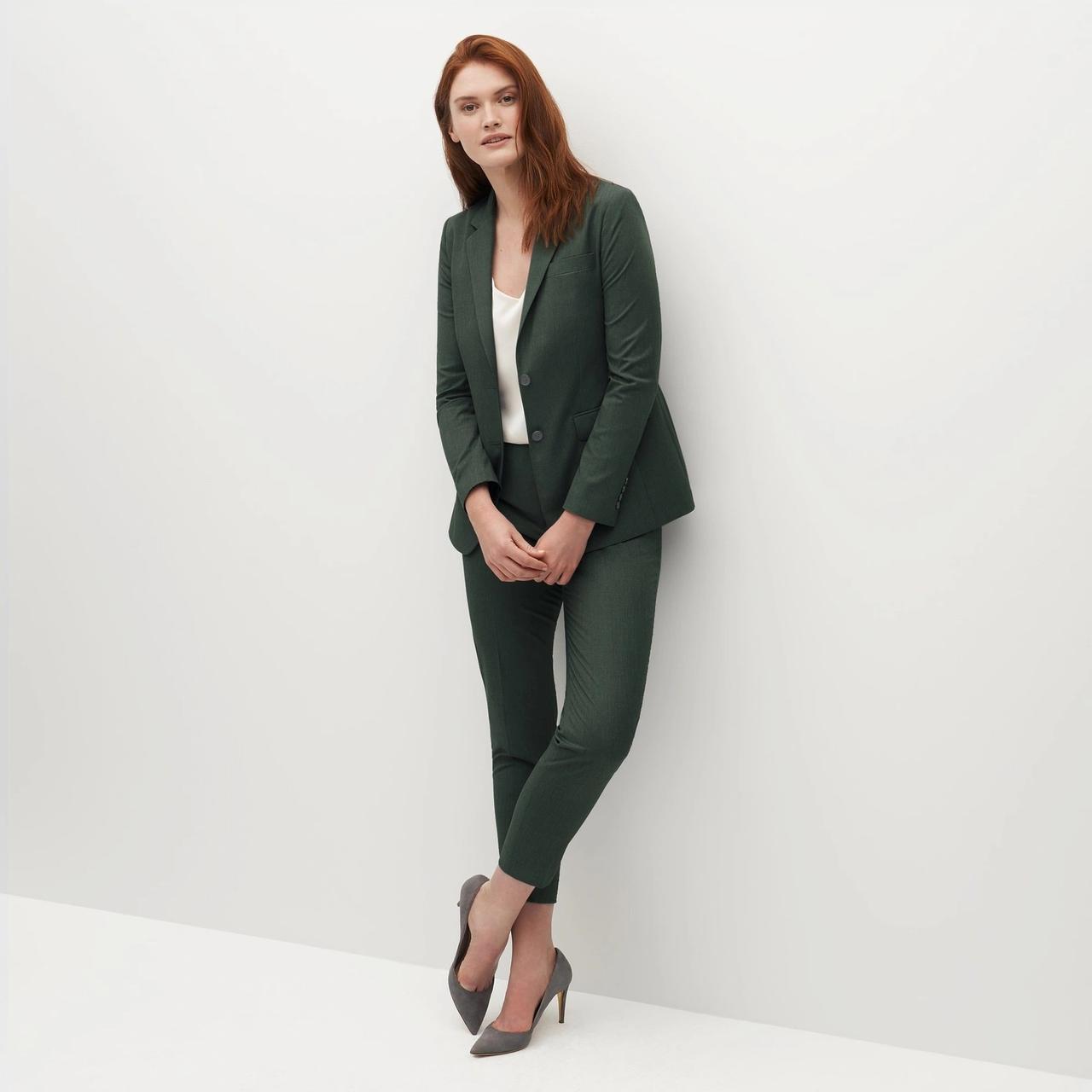 Slim-fit suit
If dresses and jumpsuits aren't your thing, try this suave two-piece suit in an earthy shade of green. Just like men's rehearsal dinner outfits, you can dress it down with a plain white tee for a casual affair or elevate the look with a satin blouse and nude heels for a formal event.
SuitShop women's dark green suit, $224, SuitShop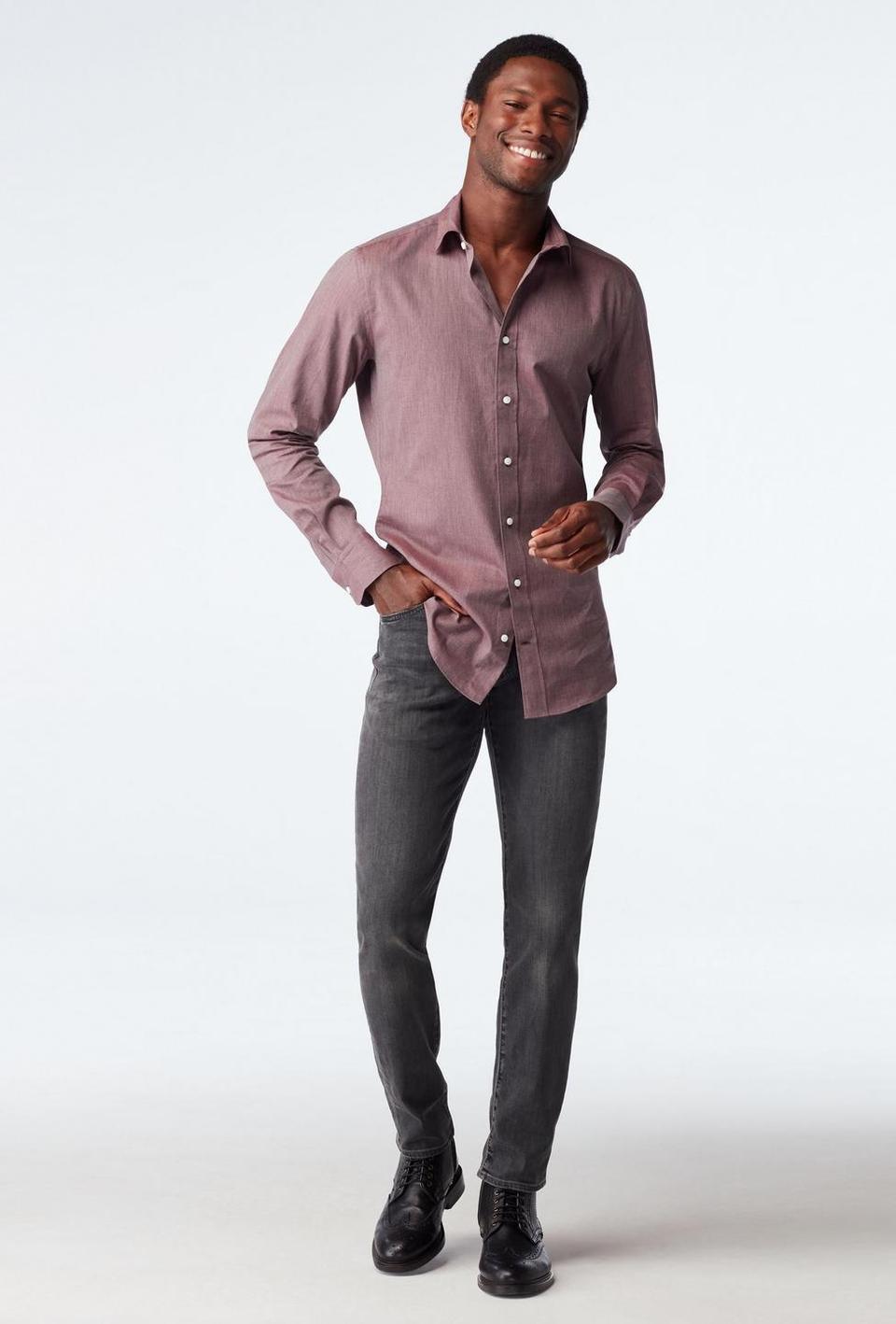 Dressy shirt
If the couple's wedding is more casual than a traditional soiree (think: beach or barnyard), the rehearsal dinner will likely be a laid-back event. But don't reach for an old tee just yet! You're still required to dress up a little. Match this comfy button-down shirt with your best dark-wash jeans and a smart pair of shoes.
Indochino Dilham melange burgundy casual shirt, $89, Indochino