What Your Favorite Instagram Brand Says About Your Wedding Style
As if you needed another excuse to check Instagram, now you can use it to figure out your wedding style (genius, we know).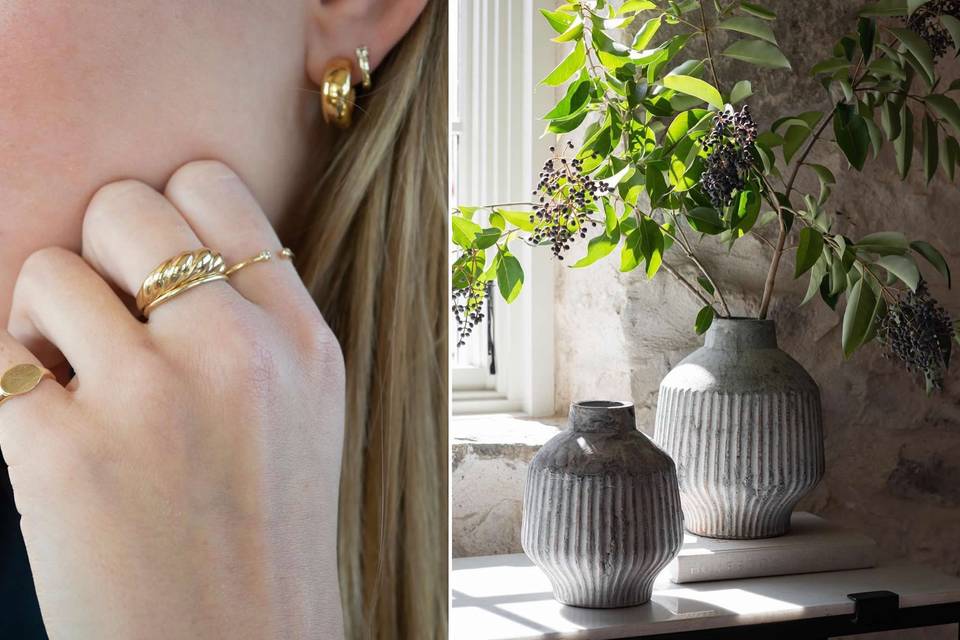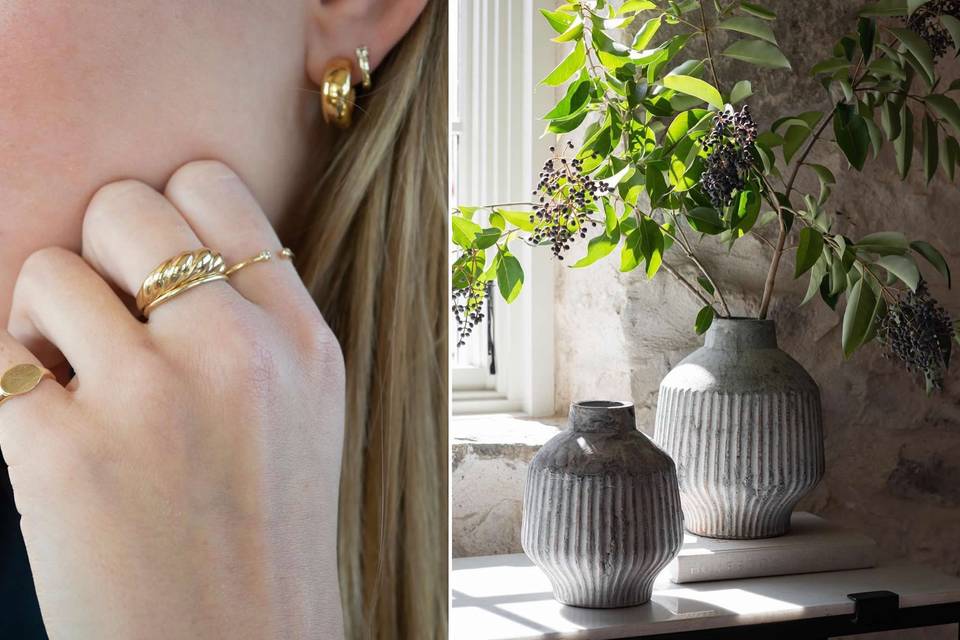 If you're having trouble choosing a wedding style, there's one hack that can help you cut right to the chase. All you have to do is take a closer look at what you already gravitate to in everyday life—a.k.a your trusty social media feeds. Chances are that you spend a decent amount of time each day scrolling through Instagram, and even though it's easy to go overboard with all that social media inspiration, we have to admit that it does come in handy when you're planning your wedding. When you start paying attention to the posts you like, save, or share with friends, you'll begin noticing patterns before you know it! Instagram is a hotbed of aesthetically pleasing brands—wedding-related or not—that can provide you with unexpected decor ideas, color palettes, and fashionable looks for your big day. To show you just how easy it is, we picked a handful of Instagram brands that are known for their perfectly curated, color-coordinated feeds and used them to inspire specific themes you can try for your wedding.
Did your favorite Instagram brand make the cut? See what it says about your wedding style below.
View this post on Instagram
Glossier
The theme: Modern romance
The colors: Blush, lavender, white
The flowers: Garden roses, white tulips, blushing bride proteas
The details: Blush pink is a wedding color that will never go out of style, but you're all about giving this classically romantic hue a modern, airy spin. By adding trending elements like neon signs, acrylic furniture, baby's breath clouds, wire grid backdrops, and pressed flower accents to your wedding decor, you'll achieve an aesthetic that's feminine and fresh.
View this post on Instagram
Outdoor Voices
The theme: Colorful retro
The colors: Yellow, turquoise, cerise
The flowers: Craspedia, ranunculus, dahlias
The details: A playful color palette and quirky details are perfect for your wedding style—maybe you'll even consider a '90s wedding theme! You want your special day to be all about having fun and celebrating in a big way, and you need bold details to match. Try color blocked centerpieces, disco balls, personalized sunglasses as wedding favors, and a bar on wheels.
View this post on Instagram
Zara
The theme: High-fashion glam
The colors: Black and white
The flowers: Phalaenopsis orchids, white anthurium, roses
The details: You're all about rocking the latest trends and making a fashion statement in your everyday life, and your wedding day will be no different. Go all out with a glamorous wedding theme featuring couture details, such as hanging centerpieces, custom wedding jackets, velvet chairs, and scented candles.
View this post on Instagram
Magnolia
The theme: Rustic farmhouse
The colors: Green, cream, gray
The flowers: Eucalyptus, white hydrangeas, jasmine vines
The details: Creating an inviting, relaxed vibe is your number-one goal for your wedding style. Bring your vision of a cozy Joanna Gaines-inspired aesthetic to life by combining rustic and vintage elements like long wood banquet tables, greenery garlands, gauzy linen table runners, and kilim rugs.
View this post on Instagram
Anthropologie
The theme: Bohemian
The colors: Watermelon pink and denim blue
The flowers: Pampas grass, bleached Italian ruscus, garden roses
The details: Embrace your free-spirited side by turning to nature for your wedding day inspiration. Decorative elements like vintage floral prints, dried grasses, watercolor wedding invitations, macrame accents, and an outdoor wedding venue (like the desert, maybe?) will all help you achieve an artsy, bohemian aesthetic.
View this post on Instagram
Ban.do
The theme: Tropical
The colors: Orange, teal, cayenne
The flowers: Birds of Paradise, bougainvillea, monstera leaves
The details: With an island-inspired theme, your wedding will be on the fast track to "best bash of the year" territory. A zesty color palette, playful patterns, and statement-making floral arrangements all help create a cheerful vibe on your wedding day, whether you're actually getting married on a tropical island or not. Try including fresh fruit decor, metallic tabletop accents, and balloon arches.
View this post on Instagram
Airbnb
The theme: Eco-conscious
The colors: White, green, rust
The flowers: Sword ferns, hellebores, anemones
The details: Traveling and living sustainably are two of your biggest passions, so it only makes sense to incorporate them into your wedding day. Luckily, it's easier than ever to host an eco-friendly or zero-waste wedding, and you don't have to sacrifice on style to do it. You can create an earthy, eclectic wedding theme by incorporating things like rattan accents, potted plants as decor (totally reusable after the big day), and repurposing one-of-a-kind souvenirs you've collected throughout your adventures. Host a micro-wedding or elope to reduce your environmental impact even more.
View this post on Instagram
Draper James
The theme: Classic with a twist
The colors: Navy and violet
The flowers: Peonies, forget-me-nots, pieris japonica
The details: You love to balance timeless pieces with unexpected details to make a look that's totally your own. The essence of classic wedding style may be understated, but it's not boring! A ballroom or tented wedding reception venue sets the scene for an elegant reception, but don't forget the personal touches. Along with classic blue, incorporate vibrant pops of color, whimsical prints, and monogrammed wedding decor for a Southern chic theme.
View this post on Instagram
West Elm
The theme: Industrial
The colors: Charcoal and apricot
The flowers: Smilax vines, freesias, Juliet roses
The details: You're drawn to a clean, streamlined style with slight vintage undertones, and an industrial wedding theme lets you combine both. Edgy details like Edison bulbs and metal marais chairs are easy ways to enhance an industrial space—but remember to soften the look by using fresh greenery, fragrant flowers, and subtle accents of color.
View this post on Instagram
Mejuri
The theme: Minimalist
The colors: Gold and pearlescent white
The flowers: Lunaria, white calla lilies, dried sun palms
The details: A neutral color palette with iridescent and metallic accents exudes luxury and sophistication while also reflecting the minimalist aesthetic you love. By limiting your wedding color palette to monochromatic tones, you can experiment with different textures and materials to add visual interest. Decorative elements like vellum, white pillar candles, and iridescent mercury glass are just a few minimalist wedding ideas to try. And don't forget about the fashion—fabrics like crepe and silk are must-haves for any minimalist wedding dress.
View this post on Instagram
Whole Foods
The theme: Foodie
The colors: Sage green and plum purple
The flowers: Succulents, zinnias, chamomile
The details: If you love cooking up new recipes in your kitchen or trying all of the trendiest restaurants in town, then it only makes sense to put food at the center of your wedding day. You're less concerned about the decor and more concerned about the menu—so focus on surprising your guests with fusion dishes, late-night snacks, and of course, a fabulous wedding cake or dessert spread.