18 Wedding Monogram Ideas to Show off Those New Initials
When in doubt, monogram it! Make your big day truly your own with these elegant wedding monogram ideas.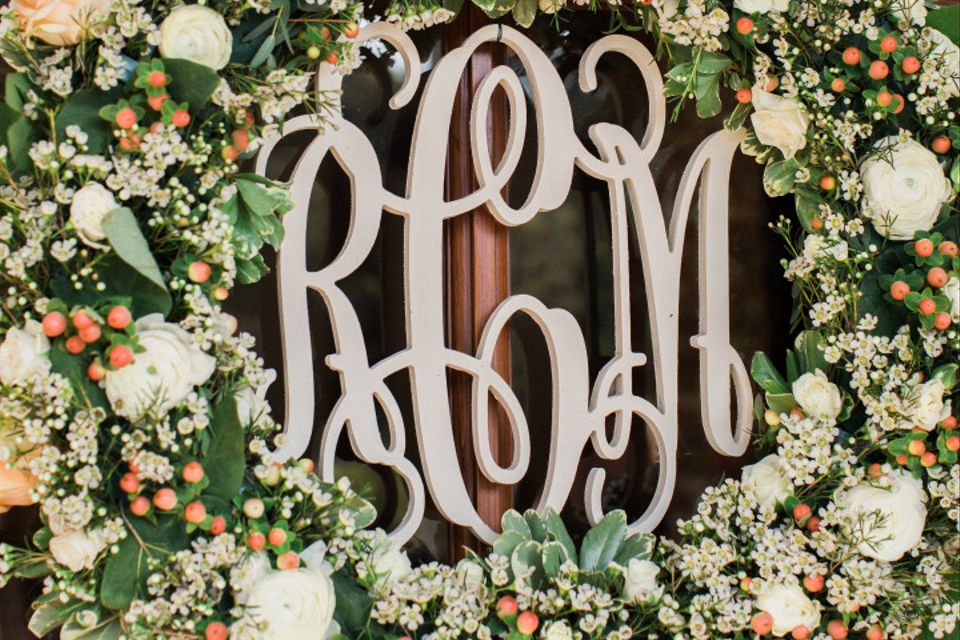 Monograms are an elegant way to bring a dose of customization to your wedding day. Wedding monogram ideas are a time-honored tradition and sometimes get a reputation for being ultra-preppy or formal, but there are plenty of ways to incorporate them into your wedding even if your style is more relaxed. Traditionally, your married monogram isn't supposed to make its big debut until after the wedding is over and your name has been formally changed, but we won't judge if you simply can't wait any longer!
Show off your brand-new initials with these 18 wedding monogram ideas.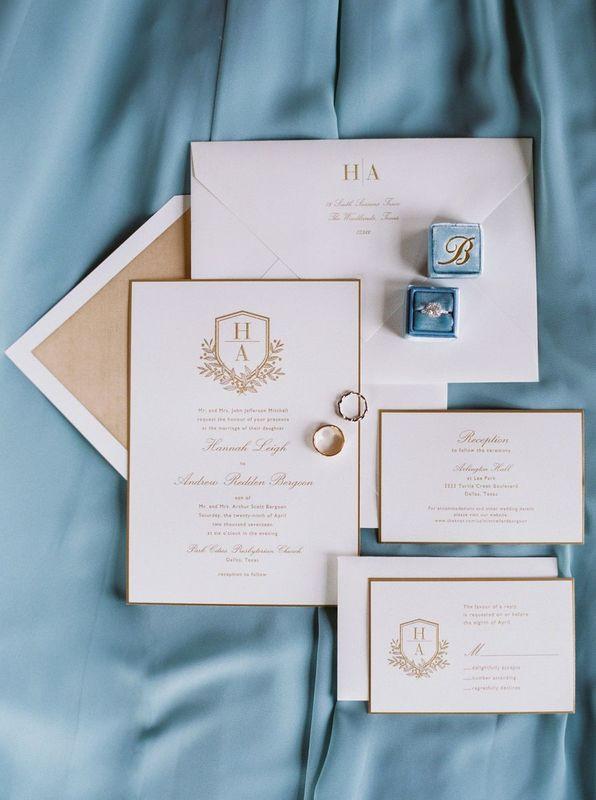 Invitations
Decorating your wedding stationery with your initials is one of the easiest and most classic wedding monogram ideas. Seeing your monogram on paper is a super exciting moment and will suddenly make everything seem SO real.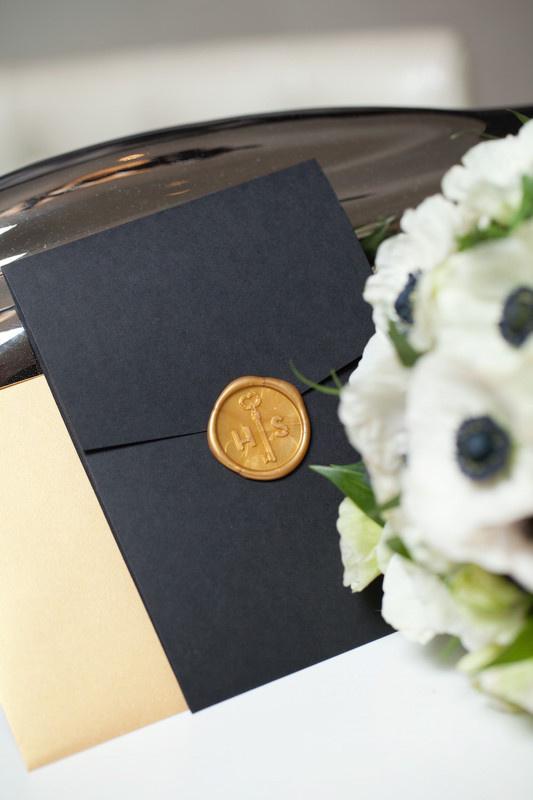 Wax Seal
Add a bit of Old World flair to your stationery suite by adorning your envelopes with wax seals. A custom stamp bearing your monogram is an ultra-elegant touch — it's the little details that count!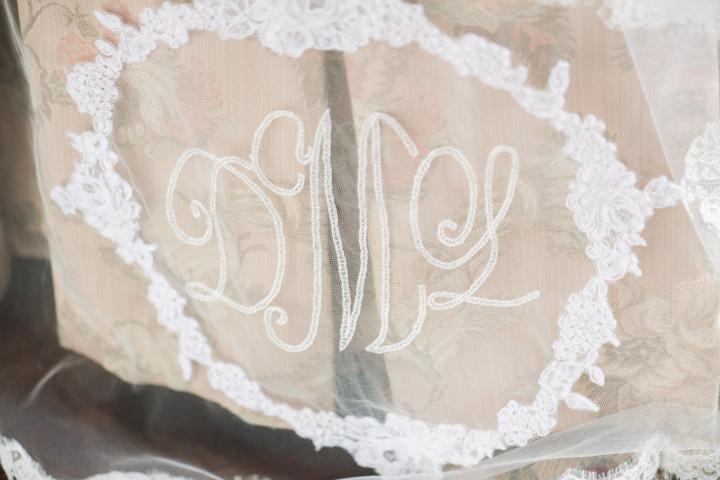 Veil
Make your wedding veil look even more beautiful than it already is by adding your monogram. A large, lace-encircled monogram can't be missed as you walk down the aisle, but you could also opt for a smaller monogram embroidered neatly along the hem for a more subtle option.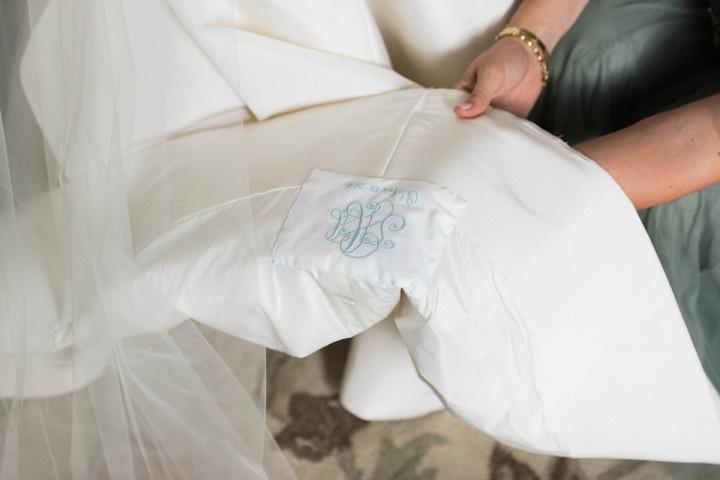 Monogrammed Patch
Sew a monogrammed patch onto the underside of your wedding dress (or the inside of your jacket if you're wearing a suit) and include your wedding date for added customization. It's the perfect monogram wedding idea if you prefer something discreet and hidden.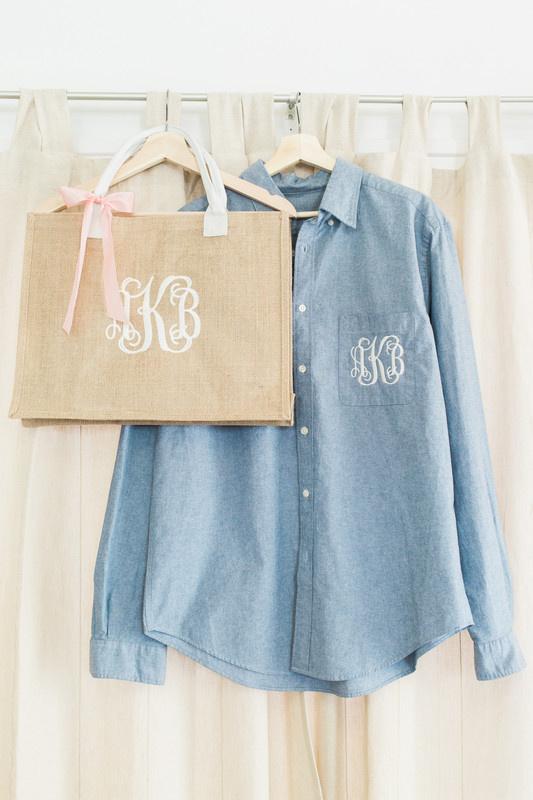 Bridesmaid Gifts
We're loving this adorable bridesmaid gift idea! Surprise your gals with monogrammed button-down shirts and tote bags on the big day as a way of showing how much they mean to you. The shirts are cute and comfortable to wear if you're getting ready for the wedding as a group.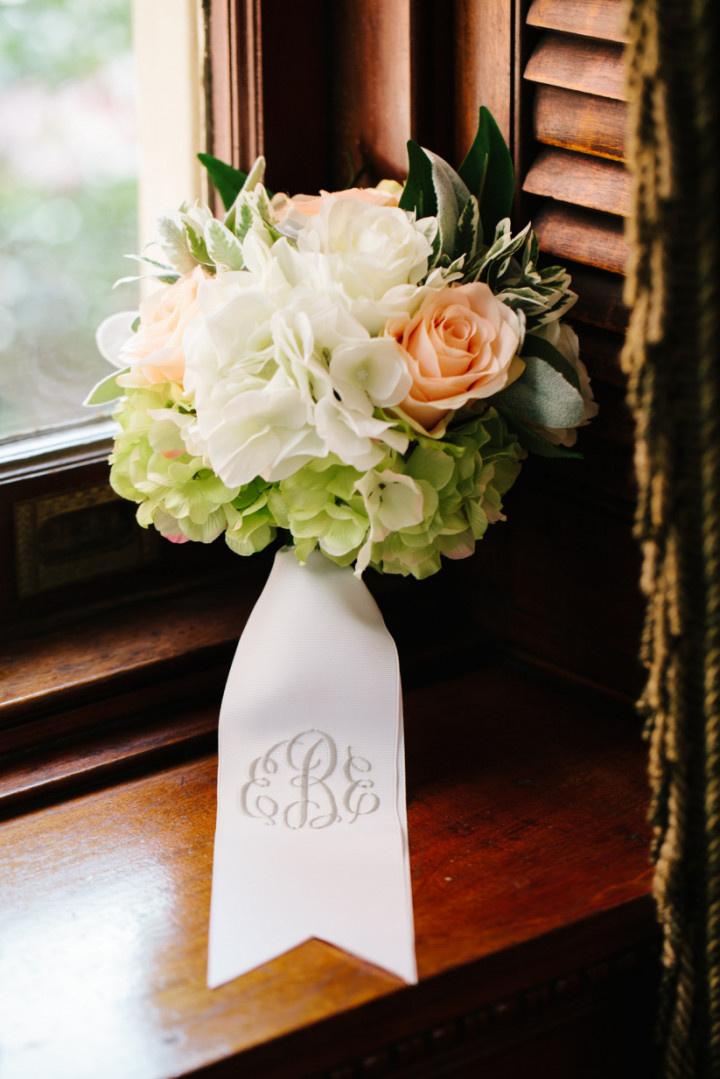 Bouquet Wrap
Ribbons are practical (they tie your bouquet together!) but they look lovely, too. Monogrammed grosgrain ribbon is a chic and classic way to dress up your posy.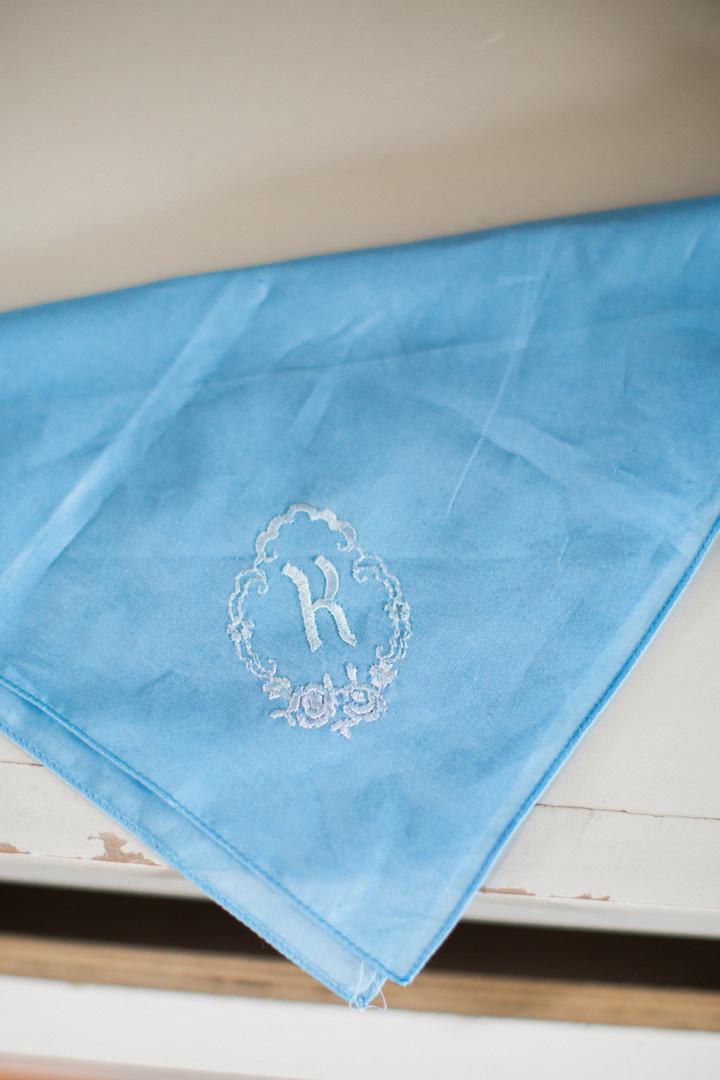 Handkerchief
If you're a notorious crier, you're going to need a handkerchief on the big day. A monogrammed hankie is useful for any tears you may shed, and it also makes a great family heirloom to pass down for generations to come. Make this sentiment even more meaningful by using a handkerchief from a family member as your "something old" or "something borrowed."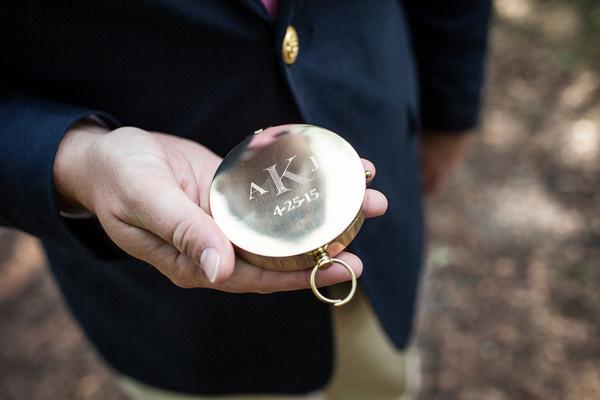 Pocket Watch
A pocket watch is a tasteful wedding gift, whether it's for your spouse, parent or groomsmen — or even a treat for yourself. Make the watch a customized staple piece by adding the recipient's monogram.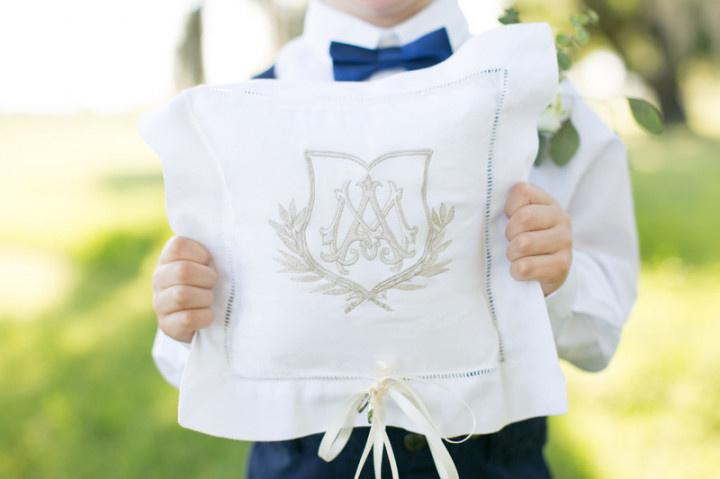 Ring Pillow
Your wedding bands are one of the most important components of your ceremony, and they deserve the VIP treatment. Keep them secure by fastening them to a monogrammed pillow. It's an easy and stylish way for your ring bearer to carry them down the aisle.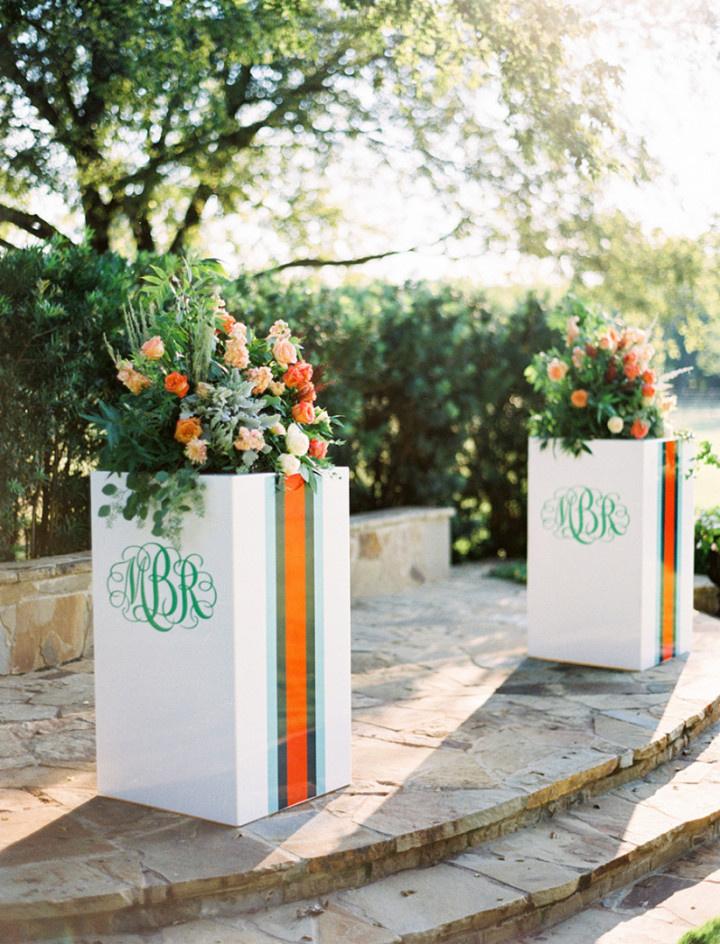 Ceremony Altar
Create a picture-perfect ceremony backdrop with two monogrammed columns on either side of the altar. We love the bright coral and turquoise colors of this preppy setup!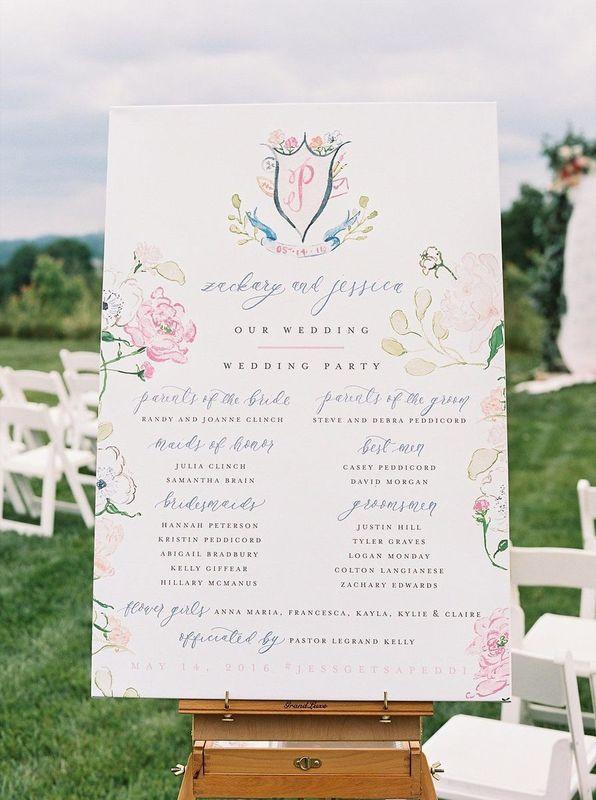 Signage
Custom signage is one of our favorite wedding monogram ideas, and it's a great way to personalize your decor. This pretty ceremony sign features delicate pastels and a watercolor monogram — perfect for spring or summer garden soirée.
Cocktail Napkins
Dress up ordinary cocktail napkins with your married monogram. A traditional monogram like this is ideal for a classic or formal wedding, but you could easily switch up the design to match your own style.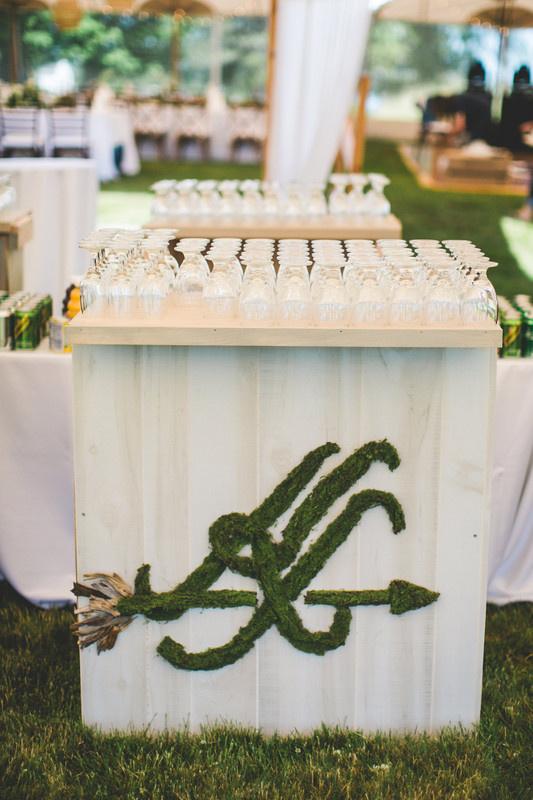 Bar Decor
Turn your cocktail hour or reception bar into a focal piece with the addition of an oversized monogram. This one, made from moss, has a garden-inspired feel, but the idea can be recreated using wood, acrylic or even flowers depending on your wedding theme.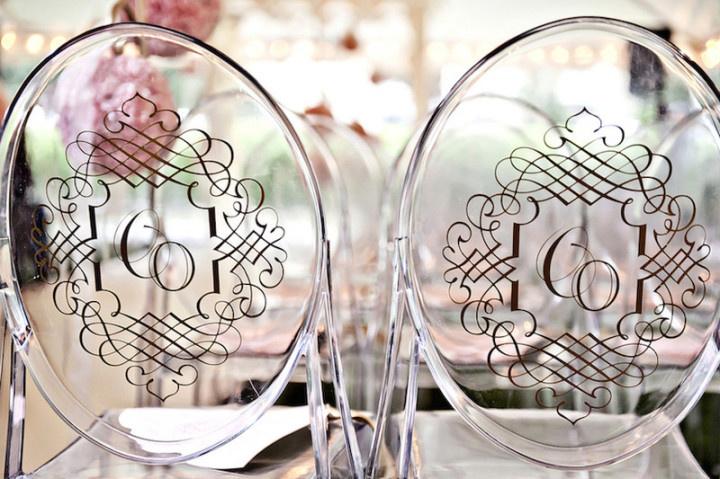 Chair Decals
Acrylic chairs are a sleek backdrop for monogrammed decals. Frame your initials with black scroll motifs for a glamorous effect.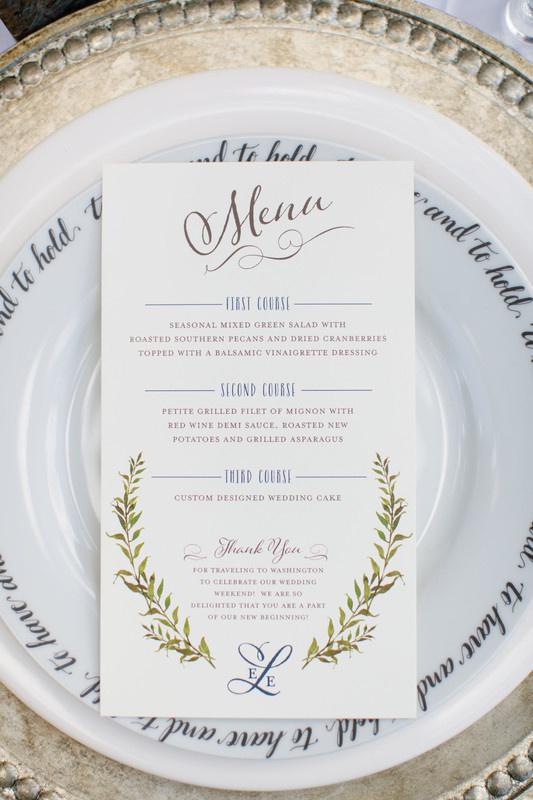 Menus
If you're printing individual reception menus for your guests, small monograms are an excellent finishing touch. Incorporate the same monogram throughout your wedding stationery suite (invitations, programs, escort cards, etc.) to create a cohesive look.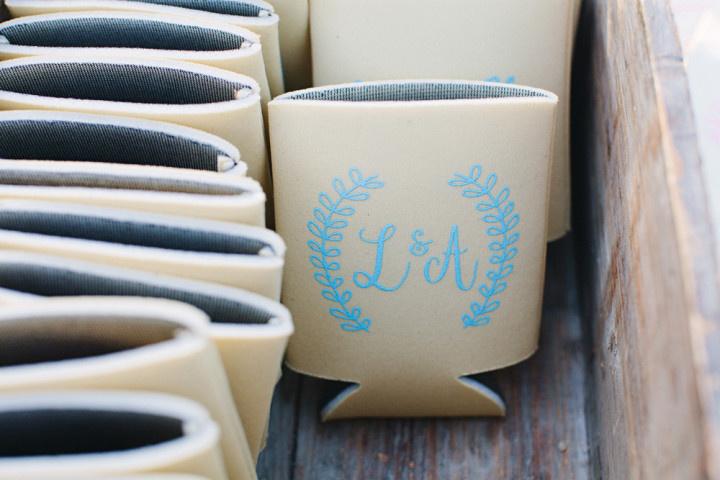 Koozie Favors
You practically can't go wrong with custom koozie favors! This is one of the most popular wedding monogram ideas, and it's something your guests will enjoy using even after the wedding day is over.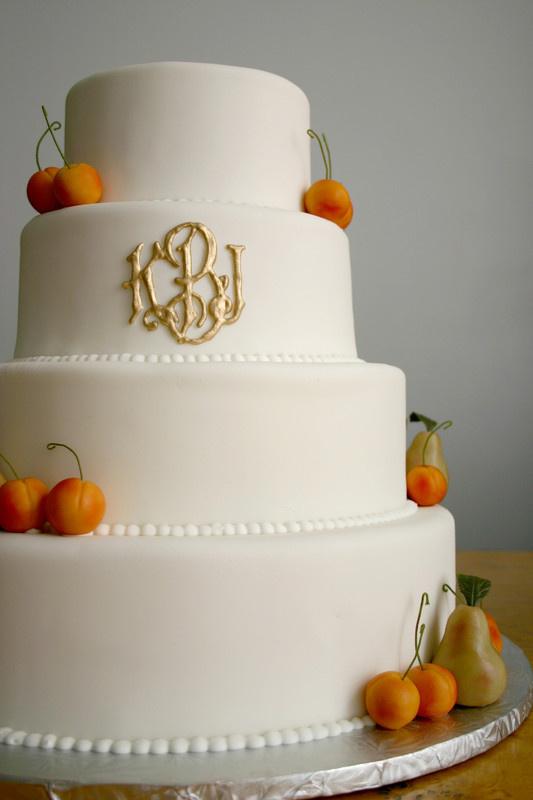 Wedding Cake
A golden monogram turns a basic fondant wedding cake into a decadent dessert. Wedding cakes with fruit are one of our favorite trends right now, and we're loving this four-tiered confection decorated with gum paste cherries and pears.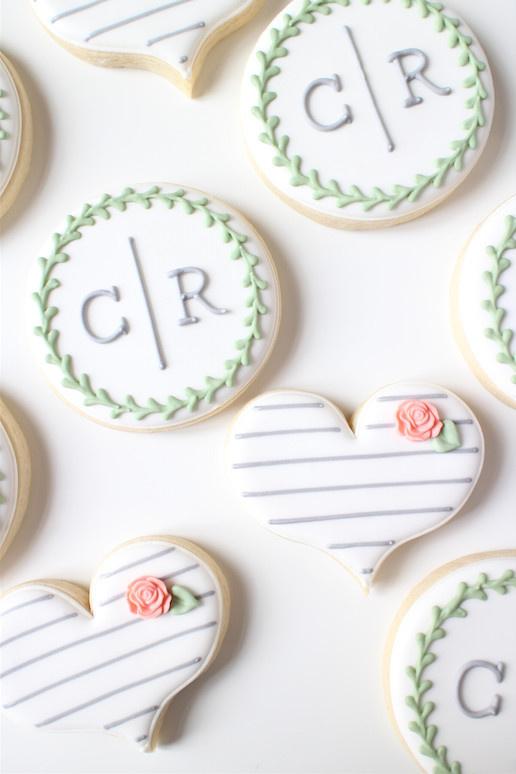 Cookies
Treat your guests to monogrammed cookies as take-home favors or a sweet alternative to wedding cake.