9 Creative Wedding Furniture Ideas That Aren't Overdone
Take a bit of inspiration from these wedding furniture ideas!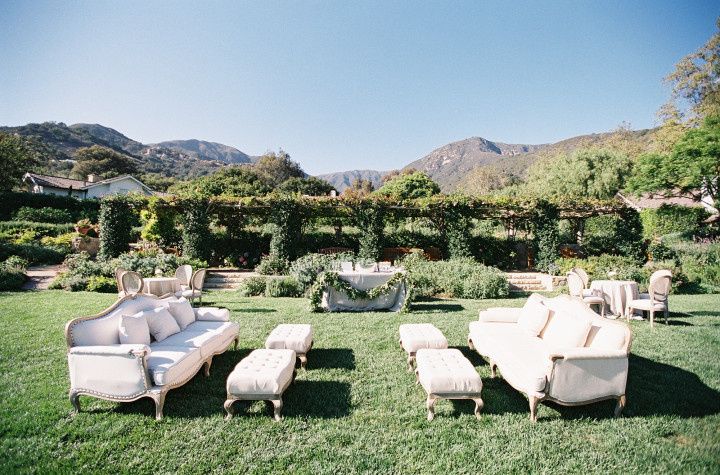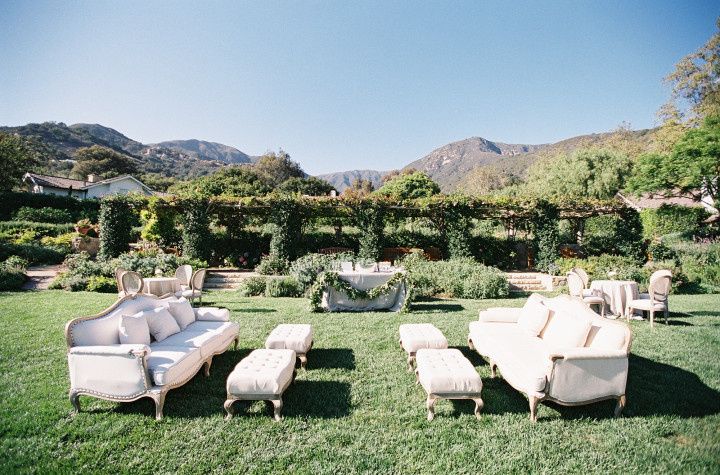 Photo: Kurt Boomer Photography
If you want to bring an unexpected touch to your décor, look no further than wedding furniture. Versatile and fun, furniture can do double duty for many wedding staples, serving as a standout piece that enhances your theme while fulfilling another purpose — think a fireplace for an altar, a desk for a cake table, or a dresser for an escort card display. Wedding furniture can also bring touches that your wedding wouldn't have otherwise, such as a ceremony entrance with a set of doors or an inviting lounge area during cocktail hour.


Just take a bit of inspiration from these wedding furniture ideas!
Photo: Brinton Studios
The entrance to your ceremony needs just as much attention as the altar! Who says you can't have doors at an outdoor wedding? Bring an old wooden set to the beginning of the aisle and top it with a thick foliage of leaves to make a statement entrance — no roof or ceiling necessary. Such a unique use of wedding furniture!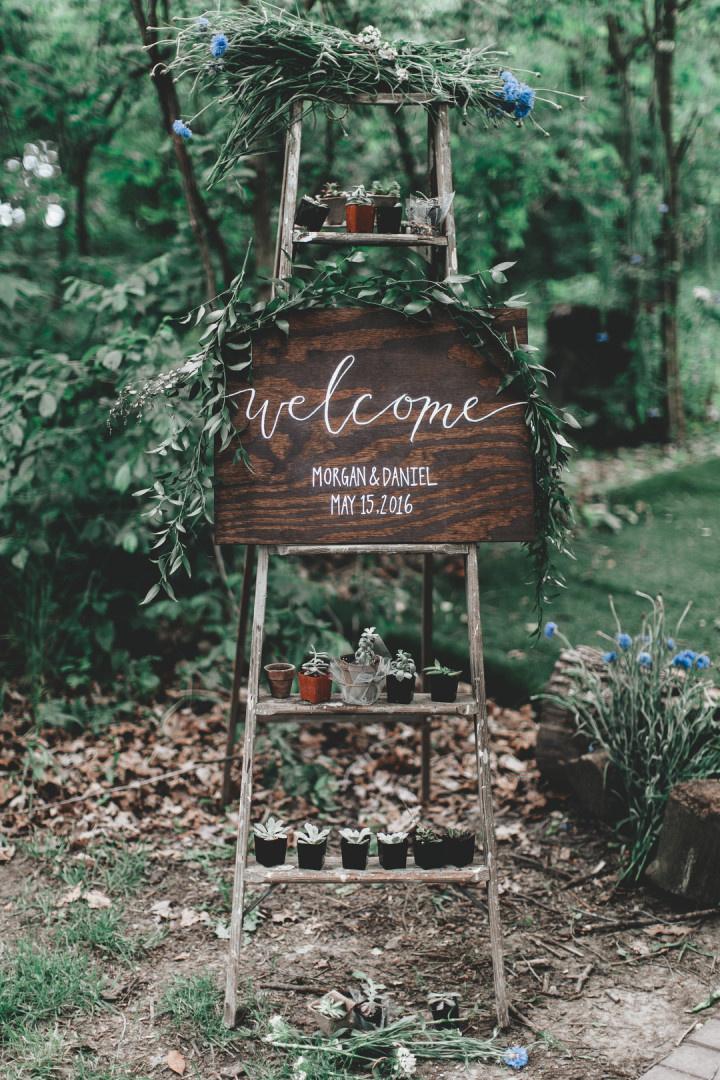 Photo: Surveyor Creative
We love using ladders for their rustic charm. A versatile piece, it can come in handy for many wedding décor situations, whether as an overhead chandelier garnished with floors or side bar set-up displaying myriad cocktail glasses. Here, it serves as the perfect welcome piece for an outdoorsy wedding, complete with bundle of stems, wooden sign, and miniature succulents for a look that complements the natural surroundings.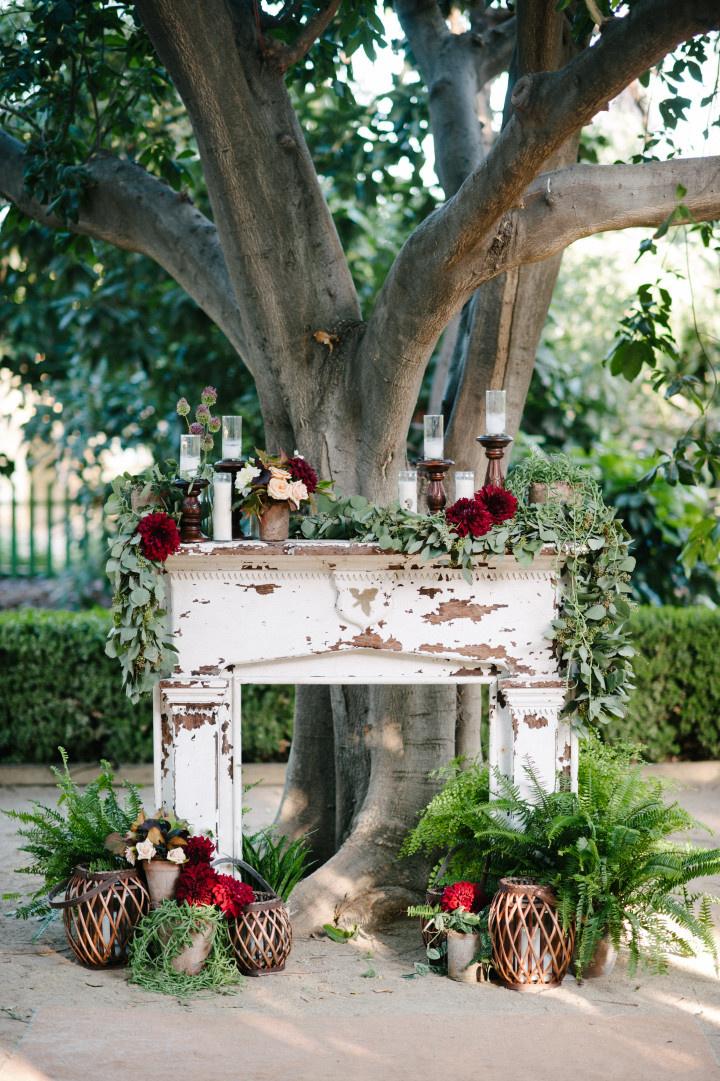 Photo: Erica Schneider Photography
A weathered fireplace always makes for an alternative backdrop rich in character. Don't have one in your venue? No worries, a standalone piece is just as great! Adorned with greenery, bold red flowers, and candles, this one is heavy on the romance.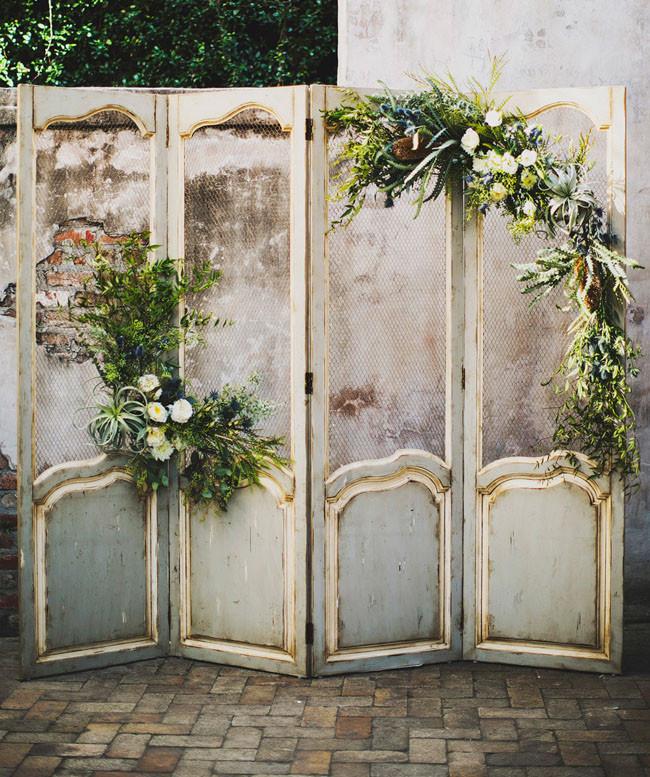 Photo: Ariel Renae Photography
We found your dream photo backdrop — a vintage screen divider. They come in all styles and are never without some charm. Decorate it any which way you like to tie it into your wedding style, whether you drape it in fairy lights for a romantic vibe, weave in macramé for bohemian flair, or adorn it with lush greens and air plants like this one for a botanical feel. All you need is a photo stand in front and you're set!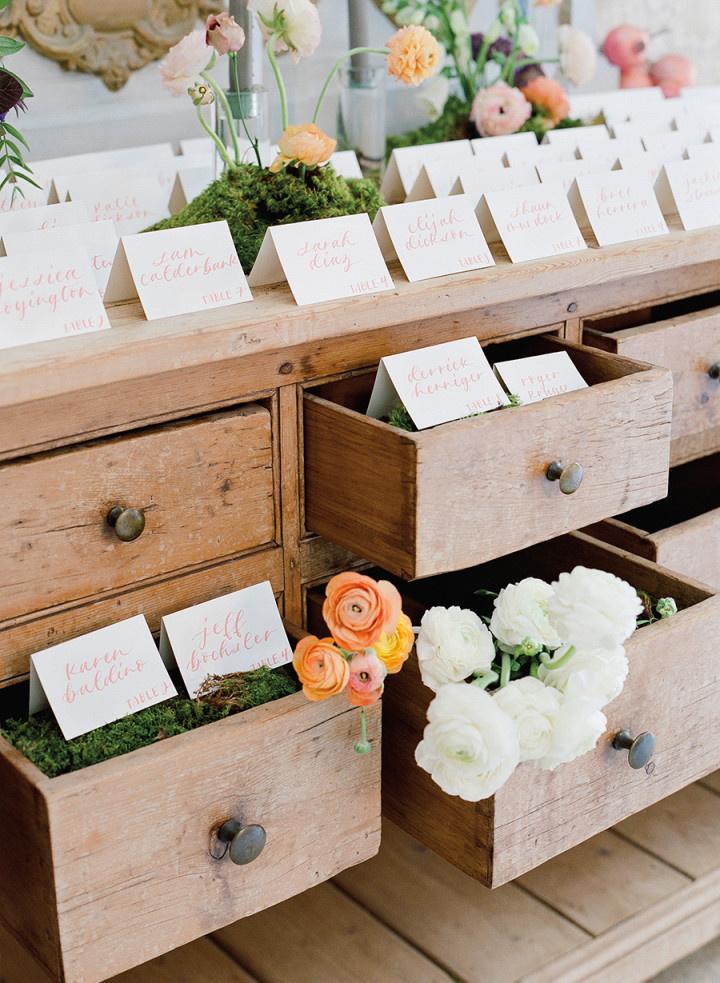 Photo: Jose Villa Photography
A chest of drawers doubles as an escort card display with a whimsical touch. For full effect, play around with the look, leaving some drawers closed and some open, randomly filling them with blooms, grass, and escort cards, of course.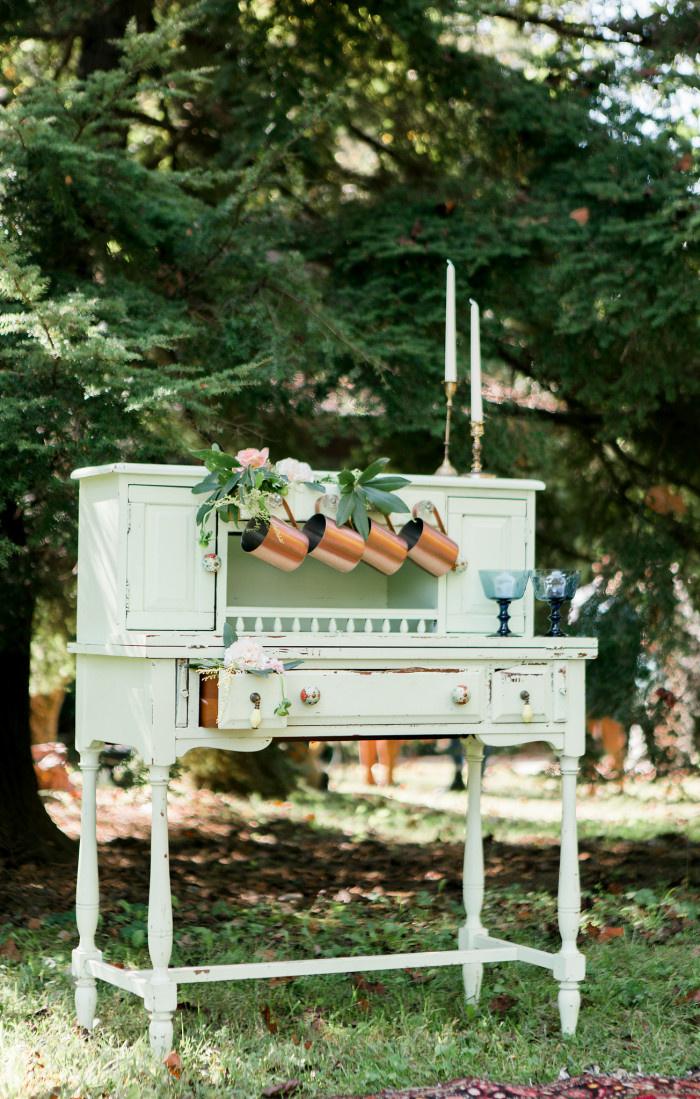 Photo: Strictly Bella Photography
Why have a traditional table for a drink station when a vintage writing desk can bring an unexpected touch? Ask your wedding furniture rental vendor for a bare desk for a rustic feel, or see if they have painted ones to match your wedding colors. Take advantage of the desk's features, such as hooks and cubbies, to display accents and glassware.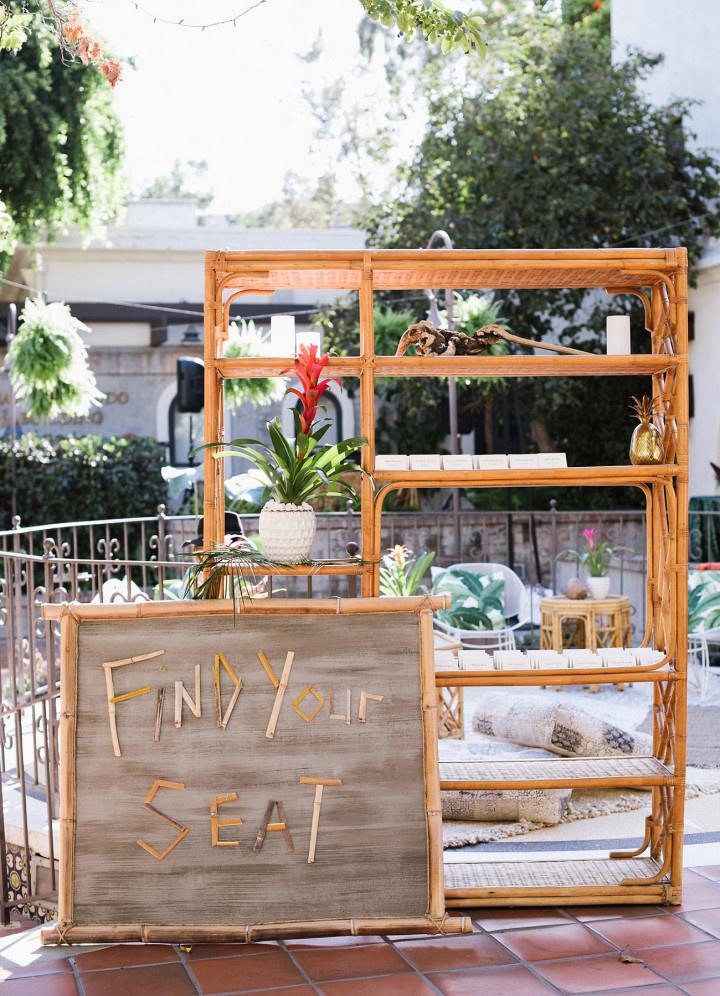 Photo: Hazelnut Photography
From bamboo to tropical flora, this escort card display is all tropical glam. A bookshelf not only serves as a place for guests to find their seats, but as an additional décor piece—such a creative use of wedding furniture. Fill the remaining shelves with accents that reinforce your theme, whether they're cacti for a dessert wedding or a golden pineapple for an island wedding.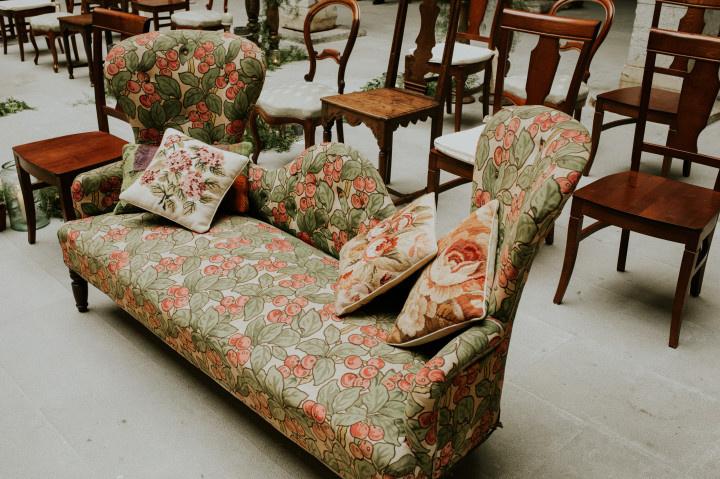 Photo: M2 Visual Studio
Intersperse your standard ceremony seating with sofas and armchairs for an unexpected and whimsical look. Even better, select the seating in a print or pattern that reflects your wedding style.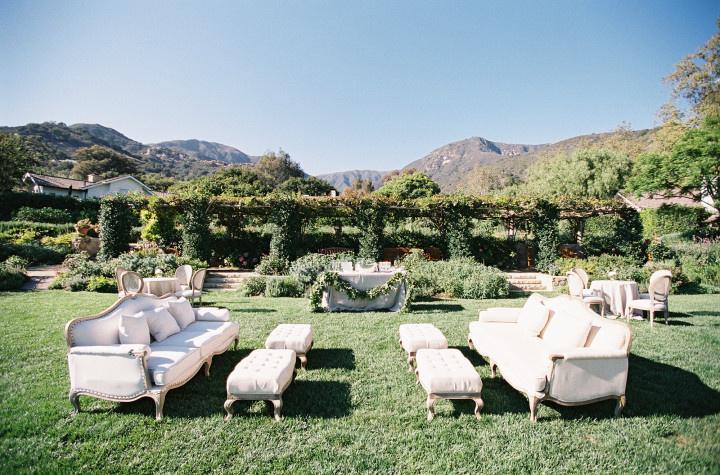 Photo: Kurt Boomer Photography
You can't create a good wedding lounge area without furniture. Mix and match lounge seating and footstools to create a space for guests to relax in during cocktail hour or away from the dance floor when they need to give their feet a break. This elegant arrangement helps create a luxe Italian villa vibe outdoors.