Wedding trends come and go, but the signature wedding cocktail is one with real staying power. After all, why shouldn't the drinks you serve be just as personalized as the songs you choose or the dress you wear? With more and more caterers and bartending companies upping the ante and offering bespoke mixed drinks alongside perfect pours of champagne or icy cold beers, couples are asking for exciting ingredients, creative combinations, and unique glassware and garnishes that will make their wedding's cocktails as memorable as the toasts.
We asked mixologists to share the requests they're getting and the wedding cocktail trends they're loving for 2019.
Stock Your Bar Locally
"Just as couples are looking to locally-sourced ingredients for their dinner menu, many are doing the same for their bar," says Sadie Smythe of Drink Slingers in Austin, Texas. "We love to use cocktail syrups from Liber and Co. and AKA Mixology because we recognize the ingredients, we trust their source, and we know the owners and their integrity personally. We all know that an exceptional cocktail requires exceptional products and both of these companies fit the bill for that."
Head to the Garden
"We will see more fresh (edible) flowers and green herbs as wedding cocktail garnish in 2019," says Smythe. In addition to adding flavor and affordably turning cocktails into beautiful works of art, it's a great way to express your natural side and add a personal touch to each drink.
Expand Your Offerings
The basic bar package is a good place to start, but 2019 couples aren't stopping there. "Many of our 2019 clients are setting aside a larger bar budget, allowing for more options and upgraded selections behind the bar," says Heather Nichol of HD Liquid Catering in McKinney, Texas. So in addition to well liquor and basic mixers, couples are offering high-end pours, liqueurs, creative bitters, and more.
Serve Up Timeless Classics
Who says your signature wedding cocktail has to be brand new? "Classic cocktails are really making a comeback," says Nichol. So don't feel like you have to reinvent the wheel if you'd rather sip a post-ceremony Negroni or French 75.
Open the Bar Early
Those few moments at the beginning of a wedding can be awkward, with guests milling around unsure of where to go and what to do. Break the ice with pre-ceremony cocktail service, which will definitely get your guests in the celebratory mood. "In an effort to create a welcoming greeting, even if they themselves are still behind the scenes, many couples are now opening the bar when guests arrive, before the ceremony begins," says Melissa Kilpatrick of Catered Cocktails in Neptune Beach, Florida. It's not usually a full bar, but instead a small selection such as bubbly, a few beers, or a lighter signature cocktail like a spritz. "Your bar will already be set up anyway, so you may as well get the party started!"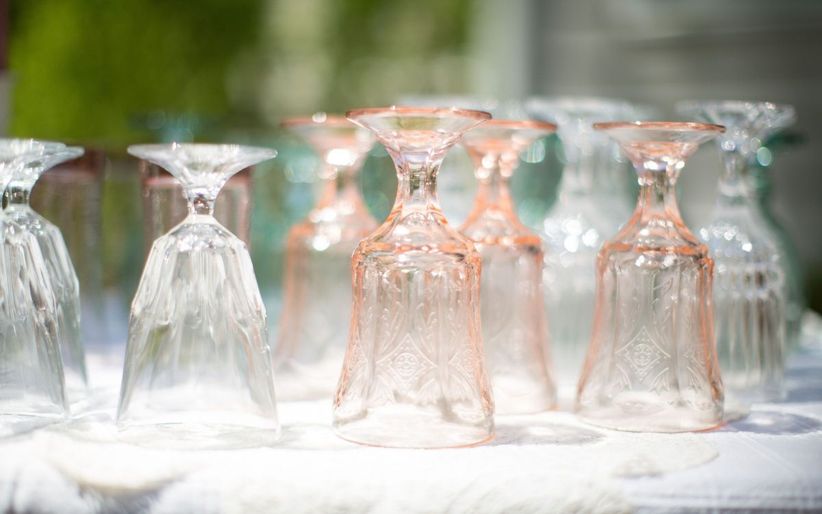 Say "No" to Plastic
"Our couples have the environment in mind. Many are stepping away from plastics and instead choosing to rent glassware as an eco-friendly alternative," Nichol reveals. Smythe agrees. "One wedding can easily require the use of 1,000 plastic cups along with all the liquor and beer bottles, creating a pretty large ecological footprint. While we do use recyclable plastic cups, the impact is still large and when we can we encourage more sustainable practices like the use of glassware or Tossware." Yes, renting all that barware might cost a little more, but it's worth it when it comes to lessening our footprint during an event that, unfortunately, does create a lot of waste. Still worried about cost? Combine it with your favor (and even escort card) budget! Smythe recently had a wedding where the bride bought a glass mug for each guest to use throughout the night, then take home when the party was over. Kick it up another notch by tying a tag with each guest's name and table assignment to the handle or stem, so they can find their seat and make sure no one else grabs their drink.
Give Guests an Experience
It's not just about the booze! "Guests' experience is being considered as our clients are making plans for service throughout their event," says Nichols. "Many are adding passed wedding cocktails, tableside wine service at dinner, after-dinner coffee bars, or interactive stations like hot cocoa bars to keep guests warm during chilly months."
Where's the Proof?
Alcohol isn't for everyone, but that doesn't mean guests who choose not to imbibe should miss out on the fun. "We're seeing more and more 'conscious cocktails,' where a signature wedding cocktail is served alongside its non-boozy counterpart," says Smythe. "Mocktails are a great way for pregnant women, sober people, designated drivers, or those who simply choose not to drink alcohol to feel like a part of the celebration while still feeling supported in their choices. It's a beautiful win-win!" Remove the stigma even further with an easy rebrand, swapping the word 'mocktail' for 'refreshers,' 'zero-proof,' or ' sans spirits.' "Every other Monday on our Instagram page, we post about not drinking alcohol," Smythe adds. "This is our attempt to balance out the business that we are in of serving alcohol to folks regularly, and to foster within our company's culture a deeper responsibility around what we do."