How Vendors are Taking In-Person Wedding Planning Tasks Online
Turns out you can check a lot off your wedding-planning checklist while safe at home during the coronavirus pandemic. Here's how wedding vendors are creatively helping couples stay on track.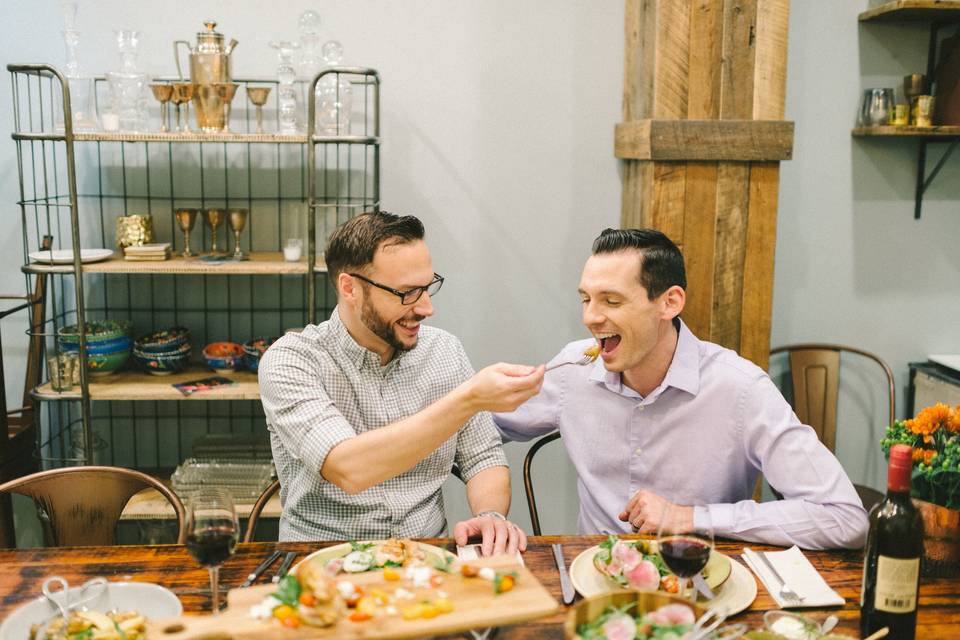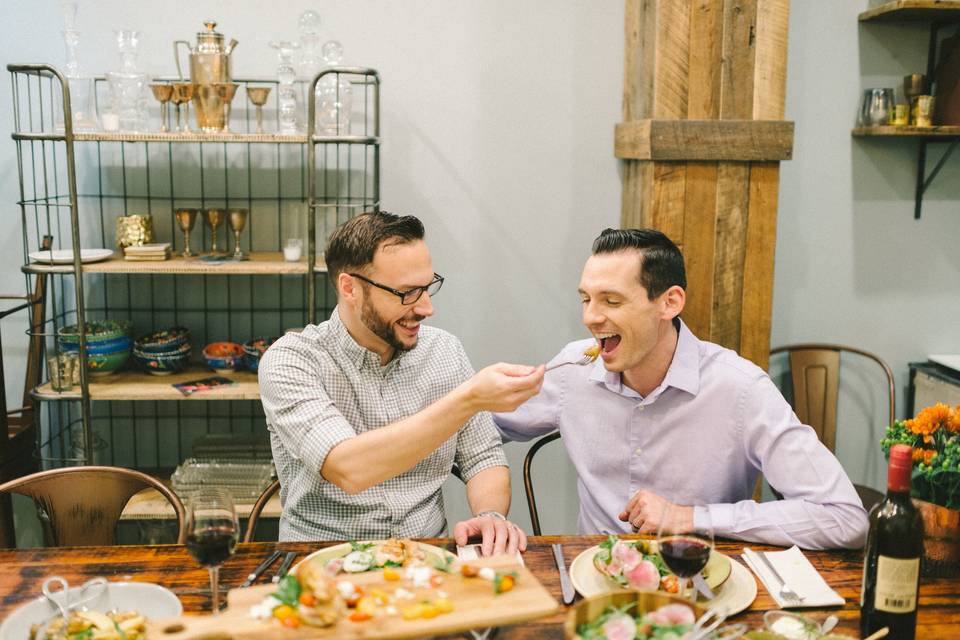 Couples who are wedding planning during the coronavirus pandemic have become all too familiar with big decisions, potential backup plans, and virtual communication with their vendor teams. However, while in-person planning tasks may be limited, many vendors are flexing their creativity with new and exciting ways to help couples continue planning from the comfort of their own home.
Some brides may already be browsing for their wedding dress and accessories with virtual bridal salon experiences, but the creative solutions don't stop there. As a response to the pandemic, wedding vendors are taking nearly every task online — from design meetings to showroom visits to overall event management. Preparing for the big day may look somewhat different during the coronavirus pandemic, but that doesn't mean to-do lists should come to a sudden halt. Instead, we're sharing how top vendors have quickly adapted with new virtual experiences to keep couples and their wedding plans right on track.
Virtual Shopping Trips
Vendors are thinking outside the box to help couples make those all-important event selections. Renée Sabo of Urban Soirée in Boston, Massachusetts, said some of her clients may opt to take shopping trips to their phone screens as they select everything from table linens to floral arrangements. "For design-related planning, we're doing virtual showroom appointments to make rental selections. Also, many vendors, like stationery designers and floral designers are offering video calls to walk through vision and design boards with our couples."
Online Planning Tools
In addition to videos, emails, and phone calls, vendors are taking planning online with the help of their favorite wedding planning software programs. "We are leaning on our CRM (customer relationship management) system to encourage couples to get ahead with planning logistics," Renée Sabo said. These software programs can help couples with tasks like gathering inspiration, organizing their budget, and managing checklists — all of which can be done remotely.
Sarah Trotter of Lasting Impressions Weddings in Minnetonka, Minnesota agreed, sharing that she's been working with online planning tools for years, making the overall transition easier, despite the absence of in-person meetings.
Collaborating via Screen
While it's always ideal to see and touch rental and decor selections in-person, that's not stopping vendors from helping their couples bring their wedding vision to life. "The one element of the planning that I've always encouraged our clients to do in-person is the event design. However, with the pandemic, I've had numerous clients start planning their decor virtually," Sarah Trotter said. "We've designed mood boards, supplied numerous inspiration photos, created floor plans and developed proposals for our clients to review over Zoom calls. Virtual meetings are the new normal for us."
DIY Checklist Items
In moments of such uncertainty, Sarah Trotter is helping her clients stay motivated by working on all the smaller, administrative tasks they can easily accomplish from home. She's advising clients to work on updating their wedding websites, continue curating their registries, update their guest address list, finalize music selections, and more. "Try and do all of the little things so that when we can get out and plan in-person, we will be ready," she said.
Similarly, Renée Sabo knows it's easy for couples to feel unmotivated to plan their wedding during this difficult time. Still, she encourages her clients to break up their to-list and focus on the simple yet attainable tasks. "Try to work an hour or so a week on your task list. It could look like grabbing some wine and working on their ceremony outlines or online shopping for wedding decor! Little by little, the planning milestones will add up, and you'll be happy you made progress during this quarantined time."
Tastings To-Go
Menu planning and cake tastings are essential components of wedding planning, but social distancing guidelines have forced many culinary wedding vendors to find new and inventive workarounds. Renée Sabo shared that some bakeries and caterers are responding to the pandemic by offering to-go boxes for her couples to pick up and taste test from home. While it may not be the tasting they'd originally planned on, vendors are working to ensure couples can still experience the next best thing.
Digital Beauty Consults
Bridal hair and makeup trials have taken a backseat in light of the coronavirus, but planners are still encouraging brides to keep up virtual communication with their wedding day beauty team. In addition to the option of video call consultations, Renée Sabo said that some of her clients are already securing sought-after artists for their new wedding dates. Although in-person beauty trials may be currently on hold, vendors are advising brides to keep busy by curating their favorite inspiration photos and developing healthy skin care regimes in the meantime.