How to Get the Wedding Dress Shopping Experience Amidst the Pandemic
Whether you're ready to head to the bridal salon in-person or would prefer to enjoy the shopping experience from home, there are options for you.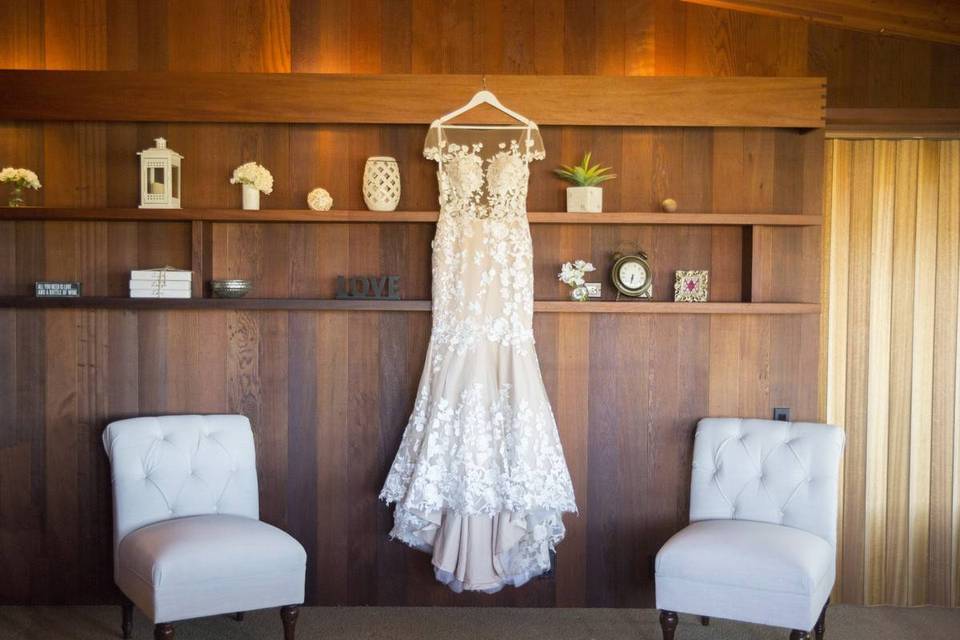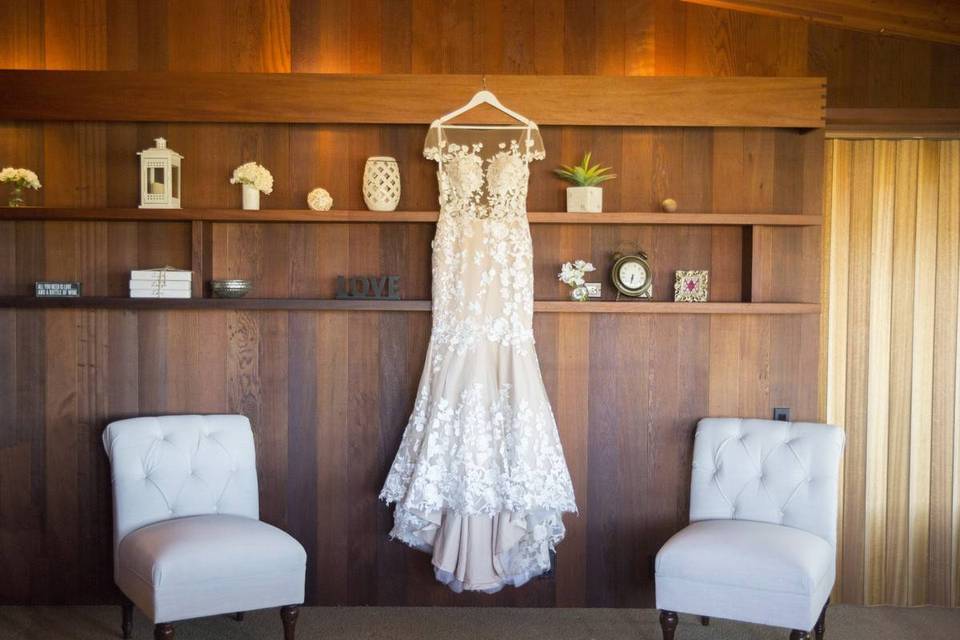 Finding your dream wedding dress is something most brides look forward to for years, if not decades. In this exciting moment, you start to picture what it will feel like to walk down the aisle towards the love of your life. But if you're a bride-to-be during the COVID-19 pandemic, shopping for a wedding dress probably looks a lot different than you pictured—and had hoped.
Brick-and-mortar bridal salons were among the thousands of non-essential businesses that were forced to shut down in order to help flatten the curve and ease the burden on our health care system. As a result, salons had to get creative and do what many other vendors in their industry were and are still doing: having virtual consultations with their clients.
Last year, The Stylish Bride in New York City launched a Virtual Styling program, which set the groundwork for them to be able to work virtually with a bride. "This allows us to keep the momentum going and use this time to get things done," says founder Julie Sabatino, who is also scheduling appointments with her clients over Zoom. "We have been flexible with changing dates, and thankfully have enough teams of stylists for our on-site service to be able to handle multiple weddings on the same day."
Tali Gallo of The Bridal Finery in Winter Park, Florida, and her team have also been doing Zoom and FaceTime bridal styling sessions with current and prospective clients. In addition, they're hosting live videos on Facebook and Instagram displaying their favorite accessories and answering any questions brides might have. "Being a great resource for our brides has always been a top priority and now we are laser focused on how to expand on it," she says.
Aubrey Silva, co-owner of Grace+White Bridal in Sacramento, California, launched the "Dress Drop" as a way for her store to ship gowns to brides at their home that they could try on and purchase. "We had some success with this, however most brides started putting their weddings on hold all together," she says. "Planning a wedding with COVID restrictions was not the experience most brides wanted, so they chose to postpone." As a few months went on, Silva and her team saw a rise in micro weddings and elopements. "Brides and the industry are hopeful that by fall, events will start to resume," she says.
A Welcomed Change of Pace
Now that vaccines are being distributed across the country and hospitalization rates are starting to fall, many bridal salons are starting to see the light at the end of the tunnel.
After shutting down for several months back in March, and briefly offering a white glove delivery service and video consultations for brides, the team at Grace+White Bridal are now open—just at a lower capacity. "We still cannot serve champagne or snacks as is part of our signature VIP experience for every bride, but we are so grateful to see everyone in person," says co-owner Sara Von Feldt.
Currently, appointments are booked online and an email is sent that provides information about Grace+White and how they are handling COVID. "We allow 10 people, require masks and are now allowing food and beverages at this time," says Silva. "We have hand sanitizer and mask stations at the boutique, our team wears masks and sanitizes frequently and after the appointment we sanitize any gowns and accessories that have been touched."
Bridal Atelier in Upper Montclair, New Jersey is also back to conducting in-person experiences, however appointments are spaced out significantly to allow for enough time to conduct sanitizing procedures between each bride. "During appointments the brides and their guests must wear face coverings, as does our staff, which feels a little different, of course, but we find that most clients are happy to comply with the rules and happy to be in store with us," says owner Rachel Sweebe. "Though we can no longer have 'champagne toasts' in the boutique, we make sure that all of our brides who find their gown leave with a goodie bag of champagne so they can celebrate." If you're still not comfortable with an in-store experience, many salons are still conducting virtual visits. Here's how you can pull off the wedding dress experience from the comfort of your home.
Browse Pinterest for inspiration.
If you're still unsure of what type of wedding dress you want, be sure to make an inspiration board on Pinterest so you have an idea in mind when you contact bridal salons. Many times the photos posted on Pinterest will direct you back to a salon, which can be helpful in pointing you in the right direction of a store that might have your styles in stock. Gallo also suggests going into your own closet to get a better understanding of the types of silhouettes, fabrics, and patterns you tend to wear. This should guide you in your decision making.
Contact salons of interest.
Most bridal salons are still up and running virtually (like the rest of the world). Give your local bridal salon a call and inquire about setting up a virtual consultation. "This is an especially great option for brides who have already started the shopping process and have tried on gowns and have narrowed down the silhouettes they prefer," says Beth Chapman of The White Dress by the Shore in Clinton, Connecticut. "There are also bridal boutiques that are sending out gowns to brides at home to try on."
Take your own measurements.
One of the first things most salons are going to ask you to do is to take your measurements. Unfortunately you can't rely on your usual sizing, as bridal gown sizing is different from the clothes you wear everyday. "Typically, you'll discover that you are one to three sizes larger in bridal (depending on the designer), which is why we recommend that brides compare their measurements to those of the dress they're interested in to make sure it's within their size range for alterations," says Jennifer Feldstein of The Last Minute Bride in Vacaville, California. "Also, don't be alarmed if you discover your measurements are in-between sizes—bridal gowns are made to accommodate alterations and can typically be taken in two to four sizes and let out one to two sizes." Of course, she notes that there are always exceptions and recommends talking to the store you're purchasing the dress from to confirm if your measurements work.
Order dresses to try on at home.
The White Dress by the Shore is one of many offering an at-home service. "We send up to three off-the-rack gowns to be tried on in the privacy of your home," says Chapman. "A stylist will FaceTime with the bride so that they can discuss the alterations that are needed and the best way to style the gown with accessories to suit the bride's personal style and the look and feel of the wedding." The gowns are even sent with clips so that it can be clipped to emulate how it will fit once it is altered.
Recreate the in-salon experience.
Before you try the dresses, Jamie Chang of Mango Muse Events in Los Altos, California, recommends connecting with your friends and family, or whoever you would have invited to the salon with you, over video call and even doing your hair and makeup. "Although they won't be able to touch or see the dresses in detail, they can give you feedback on the shape or design," she says. "Try the dresses on with some heels or the shoes you'll be wearing to help you see what it would be like—and if you have jewelry, hair accessories, or a veil, try those on as well."
Order the dress you love most.
After ordering your dress, contact different tailors or seamstresses in your local community to get price quotes and appointment timelines for when they're back up and running. "Once businesses are able to re-open, there is going to be a lot of demand for seamstresses to alter wedding dresses since many alterations that are in process are currently on hold," notes Feldstein. "It's recommended to start alterations four to eight weeks before your wedding as recommended by your seamstress."