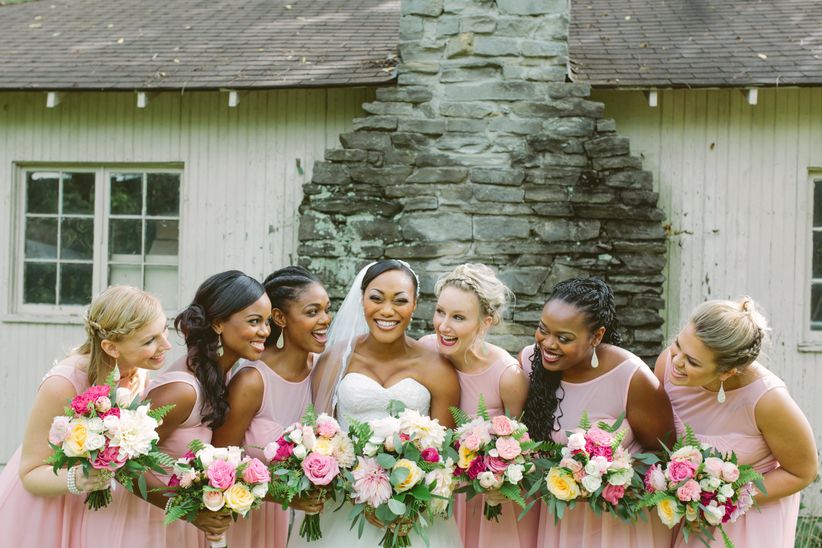 Photo: Greybird Galleries
Bridal shower games are a fun way to get everyone to mix and mingle during a bridal shower. Most likely, the bridal shower will be one of the first times a lot of the bride-to-be's friends and family will meet each other, so playing a few bridal shower games will help break the ice and get everyone laughing.

Be sure to plan a time during the shower to have everyone sit down and play one of these bridal shower games — you'll be surprised how quickly the vibe of the party will change, in a good way! Some of the quieter guests will be able to come out of their shells with the help of silly questions and funny tasks. Need help choosing a few games to play during a bridal shower? We're here to help!


Here are the best bridal shower games to play at an upcoming bridal shower.
The Newlywed Game
Similar to 21 questions, have the bride-to-be sit down and answer a few questions about her relationship. Then compare her responses with her spouse-to-be's answers. Questions can be as simple as "Where did you two first meet?" to even a bit more personal like "Who said "I Love You" first?"
How to Play This Bridal Shower Game:
Before the shower come up with about 21 questions for the bride's S.O. to fill out. Then, during the bridal shower, have the bride answer the same questions to see how well the future newlyweds really know each other!
Cootie Catcher
You may remember this game from your elementary or middle school days, because it was such a hit! This fortune-teller template can easily be transformed into
a bridal shower game
! Each flap will reveal a task that the player must do, such as take a selfie with the bride or give a relationship tip!
How to Play This Bridal Shower Game:
Create a "cootie catcher" that has eight different outcomes and then fold the paper accordingly. Pass the fortune-teller around the room so each person can take turns moving the flaps and having to complete the different tasks!
The First Kiss Story
Whether it be ultra-romantic or slightly embarrassing, we know everyone has a great first kiss story. So why not share it by playing this bridal shower game!
How to Play This Bridal Shower Game:
Have everyone sit down in a circle and retell their first kiss. After everyone has shared their story, go back around and vote on whose story was the best. Or, for some extra laughs, go around and vote on who had the worst first kiss.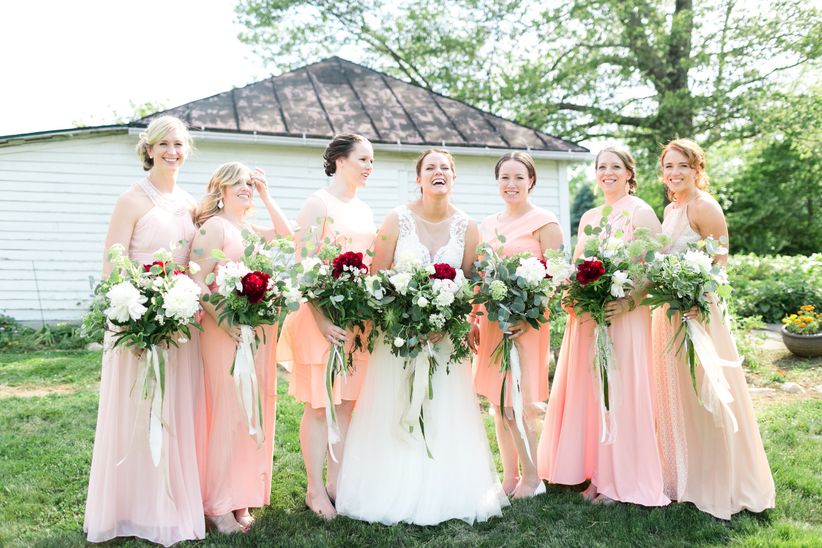 Photo: Karen Ann Photography
Bridal Pictionary__
Test your guests' artistic skills with this bridal pictionary game! Just
divide your guests
into two or three different teams and let the games begin!
How to Play This Bridal Shower Game:
Purchase a large board or pad of paper and some markers. Cut about ten slips of paper and write on each of them a wedding-related term. Place the slips of paper into a jar and have guests break off into teams. Then take turns pulling from the jar and having each team try to guess what their teammate is trying to draw. The winner with the most correct guesses wins!
TP Couture
Spark your guests creativity skills with this fun and interactive bridal shower game! All you'll need is a couple of rolls of toilet paper and maybe some fashion experts.
How to Play This Bridal Shower Game:
Break everyone into teams and give them one roll of toilet paper that they'll use to create a wedding gown. Each team will then have a chance to model their luxurious gown after about twenty minutes. After the fashion show, have the bride-to-be go around and pick her favorite gown.
Who Said it?
This is one of our favorite bridal shower games. This game will test how well your guests really know the couple! It's also a perfect option if you're throwing a couple's shower.
How to Play This Bridal Shower Game:
Before the party, have the couple answer a series of questions. Then, during the bridal shower, plan a time to read out every answer. Have your guests try and guess who they they think responded to each question by holding up their hands.
Take Yarn, Tell Yarn Bridal Shower Game
This game is a perfect icebreaker for guests who may not know each other.
How to Play This Bridal Shower Game:
As each guest arrives, have them cut a strand of yarn. It can be as small or as long as they would like. Pick a time during the shower to have everyone sit down with their piece of yarn. You'll then have each person one by one tell a little bit about themselves as they wrap the yarn around their finger. The longer the piece of yarn is the longer that person has to share!
Photo: Tracy Autem & Lightly Photography
Key Advice
Get helpful advice from friends and family with this
fun and crafty bridal shower game
.
How to Play This Bridal Shower Game:
Pass out vintage keys to every guest along with a piece of paper and ribbon. Then have each guest write down their best piece advice for the bride-to-be, but make sure they do not sign it. Collect the keys with the attached paper and have the bride read out loud each guests' tips. The bride can then select her favorite piece of advice and that guest can get a small prize!
Bridal Bingo
This bridal shower game is similar to the standard bingo game, but spun with some wedding-related terms. Bonus: You can easily find printable bingo boards that you can give to each guest as they enter the party.
How to Play This Bridal Shower Game:
Have each guest fill in their squares with gifts they might think the bride-to-be will open. When the bride-to-be is opening presents cross off the corresponding square. The first guest to get "Bingo" wins!
Vow Mad Libs
Have guests create their own version of the bride-to-be's vows with this silly Mad Lib-inspired bridal shower game!
How to Play This Bridal Shower Game:
Pass out vow templates to every guest and have them fill in their own answers. Then go around and read out loud each template's responses. Trust us, It'll be hard not to laugh when reading some of the answers!