6 Couple's Wedding Shower Themes to Celebrate Any Dynamic Duo
From a garden party or tea party to mimosas, cupcakes and Etsy-inspired DIY decorations, here are the best party ideas for the happy couple.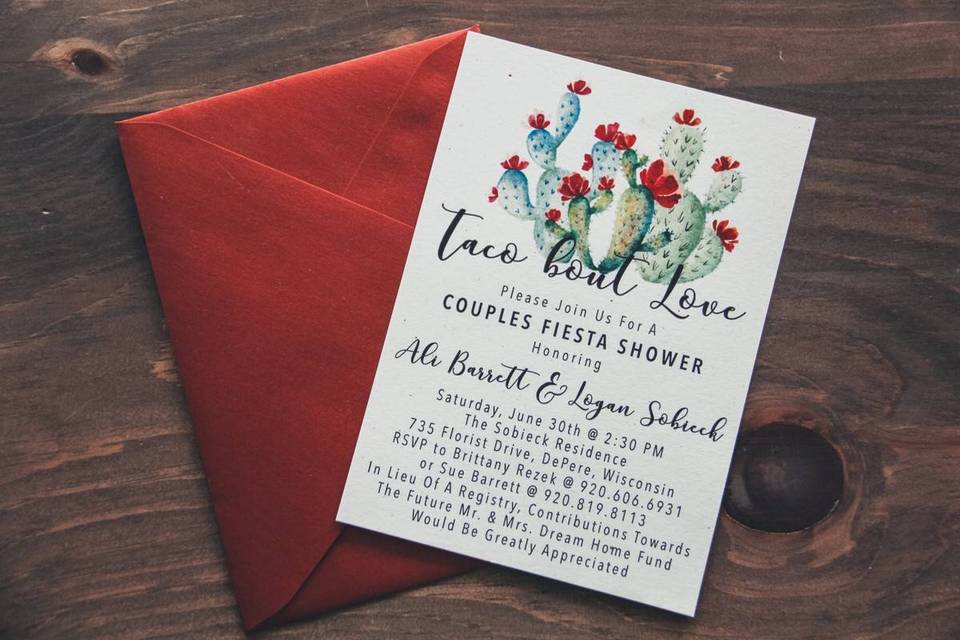 The moment you became engaged, something changed. And sure, it might not have been life-altering, but it cemented your relationship in a special way. Those who love you most — from your closest family members to your treasured friends — are excited to celebrate the next stage of your relationship. Champagne toasts, bachelorette and bachelor parties, and couple's wedding showers are all ways to honor the commitment you will make to one another. Though traditionally, bridal showers are hosted to honor the bride-to-be, now, modern duos choose to bring both parties together, since hey, it takes two to create a marriage. (Psst: For a bride-focused event, here's our list of bridal shower ideas!)
No matter who throws this bash for you, it will be a memorable, meaningful event. In fact, many couples are choosing to host the shower themselves to fit their style, taste and needs. You can keep it simple with snacks and drinks, or you can go above and beyond with creativity and imagination. Here, we spoke with experts within the wedding industry for their best couple's wedding shower themes:
Written in the Stars
For a super-sweet wedding shower brunch that centers around how fate brought this happy couple together, consider a 'It Was Written in the Stars' theme. It's unique — and hey, as wedding planner Keith Williard reminds, this is a time to have some fun and really take into consideration the couple's passions and what gets them excited for their big day.
He nicknames this universe and destiny-inspired theme 'Ziggy Stardust.' "It may seem way out there, but think about what is included with this. Planets, stars, and lots of color options," he explains. For example, for one of his couples, he built lightning bolts with a sparkly blue frame and then filled them with red roses. Then, the centerpieces were then used as prizes for the games. Favors can include cookies made in the form of lightning bolts, guitars, and even rocket ships.
"The linen can be as wild as silver sequins on a beautiful deep purple crushed satin," he continues. "Pair this with a silver Chiavari chair or silver spandex chair cover, and the look is almost complete."
Allow your bridesmaids, groomsmen, and wedding party members to put together final details, including the guest list and invitations, so at least some of the experience is a surprise!
Jane Austen Fairytale
What is a shower theme that doubles as a tea party? Anything involving literature, lovers and elegance, of course. For the couple who wants to have a coed shower experience but still pay tribute to the love stories that inspired them to believe in their own, a Jane Austen couple's shower is the way to go. This is especially true if both soon-to-be-spouses share a love a timeless classics. Austen particularly is a sweet choice since most of her books were set in the countryside in the 1800s. This in itself provides ample opportunity to be dreamy and colorful for your garden party. "The tables could be set with floral print linen. The centerpieces could be tea sets that are then used as part of the event," he says.
Even the game could lend itself to the theme by having guests try to guess the right book based on simple hints, he continues.
"When I think of Jane Austen, I immediately think of the romantic countryside and then take it from there," he adds. For party ideas, consider browsing through Etsy to see invitations, centerpieces, unique baked goods (like cupcakes), fun drinks like mimosas, as well as printable games, and more.
Hawaiian Luau
These days, couples are taking all sorts of paths toward wedding planning for the big day. And many are throwing out the general protocols altogether. If you and your partner have decided to host a destination wedding, why not make the whole weekend an ongoing celebration? From a welcome party and rehearsal dinner to a wedding shower that's also destination-themed, these are all super-fun and memorable ways to begin your marriage. For those who are getting 'Maui'-ed in Hawaii, host luau-themed couple's wedding shower a few weeks before your wedding day, suggests Jen Avey, the vice president of marketing at Destination Weddings Travel Group. If you can, make it a pool party so you can splash around in the sunshine.
As she explains, this will give them a preview of what to expect in paradise if they're attending. And for those who can't make it, they'll still be able to be part of your celebration. "Provide leis for your guests to wear, grill some pineapple, and decorate with bright, tropical colors," she suggests. Of course, don't forget fruity drinks and an I do BBQ feast, too! Trust us, it'll be one of the best showers) ever.
Colorful Fiesta
Falling in love is an adventure — and it's often one that lights up your whole life. A couple's wedding shower theme that is not only easy to pull off but dazzling in the display, consider the party idea of a fiesta! With bold color, mouthwatering food, and upbeat music, it'll feel more like a party than an old-fashioned shower. And that's a good thing! Willard says you can go wild with florals, linens, and of course, have a margarita bar to keep it spicy. "
"For those that want to keep things green and don't want to use real florals, tissue flowers can easily be made ahead of time to be a part of the centerpieces," he continues. "Also, there is always the DIY option of having the materials and instructions on-site, allowing your guests to make their own as a keepsake."
For a shower favor, he says to put together little packages containing a variety of flavored salts, mixers for flavored margaritas, and a little bottle of tequila. Salute!
Beach Bash
Avey says if you're planning on having a micro wedding or smaller destination wedding — or even eloping — to an exotic island, bring the beach to your wedding shower so your close friends and family who aren't traveling can still get a taste of the tropical festivities before you go. "Elevate your decor with palm leaves and colorful paper lanterns, serve cocktails in coconuts, and release paper lanterns into the night sky to cap off the perfect pre-beach-wedding celebration with all of your loved ones," she recommends.
Shine Bright Like a Diamond
A wedding shower can sometimes feel like a bore for the glitzy happy couple who enjoys the finer things in life. So, why not make that the theme? Take a cue from Rihanna and shine bright like a diamond with a cocktail party that's all about sparkle and bubbles. Willard suggests using a clear Chiavari chair and an organza overlay to give you a bright look without killing your budget. "Centerpieces could be as easy as glass vases filled with crystals and an LED light to make them sparkle," he continues. "Consider a selfie station with a large ring as the backdrop and lots of oversized rings for people to use as props." The menu? Definitely oysters, caviar, champagne, and other five-star treats.