How to Create a Wedding Budget: Real Couples Tell All
Trying to figure out how to budget for your wedding? Here, real recently-married couples share their best-kept secrets.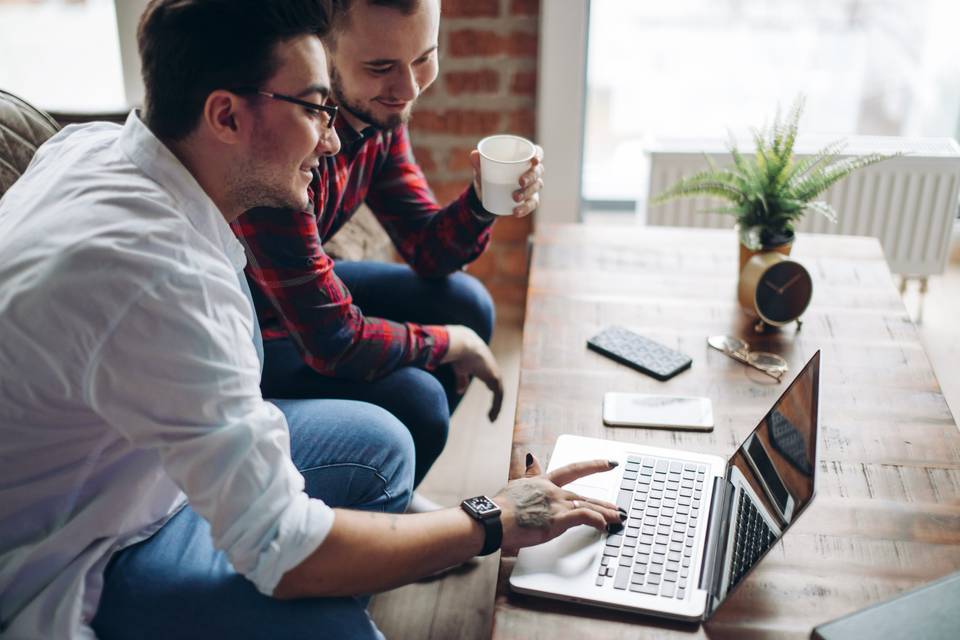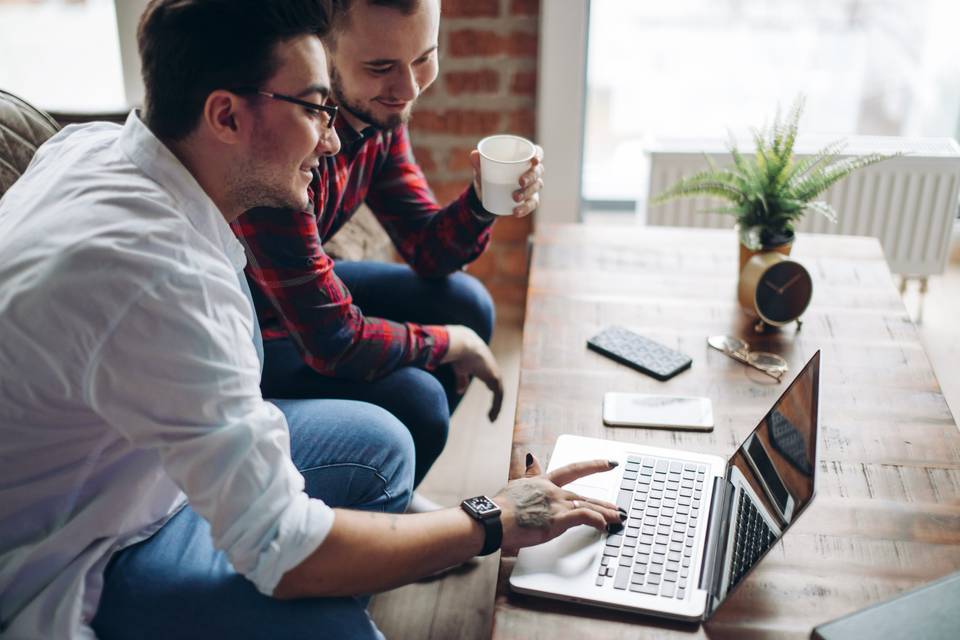 Getting engaged is an incredibly unique time for couples. You're excited about what the future holds, looking forward to spending their lives together, and of course, ready for a party. And part of a healthy marital dynamic is having open, candid discussions about both the good stuff, and the anxiety-inducing stuff, like how to budget for a wedding. Many couples bicker about spending, savings and goals. And when you consider an expensive investment like a wedding, it's bound to stir up mixed emotions and sometimes, heated disagreements.
Here, real couples share how to navigate this conversation to figure out how to budget for a wedding and maintain the sanity of your relationship.
Have an open discussion with your family on their contributions.
Traditionally, parents pay for their children's weddings. And if you want to get nit-picky about it, the bride's family pays for the ceremony and the reception, while the groom's parents fork over the change for the rehearsal dinner. Modern couples have challenged these customs, but some still decide to honor them. Take, for instance, Sarah and her husband, David. They said 'I do' in their home country of South Africa on September 29, 2018. Sarah says they felt very grateful for contributions from her mother, father, and mother-in-law, which covered nearly all expenses for their big day. Because of this, the newlyweds were able to afford the honeymoon of their dreams in Mauritius.
Even with the generosity of her family members, they still needed to have a budget discussion. Though Sarah admits it felt strange to bring up money matters, she said it was an essential first step in planning. "An email format is always a good idea and allows time for them to think about it," she shared. "We purely expressed our gratitude and then said there was no pressure on what their contributions amounted to. More so, we just wanted to know so we could take the next steps to book our date, venue, vendors, and so on."
Don't get sucked into the cycle of comparison.
For many freshly engaged couples, browsing the web for inspiration is how the planning process begins. While many have visions of what their celebration will look like, it's not until it's officially on the horizon that you make decisions. It's helpful to see what others have pulled off, but it's also important to not compare your budget to those featured on Instagram. Abby and Jack intend to wed in September 2021, and they've done all they can to be grateful for anything and everything they have. As Abby explains, when you continuously try to measure up, you lose sight of the fact that first and foremost, you're marrying the love of your life, and secondly, that weddings are expensive and some couples don't get to have one at all. "It's unlikely you'll get to have everything you want—but if you can, that's awesome, and you do you—so you should allocate a budget to what matters most, and forgo spending on things that you're not going to miss," she adds.
Do some comparison shopping.
Chances are high your soon-to-be-spouse wasn't the very first person you dated, ever. Fielding through options is how you arrive at the right fit is part of job searching and dating, as well as wedding planning. Sarah, who works as an event planner, suggests using a budget tracker or Google spreadsheet to organize quotes, spending, and your budget. And when it comes to vendor prices, the more information you have, the better. This is how you can select the highest quality and most cost-effective suppliers as you determine how to budget for your wedding.
Get on the same page about the size and location of the wedding.
Shana and Andrew decided to marry in Belize in 2017. Her dad was born and raised in this Central American country, but most of her family had never been. This made it an ideal spot for a destination celebration. But the choice wasn't only up to her, but her future husband too. Her first tip for couples is to have an open, honest, and realistic conversation about the location, the size, and the nuts-and-bolts of the big day. They knew they wanted to spend less, and in the end, they had 65 friends and family members who flew to this small island nation. By deciding, as a team, what was the best experience for all involved, it made the stress less chaotic.
Make sure you both have a few of your top desires.
When Jenn and Brad married in October 2014, they knew they would need to be budget-conscious. But they also wanted to have a wedding that fulfilled both of their desires. To figure out what was most important—and what they could compromise on—they each made a list of their top three most important things. For Brad, live music at the ceremony and a great DJ at the reception was a necessity. For Jenn, having a talented photographer to capture their special day was a non-negotiable. Other things, though? They could take or leave them, and knowing that from the beginning helped inform their spending. It also made it easier to make decisions. "No one has ever said they were disappointed that the groomsmen weren't wearing boutonnières or that there wasn't a big fancy cake for our wedding," she shared. "Once your budget is set, don't deviate from it without both agreeing to the added cost."
Utilize your network.
You may not realize it, but you likely have more than one friend-of-a-friend. Or a brother of a pal. Or a colleague of a friend. Here's the deal: when you're wedding planning, personal connections matter even more. That's why Christin recommends sitting down with your one-and-only and determining the various networks you have in your area that could help you save. This was a tactic she used when marrying her high school sweetheart, Josh.
For their venue, they happened to know someone who was a member of the country club they booked, and it cut the price in half. For their wedding cake, they hired a friend's daughter who was also a cake baker and created a three-tier fruit-filled cake for $200. Christin borrowed decor from her friends too, since she didn't want random items sitting around post-ceremony. "I had a friend who helped with a wedding a few months before our wedding, and we borrowed their centerpieces. I also borrowed picture frames from a friend's daughter who had them sitting in her attic," she shared. "My dad is a graphic designer, so instead of spending money printing programs, he made a large sign that had the wedding party and schedule of the ceremony."
Ask each other these questions.
When Jamie and Chad said 'I do,' they researched the average prices of everything to figure out how to budget for their wedding. This helped give them a starting point to begin narrowing down their choices. Part of this is putting on your reporter hat and asking the florist what flowers will be in season, inquiring with small businesses on their unique value, and so on. What helped them to make difficult decisions was asking these questions before purchasing:
Is this something that will last longer than the four-hour wedding? (Think: re-wearable wedding attire, decor that can be featured in your home, and so on.)
Can I find this cheaper (or free) somewhere else? (Think: Nature is free! Jamie used to cut pieces of logs as part of her centerpieces.)
Is this our style? (Think: Jamie says she's a country girl at heart, so glitz and glam wouldn't feel right at her wedding.)
Do I want them at my wedding? (Think: People cost money, so knock the guest list down to save money.)
Think twice about traditions.
Lia and Court recently got engaged and decided to wed ASAP. They are planning a September 2020 affair, and they've decided to cut costs by thinking about what matters. Some couples thrive on traditions, while others can take or leave them. For Lia and Court, they are forgoing bachelor and bachelorette parties, engagement celebrations, and a bridal shower, all of which save money. They're also pulling back other elements that weren't necessary to enjoy the day fully. "We went down a list of 50 costs and wedding traditions and labeled them 'priority or not a priority' and that made the spending so much easier to agree upon," she shared. "Of course, there was a compromise, but overall we are excited to have the wedding of our dreams this September."
Set boundaries on wedding budget discussions.
One last piece of wisdom from Sarah: don't talk about your wedding day-in, day-out for your whole engagement. Not only does it take away some of the bliss of this one-of-a-kind period, but focusing on the foundation of your marriage is just as important as picking a cake flavor. "We had to make an effort in identifying evenings after work just to chill and enjoy being together without wedding talk," she shares. "It's worth it for your relationship."