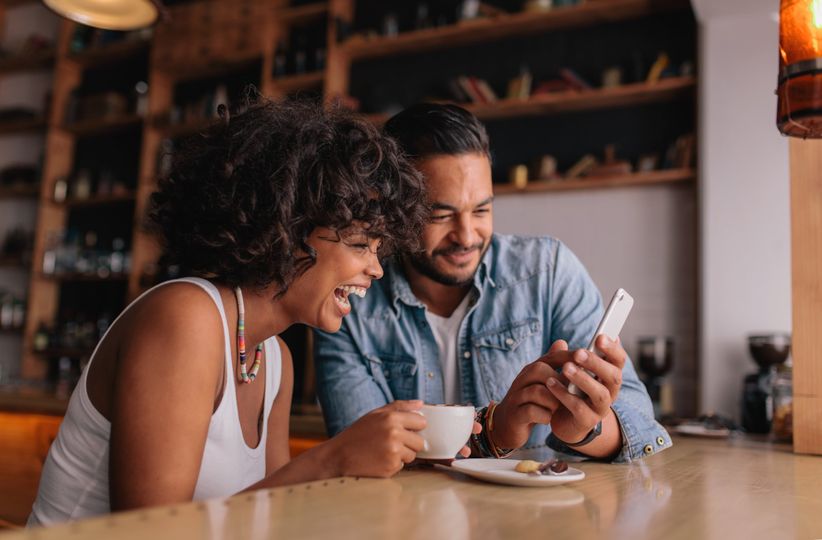 Social media is both a blessing and a curse. It's a fantastic way to find wedding vendors you love, and it's totally loaded with inspiration to pore over and save for your big day. But those curated Instagram feeds and Pinterest boards can also do double-duty, turning into a social media comparison trap. They show gorgeous pictures and incredible ideas, but they don't show the large budget, huge team of pros, and nearly-endless resources that are often required to make each shot happen — not to mention completely glossing over how different it is to create a styled shoot with a table for eight and no catering versus a wedding for 200 people with an open bar!
So what's an engaged couple to do when their #weddinginspo doesn't align with reality? How can you plan a wedding that really suits the two of you (and your budget and venue!)? And how can you keep it all in perspective when all those incredible ideas are everywhere you look?
Thankfully, your wedding vendors have been there before - and they've got a few tips to help you stay on-track and avoid the social media comparison trap.
Don't be afraid of Instagram.
There's no way to get engaged, then not get excited about planning and immediately turn to social media for ideas," says Nora Sheils of Bridal Bliss in Oregon. "What was once a stack of magazines is now Pinterest and Instagram feeds, and collecting ideas and inspiration is only natural." So of course, let yourselves dream and imagine, but treat the inspiration as just that: Inspiration, not a game plan.
Prioritize!
"When we start working with our clients, we ask them to rank the most important elements of their day, both individually and as a couple," says Sheils. "From this list, we determine the top three to five priorities (things like food, amazing photography, unique invitations, or a lush floral design). We also work through the items that are needed but may be of less importance. This helps us get to know our couple and what their wedding will be like, but also enables us - and them! - to narrow down vendor choices, focus the budget, and really stay on-track." So when late-night Instagram scrolling turns into major social media comparison and a conversation about the most spectacular five-tier wedding cake or insane lighting installation, you and your planners can go back to that list of priorities to find a compromise. "For example, we might suggest using similar flowers to the ones on that incredible cake, but going with a smaller design if flowers are a priority but the cake isn't," Sheil concludes.
Be honest about your budget—and your time.
"People have much clearer expectations about their budget than about how much time they have," says the team at Candy+Co. Events, LLC in Washington, D.C. "You know you can't afford to buy enough paper flowers for that flower wall, but do you really have time to DIY them?" Individual touches are always a great addition, but not at the expense of your sanity. "Being honest about how much time (or money) you have for something - which could be very different than the time and money it took to create that inspiration image! - will save you extra stress in the long run."
Get real with your vendors.
In the same vein, you should be upfront with your vendors about your budget constraints from the get-go. "Many creatives can work with just about any realistic budget (keyword: realistic!) to help translate a vision to fit your constraints," the Candy+Co. team says. "But they can only do that if they understand what they're working with from the beginning!" It's much easier to be creative with shortcuts or alternatives when you have months of planning ahead of you than it is to rush to cut costs at the last minute.
Make your wedding your own.
What you see on social media isn't the only way something can be done! "You might fall in love with an elaborate floral wall, but that doesn't mean your only choice is to have the exact same design," Sheil says. "We encourage our couples to focus on why they love it. Is it the color palette? The selection of flower? The shape of the structure? We figure out which elements we can take (that are within budget and scalable for the specific event), then use that as a jumping-off point to create something unique for the couple." Focus on the positive - using that photo as inspiration instead of focusing on why you can't have it.
Get some perspective.
"Stay away from the rabbit hole of hashtags—you'll definitely fall into the social media comparison trap that way," says the Candy+Co. team. "Remember that professional Instagram pages are only going to show you the very best details and ideas in the very best of light!" Have real conversations with your vendors about what it takes to make those images happen (especially if the inspiration image is from an event they worked on!), and use reviews from friends and trusted sources like WeddingWire for an inside peek at how it all works. If you're looking at Instagram pages, remember to watch vendors' stories on wedding weekends. "This behind the scenes look will show you how much it takes to make a wedding happen and what goes on behind all the pretty."
Beware of styled shoots.
Whether it's a spread in a magazine or a story on a blog, a styled shoot and a wedding are two completely different animals. "Styled shoots occur on a micro level," the Candy+Co. team explains. "It's a single table, no guests, and an entire day to set up and shoot - without also trying to get a bride down the aisle!" If you love an image of a small table in an unusual location with no other tables around it and no people other than a single model, it's a styled shoot - to be used for inspiration only!
Share your inspiration.
"It's so easy to get sucked in by one amazing image and to not think about other elements that can give you a similar result," says Sheil. "Create a Pinterest board that you can share with your vendors where you can all collaborate on design ideas to narrow down your aesthetic." This shared board is the perfect place to put that One Amazing Image, and then can be the place where your vendors can add other images that have a similar feeling - whether it's a bouquet tied with a velvet ribbon inspired by the lounge furniture vignette you saved, or a centerpiece using similar colors and flowers to that over-the-top flower wall.
Limit what you save.
"A Pinterest board of inspiration is an incredibly useful way to communicate visually with your vendors, but it's important to keep it in check," says the Candy+Co. team. "Limit the board to just a few pictures of each element - say five photos of reception décor, five photos of bridesmaids dresses, and five photos of bouquet ideas. It will be much easier to pick out the details that are repeating between each photo, and easier to compare those images with examples of past work from the vendors you want to hire to make sure they can meet your needs."
Don't plan too early—but put your deposits down!
Couples with long engagements are particularly at risk for the social media comparison trap, as some trends will change quickly from season to season. The Candy+Co. team has a few tips to keep you on track. "First, keep a running list of things you do and don't like, especially as trends change. Your vision may evolve over the course of your engagement, but the things you dislike won't! Next, book vendors you love early, even if you're not quite ready to start designing. Sign those deposit checks so you can make sure to have an A-team in place! Then as your wedding date gets a little closer, you'll be ready to start working on the design knowing you're in great hands."
Remember the best weddings you've attended.
"What is it that you remember from some of the best weddings you've attended? It probably wasn't the napkin rings, the invitations, or the favors," says the Candy+Co. team. "What you remember is the joy, the fun, and the love, so focus on making sure that's what your loved ones remember about your wedding, too. If you create a wedding for Instagram, it detracts from what we're really all there for: The marriage!"