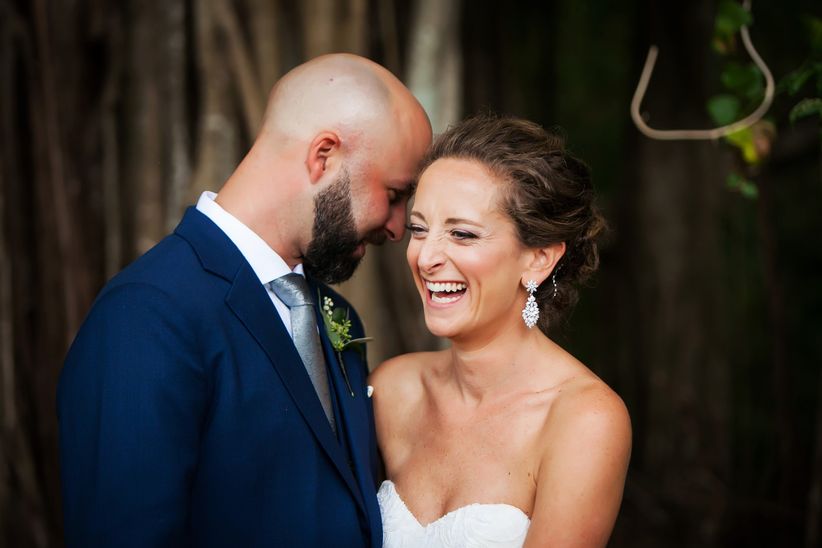 Photo: Limelight Photography
When it comes to saving money on your wedding, we recommend getting advice from a variety of sources—including recently-married couples who have been there!
We always ask the couples featured in our
real weddings
section to provide us with their top piece of wedding-planning advice, and it's no surprise that many of their top tips related to budget.
Real Couples Share Their Budget Tips:
"Pick the three things that are most important to you and forget about the rest. Spend your money and your time on those three things and you won't go crazy." —Sandra, married on May 18 in Healdsburg, California.
See photos from Sandra and Brian's wedding here »
"If you are paying for a wedding completely or mostly on your own, 'Plan for it, budget, and pay cash.' When we started planning the wedding, we both set a goal to wake up Sunday morning with all of our bills paid and to be completely wedding debt free. We are happy to say, we stuck to it, held each other accountable, paid each bill in advance with the money that we had saved and did not go over budget. It was so nice to come back from the honeymoon and not have to worry about any outstanding bills." – Bridgette, married October 5 in Lebanon, Tennessee
See photos from Bridgette and Scott's wedding here »
"Any decor that you buy for the wedding think 'How is this going to look in my house when the wedding is over?' Why spend a ton of money on things you can't reuse?" – Kristi, married October 4 in Williamson, Georgia
See photos from Kristi and Ryan's wedding here »
"It's important to know your budget and to stay within that budget knowing your day will be beautiful no matter how much you have to spend. It's the details that make the wedding, not the price tag. " – Danielle, married August 18 in Brooklyn, New York
See photos from Danielle and Rich's wedding here »
"Be flexible. I know most brides will have a clear vision of what they want, but what I have learned is no matter how well you try to plan the event, you will run into problems. Whether your problem is a logistical issue or a budgeting problem or just the fact that your bridesmaids can't agree on their dresses, as long as you are open-minded and willing to deal, than things will work out!" – Donna, married May 24 in Malibu, California
See photos from Donna and Richard's wedding here »