What NOT to Include on Your Wedding Invitation
You probably already know the basics of what to include in wedding invitations, but what about the details you shouldn't add to your invites? It's all here.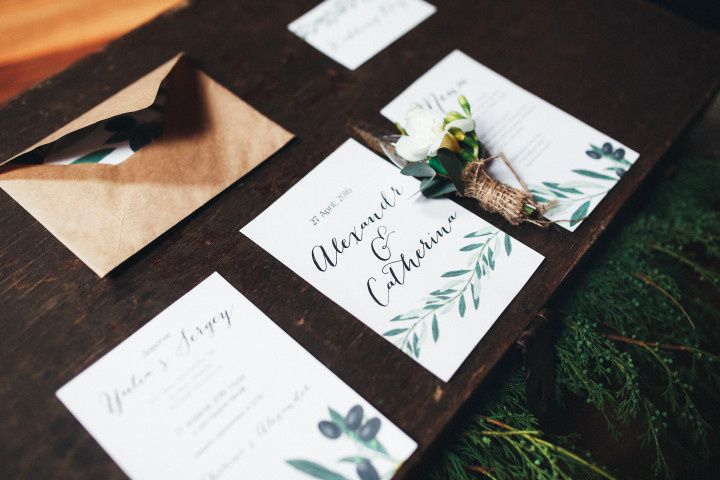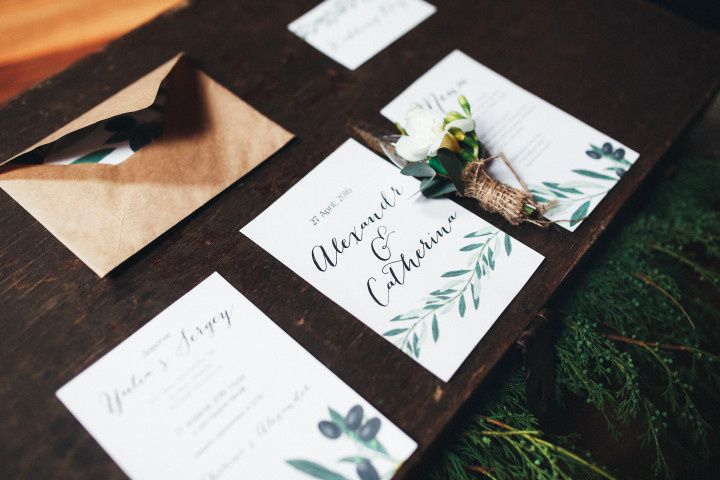 Most of us have seen enough invites to know what to include in wedding invitations. A wedding invite may display only basic information, but it serves as an important first glance into your special day. Will it be casual or formal? Relaxed or by the book? From the moment they pull your invitation from their mailbox, your guests will get an important first impression of your wedding. But have you ever wondered if there are things you shouldn't add to your invites?
Whether it's in the spirit of tact or just aesthetics, there are a few things you should consider leaving off when thinking about what to include in wedding invitations. We'll take a look at a few here.
Registry information
Topping the list of what not to include in wedding invitations is registry information. This is a tough one, because you're probably really excited to spread the word about the amazing registry you've created. And of course, you want to ensure your guests know what to purchase if they choose to give you a gift. But unfortunately, adding registry information to your wedding invitation is still a big etiquette faux pas. That's because no matter how you word it, it comes across looking like you're only inviting your guests in order to receive gifts. A simple solution these days is to include your registry information on your wedding website, and then provide a small insert with your website address with your invitation. Problem solved!
No kids
While it's totally fine to want your wedding to be an adults-only affair, printing "no kids allowed" or something similar can deliver quite a sting to your #momlife guests. So skip this harsh wording and instead, simply address the invitation to the people who are invited. Afraid they'll simply assume their brood can tag along? Utilize your close family and friends—your mom, your future mother-in-law, and your wedding party—to politely spread the word that your wedding will be an adult-only one. Also, be sure to note this on your wedding website too!
Too much information
Think of your wedding invitation as an elevator pitch of your wedding. It's meant to provide a brief but concise picture of your wedding day; who's getting married, where, and what time. When you try to include much more than that, it becomes easier for details to be overlooked. What's worse, your invitation will look busy and cluttered instead of simple and elegant. So keep it simple, and only include what guests really need to know about the actual wedding. And don't worry, there are other ways to disseminate information about all the other festivities you've got planned (like on your wedding website)!
Too many different fonts and font sizes
In keeping with the goal to keep your invitations simple and beautiful (and easy to read, of course!) is to avoid using a variety of different fonts and font sizes. At most, you should have two of each to keep a streamlined look. If you'll be including a single line about the reception at the bottom of your invitation, such as "dancing to follow," it's okay to use a third, smaller font size, but in general, two should suffice. Consider scrawling your names using a dramatic font in a larger size than the rest of your invite for a great dramatic effect.
The bride's married name
If you'll be changing your name as soon as you get married, you're probably super excited to start using your brand-new last name. But unfortunately, your wedding invitation isn't the place to get started—and your married name is on our list of what not to include in wedding invitations. Here, your maiden name is the right choice, assuming you aren't yet married when you send the invitations out. An exception to this rule would be if you've already gotten married, perhaps in a destination wedding or courthouse, and you're inviting guests to a ceremony or a reception in honor of your union. Then, using your married last name is acceptable. Another option? List only your first and middle name (and that of your spouse, of course) on the invitation.
An incomplete address/location
The information you include in wedding invitations should make it as easy as possible for your guests to arrive safely and on time to your ceremony and reception. So before you send off your invitations for final printing, be sure to double check the address you're providing on the invitation. Is it specific? Is it an exact address that guests will be able to plug into their GPS? While this may seem like a no-brainer, it's actually a big deal! You wouldn't want your guests to arrive at the Hilton on the other side of town, at the church's rectory instead of the church itself, or at your country club's business office instead of the reception hall. So if you'll be including a location or address, don't use vague information like Charlottesville Hilton or Greensborough Country Club—include the actual address as well.