22 Clever Social Distancing Signs for Your Wedding
These stylish social distancing signs will encourage your guests to stay safe throughout your wedding day, even amid COVID.
We have included third party products to help you navigate and enjoy life's biggest moments. Purchases made through links on this page may earn us a commission.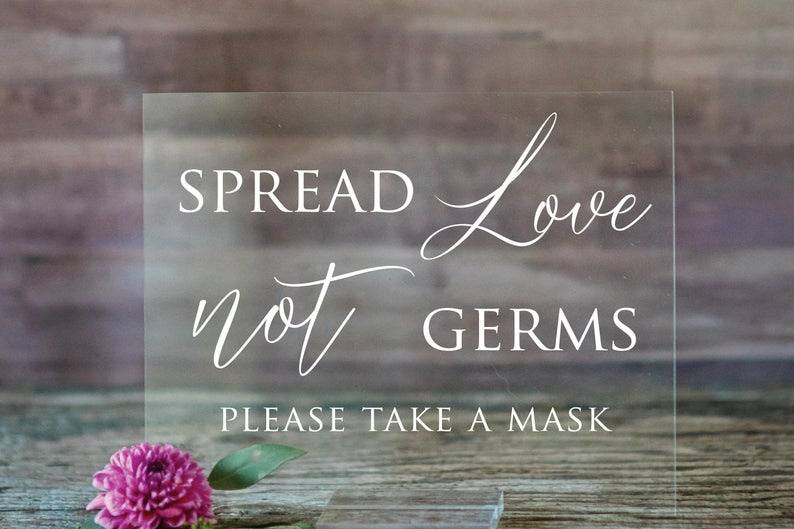 If you're getting married during the COVID pandemic, you may want to include some social distancing signs in your wedding day. These signs ask guests to take appropriate safety measures, such as staying 6 feet apart, wearing masks, and cleaning their hands, so no one will have to constantly remind people of these guidelines. And fortunately, many designers have been creating beautiful signage featuring polite, creative, and sometimes even funny language that won't look out of place at your ceremony and celebration. Many of these COVID wedding signs are printable, so you can easily, quickly, and affordably create them yourself.
Here are some of our favorite COVID wedding signs that will help with social distancing on your big day.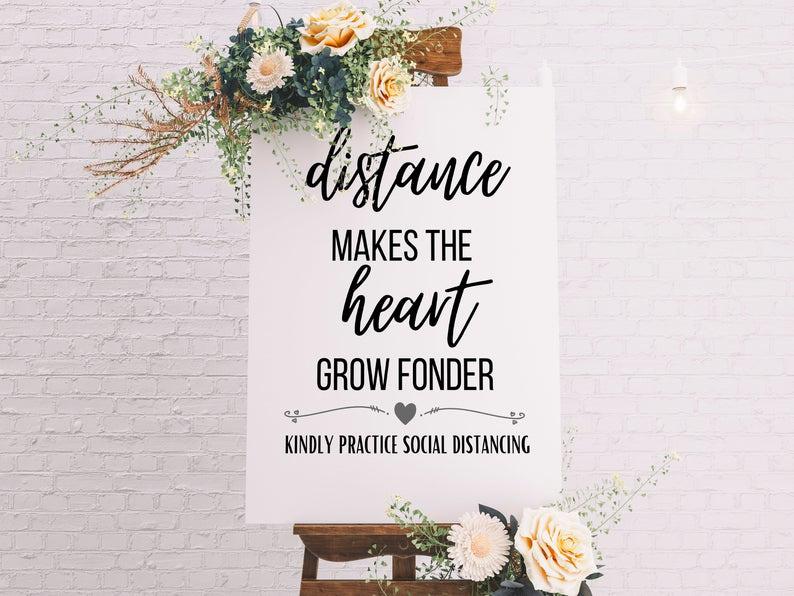 If you're looking for a sign that promotes general social distancing, this is a lovely example.
Karina Valley Boutique COVID sign printable, $4, Etsy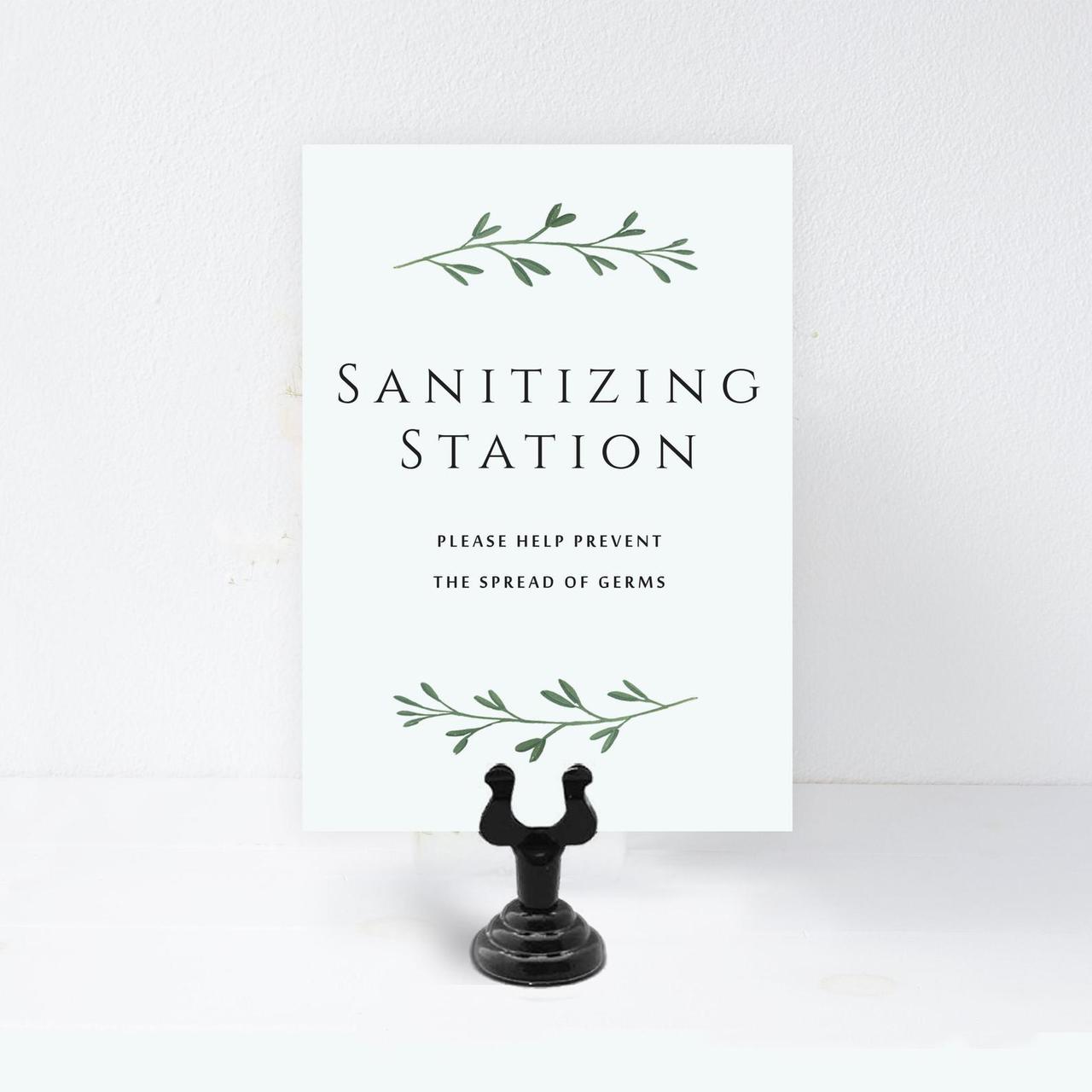 Create a sanitizing station with one of these lovely COVID wedding signs. You can also purchase the sign holder pictured.
Green Ridge Designs social distancing sign, $5, Etsy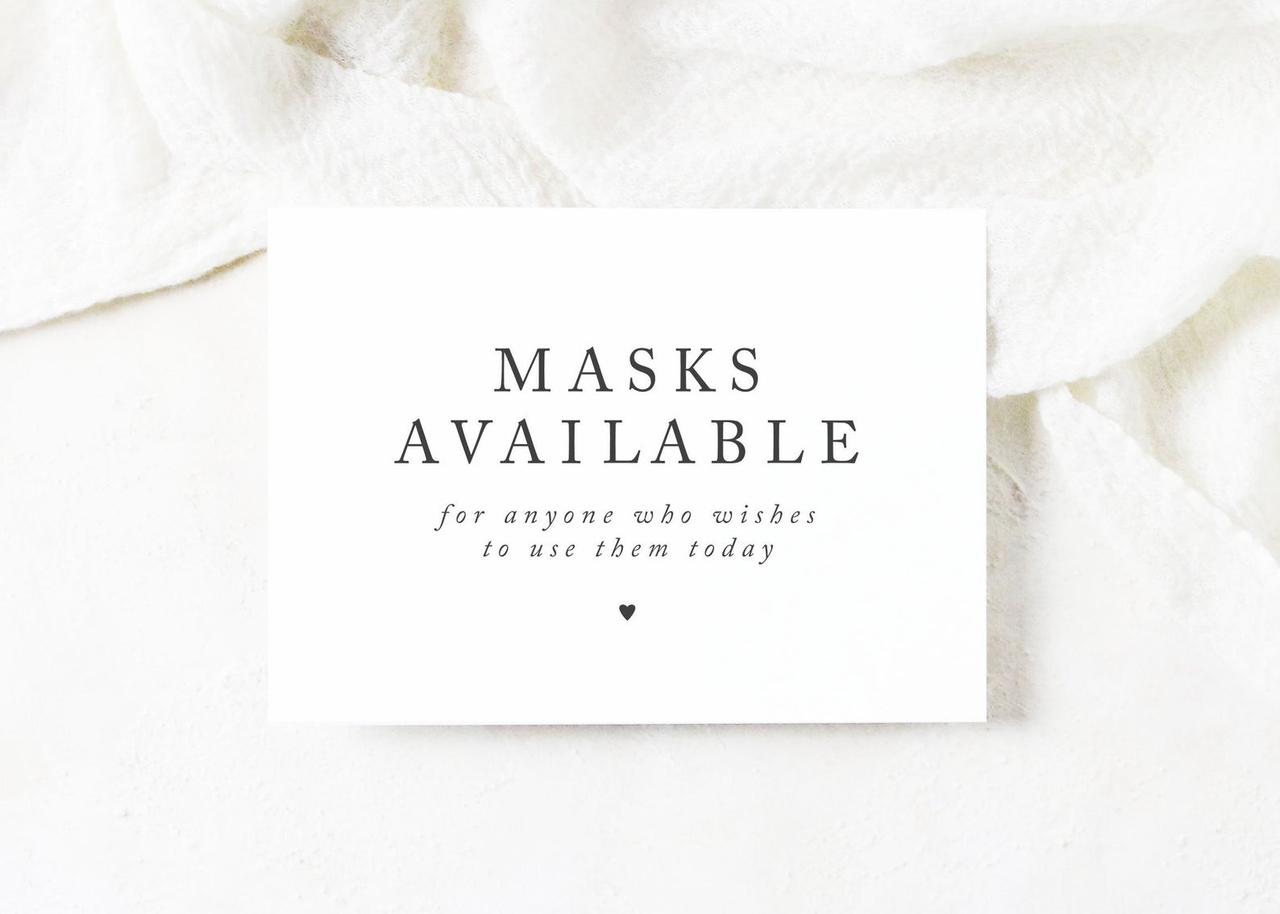 If you're providing face masks for your guests, this sign will help inform guests of their availability. To avoid contact, place a mask on each guest's seat.
Ivory House Creative masks printable sign, $5, Etsy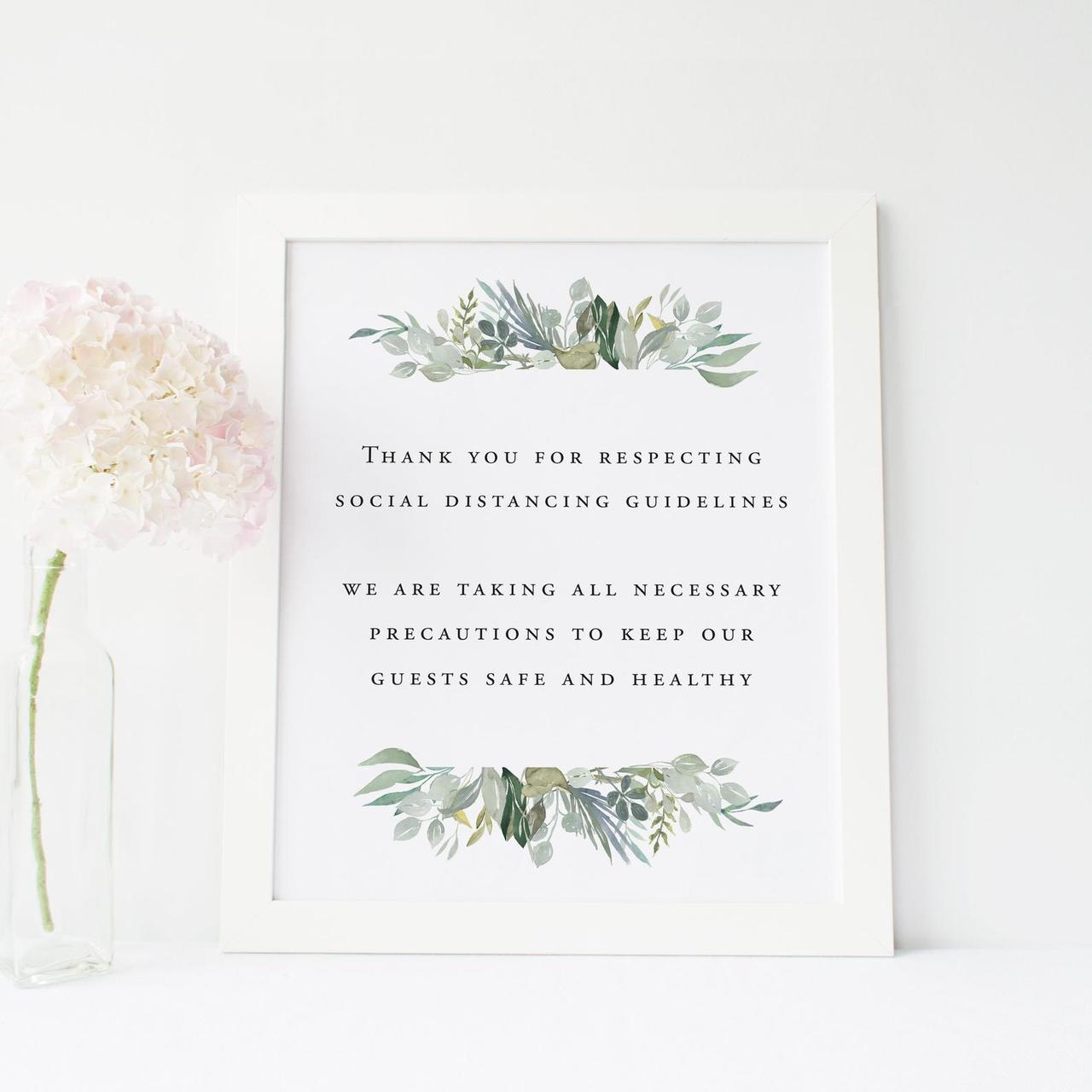 Deciding whether or not to attend your wedding during COVID may have been a difficult decision for your guest. This sign will show your appreciation—and that you're taking appropriate measures to keep everyone safe.
Pink Champagne Paper printable social distancing sign, $5, Etsy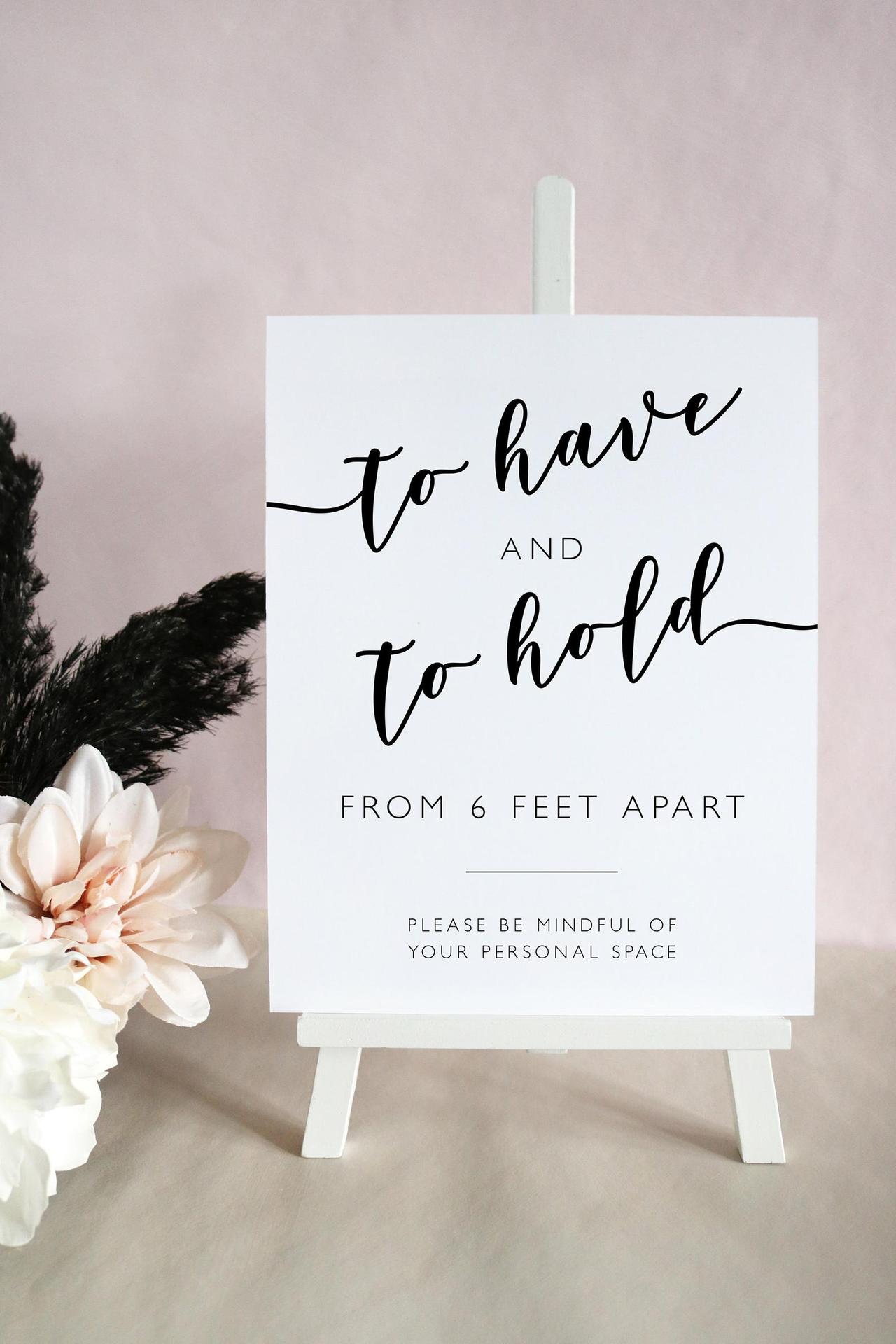 This simple and elegant sign encourages your guests to keep their distance.
Cecelia Sebastian Co printable social distance wedding sign, $10, Etsy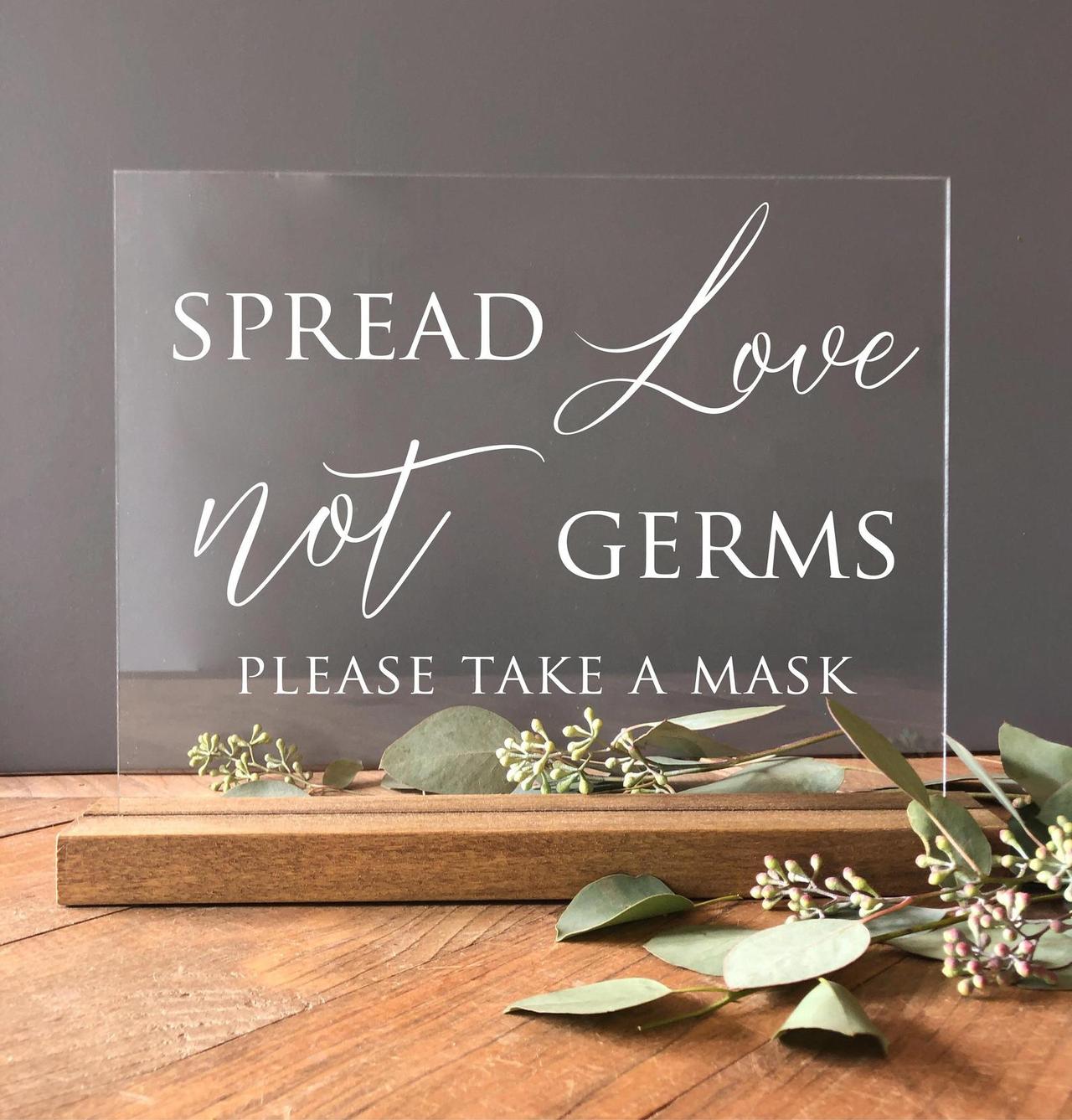 For a modern look, this clear acrylic sign is certainly eye-catching—and gets your message across.
Sweet NC Collective acrylic social distancing sign, $14, Etsy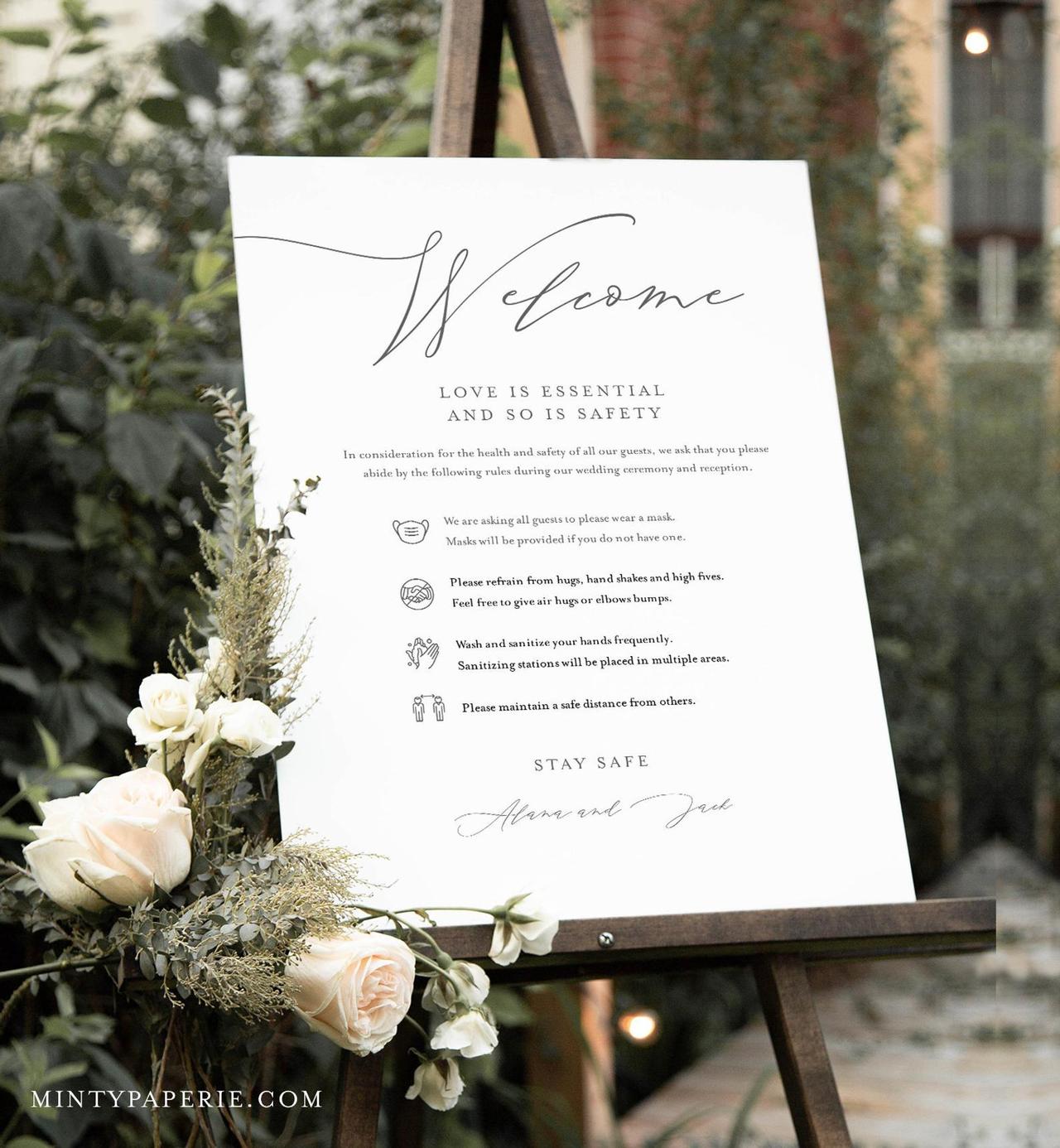 We love how this social distancing sign simply and clearly outlines all of the proper procedures.
Minty Paperie Shop COVID wedding welcome sign, $7, Etsy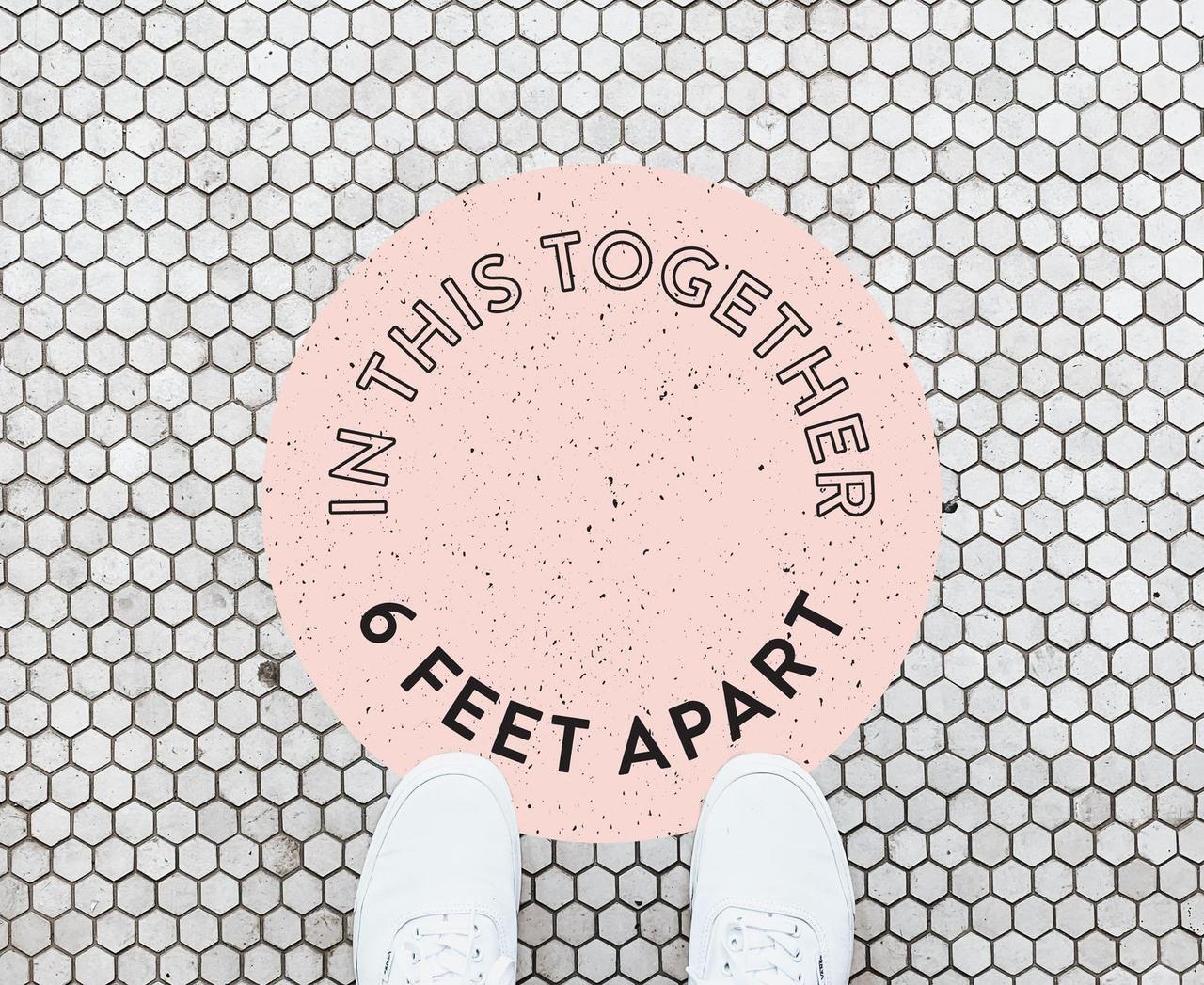 These vinyl floor stickers can be helpful in ensuring guests keep their distance.
Friendly Produce vinyl floor stickers, from $30, Etsy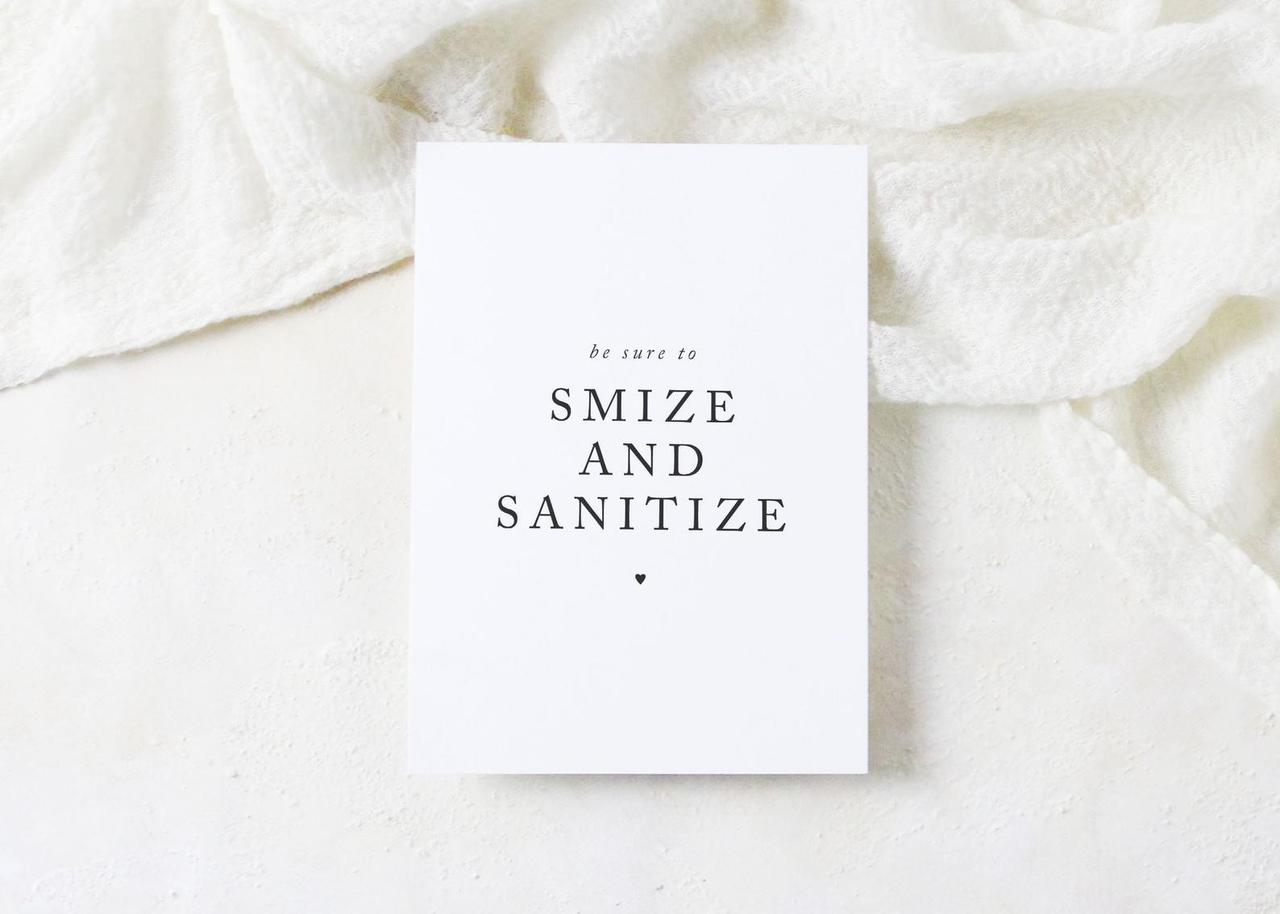 Give a little nod to Tyra with this hand sanitizing sign.
Ivory House Creative printable COVID sign, $5, Etsy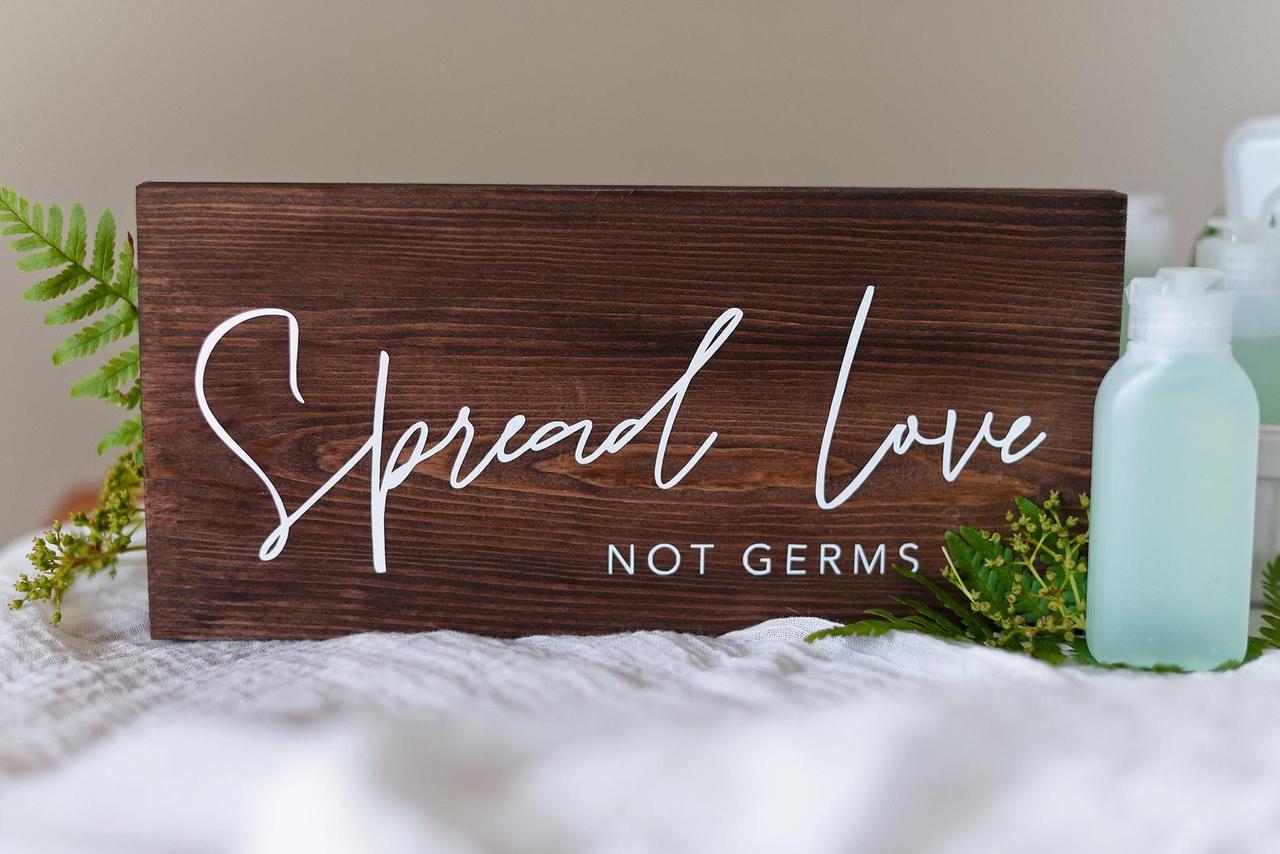 Hosting a rustic-themed wedding? This wooden sign is ideal for a hand sanitizing station.
High Oak and Co wooden COVID wedding sign, $20, Etsy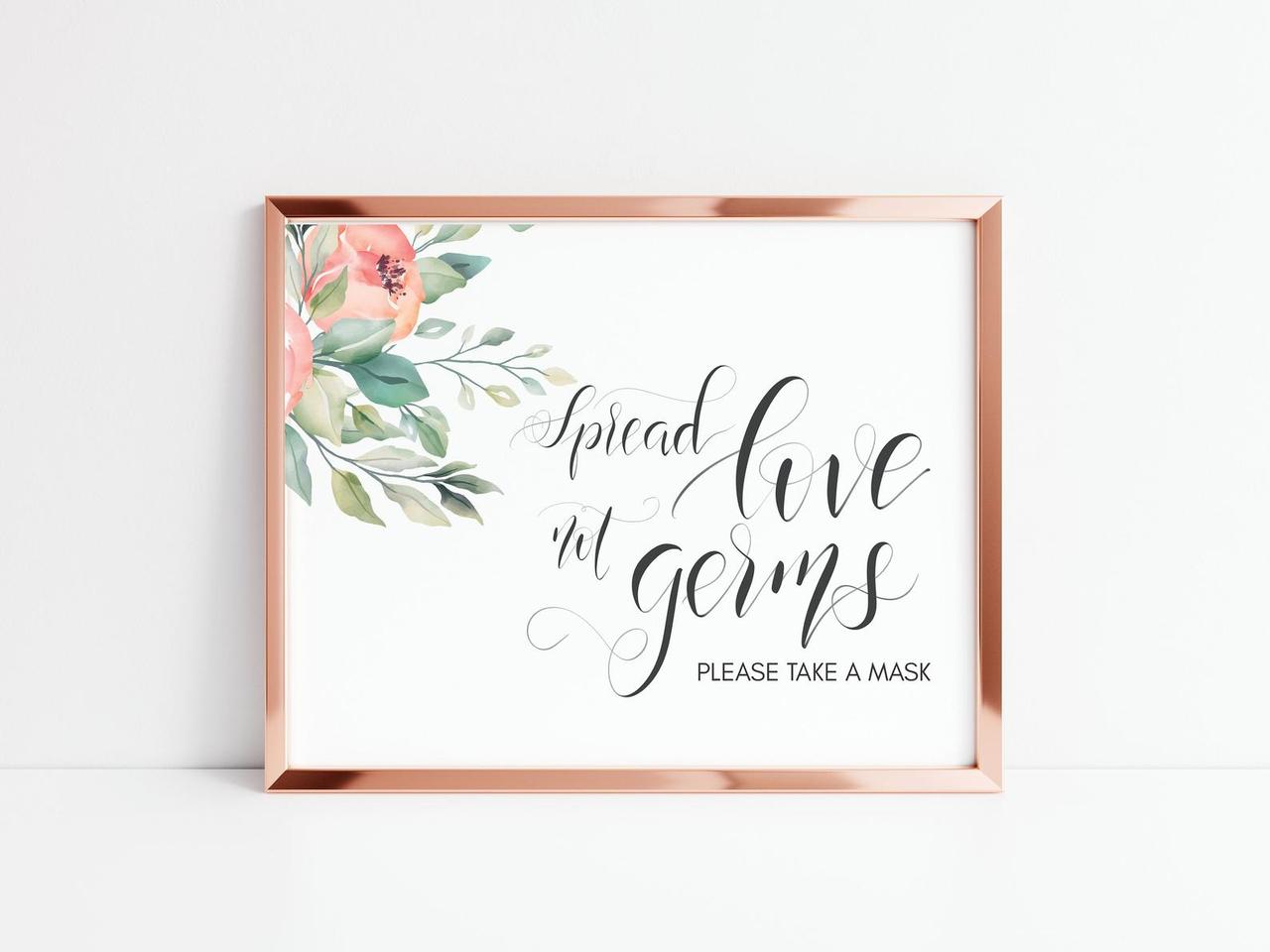 For a romantic touch, this sign features watercolor florals and lovely calligraphy.
Flori Belle mask wedding sign, $15, Etsy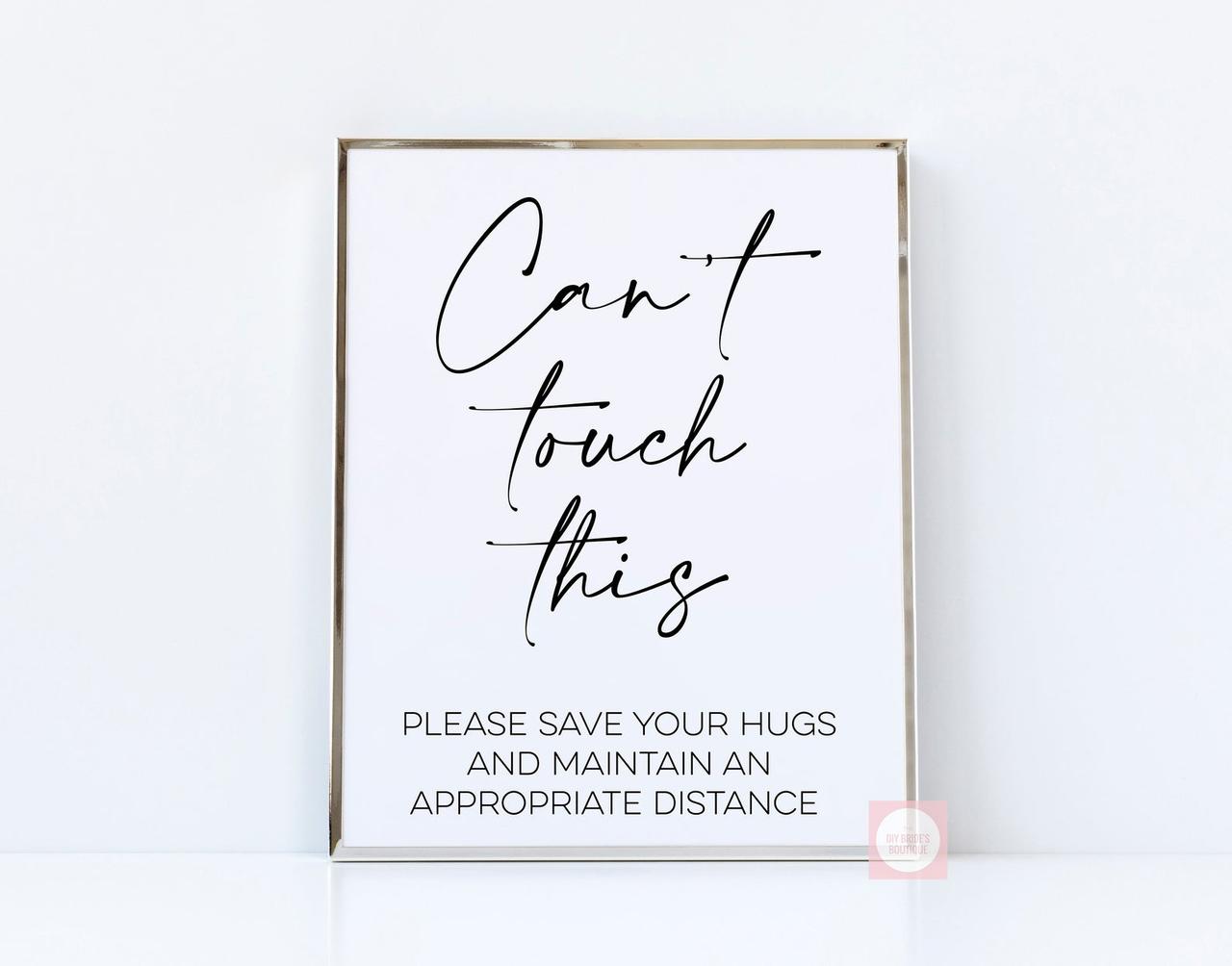 Your guests will chuckle when they see this social distancing sign.
The DIY Brides Boutique printable sign, $3, Etsy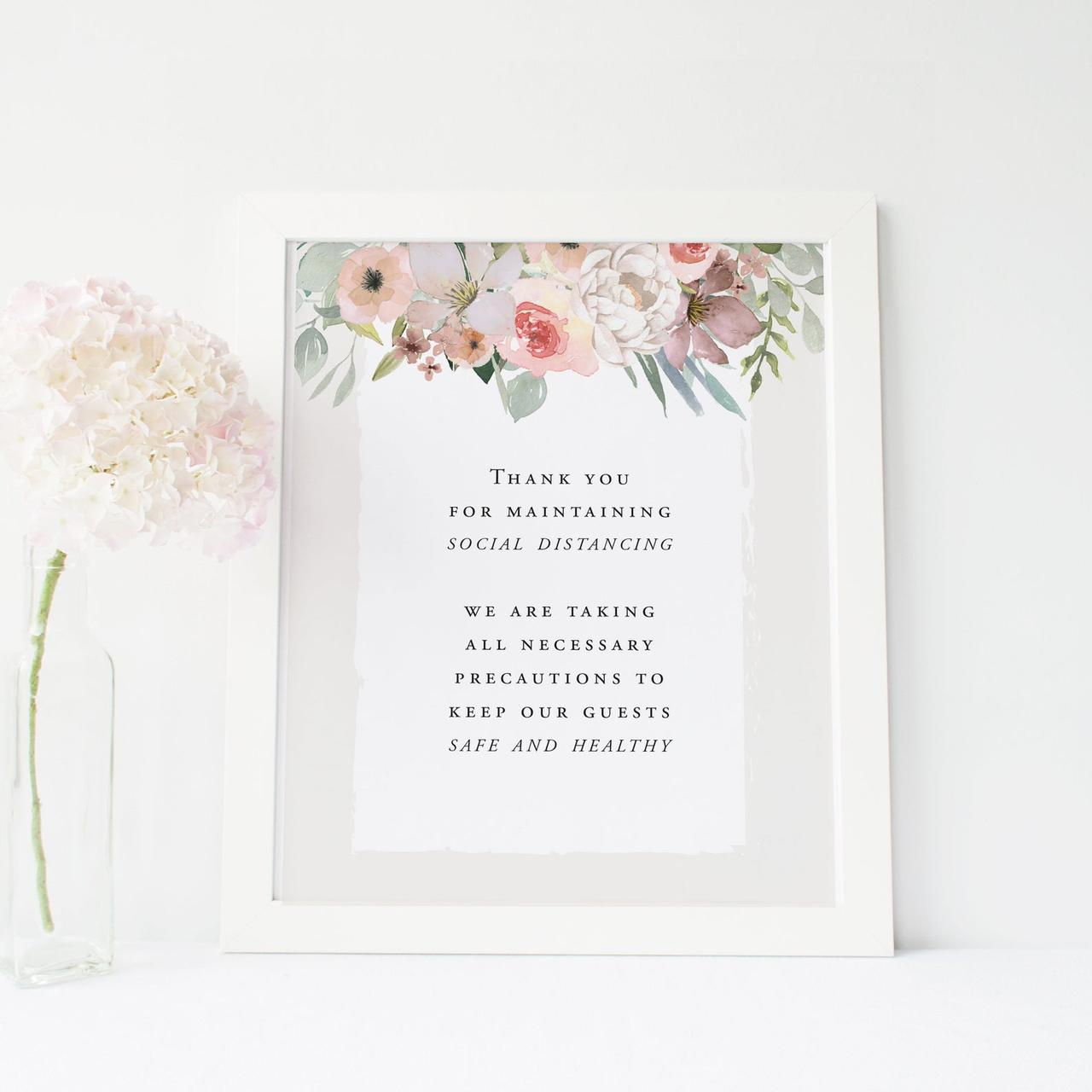 This gorgeous floral sign will add a special touch to your wedding decor.
Pink Champagne Paper printable social distancing sign, $5, Etsy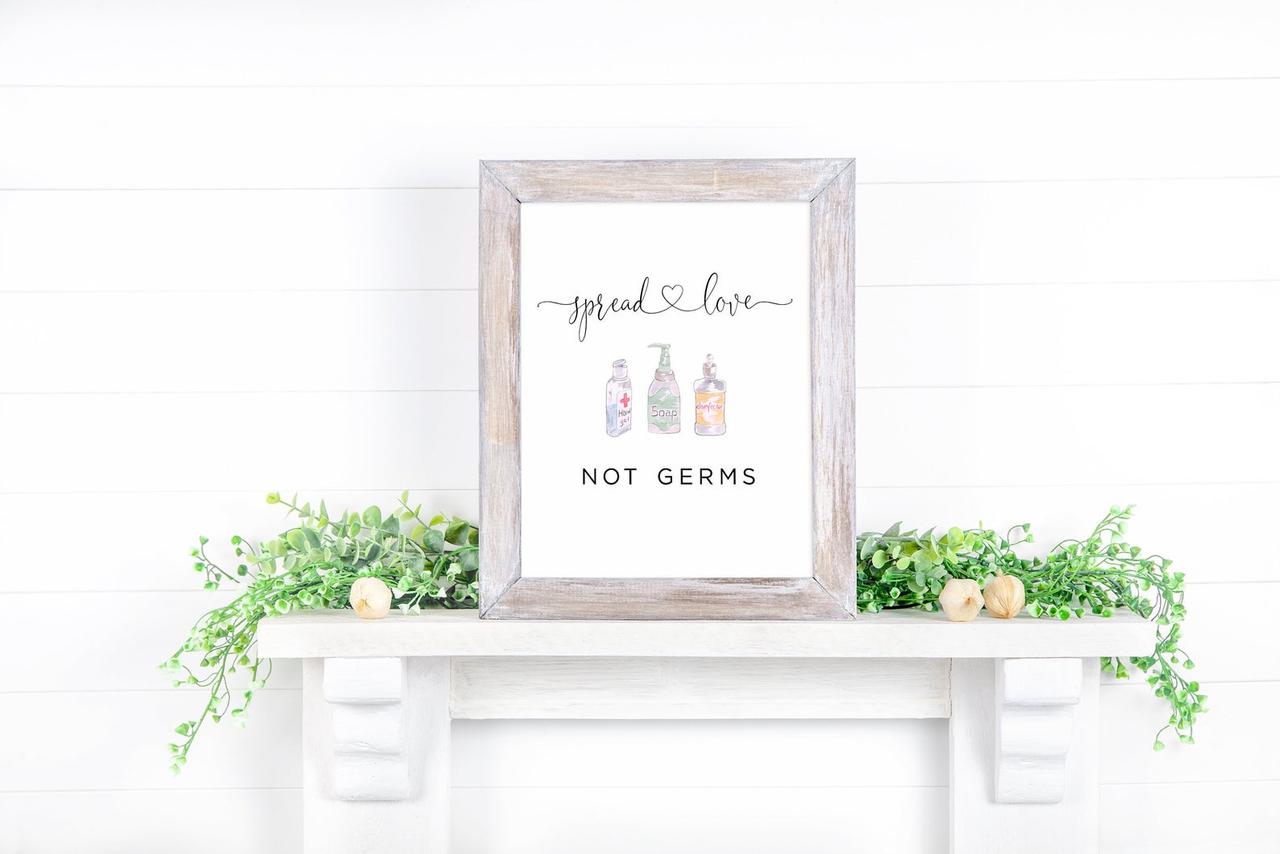 Sometimes a picture is worth a thousand words. This sign uses drawn images to request hand hygiene.
Magnolia Papers and Co printable COVID sign, $3, Etsy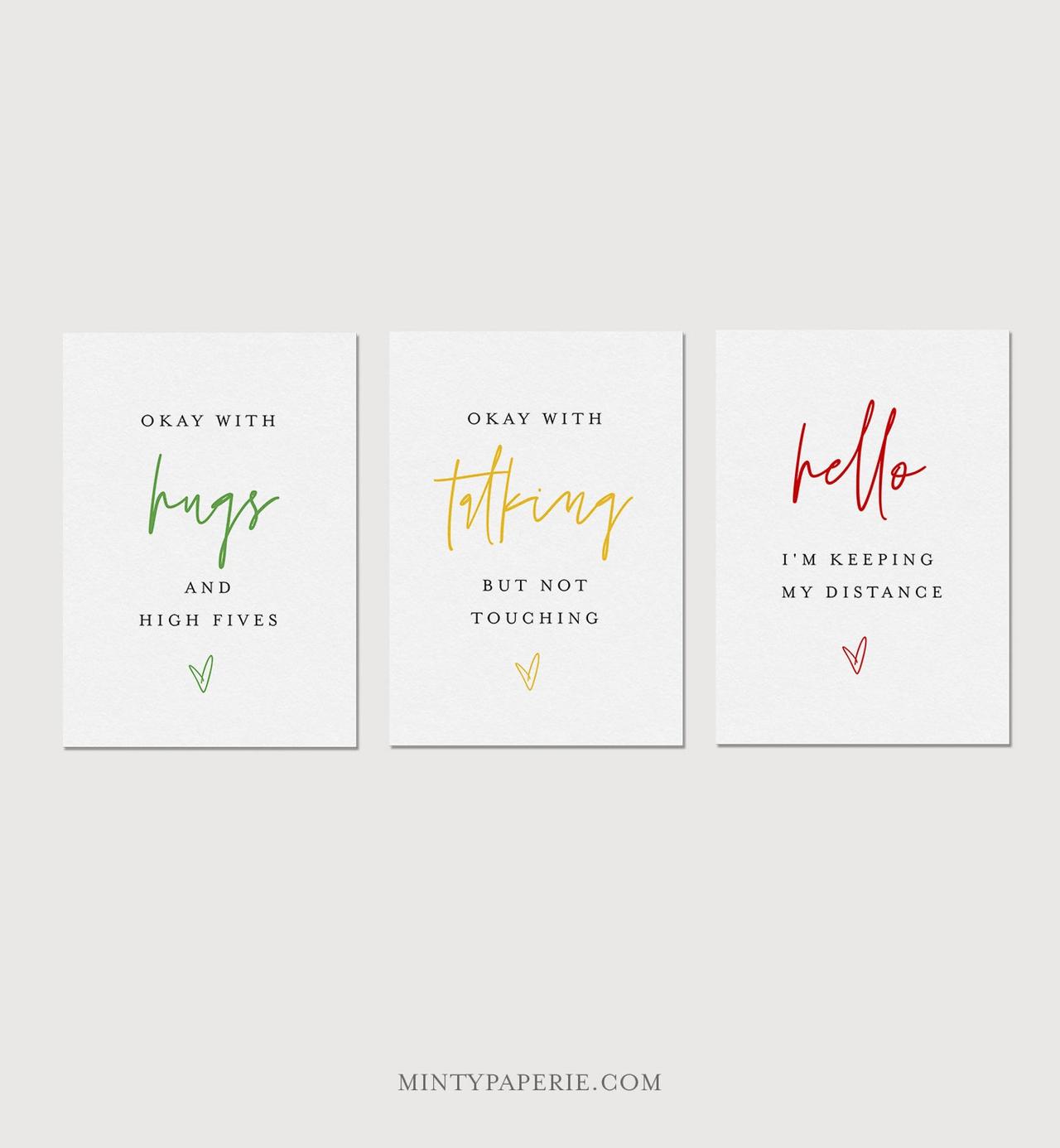 Here's a unique idea—each guest receives a wristband letting others know about their comfort level with various forms of contact. These signs will help label the baskets of wristbands. Note: We only recommend offering these wristband options if community spread of COVID is very low in your area.
Minty Paperie Shop social distance wedding wristband printable signs, $5, Etsy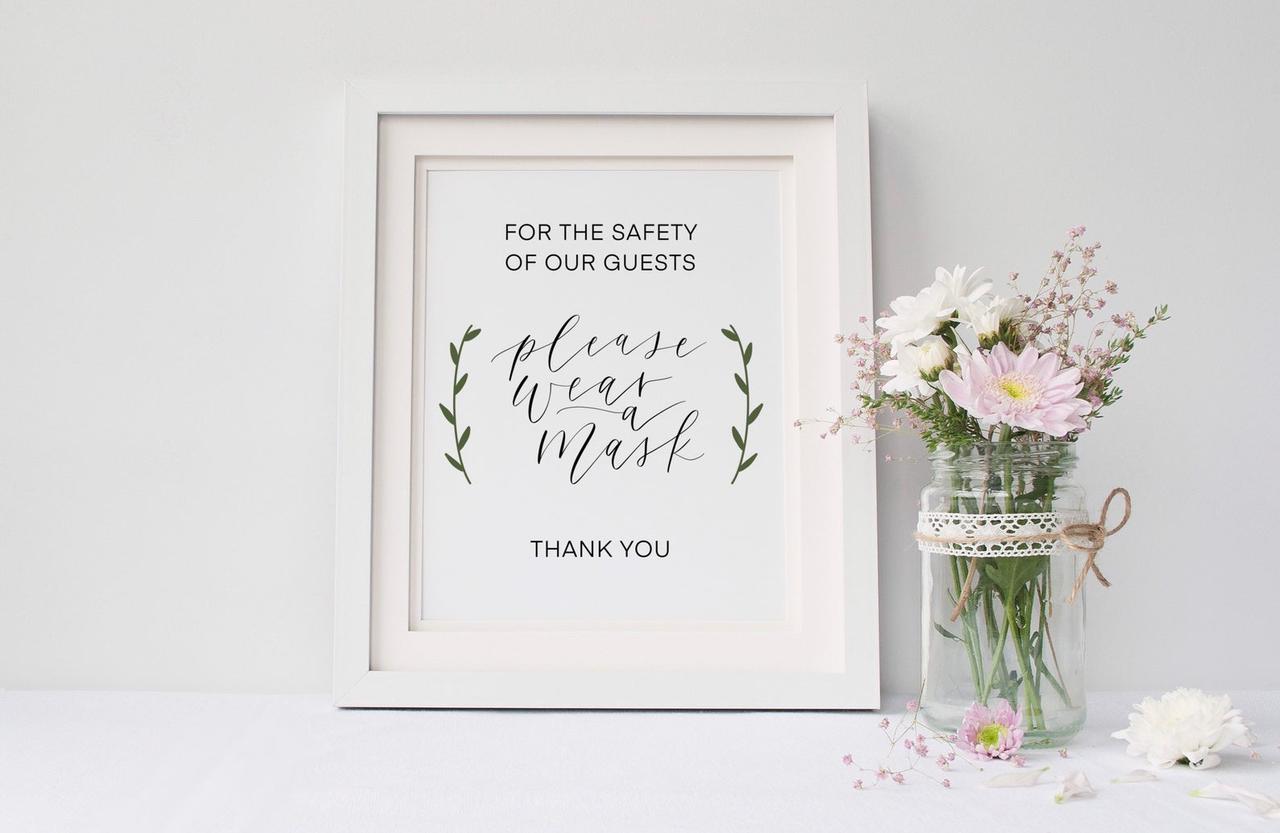 Greenery is still such a wedding decor trend, and we love the little sprigs painted on this social distancing sign.
Dos Flores Designs social distancing sign, $5, Etsy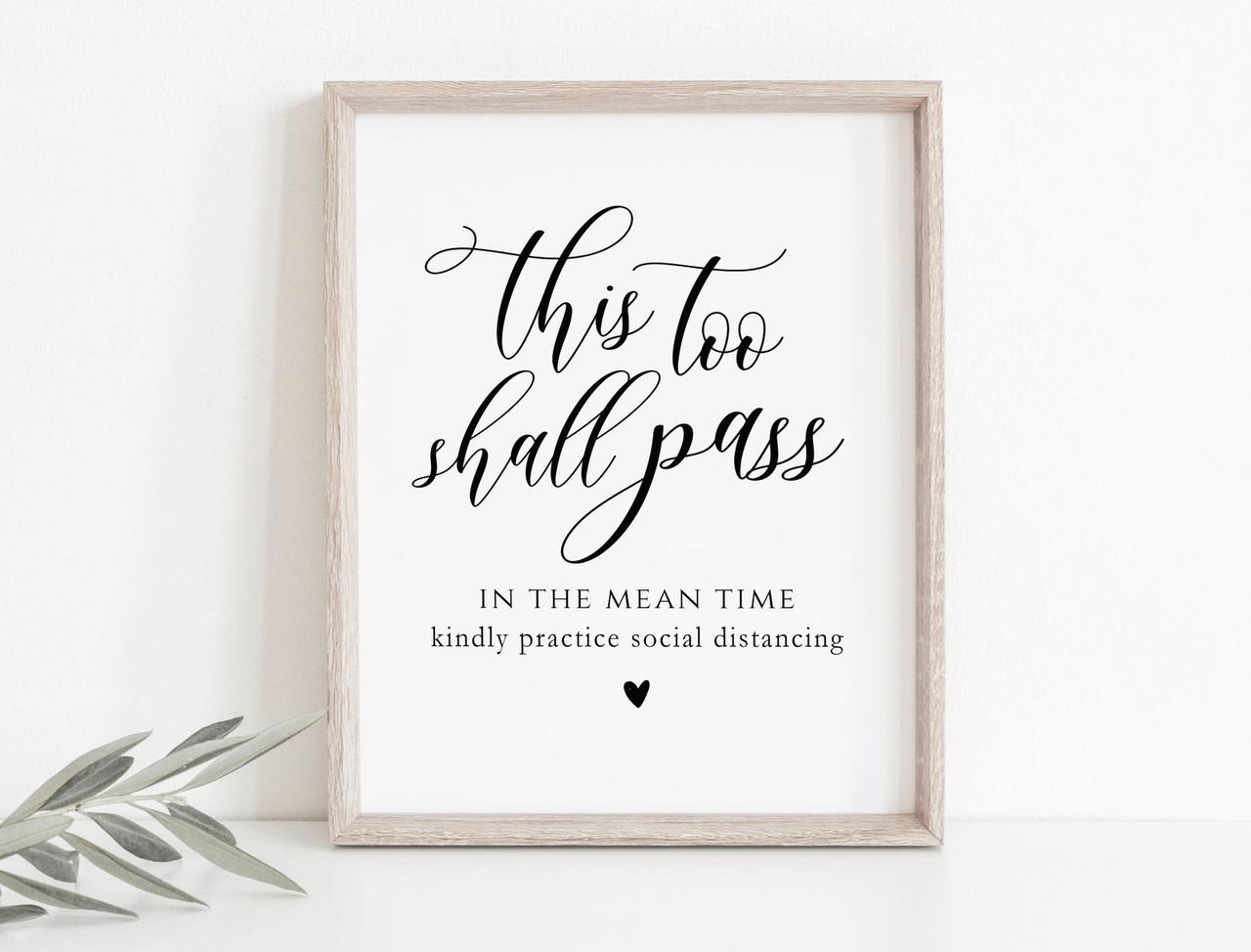 We've all been going through tough times in recent months, this sign provides the comfort that this too shall pass.
Willow Lane Paperie wedding sign, $5, Etsy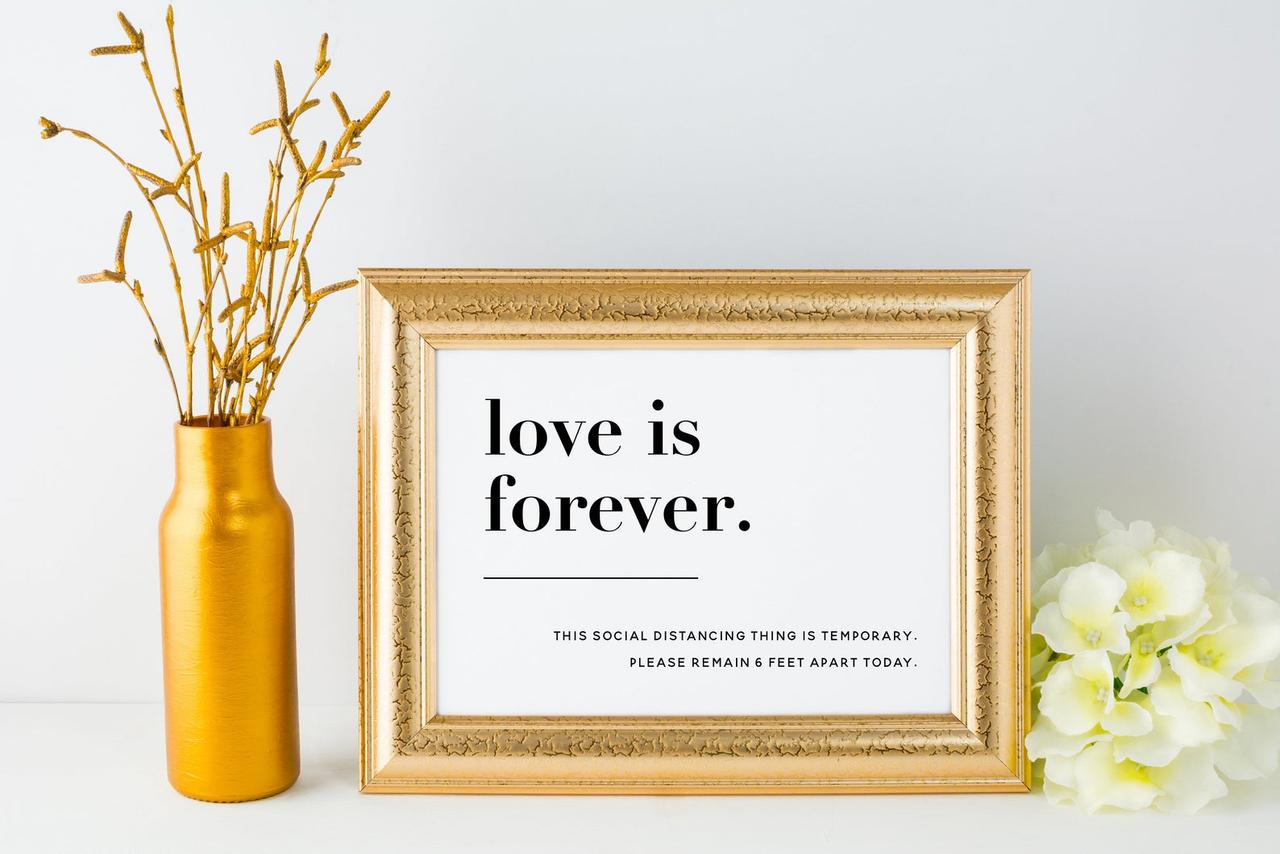 Looking for a sign that's succinct and to the point? We love the clear messaging on this well-designed social distancing sign.
Ivory Isle Designs social distancing printable sign, $5, Etsy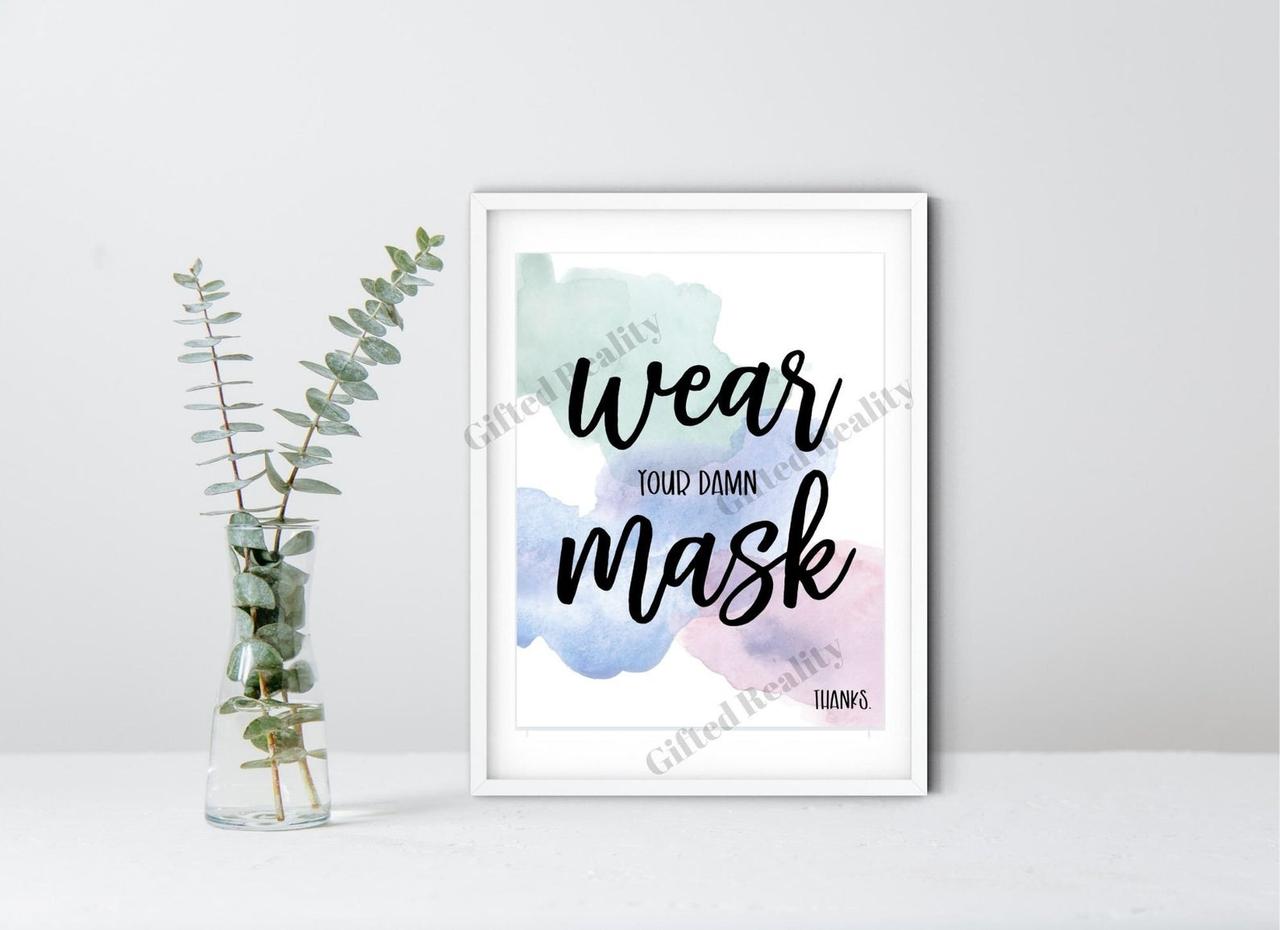 There's nothing wrong with being blunt.
Gifted Reality printable mask sign, $4, Etsy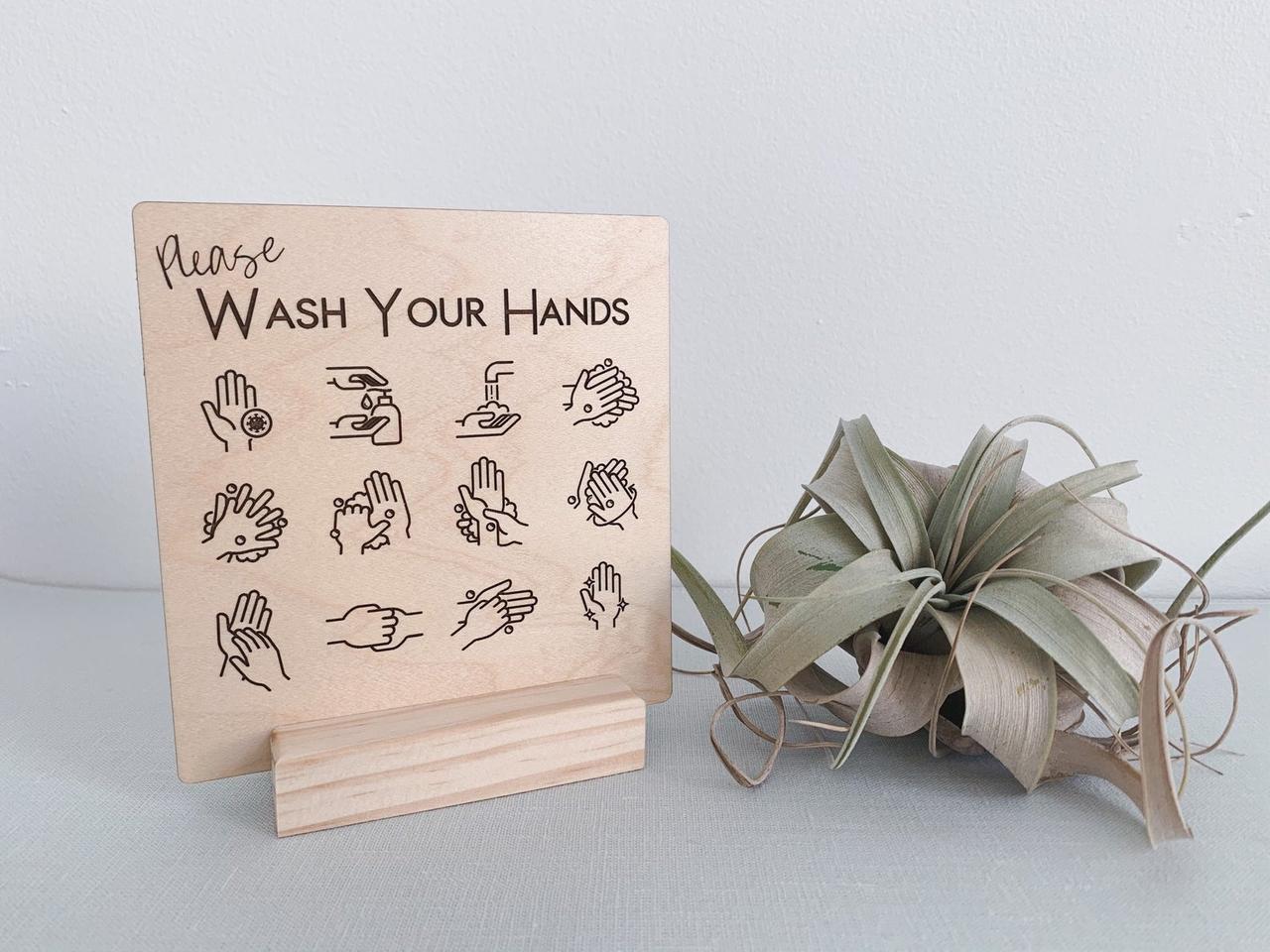 Hopefully your guests are all well-versed in good hand hygiene by now, but feel free to place a sign like this one in your wedding restrooms to make sure.
Hirokawa Design Co. wooden hand washing sign, $13, Etsy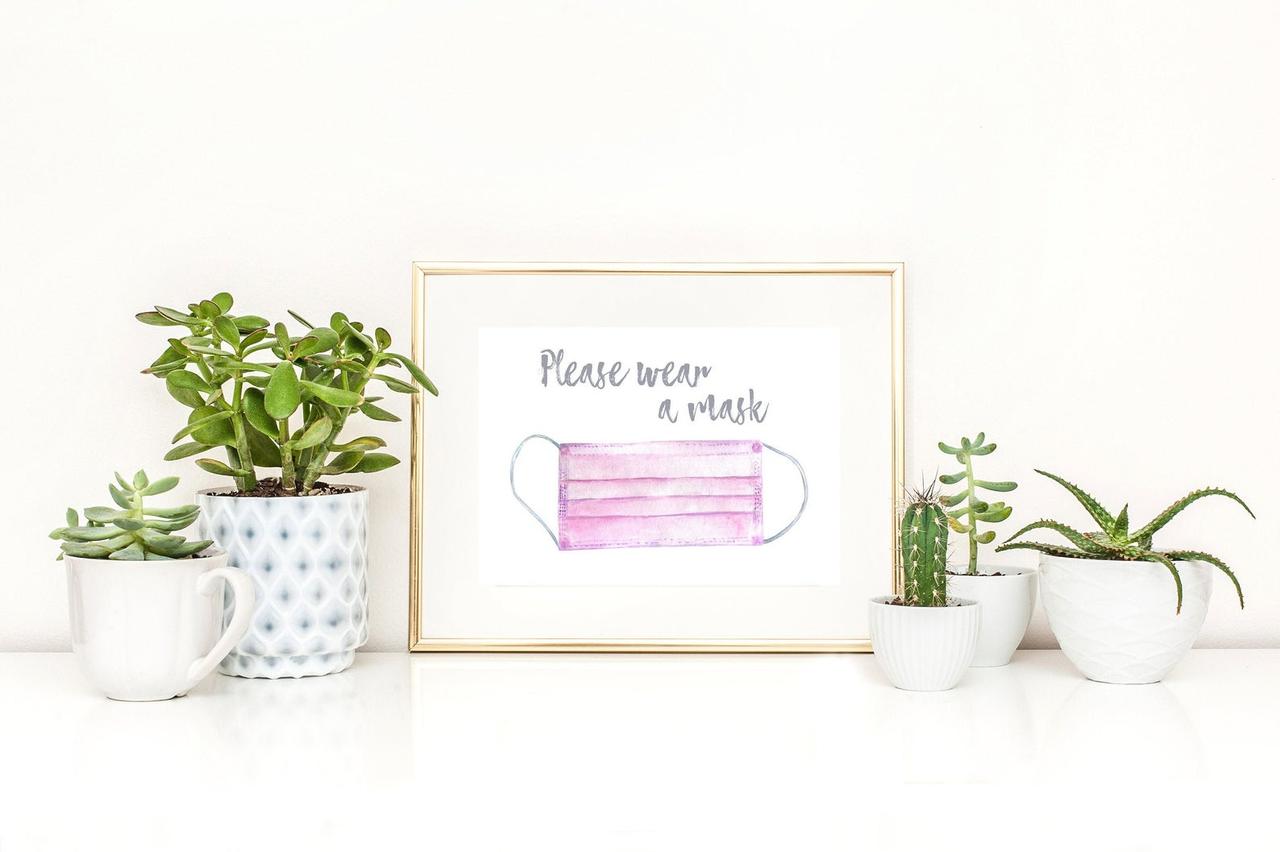 Who would've thought that a sign about wearing a mask could be so darn pretty?
El Porto Collections printable mask sign, $5, Etsy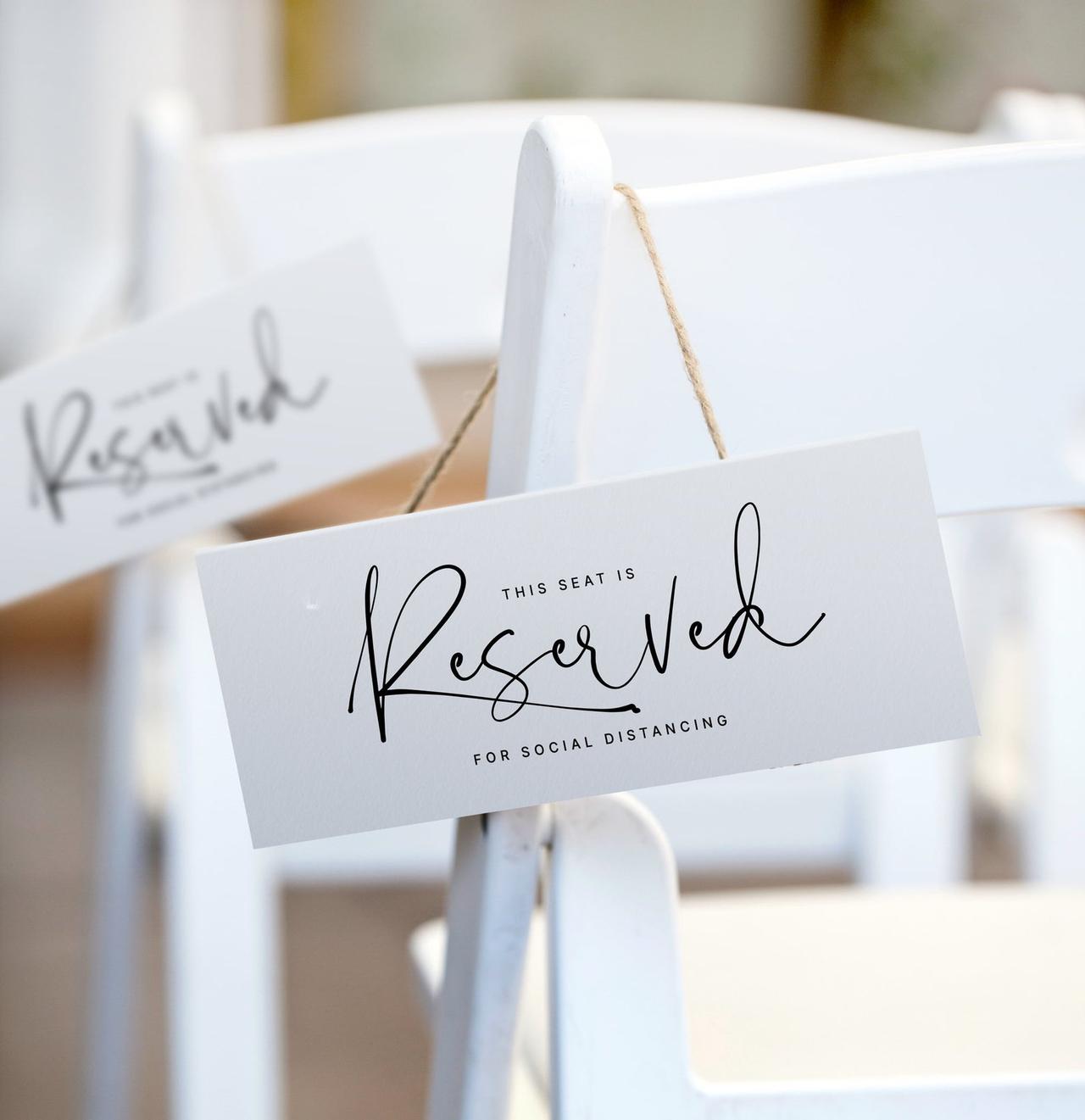 If you're planning on staggering your ceremony seating to allow for social distances, these chair signs are a must.
Karma K Weddings printable chair signs, $6, Etsy
Disclosure: This post contains affiliate links, some of which may be sponsored by paying vendors.