10 Ways to Include Your Virtual Guests in Your Wedding
Yes, your virtual wedding guests can have just as much fun as your in-person family and friends. Here's how to make the experience extra-special for the Zoom crew.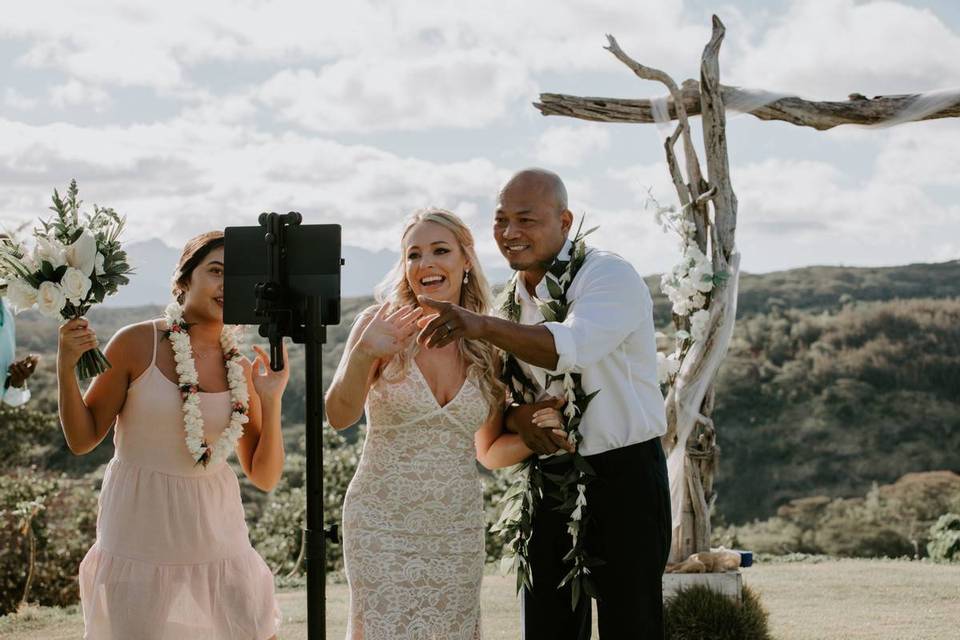 If you're hosting a wedding in the coming months, there's a good likelihood you'll have some guests attending virtually. Adding a virtual component to your wedding allows you to have a smaller (and safer!) in-person event, while still including loved ones who may live across the country—or the world. However, you'll need to do more than simply set up a computer or tablet with Zoom. Your guests are likely disappointed that they can't physically be with you, so take the time to make your virtual event as special as your in-person one. Turns out this isn't as hard as it sounds—with a few simple steps, you can create a virtual wedding experience your loved ones won't soon forget.
Send decor, food, drinks, and/or favors in advance.
Much like providing a welcome basket to out-of-town guests, sending a pre-wedding basket of goodies will put them in the mood for a celebration. A few ideas for this care package: festive decor items like a banner or balloons, special snacks, a mini bottle of champagne, a fun favor, a small floral centerpiece, or something completely unique. You can even create a custom Zoom background for everyone to use.
Create a designated spot for your camera, computer, or tablet.
Before your event, take the time to find the perfect spot for the camera, computer, or tablet that will be broadcasting your wedding. You want to make sure that your virtual guests will be able to see your event, and specifically, you and your new spouse, clearly, without any obstructions or distractions. If your setup will change between the ceremony and reception, make sure there's a perfect spot for your livestream in each area.
Enlist an emcee and tech coordinator.
Actually, you'll probably want to enlist at least two people to help with the livestream of your wedding—one at the event and one tuning in from home. Consider appointing or hiring a "technology coordinator" at the wedding—someone who can ensure the livestream is working, virtual guests can clearly see the proceedings, and troubleshoot any issues. Many videographers are offering such services, or you can ask your venue coordinator or planner for suggestions. Your "at-home livestream support" will be the point person to ensure everyone is muted at the proper times and should also have a direct line of communication with the on-site technology coordinator in case of any issues. It may also be necessary to have an "emcee", or someone who can facilitate games or other activities among your virtual guests.
Host a pre-party.
Get the party started—early. One of the best parts of an in-person wedding is the chance to reconnect with loved ones you may not have seen in years—the same goes for a virtual wedding! Chances are, your guests will be excited to see each other, even via Zoom, so give them some time to chat before the wedding. Open up the "Zoom room" or other virtual hangout an hour or so before your ceremony so that guests can have some time to chat amongst themselves. If you're so inclined, you can have a designated "host" facilitate ice breaker games or create breakout rooms to give guests more ways to catch up.
Play some games.
While your virtual guests may not be able to have the same experience as your in-person crew, you can still make the experience unique and fun. Lean into games that can be easily played in a virtual hangout, like Who Knows the Couple Best?, Two Truths and a Lie, or even an online party game service like JackBox. These interactive games will be a fun bonding experience while your in-person guests are eating dinner, for example.
Set up a "virtual lounge" at the reception.
Your virtual guests should have the best seat in the house at your reception, too. Aside from ensuring that your Zoom crew can see all the action, we love the idea of having a large screen showing the virtual hangout to your in-person guests (your videographer, DJ, or venue coordinator can help with setting up the audio-visual component). That way, your in-person family members and friends can stop by and say hello to your virtual guests throughout the event, making everyone feel even more included in the day.
Start a dance party.
No doubt your virtual wedding guests will be in a celebratory mood, so why not spin a few tunes and let them bust a move? While your virtual guests might not be able to hear the music played at your in-person event, you can ask each loved one to play a song of their choice and rock out. They'll love the opportunity to let loose.
Show a video or montage.
While guests are waiting for the ceremony to begin or at any other break in the action, showing a slideshow or video featuring photos of the couple from their childhoods and throughout their relationship is a sweet idea. A friend or family member can be tasked with making this photo montage (it's actually pretty easy!).
Assign toasts or readings to virtual guests.
If some of your nearest and dearest are attending your wedding virtually, they can (and should!) still be asked to give a toast or even share a reading at your ceremony. Your on-site tech coordinator can help ensure that your toast-giver is spotlighted and everyone can see and hear him or her for the special moment.
Check in and thank your virtual guests directly.
It's easy for the newlyweds to focus entirely on their in-person guests and forget about their loved ones who are attending virtually. At different points throughout the day, make an effort to say hello to your virtual guests and thank them for celebrating with you. These small moments will mean so much to your loved ones, who are probably disappointed they can't be physically present on your big day.