How to Be the Very Best Virtual Wedding Guest
Sorry, you can't just roll in to the Zoom wearing your PJs. Here's all the virtual wedding guest etiquette advice you need to know.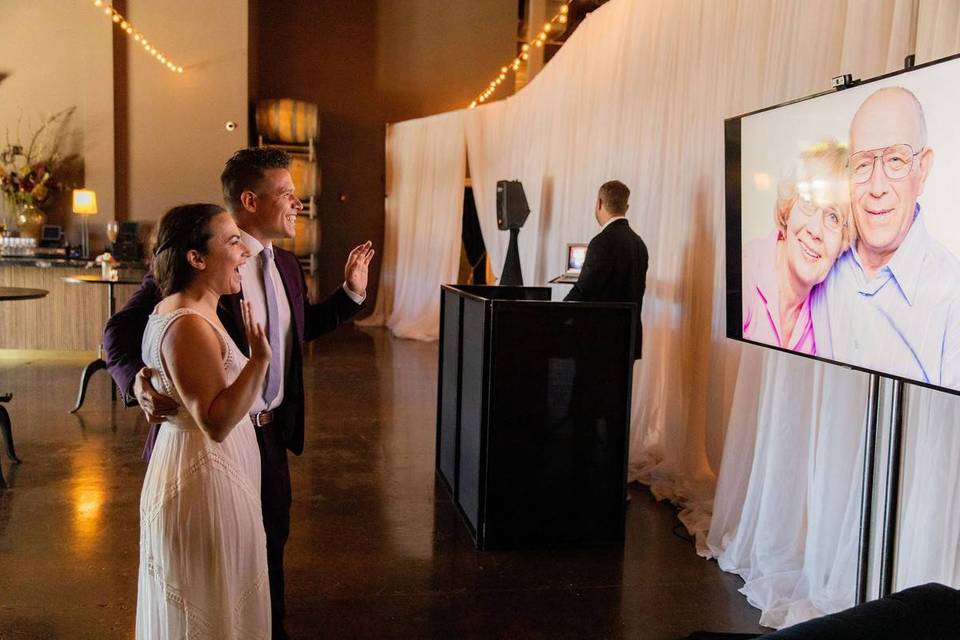 You might think attending a virtual wedding is pretty simple—no need to get dressed to the nines, remember a gift, or worry about traffic. While being a virtual wedding guest may be a bit less stressful than attending an in-person event, there are still quite a few etiquette rules guests should follow. Whether the couple always intended on having a virtual component to their wedding or had to alter their plans due to the COVID pandemic, they still want their event to run smoothly—and that's where you come in. Taking the time to plan ahead will ensure a successful experience, both for you and the soon-to-be newlyweds.
You'll be the ideal virtual wedding guest after following this step-by-step guide.
RSVP on time.
Whether you're attending a wedding in person or are a virtual wedding guest, you should still be sure to RSVP in a timely fashion. This may mean sending back an RSVP card or submitting an RSVP form on the couple's wedding website. Particularly for virtual weddings, the couple may "take attendance" before the wedding begins to ensure that everyone is able to access the event. So treat your RSVP as you would for an in-person wedding—if you can't make it at the last minute, be sure to let the couple know.
Send a gift in advance.
Wedding gifts are given to help newlyweds start their new life together, and are particularly important during these difficult times. Even if you're not attending an in-person event, you should still send a gift (from the couple's registry or cash) to the couple in advance of the virtual wedding to show your love and support. The idea of "covering your plate" with a gift is an outdated tradition anyway.
Find the right backdrop.
A wedding is a very special event, so take the time to find an appropriate backdrop in your home—a space that will be quiet and free from distractions. If you want to put in the time and effort, you can even decorate your space with a cute banner or flowers to feel a bit more festive, but it's not necessary. And save the silly Zoom backgrounds for your next virtual happy hour.
Dress to impress.
No, you can't attend a virtual wedding in your PJs. While you don't have to be in full formal attire, we do recommend dressing up a bit. That could mean a collared shirt and slacks, a sundress, or your interpretation of dressy casual. Remember, even though you may be sitting on your couch, you're celebrating an important milestone with the couple—let your attire show your respect and reverence for the event.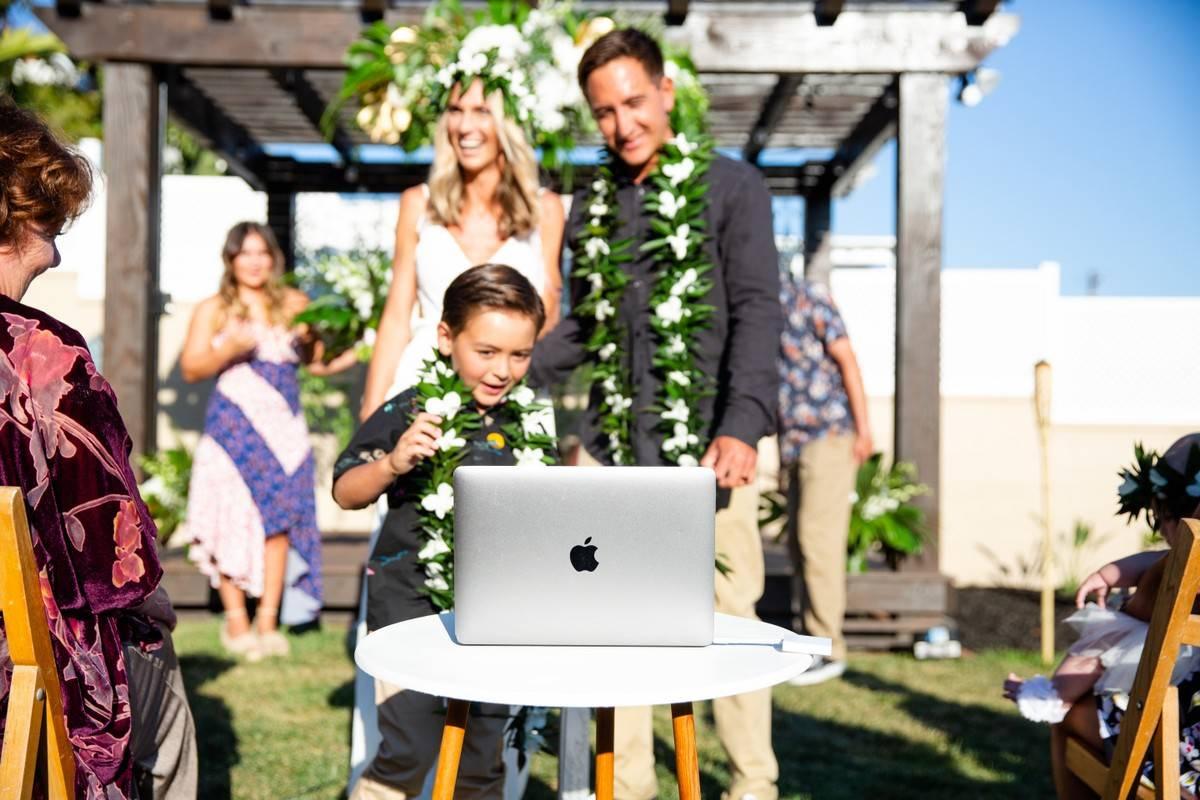 Eat beforehand.
When the couple looks at all of their virtual guests, they probably don't want to see you chomping away at a sandwich or digging into a bowl of pasta. Have a meal or larger snack before tuning into the wedding, so you're not hangry during the proceedings. And it's totally fine to keep a drink on hand, along with some smaller hors d'oeuvres or snacks to munch on if you wish. Just make sure you set up any food or drink before you log on—you don't want to get up in the middle of the couple's vows to head to the fridge.
Test out the technology.
By now, most of us are familiar with Zoom and other virtual meeting services. But even if you've been using Zoom every day for work, you still want to make sure your tech is set before the wedding begins. Make sure your device is on and charged, check to ensure you have the correct meeting code, and that your camera and microphone are working. It's also a good idea to have a point of contact who is attending the wedding in person (not the couple, though!), in case there are technical difficulties on the couple's end.
Don't be late.
Log into the wedding about 15 minutes before the official start time to make sure everything is working properly. Depending on the format, you may be able to greet other virtual wedding guests before the proceedings begin, or you can simply use the extra time to grab a drink and make yourself comfortable.
Mute yourself.
This is a big one—make sure you are muted before the ceremony begins (triple check if you have to!). The focus should be on the couple, no one needs to hear you yelling at your kids, calling your dog, or chatting with your significant other. Keep your camera on, though—the couple wants to see your smiling face!
Stay focused.
Even though your microphone will be off, try to remove any distractions during the ceremony so you can keep your focus on the proceedings. Turn off the TV, avoid checking your phone, and make sure little ones are occupied so they won't pull you away from the event at hand.
Send your congratulations.
Show your love and support by signing the couple's digital guest book or sending well wishes in the chat box. Don't text the couple directly during the event though—wait until after the celebration is over to wish them your best.