How to Avoid a Summer Wedding Makeup Meltdown
These expert-approved tips will keep your summer wedding makeup looking amazing at your outdoor event.
We have included third party products to help you navigate and enjoy life's biggest moments. Purchases made through links on this page may earn us a commission.
Tying the knot at a summer outdoor wedding comes with a lot of perks: Sunshine, warm breezes, and a stunning sunset. But it also means heat - and sweat! - so you've got to pay extra attention to your summer wedding makeup to continue looking fresh from the first look to the last dance (or at least through dinner!). And who knows better how to maintain your wedding day beauty than the pros who got you looking so glam?
Check out these words of wisdom from beauty pros to ensure your summer wedding makeup stays put all day (and night!) long.
Cleanse, prime, choose products, and set.
"These four steps are key to making your summer wedding makeup last," says Jennifer Adams of Formal Faces in Atlanta, Georgia. "For makeup, wash your face, apply a primer, use a high-quality foundation, and finish it off with a setting spray."
Stay inside as long as possible.
"If it's incredibly humid outside, the best thing you can do is wait inside until the very last minute," says Jennifer. "This is especially important for your hair. Waterproof makeup really works (you can waterski in waterproof mascara!), but there is no hairstyle or hair product that will stand up to rain or humidity." So once you're ready to go, wait it out until it's time to head down the aisle.
Rinse your face with cold water.
After washing your face with a cleanser, rinse with very cold water. "This will cause your pores to close up nice and tight, which will prevent them from releasing as much oil throughout the day," says Jennifer. "Then add a light moisturizer - if you don't moisturize at all, your face will over-produce oil!" Wait 10 minutes for the moisturizer to sink in, apply your primer, and then apply makeup on top.
Pick waterproof products.
"These really do work!" says Jennifer. "Use waterproof mascara, waterproof eyeliner, and waterproof lash glue." This will also ensure your summer wedding makeup doesn't run if it's tears instead of sweat on your face!
Bring a fan.
A handheld battery-operated fan will be your saving grace, especially if you're getting married somewhere particularly hot and humid. "The fan will help prevent sweat and keep your makeup in place, but will also go a long way in keeping you cool overall," says Jennifer. "I attended a wedding last year where the bride missed more than half of the reception because she'd gotten so overheated earlier in the day, and something small and easy like a fan would have made a huge difference."
Stay hydrated.
"Drinking a lot of water before your wedding day will help you look fresh and give you a beautiful glow," says Tami Bernard of Tami Bernard Makeup Artist LLC in San Luis Obispo, California. "Then be sure to continue drinking water on your wedding day so you don't get dehydrated!"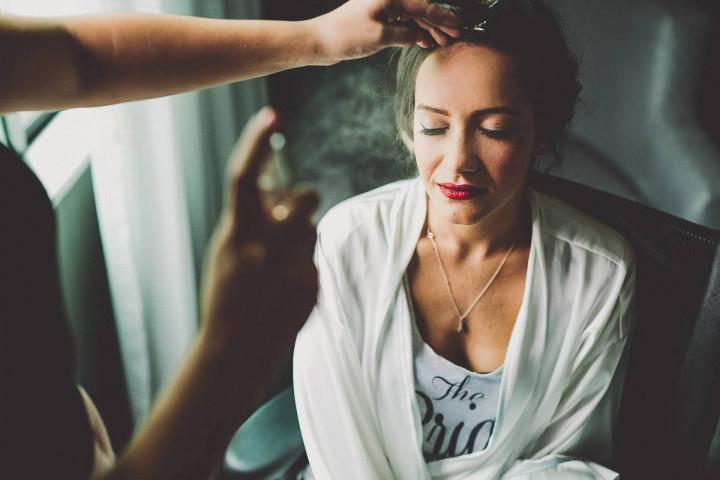 Thin out your foundation with moisturizer.
"Mix some of your favorite moisturizer into your cream foundation for lighter coverage that will also help keep your skin hydrated," says Tami. "This will help your foundation go on evenly, as well as prevent your skin from producing too much oil throughout the day."
Add airbrush foundation on top.
Yes, you can use both cream and airbrush makeup! "I like to do a few layers of airbrush foundation on top of a cream base, which creates an extra-flawless look and keeps everything in place," says Tami. "The key is using super fine layers of each to avoid looking cakey. This is the secret to a no-makeup look!"
Use a facial antiperspirant.
"Face Saver is a great product if you're prone to sweat and getting married somewhere especially warm or humid," says Lindsay Matthews of Lulu Lush in Kauai, Hawaii. "Top it with an appropriate moisturizer so your skin doesn't work overtime to try to hydrate itself."
Pick the right primer.
"The Smashbox Photo Finish primer is my go-to," says Lindsay. "They have a few formulas for different skin types so you can choose the one that best fits your needs!"
Consider mineral makeup.
"If you're using traditional summer wedding makeup (and don't have dry skin), mineral powder makeup like Bare Minerals is fabulous. There is much less sliding and it holds up great in the heat," says Rodney Pinion of Andre Chreky, The Salon Spa in Washington, DC.
Opt for airbrush.
"Heat and humidity can be brutal for traditional makeup, which could melt right off of your face," says Rodney. "Instead, opt for the airbrush method, which is lighter, longer lasting, and less cakey."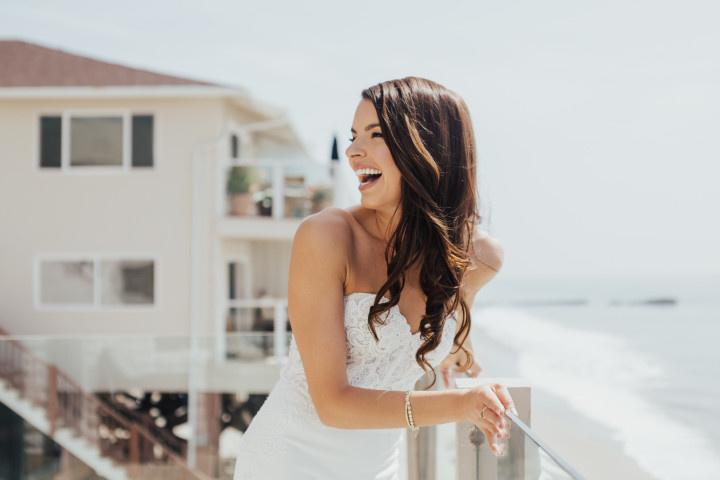 Set it right.
"A translucent setting powder is always the last step, no matter what," says Lindsay. "My favorites are either Laura Mercier or La Mer. You could also finish with a setting spray such as All Nighter from Urban Decay, which will really lock things into place."
Buy blotting sheets.
"Setting powder is great right after you've applied your makeup, but should not be used throughout the day," says Melissa Moore Bogardus in Bessemer, Alabama. "Tarte's oil-blotting sheets are amazing, as are the rice paper sheets from Sally's."
Hydrate your skin throughout the day.
"Keep your skin hydrated so it doesn't produce oil, which can cause makeup to run," says Melissa. "I love to use Mario Badescu's rose water spray as a light mist throughout the day."
Don't touch your face!
"This is the biggest reason makeup doesn't last, no matter the season," says Victoria Ronan of Natural Looks by Victoria in Huntingtown, Maryland. "Every time you touch your face, you're wiping some of your makeup off!"
Cry pretty.
There is a right way to cry on your wedding day. "To keep your summer wedding makeup intact through the tears, use a tissue to tap or dab away tears - never wipe!" says Victoria.
Disclosure: This post contains affiliate links, some of which may be sponsored by paying vendors.