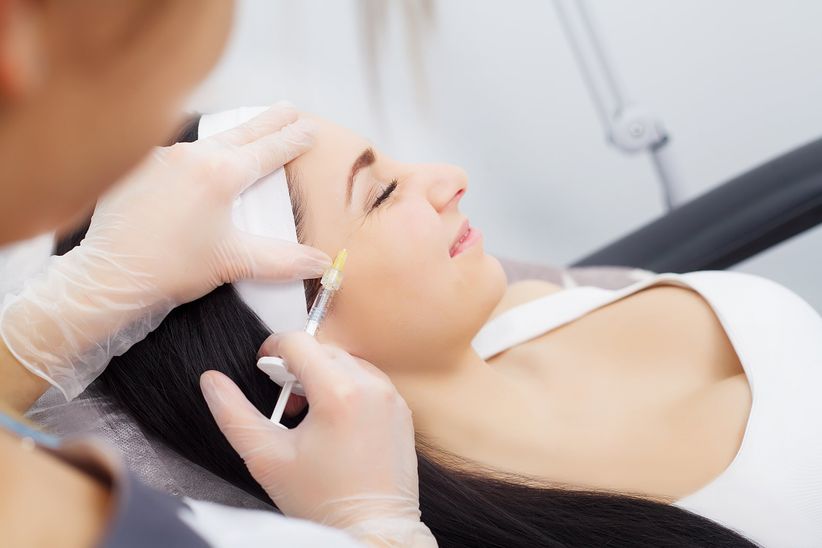 Of course, you want to look your very best on your wedding day—who doesn't? That's why it's important to start planning out your pre-wedding beauty treatments ahead of time—so that you can see results in time for your nuptials. But experts warn that any major changes to your routine should be avoided, as this can leave you with a mug you hardly recognize by the time you're ready to walk down the aisle. "I understand the desire for clear skin when you're a bride, but slathering on too many new and potentially irritating ingredients at the same time is a recipe for disaster," warns Joshua Zeichner, M.D., director of Cosmetic and Clinical Research in Dermatology at Mount Sinai Hospital in New York City. "Consistency is best and stick with the products that you know reliably work for your skin." The same is true for certain procedures, especially ones that lasting effects.
Here, experts share the pre-wedding beauty treatments they recommend staying away from in the six months leading up to your big day.
First-time Botox
This anti-wrinkle treatment which involves injecting the neurotoxin (yes, toxin) botulin into the skin to temporarily paralyze facial muscles and ultimately smooth out fine lines is not off the table if you've done it before. But experts don't recommend testing it out within 6 months before your big day. "The effects last 3-5 months, so if you don't like the results, you're stuck with it for at least that amount of time," explains Dr. Zeichner. "It's a waiting game for them to wear off." Instead, he recommends sticking to hyaluronic acid-containing serums, such as Neutrogena Hydro Boost Hydrating Serum, to plump the skin and improve the appearance of fine lines.
Fillers
Like Botox, fillers take time to wear off, so if you don't want to wind up unhappy with your results with little time to spare before your big day. "Fillers, like Juvéderm, bring back volume to the skin while smoothing away facial wrinkles and folds," explains Cecilia Wong, founder of Cecilia Wong Skincare in New York City. "As part of your pre-wedding beauty treatments, I'd recommend a microcurrent facial in its place, as it lifts and contours the facial features, especially the cheekbones, without any downtime."
Tanning beds
If you want to look nice and tan for your big day, skip the tanning salon and instead opt for a spray tan. "Tanning beds cause premature aging (wrinkles, sagging skin, brown spots and more!), as well as skin cancer," warns Wong. "A couple of great alternatives are airbrush tanning by a professional or using a sunless tanner at home." She urges her clients to be careful when choosing a company or brand to ensure they use a non-toxic formulation. "I love the COOLA Organic Sunless Tan line!"
Intense Pulsed Light (IPL)
This treatment helps to remove sun spots and redness while smoothing uneven texture and minimizing enlarged pores, explains Wong. While it can be effective, she doesn't recommend it for brides-to-be, because it can cause irritation to the skin, produce dark patches and create more serious long-term damages including small craters and thin skin. "A great alternative pre-wedding beauty treatment is an LED light therapy facial, which works to rejuvenates the skin cells on a deeper level, reducing sun damage, stimulating collagen production and promoting better circulation to the skin," she says.
Chemical peels
Remember that episode of Sex and the City when Samantha is left looking red-faced and blotchy after a chemical peel? Yeah—not a good look for a bride. While these types of facials are designed to enhance and smooth the texture of the skin, they can lead to irritation and burning, which results in unwanted marks, explains Wong. A great, milder alternative pre-wedding beauty treatment is an enzyme or fruit peel. "They're both effective and gentle to the skin and can be done professionally or at home," she says. Her go-to is Ilike's Organic Skin Care's Yogurt Power Peel.
Japanese straightening techniques
If you're looking to rid your strands of any curl, make sure you're fully committed to this one look. "You will not be able to curl or put any movement into your hair so styling will be hard," says NYC Master Hair Colorist Stephanie Brown. "Japanese straightening makes your hair null and void of any texture, so unless you want super straight hair for your wedding I would avoid this treatment." Better pre-wedding beauty treatments she recommends are keratin or an anti-frizz treatment, which will loosen the curl without making it hard to style.
Major changes to your hair
You want to feel like yourself on your big day, so Brown recommends avoiding any drastic hair color or length changes. "You should have something in mind for how you want your hair styled before your wedding and you usually need some hair to play with and to be able to have a style," she says. "If you decide to switch things up, you can invest in some nice clip in extensions to help give volume and be able to style your hair the way you want."