A Pre-Wedding Skincare Routine for Every Season
Here's how to make sure your pre-wedding skincare routine is spot on (er, off?), no matter the season.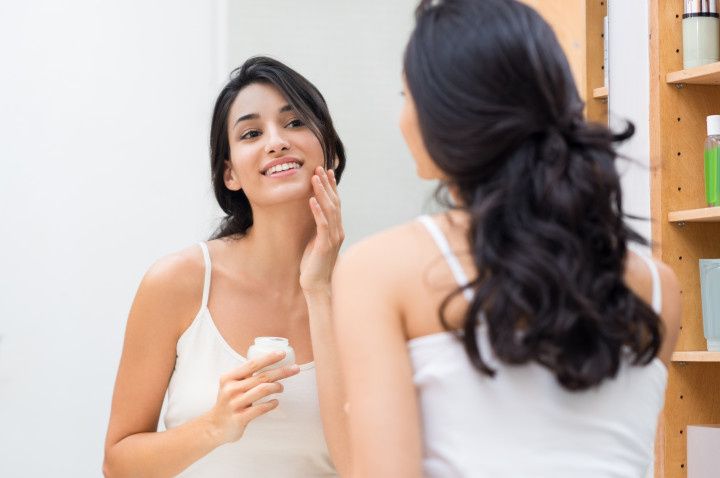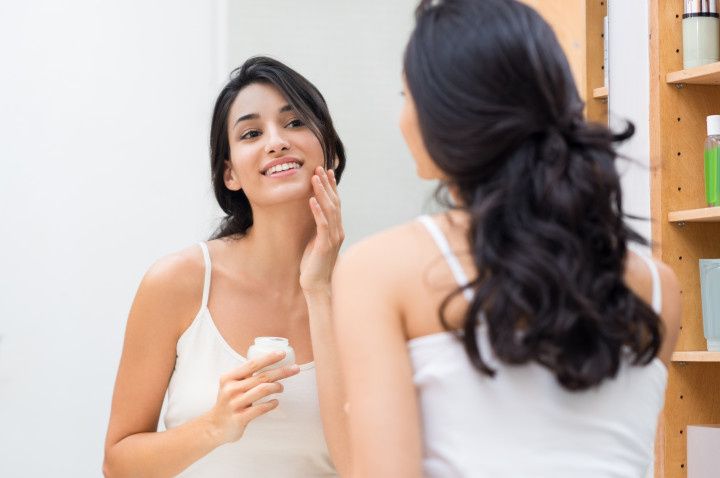 You'll never be in front of a camera as much as you will be on your wedding day. With so many close-ups on the schedule, having a pre-wedding skincare routine should be a top priority (and hey, a little self-care might just ease that pre-wedding stress you're feeling!). But there's more to it than just washing and moisturizing, and the products you choose for your pre-wedding skincare routine should actually change with the seasons, just like your centerpiece options or your color palette.
We asked five top dermatologists to share their pre-wedding skincare routine tips, from the day you get engaged to the moment you walk down the aisle.
Start with a healthy skincare routine.
Taking care of your skin well on a daily basis will help you build a solid foundation, making it easier to adjust your skincare as needed throughout the year. "Wash your face twice a day with a gentle exfoliating wash to promote fresh skin cell turnover," says Dr. Annie Chiu, board-certified cosmetic and general dermatologist at The Derm Institute. "Follow up with moisturizer and always, always use sunscreen." Dr. Chiu recommends a light, non-clogging broad spectrum sunscreen like ISDIN Eryfotona Actinica SPF 50+, which is also powered with antioxidants to reduce free radical environmental damage.
Adds Dr. Vivian Bucay, board-certified dermatologist and founder and president at Bucay Center for Dermatology and Aesthetics, as well as a member of The Women's Dermatologic Society, "A pre-wedding skincare routine doesn't have to be complicated to be effective. Your morning routine should prevent and protect, while your evening routine should repair and renew. Look for topical antioxidants, like vitamin C, for daytime products, and then at night, use a retinoid or alpha hydroxy acids, like glycolic acid and lactic acid."
After you've #justsaidyes, say yes to some extra self-care.
Once you're engaged, it's time to kick up your pre-wedding skincare routine to really get your face into shape for the big day. So why not start with a little pampering? "I recommend HydraFacials, as it is a specialized treatment that not only provides physical and chemical exfoliation for that amazing glow, but also hydrates the skin with a super moisturizing serum for immediate gratification and gorgeous, healthy skin," says Dr. Deanne Robinson, co-founder and president of Modern Dermatology in Westport, Connecticut and member of The Women's Dermatologic Society. Your skin will look so fresh at your engagement party, your friends might forget to ask to see your ring!
Now is also the time to work with your dermatologist to create a plan addressing any skin concerns you might want to take care of before your wedding - especially if that plan includes lasers, devices, and injectables. "These can include everything from red spots and broken blood vessels (corrected using Vbeam Perfecta or Vbeam Prima), to brown spots and even tattoos they don't want seen in those wedding day photos (which can be addressed with PicoSure, Picoway, and Enlighten)," says Dr. Jeremy Brauer, board-certified dermatologist and clinical assistant professor at Ronald O. Perelman Department of Dermatology at NYU Langone Medical Center. "Fillers and toxins (such as Botox, Xeomin, Juvederm, and Belotero) can also be used to add volume where needed and soften the appearance of fine lines." Doing this earlier on will give you more time for recovery, and allow you to adjust your treatment as you begin to see results.
In addition to regular washing and wearing sunscreen, you can start to step up your pre-wedding skincare routine with products geared toward your concerns. "For daytime, topical antioxidants such as ISDINCEUTICS Flavo-C Ultraglican Ampoules, which contain vitamin C and hydrating glycosaminoglycans (like hyaluronic acid) and skinbetter science Alto Defense Serum, a blend of 19 antioxidants, will help fight free radical damage in all layers of the skin," says Dr. Bucay. "One of my favorite evening products is skinbetter science AlphaRet Overnight Cream, which contains glycolic acid and a unique hybrid compound composed of a retinoid and lactic acid, which are separated and released by the skin's own water once absorbed. This makes it exceptionally well tolerated, even by those with sensitive skin. With regular use, skin is smoother, brighter, firmer and more even-toned." If you're sensitive to retinols, Dr. Robinson has the answer. "A great alternative to build collagen and elastin fibers is the botanical extract of topical bakuchiol. This extract activates the same genes as topical retinols without the irritation and can be found in ISDIN Melatonik."
Don't just focus on your face.
And don't forget your neck and chest! "Many brides wear dresses that show off their décolletage," says Dr. Melissa Kanchanapoomi Levin, NYU clinical professor, dermatologist and founder of Entière Dermatology. "The skin on the neck is thinner than that on the face, with less naturally occuring sebum. That means it's susceptible to irritation, dryness, and early wrinkling." She suggests a restorative neck cream with peptides, which will address wrinkles and changes in skin tone. "A cream with antioxidants will support the production of new collagen and elastin, neutralize further damage to the skin, improve tone and texture, and repair signs of aging."
In the days before the big day, less is more.
Is your wedding day fast approaching? There are a few tricks and tips that will get you great results, even in a time-crunch. "Alpha-hydroxy acid light peels either at-home or in-office can quickly banish last minute breakouts and give you dewy fresh skin by banishing dull skin cells," says Dr. Chiu. "And for day-of emergencies, a little Visine (yes, the eye drops!) can take redness out of your skin or a pimple."
But don't get too product-crazy in the days before your wedding. "I do not typically recommend a bride or groom to add a new regimen or step right before the wedding except to focus on minimizing breakouts by de-stressing," says Dr. Kanchanapoomi Levin. "If you do have a breakout, try to see your dermatologist for a quick steroid injection. Otherwise, apply an over-the-counter benzoyl peroxide such as La Roche-Posay Effaclar, which, along with over-the-counter hydrocortisone, can calm inflammation."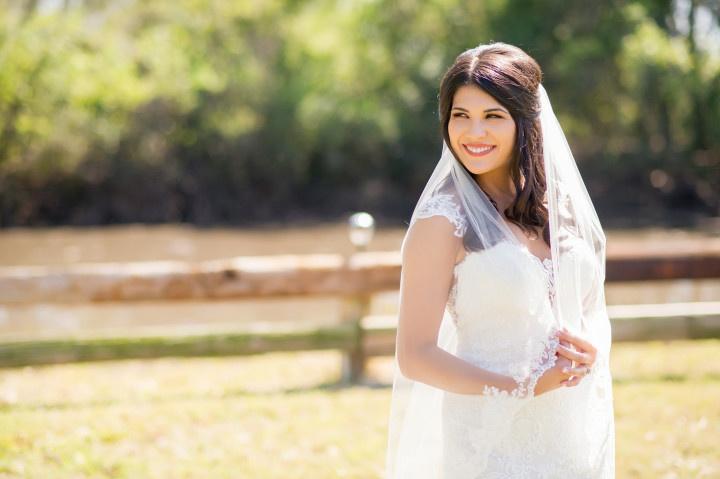 Let your wedding season dictate your skincare routine.
Have you ever noticed that, as the seasons come and go, your skin changes, too? With fluctuating temperatures, allergies, and more, it's important to transition your skincare routine with the seasons. Here are the adjustments to make to your pre-wedding skincare routine, based on the season when you'll be getting married:
For a Spring Wedding
As winter changes to spring, focus on hydration. "A HydraFacial will exfoliate all those dead skin cells and reveal radiant skin," says Dr. Chiu. If you have seasonal allergies, ease up on some of your stronger products to allow your skin to heal from redness or itching. "Your skin may not tolerate some of your usual regimen if you're affected by allergens," says Dr. Bucay. "A retinoid-free night serum will still work to enhance cell renewal and increase your skin's stores of antioxidants to fight pollution and UV radiation damage, without the sometimes harsh effects of retinoids or AHAs."
Dr. Chiu continues, "I like CBD for Life's Pure CBD Eye Serum, as it fights puffiness and dark circles that might occur with allergies." Topical CBD is good for your skin, just like CBD oil drops may keep the bridezilla at bay. Or head to the drugstore for one of Dr. Kanchanapoomi Levin's favorite fixes. "Cetaphil Hydrating Eye Gel is chock full of hyaluronic acid and delivers hydration for 24 hours, and also has brightening ingredients such as licorice and grape extract and a pro-vitamin complex."
"As spring blooms, patients are looking for a beautiful, glowing complexion," says Dr. Robinson. "I suggest using topical brightening agents, such as ISDINCEUTICS Melaclear Serum, which is a vitamin-based lightening serum which also provides a gentle exfoliation with Phytic Acid."
For a Summer Wedding
Rising temperatures can mean increased humidity, which can cause your skin to produce more oil - not good for wedding-day makeup! "Cleanse your skin with a foaming or gel cleanser if it is oily," says Dr. Chiu. "They'll also help remove layers of sunscreen, makeup, and sweat that can pile up as you spend more time outdoors." Keep your makeup in place with a finishing spray, which will help combat the humidity.
And of course, sunscreen is a must on both your face and your body. You'll want to reapply sunscreen at least every two hours, but how do you do so over your professional makeup? "I suggest SuperGoop Invincible Setting Powder," says Dr. Robinson. "I love this translucent physical powder as it provides an SPF of 45, absorbs excess oil, and is easy to reapply."
If you and your partner are worried about sweating in your formalwear, consider miraDry. Says Dr. Brauer, "If you are one of the many who suffer from axillary hyperhidrosis, it's a great option." Adds. Dr. Bucay, "It's in-office treatment that uses proprietary thermal technology to eliminate sweat glands in the targeted area as a long term solution. I recommend it for anyone looking to liberate themselves from using antiperspirants and deodorants. I had the treatment two years ago, and I don't miss those white deodorant spots on my clothing."
For a Fall Wedding
The weather is getting cooler, which can lead to dryness and irritation. Take time to address these issues to get yourself ready for the colder, dryer months.
"Switch to a Micellar water cleanser," recommends Dr. Chiu. "It's a more gentle way to pull dirt and oils off of your skin without stripping the moisture. In the same vein, trade your toner for an essence, which won't remove as much excess oil and will replenish your skin with a softening balance of ingredients."
"This seasonal transition can be particularly tricky if you have rosacea," says Dr. Kanchanapoomi Levin. "Look for products with ingredients that include niacinamide, licorice extract, adenosine, and green tea polyphenols. Topical niacinamide is an anti-inflammatory, which has shown to not only improve redness but also inflammatory lesions in rosacea patients. Licochalcone A, a licorice extract, has also demonstrated improvement in redness, burning, and stinging in rosacea patients. Green tea polyphenols is not only an anti-inflammatory but also photoprotective, an antioxidant, and anti-angiogenic (blood vessel promoting) agent which has also been effective in rosacea patients."
And don't forget to bump up your moisturizing pre-wedding skincare routine, switching from a lighter product to a mid-weight cream. "You may notice that your skin becomes more vulnerable to dryness as sebum production drops, so compensate with a moisturizer to keep your skin hydrated," says Dr. Bucay.
For a Winter Wedding
Cool temperatures, dry air, and the harsh temperature changes as you move in and out of heated spaces all mean one thing: Your skin needs moisture, STAT! "Even those with acne-prone skin need to protect the skin barrier. A compromised skin barrier leads to dry skin and inflammation," says Dr. Bucay. "Ingredients like niacinamide are helpful. One product I like for decreasing skin inflammation is skinbetter science Even Tone Correcting Serum. It's well tolerated by those with oily and/or sensitive skin, and it controls redness and brown spots. For individuals with extremely sensitive skin, I recommend La Roche-Posay's Toleriane Ultra Line, which includes a day cream, night cream and an eye cream. These products are preservative-free, fragrance free, and have special packaging that uses a series of internal valves and an airless system to keep the products stable contaminant free. They were tested on 3,800 people with sensitivity to two proven allergens – now that is rigorous testing!" And of course, don't forget to keep wearing your SPF. The sun is still shining, even if temperatures are in the single-digits.
Another great ingredient is hyaluronic acid. Says Dr. Chiu, "Hyaluronic acid-based booster products like skinbetter's InterFuse Intensive Treatment will also plump the skin to give a dewy appearance and help makeup not settle into lines. And as it gets cooler and more windy, and the skin naturally produces less oil, a finish spray is more important to prevent makeup from looking thick or 'caked on,' especially if it's a bit dry. Look for products that contain nourishing ingredients to keep the skin looking dewy while providing antioxidant support and skin softening ingredients."
"Carry around a good lip balm, like CBD for Life's Pure Lip Balm, to make sure your lips aren't dry and cracked," Dr. Brauer suggests. Your lips need attention, too - after all, you've got a big kiss on the calendar!