How to Get the Glowiest Wedding Skin Ever, According to Derms
Wedding skin care is an essential part of getting your face ready to glow on your big day. Here, experts share their top tips to ensure a flawless face.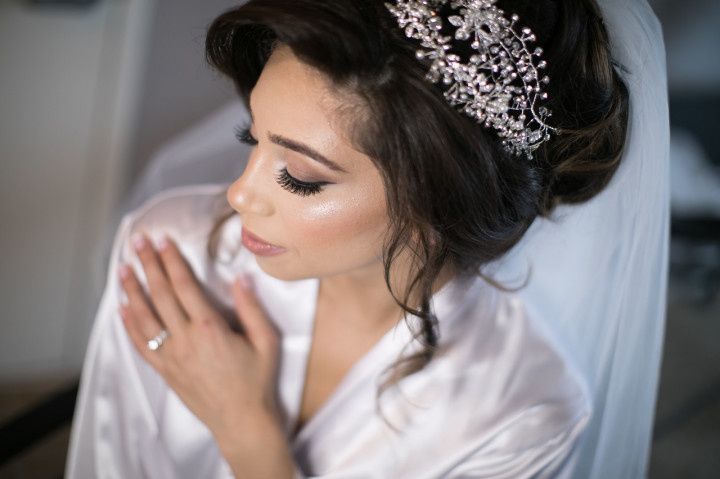 If there's one day that you want to look your absolute best and flaunt healthy, vibrant, and glowy skin, it's no doubt on your wedding day. But with so much to focus on and so much to plan, it can be hard to factor in wedding skin care even though it only takes some of the simplest strategies to keep your skin nice and dewy. Well, according to dermatologists, it's much easier than meets the eye—and, in fact, you don't have to spend a ton in order to achieve magazine cover-worthy skin. All you need to supercharge your skin is a little TLC (this will also help reduce your stress levels which comes in handy for pretty much everything leading up to your big day!).
Here are some dermatologist-recommended secrets for streamlining your wedding skin care and achieving that desirable glowy skin in time for your big day.
Eat a well-balanced diet.
It's important that you eat a diet high in fruits and veggies, especially in the months, weeks and days leading up to your wedding day. "Fruits and veggies contain the vitamins and minerals necessary for glowing skin, so try to make these the foundation of your diet," says Melissa Piliang, MD, dermatologist in Cleveland, Ohio. She also suggests adding in lean protein (chicken, eggs, nuts) and healthy fats (olive oil, avocado, nuts), as well as whole grains which contain essential nutrients and B-vitamins. "Limit refined sugar and processed foods, as sugar causes oxidative stress in the skin," she adds.
Stay hydrated.
If you haven't heard of the 8x8 rule, get to know it and start practicing it ASAP. It essentially represents the amount of water you should drink in a day—eight 8-ounce glasses. This amount will not only improve your bodily health, but also is an important part of wedding skin care. Especially if you need glowing skin by your special day, Ellen Marmur, M.D., a dermatologist in New York City and founder of Marmur Metamorphosis, suggests drinking lots of water as soon as possible to prepare. To amp up the hydration for the skin on your face, she also recommends applying moisturizing skincare products. "Especially for dry, and flaky skin, hydrating products will help bring your skin back to life," she says.
Get as much rest as possible.
You've heard it a thousand times—"get your sleep." But it's a piece of advice worth listening to, especially when you're gearing up for such an important, life-impacting event such as your wedding. In fact, it's one of the best wedding skin care moves you can make. "During deep sleep, the rise in growth hormones allows damaged cells to become repaired," explains Dendy Engelman, M.D., a dermatologist at Manhattan Dermatology and Cosmetic Surgery in New York. "Without the deeper phases of sleep, this won't occur, allowing daily small breakdowns to accumulate instead of being reversed overnight." She recommends clocking at least 8 hours of uninterrupted sleep each night to keep your skin hydrated and under-eye bags away.
Use sunscreen religiously.
Even when it's not summer, or even sunny outside, it's still important to wear sunscreen. Doing so will keep your skin from drying out from the UV rays, as well as slow down skin aging, explains Dr. Marmur. "This also helps the UV rays from damaging skin cells and create uneven pigmentation," she adds. A good sunscreen she recommends for brides-to-be is Neutrogena's Ultra Sheer Dry-Touch Sunscreen Broad Spectrum SPF 45.
Exfoliate.
Exfoliating your skin will help it to reflect more light and appear more radiant, according to Dr. Marmur. "This will help to turn over new skin cells to brush away the dull and unwanted cells." She recommends doing this at night time to get rid of the gunk (dirt, oil and grease) from the day before. A reliable face exfoliant she recommends is the Nip & Fab Glycolic Fix which you can get from your local drugstore.
Book an in-office treatment with your derm.
Although they may be on the pricier side, an in-office treatment with your dermatologist is another important wedding skin care step. "The concentration of solutions used in-office is going to be much higher than in products used at home, which means it will be better at targeting top layers of skin and revealing a healthy glow, thus greater results compared to at-home treatments," says Dr. Engelman. Her go-to recommendation for brides-to-be: Intense Pulsed Light (IPL) on the face and chest to target any areas of redness or dyschromia (hyperpigmentation) leaving a smooth, even complexion.