How to Safely Get a Manicure Amid COVID-19 and State Reopenings
As states begin to allow in-salon beauty services, experts share what the "new normal" will look like when it comes to your nails.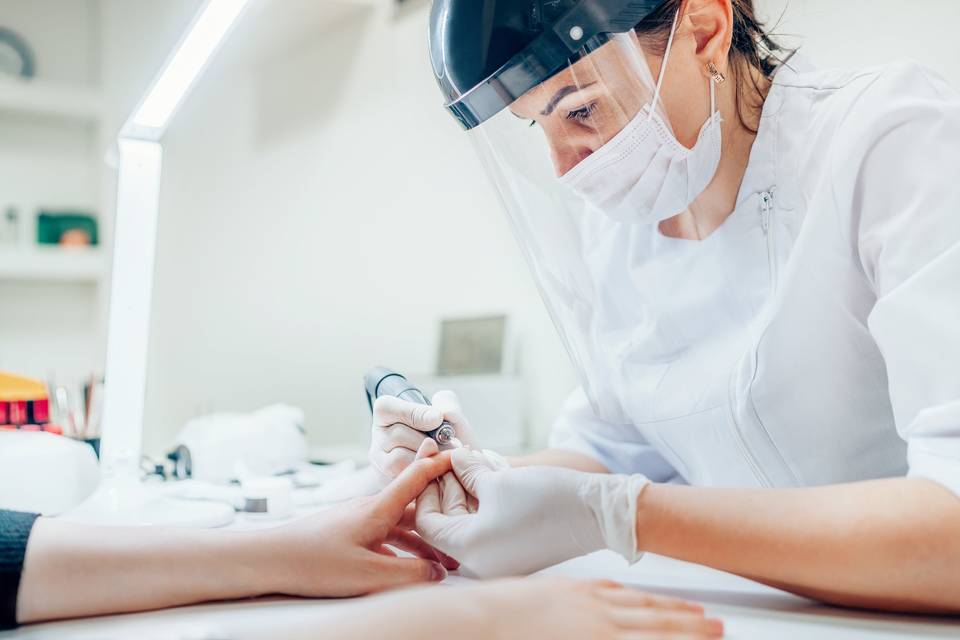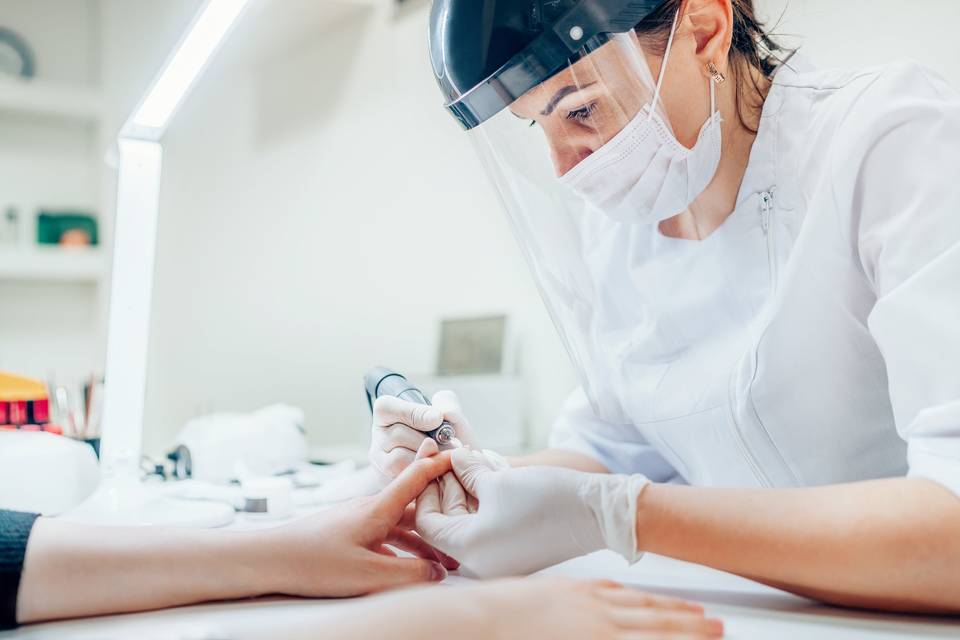 While some parts of America are further along on their COVID-19 reopening plans, others like New York City, are finally embarking on Phase 3 where nail salons, tattoo and massage parlors will be allowed to reopen at 50 percent capacity starting on July 6th, 2020.
Hair salons, which were part of Phase 2 in NYC, started requiring both stylists and clients to wear face masks plus operate at limited capacity. New guidelines range from assumed — think, masks, sanitizing, social distancing—to the extra cautious (i.e. no large personal items, no accompanied guests or kids, no blow-drying, no hair-washing) etc.
After months of temporary closures and potentially a few frustrating at-home manicures, many brides (and those newly engaged) might be asking themselves "can I still get a manicure?" And, the answer is yes, *but* it might look different than you remember your last service.
To help you navigate the "new normal" as it pertains to beauty, we spoke to three nail experts to share their thoughts on how to get a manicure during COVID —and what you should expect during your appointments for the foreseeable future.
What will it look like?
At her Tribeca flagship, manicurist and founder of JINsoon Salons, Jin Soon Choi is taking extra precautions as she reopens. "Each client and technician's temperature will be checked with a non-contact infrared thermometer as soon as they arrive," she explains.
Additionally, open, lounge-like floor plans will be a thing of the past. "We are building Plexiglass dividers at all of the manicure stations and blocking off alternate mani/pedi stations to achieve six foot separation between services, setting up cleaning stations with hand sanitizer, and doubling our cleaning protocol efforts to follow the CDC's recommendations," adds Choi, who counts Gigi and Bella Hadid, Marc Jacobs, and Michael Kors as clients.
Perks like drink service or post-mani massages will also be postponed. "We hope to maintain the former salon experience to whatever extent possible, but we are considering forgoing the drink service (i.e. tea, Prosecco, water) since doing so will reduce an avenue of disease transmission," she shares.
BYOB PPE
We get...sweltering heat mixed with PPE (personal protection equipment) is not fun. But, it is 100% necessary to help prevent the future spread of COVID-19. Choi is requiring all clients and employees to wear face masks and wash their hands upon arrival.
"Clients must wear masks and possibly gloves, even though we have hand sanitizer readily available. Prior to COVID-19, our employees had used work t-shirts, face masks and gloves but I have now added face shields and we will keep their phones in ziplock bags as soon as they come in," she adds.
At Glosslab, founder and CEO Rachel Glass shares "we have a touchless temperature check with customers entering. Customers must also complete a health waiver prior to each appointment stating that they do not have COVID-19 and have not been in contact with someone with COVID-19."
Her salons will be taking additional precautions including "pedi chairs will covered with disposable plastic cover (and changed after each service), all towels must be wrapped in plastic and in a covered areas (i.e. towel warmer, container, bag, or BOH) and also all mani stations have only hand sanitizer, Glosslab standards and station number signage on them."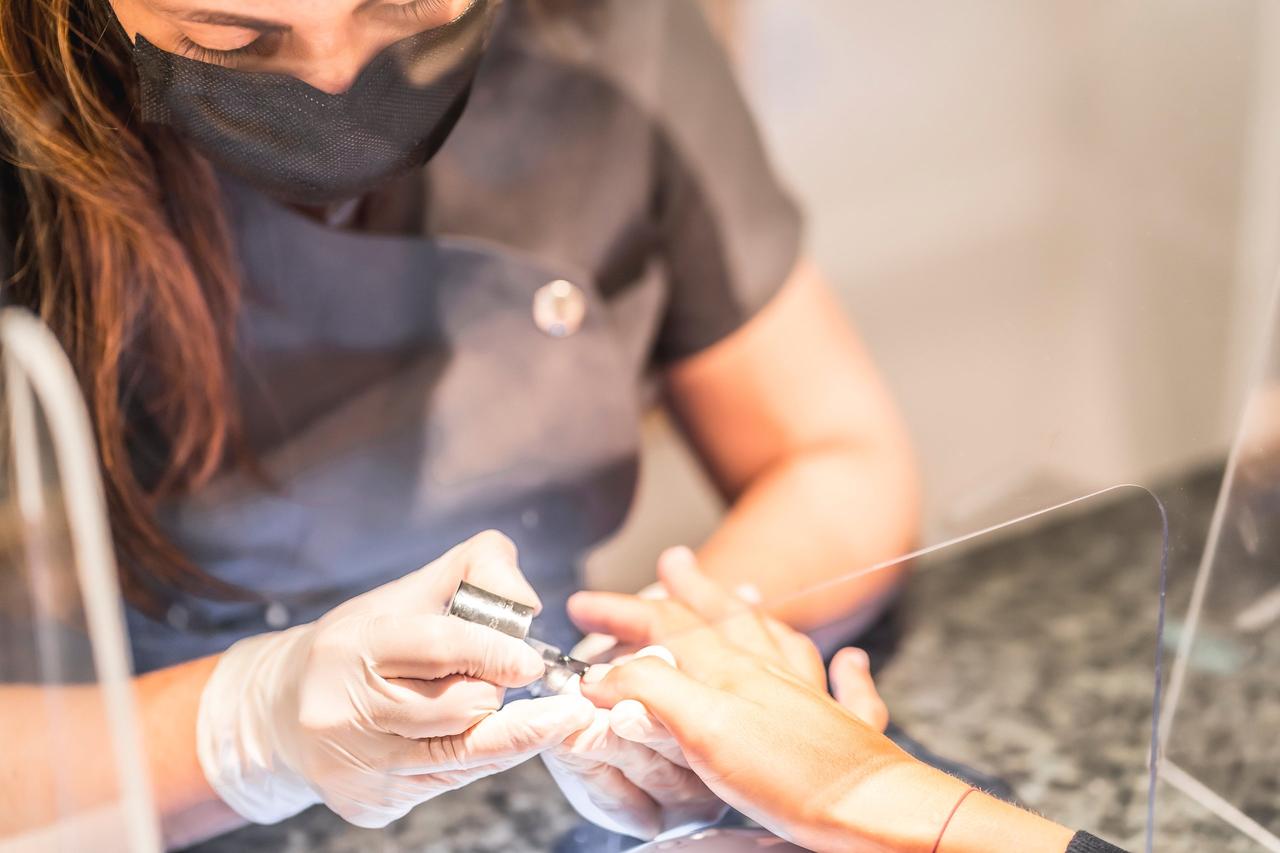 Nail tools will switch to single use.
Disinfecting will become more a priority than ever pushing many nail salons to reconsider their routine...and provide more opportunities for single-use tools. For starters, anticipate that your technician will be wearing disposable gloves for each service. Yes, sadly that means that means all skin contact will be basically non-existent to prevent cross-contamination in between clients.
According to president and CEO of the CBON Group, Jeff Alford "hand hygiene should be performed upon immediate entry to the salon and immediately before exit of the salon. Use soap and water, washing hands for 30 seconds and drying with a disposable towel, or use alcohol based hand rub containing at minimum 60% ethyl alcohol or 70% isopropyl alcohol -- rubbing hands together until the product has evaporated."
As a client, he suggests making sure that all tools, implements and equipment used for your service have been properly cleaned and disinfected. "[Remember] disinfectants used should be of hospital grade and should have an EPA number (USA) or a DIN number (Canada). Files, buffers, pedicure slippers, toe separators are classified as single use disposable items. They should be new and never previously used," he adds.
Finally, Alford suggests "products used for the service should be dispensed into single use amounts and be kept wrapped with occlusive film until used. Remainder should be disposed of and not used on another client."
Plan for leisurely activities like reading magazines, books or newspapers being a thing of the past. Many salons are encouraging clients to avoid wearing hand jewelry, bringing personal items (like hats, umbrellas, books, magazines, newspaper, food, drinks, etc.), wearing a jacket or additional clothing unless necessary and avoiding cell phone use with the exception of emergencies.
Seriously, plan ahead.
Hoping for a last-minute appointment? Not so fast. Glass cautions that her nail studios "will be operating at reduced capacity but with longer hours—we always recommend booking in advance. [Glosslab] is also doing same-time mani/pedi for the near future to avoid people being too close." That means, you'll have to book each service separately.
According to Alford "brides should be getting their nails done no later than a day or two before the wedding day. Nails grow much quicker when product has been applied to them, and getting nails done too far in advance can lead to disappointment or grow out lines or breakage with need of a rush repair. Rush repairs may no longer be available as booking schedules are very tight, leaving no additional room to book repairs."
Choi, agrees. "Bridal customers should schedule regular nail appointments so their nails will be ready for their wedding day," she explains. "I'm sure when we first reopen we will be really busy but I believe it will calm down shortly thereafter. Brides should make mani/pedi appointments two to three weeks in advance. I always recommend gel for brides as this lasts the longest and they don't have to worry about chipping or smudging prior to their big day."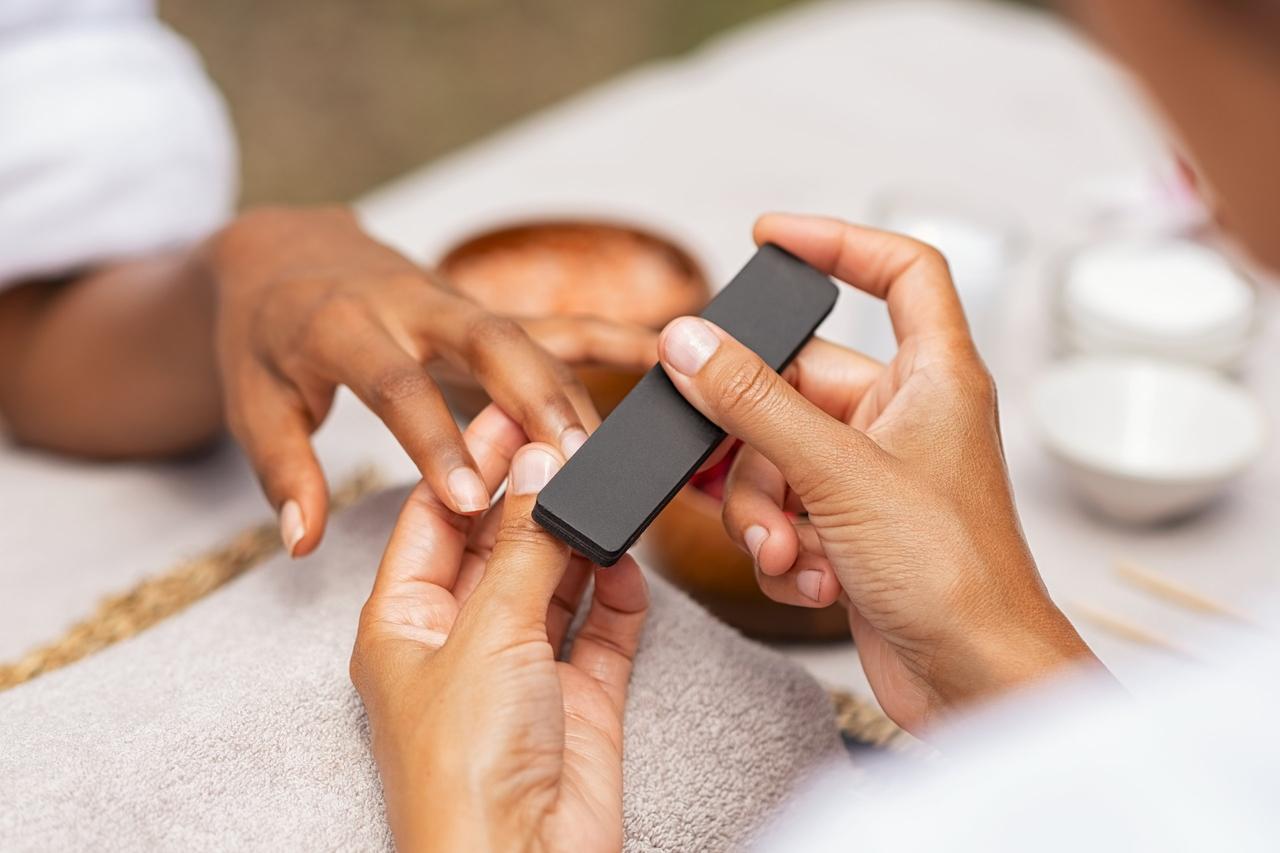 Reconsider using cash.
Cashless or online payment might be the wave of the future — or at the beginning of your service versus the beginning. "We are considering having clients pay when they come in, just after they wash their hands before getting a mani/pedi," explains Choi.
Glosslab "has always been and will continue to be completely cashless," explains Glass. "Customers can simply walk out after their service – we will charge a 20% service charge for the service on your card – this goes 100% to the nail technician who serviced you." If you do decide to use a credit or debit card, remember to use hand sanitizer immediately after using the POS (point of sales) machine advises Alford. Cash should be your last option, if possible.
Running late? You might forfeit your appointment
Life happens, but with new COVID-19 requirements businesses need ample time to keep their space sanitized and ready for future clients. Glass is requiring that "customers must arrive within five minutes of their scheduled appointment time. If they arrive earlier, they need to wait outside. If late, we may need to reschedule," she adds.
Choi emphasizes that less customers means that her salons need to be extra efficient. "We will be adhering to 50% capacity and using our booking system as a monitoring system," she explains. "Walk-ins will only be available if the space is immediately free and we do not have another client booked until much later. Our waiting area will be closed for the foreseeable future."
And some good news…
Your big day doesn't have to be any less special, but will take some planning and patience on your end. "Brides love pedicures, manicures, and nail extensions," acknowledges Alford. "All services can still be provided; however, the technician will need to use appropriate new, single use personal protection equipment and practice proper hand hygiene and aseptic techniques at all times."
The bottom line? "Definitely make sure your salon is taking all the necessary precautions to be completely hygienic!" emphasizes Glass. Safety should always come first.