9 Wedding Nail Designs That Aren't White, Champagne or Nude
If you need some razzle-dazzle for your wedding nail designs Instagram collection, you'll love these manicures.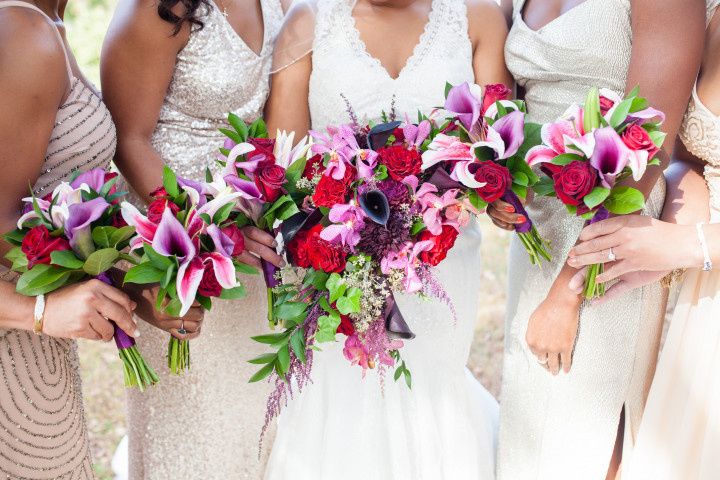 No offense to wedding nails of yesteryear, but not all brides and grooms are neutral kinds of folks. With wedding themes bursting out of the usual to include as much color and texture as possible, isn't it time wedding nail designs followed suit? Find the perfect wedding mani inspiration with these shades and designs that kick the flavor up a notch.
You have to see these non-neutral wedding nail designs before planning your wedding mani.
Shattered glass wedding nail designs with soft shades.
Shattered glass nail designs are yet another Korean beauty sensation to take over American soil. These nail stickers are actually made of tiny shards of glass and are applied in eye-catching designs that really catch the light. Your nail technician can apply the design over just about any shade of polish or even on nude nails to really capture the effect. You can even choose to emulate a diamond-shape or other gemstone to go full on bling for your big day.
Wedding nail designs for romantic garden themes.
Why limit florals to bouquets and decor? These gorg nails feature a neutral shade that isn't quite nude with intricate plant and flower designs for a fitting wedding manicure that'll take you from your rehearsal dinner to the honeymoon.
See the sun, moon and stars in your hand.
Who says wedding nail designs have to be blah? This celestial-inspired manicure is just enough bada-bing to make it interesting, but not enough to distract from the other beauty details of your wedding look.
Coordinate with the most stylish wedding trends by rocking marble and metallics.
No one said your wedding nail designs had to rely on just one shade. Capture all of this year's biggest wedding trends with marble and metallic nail designs, plus grey and pink hues.
Go full-on bohemian with meaningful designs.
If your wedding is bohemian-themed, take a few cues from your wedding decor and apply them to your nail designs.
Geometric patterns = endless options.
Geodes and geometric shapes have exploded in wedding decor, and in nail design. There's no limit to the combinations of designs your nail technician can create with different colors, metallics and types of geometric shapes.
Iridescent nails for your inner unicorn.
Why be an adult when you can be a unicorn, is what we always say. Channel your inner mythical creature with magical iridescent nail designs.
Zen out with crystal wedding nail designs.
Don't limit your wedding crystal consumption to just decor. Take your wedding mani as the perfect chance to bedazzle your hands with gems as well.
Tribal designs on clear nails.
These intricate and unique patterns work with a variety of wedding themes. They make a statement while not being too overdone for your wedding as well.