11 Geode Wedding Decor Ideas to Rock Your Big Day
From agate place cards to geode wedding cake toppers, see why we're loving this quirky nature-inspired trend.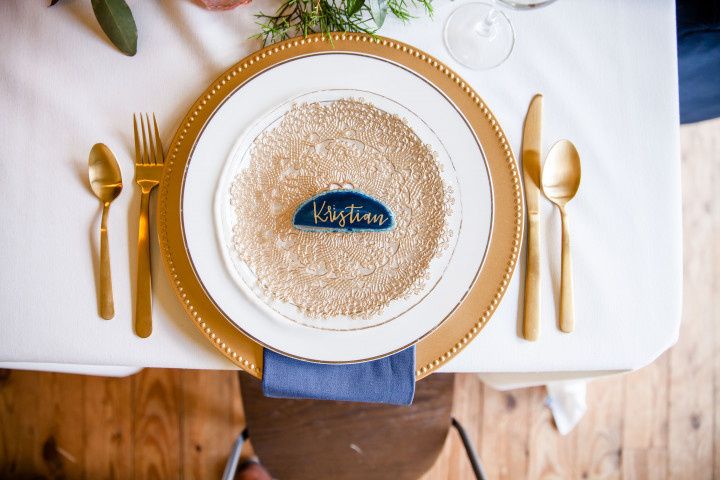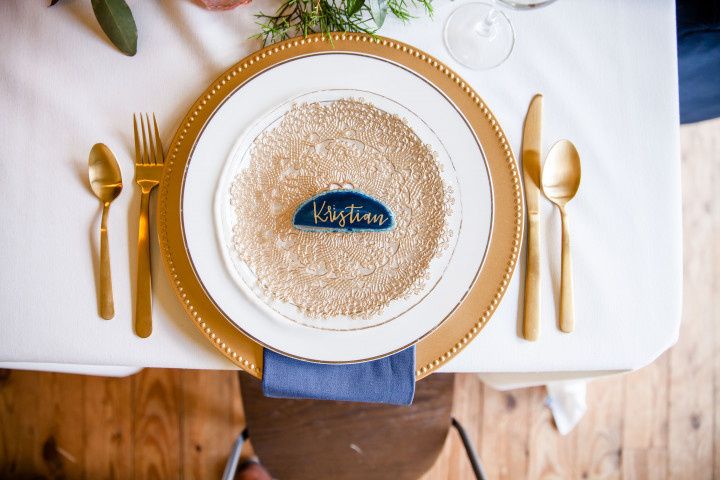 The geode wedding decor trend is a natural fit (pun intended) for bohemian couples. Geodes are ideal for bringing an earthy element to your wedding decor, and these eye-catching rocks definitely make a statement, whether you go all out with dozens, or keep it simple with just a few.
Get inspired by our favorite geode wedding decor ideas below.

Invitation Suite
A geometric watercolor motif is an artistic way to incorporate geode details into your wedding decor. This purple color palette draws inspiration from raw amethyst geodes.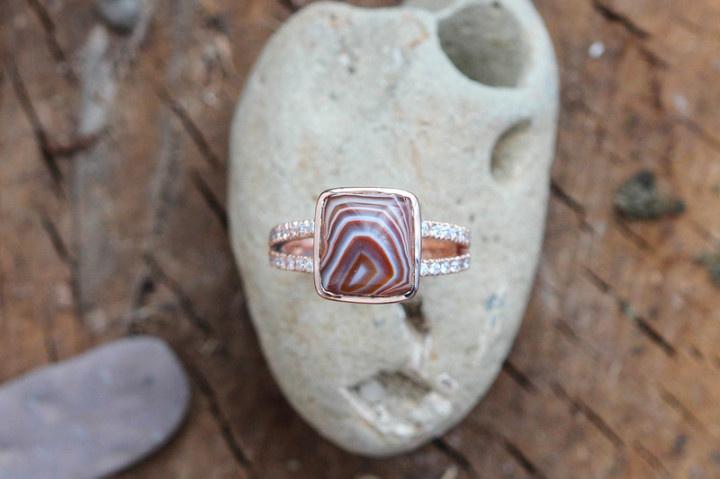 Engagement Ring
Diamonds aren't the only type of rock worth flaunting! This unique gemstone engagement ring is an alternative to the classic diamond and would be perfect for a bohemian, free-spirited bride. Pavé diamonds on the split-shank band provide an extra hint of sparkle.
Himalayan Salt
Himalayan salt accents aren't technically geodes, but their mineral composition gives them a similar appearance, making them a great fit for geode wedding decor. Use Himalayan salt vessels to display votive candles or tea lights in your centerpieces. The rosy glow that they give off is so soothing and pretty!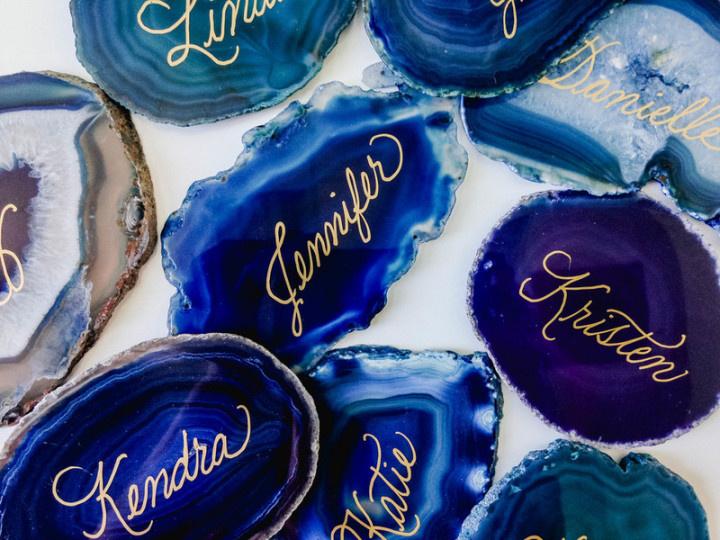 Place Cards
What's prettier than a colorful agate slice personalized with elegant calligraphy? Polished stone place cards are sure to catch your guests' attention, and they serve double-duty as wedding favors at the end of the night. The best part is that you can find agate slices in nearly any color to match your wedding decor.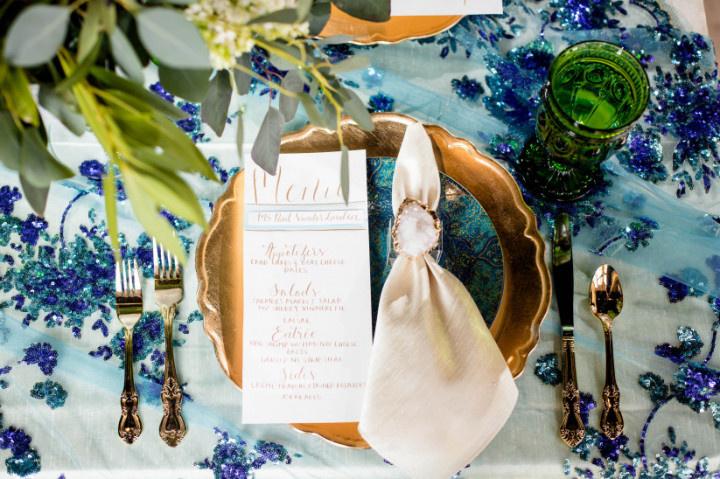 Napkin Ring
A geode napkin ring is a subtle yet interesting accent to your reception place settings. If you don't want to purchase napkin rings for every guest (which could turn out to be hundreds, depending on the size of your wedding), look at vendors in your area find a local wedding planner or wedding rental company who might be able to supply them for you!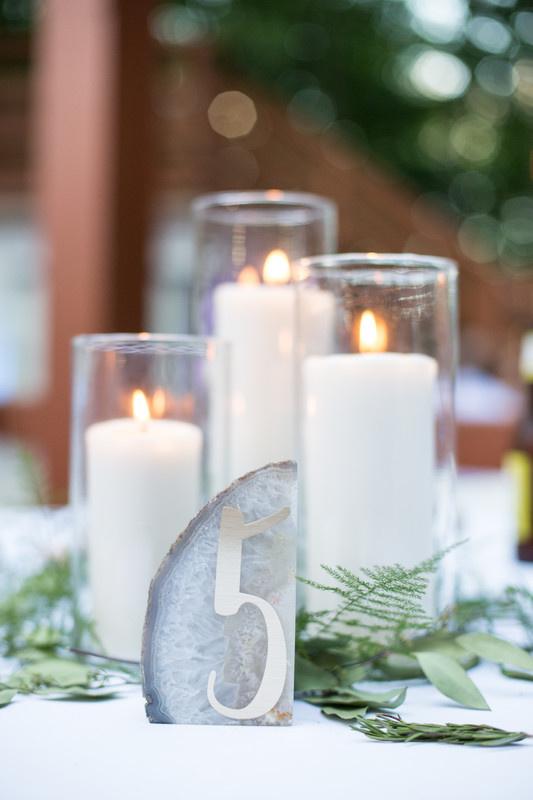 Table Numbers
Geode wedding table numbers are a modern addition to any reception. We especially love how they look when paired with a cluster of pillar candles and fresh greenery!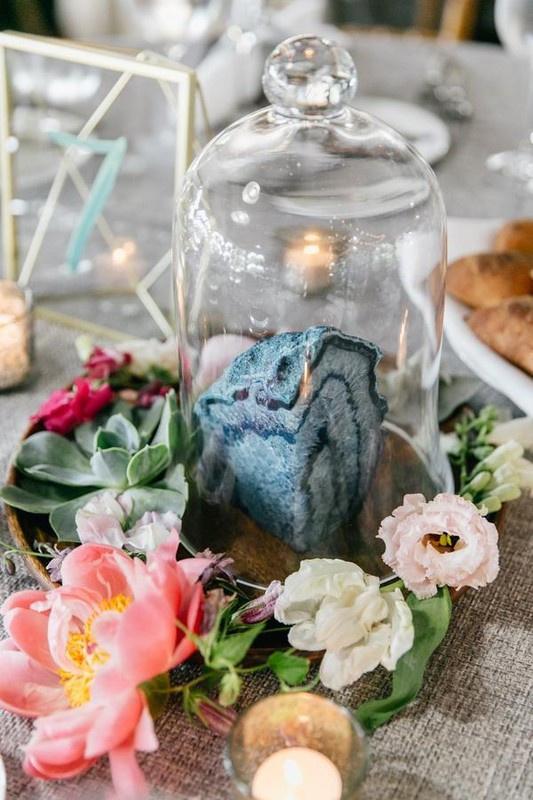 Cloche Jar
A polished geode becomes the center of attention when displayed in a cloche jar. Pair it with flowers, greenery and succulents for a playful wedding centerpiece that's unique and fairly simple to recreate.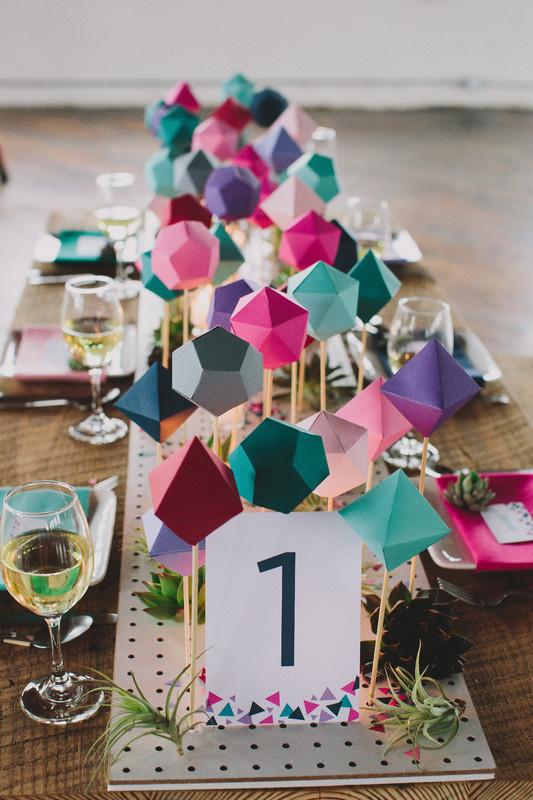 Geometric Centerpiece
A collection of 3D shapes is an extra-whimsical take on the geode wedding decor trend. These geometric shapes resemble the sharp edges on raw geodes and crystals.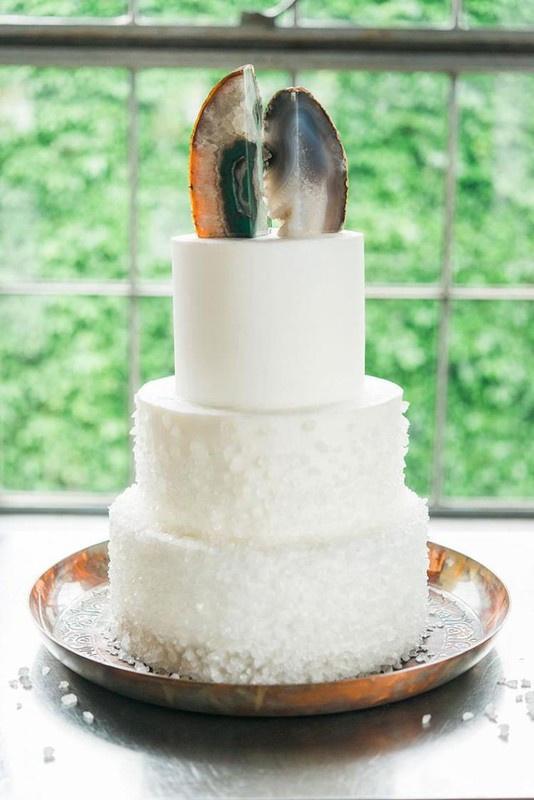 Geode Topper
If an over-the-top geode cake isn't your style, try this understated option instead. Two geodes on the top tier and sugar crystals along the bottom tiers adorn a classic white wedding cake for a minimalist chic vibe.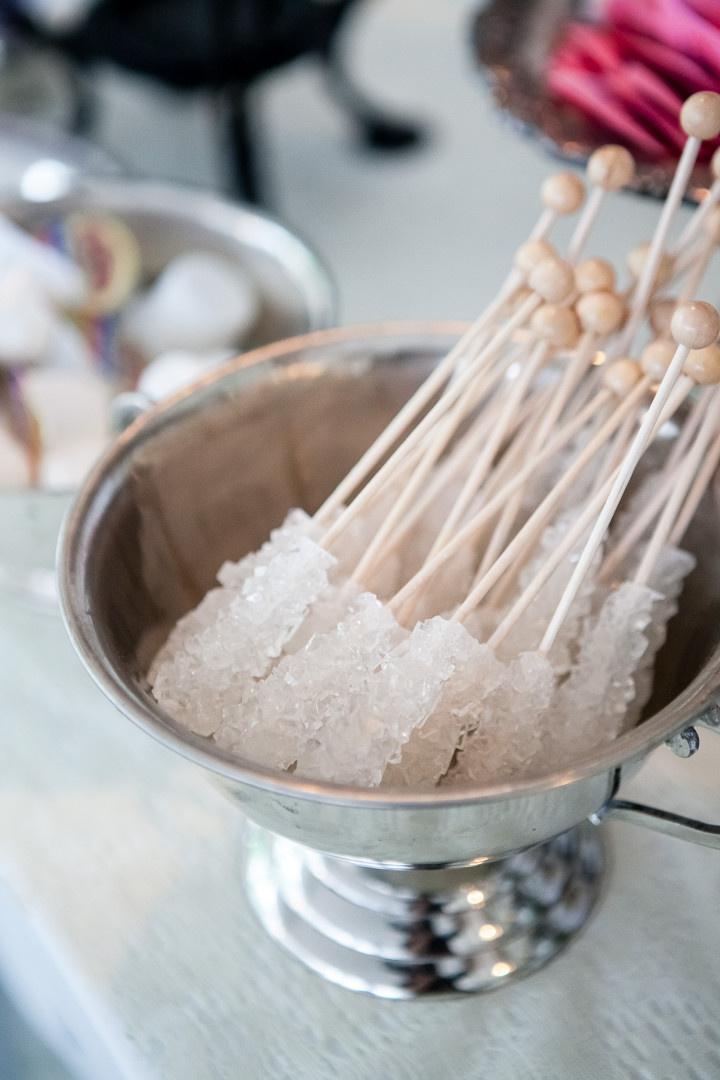 Rock Candy
Treat your guests to rock candy sticks as a sweet, unexpected treat. We know it's not traditional wedding fare, but these candies are fun to serve if you're having a geode-themed wedding!
Wedding Cake
Have your geodes and eat them, too! A round fondant wedding cake is transformed into a complete showstopper with amethyst sugar crystals in the shape of a giant geode. Edible gold leaf is a gorgeous finishing touch.