11 Virtual Beauty Treatments You Can Schedule Right Now
If you're not able to get to spa or salon during the coronavirus pandemic, these virtual beauty treatments are an ideal in-home alternative.
We have included third party products to help you navigate and enjoy life's biggest moments. Purchases made through links on this page may earn us a commission.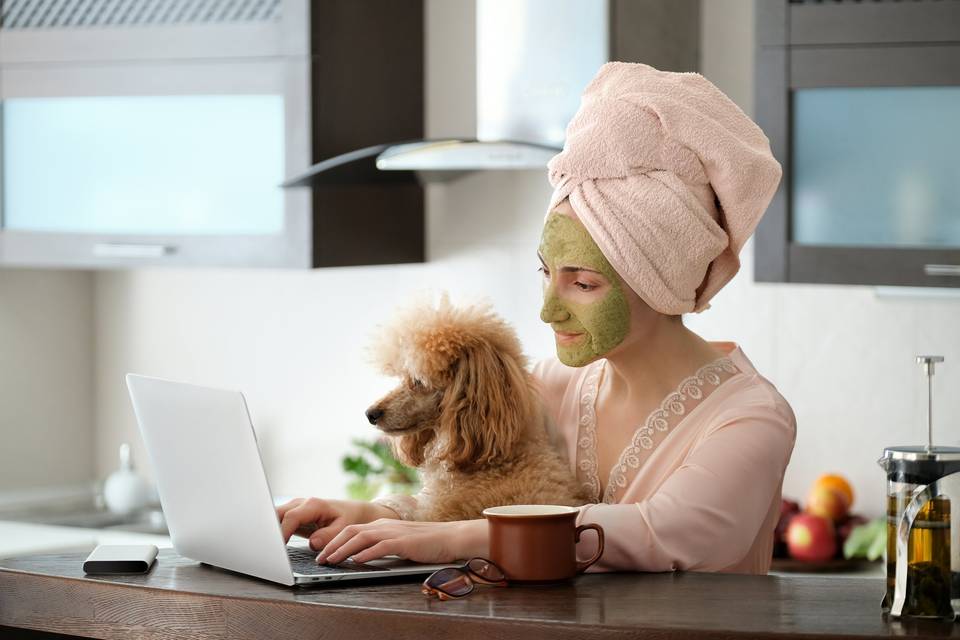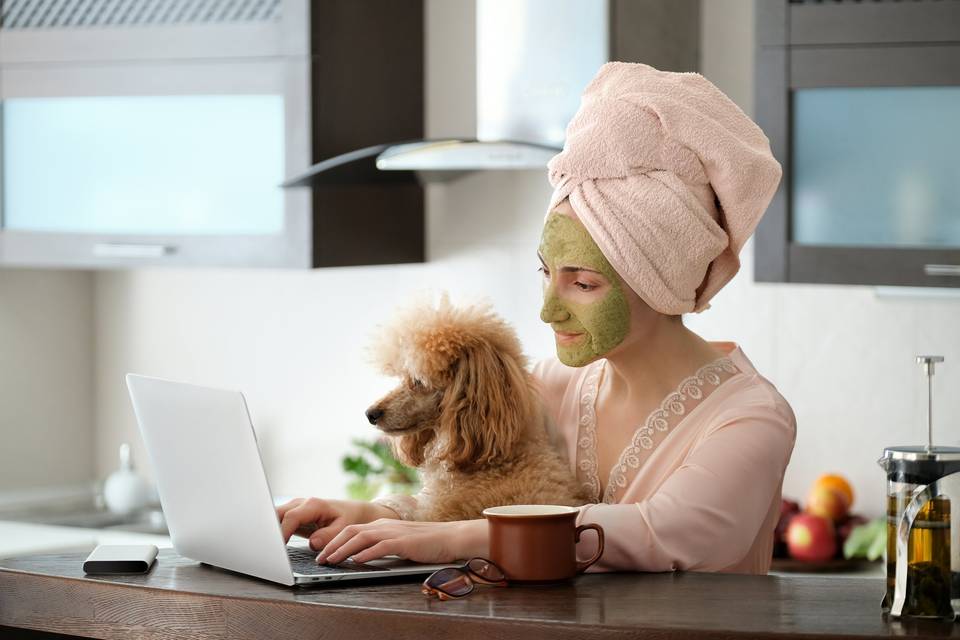 There's no more appropriate time to treat yourself to a little pampering than the months leading up to your wedding. However, if you're a bride- or groom-to-be during the coronavirus pandemic, chances are, your go-to salons, spas and other treatment centers are closed due to shelter-in-place regulations for the foreseeable future.
The good news: Companies across the U.S. are going above and beyond to offer their clients opportunities to indulge in self-care from the comfort of their home. They're being known as virtual beauty treatments and they're becoming increasingly popular in all areas—skin care, makeup, hair care, nail care and more. That means whether you're looking for a little rejuvenation, a glow up, or a full-fledged transformation, you don't have to wait until the pandemic is a thing of the past. This is especially helpful for brides and grooms who are getting married in the next few weeks or months or are hosting a virtual wedding.
To help point you in the right direction, we're sharing some top-notch virtual beauty treatments being offered right now.
Treatment: Virtual brow shaping
Desperate to have your eyebrows cleaned up? You can—right from home. All you have to do is submit a clear photo of your eyebrows along with the results you're looking to achieve for your big day. Then, during the virtual beauty consultation, a brow expert from Browtiste will discuss your brow growth patterns and give you specific instructions on how to properly tweeze and trim your brows. Last, but not least, they recommend products specifically for your brows needs.
Cost of service: $50
Treatment: FaceTime Facial
Skincare guru Molly Lamb, owner of Skin By Molly, has created a way for you to experience a facial in the comfort of your home. First, she mails you the DMK Foamy Lift Mask, which is an at-home version of the enzyme mask she uses in her spa. Next, you receive a fun skin questionnaire to fill out 24 hours prior to the virtual facial. Last, but certainly not least, you get a private 15-20 minute video chat with an esthetician to discuss your skin, plan a detailed and customized skin regimen and a walk-through for how to mix up the mask and apply it correctly.
Cost of service: $115
Treatment: Hair and scalp evaluations
Renowned dermatologist, Dr. Michelle Henry is offering scalp consultations virtually during which she evaluates a patient's medical, social and styling history. "I'm able to examine the scalp, assess for overall scalp health and early signs of hair loss and develop a plan to fix any existing issues to optimize scalp health and hair growth," she says.
Cost of service: Most major insurances are accepted and out-of-pocket charges range from $200-400.
Treatment: Virtual skin consultations
Whether you're looking to maintain your skin care regimen or start an entirely new routine, Repêchage is offering to help folks optimize their skin until they can get back to their regularly scheduled visits to their esthetician. It's ideal for brides and grooms who might be experiencing stress-related breakouts or dehydration from being indoors! Each appointment is 15-minutes long and can be scheduled here.
Cost of service: Free
Treatment: Personalized Microcurrent Consultation
NuFACE is making it easier than ever to receive a spa-worthy treatment, right at home. The FDA-cleared leading microcurrent beauty device brand is offering complimentary skincare consultations where clients can video chat one-on-one with an expert esthetician. During the 20-minute consultation, an expert NuFACE Aesthetician will listen to your personal skincare needs and concerns and create a custom NuFACE treatment regimen just for you—whether you already own any products/devices or not. Consult appointments are complimentary, and all bookings receive a $25 promo code discount redeemable on mynuface.com.
Cost of service: Free
Treatment: Hair and makeup consultation
The bridal-oriented beauty experts at LRN BEAUTY are taking to Zoom to hold virtual wedding hair and makeup consultations as part of the ultimate bridal package that includes a teledermatology appointment with a leading NYC derm, a 30-minute virtual meditation to help calm wedding jitters with a meditation instructor, a personalized wellness plan with a licensed health coach and a swag bag full of goodies.
Cost of package: $600
Treatment: Hair color application
Choose from an hour or 30-minute video consult with Megan Graham Beauty to discuss your hair color goals and concerns. It includes a review of photos showing your actual hair color, as well as photos of your desired result as well as a one-process hair color formula that's created and sent to you at your home. Once you receive your kit, Megan takes you through the step-by-step process of how to color your hair at home.
Cost of service: Ranges from $20 to $350
Treatment: Virtual hair and makeup lessons
This service from Pretty Wife Beauty includes a look through your at-home hair and makeup products (you send them a photo of everything you're currently using) and they create a face chart and step-by-step recommendations based off of the items you already have. Once you receive your face chart, they walk you through the application process and provide tips and corrections while answering any questions you might have.
Cost of treatment: $100 for face chart only; $200 for chart and lesson.
Treatment:

Virtual makeup tutorials
Celebrity makeup artist, Shira Aaron is offering virtual makeup tutorials for quarantined brides prepping for their big day. She helps you utilize the products you currently own in your makeup collection and teaches you how to use them in many ways, not just how they are marketed. With step-by-step instruction and modeling during a live video chat she is able to virtually prepare brides for their big day teaching them makeup skills and techniques that will actually last a lifetime!
Cost of service: Private one-on-one sessions cost $75/hour.
Treatment: Digital airbrush appliance class
Given the fact that airbrush makeup is one of the most requested by brides due to its longevity and flawless finish, TEMPTU is offering digital makeup artist classes on how to achieve airbrush makeup on your wedding day. They are conducting free online education on tips and tricks for airbrush application makeup tutorials for various looks, shade-matching, etc. on Instagram Live. In addition, they're hosting online workshops (via Zoom) for both consumers as well as pro makeup artists.
Cost of service: Free + cost of product
Treatment: 1-2-1 PT Session with FaceGym Trainer
Via Zoom, a FaceGym expert trainer will help you get your face fit at home through a series of FaceGym Signature muscle massage techniques designed to lift, tone and sculpt as well as bespoke movements tailored to your personal face training goals. The benefits? Muscles are lifted and defined, circulation is stimulated and lymphatic drainage improved, leaving skin glowing.
Cost of service: $65