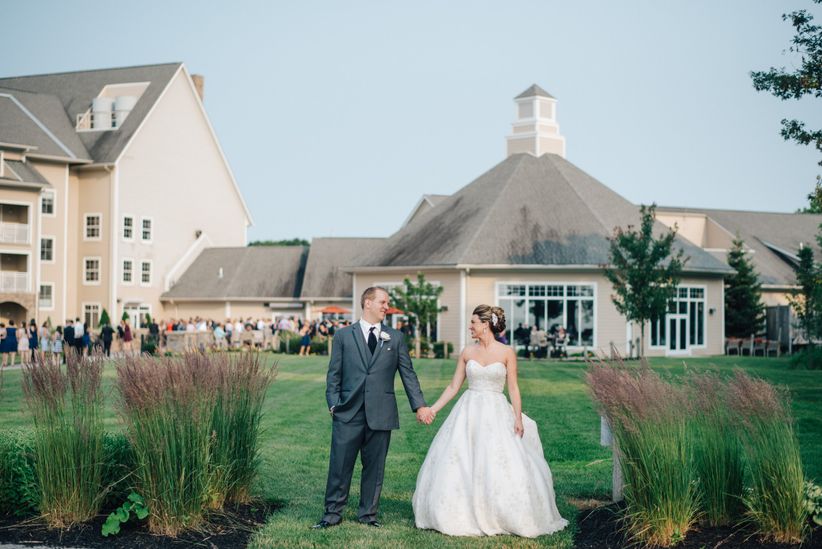 Sure, it's easier than ever to plan most of your wedding online—from communicating with vendors to creating your seating chart, and more. However, there's still an "old fashioned" part of planning that you probably can't do on the Internet: the in-person wedding meetings. From face-to-face interviews to trials and tastings, there are some parts of the pre-wedding process that you'll have to show up for, preferably with your partner—and that may mean adjusting your schedules accordingly. Yes, it can be a little annoying to plan out these wedding meetings (particularly if they interfere with work or school, or if they require travel), but we promise, getting the proper face-to-face time with your vendors will ensure that your wedding will run smoothly.
Here are all the wedding meetings that you'll have to schedule in before your big day.
Touring wedding venues
When to do it: 12 months before your wedding
We highly recommend touring any wedding venue you're considering in person before booking. While many venues now offer 3D tours online, you should still try to see a location in person to ensure the space will work for your big day. Sure, the dance floor looked good in the photos, but is it really big enough to hold your crew? And yes, you love the outdoor ceremony space, but what does the Plan B look like? An in-person venue tour will allow you to answer any questions you may have.
Interviewing vendors
When to do it: Between 6 and 12 months before your wedding, depending on the vendor
The average couple hires 13 vendors for their wedding day, including a photographer, florist, planner, cake baker, and many more. Meeting each of these vendors in-person may seem daunting, but we assure you it's entirely worth it. It's essential that you develop a good rapport with your pros, and these wedding meetings will help you decide if your personalities mesh well. And you can certainly space out these initial meetings—vendors like planners are usually booked about a year in advance of your big day, while hair stylists and makeup artists are typically booked about six months ahead of time.
Setting up your wedding registry
When to do it: ASAP!
Yes, many retailers allow you to create and maintain your wedding registry completely online. While that's a major convenience, there are certain registry items you'll want to see in person before selecting. For example, you might want to hold your chosen flatware before registering for 12 sets, or see if the blue on your favorite china matches the blue in your kitchen. Once you've selected your gifts during an in-person visit, you can keep track of your registry and make any adjustments online.
Visiting hotels for guest room blocks
When to do it: Shortly after booking your venue
It's especially important to book room blocks for your wedding if you're hosting many out-of-town guests. While this isn't a complete must, we think it's a good idea to visit any hotels (in person!) that you'll be recommending to loved ones. While of course you'll want to make sure the location and price are right, any hotel where you book room blocks should be one you'd be happy to stay in yourself.
Shopping for wedding attire
When to do it: Wedding dresses should be ordered about eight months before the big day, and bridesmaid attire around seven months prior. Groom and groomsmen have a bit more time, and can order tuxes and suits about five months before the wedding day.
There's something so special about shopping for your wedding attire. Whether you're in the market for a dress or a suit, it's important to take the time to browse different styles and see what looks good on you (and your wedding party!) in person.
Taking engagement photos
When to do it: About three months before the wedding, but can be further in advance if you prefer
Assuming the person photographing your engagement photos will also be your wedding photographer, you can think of this photo shoot as a pre-wedding meeting with your photog. Engagement photo sessions are great for a variety of reasons—you'll get more comfortable in front of the camera, develop your relationship with your photographer, and get some amazing images to share on social media!
Choosing wedding stationery
When to do it: Save-the-dates should be selected and sent at least eight months before your big day (even earlier for destination weddings), while invitations are chosen about six months ahead of time.
Yes, wedding stationery can be ordered online, but there's nothing like seeing wedding invites up close, feeling the weight of the paper, and checking out the colors and design in person. Visiting a stationer does add another wedding meeting to your schedule, but for lovers of design, it's entirely worth it.
Shopping for wedding rings
When to do it: Around three months before your wedding, or longer if you're in the market for something custom
You'll likely be wearing your wedding band every day for the rest of your life, so it's worth taking the time to browse and try on rings in person to make sure they look amazing on your finger. Technically, your partner is supposed to buy your wedding band for you, so try to shop for rings together if you can—even more important if you want to wear matching bands.
Meeting with officiant/premarital counseling
When to do it: This varies widely depending on the officiant and if there is a religious affiliation. Some officiants only need one meeting a few weeks before the wedding, while others may require several meetings or pre-marital counseling sessions.
The benefit of hiring a professional wedding officiant is that he or she will craft a ceremony that's completely customized to you and your partner. In order to do that, your officiant will likely want to meet with the two of you at least once, and likely several times, before your big day—and some might require you to undergo premarital counseling. If you're hosting a wedding in your hometown, it might be easy to meet with your officiant a few times, but if you're hosting a destination wedding, this may not be possible. Talk to your officiant about your specific needs to figure out a plan that will work for everyone.
Touring rehearsal dinner venues
When to do it: About six months before your wedding
If you're playing a role in planning your rehearsal dinner, it's a good idea to view any venues in person before booking. As many rehearsal dinners take place at restaurants, a good way to scout out potential sites is to eat a meal there, taking special note of the food and service quality.
Attending your catering tasting
When to do it: About four to six months before your wedding day.
Different caterers host different types of menu tastings. Some caterers, particularly ones that are affiliated with venues, may host group tastings where several couples attend at a time and try a variety of different menu items. Other caterers offer private tastings, where you and your partner (and perhaps your planner) will try food that's specifically geared to your tastes. Whatever the method, the goal is the same: to narrow down the many food items to create a menu that you and your guests will love.
Attending your cake tasting
When to do it: About four to six months before your wedding day.
Similar to the menu tasting, this wedding meeting gives you the opportunity to sample a variety of cake flavors and choose the ones you like best. Perhaps the most looked-forward-to "meeting" of the entire planning process!
Attending attire fittings
When to do it: Brides usually have three wedding dress fittings—the first about two or three months before the wedding, the second about a month before, and the final one two weeks before. Grooms may have a tux fitting about a month in advance.
While it may feel like once you've selected your wedding dress or tux you're "done," that's not exactly how these things work. Your wedding attire likely won't fit perfectly upon arrival, so brides will have to make time for three fittings before their wedding, while grooms can get away with one. It may seem like a lot, but once you see how incredible you look on your wedding day, you'll be glad you took the time for alterations.
Checking out floral mock-ups
When to do it: About two months in advance.
Many (but not all) wedding florists will create sample arrangements a few months before your wedding day so you can see how your flowers will look in-person and make any adjustments. Note that some florists will charge for this. While seeing a florist mock-up isn't a must (and might not be possible for those hosting a destination wedding), if floral design is a make-or-break part of your wedding day, you might want to discuss scheduling a mock-up with your florist.
Attending your hair and makeup trial
When to do it: About two months before your wedding.
You'll want to look your best on your big day, so be sure to schedule some time with your hair and makeup pros to try on your wedding look. This is the time to decide exactly how you'll wear your hair and how your makeup will look so don't be afraid to speak up if you don't like a particular style.
Meeting your bandleader or DJ
When to do it: A few weeks before your wedding.
Most bandleaders and DJs like to meet with couples in person to discuss the wedding playlist and other important details of the day. Since your wedding DJ or bandleader will likely serve as emcee for the night, it's essential that he or she is well-versed on how the day will flow, any special requests, or unique circumstances. This meeting can be done over the phone, but it's often best handled in-person if possible.
Having your venue walk-through
When to do it: About two weeks before.
If you're able to visit your venue a few weeks before your big day, a final walk-through is a good way to ensure everything will run smoothly on the day of. You'll want to attend this wedding meeting with your partner and planner, if possible. You'll be able to, literally, walk through how your wedding day will run, and ask any final questions of your venue coordinator.
Getting your marriage license
When to do it: It depends on the jurisdiction where you're getting married, but usually a few weeks to a month before your big day.
Be sure to check out your state's laws well in advance of your wedding day to make sure you have the proper paperwork and forms filled out. Many states have a waiting period so don't wait until the last minute to show up at the appropriate government building. Some states do offer "proxy weddings," but this is an event that you and your partner will most likely have to attend together (it's usually a fun one, though!).
Disclosure: This post contains affiliate links, some of which may be sponsored by paying vendors.