The 35 Most Thoughtful Gifts for Any Mother of the Bride
Not sure how to thank your mom or future MIL for all their love and support? Get the mother of the bride one of these unique gifts.
We have included third party products to help you navigate and enjoy life's biggest moments. Purchases made through links on this page may earn us a commission.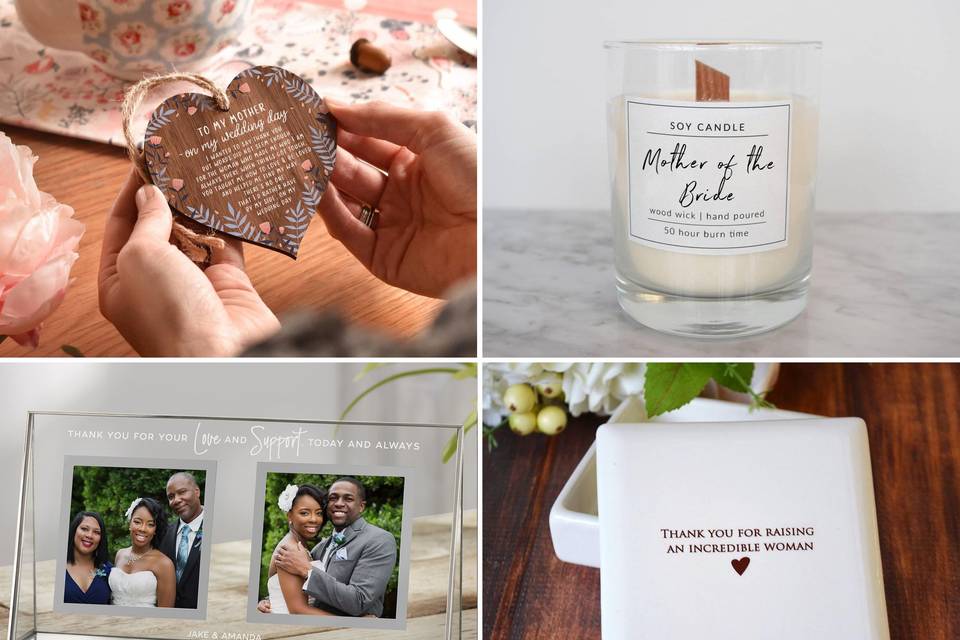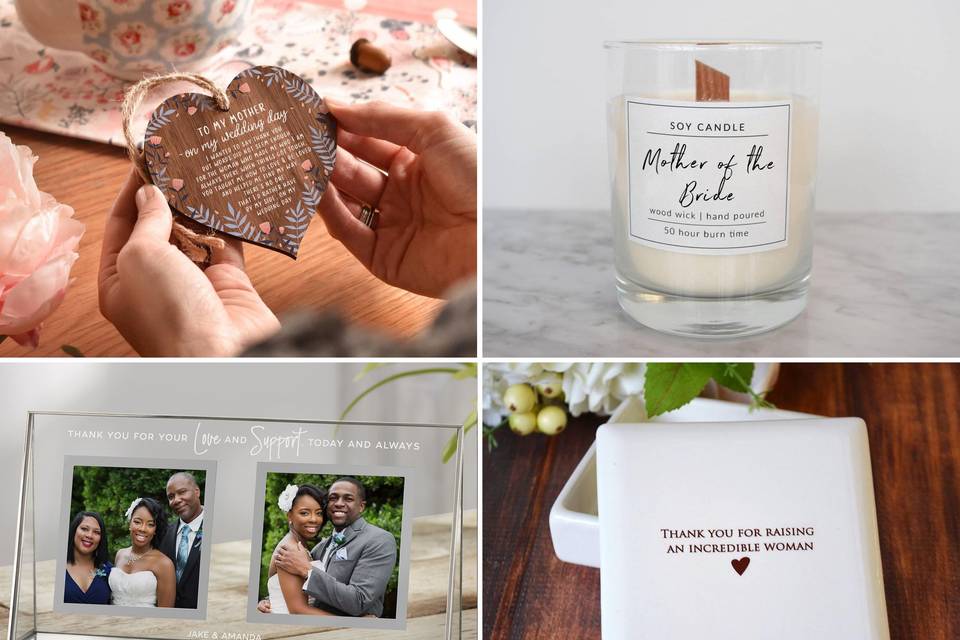 Your wedding day isn't just a big deal for you and your soon-to-be spouse, it's also an emotional time for the people who raised you. Take this as a beautiful opportunity to thank your parents for everything they've done for you, starting with gifts for the mother of the bride and groom. These meaningful presents are a lovely way of letting your mom know just how much you appreciate her. Or, if you're shopping for your S.O.'s parents, it'll show just how excited you are to officially join the family. We've got gifts for every kind of mother of the bride, whether you're on the hunt for something sweet and sentimental, perfectly pampering, or truly one of a kind (just like your mom).
Who gives the mother of the bride a gift?
Regardless of who is paying for the wedding, it's customary for the couple to give both sets of parents something special—including the mother of the bride. That said, there are a few different ways to go about it. Some soonlyweds might choose to give a joint gift to the bride's mom as a thank you for all her help with wedding prep. Other couples feel that the mother of the bride's gift should be solely from the bride as a token of appreciation for always being there. Finally, it's also an option for the bride's other half to buy the MOB something special to say thanks for raising their favorite person.
Of course, there's no rule that says you can only get the mother of the bride one present. You and your partner can both get separate thank-you gifts if that feels right to you. It's also not unusual for close friends of the bride's mom to help her commemorate the occasion. In this case, a small token such as a bottle of champagne or a gift card for a local restaurant will do the trick.
When should you give a gift to the mother of the bride?
If you're the bride shopping for your own mom, it's a nice idea to block off some one-on-one time a few weeks before the wedding. Planning a spa day, nice lunch, or hiking trip are all good ways to enjoy each other's company before you hand over your gift. If you don't have a lot of time to spare before the nuptials (we get it, last-minute wedding prep waits for no one), give Mom her present at the rehearsal dinner, while you're getting ready before the wedding, or shortly after the wedding day. The rehearsal dinner is also a great time to deliver wedding party presents if you're giving joint gifts.
What makes a good gift for a mother of the bride?
The guidelines for picking out the perfect gift are pretty much the same as with anyone else in your wedding party. The key is to choose something you know the recipient will love, while also thinking of something that represents your relationship with them. If that sounds easier said than done, don't worry. We're sharing lots of unique gift ideas for the mother of the bride to help inspire your search. Jewelry is almost always well received, especially when it comes to buying gifts for your mom. A nice necklace or pair of earrings is so easy to wear and acts as a meaningful keepsake of the special occasion. Personalized MOB gifts are another great option that show you really went the extra mile with your present.
The Best Gift Ideas for the Mother of the Bride
Ready to start shopping? These thoughtful gifts for the mother of the bride are a nice way to let her know just how grateful you are to have her in your life.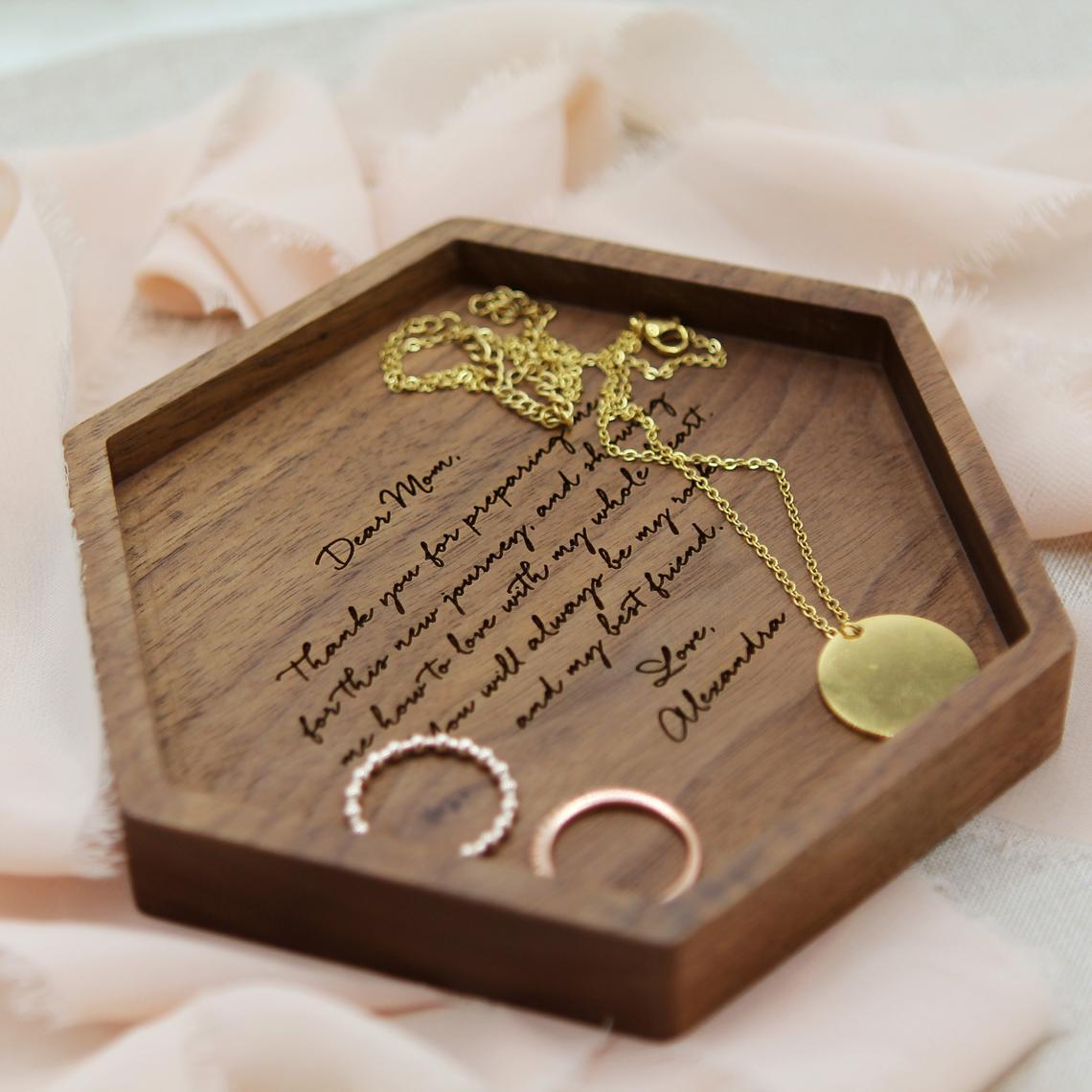 Engraved wooden tray
This hexagonal wooden tray will give your mom (or future MIL) a place to store her jewelry, keys, or other odds and ends while adding a stylish touch to her interior decor. Up the ante by having it engraved with a sweet thank-you note.
Muujee hexagon wood tray mother of the bride gift, from $32, Etsy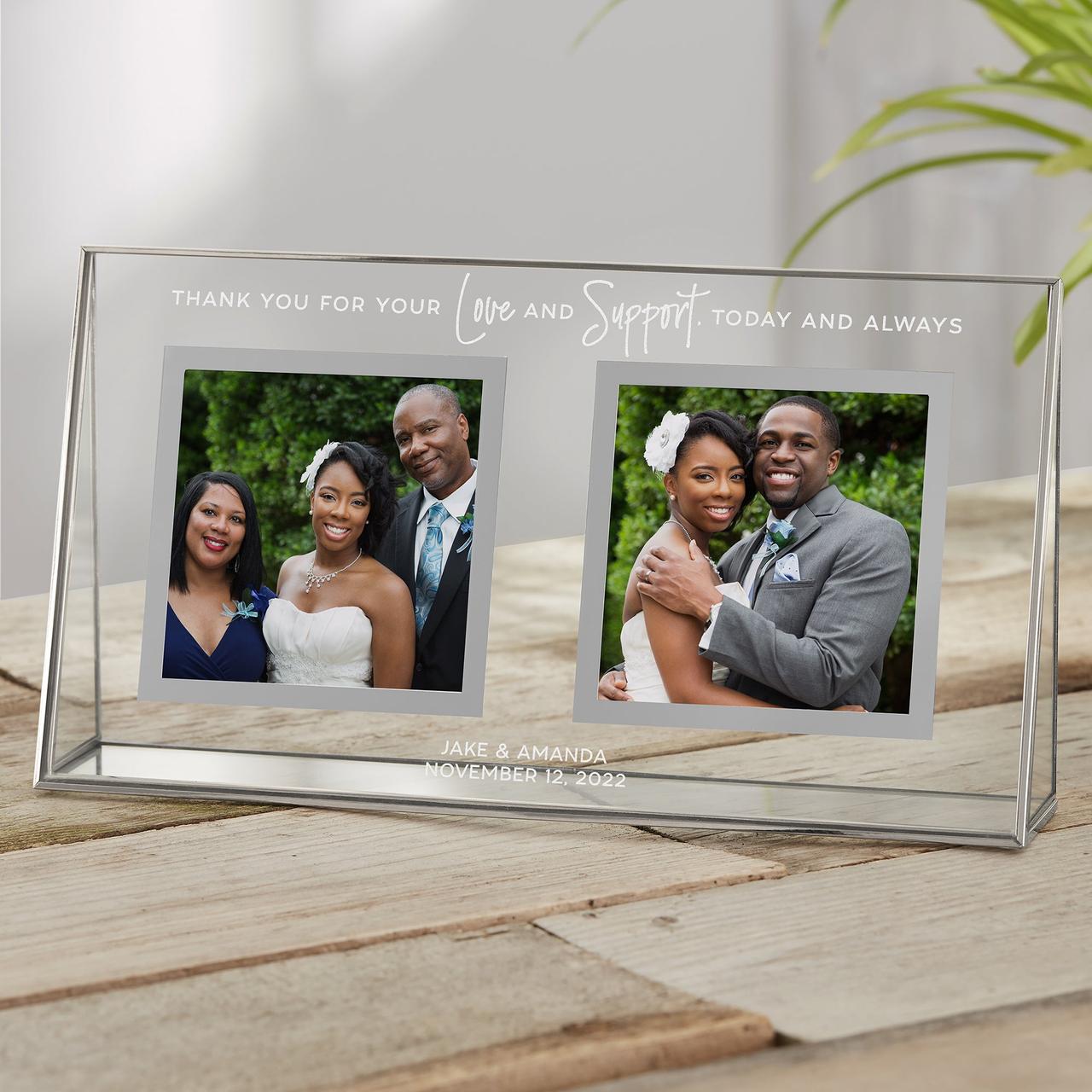 Wedding photo frame
Framed wedding photos are one of the best gifts for the mother of the bride. While you'll have to wait until after you get your wedding pictures back to deliver your present, it'll be totally worth it. This classy frame has space for two photos—one of you and your mom and one of you and your new spouse. Above the pictures it reads: "Thanks for your love and support today and always."
Personalization Mall Love and Support personalized wedding double photo glass frame, $40, Personalization Mall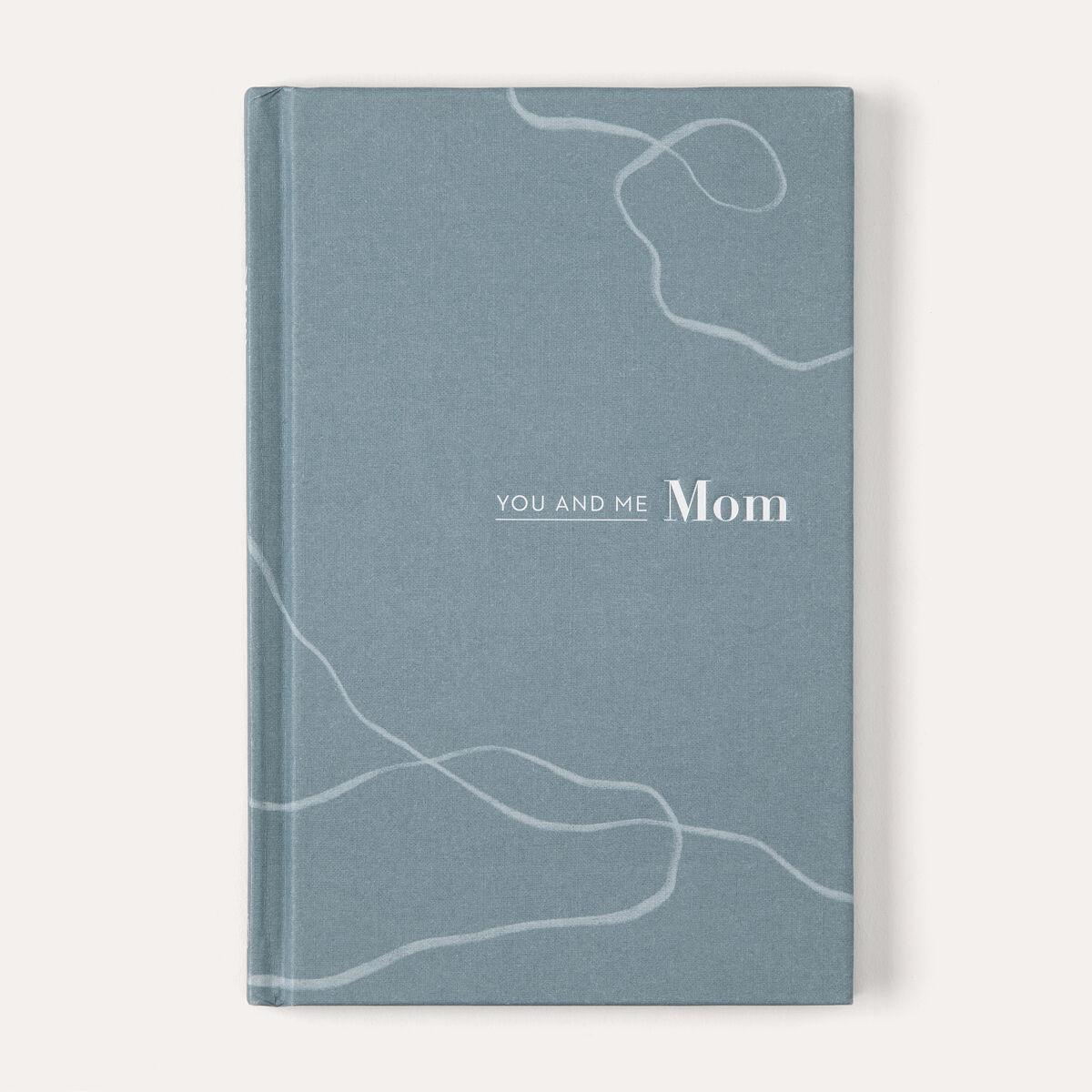 Sentimental memory book
Let her know what you love most about your awesome mother-daughter relationship with this thoughtful journal. It's filled with prompts to help you share the things you're grateful for, what you have in common, what makes you different, and more.
Uncommon Goods You and Me, Mom journal, $13, Uncommon Goods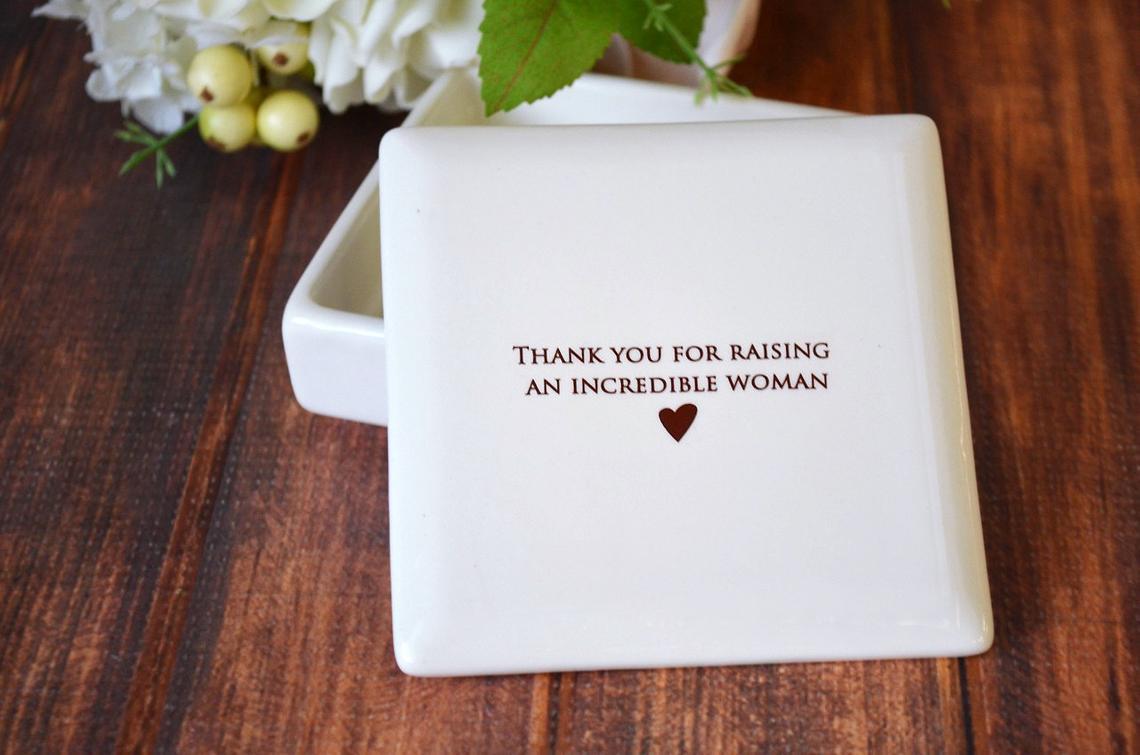 Thank-you keepsake box
A keepsake box is a lovely wedding gift for the mother of the bride because she can use it to store other special mementos from that day. This one reads "thank you for raising an incredible woman" on the lid, making it a wonderful present for your partner's mom.
Susbellas unique mother of the bride gift from groom, $53, Etsy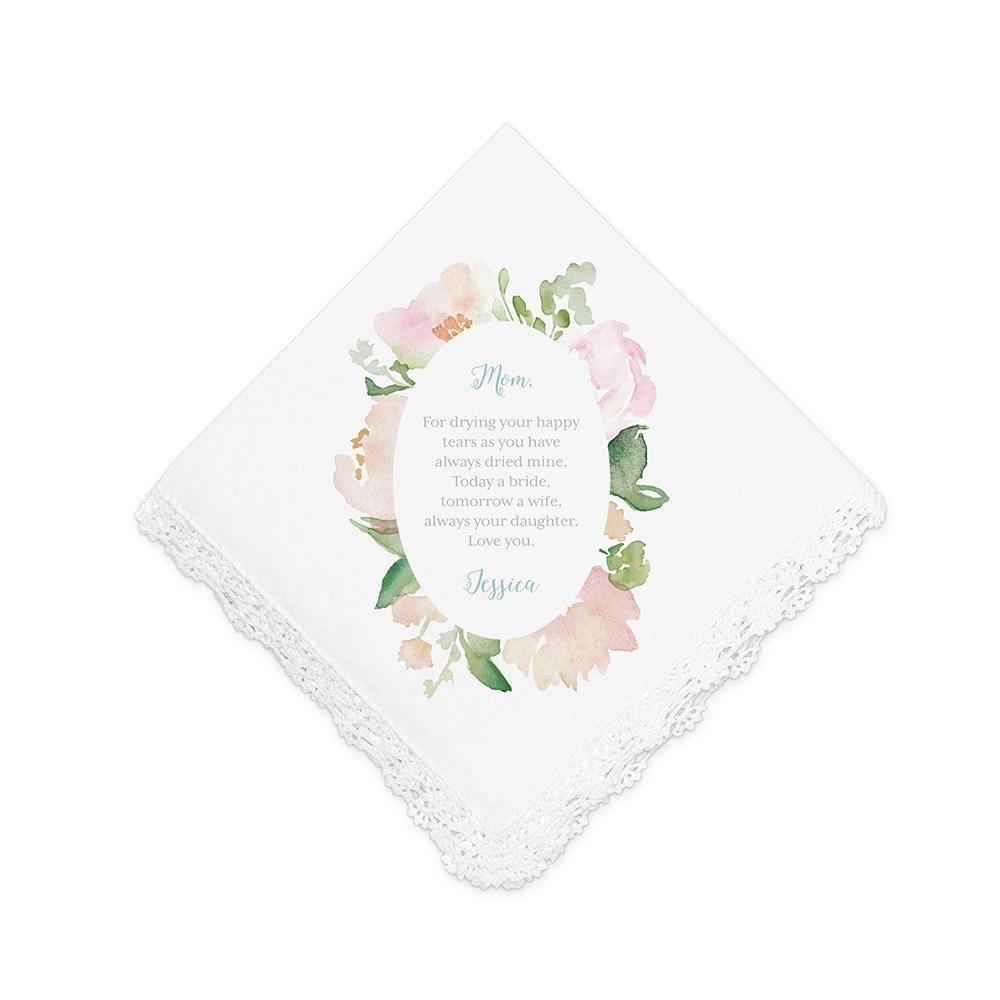 Heartfelt pocket handkerchief
Thank Mom for always wiping away your tears with this sweet floral wedding handkerchief. Trust us, it'll come in clutch during the ceremony (and the first dance, and the cake cutting, and pretty much every other moment of your big day when she's feeling emotional).
WeddingWire Shop personalized white pocket handkerchief in Garden Party, $16, WeddingWire Shop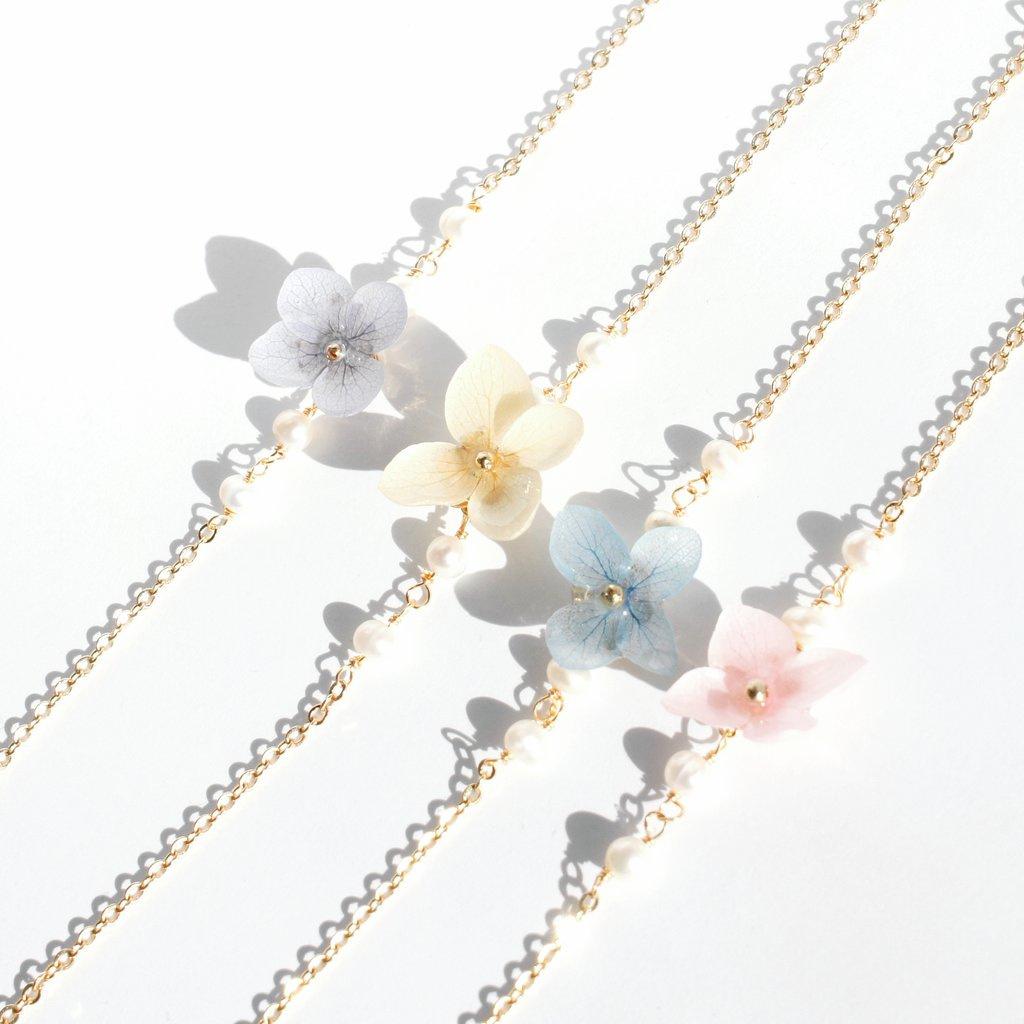 Symbolic flower bracelet
Hydrangeas are a symbol of gratitude and appreciation, making this beautiful piece of jewelry a fitting present for a parent (or an in-law who went above and beyond to help with wedding planning).
I'MMANY London libelle hydrangea flower and freshwater pearl bracelet, $167, I'MMANY London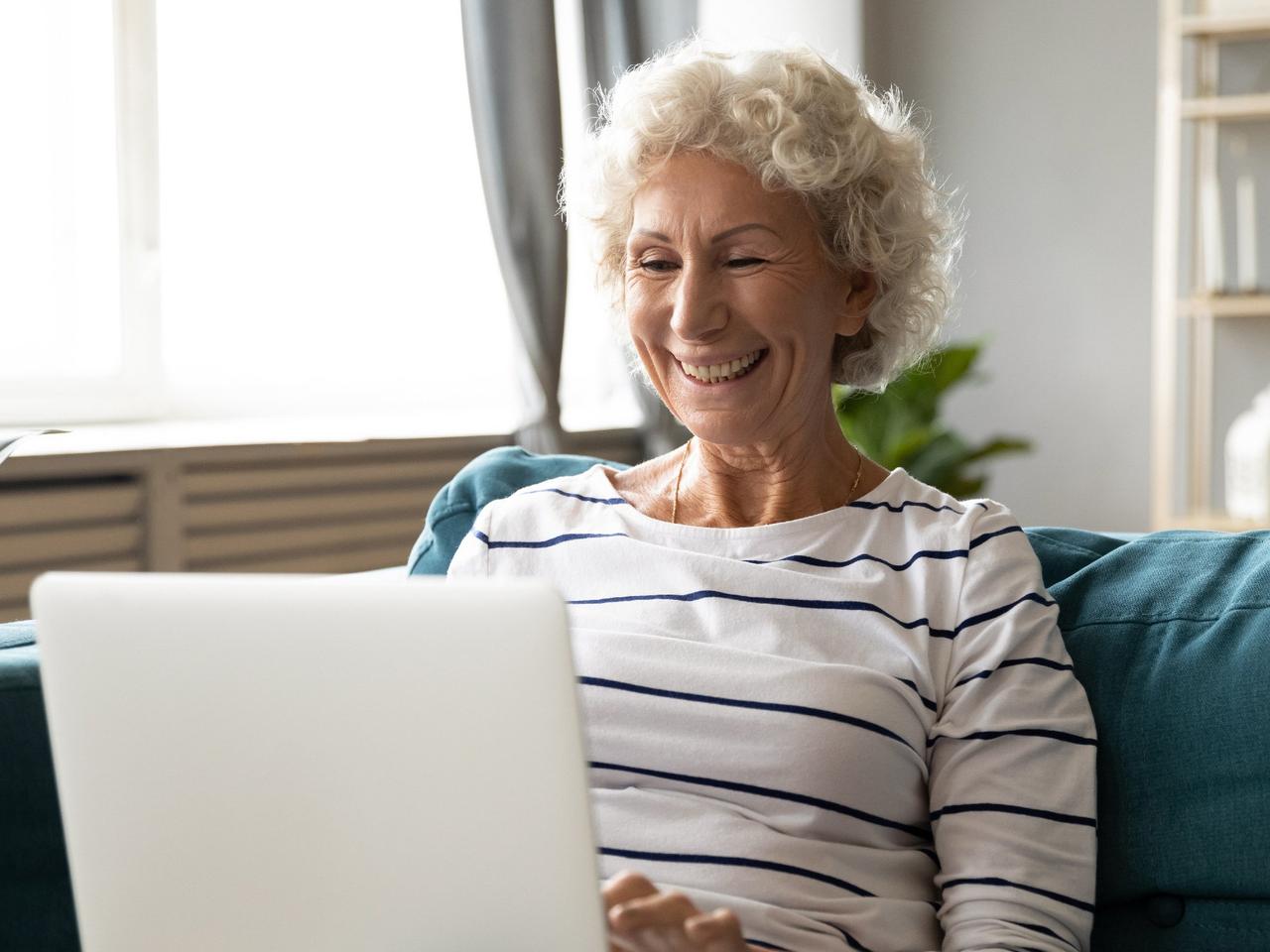 Meaningful video montage
Sometimes words are all you need to express how grateful you are. But don't just say them—record your feelings in a playful montage your mom can watch again and again by storing it on a keepsake USB or sleek LCD card. Get your other half, siblings, or close relatives on board to help get the message across.
Tribute collaborative video montage, from $25, Tribute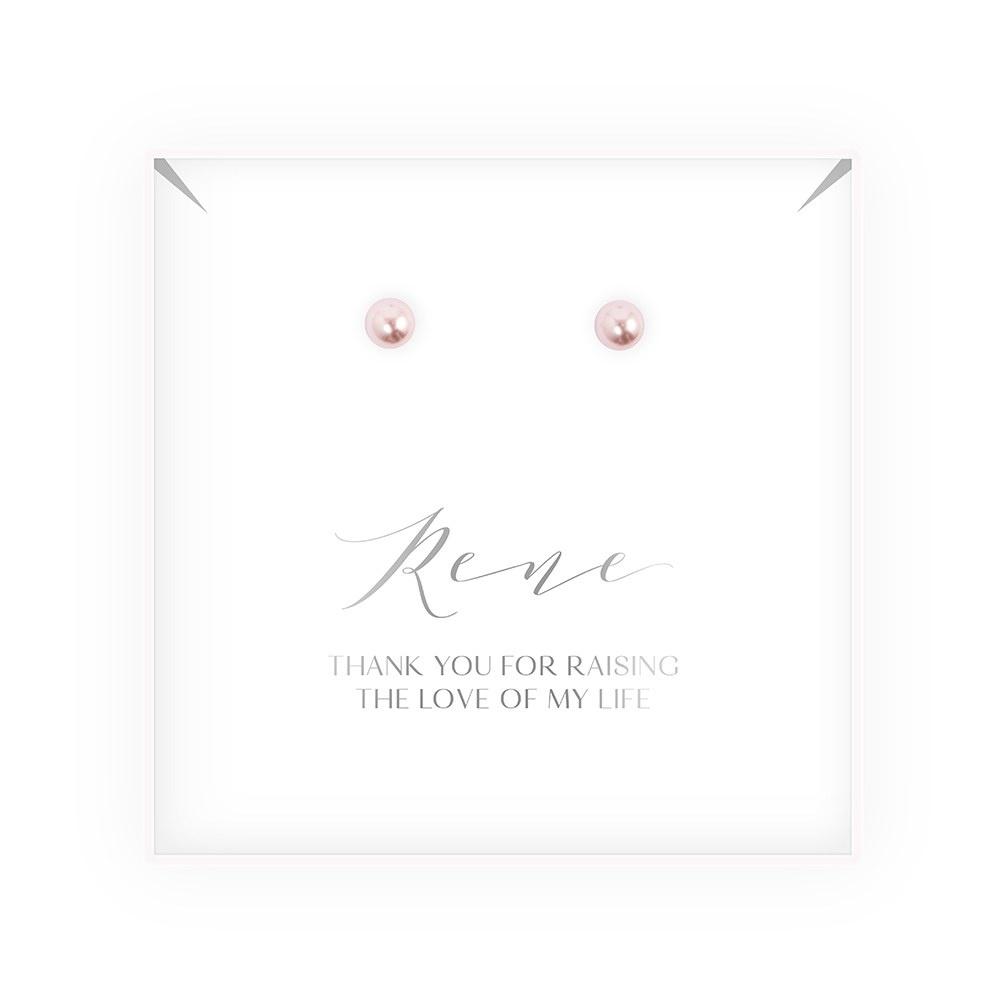 Minimalist pearl studs
These Swarovski pearl earrings are the ultimate balance of classy and understated, meaning she can wear them with almost anything. The personalized packaging reads: "Thank you for raising the love of my life." (Now that's how to impress your new in-laws!)
WeddingWire Shop Swarovski pearl stud earrings in Mother-In-Law Thank You, $16, WeddingWire Shop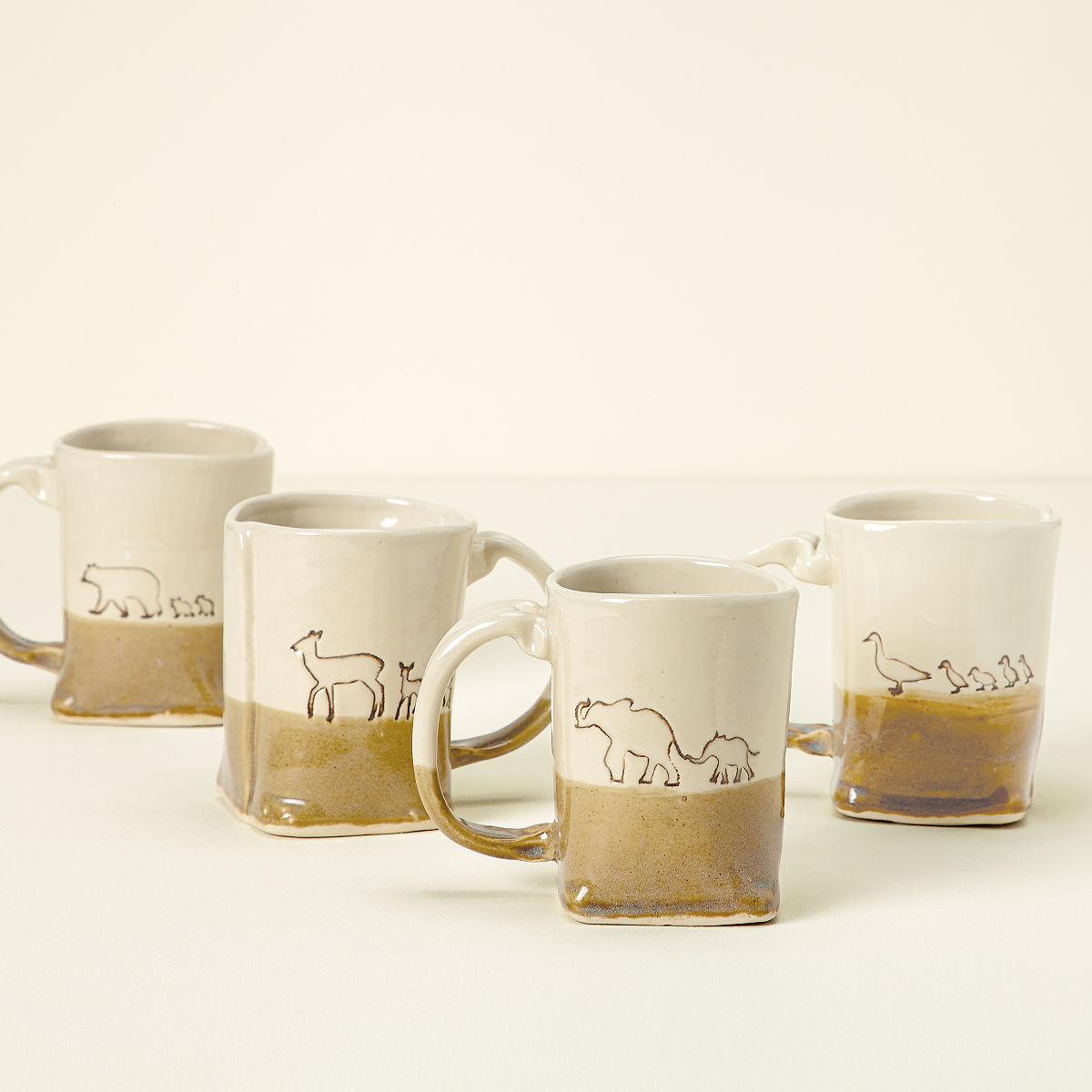 Adorable animal mug
Your mom's love and guidance have brought you to where you are today. Honor just that with one of these cute stoneware coffee mugs hand stamped with a mother and baby elephant. Or, if you want to include siblings, opt for the deer, bear, or duck design.
Colleen Huth Mother's Love mugs, $40, Uncommon Goods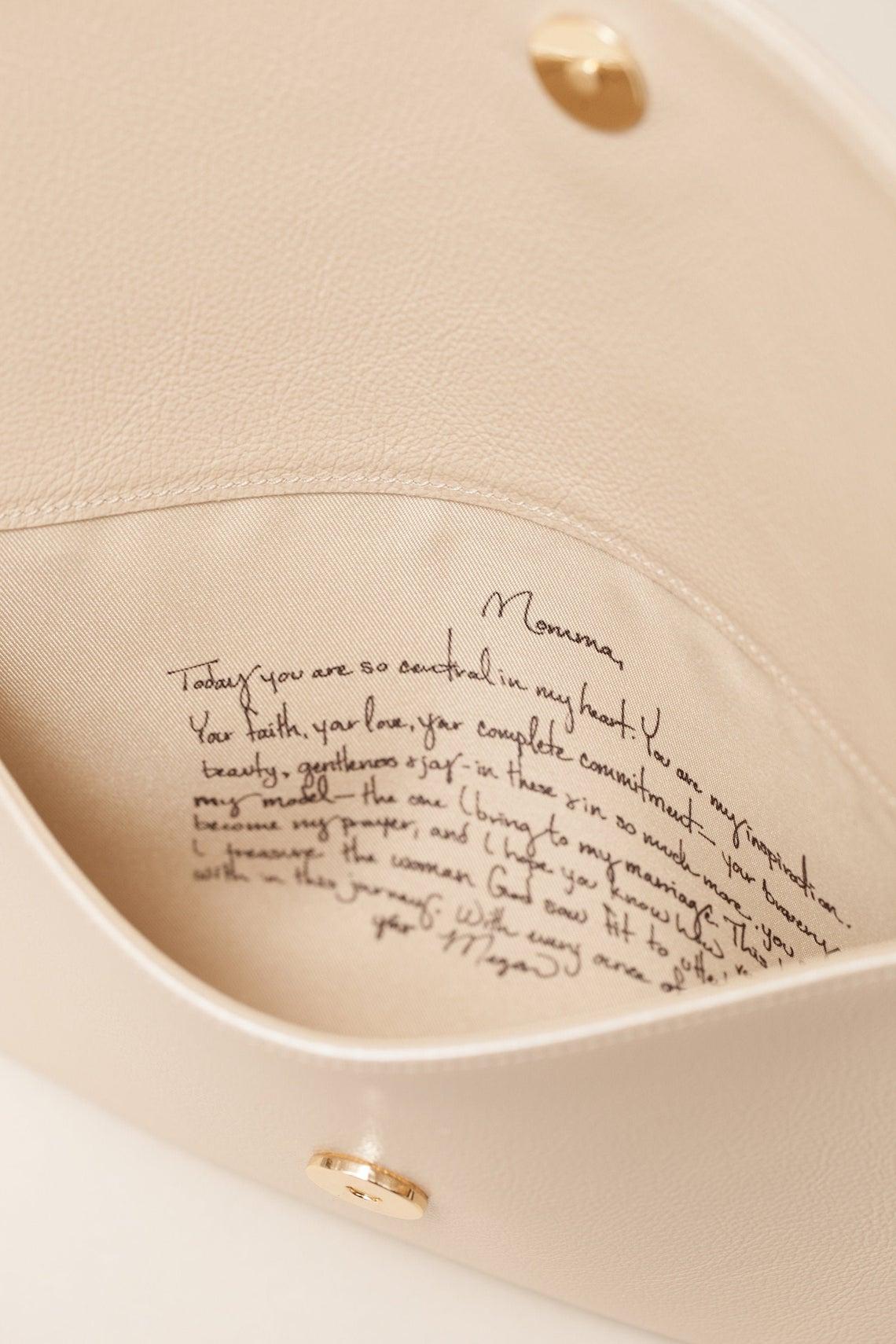 Secret message clutch
Who said mom of the bride gifts can't be practical and sentimental? This stylish Italian leather clutch has plenty of room to store all her wedding-day essentials. But that's not all—there's space for a hidden personal message on the inside.
Fontem mother of the bride gift, $220, Etsy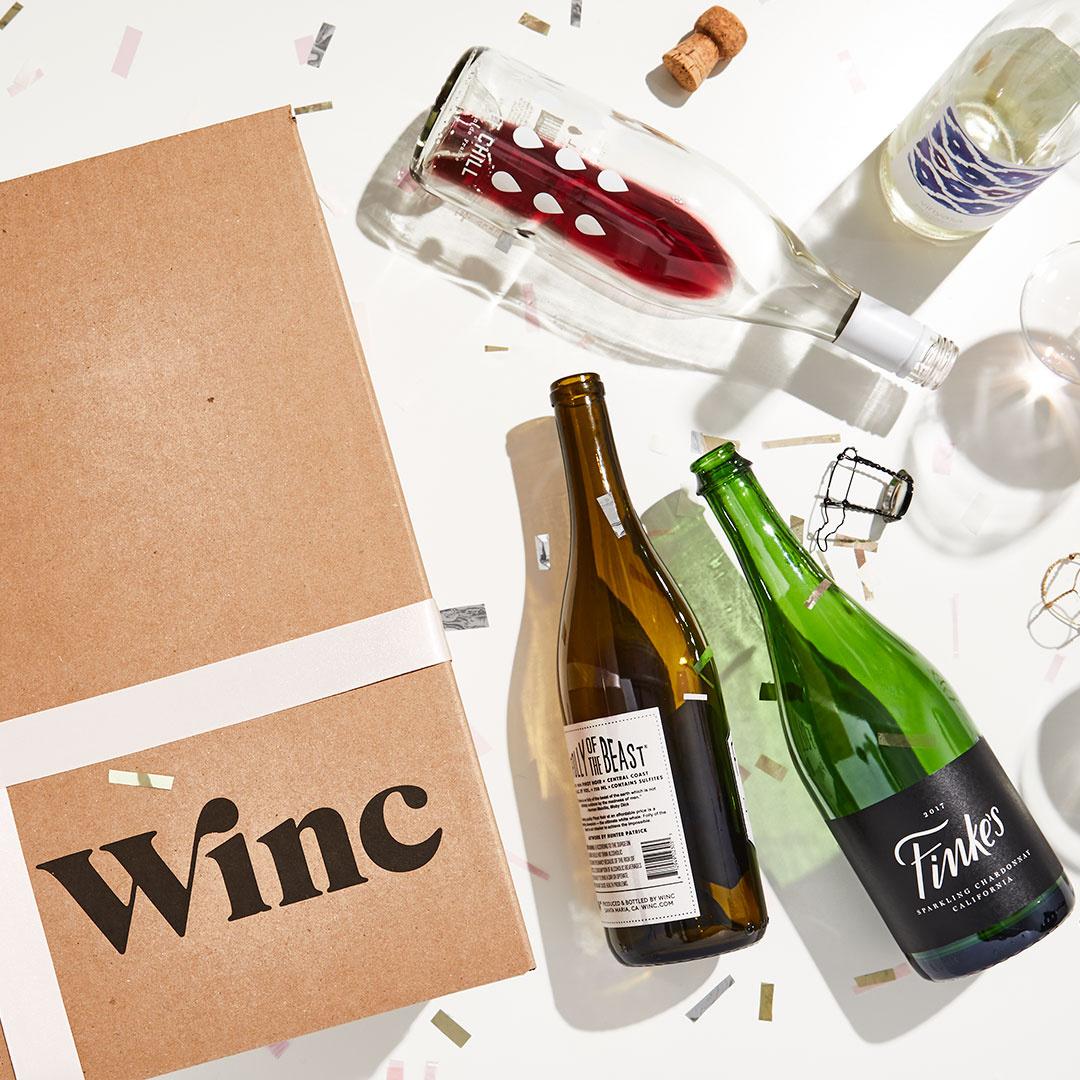 Monthly wine subscription
Looking for a gift to give the mother of the bride as a friend? Gift cards and wine are both great options—and this unique idea combines the two! Help your loved one celebrate their daughter tying the knot with a gift card for Winc's monthly wine subscription.
Winc gift card, from $60, Winc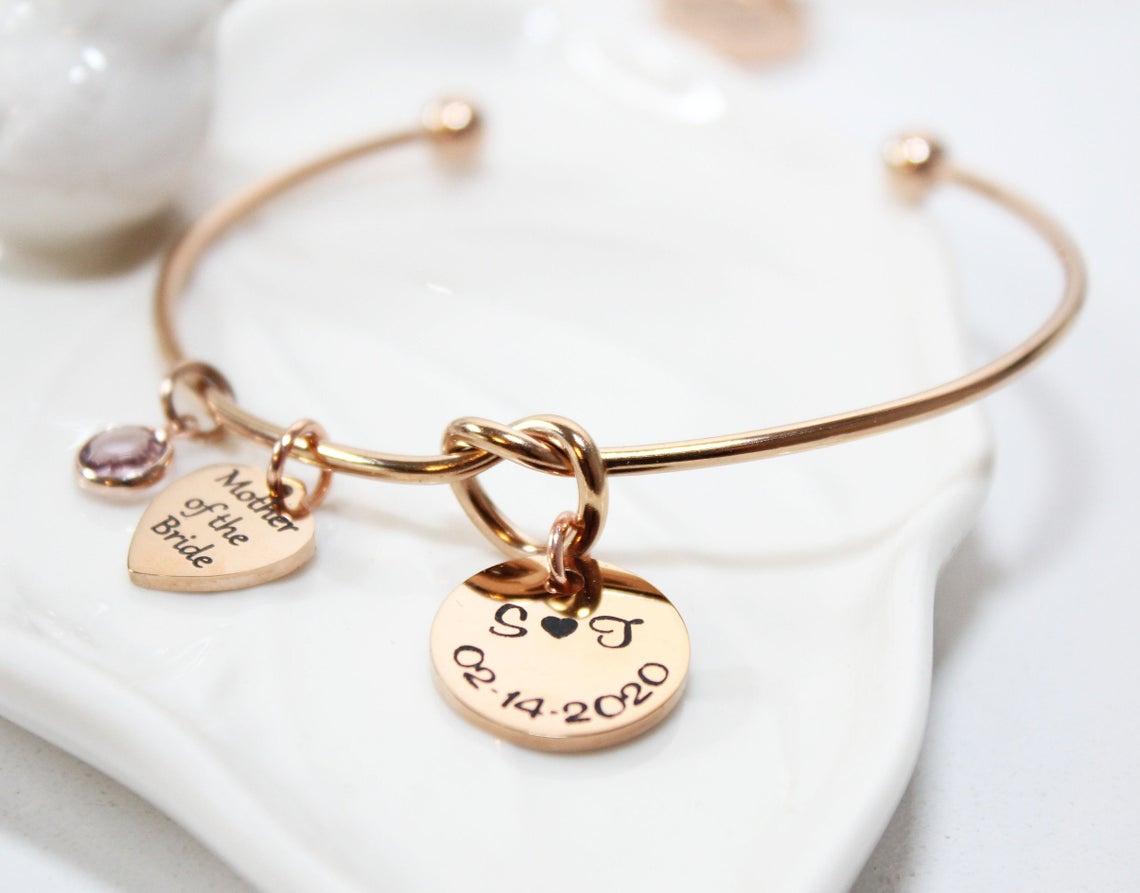 Personalized knot bracelet
We love the idea of jewelry as a gift for mothers of the bride. The knot detail on this metallic bangle is a lovely way to commemorate you and your S.O. tying the knot. Have one charm engraved with you and your new spouse's initials and wedding date, and the other engraved with "Mother of the Bride." Finally, choose between a silver, yellow gold, or rose gold hue depending on her style.
Ali & Shay Designs mother of the bride bracelet, from $26, Etsy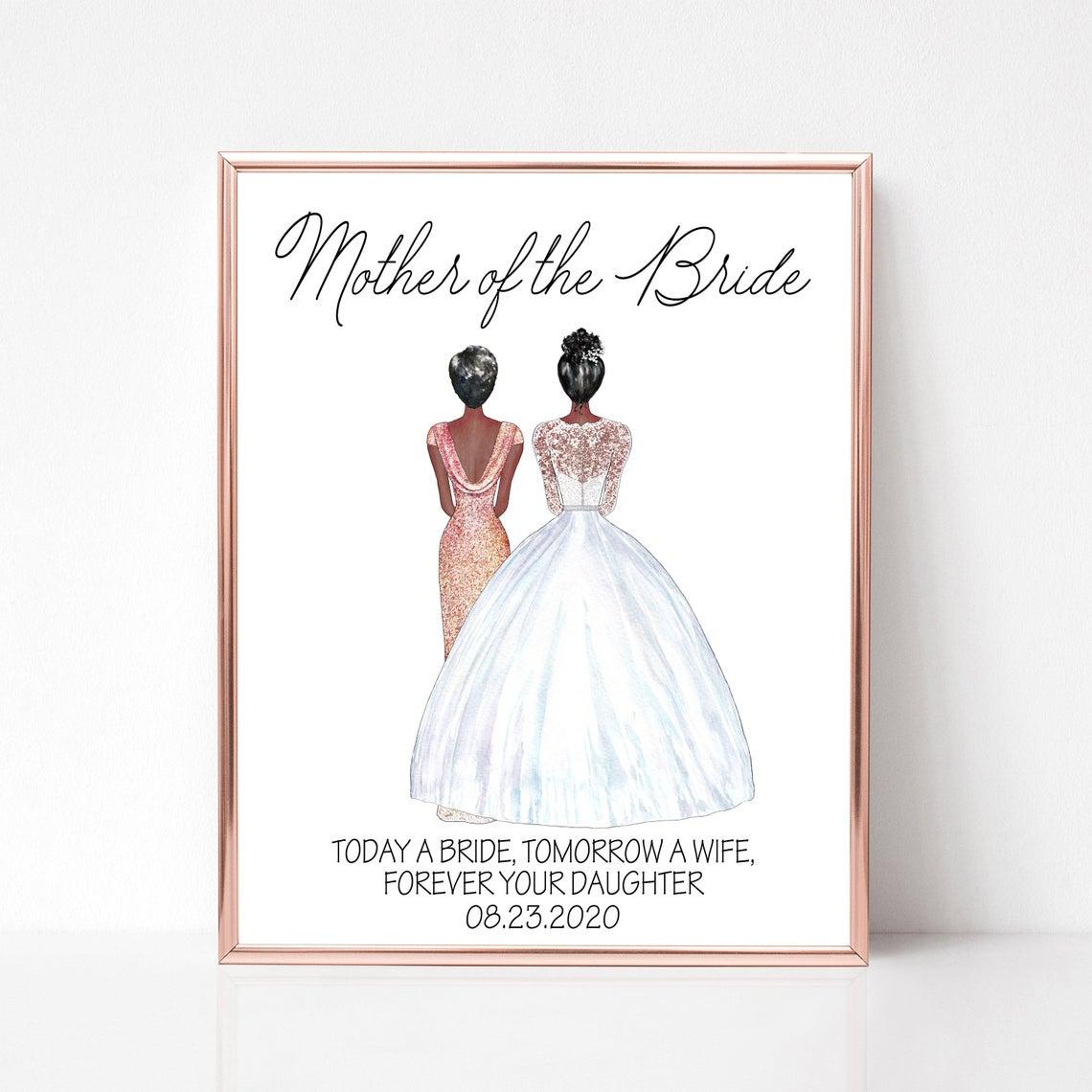 Custom illustrated portrait
Believe us when we say this one might just make her tear up. An illustrated portrait of you and your mom on the big day is an incredibly special memento that'll probably take pride of place on her mantelpiece. Choose between a matte print or canvas as well as four different size options to suit your budget.
Simply Love Creations personalized mother of the bride print, from $18, Etsy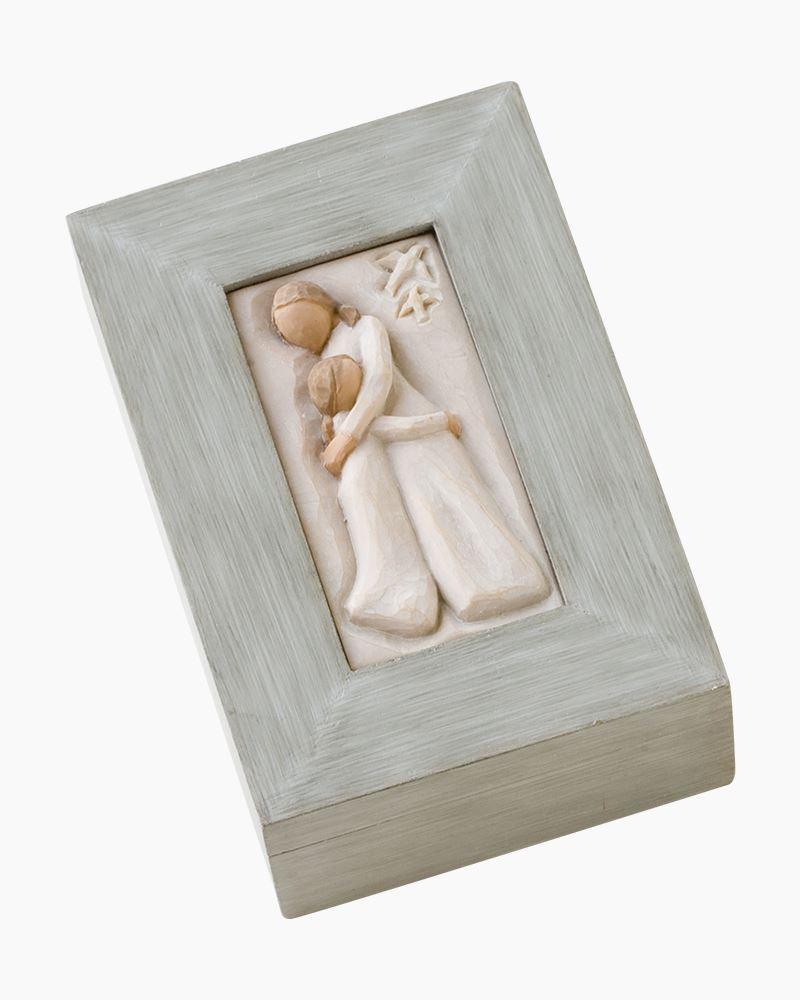 Meaningful memory box
The inside of this symbolic keepsake box is engraved with the words: "Protect and cherish; give wings to fly." If that's not a beautiful summary of a mother's achievements, we don't know what is. Talk about sentimental wedding gifts for a mom of the bride!
Willow Tree mother and daughter memory box, $33, The Paper Store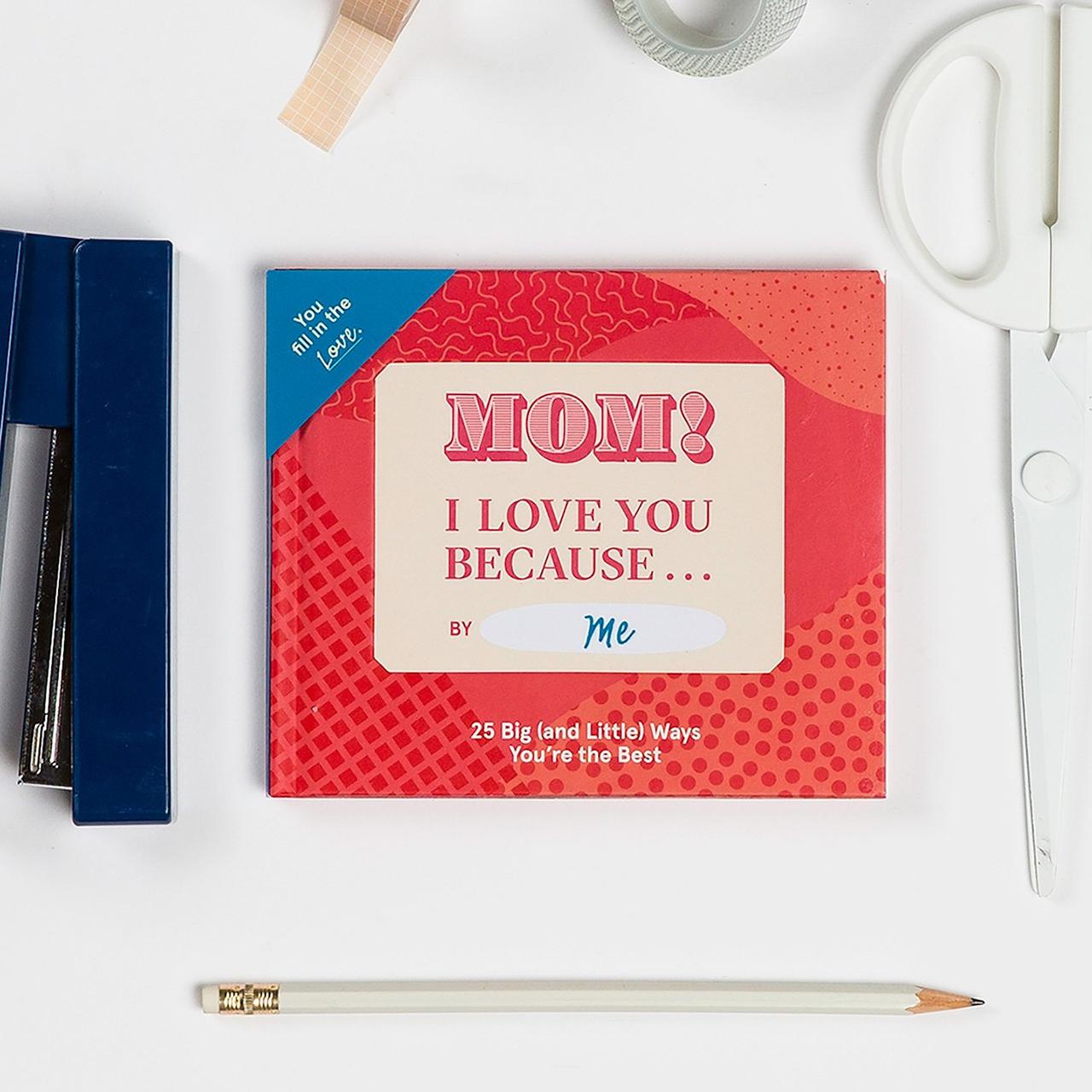 Playful fill-in-the-blanks book
This fill-in-the-blanks book is a sweet and simple way for you to let your mom know all the things you love most about her (and that goes for future MILs too!).
Knock Knock Mom, I Love You Because… fill in the love book, $11, Knock Knock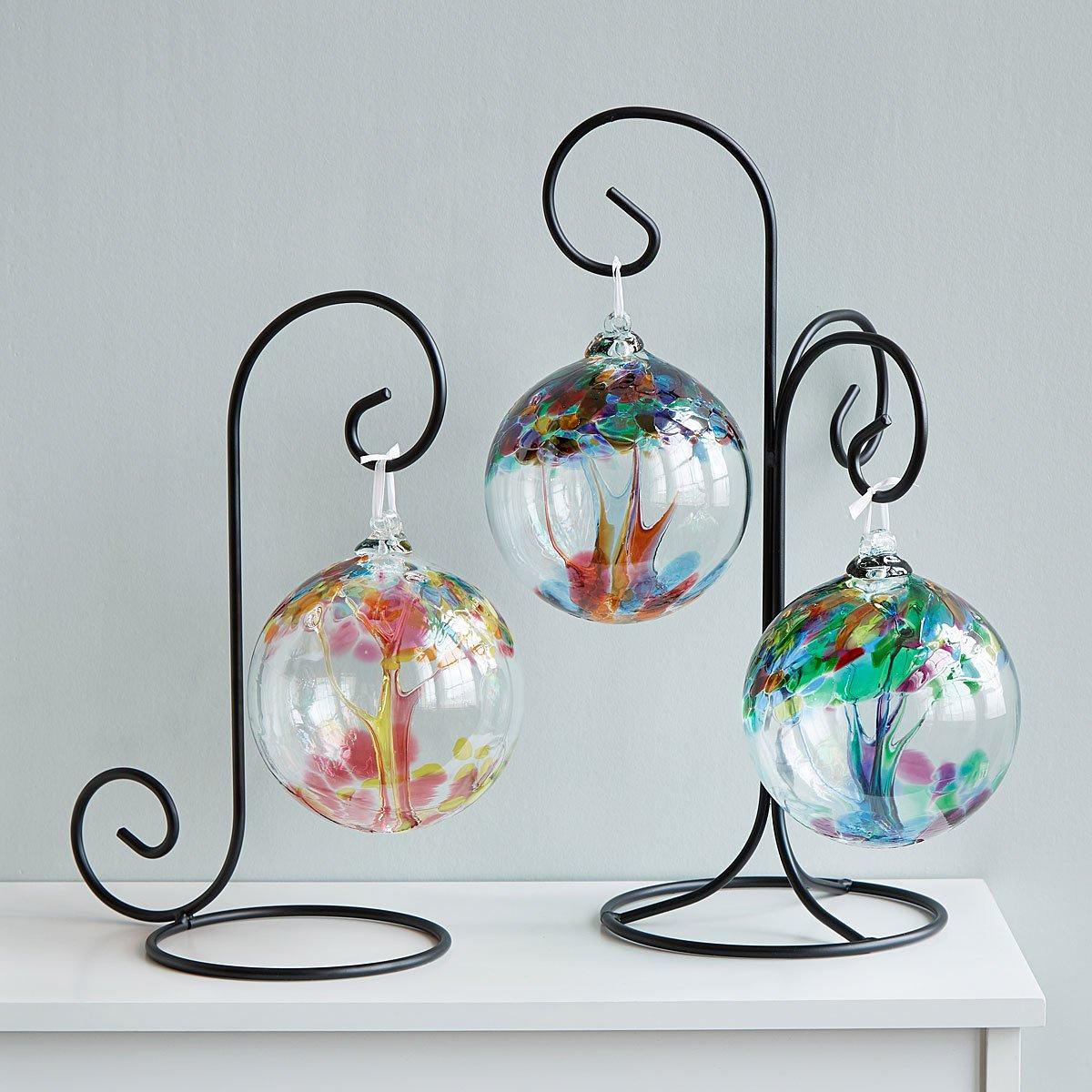 Hand-painted glass ornament
Can you tell we love mother of the bride gifts with an extra layer of meaning? The "motherhood" ornament from this gorgeous glass collection is a celebration of mothers and the incredible role they play in their children's lives. Pick up an elegant stand so she can instantly put it on display.
Stephen Kitras Relationships recycled glass tree globes in Motherhood, $54, Uncommon Goods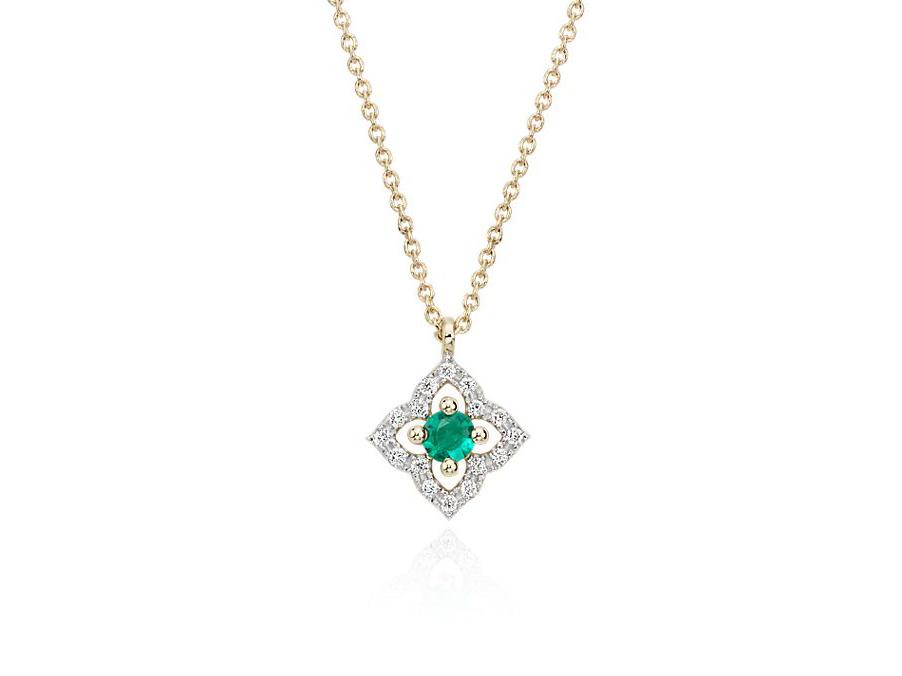 Dazzling gemstone pendant
Inspired by Art Deco design, this emerald and diamond necklace is such a special gift. Emeralds are a symbol of protection, love, and wisdom—three of the most important things moms give their children every day.
Blue Nile petite emerald and diamond floral pendant, $590, Blue Nile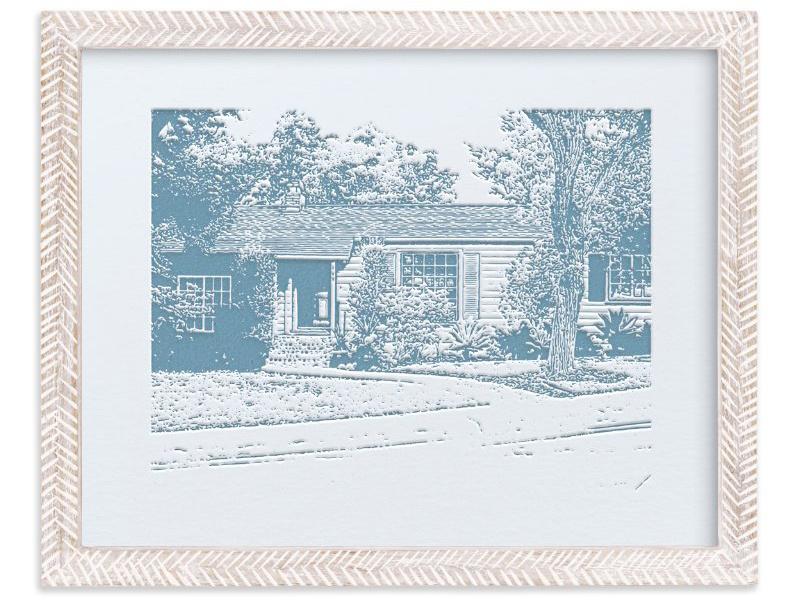 Letterpress house portrait
A custom portrait of the home you grew up in will send a clear message to Mom that you're not forgetting what you've left behind. Let her know you'll always be back to visit, especially if you plan on moving away after the nuptials. Add a stylish frame to your artwork before you check out so it's ready to show off right away.
Minted custom house letterpress portrait art, from $128, Minted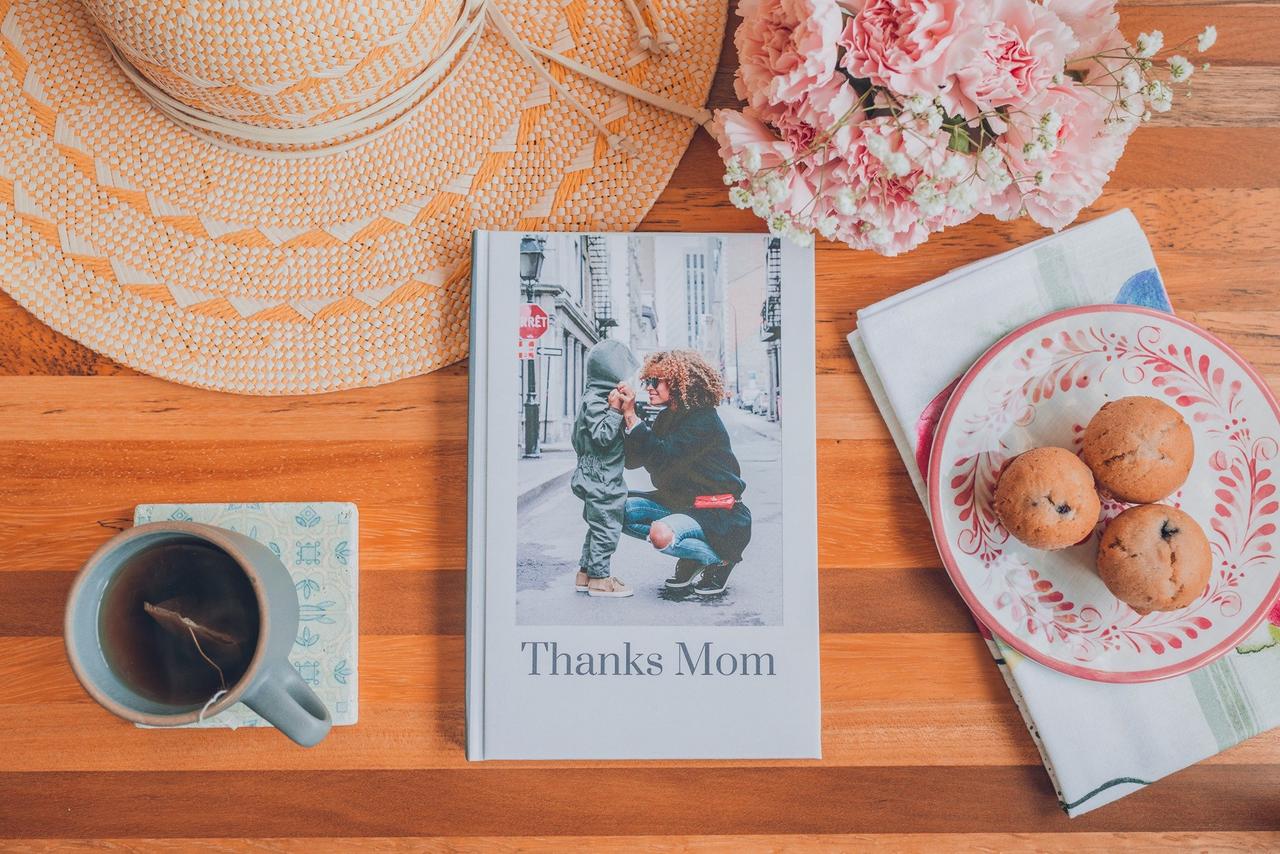 Family story book
If you haven't heard of StoryWorth already, it's the epitome of a sentimental present. Each week, your mom will receive a question or prompt to share a memory from her past. After a year of jotting down stories, it's all compiled into a stunning hardcover book for you and your loved ones to cherish—a priceless way to preserve your family memories.
StoryWorth gift book, from $99, StoryWorth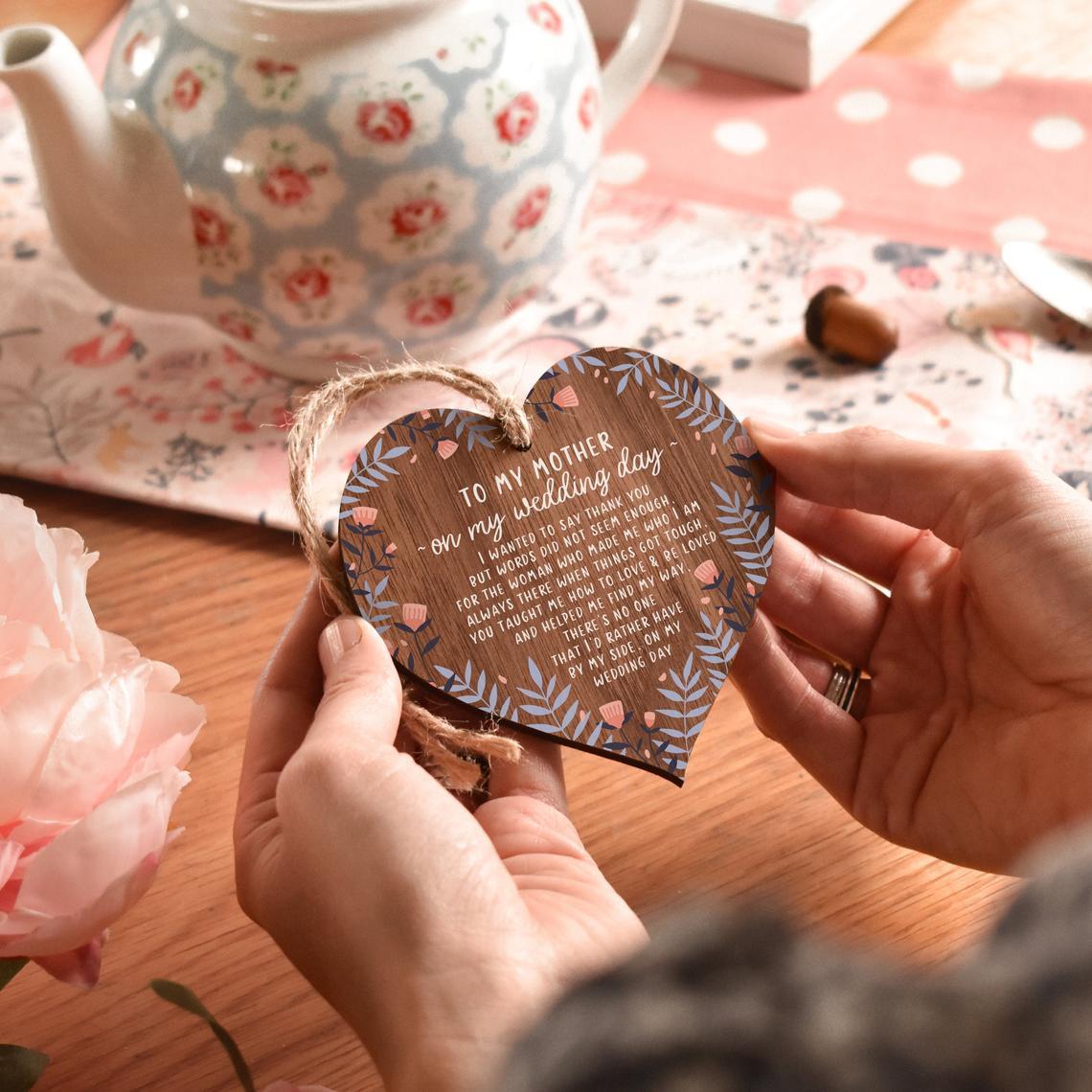 Heart-shaped wooden ornament
If you're putting together a gift basket for the mother of the bride, an affordable keepsake like this is a good item to include. The rustic walnut heart is a sweet souvenir of the special day and features a meaningful poem that ends with the line: "There's no one that I'd rather have by my side on my wedding day."
Manta Makes hanging wooden heart gift, $10, Etsy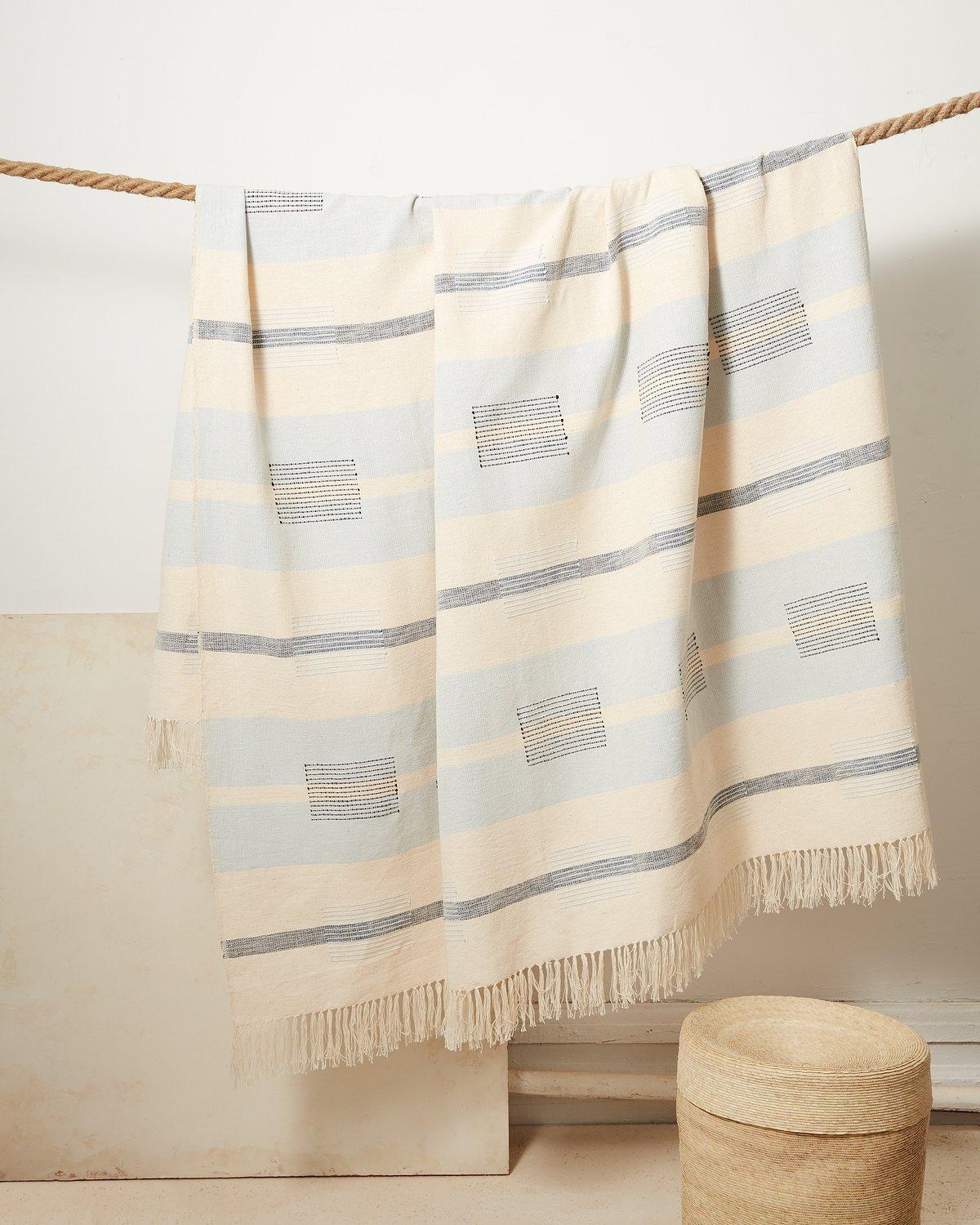 Stylish hand-woven throw
If she's just not the emotional type, there are plenty of alternative (and non-cheesy) gift ideas out there for the mother of the bride. Hand-woven by artisans in Mexico, this modern throw blanket will add a chic, contemporary touch to her home.
MINNA Blocks throw, $150, MINNA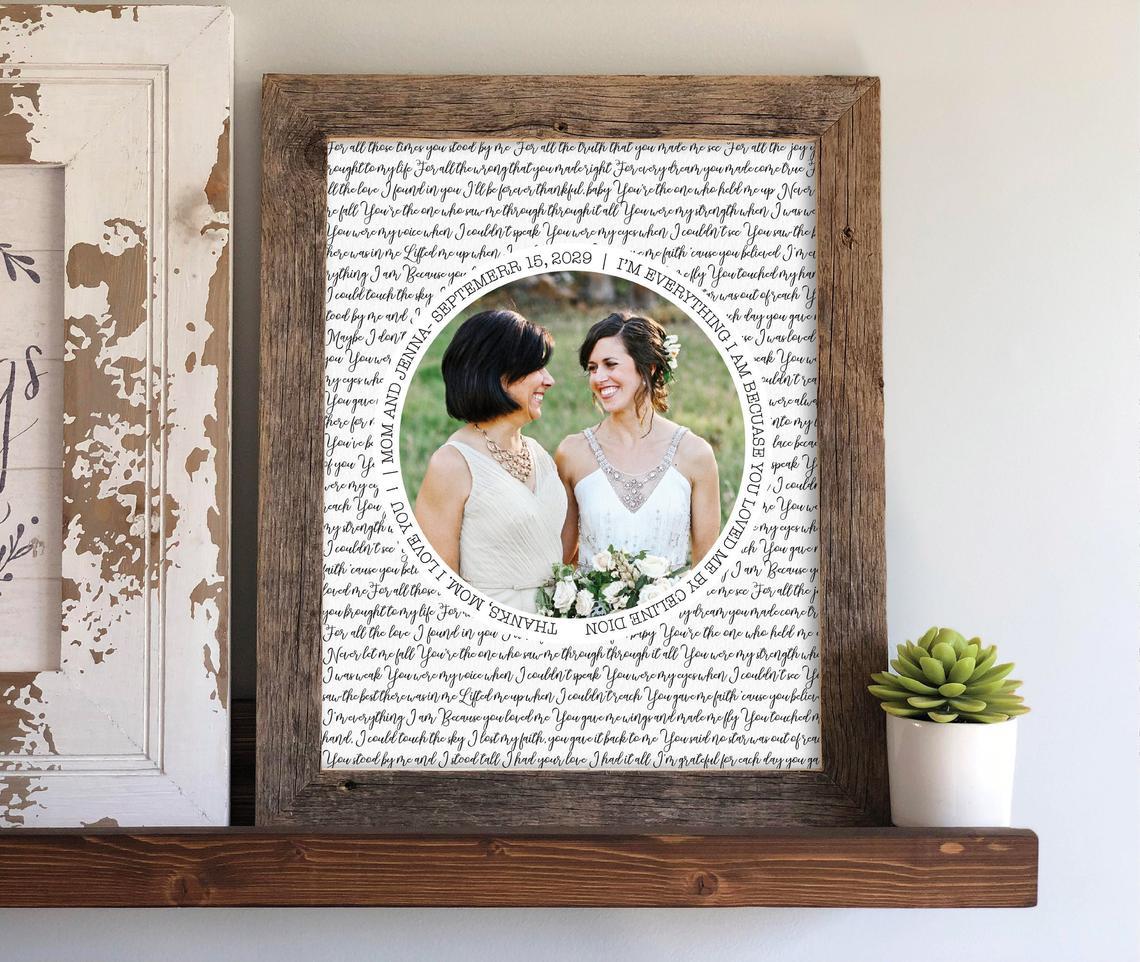 Framed song lyrics
Still stuck on what to get the mother of the bride as a gift? This Etsy seller can create an artistic print including your favorite photo of you and your mom and the lyrics to a meaningful song. This one features the words to Celine Dion's "I'm Everything I Am Because You Loved Me." Have it framed in black, white, or authentic barnwood to complete the look.
Basketful of Grace personalized picture of mom and bride, from $35, Etsy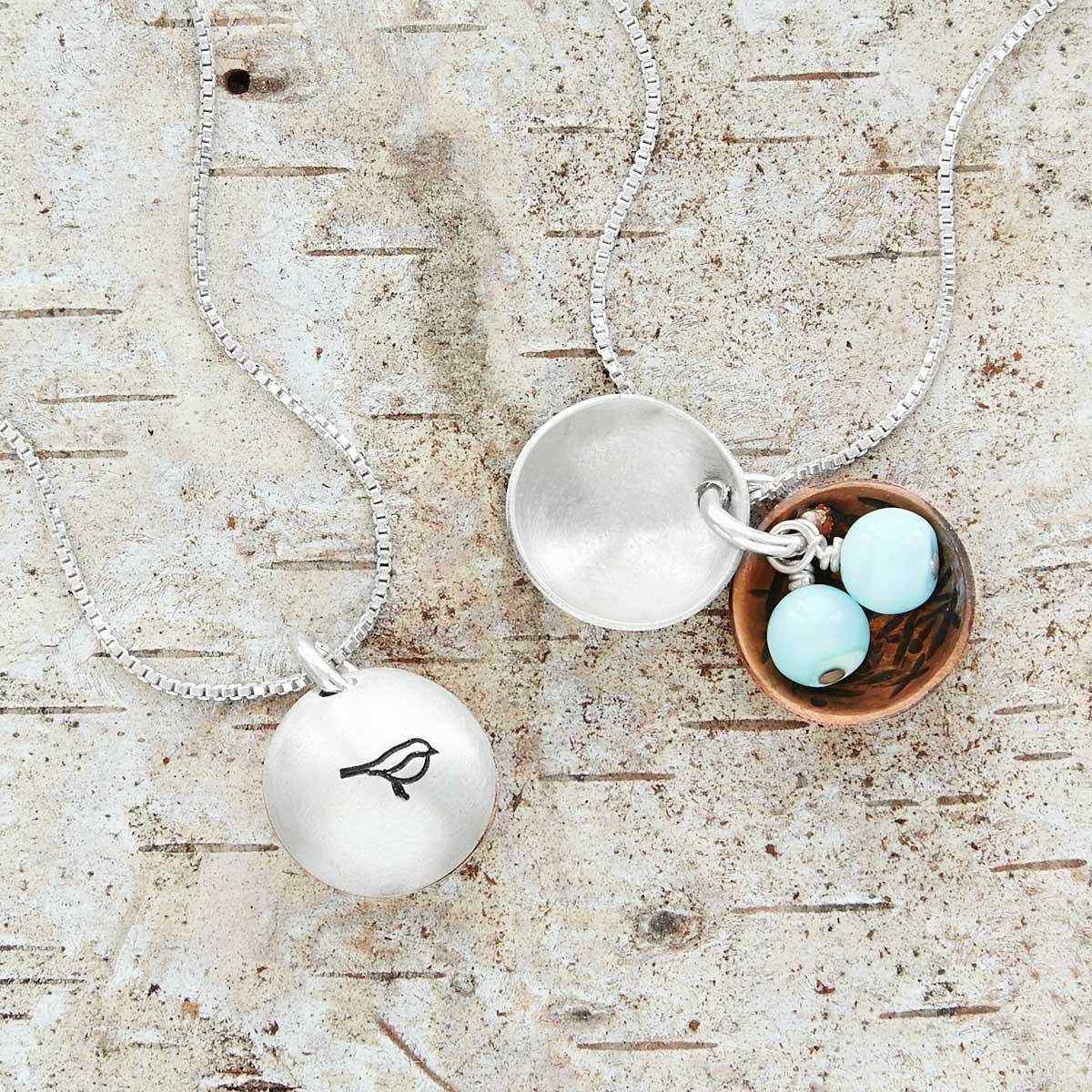 Unique silver locket
Sometimes the most unusual gifts for the mother of the bride are the best of all. She won't be expecting this unique take on a traditional locket. The sterling silver bird-motif locket can be stocked with an adorable amazonite egg so that your mom can always keep you close to her heart.
Trudy James Nest Egg necklace, from $68, Uncommon Goods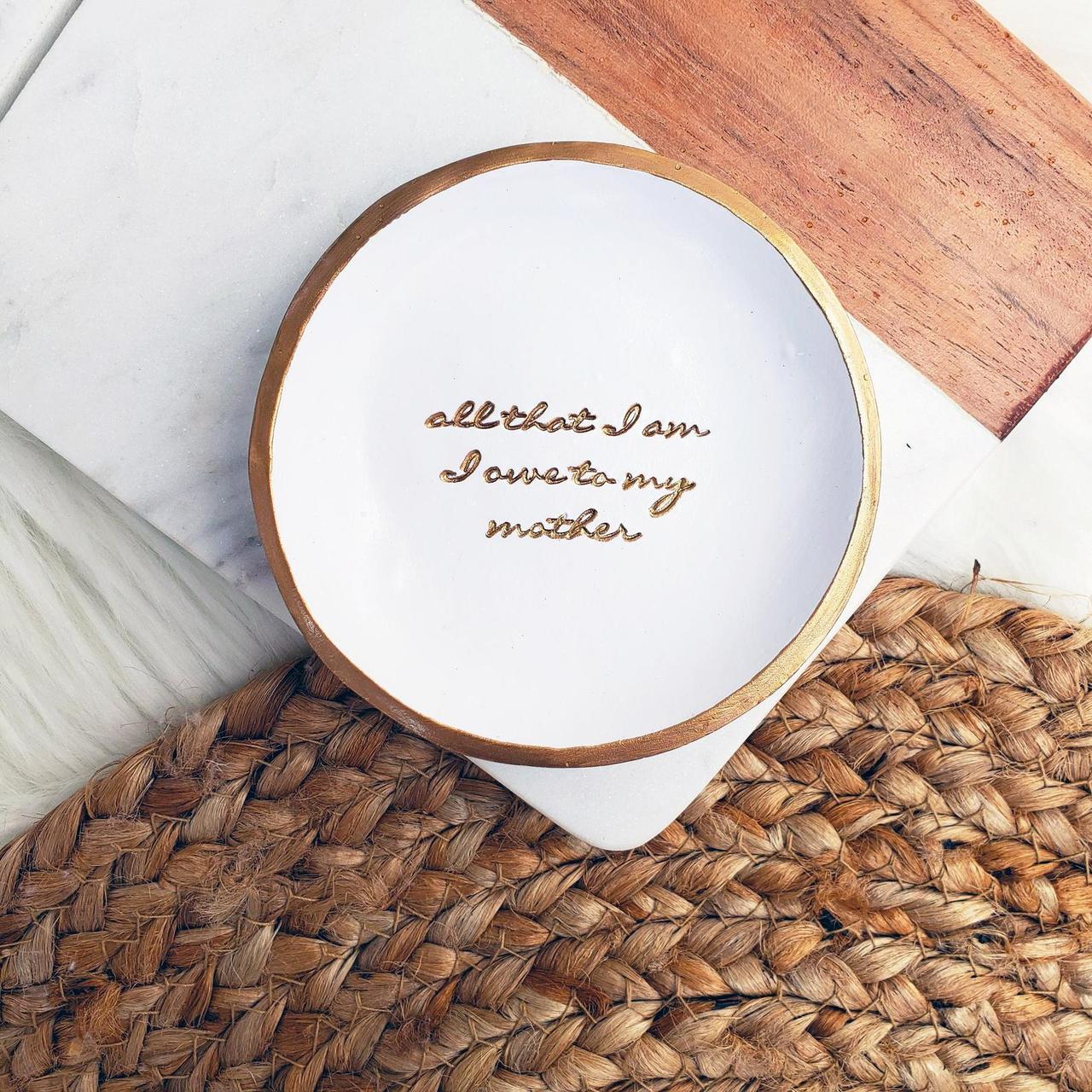 Pretty trinket dish
Here's another cute mother of the bride gift idea from her bride-to-be daughter. This beautiful white and gold ring dish can be kept by her bedside, on her dresser, or wherever it's most useful. A choice of four heartfelt sayings can be painted on in glittery gold lettering. We especially love "all that I am I owe to my mother" and "today a bride, tomorrow a wife, forever your daughter."
Eve's Art Shop mother of the bride gift, from $23, Etsy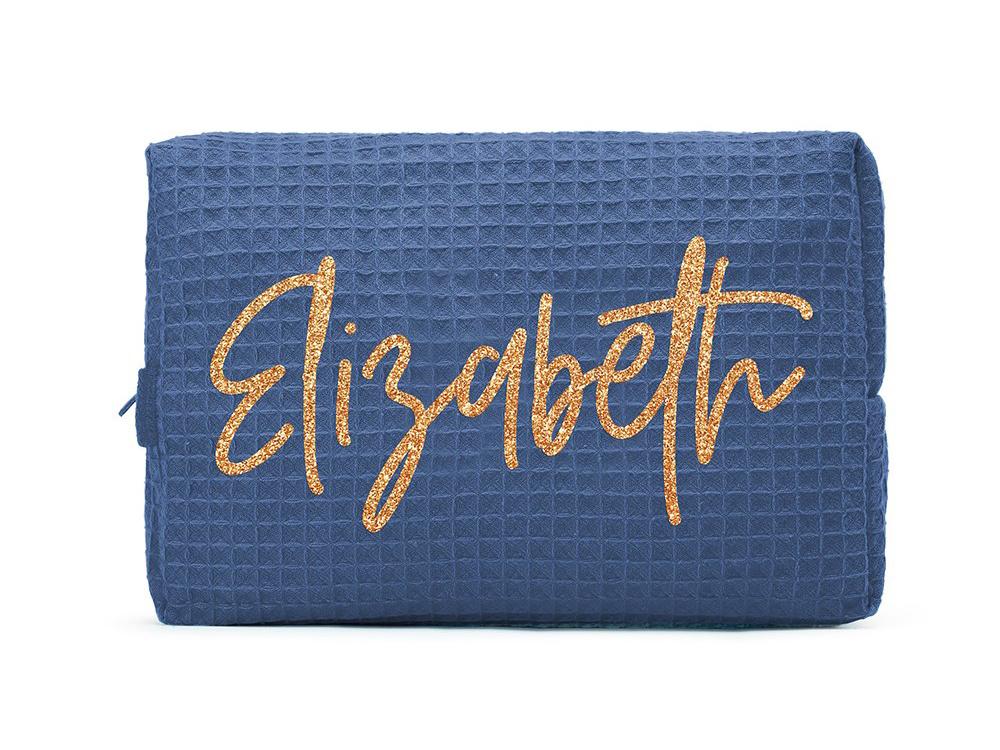 Personalized makeup bag
Give her somewhere personal to store her makeup and toiletries with this chic cotton waffle makeup bag. It comes in six different colorways, including a pretty blush pink hue and versatile navy.
WeddingWire Shop personalized cotton waffle makeup bag, $13, WeddingWire Shop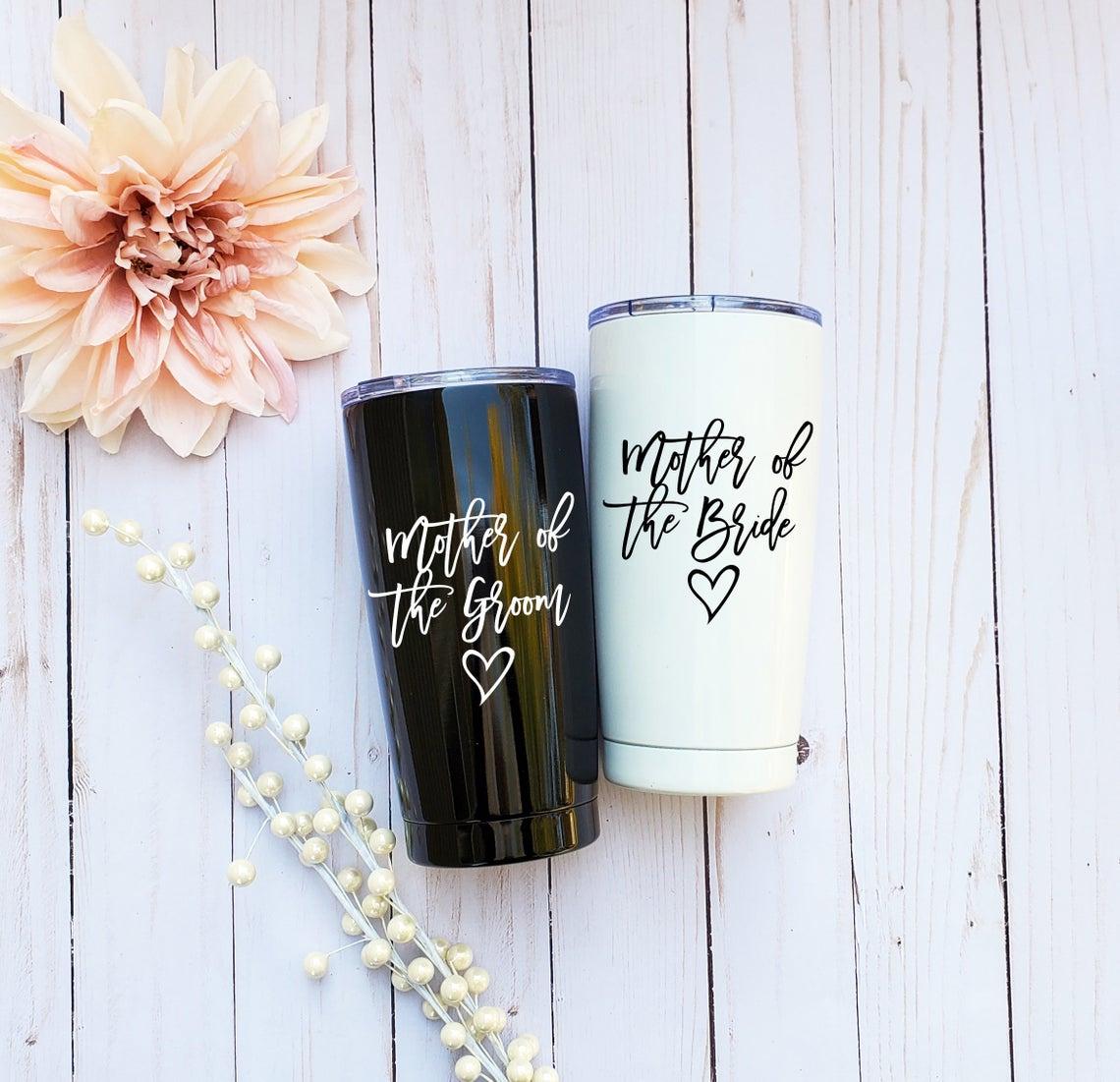 Travel coffee mug
Coffee on the go? Yes, please. A trendy stainless steel travel tumbler personalized with her wedding title will make busy mornings more seamless than ever, and she'll think of you every time she uses it.
Weddings by Leann Mother of the Bride coffee mug, $16, Etsy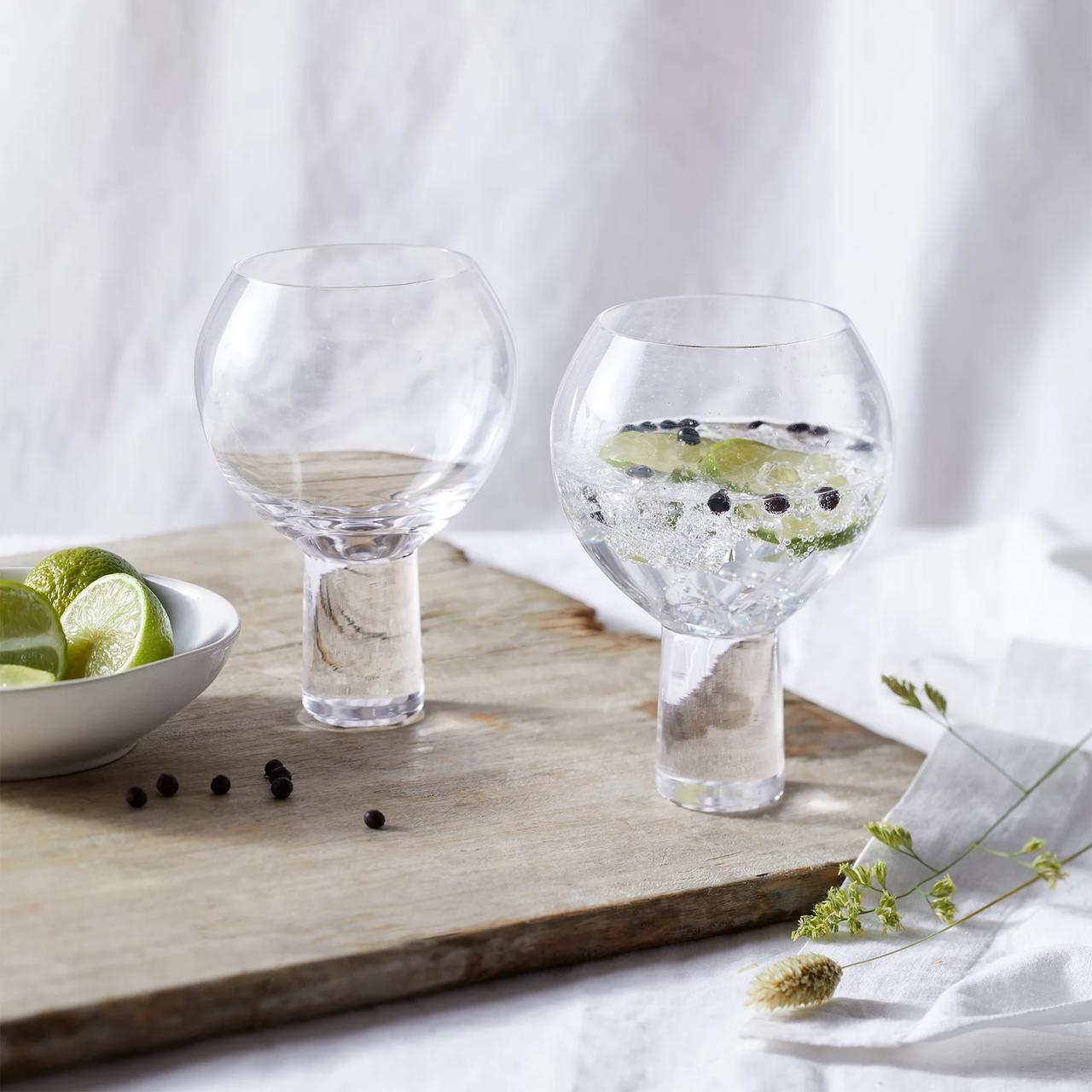 Fancy glassware set
Not sure what to buy the mother of the bride as a gift? Look to her favorite beverage for inspiration. If she's a big G&T fan, these unique crystal gin glasses are for her. The contemporary design makes each glass easy to hold while promoting a nice chilled temperature.
Halden gin glasses, $44 for a set of 2, The White Company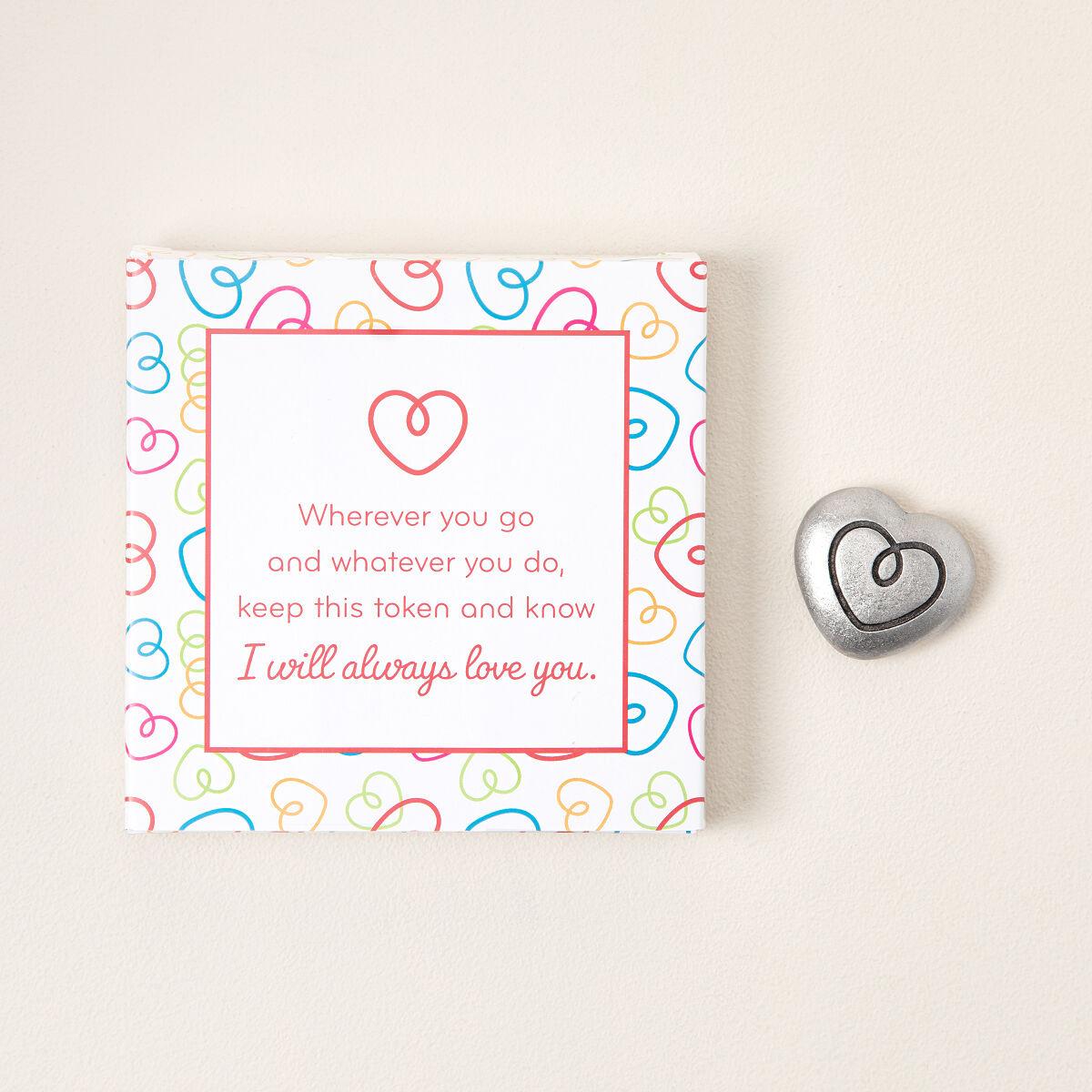 Adorable heart charm
On the hunt for some more affordable thank-you gift ideas for the mother of the bride? We've found the perfect token to let her know how loved she is (without breaking the bank). This mini keepsake comes in a colorful heart-printed box that reads: "Wherever you go and whatever you do, keep this token and know I will always love you."
Elena Barrett Hug in a Box, $20, Uncommon Goods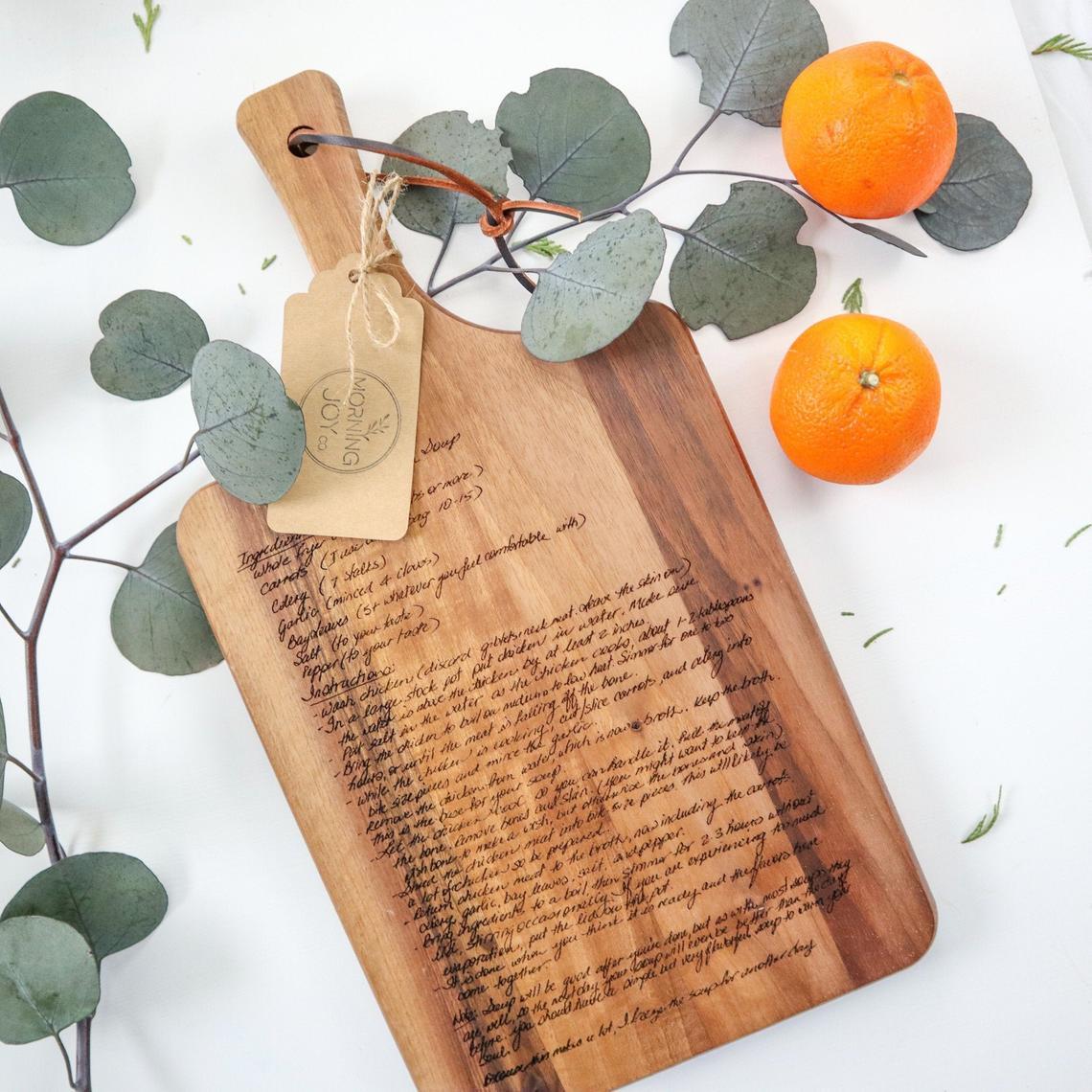 Engraved cutting board
If your mom's amazing cooking skills are one of your favorite things about her, she'll love this beautiful wooden cutting board engraved with one of her recipes. It's one of the most creative gifts to give your mother on your wedding day.
Morning Joy Co. recipe cutting board, from $69, Etsy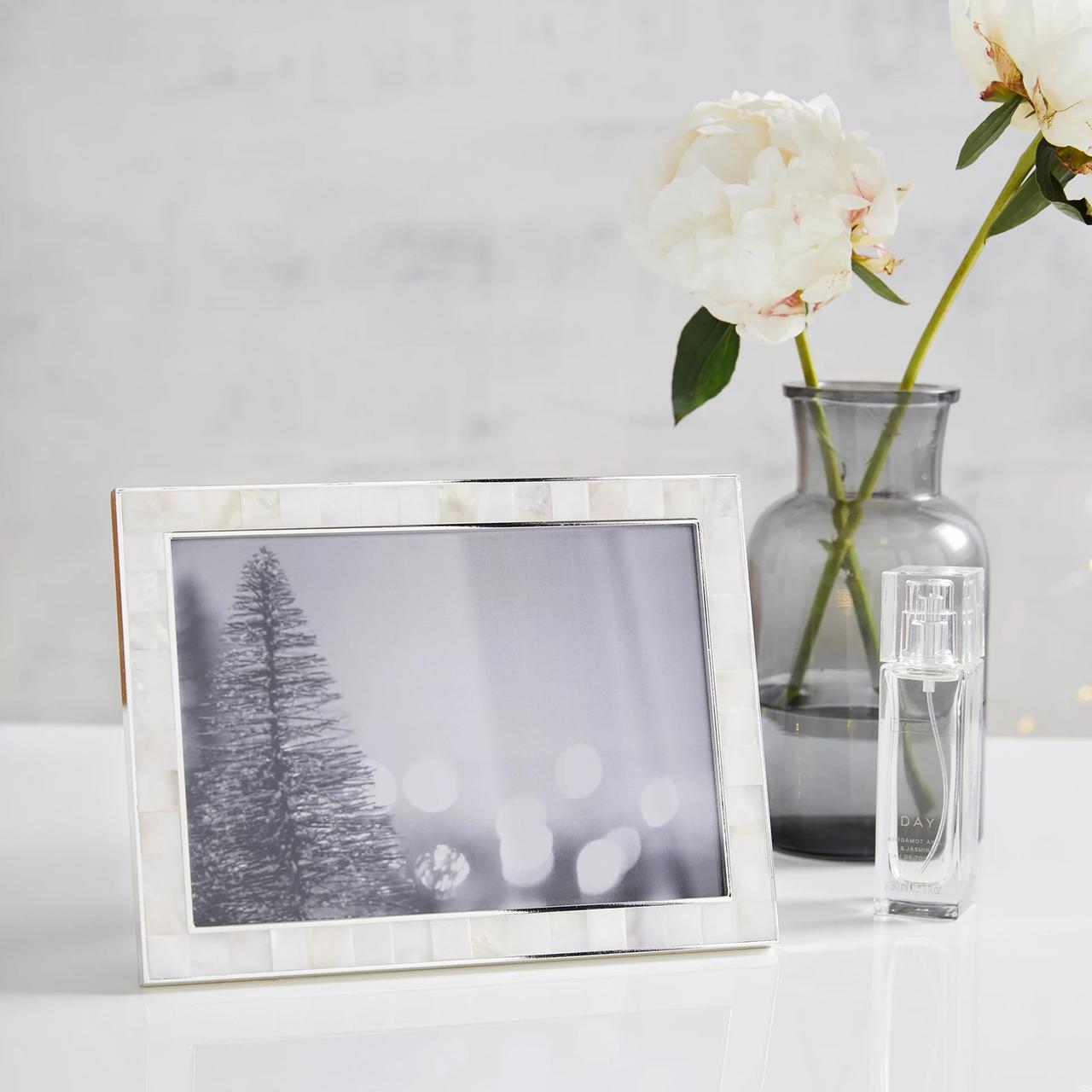 Elegant picture frame
What better gift to get the mother of the bride than a mother-of-pearl picture frame? This lovely frame is also a great gift for other occasions that might be ahead of you before the big day, such as Christmas, Mother's Day, or her birthday.
The White Company mother-of-pearl picture frame, $75, The White Company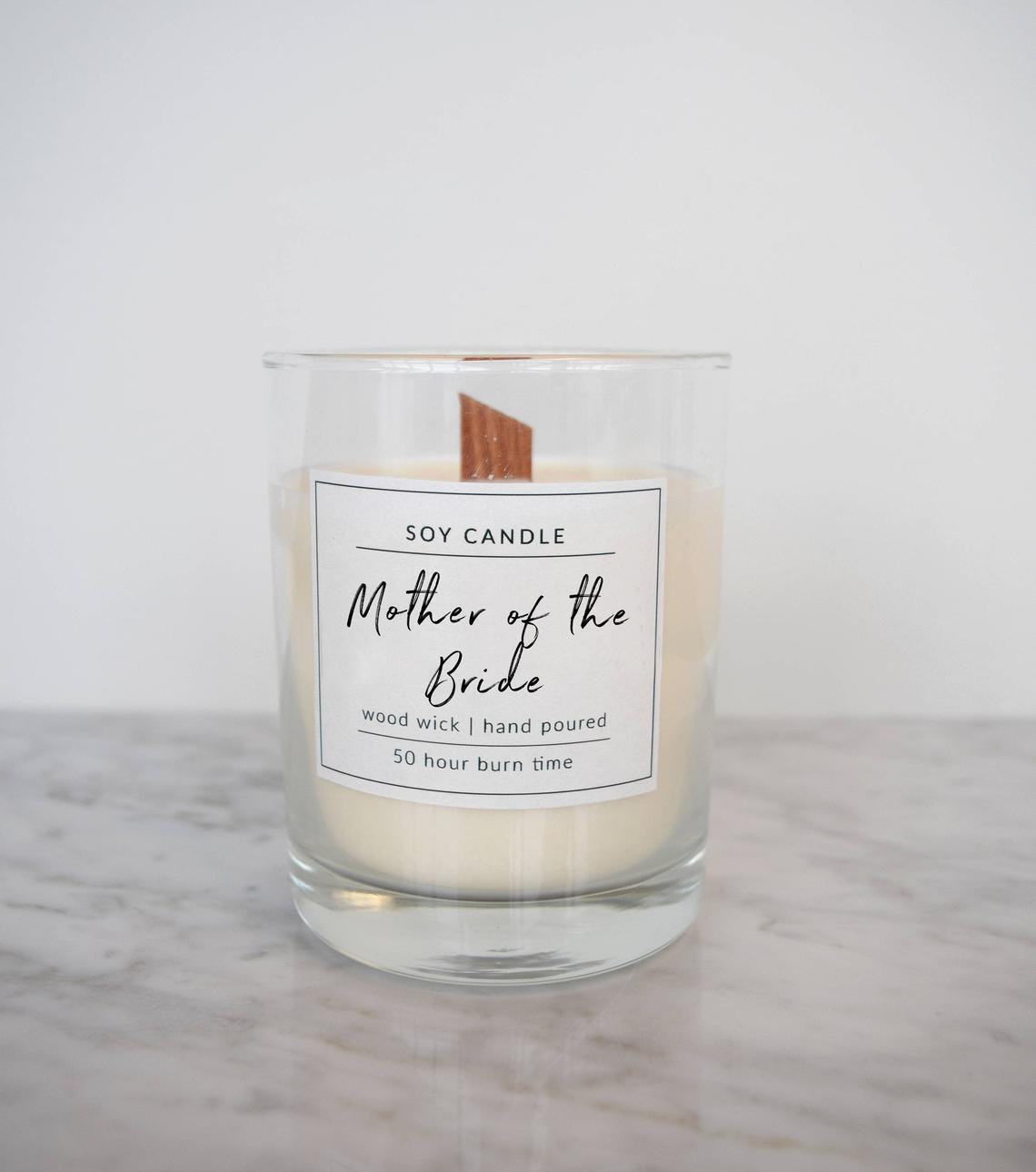 Vanilla-scented candle
Candles are a lovely MOB gift idea, especially when they come bearing her bridal party title. This hand-poured candle has a subtly sweet vanilla scent.
Light Me Up Candle Co Mother of the Bride vanilla soy wax candle, $15, Etsy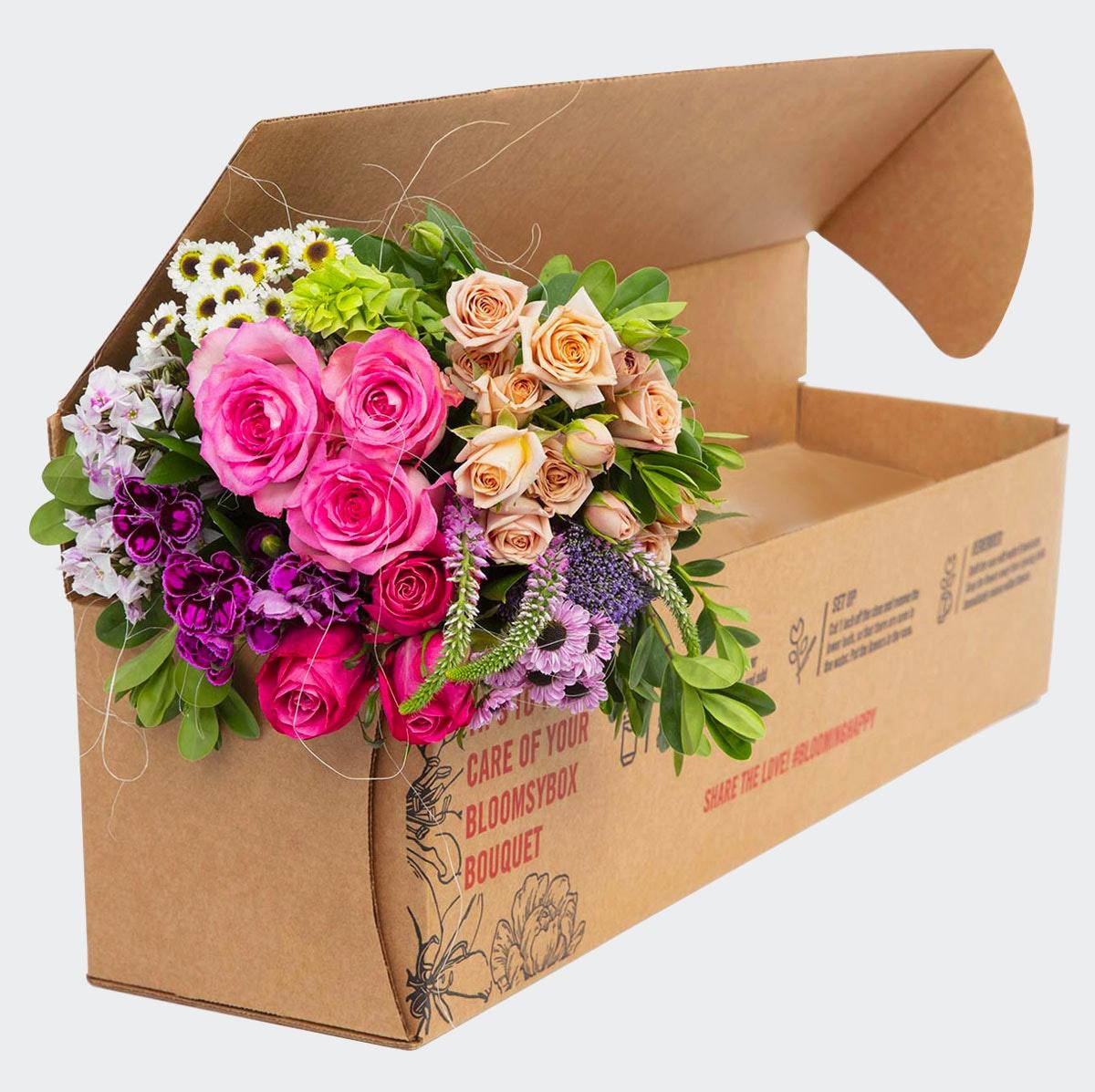 Gorgeous bouquet delivery
Gifting flowers to the mother of the bride is a nice gesture no matter what. That said, if you really want to make an impression, we suggest signing her up for a subscription. That way, she can enjoy fresh floral arrangements every month.
BloomsyBox Bloomsy Deluxe subscription, $50 per month, BloomsyBox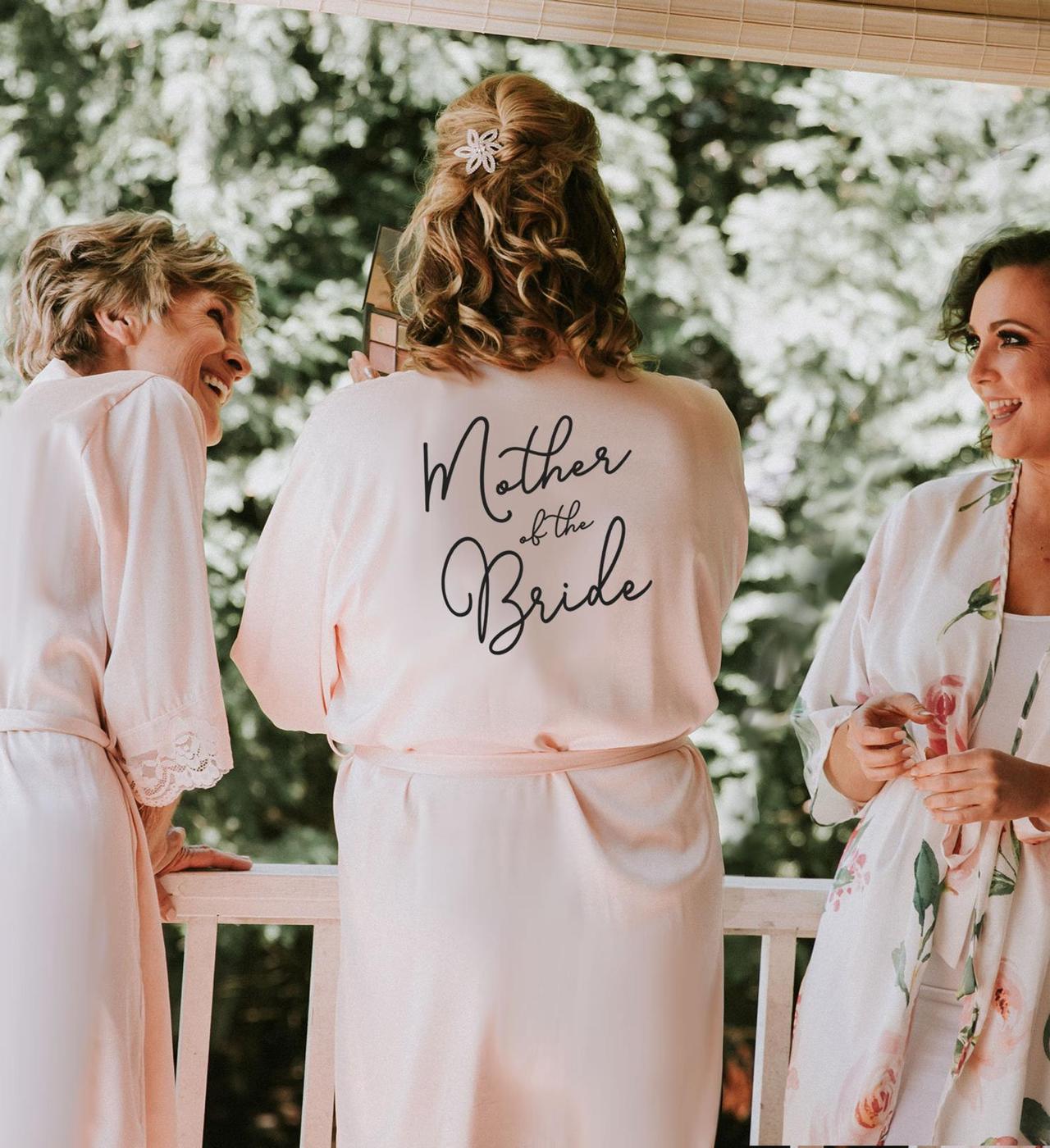 Comfy wedding robe
This pretty robe is a mother of the bride gift she can wear on the wedding day as she helps you prepare for one of the most important days of your life. It's also a lovely way to include Mom in the morning-of celebrations with the rest of your squad.
Mod Party Mother of the Bride lace robe, $23, Etsy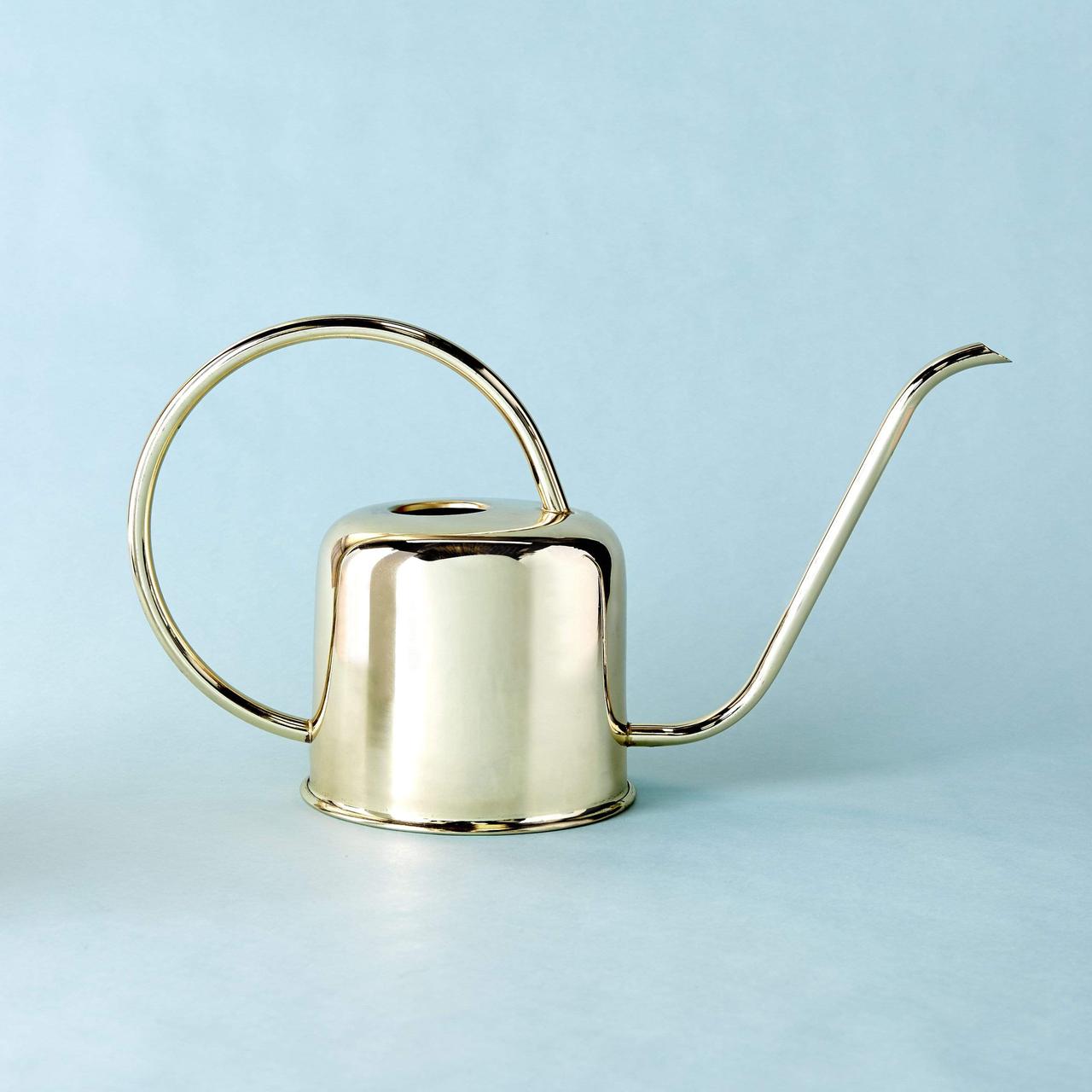 Elevated watering can
A gold-plated watering can is the perfect tribute to the woman who helped you grow into the person you are today. It's an even better present if your mom has a green thumb.
Noah's Ark gold-plated watering can, $45, GlobeIn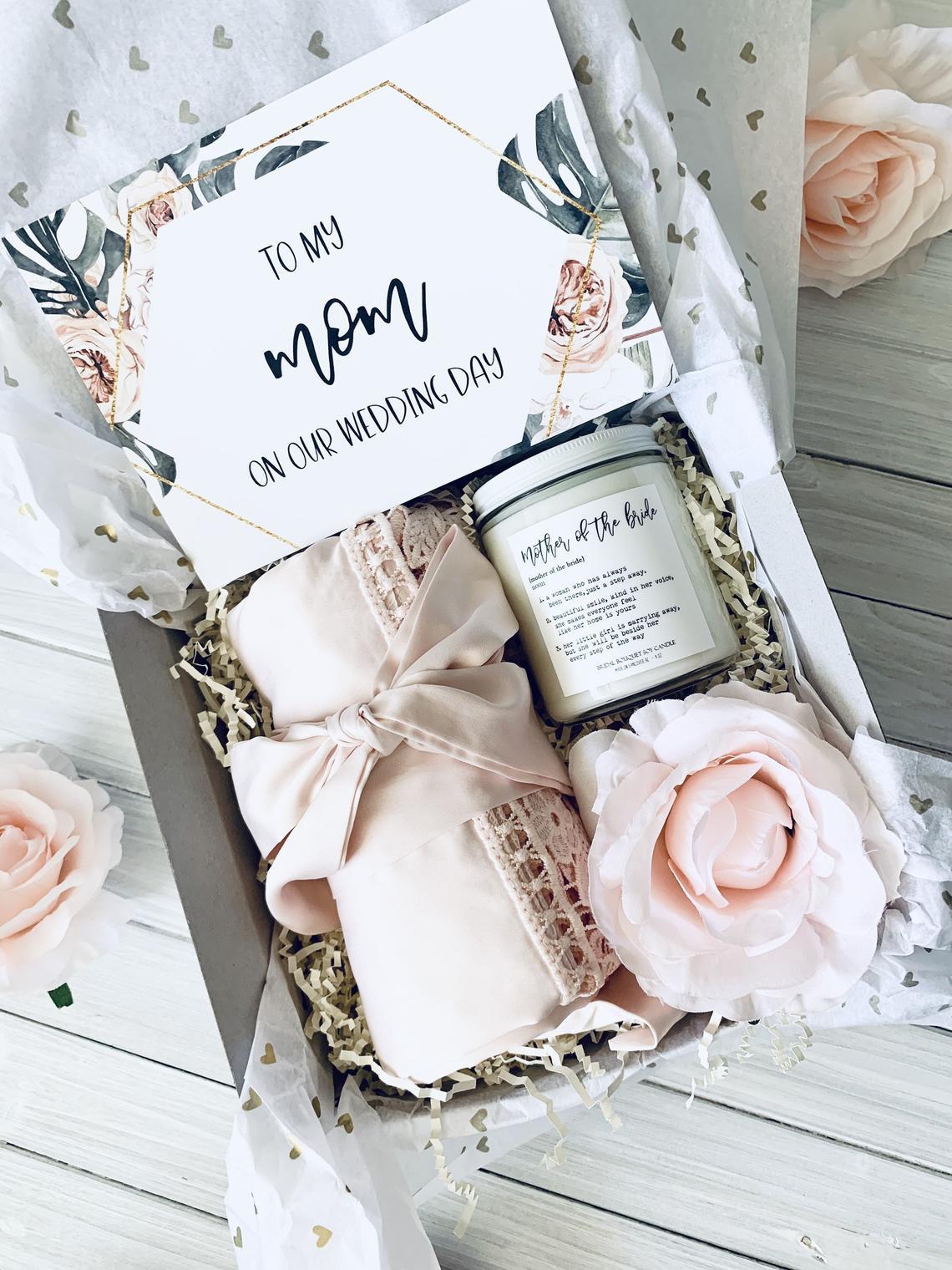 Pampering gift set
Whether your mom is your best friend, mentor, number one fan, or all of the above, we can almost guarantee she's earned a little R&R. This mother of the bride gift box includes a pretty robe in white, blush, or dusty rose, as well as a hand-poured bridal bouquet-scented candle. The robe can be adorned with her wedding title on the back, while the candle features a sweet definition of what it means to be mom of the bride.
My Handmade Wedding Co mother of the bride gift from daughter, from $68, Etsy