23 Personalized Mother's Day Gifts That'll Make Her Day
Looking for a custom Mother's Day gift to delight the mamas in your life? You're sure to find the perfect present among these 23 options.
We have included third party products to help you navigate and enjoy life's biggest moments. Purchases made through links on this page may earn us a commission.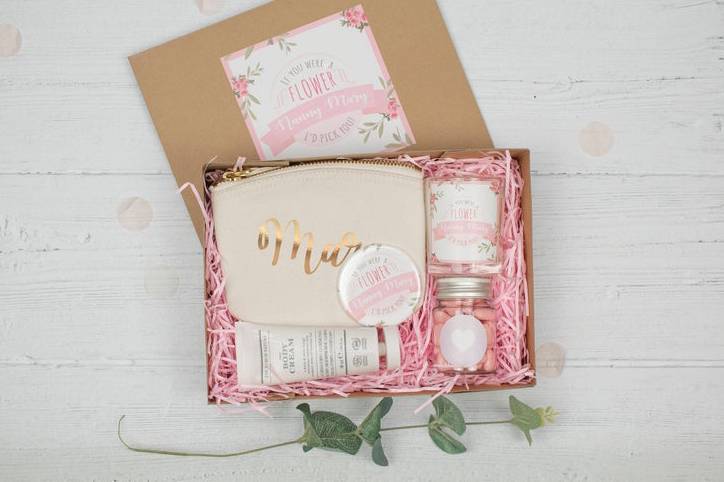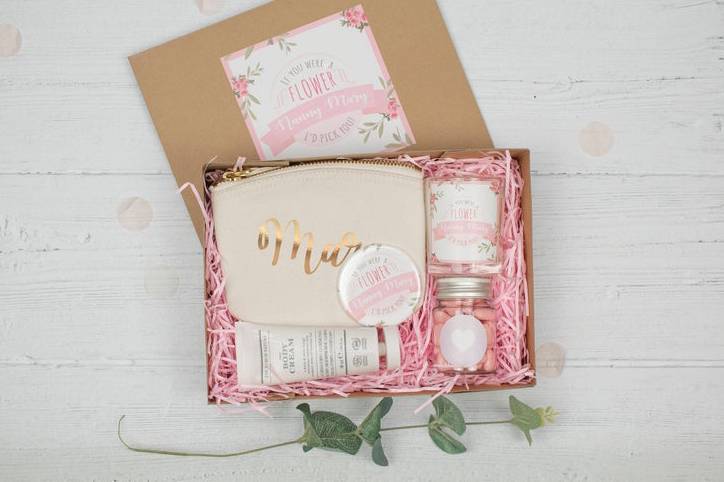 Mother's Day is coming up quickly this year, and since most shopping is taking place online right now, it's best to plan ahead as much as possible. When it comes to Mom's special day, flowers are beautiful, and breakfast in bed is always welcome! But if you're looking for an extra-special way to honor her this year, perhaps you should give her a personalized Mother's Day gift. A custom gift, whether it's a piece of jewelry or a special photo gift, is such a meaningful way to celebrate Mom. After all, her heart is always with her family. If you're looking for some inspiration, you've certainly come to the right place!
We've rounded up some of our favorite personalized Mother's Day gifts to get you started on your search.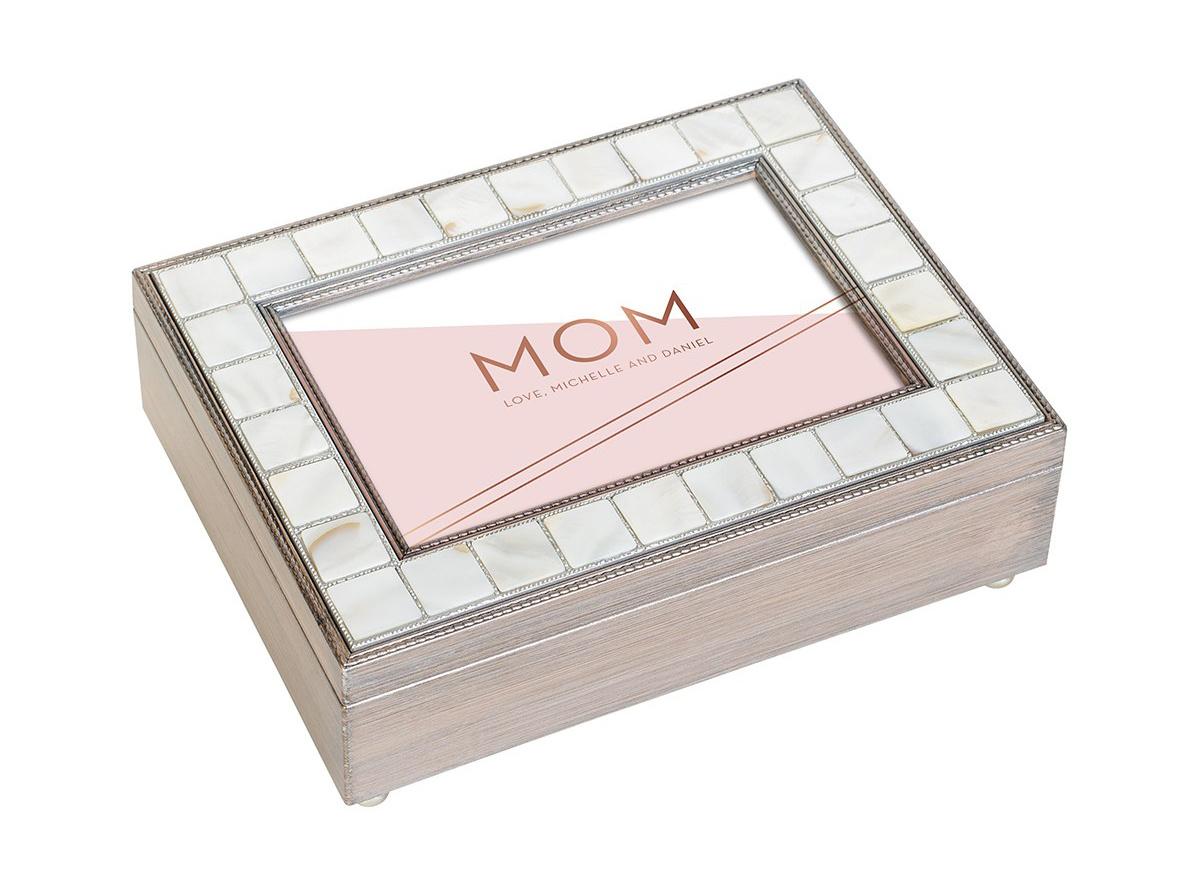 This beautiful music box has Mom's name written all over it—literally. It's inscribed with the word Mom on top, lest there's any confusion who it belongs to. With plenty of space for all of her valuables, this pretty box makes a great personalized Mother's Day gift.
WeddingWire Shop pearl music box, $40, WeddingWire Shop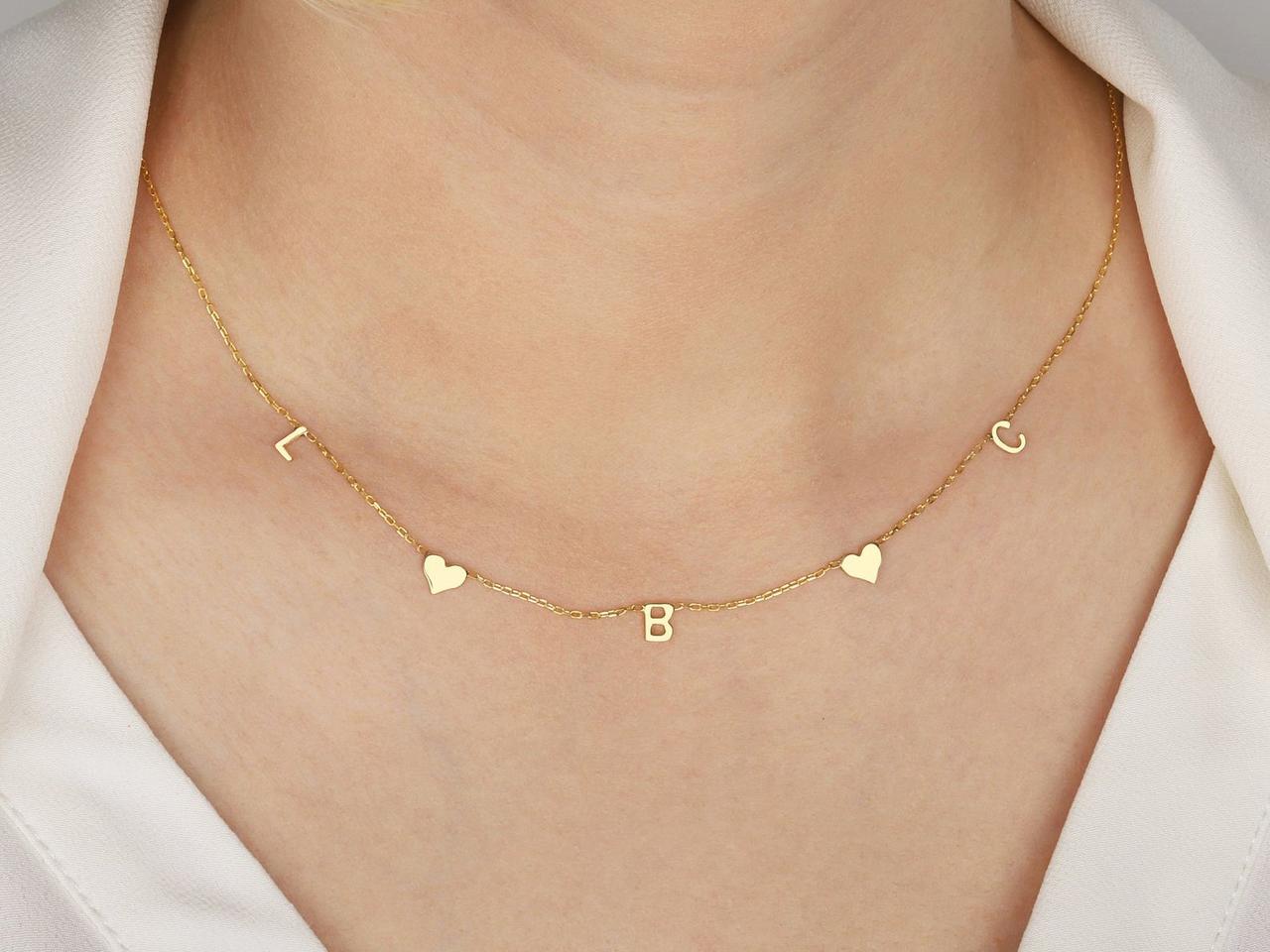 This personalized Mother's Day gift is perfect for just about any mom. Fully customizable, this dainty necklace displays her kids' initials, whether she's a first-time mom or has her very own soccer team. With up to 13 initials possible, this necklace is available in lengths between 12–22 inches.
CA Silver Design gold custom letter necklace, $27, Etsy
This beautiful coffee mug displays a pink and blue floral print with trendy peonies and blueberries. Customize with her first and last name so she can take it to the office, or include your kids' names if you have two little ones. This mug is available in both 11 and 15-ounce sizes.
USA Custom Gifts personalized coffee mug, from $16, Amazon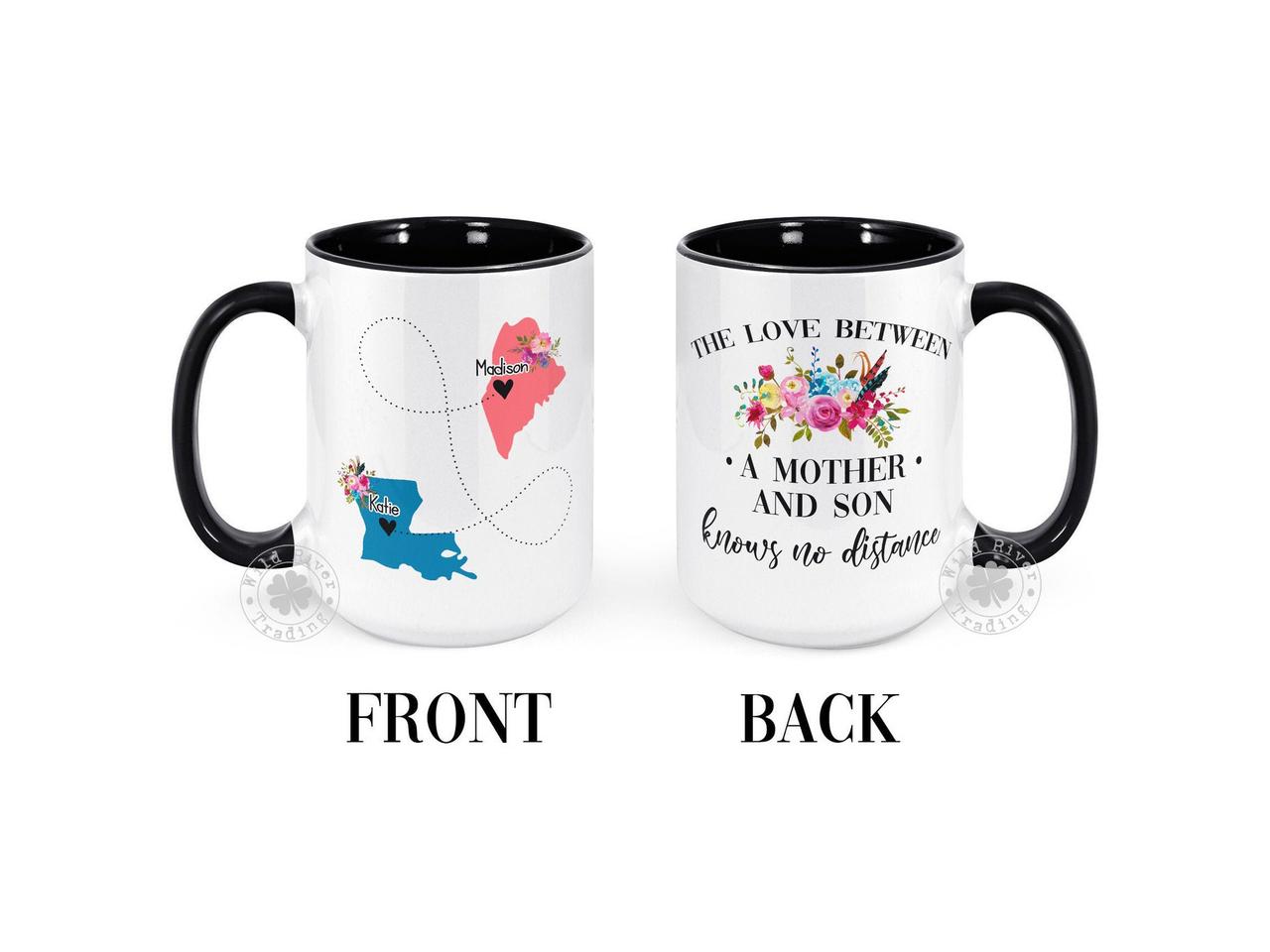 A mother's love knows no boundaries, and that certainly includes state lines. Separated from Mom this year on her special day? Send her this pretty mug that lets her know you love her from afar. One side sports lovely flowers, while the other displays your state and hers to show you're always connected. Choose from 11 or 15 ounce sizes.
Wild River Trading Shop Two States coffee mug, $12, Etsy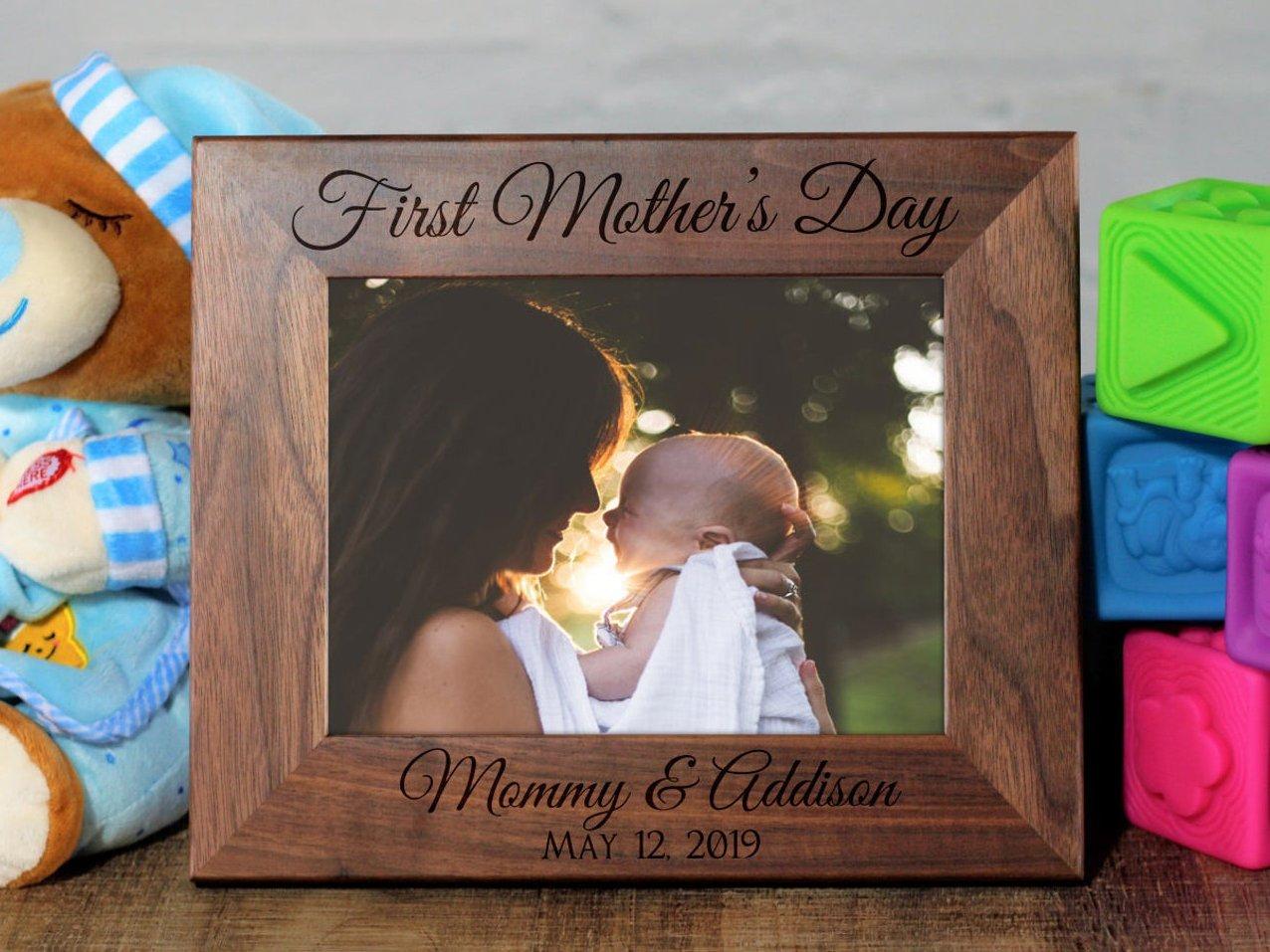 If it's her first mother's day, a special, fully custom Mother's Day gift is totally in the cards. This attractive wooden frame comes with "First Mother's Day" in pretty, cursive writing, and includes Mommy and baby's name on the bottom. The frame can be oriented either portrait or landscape depending on her favorite photo, and comes in 4x6, 5x7 or 8x10 sizes.
Blue Ridge Mountain Co. First Mother's Day photo frame, from $35, Etsy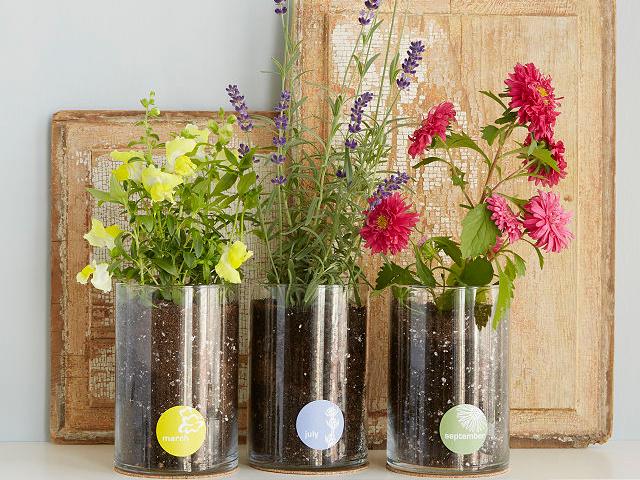 Here's a clever way to give Mom a personalized Mother's Day gift. It's a birth month flower grow kit that displays beautiful flowers from her favorite people's birth months. With a rustic look that'll match with most décor, this is a gift Mom's sure to love.
Uncommon Goods birth month flower grow kit, $34, Uncommon Goods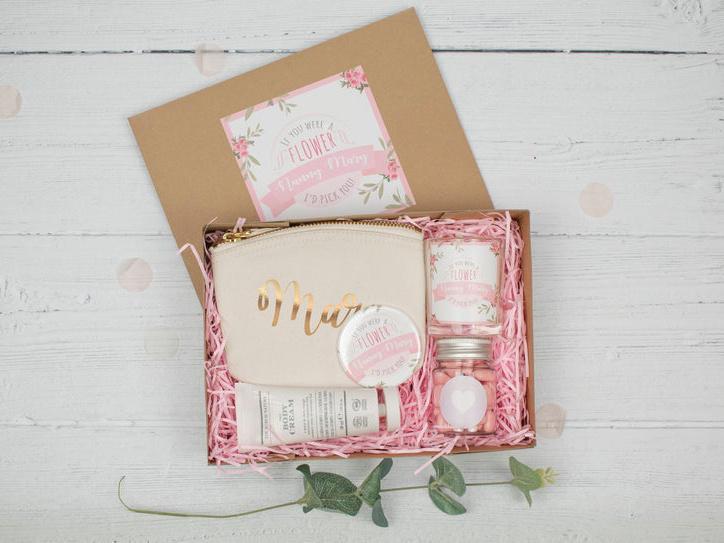 This Mother's Day gift box is perfectly sweet, but comes with a personalized touch in the form of a makeup bag adorned with her name. In addition, she'll receive a jar of sweets, a yummy scented candle, hand cream and a makeup mirror. It's a Mother's Day gift she'll certainly get plenty of use from.
Amy Lucy Designs personalized mother's day gift box, $23, Etsy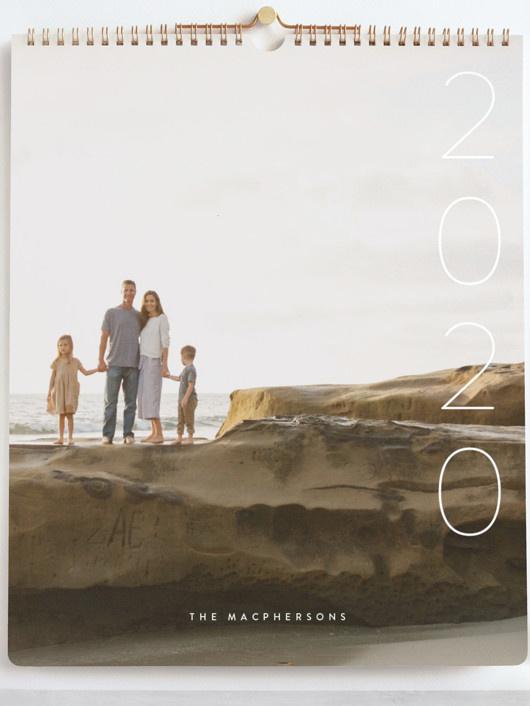 For the ultimate personalized Mother's Day gift, opt for this photo calendar from Minted. Simply submit a collection of her favorite photos and Minted puts them onto this beautiful, high-quality calendar so she can enjoy pix of the family every month of the year.
Guess What Design Studio Grand photo calendar, from $39, Minted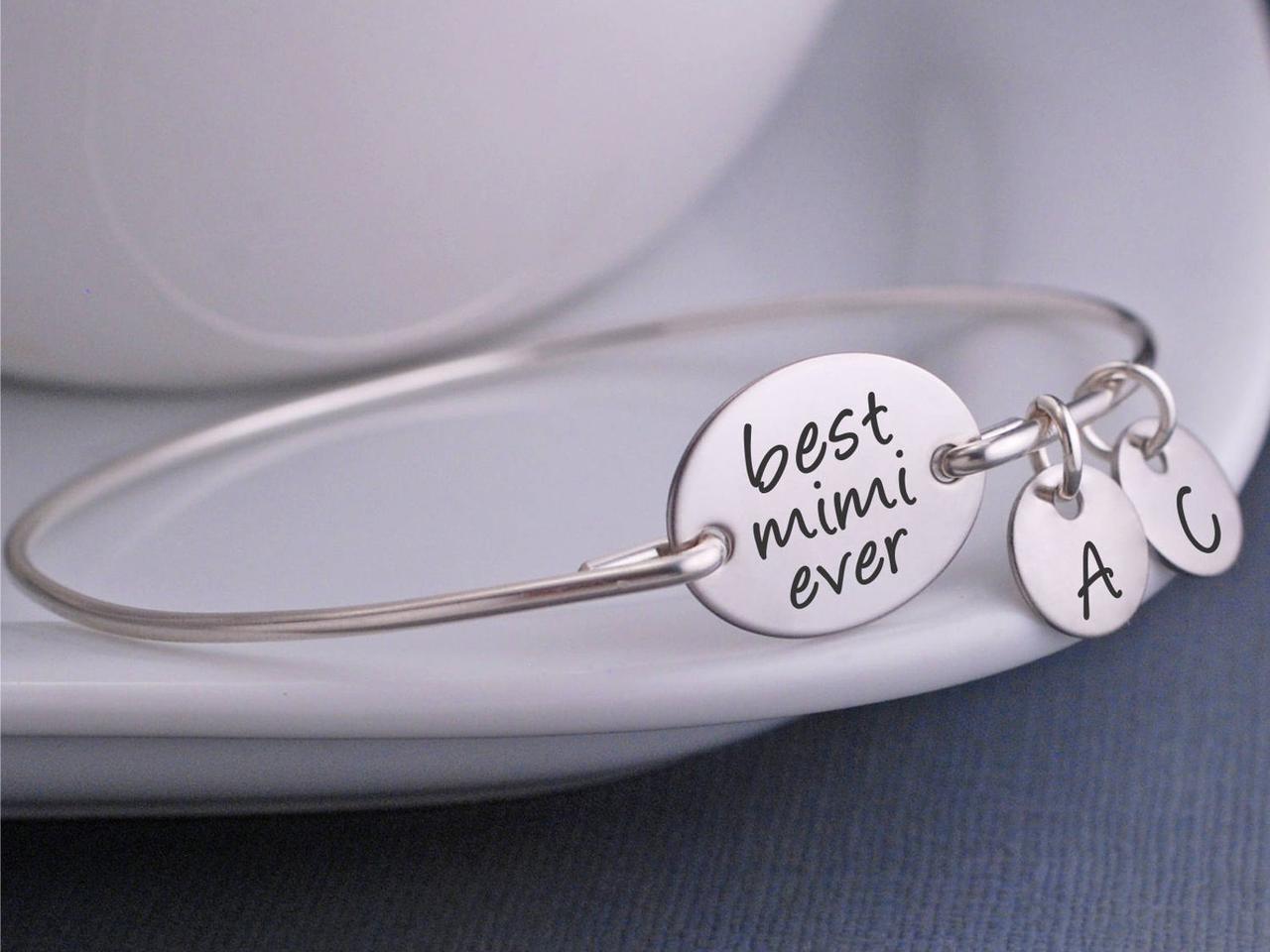 Many grandmas end up being called Mimi, and now yours can have her special name displayed on a piece of jewelry for her special day. This dainty silver bangle bracelet can be fully customized with up to 14 charms—choose from birthstones, initials or a variety of other designs.
Georgie Designs Mother's Day gift for Mimi, from $42, Etsy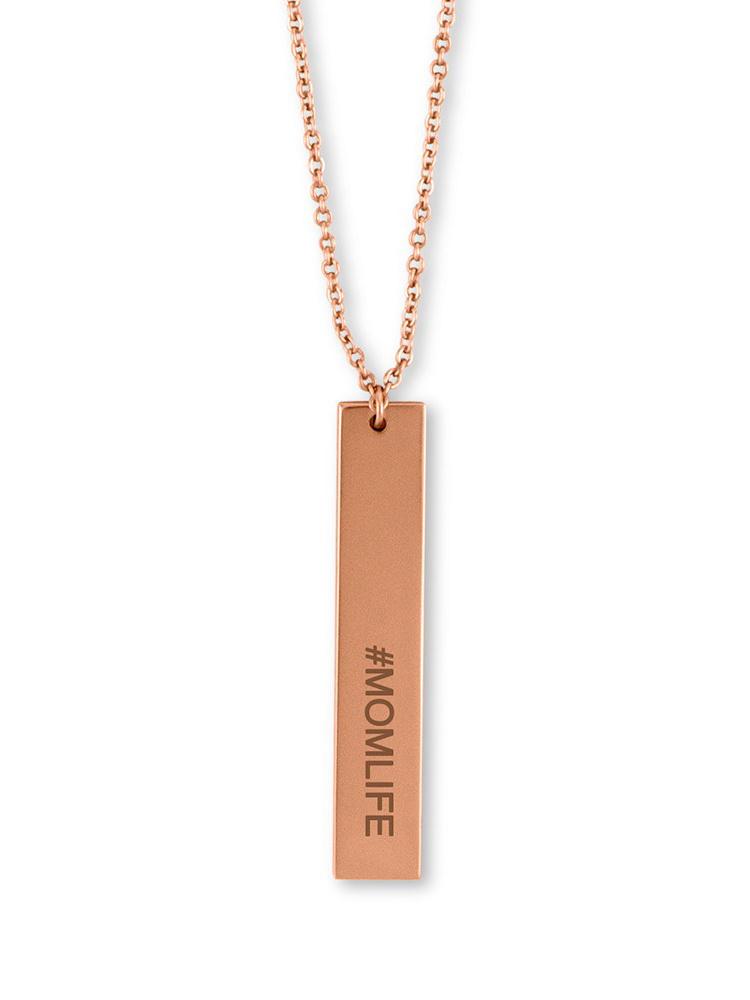 The struggle is real when it comes to #Momlife. Pay homage to her new role with this vertical drop necklace inscribed with her favorite hashtag or initials. Available in gold, rose gold or silver, and a variety of different fonts, this personalized necklace will quickly become one of her go-tos.
WeddingWire Shop vertical rectangle tag necklace, $26, WeddingWire Shop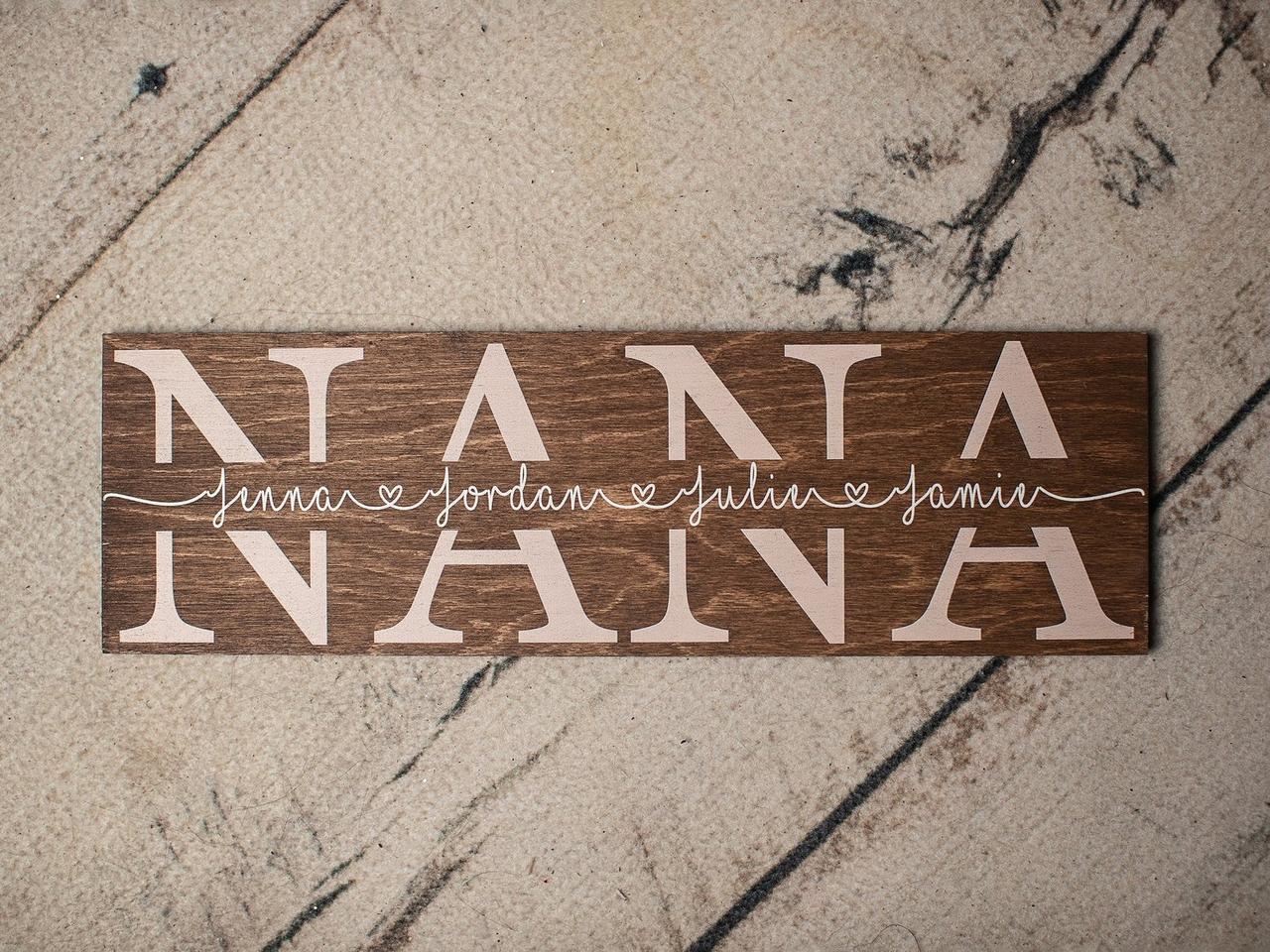 Don't forget about Nana this Mother's Day! This beautiful rustic sign honors her favorite title, while the names of her grandkids (up to four) are scrawled in a contrasting color across the middle. This custom Mother's Day gift will always remind Nana of the little ones in her life.
Wood by Stu Nana Mother's Day rustic sign, from $50, Etsy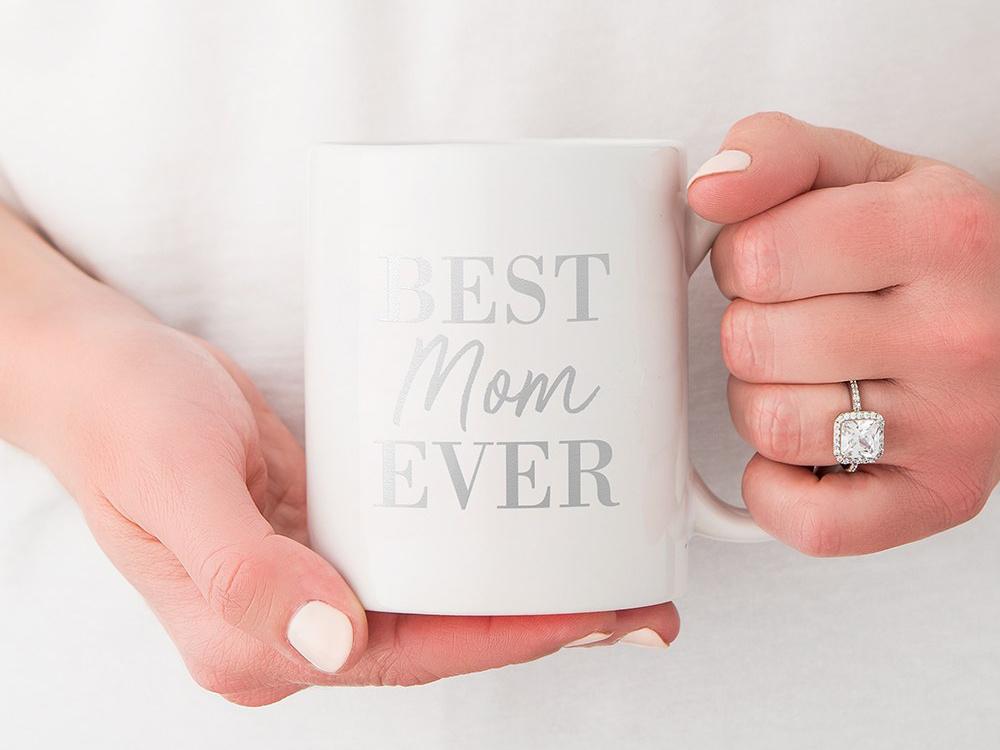 This Best Mom Ever coffee mug totally gets the job done if you're in search of great personalized Mother's Day gifts this year. Choose from seven different trendy colors she'll love, and you can even have Mom's name (or simply, "mom") written on the reverse side.
WeddingWire Shop personalized coffee mug Best Mom Ever, $14, WeddingWire Shop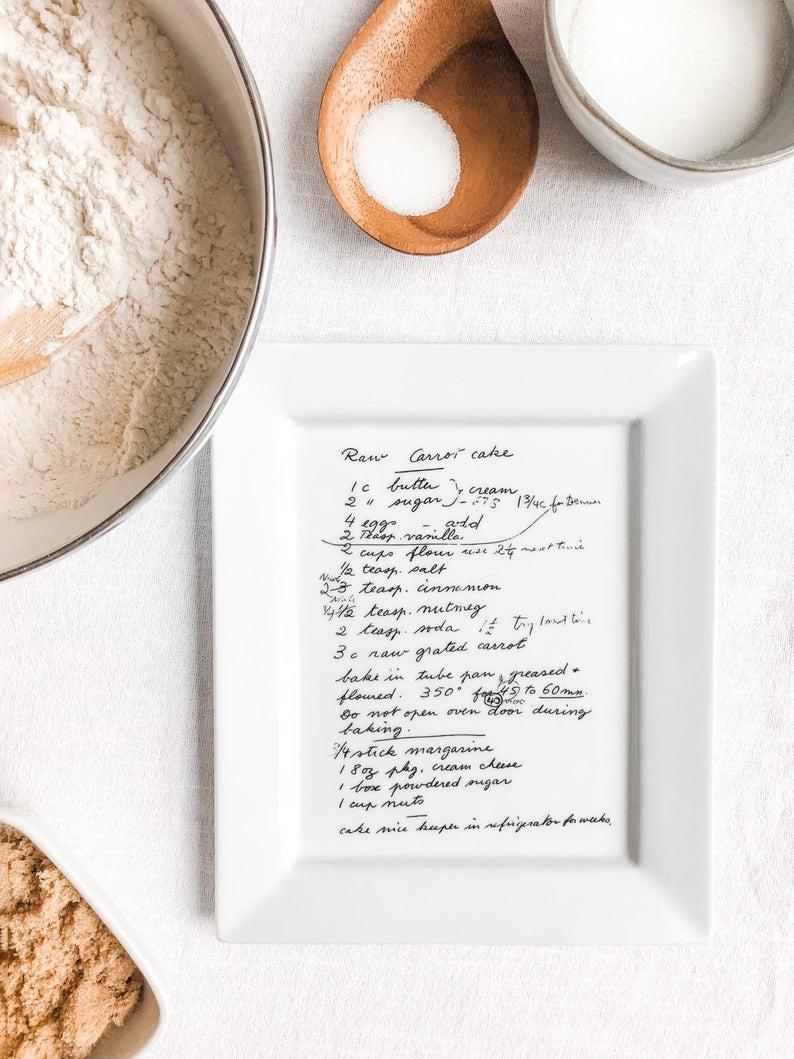 Pay homage to Mom's favorite family recipe with this custom Mother's Day gift. It's a ceramic plate that features one handwritten recipe for quick reference, or simply to hang on the wall.
Zehr Design Co. handwritten recipe plate, $69, Etsy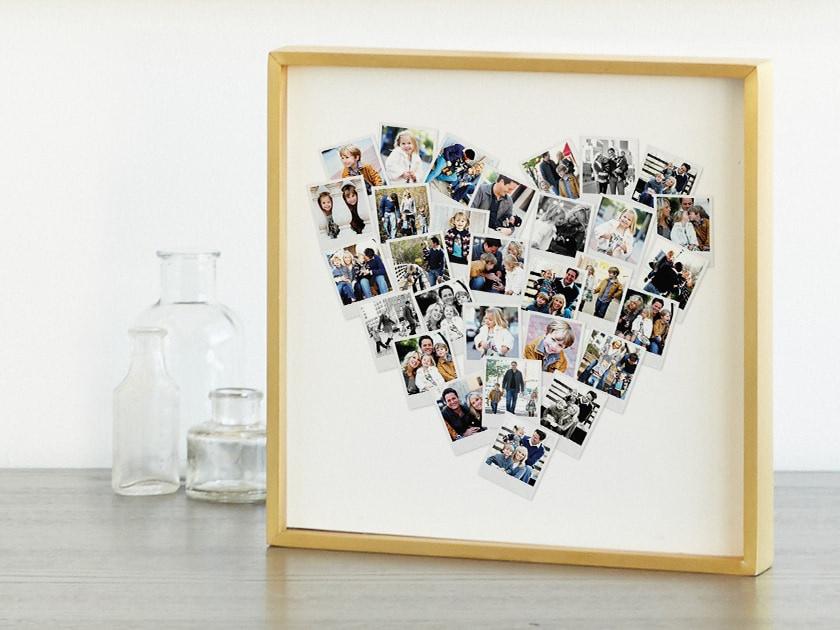 This heart snapshot collage is one of our favorite custom Mother's Day gifts. That's because it's such a personal tribute to Mom's favorite people. Minted does all the work for you when you opt for this collage—simply choose the frame and background, and upload your photos for a gift she'll always treasure.
Minted heart snapshot collage, from $101, Minted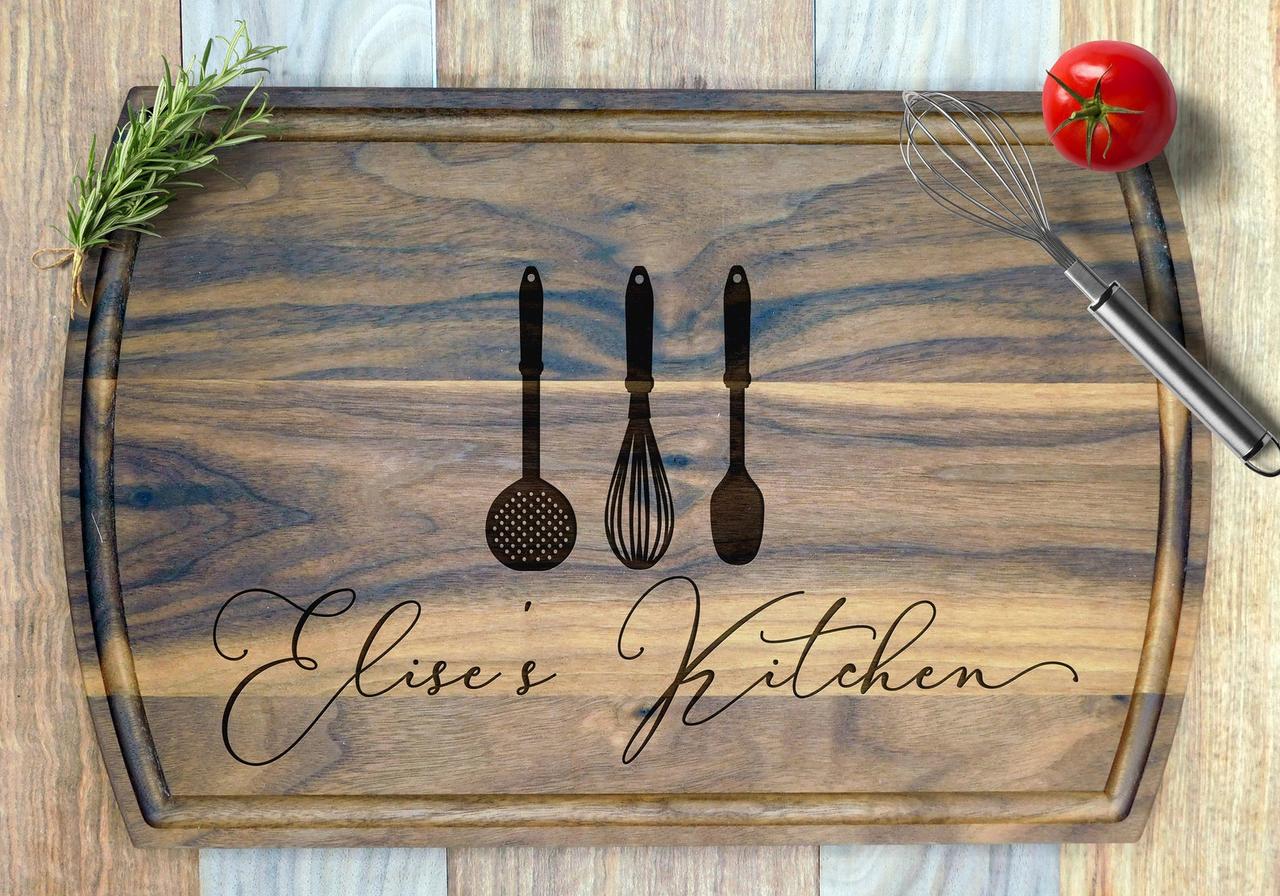 If your mom spends a lot of time in the kitchen a cutting board makes a great personalized Mother's Day gift. We love this beautiful, maple, cherry, or walnut wooden cutting board, personalized with your mom's name and available in several sizes.
Dragon Forged Studios cutting board, from $36, Etsy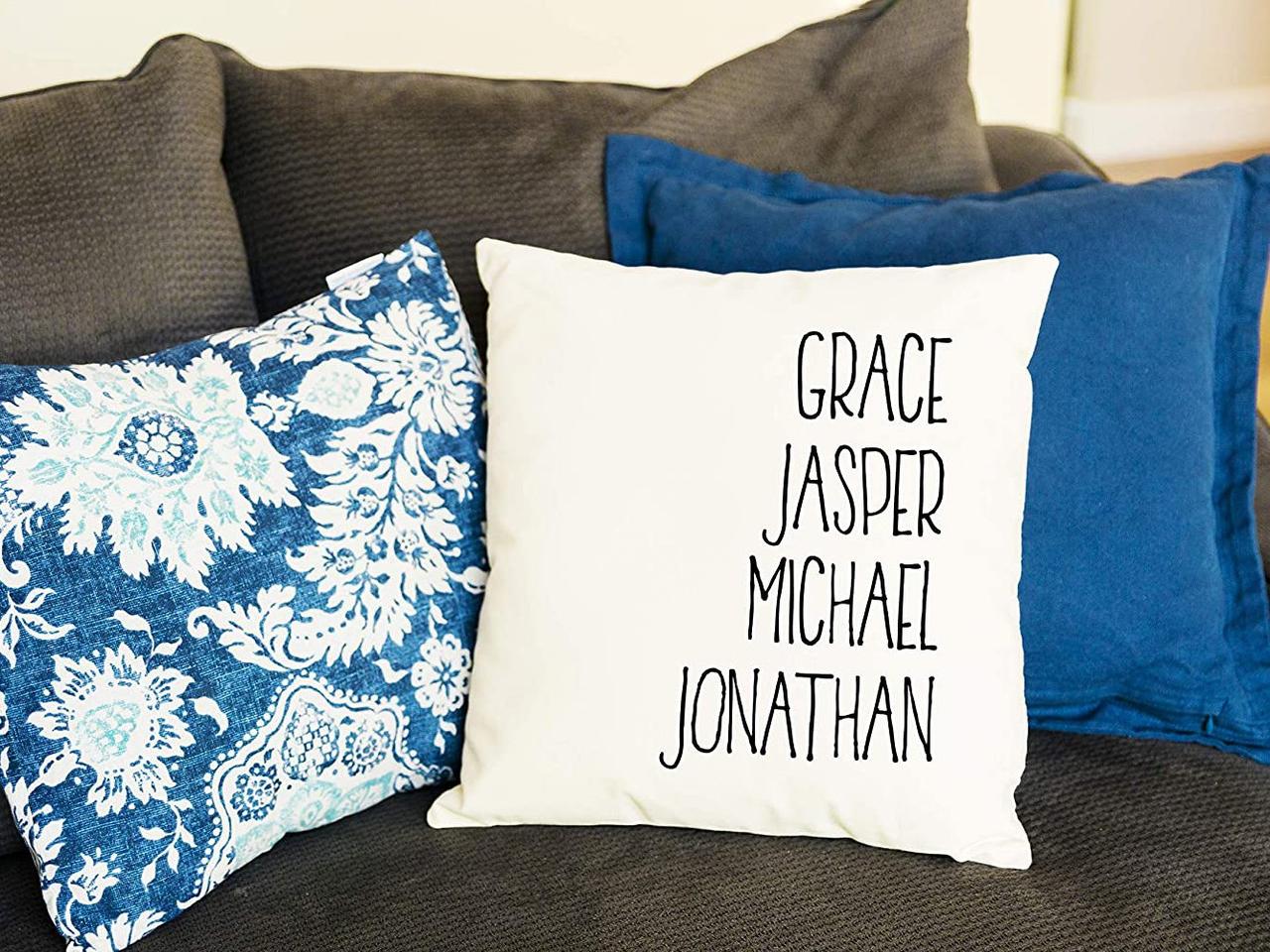 A trendy throw pillow with the kids' names? Why not? It's a great custom Mother's Day gift she'll love to rest her head on. Now all you need to do is make dinner (or order out) and let her kick her feet up on her special day.
Qualtry personalized throw pillow, $20, Amazon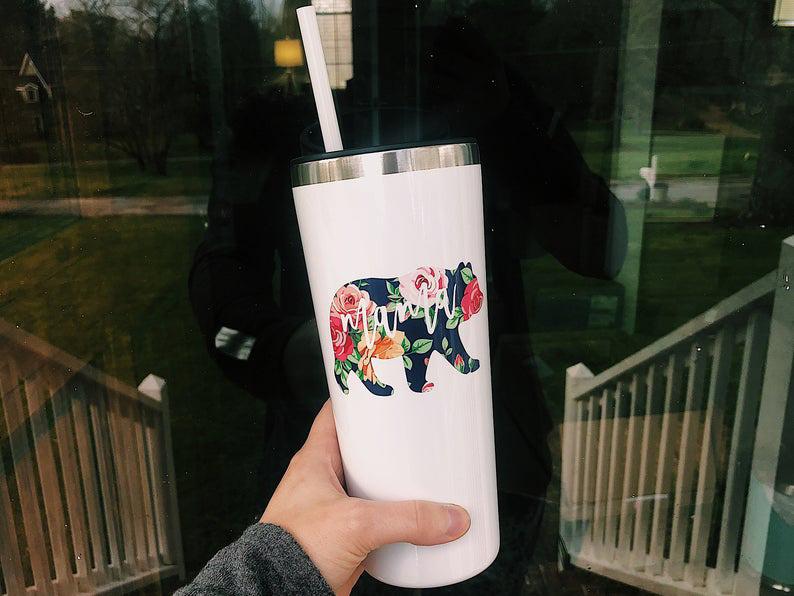 Help Mom get those eight glasses of water each day when you gift her this cute "mama bear" tumbler. Available in white, silver or marble, this eight-ounce tumbler features a cute bear in a trendy floral pattern, with the word "mama" scribbled across it.
And Kate Co Mama Bear tumbler, $23, Etsy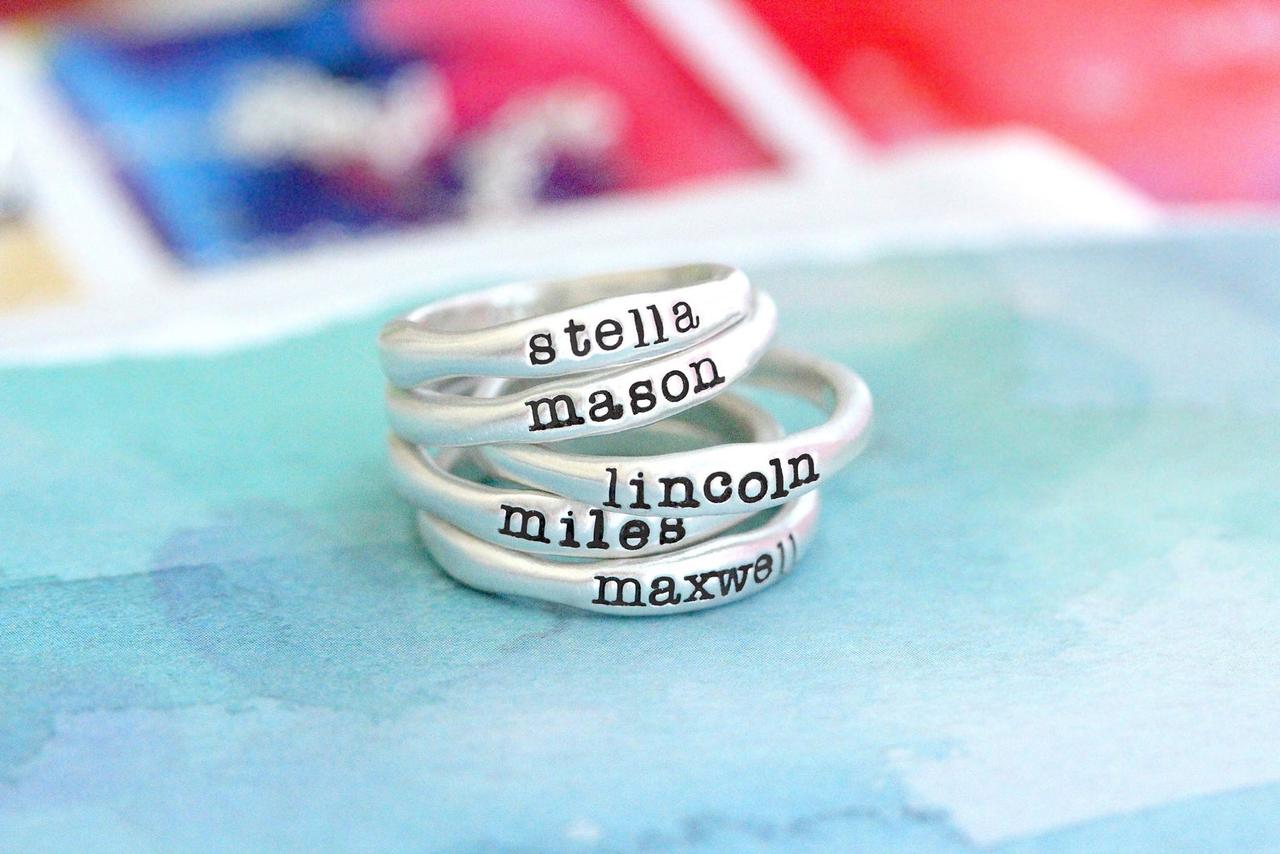 Gift Mom a special piece of jewelry with these stacking rings, one to represent each of her children or grandchildren.
Chic Mama Designs stacking rings, from $38, Etsy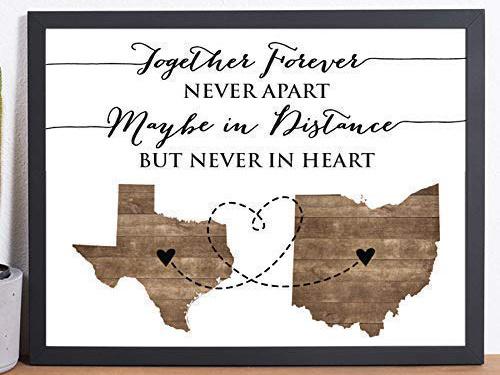 Here's another way to send love to Mom (or Grandma!) across the miles. This custom Mother's Day gift is a print that displays your state alongside hers, with a heart scrawled in between. With a rustic vibe, this trendy print is sure to take center stage on Mom's mantle.
Canary Road personalized distance poster, $20, Amazon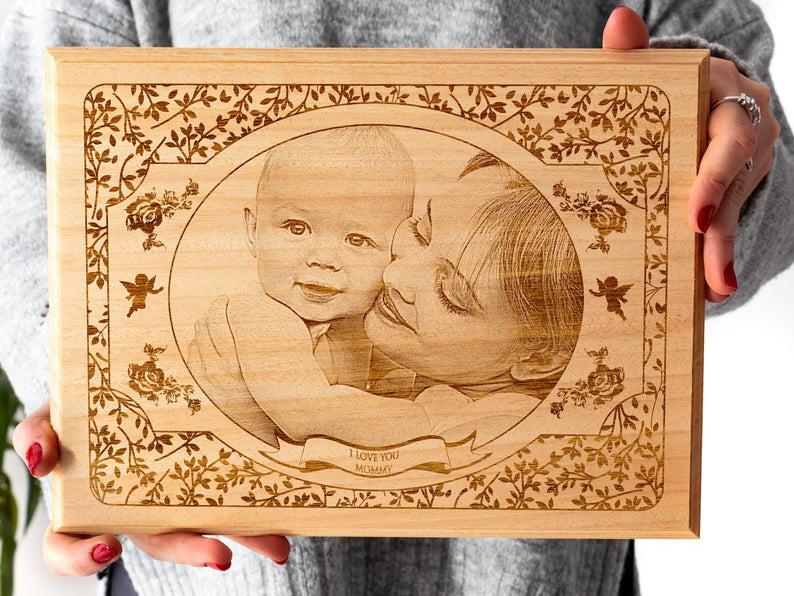 If you're hoping to give Mom a great custom Mother's Day gift this year, opt for this adorable wooden photo plaque. Her favorite family photo is laser-engraved with stunning accuracy, along with a short saying. Choose from a 6x9 tabletop size or a larger 9x12 suitable for hanging on the wall.
DS Gift Studio Mother's Day custom wood frame, $38, Etsy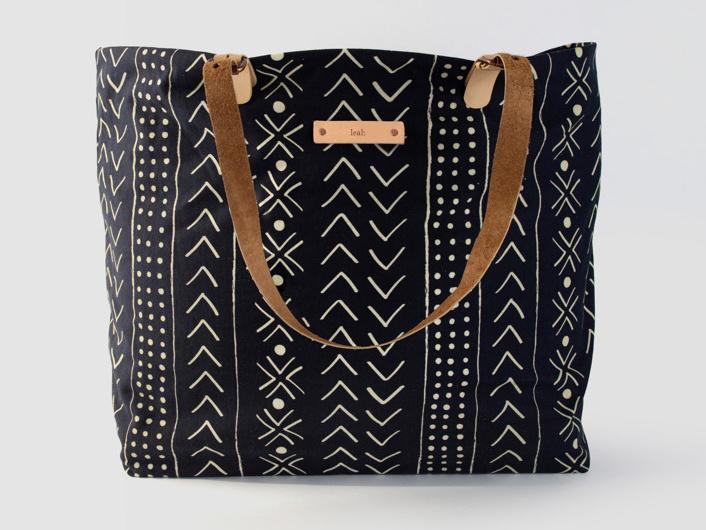 This cotton carry-all from Minted makes a great personalized Mother's Day gift for the busy mama on the go. It's super huge, making it the perfect way for her to stow everything she needs, whether it's for her or baby or even a weekend away. Include her name (or simply her favorite title, "mom") on the embossed metal tag for free. We love the modern black and white motif, too!
Erin Deegan mud cloth organic tote, $78, Minted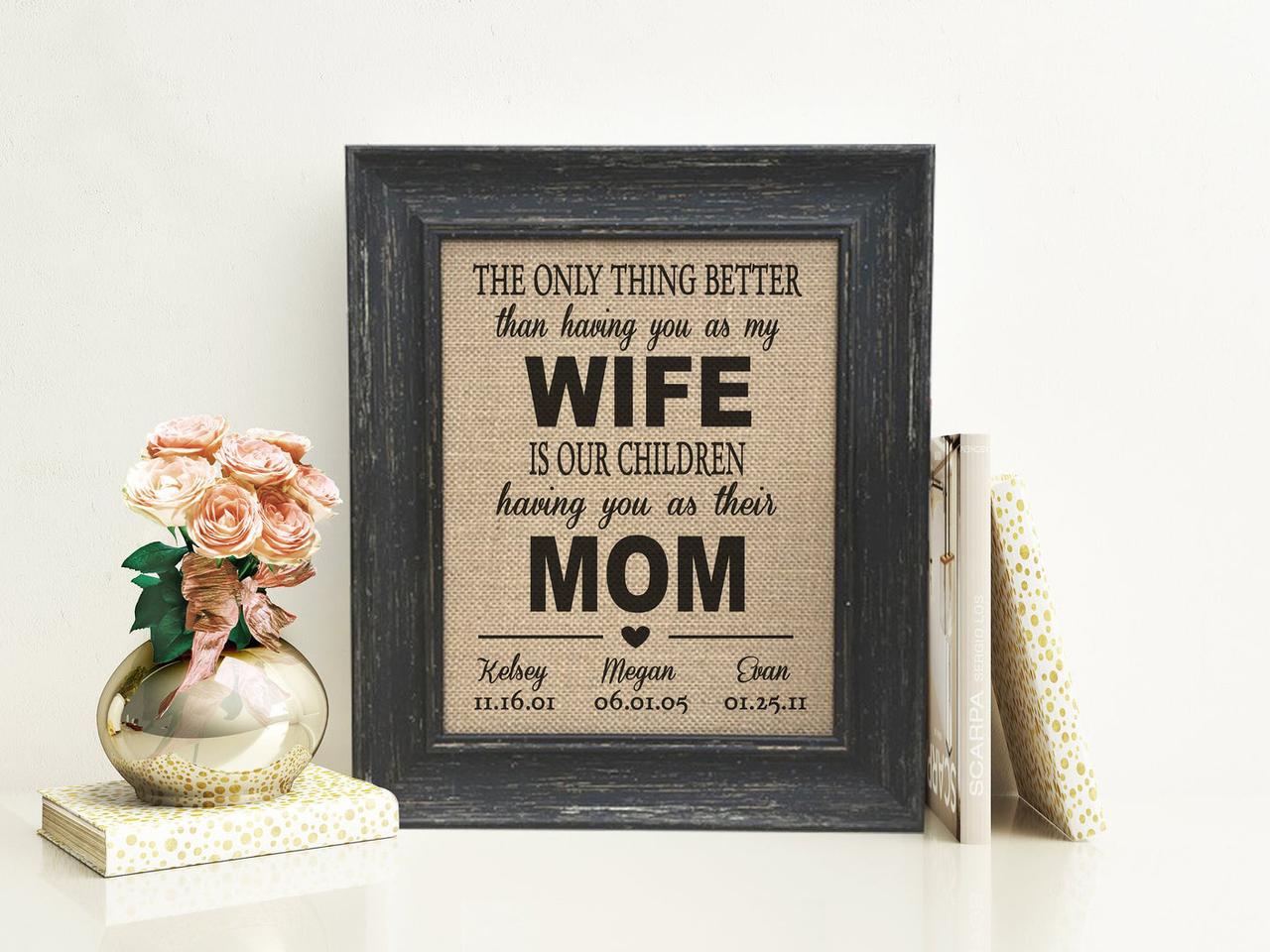 Meaningful personalized Mother's Day gifts are the way to go on this special day. And she's sure to love this rustic frame with it's super sweet inscription. It'll be a constant reminder of how much her family loves her.
My Prints Charming Shop personalized frame for Mom, $20, Etsy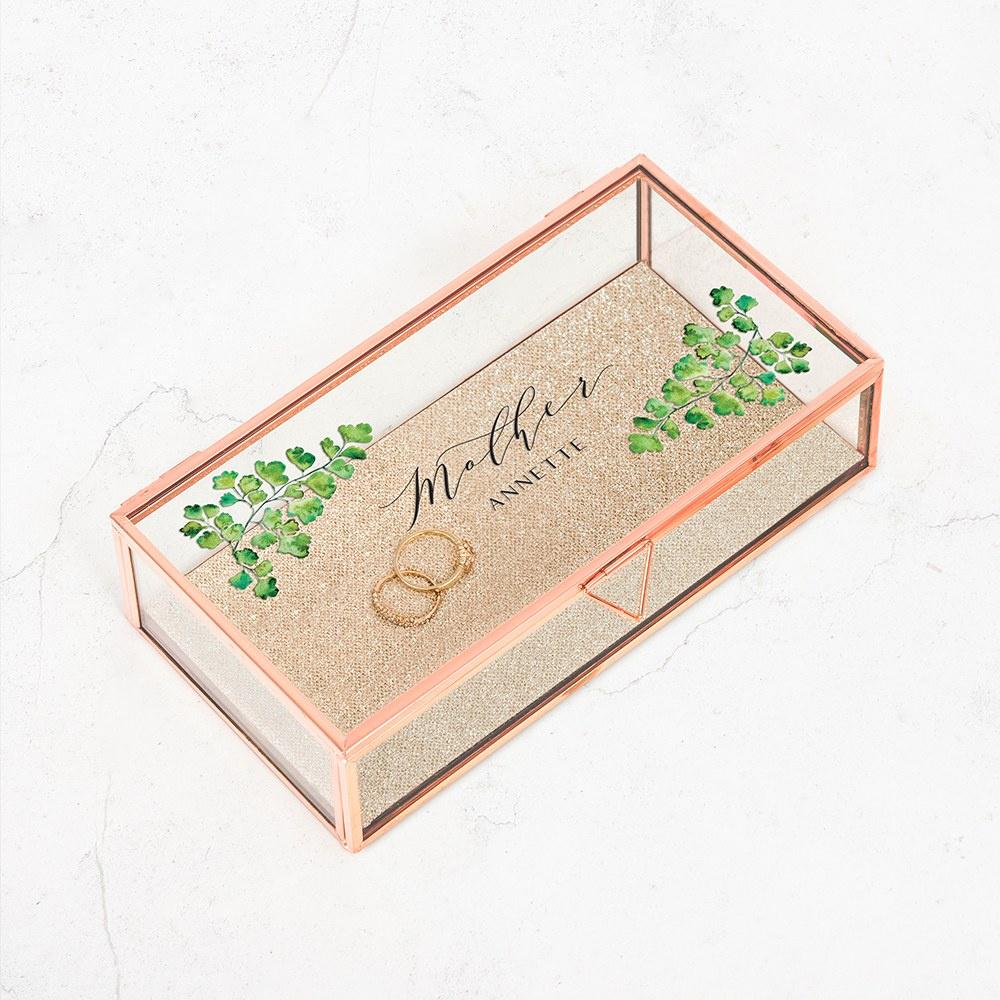 This jewelry box makes the perfect personalized Mother's Day gift. The greenery motif is so on-trend and the glittery gold hue adds a glamorous touch.
WeddingWire Shop jewelry box, $26, WeddingWire Shop
Disclosure: This post contains affiliate links, some of which may be sponsored by paying vendors.